June 27, 2015
Texas Governor Orders Religious Discrimination Across The Board
You just can't make this shit up. This is part of his direction to state agency heads:
I expect all agencies under my direction to prioritize compliance with the First Amendment to the United States Constitution, Article I of the Texas Constitution, and the Texas Religious Freedom Restoration Act. All state agency heads should ensure that no one acting on behalf of their agency takes any adverse action against any person, as defined in Chapter 311 of the Texas Government Code, on account of the person's act or refusal to act that is substantially motivated by sincere religious belief. This order applies to any agency decision, including but not limited to granting or denying benefits, managing agency employees, entering or enforcing agency contracts, licensing and permitting decisions, or enforcing state laws and regulations.
I hope those employees of Texas whose religion requires them to sit on their ass and do nothing but drink coffee from 8 AM to 5 PM appreciate this newfound respect for their traditions from their Governor.
permalink | June 27, 2015 at 01:18 PM | Comments (0)
Youtube Celebrates
permalink | June 27, 2015 at 01:13 PM | Comments (0)
Thomas
Scalia is an entertaining troglodyte, but Clarence Thomas is sick - and I don't mean that the good way. He shares his opinion of the dignity of slaves and the dignity of victims of the Holocaust.
Human dignity cannot be taken away by the government. Slaves did not lose their dignity (any more than they lost their humanity) because the government allowed them to be enslaved. Those held in internment camps did not lose their dignity because the government confined them. And those denied governmental benefits certainly do not lose their dignity because the government denies them those benefits. The government cannot bestow dignity, and it cannot take it away.
permalink | June 27, 2015 at 01:06 PM | Comments (0)
"tear our clothes off, fill the streets and party like hell"
That's Steve Lopez's recommendation as a response to Scalia's removal of California from the West.
It's a good recommendation for just about any issue.
Ryan Grim at the Huffington Post went doggedly in search of a "hippie."
Neil Cousins, a 61-year-old man from Alexandria protesting nuclear weapons outside the White House, said he had come to this very park in the 1970s for pot smoke-ins, but added that there really haven't been hippies around since the Grateful Dead stopped touring. He was nonetheless willing to offer a judgment on Scalia's assertion that marriage abridges rather than expands intimacy. "I've known it to have both reactions," he ruled. "Scalia is a big knucklehead."
permalink | June 27, 2015 at 12:56 PM | Comments (0)
Jim Obergefel Has A Fan
A fan who calls at opportune moments.

The boy from Cincinnati makes his official statement here.
permalink | June 27, 2015 at 12:24 PM | Comments (0)
Frank Kameny In Labor Hall Of Honor
Frank Kameny filed the first civil rights appeal based on homosexuality with his employer, the U.S. Civil Service in 1957. He lost. He went on to become a co-founder of the Mattachine Society. In 1965 he organized the first gay protest at the White House. He was the first openly gay candidate for Congress in 1971.
"In 1975, his long search for a gay service member with an impeccable record to initiate a challenge to the military's ban on homosexuals culminated in protege Leonard Matlovich, a Technical Sergeant in the United States Air Force with 11 years of unblemished service and a Purple Heart and Bronze Star, purposely outing himself to his commanding officer on March 6, 1975."
Kameny died in 2011.
And this week he was inducted into the Department Of Labor's Hall of Honor. The Hall of Honor is intended as a "showcase highlighting the life-changing contributions that a unique group of people have made on the American way of work."
permalink | June 27, 2015 at 11:58 AM | Comments (0)
Rainbows
How was it that this one song resonated so deeply with me when I was only 8?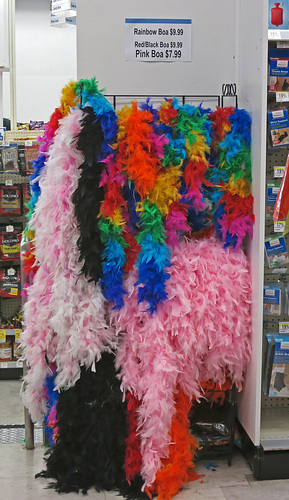 Pink boas $2 cheaper than other lesser colors at the Walgreen in the Castro.
Yesterday as I was walking through San Francisco's Civic Center wearing my accustomed attire (clothes, I mean), a man on a bicycle passing me called out "It's been a good day for the pink team!"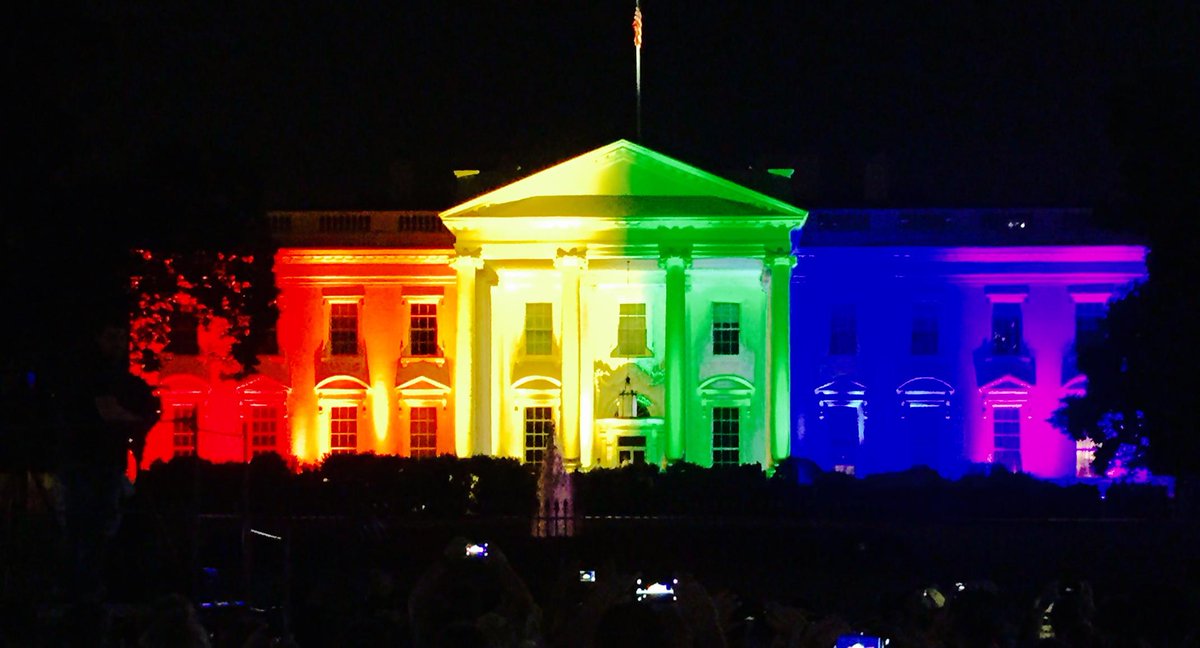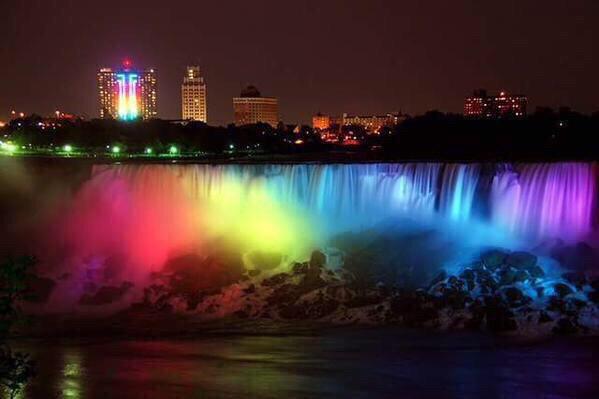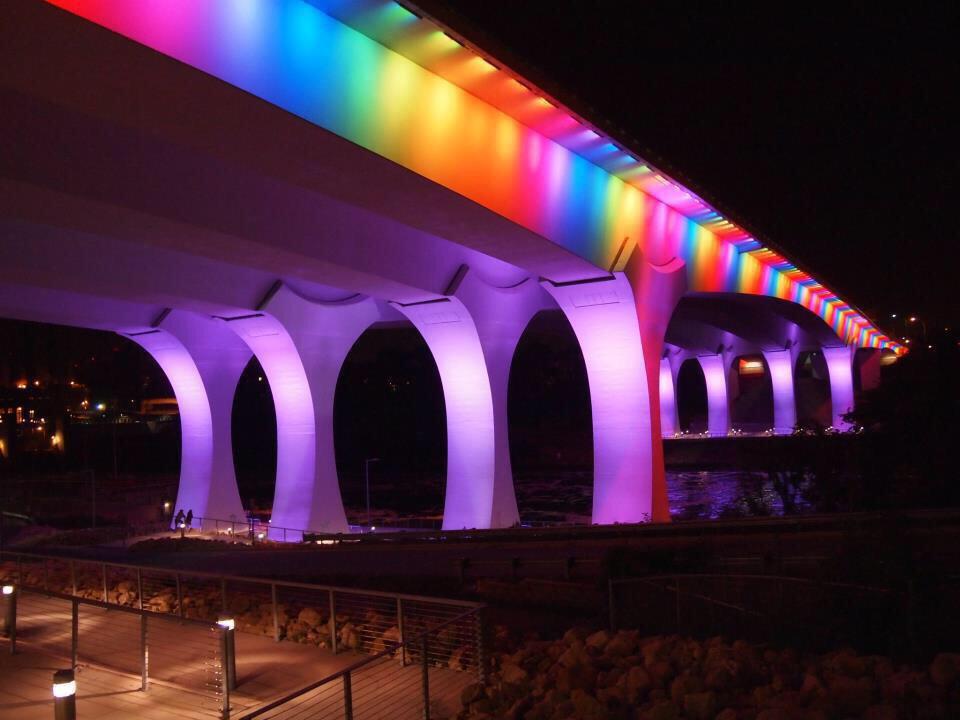 The new I-35 bridge in Minneapolis.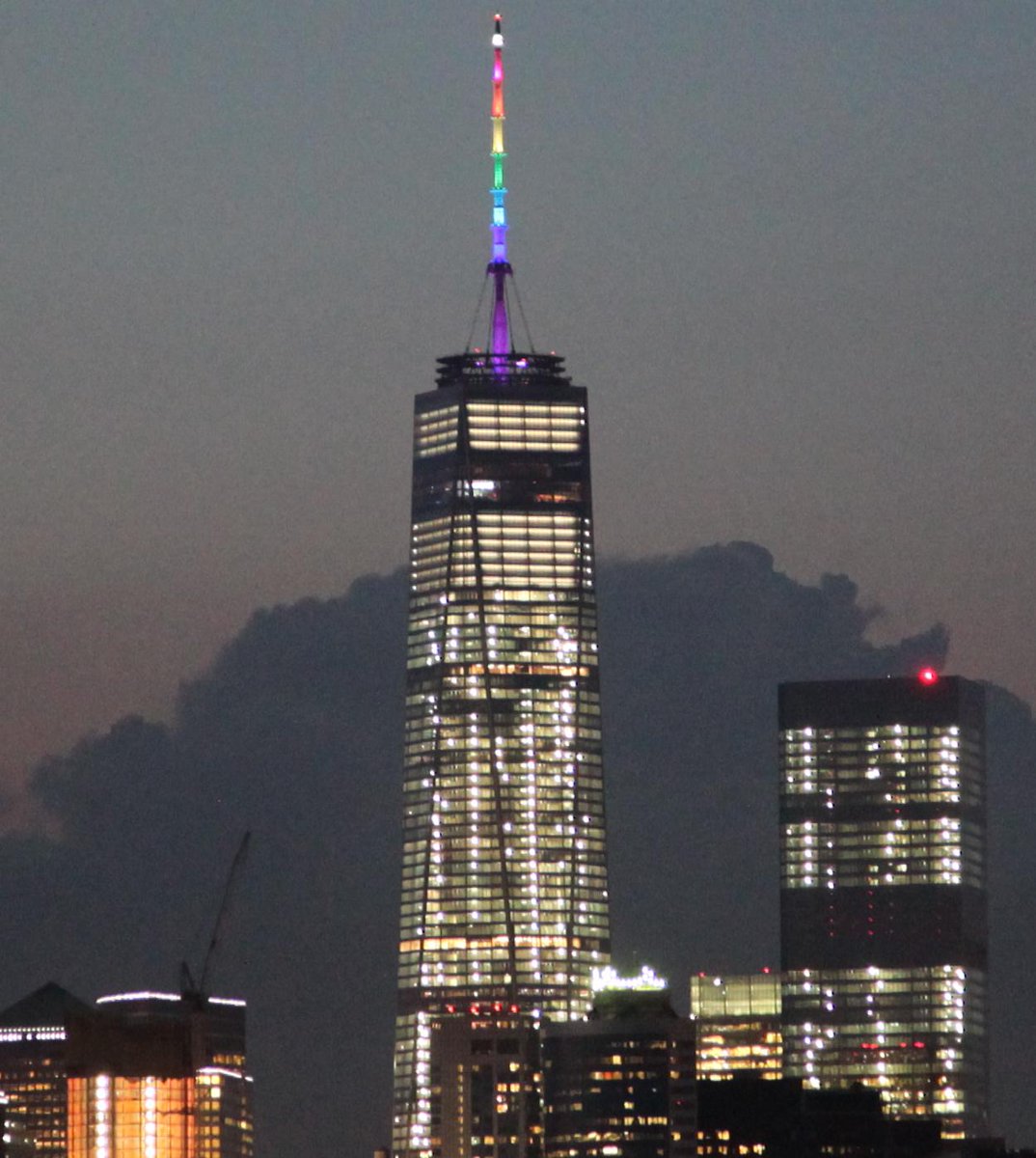 World Trade Center.

In St. Louis.

Kansas City.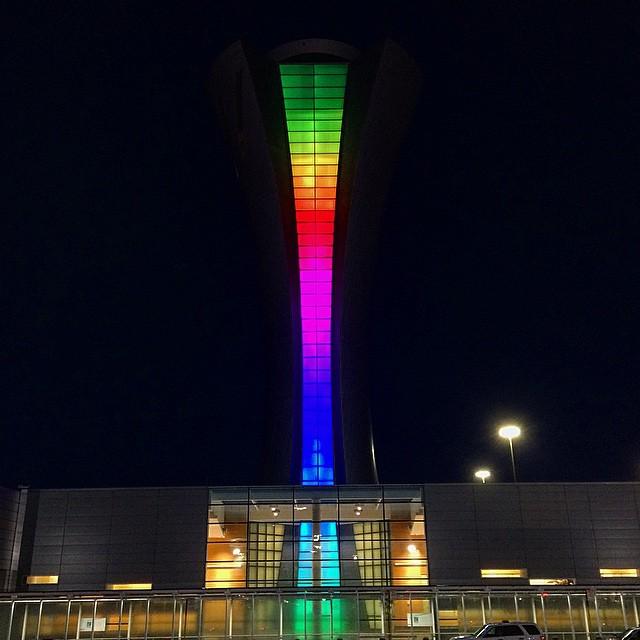 SFO control tower.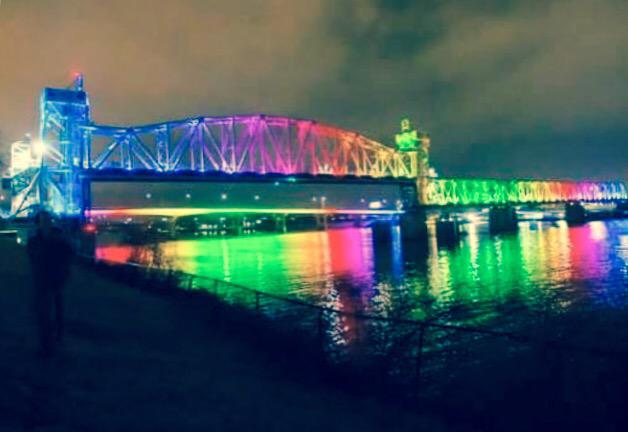 Little Rock.
permalink | June 27, 2015 at 11:24 AM | Comments (0)
June 26, 2015
Obergefell V. Hodges
What a title to go into history. But in all the celebration, don't overlook the dissent from Justice Nutjob which begins on page 72 of the PDF of the Supreme Court's decision. In it he bemoans the fact that the Justices do not represent a cross section of the United States (like we hadn't already noticed that decades ago). He says that on the court there is "Not a single South-westerner or even, to tell the truth, a genuine Westerner (California does not count)." What is the ultimate western state if not a western state? Heaven maybe? A dry heaven, perhaps.
He seems to think that intimacy is greater if you have more sexual partners. (Does his wife know this?) First he quotes from the majority decision:
"The nature of marriage is that,through its enduring bond, two persons together can find other freedoms, such as expression, intimacy, and spirituality." (Really? Who ever thought that intimacy and spirituality [whatever that means] were freedoms? And if intimacy is, one would think Freedom of Intimacy is abridged rather than expanded by marriage. Ask the nearest hippie.
"Hippie?" What planet has he been living on? Possibly worse, he dropped a closing parenthesis and no one on his staff caught it.
permalink | June 26, 2015 at 02:24 PM | Comments (0)
Pride Weekend in San Francisco

San Francisco City Hall last night.
permalink | June 26, 2015 at 02:06 PM | Comments (0)
June 10, 2015
In McKinney
A former police officer and current law professor at the University of South Carolina discusses the two kinds of policing we have seen in the McKinney video. "The two officers in this brief video represent two different policing styles, two different mindsets that officers use as they interact with civilians: the Guardian and the Warrior." [The video] "shows us the avoidable results of an unnecessarily aggressive approach to policing. But in the same video, we can see a few seconds of policing the way the way it should be done."
It may just be a fluke of the universe, or maybe there's something in the water in McKinney, but just a few days earlier (June 4) this was the news story out of McKinney. Fifteen students came to school wearing t-shirts saying "Gay O.K." The school dress code forbids "clothing including tee shirts which displays sex, violence, drugs, tobacco, alcohol, death, gang or hate slogans or pictures." Two or three were sent home. The rest were told to cover up their t-shirts.
BUT (good news folks) the school board did NOT back the school administrators:
"We told the campus administration that they should not have asked the students to take off the shirts, or change shirts," Cody Cunningham, the chief spokesman for McKinney Independent School District, told BuzzFeed News. "We told them that students have every right to wear the shirts."