August 5, 2015
Stonewall
permalink | August 5, 2015 at 10:05 PM | Comments (0)
July 21, 2015
"Can You Feel The Love Tonight"
An authorized, legal video of part of the Pride concert by San Francisco Gay Men's Chorus.

In addition, an album with two (or is it three?) of the pieces performed at the earlier spring concert is now available for purchase. #twitterlieder: 15 Tweets in 3 Acts and For a Look or a Touch (plus Epilogue: The Narrow Bridge From Tyler's Suite):
permalink | July 21, 2015 at 10:57 AM | Comments (0)
July 20, 2015
Harvey Milk Plaza

Video by Jeff Ford.
permalink | July 20, 2015 at 11:54 AM | Comments (0)
July 19, 2015
Stop The Presses!
(Some day we're going to have to explain to kids what "presses" were.)
Here it is! Incontrovertible proof of John Travolta's gayness:
He had lunch with a guy-pal at Melvyn's!
The two of them traveled in a Mercedes!
That's a smoking condom if I ever saw one. I'm lucky I don't have a Mercedes to drive around in myself, or people might think I'm gay. I had Easter dinner at Melvyn's with two guy-pals. Maybe I do three-ways.
permalink | July 19, 2015 at 10:48 AM | Comments (0)
July 17, 2015
Pink Party
The "Pink Party" takes place on Saturday afternoon and evening of Pride weekend. It replaces "Pink Saturday" which ran a little later in the day and was organized and paid for by the Sisters Of Perpetual Indulgence. They had been seeking a subsidy from the city, but never got it, so they pulled out. So, guess what, the city came in and funded this. I'm sure it makes sense in some San Francisco political way.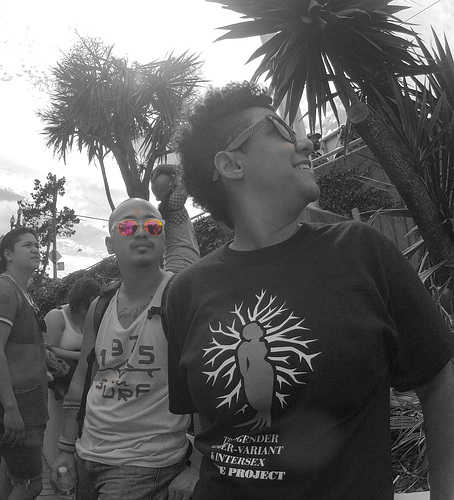 Some sort of trans flag was attached to the lower end of the pole that bears the rainbow flag in the Castro. People seemed excited that the police let them do it (why not?). And it's fair to note that whatever the design is, it's too complex for a flag. Never could quite see what it was.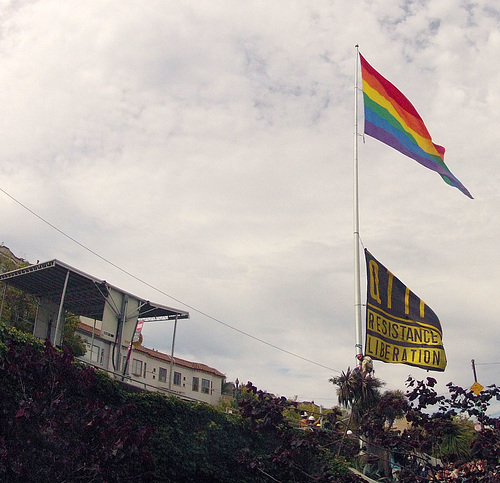 A little better here.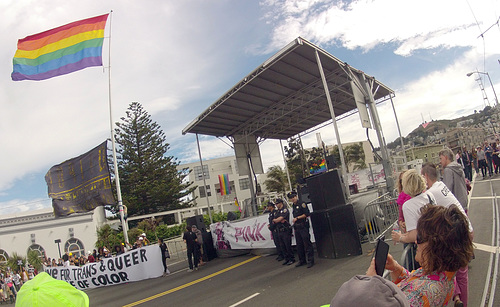 the dominant wind is from the west, so they should have known the one side of the flag they designed could be seen only by those people exiting the Muni.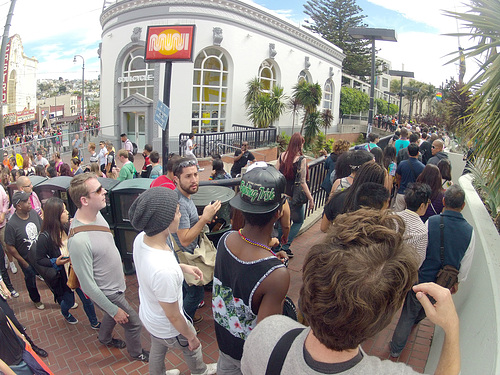 When you come up out of the Muni they can't just let you flow out onto Castro or the crowds would back up all the way down to the trains, so they route people about a block up Market Street before releasing them into the wild.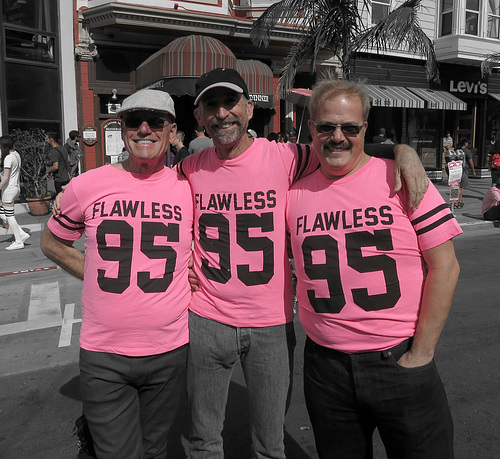 Ed, Jim and Brian from the Coachella Valley.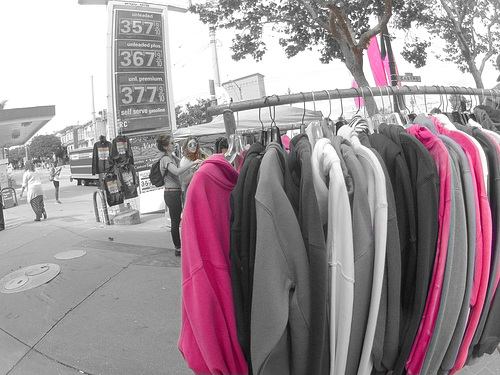 Those gas prices looked high two weeks ago.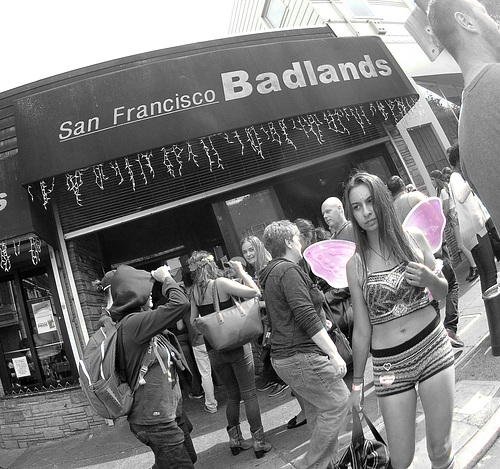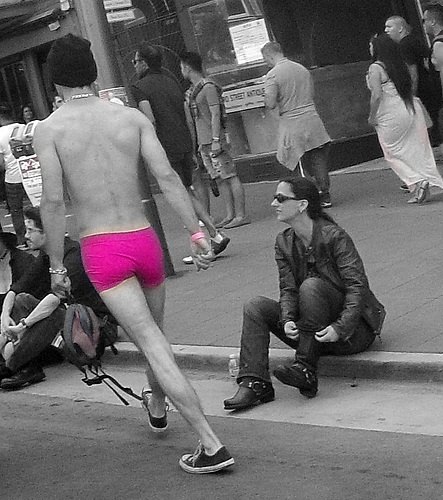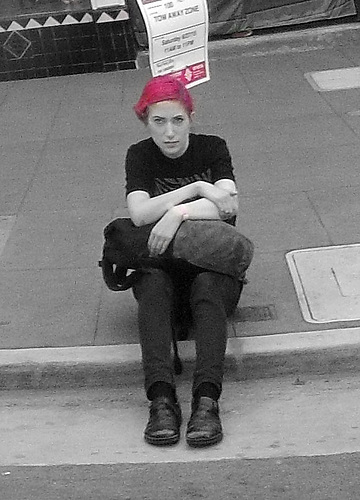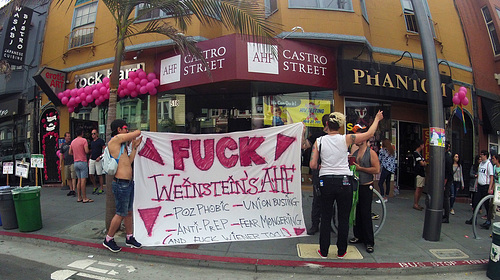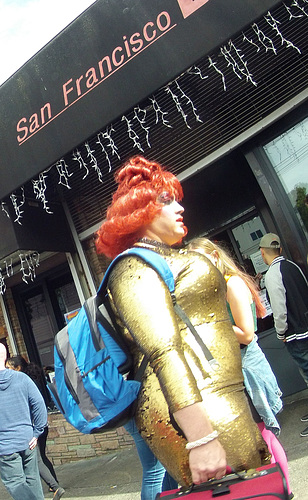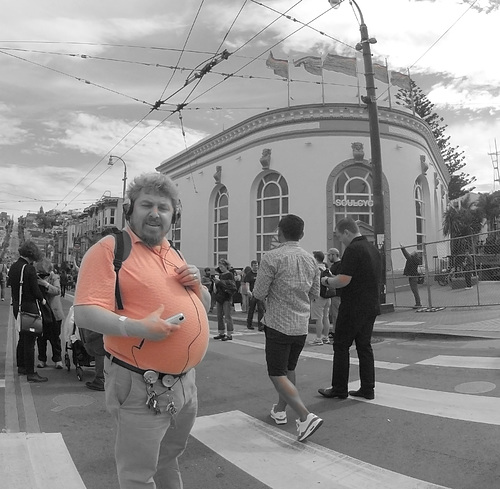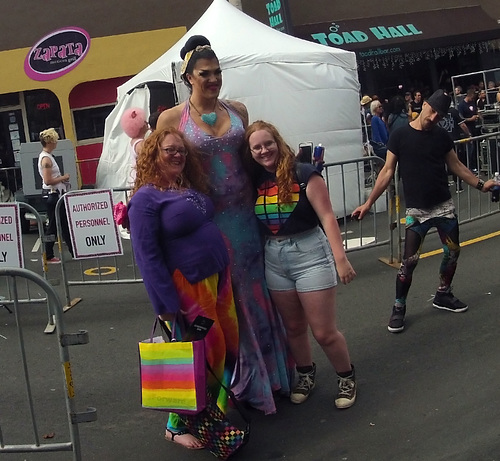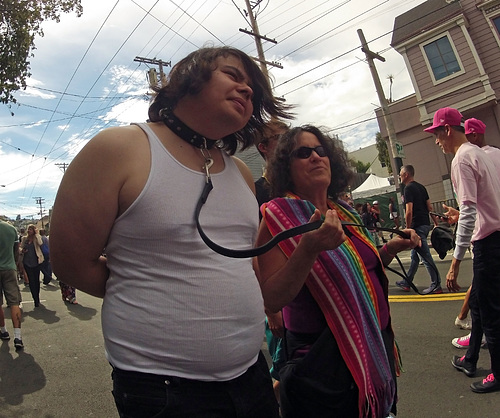 I know it looks like mother and son, but I'm not going there.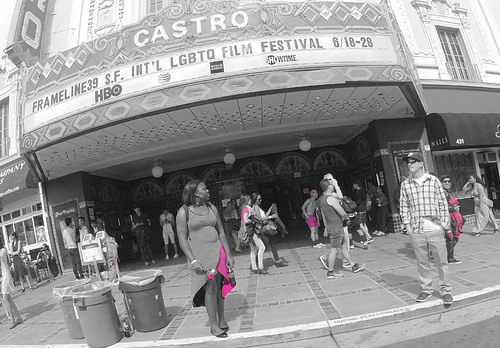 The complete set of my photos from the Pink Party can be seen here.
permalink | July 17, 2015 at 07:18 PM | Comments (0)
July 16, 2015
Smiling Happy Faces
My photos from the 2015 San Francisco Pride Parade (here's a link to the complete set of photos'):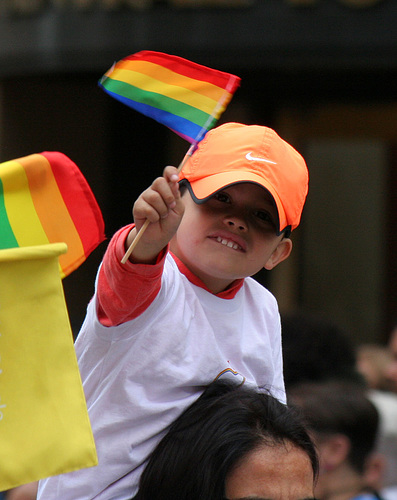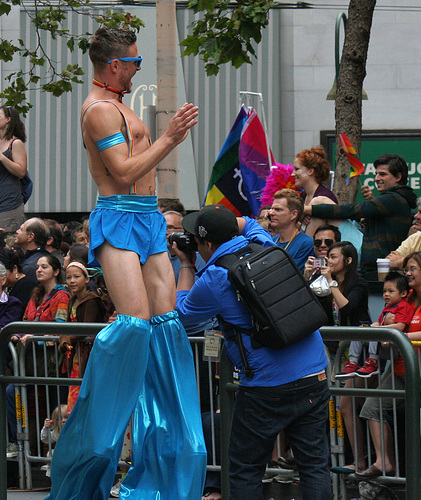 Which is not the same organization as Boy Scouts For Equal Rights.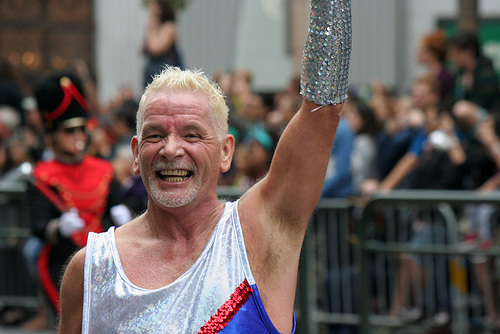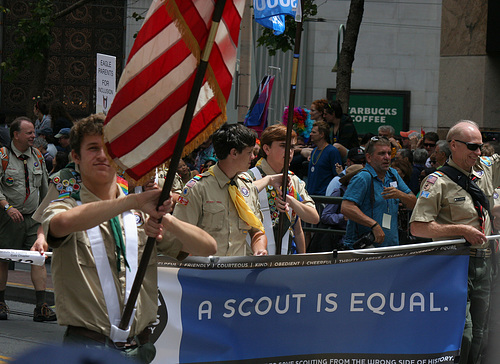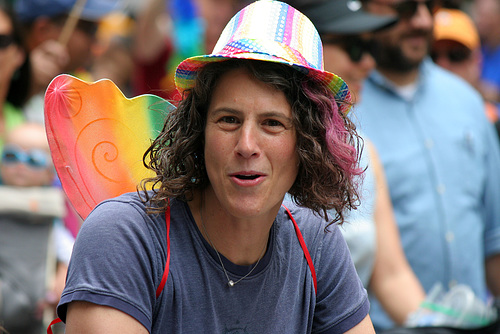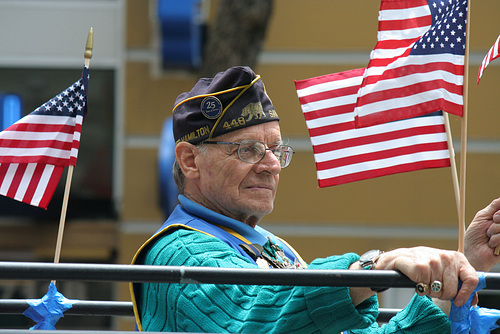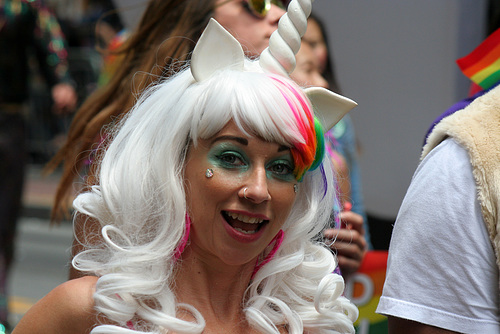 Escapee from the Black Rock Desert.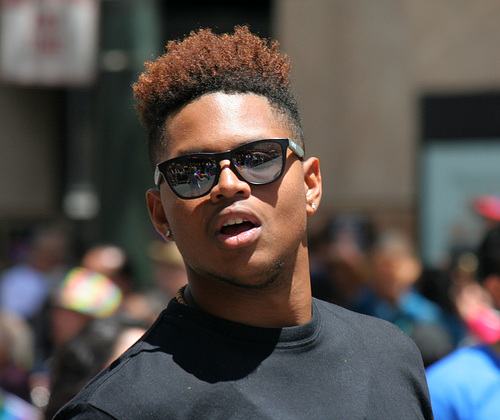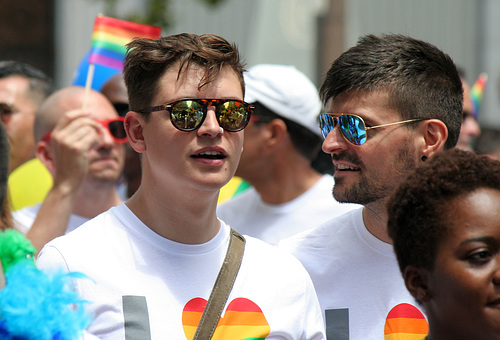 Gay Mexico chasing the U.S.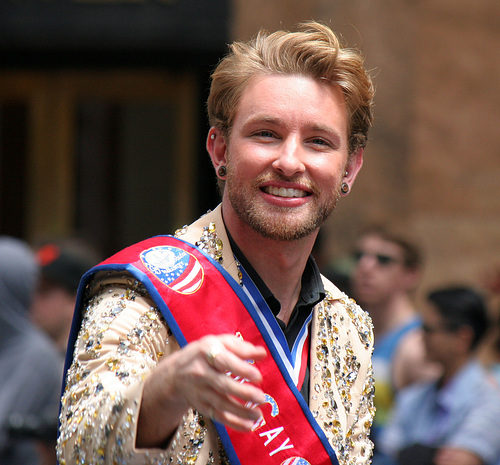 Mr. Gay USA - meh.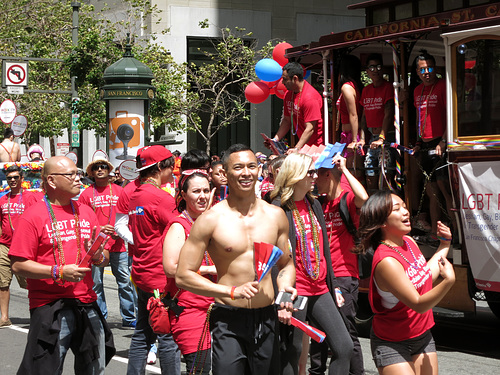 Oh no, somebody stole his shirt!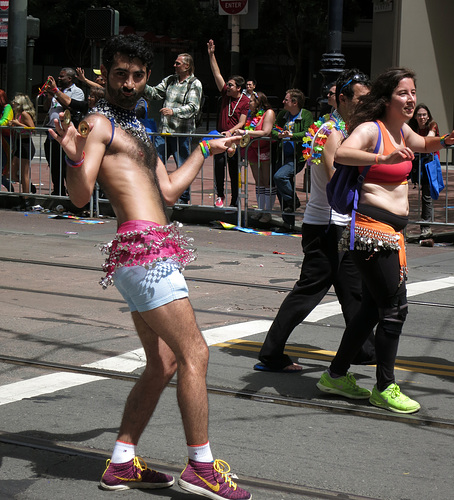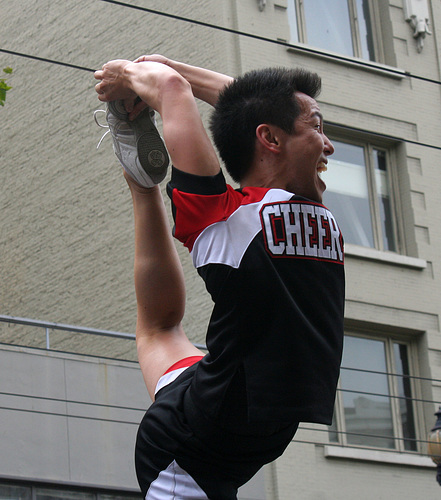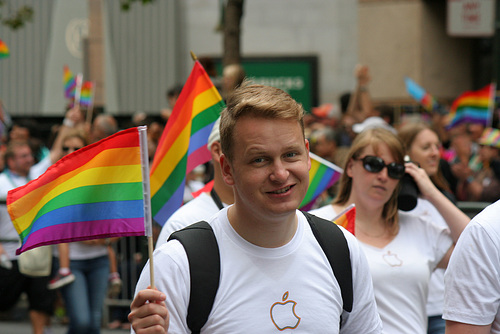 So there was this big contingent from Apple.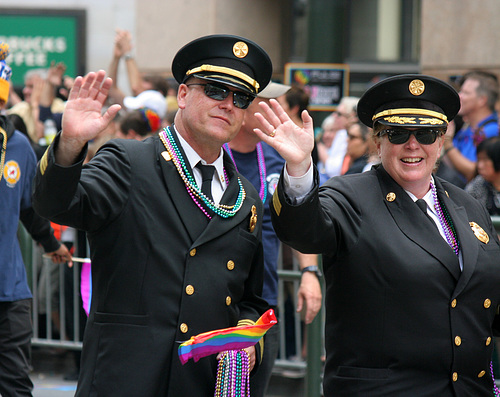 Nancy Pelosi.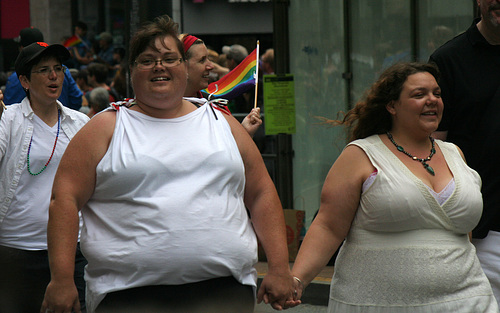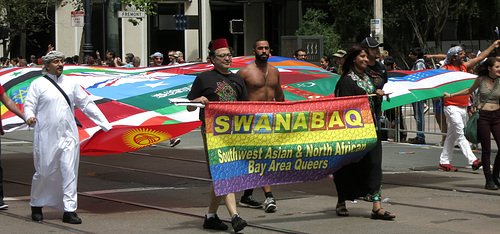 SWANABAQ - Southwest Asian And North African Bay Area Queers.

Fashion leader.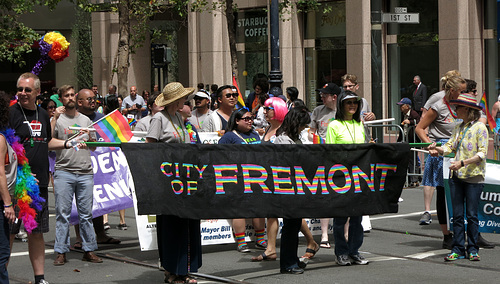 I was surprised at the number of municipalities and school districts sending official contingents.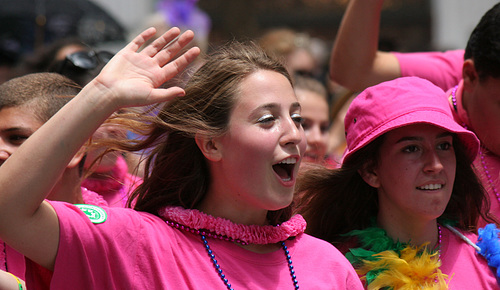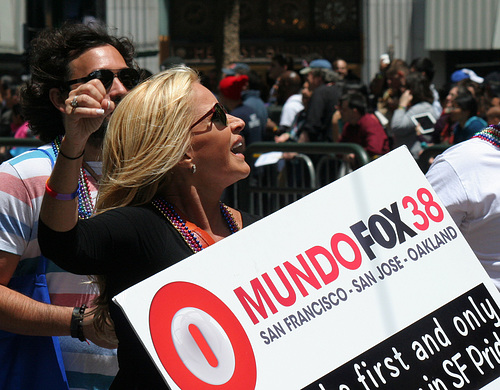 Even the Fox channel, can you believe it?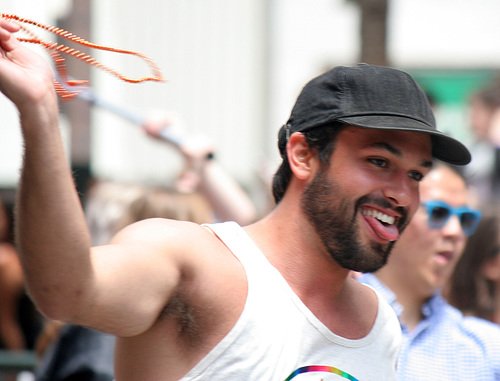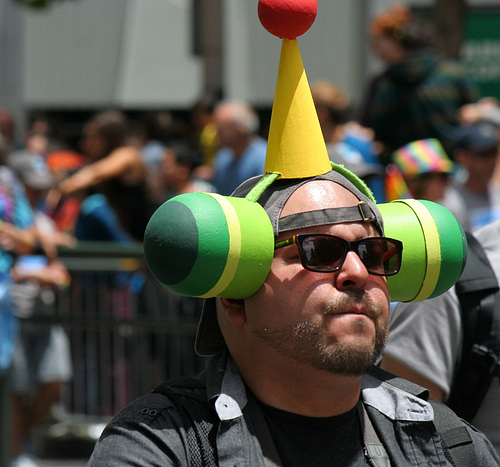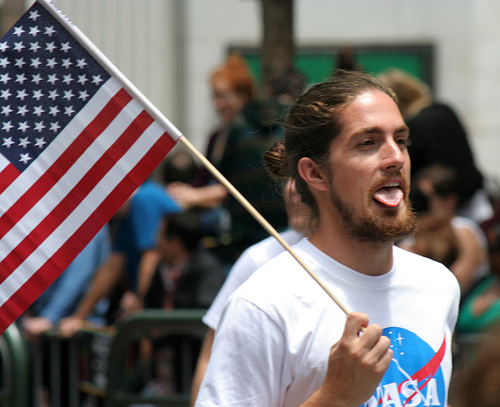 NASA Ames Laboratory.

Gavin Newsom.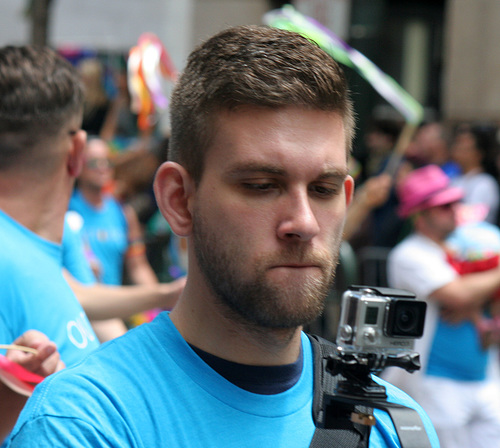 I noticed only two GoPros in the parade.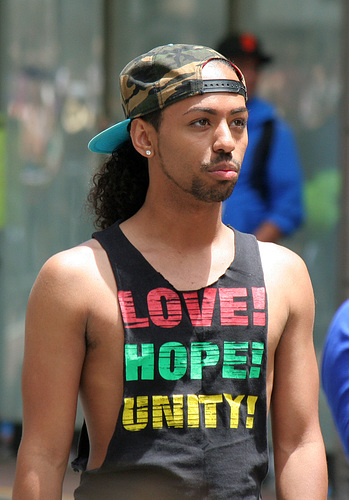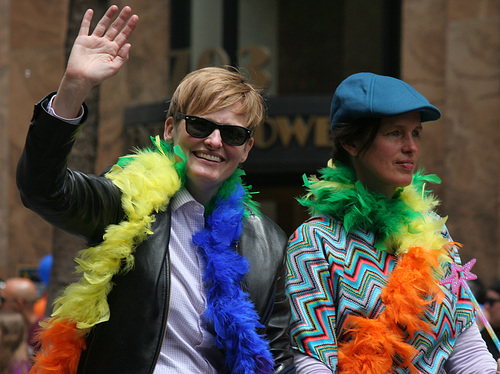 Those with a good memory for my LAWNBR 2014 photos may be interested to know that this is Google Glass Guy! He's colored his hair, but he can't change that chin. Thanks to Jim O'Keefe for his sharp eyes.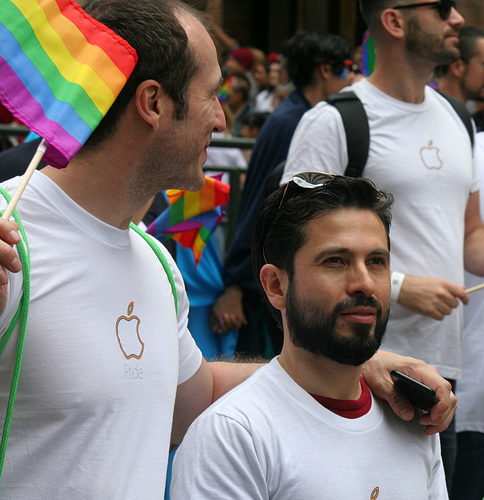 So in the Apple contingent everyone wore these t-shirts, and none were stolen.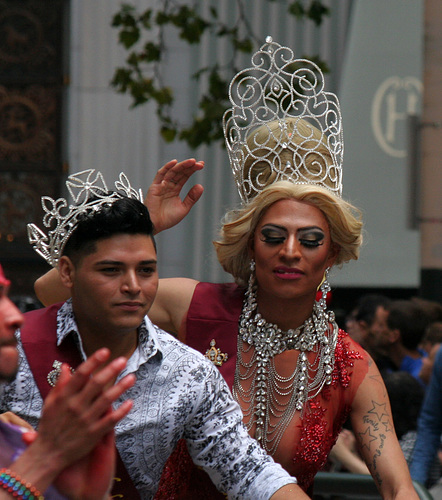 Engineering prowess.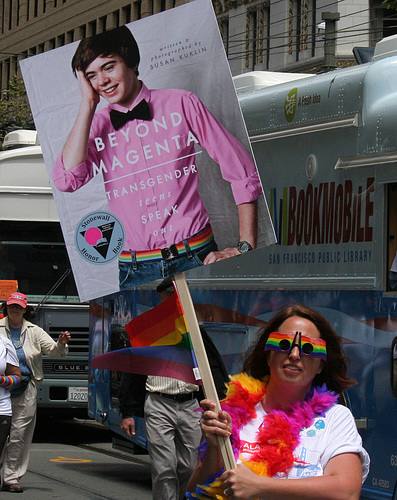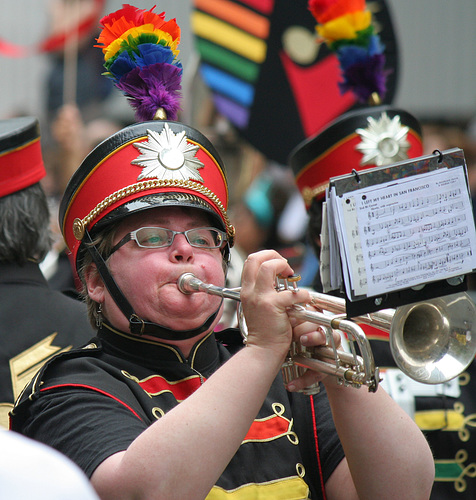 The sheet of music facing us is "I Left My Heart In San Francisco."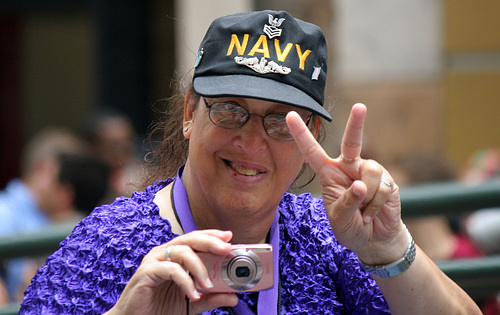 Possibly the youngest in the parade.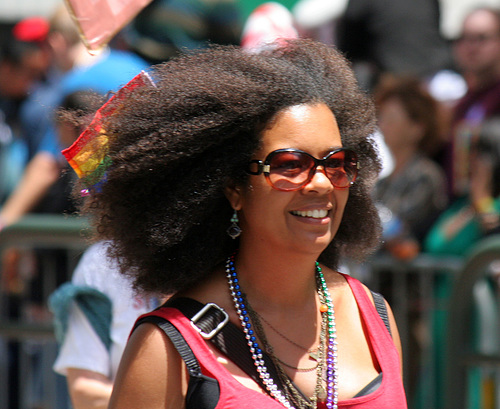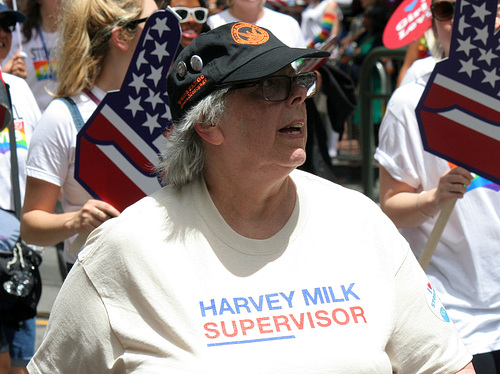 An original t-shirt? Somebody with good knowledge about Harvey Milk's campaign might be able to verify.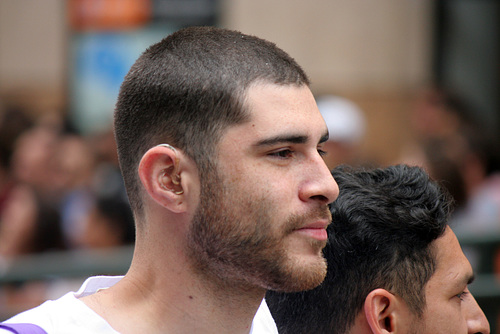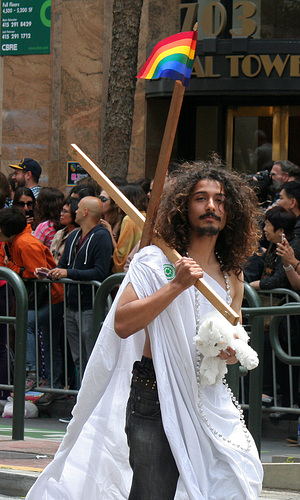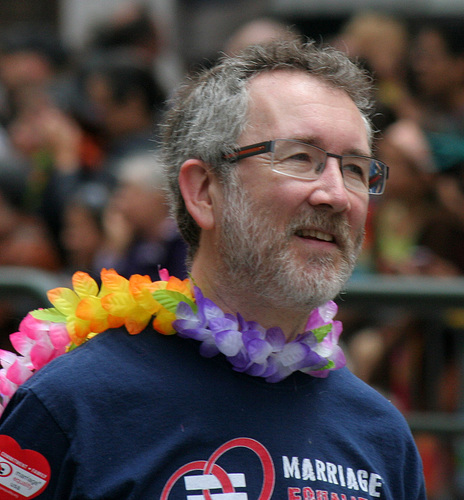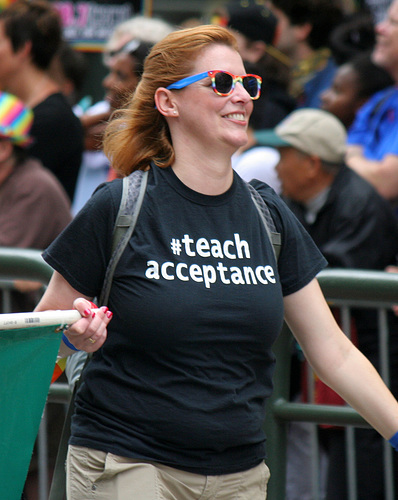 Dancing while seated.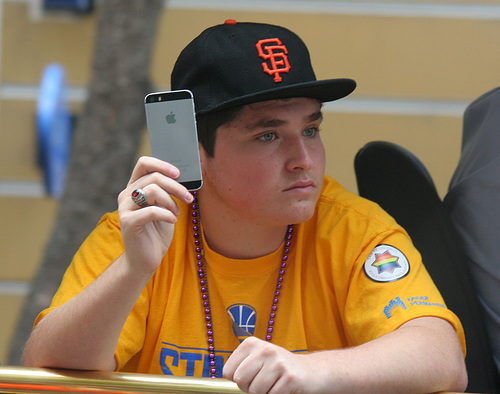 Ennui.

Firefighter.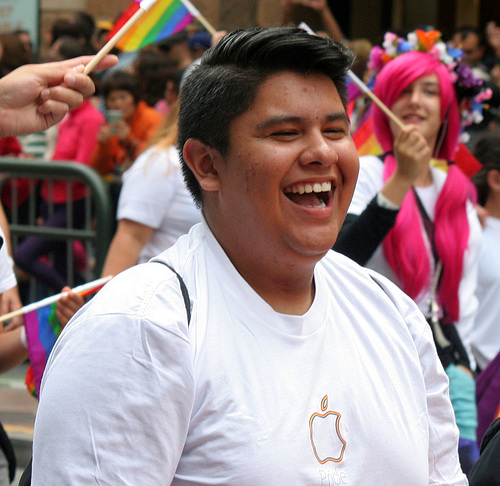 And this Apple contingent was curb to curb with nothing but t=shirts, rainbow flags and a banner. No fancy show.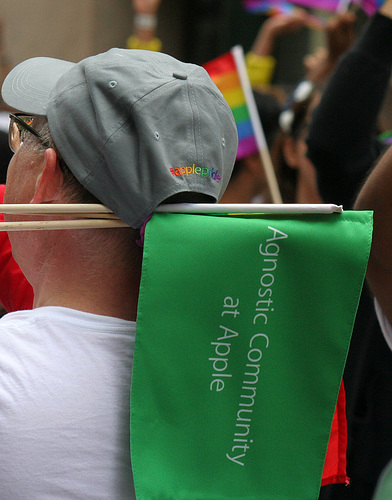 Agnostic Community at Apple - I don't know if this means people at Apple who are not prepared to say whether there are gods or not, or is an Apple Agnostic someone who is not prepared to say that any particular operating system is better than any other - Windows, OSX, Linus, all good.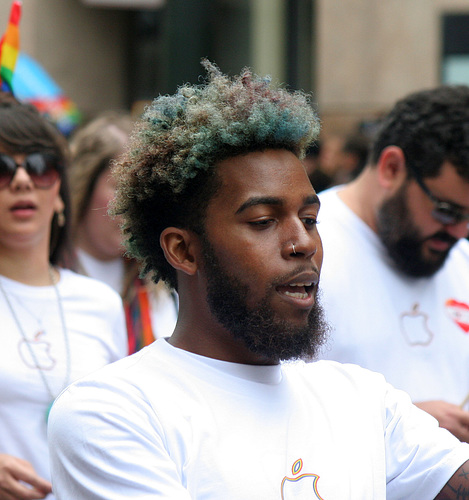 The size of the Apple contingent was estimated at 8,000!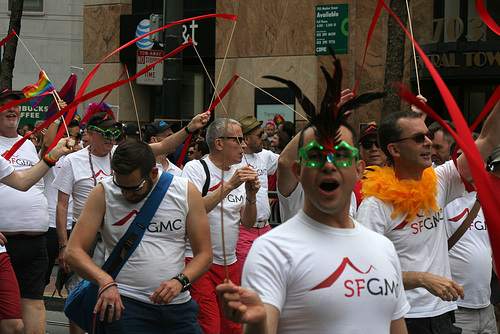 San Francisco Gay Men's Chorus, some taking advantage of props left over from the Pride concerts.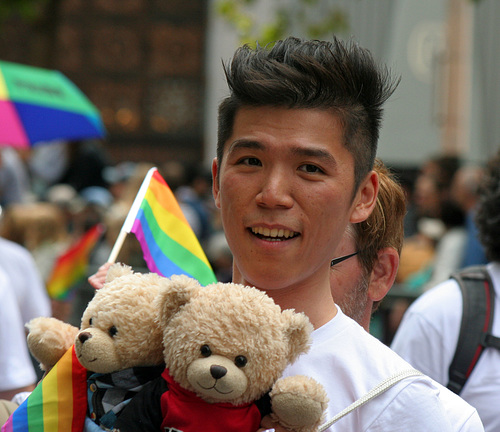 He's with Apple.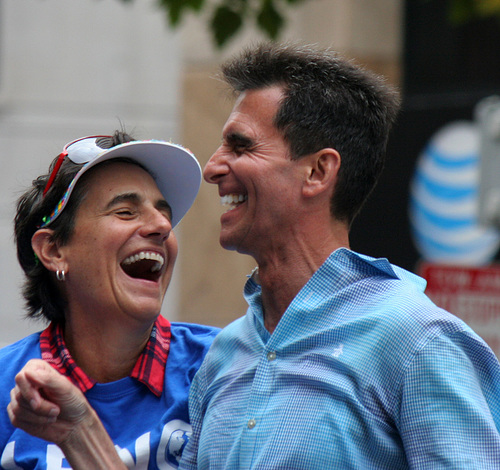 Mark Leno.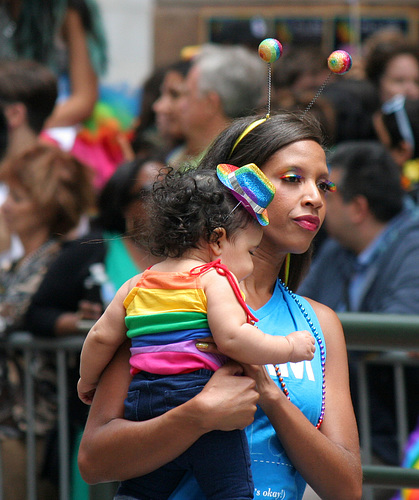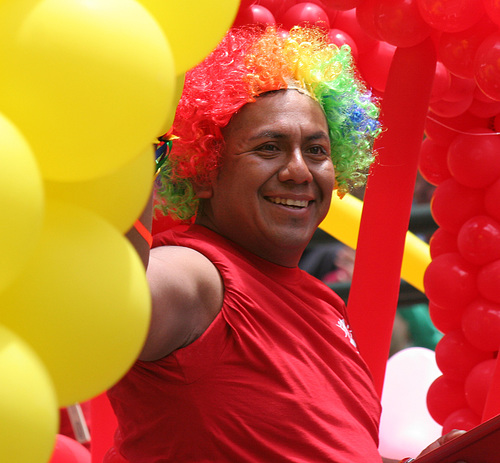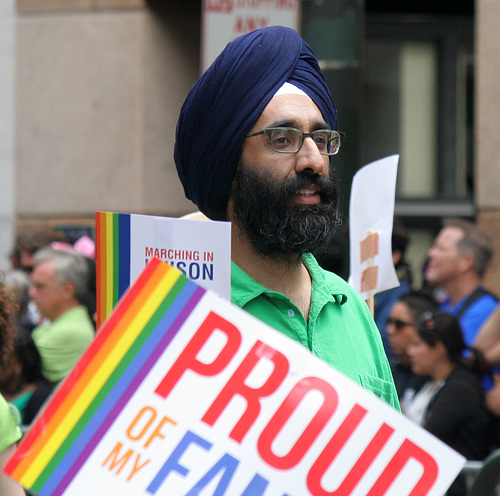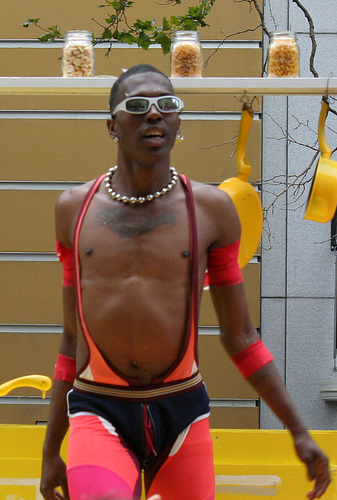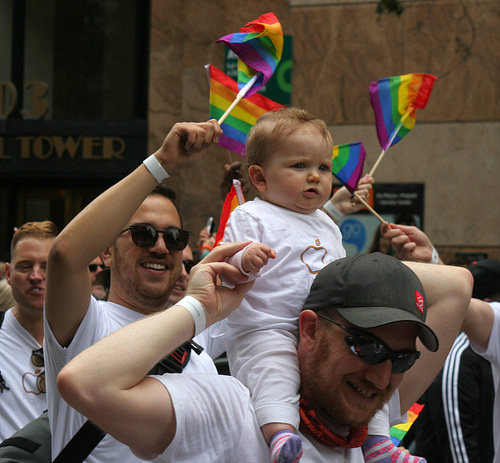 Like I said, everyone in the Apple contingent wore that t-shirt.

A girl has to know how to pick the right shade of lipstick for her skin tones.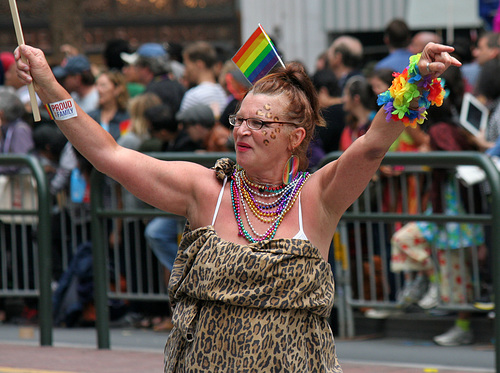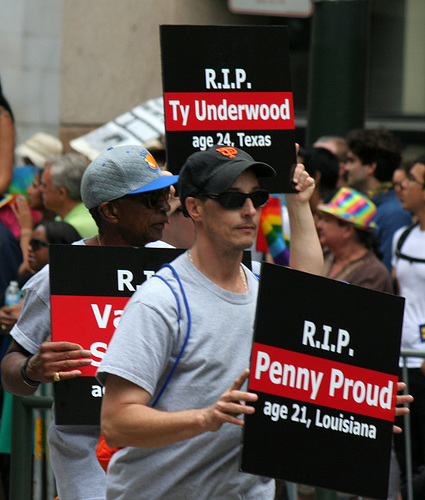 The signs they carry memorialize trans individuals who were killed for being trans.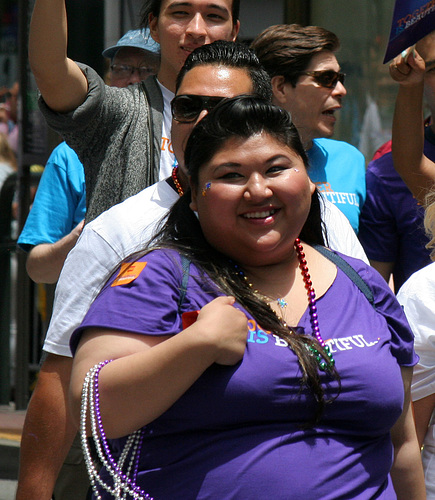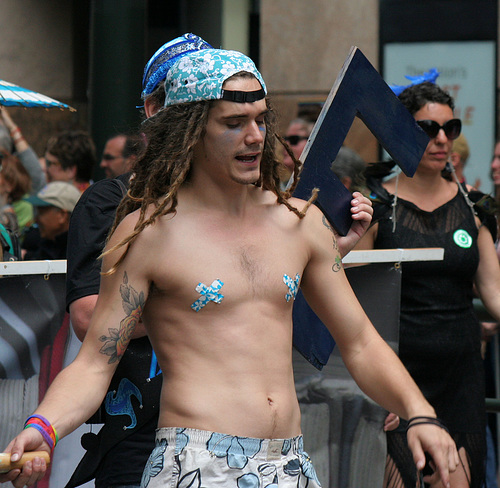 The contingent from Kaiser Permanente all wore Golden State Warriors t-shirts. Is there some connection between the two, or was the provider of Golden State Warriors t-shirts simply the lowest bidder?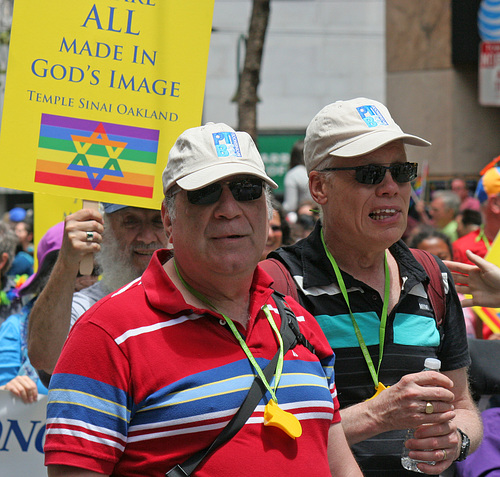 Two old Jewish guys.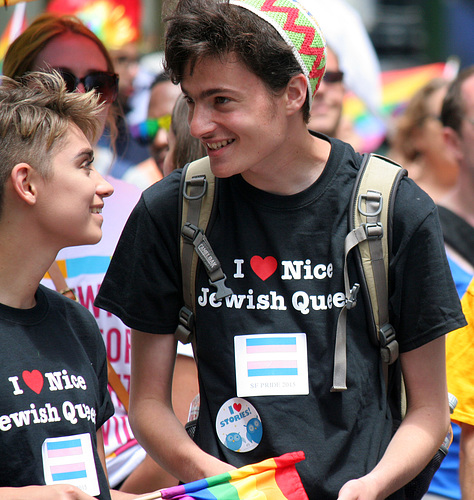 Two young Jewish guys.

Market Street is pretty big, you know, but even spreading from curb to curb the Apple contingent went on for blocks without interruption.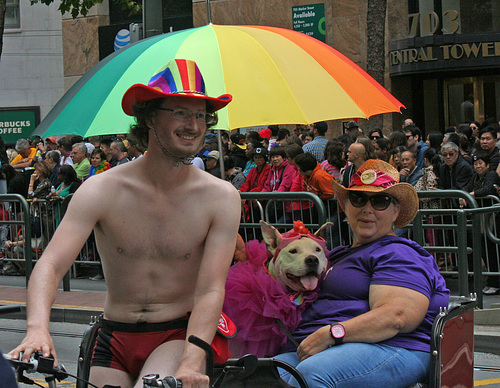 Lucky dogs, all three of 'em.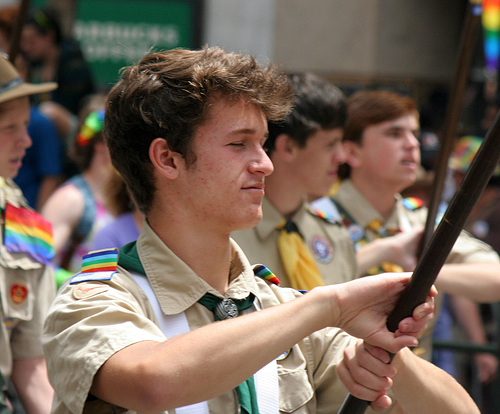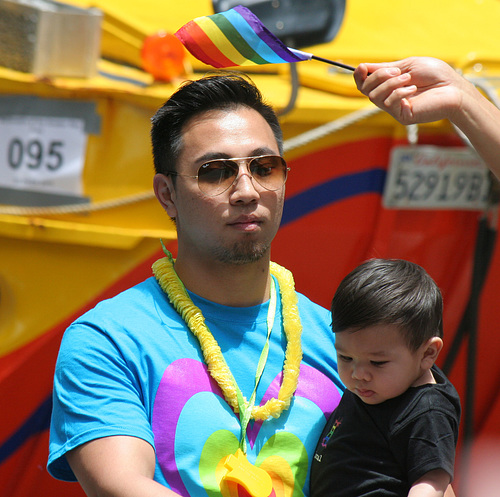 Ya know, you go to San Francisco expecting to be surprised, no matter how many times you've been there before, and this was my surprise. McDonalds in the Pride Parade?!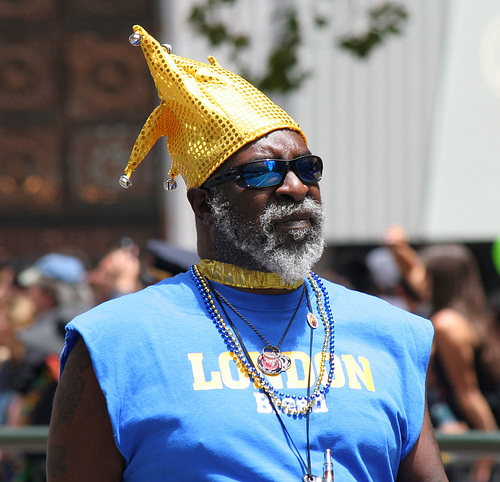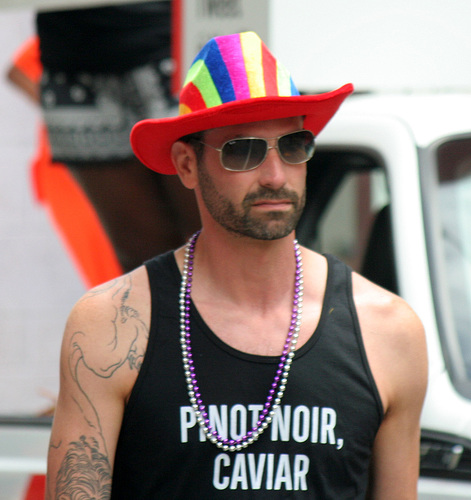 Part of the Netflix contingent.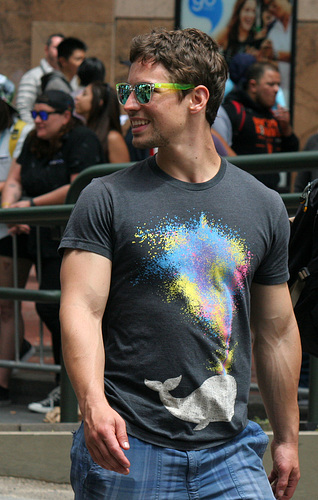 Exercising his right to bare arms.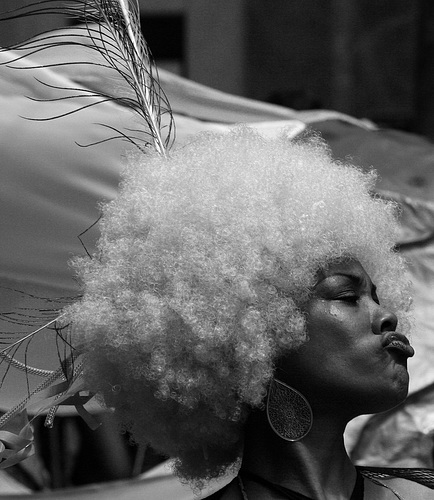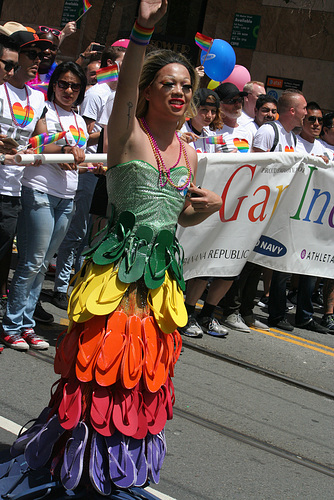 Old Navy shows you how to put their flip-flops to good use.
The complete set of photos from the 2015 San Francisco Pride Parade is here.
permalink | July 16, 2015 at 10:34 PM | Comments (1)
July 12, 2015
Boston Gay Men's Chorus
First gay men's chorus to perform in the Middle East - Israel and Turkey. A montage of scenes from their tour.

BTW, the video below shows the Istanbul Pride parade on June 28, 2015. Add a few dogs, make it black & white and you've got Alabama in the 1960s. The nominal reason for the police interference is that the parade took place during Ramadan.

Please spread this video and show the hatred against LGBTQ ppl in Turkey to everyone. #Pride2015 #Istanbul #LoveWins pic.twitter.com/AhPVwvDvd1

— Ahmet A. Sabancı (@ahmetasabanci) June 28, 2015
permalink | July 12, 2015 at 07:48 PM | Comments (0)
July 9, 2015
Even Faster Than The Confederate Flag Thing
Kansas was the last state to question whether Obergefell applied to them. They probably went back to check for any errors in the process by which Kansas joined the union. And then they probably studied the federal Constitution. Imagine their surprise when they discovered that Kansas had actually ratified the 14th amendment on January 17, 1867. Perhaps that sparked memories of a time when Kansas was a symbol for radical freedom.
Today Kansas dropped its last barrier when the Department Of Revenue agreed that a woman could list her wife and children as dependents.
permalink | July 9, 2015 at 04:27 PM | Comments (0)
Gettin' Their Hate On
In a well-written, amusing piece, Zack Hunt, a Tennesseean who has been living in Connecticut for three years, explains how same-sex marriage will not bring about any of the apocalypses that anyone has predicted.
Wikipedia (it's the god's truth, ya know?) tells us there are about 4,200 religions in the world. Just the list Abrahamic religions goes on for a few pages. Then there are the Indian religions (pages), Iranian religions (only a few), East Asian religions (a little more than a page), African diasporic religions, Mesoamerican religions, Indigenous traditional religions (pages), "Historical" polytheism (maybe the word "Historical" is to distinguish it from what goes on at Burning Man), Mysticism and occult, Modern Paganism (they use iPhones), New religious movements (there's room for more?!?!), Left-hand path religions (I never heard that term before, but it includes Satanism and Luciferianism - which I think is Satanism for the better educated), Post-theistic and naturalistic religions, Parody or Mock religions (even Pastafarianism, which is recognized by the IRS and Veterans Administration, I believe), and then "Others" (Deism, Eckankar, Humanism, Universal Life, etc.).
And who does Zack Hunt address his article to? Only one single religion. And in the comments on his article, where does the hate speech come from? Only from those who profess belief in this one single religion. "Is it Zoroastrianism," I hear you asking. No, no, it's not the Zs. It is, of course, Christianity - despite the fact that there certainly are lots of hardcore homophobic Jews and Muslims, but those religions seem to keep their objections within their own religions rather than taking them out in public and trying to literally beat them into others. Those who have been paying attention have seen how even the Latter Day Saints quickly adopted the way of the Jews and Muslims after the debacle of 2008. And don't we all love seeing the unofficial Mormon contingent coming in the Pride parades?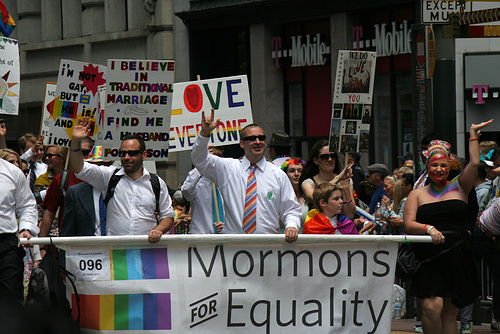 From a commenter:
I believe America will be judged the same way Sodom and Gomorrah was. In 2 Peter 2:6 it says and turning the cities of Sodom and Gomorrah into ashes, condemned them to destruction, making them an example to those who afterward would live ungodly; It doesn't get much clearer than that. When God flooded the earth He gave the rainbow as a promise that He would never destroy the earth with water again, but it says here He gave Sodom and Gomorrah as an example! I pray God would spare us judgement, but I believe we have gone too far.
So let's go to the King James version (the most error-laden popular translation, which might explain someone's misunderstanding).
9 The Lord knoweth how to deliver the godly out of temptations, and to reserve the unjust unto the day of judgment to be punished:

10 But chiefly them that walk after the flesh in the lust of uncleanness, and despise government. Presumptuous are they, selfwilled, they are not afraid to speak evil of dignities.
Mightn't one think that gay people who want to marry are godly and have suffered the temptations of a permanent unmarried life? Hasn't god, using the Supreme Court, delivered them from that? And those people who despise government, those people seem to be excluded from those who are godly. And the filth that they attempt to heap onto marriage? Isn't that speaking evil of dignities? Personally, it's all about as real as "Atlas Shrugged." A long, interesting story. But some people really believe in it, and then the trouble begins.
permalink | July 9, 2015 at 01:43 PM | Comments (0)
Bubbling
Most people in San Francisco are aware they live in a bubble. How then to learn about the rest of the wild and wooly United States? Go to this conference on "LGBT Life Outside the Bay Area Bubble." It's conveniently located in downtown San Francisco at 555 California Street. This way the attendee can stay so far from the edge of the bubble he won't even be able to see the iridescent rainbow shimmering that would alert you that would alert him to the approaching bubble boundary.
The first topic in the conference is entitled "People Actually Live In Fresno And Why" or so I am told.