October 14, 2015
Wildwood Retreat
A few weeks ago I spent a pretty fabulous weekend at the Wildwood Retreat in the hills above Guerneville. I'd never been to Guerneville or Wildwood before. It's full of trees! And it rains!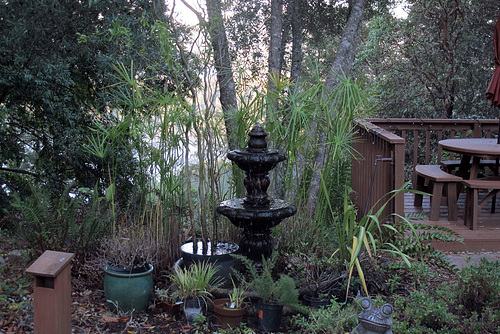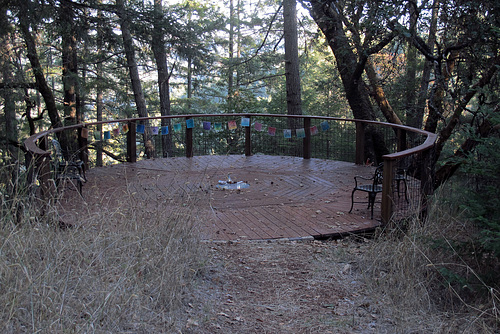 Part of the Wildwood Memorial Grove.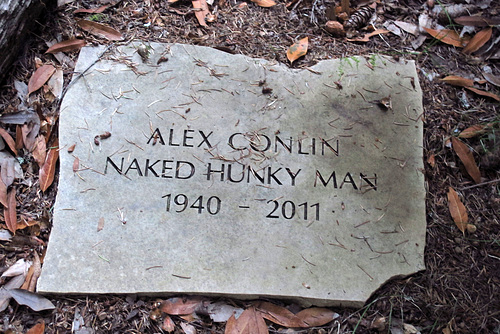 In the Wildwood Memorial Grove.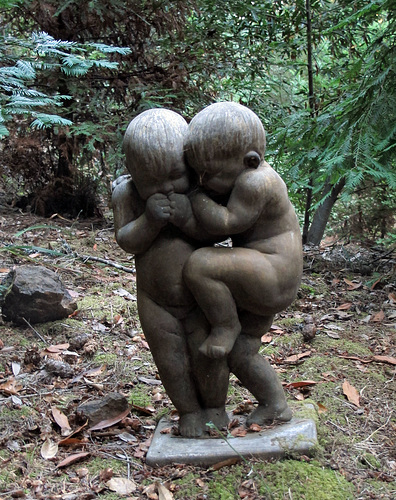 Experienced Wildwood campers told me the fog would fill the valleys below during the night, but even expecting that, at first glance I thought I was seeing a lake when I walked out there on my first morning.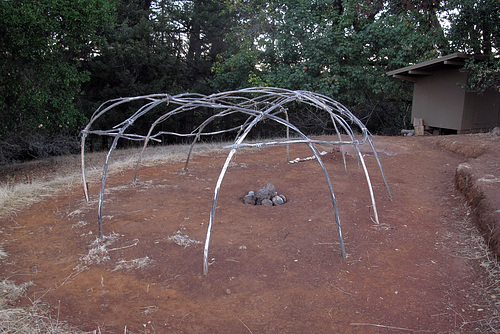 The skeleton of the sweat lodge. This was my first time ever doing a sweat lodge and, man, was it hot! Wish I had a thermometer so I could make an objective comparison to a Finnish sauna. It was a great experience with seven guys and one woman (the leader). She said she could have fit 20 guys in the sweat lodge!


The campgrounds. Nicely level, but it seemed odd to hear the wooden sound if I dropped something inside my tent.

Under the cloth is an effigy that Kirk Prine puts together over the course of a year. It will be burned on the winter solstice at Baker Beach.
Here, Kirk Prine explains in this video. Besides this, he's a fabulous facilitator for a variety of psycho-circles (or whatever you might call that head stuff).
More of my Wildwood photos can be seen here.
permalink | October 14, 2015 at 11:03 AM | Comments (0)
October 13, 2015
Rare Volunteer Opportunity In Palm Springs
You can help build the BAAAHS for Palm Springs Pride!
Volunteers are needed Friday, Nov 6 to set up, Nov 7 & 8 to staff the event and on Nov 8 to teardown. This is a great opportunity for Burners, admirers and anyone else looking for a penetrable experience that will bathe them in amazing music, state-of-the-art lighting, and the furry futuristic wool of a 40' long sheep whose only entrance is in the rear.

Volunteers for setup and teardown shifts will be directed in assembling the sheep by experienced BAAAHS staff. They'll need to be able to lift moderately heavy items (under 50 lbs). Some experience with tools or basic construction is nice but not required. BAAAHS will provide safety gear and training.

BAAAHS debuting in the Coachella Valley will provide a stage for queer artists on Palm Canyon Dr. during the annual Palm Springs Pride Festival.
Follow the link above to find the volunteer form to fill out and submit.
What is BAAAHS? An art car from Burning Man. You can see it towering over this crowd during this year's Naked Pub Crawl. Normally there would be lasers in the eyes, but lasers were banned at Burning Man this year.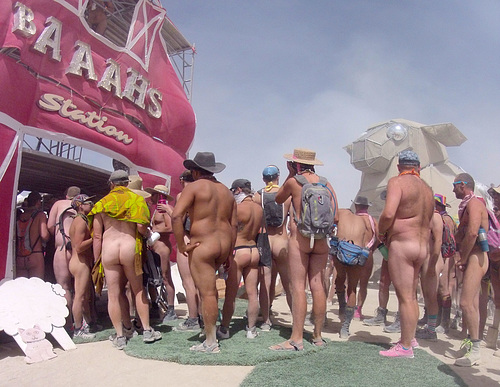 permalink | October 13, 2015 at 09:16 AM | Comments (0)
October 7, 2015
Pastor Jesse Sanchez
These are the words of Pastor Jesse Sanchez of Living Word In The Desert, and is, BTW, the person responsible for creating the Brownstown gang.
Mayor Adam Sanchez considers Pastor Jesse Sanchez to be his pastor. He has recognized him officially at a City Council meeting and brought him to the Carl May Center to do the Mayor's swearing-in.
Jesse Sanchez
The gays will never take over because they cannot multiply. So they have to adopt children and teach him their perverted ways. I seen a video where gays are screaming saying we want your children I wonder why? To rape them to teach them perverted stuff to brainwash them from being a real man or a real woman. Now I have helped gay people and they have changed but the truth is the truth. Use some common sense. There is no babies without a woman they need a real man to make that happen. You don't see no gay dogs and you don't see no gay cats it's always male female. If you thrown in jail its for a good reason maybe now people wake up and believe ...Jesus said we will be persecuted for his namesake Jesus love people even gays. He died for the whole world sinners he's just waiting for us to choose his love sin is ugly. Most of they guys that talk to where molested or raped. So in their mind
This showed up on Facebook at some time (maybe yesterday?) and I did not see the original, but only this screengrab. If I'd seen the original I would have gotten you the full text, but there's enough here to establish his deep ignorance, bigotry and homophobia.
I've been reluctant to say, because I don't want to jinx it, but since I moved to Desert Hot Springs in September 2004 I have not been made aware of any homophobia, racism, anti-semitism or any other hatefulness in Desert Hot Springs. Which would be something of a surprise, if one were to judge us only on the way we fight among ourselves.
But now those silly naive 11 years are over, thanks to the Mayor's pastor spreading his Christian love. He reveals in his rant more than he intends. He, like most other homophobic bigots, forgets there are female homosexuals. It's not homosexuals he's against, it's homosexual men. If God thinks it's a sin (I'll just let you know right now that he does not) then he thinks it's a sin for both men and women. When Pastor Sanchez focuses solely on male homosexuals he reveals his own personal fears, not God's. And why is Pastor Sanchez so afraid of gay men? There's usually only one good explanation for that.
As far as I know, Mayor Sanchez has not addressed this issue. He still has Pastor Sanchez listed as an "Outstanding Citizen" on his website.
Here is Pastor Jesse Sanchez's Facebook page.
permalink | October 7, 2015 at 04:35 PM | Comments (14)
September 25, 2015
OMG! Kim Davis Does Have A Gay "Friend"
And his name is Dallas Black. Whether or not he is a friend, depends on your definition of friend. I would classify their relationship as something between "passing acquaintance" and "good acquaintance." He wouldn't go out to lunch with her, but he has her phone number.
Mr. Black says she's changed from the nice lady he used to know:
"I really don't know who Kim is at the moment. I really want to believe that the kind, sweet person who was there when my mom passed away is still there," he said. "I was friends with Kim in the past, but I don't know this woman I've been seeing."
BTW, Kentucky has no provision for the recall of elected officials. Nor does it allow citizen initiatives, so unless she gets impeached (I assume that is possible), Kim Davis can just sit there and draw her pay until the next election.
permalink | September 25, 2015 at 10:20 AM | Comments (0)
September 24, 2015
The Hunt Is On!
Kim Davis is playing the favorite game of bigots, this particular variation being "I have gay friends." She claims she has already denied a marriage license for a gay friend.
So the hunt has begun to find her gay friend(s). If you are her gay friend, major media want to interview you. If you are scummy enough, you can probably sell your story.
Maybe she met her gay friend(s) in jail, so I hope the media don't overlook that place.
permalink | September 24, 2015 at 04:28 PM | Comments (0)
September 22, 2015
Believe It Or Not!
The California Republican party has removed all the anti-gay language from its platform.
I just checked my calendar and, yes, it IS 2015.
It is not a coincidence that the Log Cabin Republicans are being permitted to participate in the California Republican party now.
permalink | September 22, 2015 at 10:15 PM | Comments (0)
September 11, 2015
Burner Buddies Group Shot
permalink | September 11, 2015 at 09:39 PM | Comments (0)
August 22, 2015
John Brown
An article in the San Diego Union Tribune about John Brown, former Mission Springs Water District Director and Executive Director of Family Services of the Desert.
Q: How did you establish the first HIV/AIDS clinic in L.A.?

A: Back in 1984, when I was the Executive Director of The Los Angeles Gay and Lesbian Community Center, we were running an STD clinic primarily for gay men. Dozens started showing up with what, at the time, was being referred to as GRID, Gay Related Immune Disease. We started treating them as best we could with no actual targeted funds. That year West Hollywood became a city, and one of the first things the new city council did was allocate funds to us for the care of these people, soon the city of Los Angeles stepped up with help.
Q: What is one thing people would be surprised to find out about you?

A: Before coming to San Diego, I was an elected member of the Mission Springs Water District (in Desert Hot Springs) for seven years. I have a real passion for water management as well as a depth of knowledge and hope I can find a way to use that for the benefit of San Diego.
Wouldn't surprise anyone in Desert Hot Springs.
permalink | August 22, 2015 at 08:44 PM | Comments (0)
August 21, 2015
Word Reaches Philadelphia
Philadelphia police are now aware that there are cameras everywhere. A police officer there offered to let a man driving an unregistered vehicle go without a citation if he bought a couple of tickets to a charity event.
The question of whether that driver (who did buy the tickets) got cited after he nade the video public remains unanswered.
Even the Police Commissioner calls it "stupid." No weasel words there.
The cop is supposed to have made some remark about the driver's pink windshield wipers, but it doesn't seem to be in the video. He does, however, suggest that if two men attended the event together they would seem to be "fruitcakes." Sweet, old fashioned homophobia.
permalink | August 21, 2015 at 07:26 PM | Comments (0)
Syphilis In The Coachella Valley
A surprisingly accurate and informative article in the Desert Sun about syphilis and the fact that Palm Springs has got just about the highest rate of infection in the country. In every city I have seen public health information booths set up at most large gay functions. In big cities I've seen the public health department actually taking lab samples at the event, to be processed later. I've never seen that in Palm Springs, and there has never been public health information campaign targeted at Palm Springs as far as I can recall. Riverside County has just let this ride for more than ten years.