September 11, 2015
Burner Buddies Group Shot
permalink | September 11, 2015 at 09:39 PM | Comments (0)
August 22, 2015
John Brown
An article in the San Diego Union Tribune about John Brown, former Mission Springs Water District Director and Executive Director of Family Services of the Desert.
Q: How did you establish the first HIV/AIDS clinic in L.A.?

A: Back in 1984, when I was the Executive Director of The Los Angeles Gay and Lesbian Community Center, we were running an STD clinic primarily for gay men. Dozens started showing up with what, at the time, was being referred to as GRID, Gay Related Immune Disease. We started treating them as best we could with no actual targeted funds. That year West Hollywood became a city, and one of the first things the new city council did was allocate funds to us for the care of these people, soon the city of Los Angeles stepped up with help.
Q: What is one thing people would be surprised to find out about you?

A: Before coming to San Diego, I was an elected member of the Mission Springs Water District (in Desert Hot Springs) for seven years. I have a real passion for water management as well as a depth of knowledge and hope I can find a way to use that for the benefit of San Diego.
Wouldn't surprise anyone in Desert Hot Springs.
permalink | August 22, 2015 at 08:44 PM | Comments (0)
August 21, 2015
Word Reaches Philadelphia
Philadelphia police are now aware that there are cameras everywhere. A police officer there offered to let a man driving an unregistered vehicle go without a citation if he bought a couple of tickets to a charity event.
The question of whether that driver (who did buy the tickets) got cited after he nade the video public remains unanswered.
Even the Police Commissioner calls it "stupid." No weasel words there.
The cop is supposed to have made some remark about the driver's pink windshield wipers, but it doesn't seem to be in the video. He does, however, suggest that if two men attended the event together they would seem to be "fruitcakes." Sweet, old fashioned homophobia.
permalink | August 21, 2015 at 07:26 PM | Comments (0)
Syphilis In The Coachella Valley
A surprisingly accurate and informative article in the Desert Sun about syphilis and the fact that Palm Springs has got just about the highest rate of infection in the country. In every city I have seen public health information booths set up at most large gay functions. In big cities I've seen the public health department actually taking lab samples at the event, to be processed later. I've never seen that in Palm Springs, and there has never been public health information campaign targeted at Palm Springs as far as I can recall. Riverside County has just let this ride for more than ten years.
permalink | August 21, 2015 at 09:20 AM | Comments (0)
August 5, 2015
Stonewall
permalink | August 5, 2015 at 10:05 PM | Comments (0)
July 21, 2015
"Can You Feel The Love Tonight"
An authorized, legal video of part of the Pride concert by San Francisco Gay Men's Chorus.

In addition, an album with two (or is it three?) of the pieces performed at the earlier spring concert is now available for purchase. #twitterlieder: 15 Tweets in 3 Acts and For a Look or a Touch (plus Epilogue: The Narrow Bridge From Tyler's Suite):
permalink | July 21, 2015 at 10:57 AM | Comments (0)
July 20, 2015
Harvey Milk Plaza

Video by Jeff Ford.
permalink | July 20, 2015 at 11:54 AM | Comments (0)
July 19, 2015
Stop The Presses!
(Some day we're going to have to explain to kids what "presses" were.)
Here it is! Incontrovertible proof of John Travolta's gayness:
He had lunch with a guy-pal at Melvyn's!
The two of them traveled in a Mercedes!
That's a smoking condom if I ever saw one. I'm lucky I don't have a Mercedes to drive around in myself, or people might think I'm gay. I had Easter dinner at Melvyn's with two guy-pals. Maybe I do three-ways.
permalink | July 19, 2015 at 10:48 AM | Comments (0)
July 17, 2015
Pink Party
The "Pink Party" takes place on Saturday afternoon and evening of Pride weekend. It replaces "Pink Saturday" which ran a little later in the day and was organized and paid for by the Sisters Of Perpetual Indulgence. They had been seeking a subsidy from the city, but never got it, so they pulled out. So, guess what, the city came in and funded this. I'm sure it makes sense in some San Francisco political way.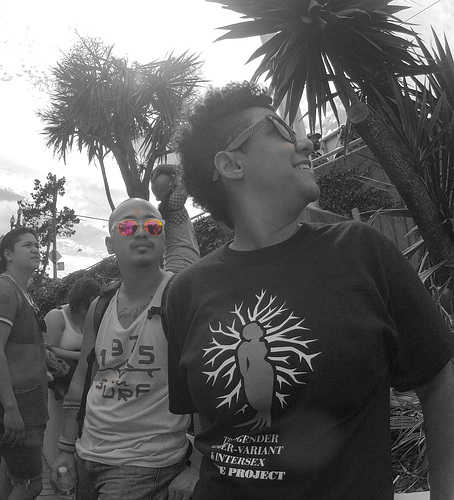 Some sort of trans flag was attached to the lower end of the pole that bears the rainbow flag in the Castro. People seemed excited that the police let them do it (why not?). And it's fair to note that whatever the design is, it's too complex for a flag. Never could quite see what it was.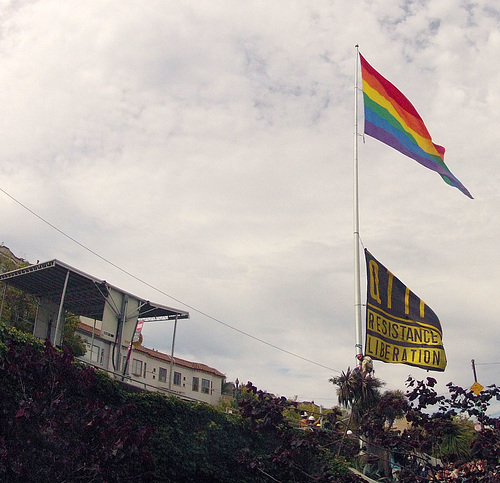 A little better here.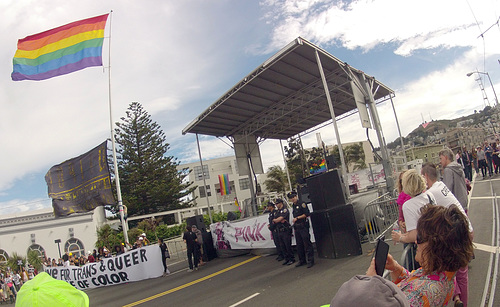 the dominant wind is from the west, so they should have known the one side of the flag they designed could be seen only by those people exiting the Muni.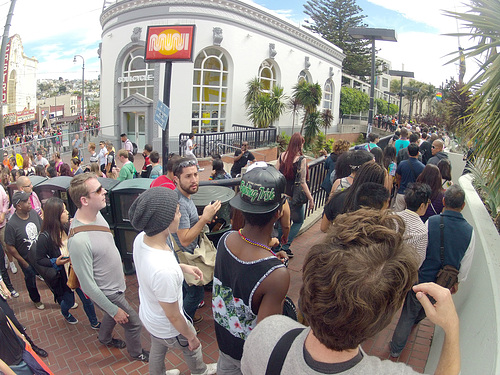 When you come up out of the Muni they can't just let you flow out onto Castro or the crowds would back up all the way down to the trains, so they route people about a block up Market Street before releasing them into the wild.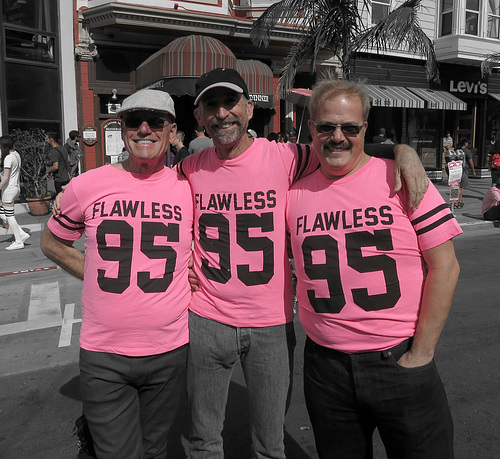 Ed, Jim and Brian from the Coachella Valley.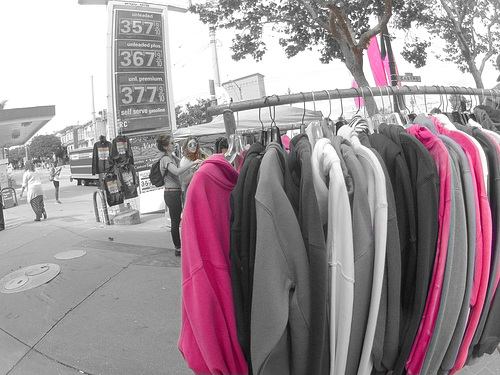 Those gas prices looked high two weeks ago.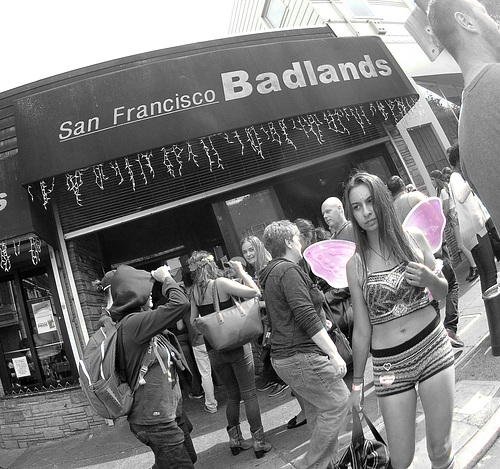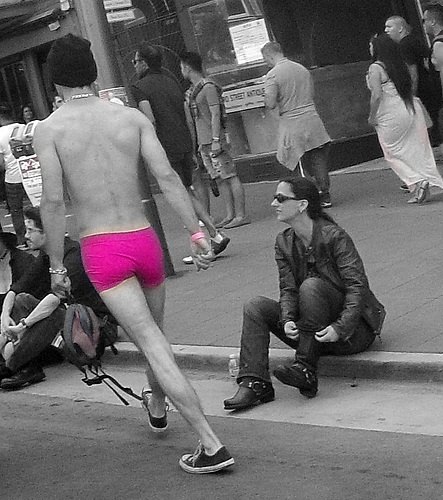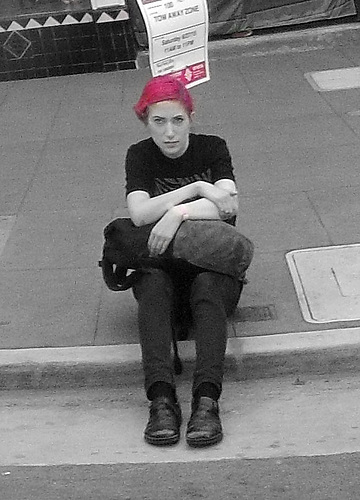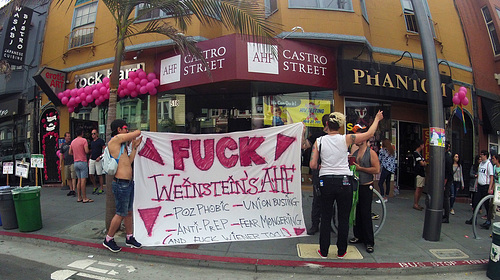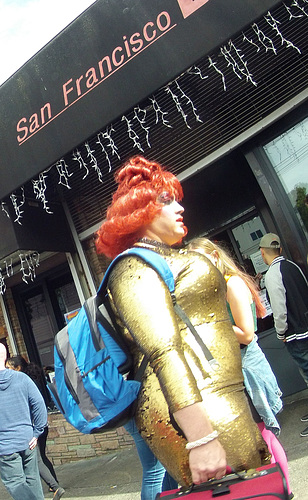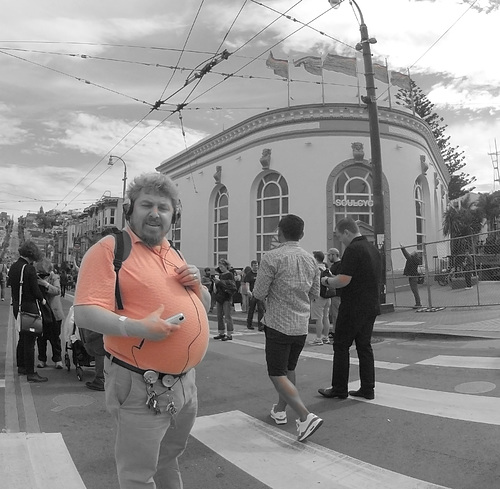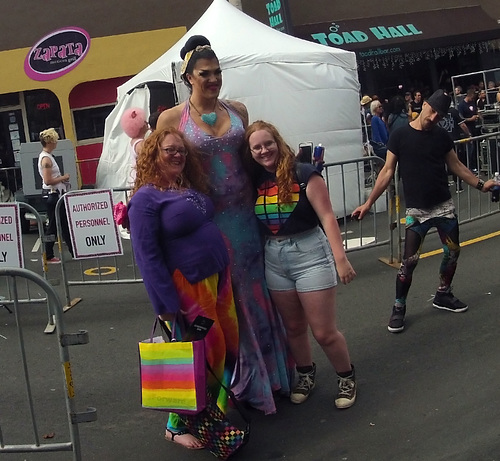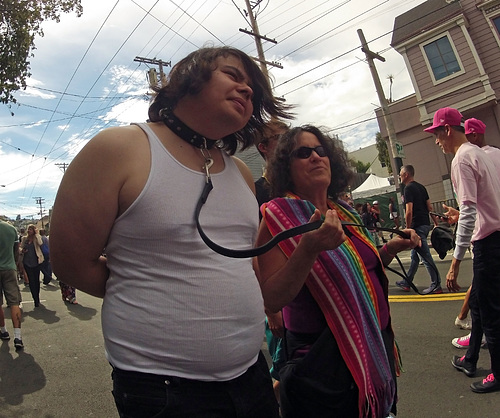 I know it looks like mother and son, but I'm not going there.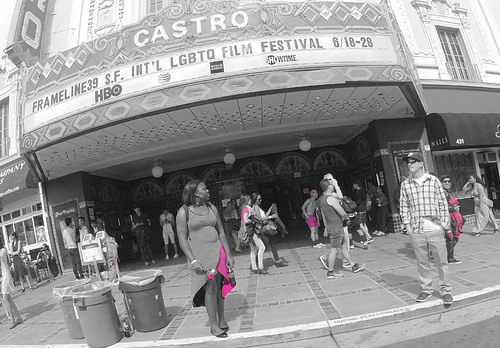 The complete set of my photos from the Pink Party can be seen here.
permalink | July 17, 2015 at 07:18 PM | Comments (0)
July 16, 2015
Smiling Happy Faces
My photos from the 2015 San Francisco Pride Parade (here's a link to the complete set of photos'):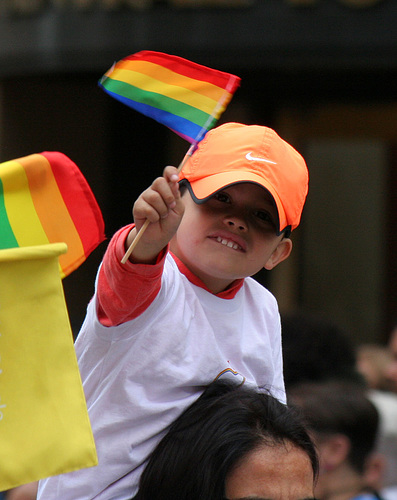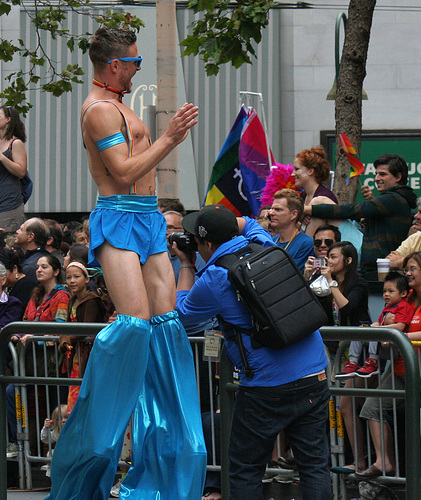 Which is not the same organization as Boy Scouts For Equal Rights.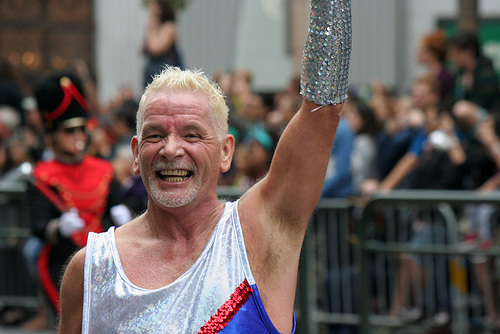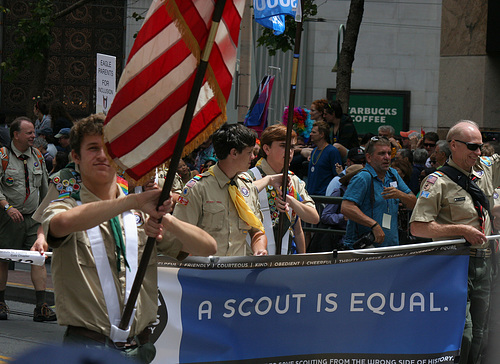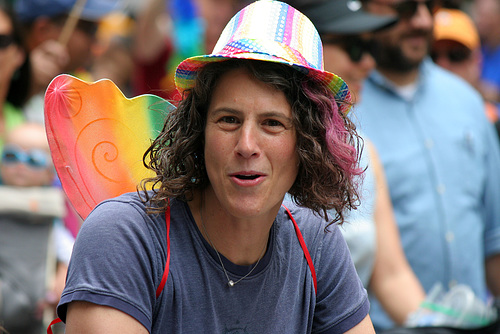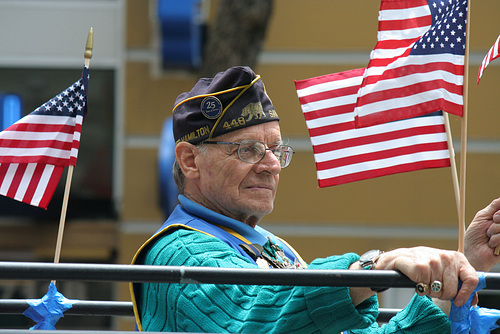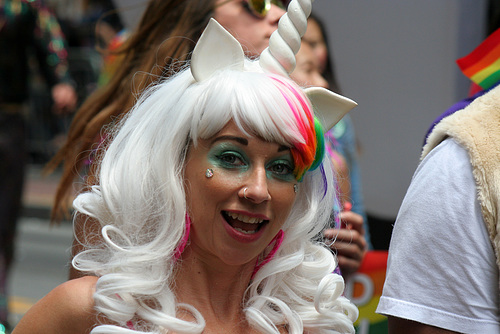 Escapee from the Black Rock Desert.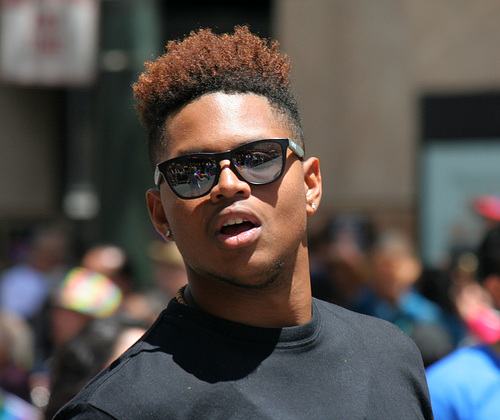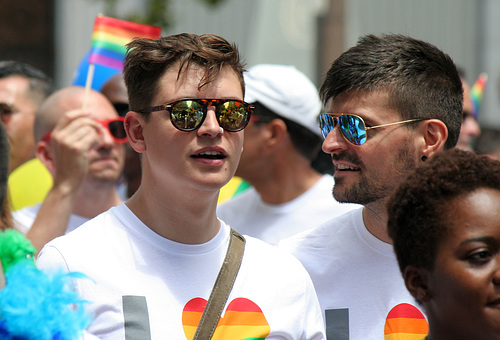 Gay Mexico chasing the U.S.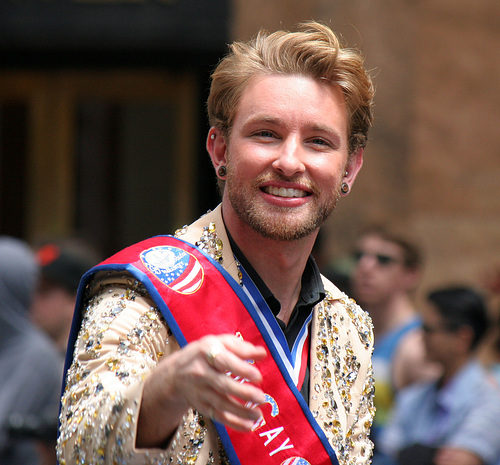 Mr. Gay USA - meh.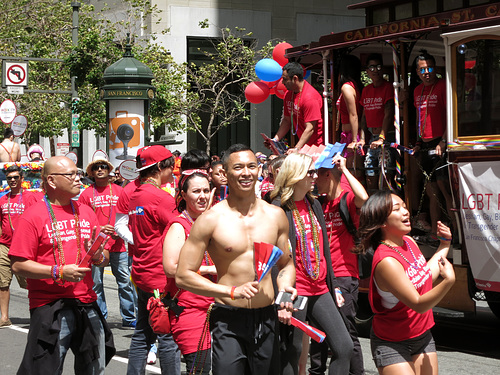 Oh no, somebody stole his shirt!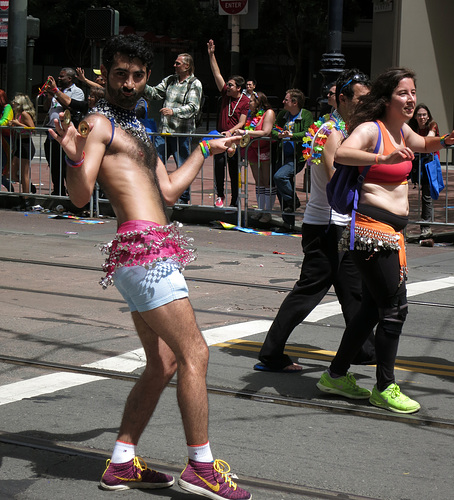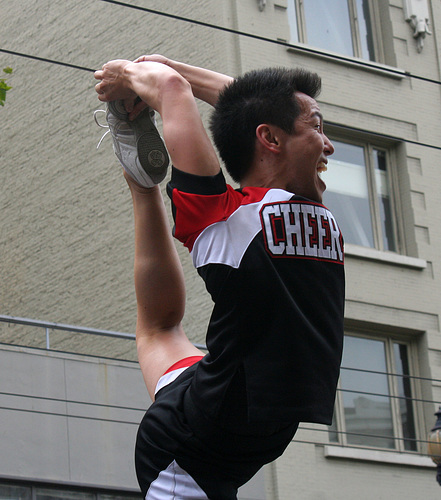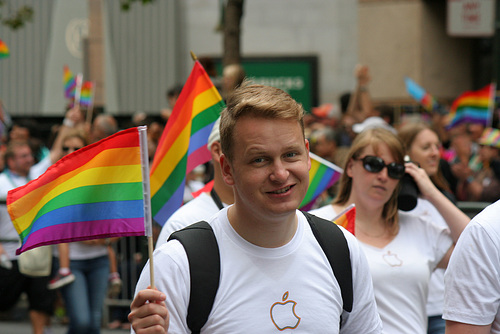 So there was this big contingent from Apple.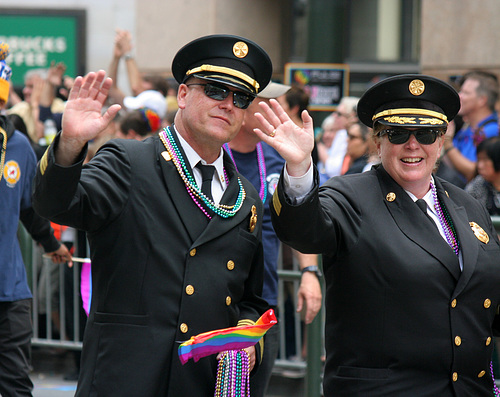 Nancy Pelosi.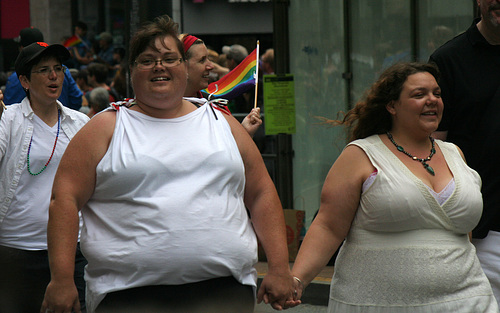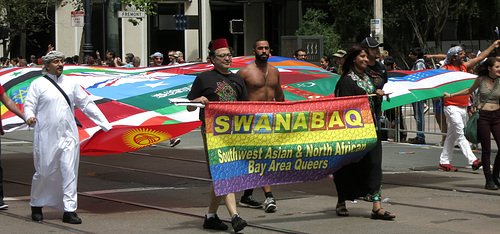 SWANABAQ - Southwest Asian And North African Bay Area Queers.

Fashion leader.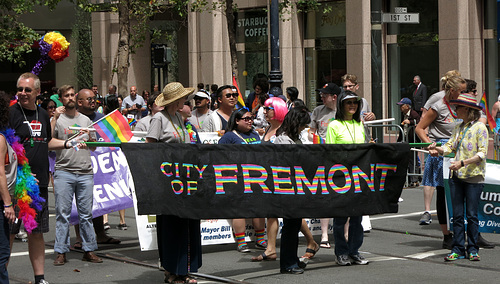 I was surprised at the number of municipalities and school districts sending official contingents.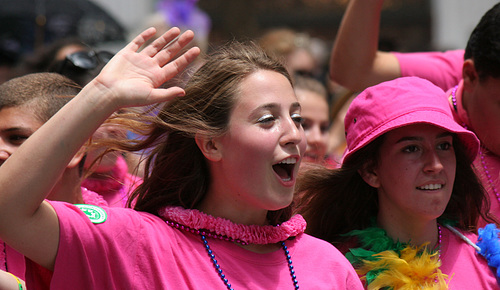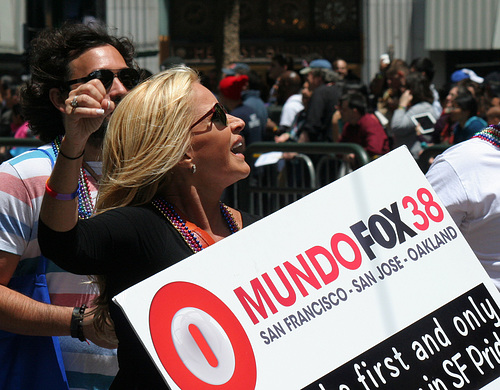 Even the Fox channel, can you believe it?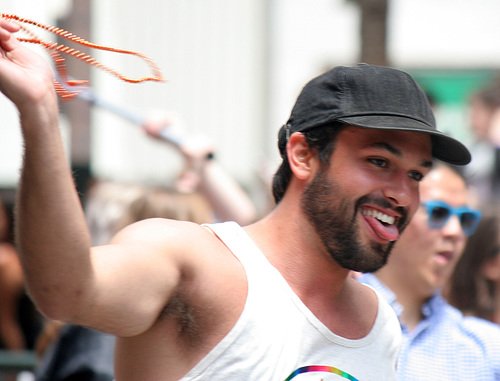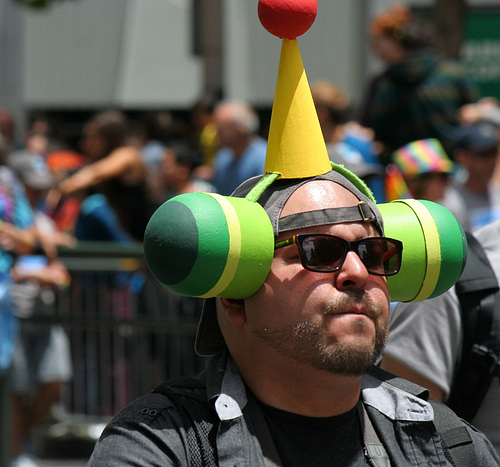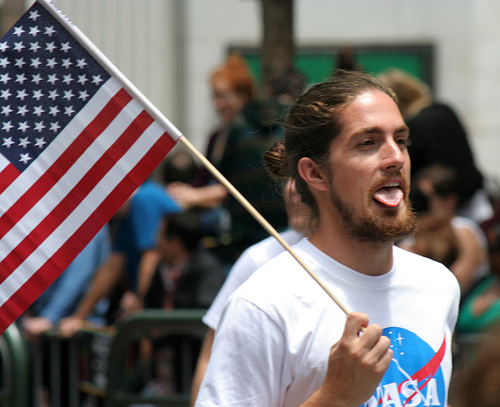 NASA Ames Laboratory.

Gavin Newsom.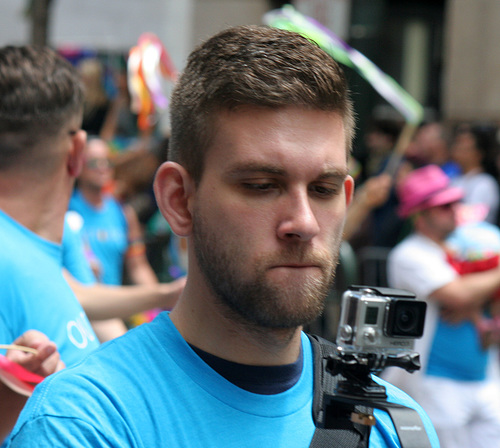 I noticed only two GoPros in the parade.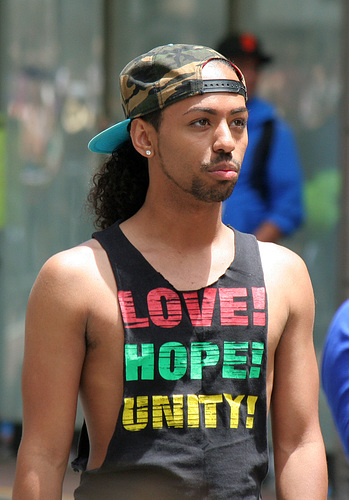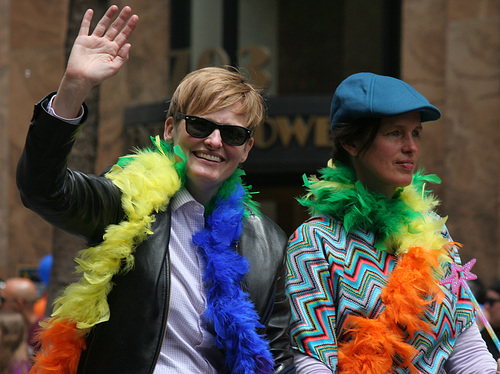 Those with a good memory for my LAWNBR 2014 photos may be interested to know that this is Google Glass Guy! He's colored his hair, but he can't change that chin. Thanks to Jim O'Keefe for his sharp eyes.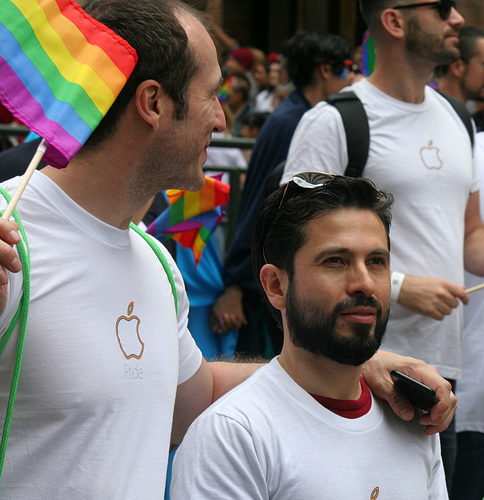 So in the Apple contingent everyone wore these t-shirts, and none were stolen.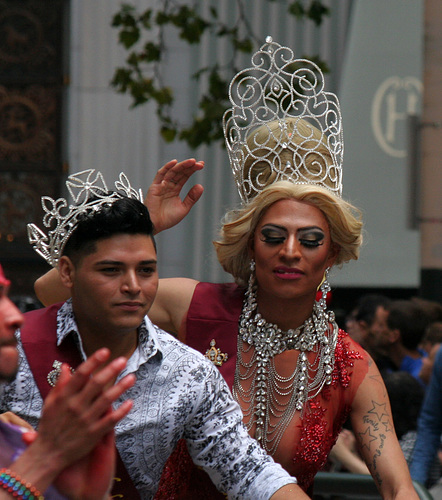 Engineering prowess.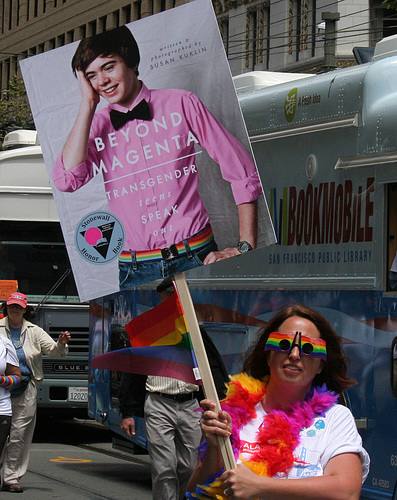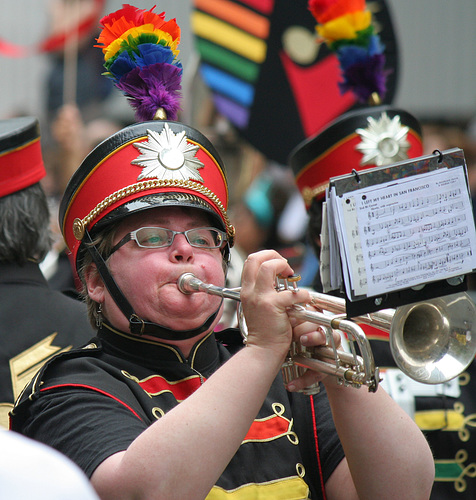 The sheet of music facing us is "I Left My Heart In San Francisco."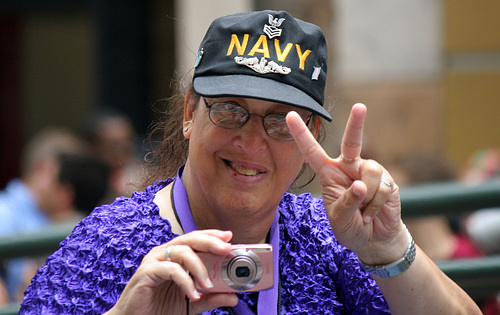 Possibly the youngest in the parade.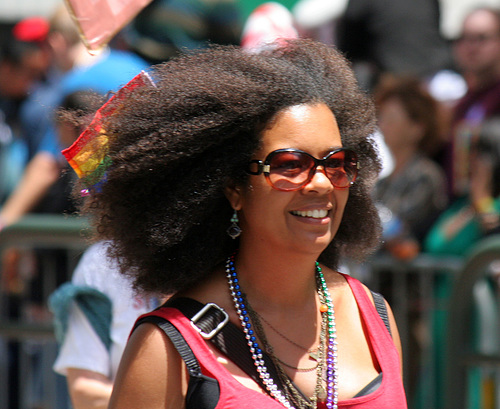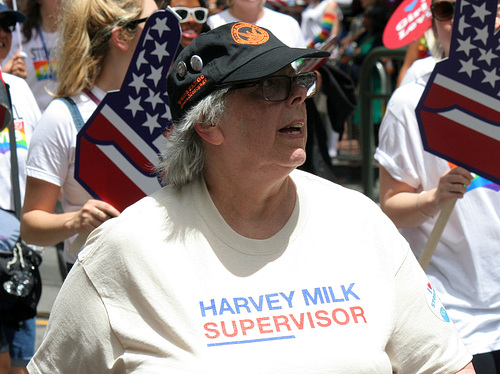 An original t-shirt? Somebody with good knowledge about Harvey Milk's campaign might be able to verify.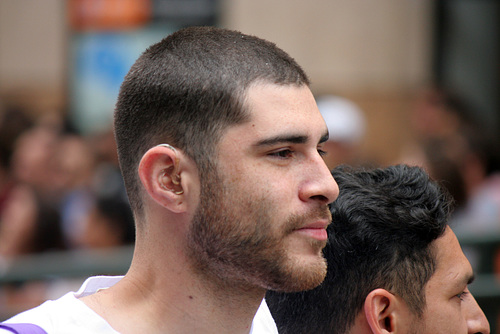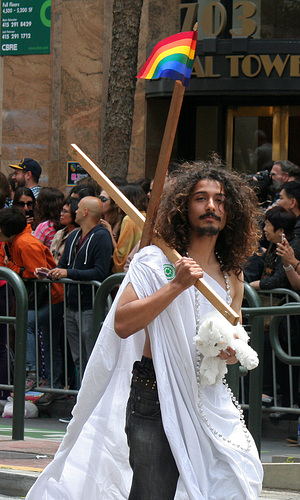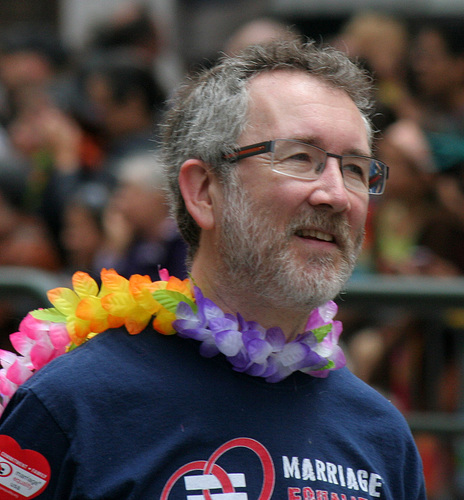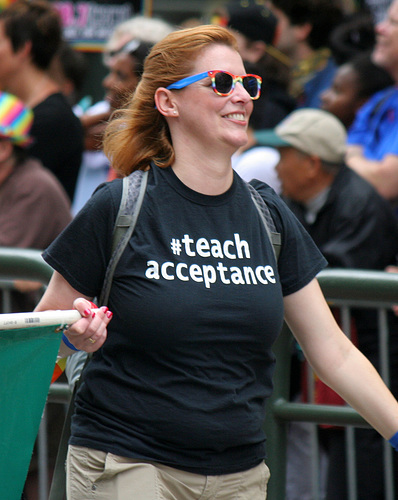 Dancing while seated.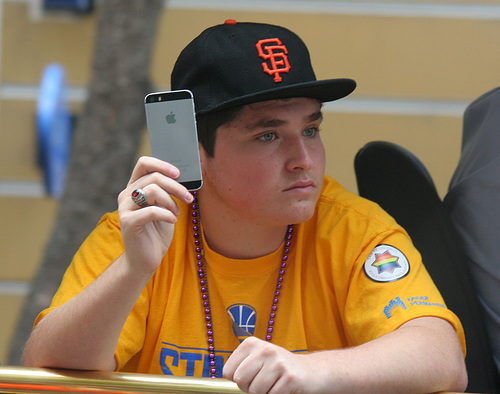 Ennui.

Firefighter.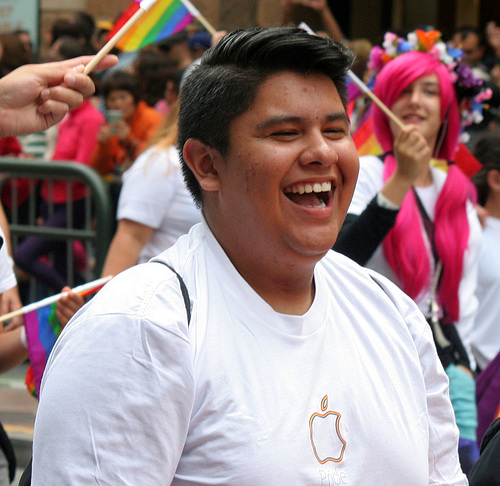 And this Apple contingent was curb to curb with nothing but t=shirts, rainbow flags and a banner. No fancy show.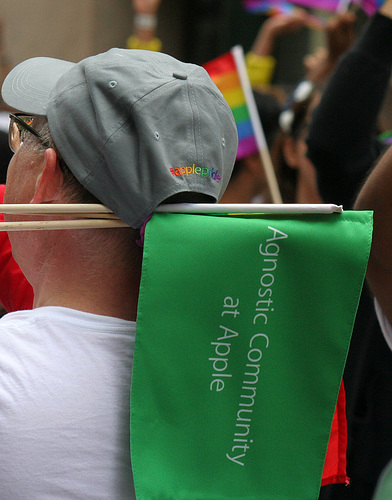 Agnostic Community at Apple - I don't know if this means people at Apple who are not prepared to say whether there are gods or not, or is an Apple Agnostic someone who is not prepared to say that any particular operating system is better than any other - Windows, OSX, Linus, all good.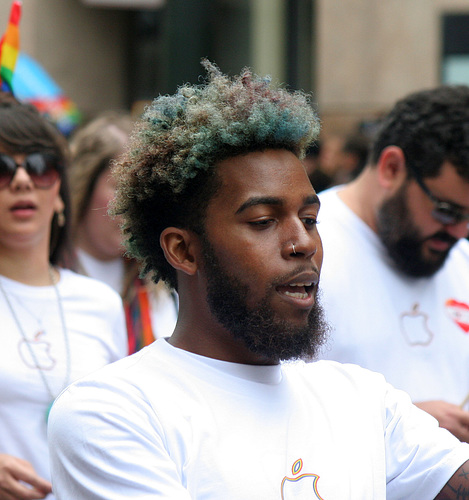 The size of the Apple contingent was estimated at 8,000!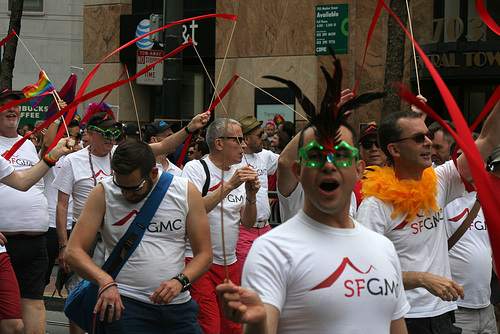 San Francisco Gay Men's Chorus, some taking advantage of props left over from the Pride concerts.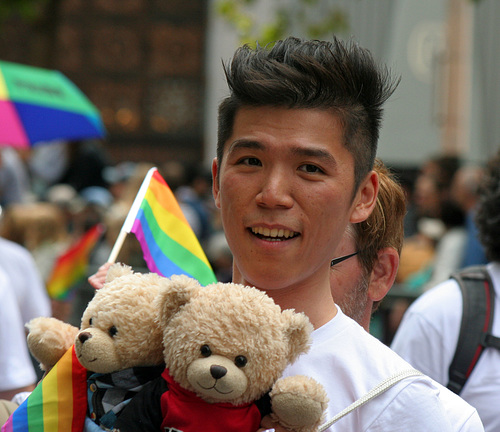 He's with Apple.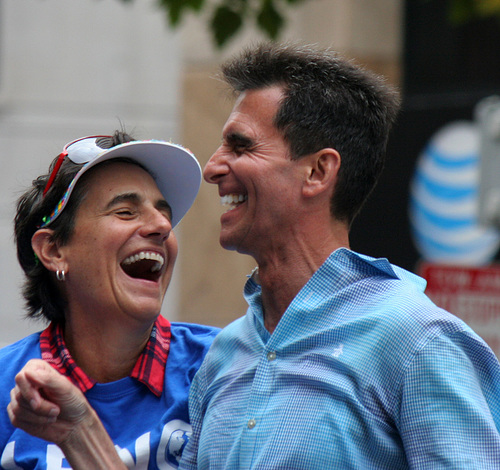 Mark Leno.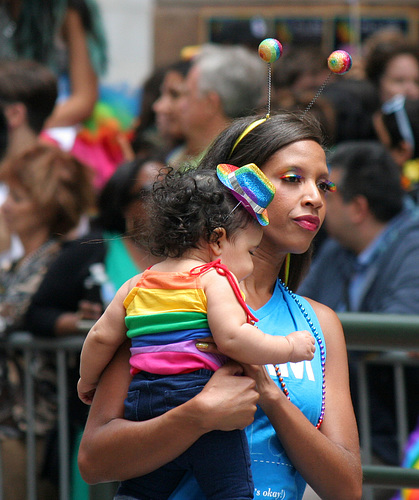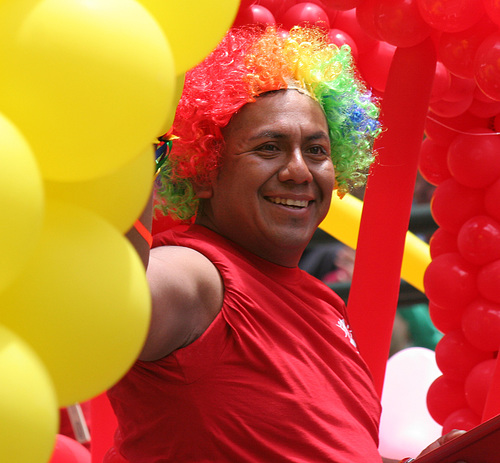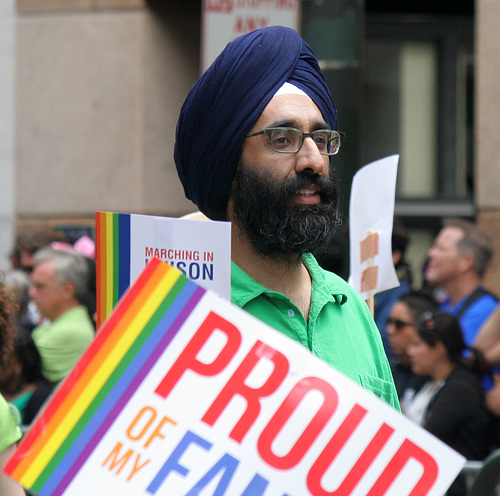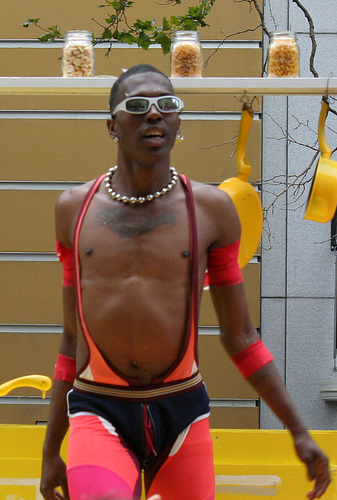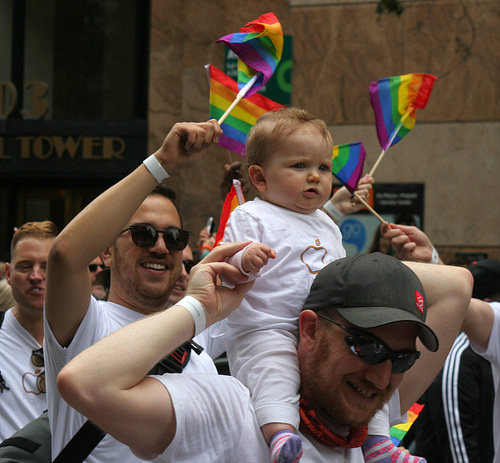 Like I said, everyone in the Apple contingent wore that t-shirt.

A girl has to know how to pick the right shade of lipstick for her skin tones.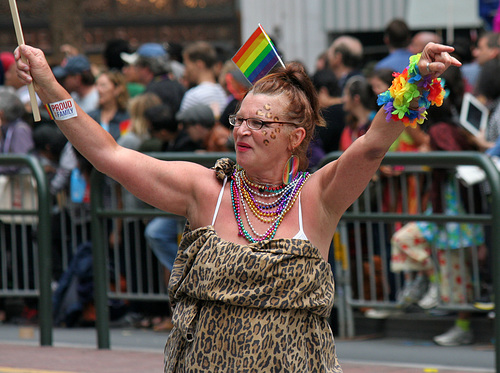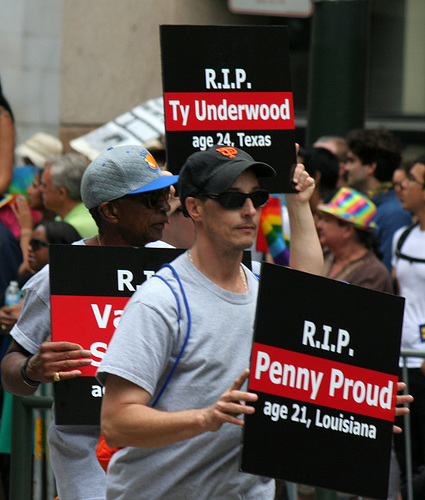 The signs they carry memorialize trans individuals who were killed for being trans.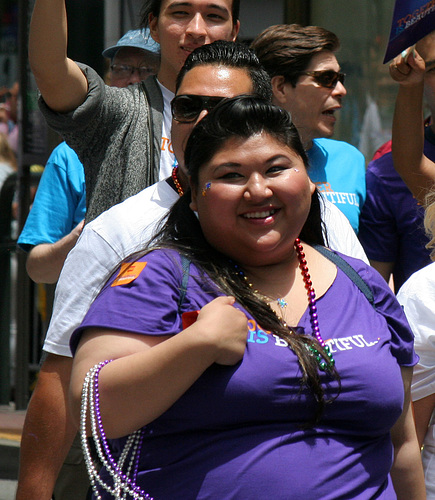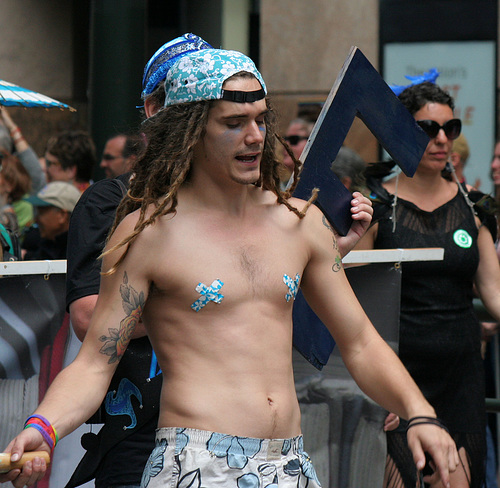 The contingent from Kaiser Permanente all wore Golden State Warriors t-shirts. Is there some connection between the two, or was the provider of Golden State Warriors t-shirts simply the lowest bidder?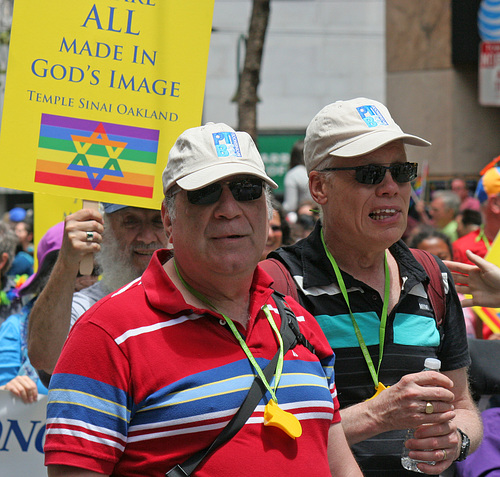 Two old Jewish guys.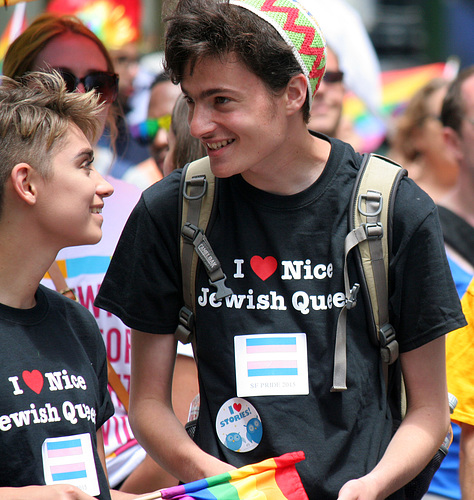 Two young Jewish guys.

Market Street is pretty big, you know, but even spreading from curb to curb the Apple contingent went on for blocks without interruption.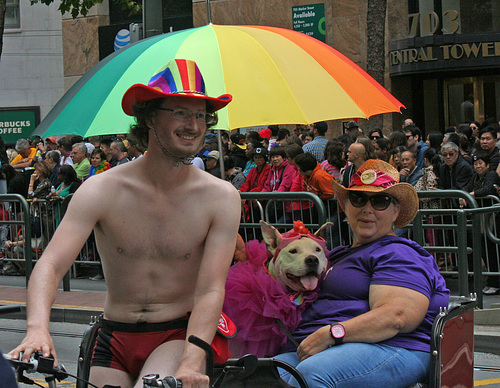 Lucky dogs, all three of 'em.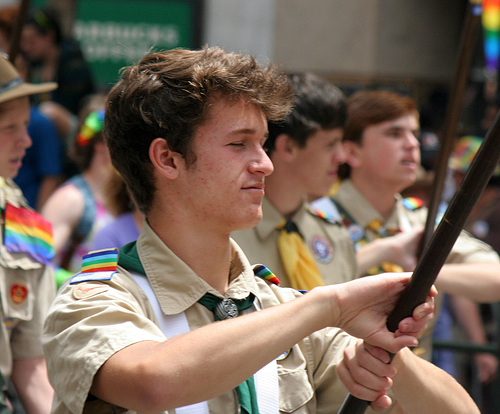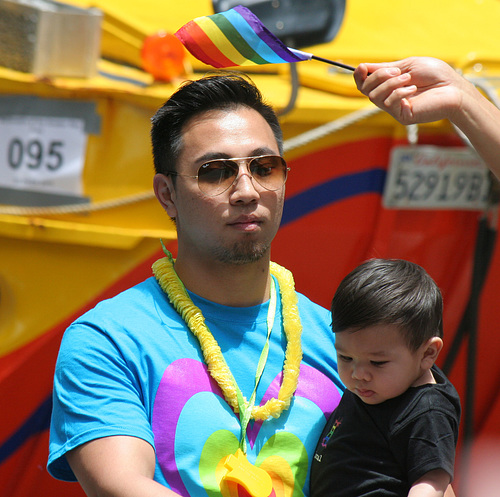 Ya know, you go to San Francisco expecting to be surprised, no matter how many times you've been there before, and this was my surprise. McDonalds in the Pride Parade?!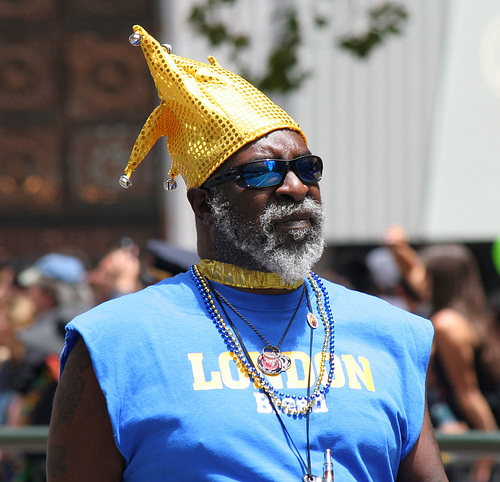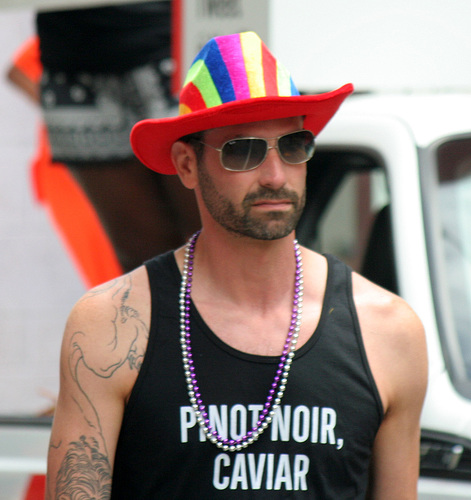 Part of the Netflix contingent.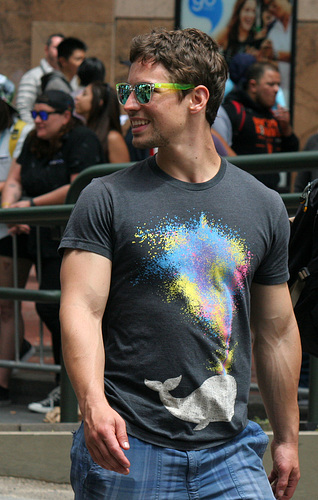 Exercising his right to bare arms.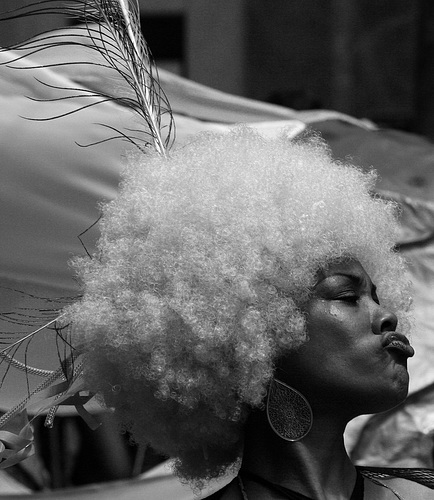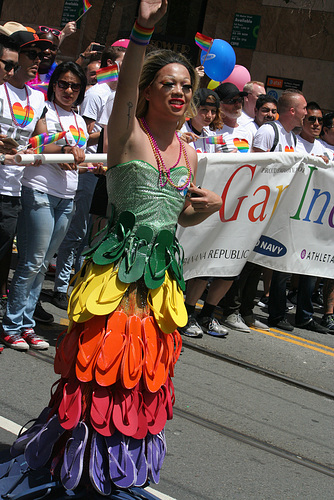 Old Navy shows you how to put their flip-flops to good use.
The complete set of photos from the 2015 San Francisco Pride Parade is here.