September 25, 2016
Desert Hot Springs Fall Festival & Fireworks Show
What better to way to kick off the fall season than to get outdoors and attend a family fall festival? It will be a memorable event with carnival rides, a petting zoo, pony rides, face painting, fire trucks to climb on and police cars to sit in, an art gallery show featuring 25 artists, live music with three live bands, tasty food trucks, a Coachella Valley Brewing beer garden and a full professional fireworks display to top off the evening in grand finale festival style.

The event is privately funded by a generous contribution by the Cannabis Alliance Network "DHSCAN" and other private business contributors with a crew of volunteers working to organize and put on the October 1 event in Desert Hot Springs.

"A big shout out goes to all the businesses that helped make this event possible and especially Cannabis Alliance Network who stepped up with a real show of community support," said Councilman Russell Betts.

Betts, who is leading the organizing effort to put on the event, explained that the event, now in its third year, was coming up short on funding and that as soon as DHSCAN became aware of the need, it stepped in to assure the event would go on. "It is actually a greatly expanded event with their help," said Betts.

"Without hesitation our members said this is something we want to do for the community," said President of DHSCAN Jason Elsasser. "DHSCAN is very happy to support what is looking to be a big Desert Hot Springs fun family event and looks forward to this being one of many great events ahead."

The festival also boasts a Hospitality Patio especially for Police Officers, Fire Fighters and their families to enjoy the fall festivities completely free as a form of appreciation for their dedication and service to the community.

Food is provided at a charge by Bruces Cayote Kitchen serving up BBQ and Jolly Polly selling desserts.

The organizers ask everyone to give a hearty thanks to DHSCAN and its members, Desert Valley Disposal, Solar City, MSA Consulting, Desert Pacific Properties and Q&A Associates Law Offices.

For more information, call 760 333-1374. Ask for Russ.



DATE & TIME: SATURDAY, OCTOBER 1 (2 P.M. TO 10 P.M.)


LOCATION: 64949 Mission Lakes Blvds, Desert Hot Springs, CA.
(Corner of Mission Lakes Blvd and Little Morongo Road)FOR THE KIDS – FREE from 2 p.m. to 8 p.m.

Petting Zoo
Pony Rides
Super Mega Slide
Kiddie Chair Swings
Euro Bungee
Face painting

ART SHOW & GALLARY

Featuring the work of 25 artists

LIVE MUSIC – FREE 4 p.m. to 10 p.m.

Desert Country (Country Western)
Gin Piston (Danceable Rock and Roll)
The Brosquitos (Indie Fusion)

FIRE AND POLICE DEPARTMENTS FUN

Climb on a fire truck and in a police car.
Meet Smokey Bear and McGruff

FOOD TRUCKS

BBQ by Bruce's Cayote Kitchen
Desserts by Jolly Polly

FIREWORKS SHOW: 9:30 p.m.

Fireworks by Pyrospectaculars by Sousa.
permalink | September 25, 2016 at 05:57 PM | Comments (0)
August 10, 2016
Hang Dog
August 10, 2016

Cpl. Christopher Saucier
760-329-2904 x 382 csaucier@dhspd.com

Burglary Suspect Arrested After Pursuit

On 08/10/2016 at approximately 0825 hours, DHSPD officers responded to the area of Hacienda Avenue and Tamar Drive in Desert Hot Springs regarding a reported vehicle burglary. The caller reported that he caught a subject burglarizing his vehicle and the suspect then fled the area on foot with the victim in pursuit before losing sight of the suspect. Officers arrived in the area and located the suspect running in the 12800 Block of Miracle Hill Road. The suspect continued running from officers and subsequently forced his way into a nearby residence. Officers then surrounded the home. At that time the suspect exited a side window from the home and attempted to flee again and was apprehended by officers in the back yard. Gabriel Gallegos (21) was arrested and later booked into the Riverside County Jail in Banning for charges including Penal Code 459 - Burglary 1st Degree, Penal Code 488 - Petty Theft, Penal Code 148 - Resisting Arrest.
permalink | August 10, 2016 at 12:12 PM | Comments (0)
June 8, 2016
Desert Hot Springs City Council Meeting - June 7, 2016
Quick & dirty summary of the June 7, 2016, City Council meeting.

New cop sworn in. Sharon Smith from Beaumont.
Rich Malacoff retiring. He's held various titles, but for the past three years or so, he's been the one person staying in the planning department while his bosses came and went.
The Walmart initiative was adopted by a 4-1 vote with Joe McKee voting against. The only real question on the table was whether to adopt the initiative or send it to the voters. In either case, Walmart would be approved. But if it had been sent to the voters, it would have cost the city $20,000 plus a loss of at least six months of sales tax revenue from Walmart. The petition had been signed by 2,200 people, which is about two-thirds the number who voted in the last city election. Approval of the initiative by the voters was nearly guaranteed. The question for the council members should have been how to respond when the voting public has clearly expressed a preference for Walmart. Under the California constitution, the will of the public (as expressed via the ballot) is supreme. But only Russell Betts addressed this aspect of the issue. Others, especially Joe McKee, continued to talk about the possible negatives and positives of having a Walmart store. That would have been a good discussion while the petition was being circulated. But those 2,200 signatures put it in an entirely different light. Will a council member choose to defy the public will? Joe McKee thought he should.
Desert Valley Disposal's franchise agreement was extended by one year, which means that their annual payment to the city ($100,000) gets increased by $10,000. DVD had already delivered the check for $110,000 to the City Manager, and he had to wait for this vote to deposit it.
The council approved putting DVD billings onto the tax bills of residents. This is an annual vote.
A conditional use permit was approved for a marijuana cultivation site to be operated by GFarmaLabs. The site is located on Little Morongo Road south of Dillon - that is, down that dirt road, which the applicant will have to pave. Ultimately it will be five buildings with a total area of 102,000 sq.ft. The interesting difference about this proposal is that they intend to erect a temporary structure immediately so that they can get some marijuana grown and sold this year, which will help them pay for the permanent structures. Cultivators are not able to get standard bank loans because of the federal laws against marijuana. There was a bit of discussion about the porta-potties that would be on site before the permanent buildings were erected. They will be the more substantive temporary restrooms that are less likely to blow away. They will not be the standard little single booths that we see at most construction sites. The temporary structures can only be there for 18 months. The temporary structures must have the "exterior appearance of a standard rural nursery."
The 2016/17 budget was approved. $1.3 million was put into a genuine reserve fund.
A request for $5000 from Health Assessment and Research for Communities was approved.
The council voted to accept a bid from Swagit Productions to set up a stationary camera system for the Carl May Center. This will allow all meetings to be video-recorded and it will save the city money. The city has been paying about $23,400/year for the current video contract. Bids for a camera system only were:

Swagit - $24,847
Digital Integration - $29,973
Insight - $48,024
GST - $18,627

For an additional $4,980/year Swagit would provide remote switching (i.e., Swagit would switch between various stationary cameras from a remote location), streaming to the internet (this has got to work better than the current SIRE setup), delivering council meeting videos to mobile devices (I imagine this means, loading it onto the council's iPads), integration with SIRE, and an ability to provide statistics. The stationary camera system would require the city to buy the necessary hardware, an expense it does not have under the current contract. City staff amortized that over seven years and the results look like this:

Swagit - $11,530/year
GST - $5,061/year
the existing service - $23,400/year

Swagit was the only bidder who could promise this: "Swagit is hands-free. All video uploading, archiving and indexing is done by Swagit engineers, which means no extra work for jurisdictions. Swagit is the only vendor that gives you the option to let our staff do the work for you." IOW, almost no additional work for the already severely overworked city staff.
Approved installation of a 4-way stop at Little Morongo and Two Bunch Palms.
Approved an ordinance that will permit the city to hire a few (one or two?) qualified people to work around the time of Independence Day and New Year's Day whose sole job would be to locate and cite those using illegal fireworks. The council allocated $5000 for this, and it is unpredictable how much will come back in the form of fines. The police and fire chiefs report that whenever they show up at a location where obviously illegal fireworks are being shot off, there is a total and mysterious absence of people! This makes it hard to issue a citation.
Approved accepting a used bus from Sunline. This is one of the smaller buses used by SunDial. The bus is free. It's a 2012 Ford F450 (running on CNG) with 172,809 miles. The engine was replaced at 145,000 miles. SunLine will provide instruction for the driver. The main intended use is to shuttle seniors to the Senior Center, but it may be used for any other appropriate task. There will be ongoing unspecified expenses. Whether the insurance is paid by for the city or the agency contracted for the Senior Center is "negotiable," according to the city attorney.
Reports by council members and city staff were dispensed with at this meeting.
permalink | June 8, 2016 at 06:47 PM | Comments (6)
Marijuana Cultivation Groundbreaking
This took place on Little Morongo, between Two Bunch Palms and Pierson.


The site of the first groundbreaking in Desert Hot Springs for a marijuana cultivation site.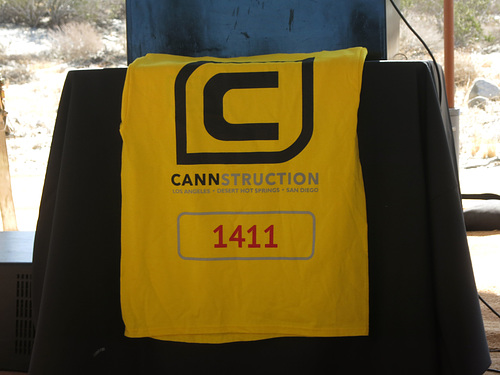 All these t-shirts bore the number 1411, but I don't know the significance of that.

A genuine peace pipe as a gift from the Chamber of Commerce.
permalink | June 8, 2016 at 05:35 PM | Comments (0)
May 19, 2016
Illegal Cultivation Site Discovered
You want to know what stupid is? Here's stupid:
Back in January the City Council approved the Bunch Palms Trail cultivation facility that would be new construction at the corner of Cabot and Two Bunch Palms Trail. It is one of the few cultivation sites that plans to use greenhouses. The owner (or one of the owners maybe) John Van Beek, without putting a shovel in the ground, went down the block and started cultivating at Francisco's Auto Repair on Little Morongo Road completely without ANY permits.

It was other legal cultivators who dropped the dime.
IOW, the guy with complete legal entitlements to cultivate decides to forego that and open an illegal cultivation site in one of the very few cities in California to permit legal cultivation. It's double-stupid. He gets it for the illegal grow, and he ain't gonna make much progress on his legal site after this.
permalink | May 19, 2016 at 10:38 AM | Comments (0)
May 11, 2016
Robbers Nailed In DHS
May 11, 2016

Sgt. G. Paiz

On Monday May 09, 2016, at about 1403 hours, Officers were dispatched to the 11900 Block of Palm Drive, regarding a robbery that had just occurred. The victim said two suspects, a male and female, robbed her of her purse and its contents, at gunpoint. The suspects were last seen running north from the location. The victims property along with the weapon were dumped at a nearby trash bin. An area check was conducted but the suspects were not found.

On Tuesday May 10, 2016, at about 1157 hours, the robbery suspects were detained to the front of 7-11, 65971 Pierson Blvd. One of the suspects had the victims stolen property on their possession. The suspects were arrested, booked and transported to RCJ-Banning.

Suspect-Marcus Eugene Benavidez-Downing 38 years old
M, H, 5-7, 250, Bro , Blk,
Desert Hot Springs resident

Suspect-Marlena Contreras 27 years old
F, H, 5-5, 200, Bro, Bro
Desert Hot Springs resident
permalink | May 11, 2016 at 10:21 AM | Comments (0)
April 21, 2016
The Desert Hot Springs Marijuana Meeting
Everything you missed at last night's meeting. For the most part, a very interesting couple of hours. That is I, in the red t-shirt on the left of the screen as the video starts.

"I am a very conservative individual. I have totally done a 180 on my opinion" regarding marijuana, said [Desert Hot Springs Mayor Scott] Matas, who describes himself as a right-of-center registered Republican.
permalink | April 21, 2016 at 07:51 PM | Comments (0)
April 15, 2016
State Of The City - Desert Hot Springs
The Chamber of Commerce has shared this video of Mayor Matas' first State of the City address [fixed link]. And I get a little cameo role in the first minute!

permalink | April 15, 2016 at 04:55 PM | Comments (1)
April 13, 2016
Three Cultivations Sites And One Dispensary Approved
I listened to last night's meeting of the Planning Commission from my private personal health facility, where I can exercise my right shoulder and hack up my left lung without disturbing the general public. Got to keep track of which marijuana facility is going where.
Last night the commission approved three more cultivation sites and one more dispensary.
Desert's Finest Patient's Cooperative
The dispensary (Lawrence Bynum - Desert's Finest Patient's Cooperative) is going to occupy the long-former location of Thai Palms on the northeast corner of Palm and Acoma. FINALLY, something to fill that blank in a prominent corner location. This is certainly going to be the most visible dispensary right here in the city. The site, which the dispensary will be renting, is connected also to the empty lot just east across the alley. There will be parking in that lot and quite a bit of discussion was about how MUCH of it would be used. There also was a general lamentation about the planning standards of the 1940s and '50s in this town. Yup. That's our legacy.
The site will have no more than one green cross displayed, and that will be painted on the south-facing Acoma side of the building. There will be potted plants along Acoma as well, including a few palm trees.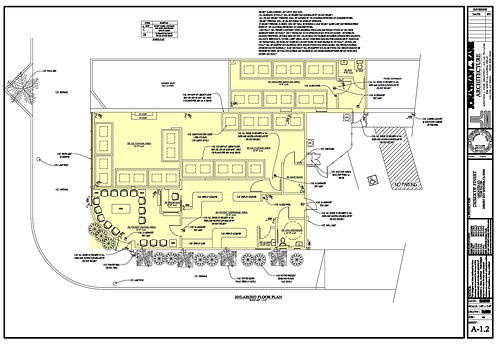 You can see on this interior plan that the dispenary's space includes the area behind the barber shop next door. More than half of the space can be used for cultivation. This is, as far as I can recall, a larger space than at other dispensaries in town, but all the dispensaries are limited to 99 mature plants.
Approved unanimously.
After the approval, there was some discussion about a billboard on Palm that can be seen as you are coming into the city that is promoting a low price at some dispensary. I don't recall seeing that sign, but there did used to be a sign that you could see as you headed south on Palm Drive that advertised "Home of the $5 Gram," but that was for PSA Organica, which is one of the newer dispensaries in Palm Springs. The city attorney explained to the commission what the city was able to control and NOT able to control in public advertising. At least one commissioner thought advertising like that could sully the image of the city as "Dime bag DHS. While it did look like the low class sort of advertising you can find in Los Angeles, I think some price competition between dispensaries could be beneficial to the patients.
DHS Diversified
The first cultivation site on the agenda last night was by Ryan Po of DHS Diversified located at 65441 Two Bunch Palms Trail. That building has been used as a recycling center up to now.
One thing I have not heard is where are the tenants of these industrial buildings that are being snapped up for marijuana cultivation, relocating to? The Pentecostal church surely has enough money from its sale to relocate into a residential area of the city, but the industrial businesses must be leaving town. There are no spare buildings in our industrial zone now, and anyone who tried to buy a site to put up a new building would be competing with the marijuana industry. I hope all these cultivation sites become fully developed and employ as many people has they have been saying they will.
An advantage to going into an existing building, is that electric service is already there. Mr. Po said he has 400 amps, which was plenty.
Approved unanimously
Blue Mango
Kamran Amirianfar for Blue Mango was there last night for two different sites, each requiring a separate CUP. The Planning Commission handled them separately. The first will be at 65118 San Jacinto Lane; the second at 65265 San Jacinto Lane.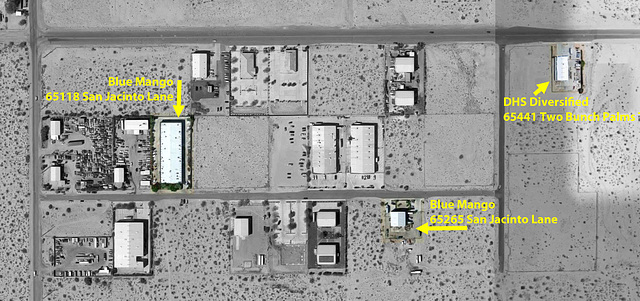 This map shows all three cultivation sites that the Planning Commission addressed last night. Here's a live map link.
The interior of 65118 is divided into 18 separate units which have been rented out to industrial tenants. The interior will be redone to create space for four large cultivation rooms and five smaller rooms for curing, processing, shipping, etc. Chair Romero encouraged them to removed the ficus and palm trees that decorate the street frontage, to be replaced with more drought tolerant plants.
65265 San Jacinto Lane will not require nearly as much work to re-arrange the interior. They'll keep most of the existing interior partitions and have two large, interconnected, double-deck growing rooms. The interior features a mezzanine from which, I imagine, one could gaze across the big spread of green leafy plants, as any farmer likes to do. They will also be cultivating up on the mezzanine.
Both sites were approved unanimously.
Vinyl Fencing
The single non-marijuana item the Planning Commission considered was a request to be permitted to erect vinyl fencing on top of existing "retaining walls" between new homes in the Gallery Vista Santa Fe homes at the northern end of Sonora Drive. The agenda packet describes them as "retaining walls," but it seems unlikely there would be an actual retaining wall between each house, unless they were built on a fairly steep hillside. Nevertheless, the fencing was proposed only between the newest homes (which I think are Coachella Valley Housing Coalition sweat equity homes). There would be no vinyl fencing facing the street.
The Planning Commission rejected the request.
permalink | April 13, 2016 at 02:54 PM | Comments (0)
April 8, 2016
"Stupid" seems to be the word for this
Mr. De-Jesus rolled his red pickup truck up in front of a property on Foxdale, in full view of the security camera facing the street. Then he stole "multiple" televisions from that property, loading them into the rear of his red pickup truck. Then he drove his red pickup truck over to the pawn shop. So when our police went to visit the pawn shop to see if the TVs had shown up there, voila! They were all sitting there in the red pickup truck.

April 6, 2016

Burglary and Possession of Stolen Property Arrests

On 04/06/2016, at approximately 0853 hours, DHSPD Police Officers responded to the 11000 block of Foxdale Dr. regarding a residential burglary where multiple televisions were reported stolen. Officers obtained video surveillance footage of a red Ford pickup truck in front of the location at the time the victim's burglary alarm was activated. Another reporting party advised seeing a suspicious red Ford pickup truck in the area a few minutes later. Officers conducted an area check for the vehicle and located a similar vehicle at a local pawn shop with multiple televisions in the tailgate. Officers contacted Pedro De-Jesus and four other delinquent juveniles.

Investigation and further evidence revealed they were all in possession of the stolen property and connected to the burglary. Pedro De-Jesus and the four other juveniles were arrested and booked into Riverside County Jail and Juvenile Hall. There is some other outstanding property located that did not belong to the victim. If anyone has any further information regarding this case please contact Officer Perez. (DHSPD Case# 1604D-1391)
permalink | April 8, 2016 at 10:28 AM | Comments (0)
April 3, 2016
DHS Walmart Petition
I finally got around to reading the Walmart petition. There's no game-playing in it that I can detect. No exemptions from any taxes or fees. In fact, they'll kick in an additional $75,000 on top of the DIF fees. That's supposed to help pay for something at what will be the future intersections of Cactus and Camino Aventura and Claire Avenue—although I don't think $75,000 would cover very much. Here are some of the bits I found interesting:
Permitted to be open 24 hours.
Exterior payphones permitted. Open 24 hours, outside payphones, right across the street from Dos Palmas. Potential for a public safety issue there.
Landscaping will be xeriscape, but they don't say they will conform to MSWD's ordinance on this.
They will need to extend a 1,806 foot sewer line from Camino Idilio.
Palm Drive will be widened to allow for a right-turn lane.
Traffic signals will be installed at Camino Aventura and Palm Drive.
All (or almost all) of the lighting will be LED. There will also be a daylight harvesting system (is that like a sophisticated skylight?) and a computer controlled continuously active system that adjusts lighting up and down.
Waste heat from refrigeration will be captured and used to heat water.
The site will be inspected for desert tortoises and burrowing owls. But they don't make any promises about any other endangered creatures or plants.
They will also observe the usual rules if they discover archaeological artifacts.
Summary: if you want the Walmart, you can sign this petition with a clear conscience. Unless somebody wants to point out some heinous provision in it that I missed.
permalink | April 3, 2016 at 10:18 PM | Comments (0)
March 29, 2016
Public Indecency Charge
The original mugshot from the DHS Police (left) was so poor, I thought some Dreamscoping was called for. Definite improvement. Mr. Paulsen is accused of standing out in the middle of the street in broad daylight and masturbating. He gets another 5 minutes of infamy for that.
permalink | March 29, 2016 at 05:16 PM | Comments (0)
March 24, 2016
Skyborne Liens
While listening to the March 15 city council meeting I was surprised to learn that Council Member Betts had come to consider me such a worthy expert on financial assurance that he read my opinion that I wrote in 2008 on D.R. Horton's request to replace their bonds with a lien.
It's just too bad that Mr. Betts didn't read the relevant posting from Ron's Log. That would be this one from 2010 which deals with the arrangement that is currently in place. This is the deal with the current owners. The difference between the two offers is that the deal that is in effect requires the developer to get new bonds to get rid of the lien. Otherwise, they can do nothing. No one mentioned a provision like that in the 2008 offer from D.R. Horton.
permalink | March 24, 2016 at 08:50 PM | Comments (4)
March 13, 2016
DHS Planning Commission - March 8, 2016
Box Score
Dispensaries approved: 3
Total dispensaries approved: 12
Dispensaries open: 5
Dispensaries denied: 1 (technically a continuation, but it's going to be denied)
Cultivation facilities approved: 1
____
Dirk Voss presiding at first, as Chair Cathy Romero was late, but Ms. Romero arrived before the Commission had even approved the agenda.
City Manager Magaña and Financial Director Tanner spoke at length about the budget and taxes. After years of underspending and cutbacks, whaddayaknow, there's a lot of critical stuff that's going to start failing. Like staff, even. And some taxes are going to expire. [My editorial: meanwhile the City Council (well, three of 'em) have voted not to even study new or revised taxes.] But I'll spare you the really bad news.
As with last month's report, just the marijuana:
Benno Pabst and Valley Compassionate Care
This is a proposed CUP for a medical marijuana dispensary at 11522 Palm Drive, which is the southeast corner of 4th and Palm, the old chiropractor's office which is 1,207 square feet. Parking for 6 vehicles is proposed to be on the south side of the building (where there may also be a mural) with access via the alley. Four head-in parking spaces on 4th will be eliminated.
Commissioner Cirner recused himself due to a possible conflict of interest.
Benno Pabst was not present this night for health reasons, but his representative was there and spoke. Pabst owns the building outright.
There was a lot of discussion about the parking. Staff had first laid it out with diagonal parking so that patients would drive in from the alley and exit on Palm Drive. The Commission thought it would seem more sensible to drivers coming up Palm Drive to reversed that. Now, the thing I wonder about is left turns from southbound traffic. That entrance on Palm Drive is only 25 feet away from 4th Street.
Approved 4-0.
Yes, there will be two dispensaries directly across the street from each, so there will be no need to run across Palm Drive at night wearing dark clothes, right? And that ought to solve the problem of left turns too.

Lisa Lozano and Stephanie Bodde and Desert Hot Springs Dispensary
Another proposed CUP for a medical marijuana dispensary. This one was continued from last month. You may recall that potential neighbor Rose Mortuary raised objections about inadequate parking. There were other issues as well.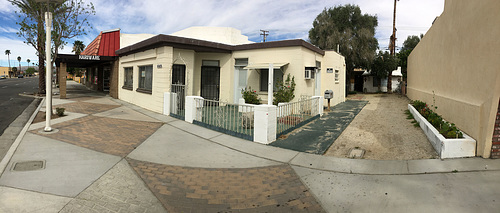 Chair Romero said that she could see all of the issues she had with this CUP had been addressed.
Thomas Moen, manager of Rose Mortuary, said he was concerned a dispensary could conflict with his business. Parking only in the street is still an issue.
Michelle and Michael Lally both expressed their support for medical marijuana generally, and spoke well of Stephanie Bodde. Mr. Lally also criticized Rose Mortuary, saying they both serve the same community, one in life and one in death.
David Lally (son of Michelle and Michael, if you hadn't guessed) talked about the tax benefits to the city. He described the personal experience with medical marijuana by a friend.
Jordan Bratonburg, owner of Rose Mortuary, also shared a personal experience in his family. He was concerned that some of his clientele would be offended by the proximity of the dispensary.
The applicant said that her security guard would not let her clients park in the Rose Mortuary parking lot.
Vice Chair Voss said that he, too, was concerned about the parking situation, especially the lack of a designated handicapped parking space. He also wanted to clarify what will happen with the small house in the rear of the property. He said this is the wrong location for a dispensary.
Commissioner De La Torre said he agreed with Mr. Voss.
Commissioner Terifaj said these were all the same issues brought up last month and that she, too, thought it was a poor location for the dispensary.
Rich Malacoff asked the Commissioners to specify which findings in the prepared CUP the Commission would determine had not been met. Then staff would use that information to craft a legal resolution of denial and bring it back next month. Staff prepared only the positive resolution of approval for the agenda packet, not wasting time on a negative just in case.
Ms. Terifaj cited the parking issue as the reason to deny.
The applicant came back to the podium to say that an elderly gentleman lives in the house in the rear and that he is a member of her collective. She does not want to kick him out so that she can tear down the house for parking. She was not aware of any problems with parking until this meeting. (It did come up as an issue the previous month, though.)
The Chair reopened the public hearing at the suggestion of the city attorney.
The applicant said she had an informal parking survey done at the Brown Dog dispensary which is east of Palm on Pierson. Over the course of a week there was only one time during the day when there were three cars there and the overlap was for only two minutes. In the evenings there would sometimes be as many as three cars there. She expects the same traffic at her dispensary. Street parking would handle that small amount.
Vice Chair Voss moved to continue this until next month at which time staff will have prepared the proper denial paperwork. Approved 5-0.

Eduardo Rivera and D.H.S. Alternative Healing Corporation
How about another CUP for a medical marijuana dispensary? This one is also continued from last month (and the month before that, IIRC). The continuance was to allow a neighbor to come in and comment on this. No changes have been made from last month. This one is going to be at 66328 Pierson Boulevard.
>
Unfortunately, the aggrieved neighbor did not show up. There were no public comments at all.
Vice Chair Voss moved to approve with the additional requirement that there be no neon lighting. Approved 5-0.

Dino Sogoyan - Desert Hot Springs, Collective, Ltd.
This item is a CUP for a medical marijuana dispensary to be located at 66292 Pierson Boulevard. That's just to the east of Wiefels Mortuary.
The monument sign in front of the building will have to be upgraded to meet current sign standards. The applicant is buying the property and said he plans to tear down that monument sign.
Commissioner Cirner moved to approve with the additional requirement that they come up with a different color scheme (and no neon). Approved 5-0.

Adrian Sedlin - Canndescent, MBC
This is for a CUP for a marijuana cultivation facility at 65334 Two Bunch Palms Trail, which is currently occupied by an auto repair business and tire recycling business. The two buildings are about 4,800 square feet each.
The applicant says he hopes to be operating by June 15.
Vice Chair Voss moved to approve with the addition of a ban on neon signs. Approved 5-0.

Other Things
The Planning Commission also approved a design review and development permit for a warehouse and retail facility for Angel View on Dillon Road.
They also appointed Andrew Cirner to the Arts District Committee.
permalink | March 13, 2016 at 09:47 AM | Comments (1)
March 3, 2016
DHS Walmart Taking The Initiative Route To Approval
Mayor Scott Matas has announced that Walmart will present an initiative to the city. The City Council can either adopt the initiative or send it to the voters in November.
permalink | March 3, 2016 at 10:04 PM | Comments (0)
March 2, 2016
Planning Commission February 9, 2016 - just the marijuana
Executive Summary:
Total Dispensary CUPs considered: 5
Continued: 2
Approved: 3
A late report on only the marijuana aspects of last month's Planning Commission meeting based on the city recording...which means I can't hear what they're saying when a microphone is turned off.
Cathy Romero was chosen to be the new Chair, and Dirk Voss the new Vice Chair. Dirk Voss was absent from the meeting.
Public Comments
Ian Armstrong from Palm Springs got up to comment on the state of the medical marijuana market. IMHO, the only experts on the MMJ market are those people who are in it: such as dispensary owners and cultivators; and even they don't have perfect knowledge of this newly legal, rapidly expanding, still somewhat shadowy business. Nevertheless, Mr. Armstrong presented himself as an expert. His research seems to have been little more than looking at Weedmaps.com, which is very unreliable, if for no other reason than that the businesses listed can pay to be promoted on the site. He claimed that only two dispensaries in Palm Springs are operating in the black (i.e., profitably). He didn't say how he knew that. He says the others are expecting to make a profit only after recreational legalization. He said the valley is quickly becoming saturated with medical marijuana facilities, both dispensaries and cultivators. [Note: the only legal cultivation actually underway in the valley right now is the cultivation going on at the dispensaries, which is a fairly small time thing.] He "explained" that the difference between a dispensary and a cultivation is that cultivation reduces consumer prices while dispensary operations destroy multiple dispensaries and "prohibit businesses from actually being engaged properly." That's not how I would define either operation, but Mr. Armstrong was getting to his point.
He said the items on this night's agenda looked "severely problematical" because of the "saturation of medical cannabis facilities in Coachella Valley." You see how he switched from saying it's quickly becoming saturated to saying here that it is saturated. See how quickly that was?
But, heavens no, Mr. Armstrong is not opposed to opening any dispensaries. "After watching Colorado," it is Mr. Armstrong's opinion that any new dispensary must take business from others. IOW, Mr. Armstrong claims to know the maximum amount of demand for medical marijuana, even though this country has never had an experience with MJ like we are having now. He says Coachella Valley has less than 150,000 people - and he admits he came up with that number by adding the population of DHS with the population of Palm Springs. Period. Other areas of Coachella Valley have either no people or no people who want medical marijuana, I guess. "General rule of thumb for a successful medical cannabis facility: one dispensary per 20,000 people," he said
Let's take Riverside County. The population is 2,293,000 (2013) so that works out to a need for 114 dispensaries, if we use that dubious figure of one dispensary for every 20,000. The only legal dispensaries in Riverside County are in Palm Springs and Desert Hot Springs, where there are a total of 10 legally operating MMJ dispensaries. Using Mr. Armstrong's calculation, we still need 104 dispensaries just to satisfy our county's residents. But one might also add in San Bernardino and Imperial Counties, since they have no legal dispensaries. Medical marijuana patients in those two counties must travel to Los Angeles, San Diego or the Coachella Valley to find a legal dispensary. Add in 2,088,000 for San Bernardino County and 176,584 for Imperial and we've got a 3-county population of 4,557,584 or a need for 226 dispensaries, putting us 217 dispensaries shy of his theoretical saturation point.
More modestly, the nominal population of the incorporated areas of Coachella Valley in 2013 was 361,124. Even without adding in the population of the unincorporated areas or trying to calculate what effect the tourists could have on demand for MMJ, that number divided by 20,000 is 18, so we need at least 9 more operating dispensaries, if Mr. Armstrong is correct.
Mr. Armstrong went on to say that with the market over-saturated, businesses will fail, making it difficult for patients to get their medicine. Why would an over-saturated market collapse into a market of short supply? Wouldn't the number of dispensaries shrink to the point where they are all profitable. If it's difficult for patients to get medicine, that's untapped demand, which would signal the need for additional dispensaries. He said the severe competition would INCREASE prices! I don't know what business school Mr. Armstrong attended, but increased competition tends to lower prices.
He asked the Commission to delay new approvals while the Commission conducts an independent evaluation of the cannabis industry in Coachella Valley. This is something outside the purview of the Planning Commission. They are not required (and probably not permitted) to take into account the expected profitability of a proposed business. One assumes the entrepreneur who is risking his money has taken care of that. Mr. Armstrong (not unsurprisingly) offered to assist in conducting that evaluation. Mr. Armstrong, then, is a part of that small niche of the cannabis industry: self-appointed experts who will explain the complex cannabis industry to overwhelmed city leaders. Uh-huh. He said that when more dispensaries open in the valley (Palm Springs, Cathedral City, Rancho Mirage, Indio are the cities he listed, although I'm sure Indio and Rancho Mirage have bans on dispensaries), all the dispensaries in Desert Hot Springs will be eradicated. He did not offer an explanation as to why all DHS medical marijuana patients would seem to prefer to shop in other cities, according to his prediction.
Benno Pabst and Valley Compassionate Care
This would be for a CUP for a medical marijuana dispensary on the southEAST corner of Palm Drive and Fourth Street. That would be this former Chiropractic office:

The applicant had requested a continuance to the March meeting. The Commission approved that 4-0, Vice Chair Dirk Voss being absent.
Eduardo Rivera and D.H.S. Alternative Healing Corporation
This was for a CUP for a medical marijuana dispensary at 66328 Pierson Boulevard. That's this building and the dirt lot to its east, although the applicant now wants that dirt lot excluded from the proposal, as doing so will eliminate some requirements for landscaping and curb repair:

This one came to the Planning Commission in January, but needed a lot of work before it could be approved. Most dispensary applicants have met all the minimum requirements and are offering extras above that by the time they get to the Planning Commission. Not this one, though. Specifically, it needed a paving and landscape plan, removal of wheel stops, removal of all chain link fence, removal of the front fence and gate, a photometric plan, painting exterior conduit to match the building exterior.
A member of the public, Joseph Miner, had submitted written comments that were critical of granting this CUP. Planning Commissioners discussed whether the hearing should be continued. The applicant had brought his attorney along. The attorney addressed the commission.
One member of the public, name sounded like Bruce Newell, not a resident of DHS, got up to comment on this matter. He expressed a general opposition to marijuana that I won't summarize, except to point out one statistic he delivered. He cited the "American Medical Board." I haven't been able to find an organization with that exact name, although it's part of the name of a lot of organizations. But the AMB says that 17% of kids who try marijuana under the age of 24 will develop mental illness. Is it pure coincidence that 17% figure is very close to the 18.2% rate of mental illness in the general American population?.
Commissioner Cirner moved to continue. Approved 4-0.
Umberto Bagnara, Southern Cal Medical Marijuana Patient Association
This is going to be the second dispensary in the Mission Lakes Marketplace, 64949 Mission Lakes at Little Morongo Road. The applicant stated that his lease at that shopping center includes a provision that there will not be more than two dispensaries there.
Commissioner Terifaj said she had invited Ian Armstrong to this meeting. She said he represents the American Cannabis Chamber of Commerce. I wrote about that when I first heard Mr. Armstrong speak at December 8, 2015, Planning Commission meeting.
Chair Romero moved to approve as written. Seconded by Andrew Cirner. Commissioner De La Torre wanted to amend it to ban the use of neon signs in the windows, but that amendment was not included. [The other dispensary there already has a neon Open sign.] Commissioner Terifaj expressed her concern that too many dispensaries were being approved and some would end up going out of business. Approved 4-0.
Jason Foster and CV Wellness
This is for a CUP for a dispensary at 11555 Palm Drive. The two buildings on the southwest corner of Palm and 4th which were both dentist offices at different times; the one set back from the street, second door south of 4th, is 11555 Palm Drive. The lot has parking for seven vehicles. Like Sungrow, this dispensary plans to have separate entrance and exit doors for greater security.
Commissioner Terifaj moved to approve as presented, but after being questioned by the attorney, she amended her motion so that it neon signs would not be permitted anywhere on this site. But then upon further questioning she revised that so that neon signs were banned only from the windows. But, I point out, only neon is neon. The commission probably intended to ban all lighted signs from the windows, but they banned only neon. LED signs are much less expensive and just as effective and flashy. Approved 4-0.

Lisa Lozano and Stephanie Bodde and Desert Hot Springs Dispensary
This is for a CUP for a dispensary at 66406 Pierson Boulevard. That's the little building immediately to the east of Haidet's Hardware.

There is no parking on site, other than the single handicap parking spot. Ms. Terifaj, concerned for the lack of parking, said the front building was not built for commercial use. There is a small house at the back of the property that someone is living in.
The owner of Rose Mortuary next door to this site objected to the odors that would emanate from the dispensary.
Thomas Moen, funeral director at Rose Mortuary, expressed his opposition to the dispensary. He said the driveway is not paved. Also, the mortuary business is very sensitive, he said. He pointed out that the Rose Mortuary is one of extremely few businesses in DHS that draws business from across the Coachella Valley and the high desert.
Another owner of Rose Mortuary expressed his objections as well. He was mostly concerned with the lack of parking, while the two neighboring businesses do have parking lots. He thinks dispensary customers will park in Rose Mortuary's parking lot.
The applicant for the CUP said that her security guard would be out front making sure no one parked illegally. She had reached out to Rose Mortuary, but they had not responded until this meeting. She said there will be more odor coming out of the mortuary's crematory stack than out of her dispensary. She went on to say that she will be operating as a non-profit. Currently she provides medicine to women who are with Rosie's Place at her own expense. She said the retail sales at the dispensary will support her charitable work. Commissioner Terifaj asked her why she needed a location on a busy thoroughfare like Pierson when she already has a clientele, many of whom do not live in DHS.
I might remind Ms. Terifaj that the dispensaries are limited to the commercial zone. If we've got a commercial zone that is NOT on a busy thoroughfare, then it's probably zoned wrong.
The applicant said she thinks she's got a perfect location. She said that the city requires the applicant to have secured a location before they can begin the application process. There was a scramble for buildings and there weren't a lot of choices. She said she had reached out to Rose Mortuary because she thinks they serve much the same population and she hoped to establish some cooperation, but Rose Mortuary never responded to her until they walked into this meeting.
An owner of Rose Mortuary came to the podium again to point out the city's requirement for parking at commercial facilities, which is one space for every 250 square feet. This location doesn't have anything close to that minimum. The owner of the building said that the city code applies to new construction only. His building is grandfathered in.
Rich Malacoff said that there is no grandfathering on the parking rules in this case. This is a CUP process, so the Planning Commission can establish the parking requirements.
Community Development Director Nathan Bouvet suggested the Planning Commission continue this item because it seems there are several items to be resolved: width of the driveway, parking, architectural amenities, site width.
Commissioner Cirner was concerned that handicap access may not be adequate.
Commissioner Terifaj moved to continue and to make a field trip to the site, by which she meant individual trips, not a special meeting of the Commission. Approved 4-0.
permalink | March 2, 2016 at 06:28 PM | Comments (0)
February 16, 2016
MSWD Approves Water & Sewer Rates
At the 218 Public Hearing tonight, after listening to comments from many residents of the district, the MSWD board approved the proposed new rates for both water and sewer by a vote of 4-0, John Furbee being absent for health reasons. One commenter railed against the folly of fluoridating the water. MSWD board President Nancy Wright explained that MSWD does not fluoridate.
One complaint heard repeatedly was that the board was going to "double the rates." This began with, I think, one person who had pointed out the very low per gallon rate and didn't consider all the numbers after the decimal point before rounding.
From 2016 to 2020 the residential rate for 13 units of water (the average amount used in this district) will go from $28.94 to $43.40, a 50% increase, not a doubling. The cost per gallon will go from 0.3¢ to 0.45¢. Again, a 50% increase, not a doubling. Half of that increase will go to pay for chromium 6 abatememnt, which is a complete waste of money, but mandated by the state.
Residential sewer will increase from $31.23 to $50.16 over the same time period. That's a 61% increase.
permalink | February 16, 2016 at 07:52 PM | Comments (0)
February 2, 2016
Another Jaywalker Accident, This Time A Hit & Run
Desert Hot Springs Police on Instagram: "Desert Hot Springs Police Department Press Release: Hit and Run Traffic Collision On 02/02/2016, at approximately 1531 hours, police officers responded to the area of Palm Dr, south of Two Bunch Palms Trail, in the City of Desert Hot Springs, in reference to a traffic collision involving a vehicle vs pedestrian. The pedestrian, whose name is not released due to being a juvenile, was jaywalking across Palm Dr. The juvenile was transported to Desert Regional Medical Center for non life threatening injuries. The vehicle was described as a black Jeep Cherokee, newer model, unknown license plate. The driver of the vehicle and only known occupant was described to be a bald Hispanic male adult. The vehicle fled the scene and the driver has not been identified. Police are requesting your assistance. If you have any information, please contact Officer C.Tooth at (760)329-2904 Ext.352. Desert Hot Springs Police is reminding the public of the serious risks of jaywalking. #DesertHotSprings #DHSPD #DesertHotSpringsPolice"
permalink | February 2, 2016 at 07:45 PM | Comments (0)
January 14, 2016
Desert Hot Springs Veterans Committee
The Desert Hot Springs Veterans Committee invites the Veterans of Desert Hot Springs to participate in a discussion scheduled for Saturday, January 16, 2016 from 11:00 AM - 12:00 PM at the Carl May Community Center.
This event aims to gather a true accounting of Veterans within the community, while providing a forum to collaborate and discuss the unique concerns of the veteran population, and services needed to address these concerns.
Topics of discussion include: Health, Employment, Food and Shelter, Housing and Homelessness. Event Speakers include: Desert Hot Springs Mayor, Scott Matas; Desert Hot Springs Veterans Committee Chair, Jeff Horton; and Desert Hot Springs Veterans Committee Vice-Chair, Bill Cook.
WHERE: The Carl May Community Center; 11711 West Drive; Desert Hot Springs, CA 92240
WHEN: Saturday, January 16, 2016; 11:00 AM - 12:00 PM
permalink | January 14, 2016 at 08:16 PM | Comments (0)
Follow Up On Sungrow
A month ago, allegations were made that the Sungrow dispensary seemed to be violating the law. Tonight, Chief Mondary gave a report to the Public Safety Commission on what was found at Sungrow. He also told us that Detective Larry Essex was going to become the department's marijuana expert.
The police found that the dab bar was not operational when they got there. The rules on that were pointed out to the dispensary's management. There was a slushee machine, but it was also not operational and will not become operational until the county health department issues a permit. The Chief did not say if Sungrow was going to seek a health permit. They found other violations, but it is not yet clear if they are administrative or criminal in nature. The city attorney has written to Sungrow to advise them on what the police found that needs correcting.
The Chief also checked the record of calls for service from the two operating dispensaries. There have been 31 from Sungrow, but it's not always possible to pin every call on Sungrow, since there are other businesses in the shopping center. Four reports have been filed by police:
An attempted burglary of the dispensary.
Battery.
Disturbing the peace. That involved a person who was kicked out of the dispensary (with no medicine) who then created a disturbance in the parking lot.
Informational.
At Brown Dog there have been 13 calls for service and only two reports filed:
Trespassing.
Informational.