April 15, 2016
State Of The City - Desert Hot Springs
The Chamber of Commerce has shared this video of Mayor Matas' first State of the City address [fixed link]. And I get a little cameo role in the first minute!

permalink | April 15, 2016 at 04:55 PM | Comments (1)
April 13, 2016
Three Cultivations Sites And One Dispensary Approved
I listened to last night's meeting of the Planning Commission from my private personal health facility, where I can exercise my right shoulder and hack up my left lung without disturbing the general public. Got to keep track of which marijuana facility is going where.
Last night the commission approved three more cultivation sites and one more dispensary.
Desert's Finest Patient's Cooperative
The dispensary (Lawrence Bynum - Desert's Finest Patient's Cooperative) is going to occupy the long-former location of Thai Palms on the northeast corner of Palm and Acoma. FINALLY, something to fill that blank in a prominent corner location. This is certainly going to be the most visible dispensary right here in the city. The site, which the dispensary will be renting, is connected also to the empty lot just east across the alley. There will be parking in that lot and quite a bit of discussion was about how MUCH of it would be used. There also was a general lamentation about the planning standards of the 1940s and '50s in this town. Yup. That's our legacy.
The site will have no more than one green cross displayed, and that will be painted on the south-facing Acoma side of the building. There will be potted plants along Acoma as well, including a few palm trees.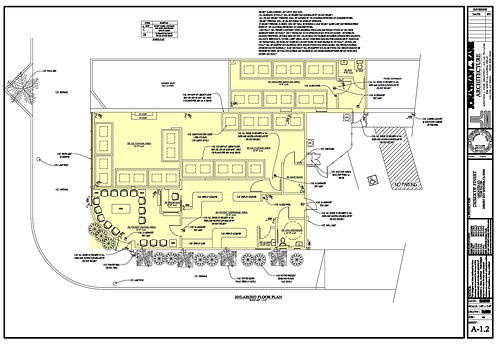 You can see on this interior plan that the dispenary's space includes the area behind the barber shop next door. More than half of the space can be used for cultivation. This is, as far as I can recall, a larger space than at other dispensaries in town, but all the dispensaries are limited to 99 mature plants.
Approved unanimously.
After the approval, there was some discussion about a billboard on Palm that can be seen as you are coming into the city that is promoting a low price at some dispensary. I don't recall seeing that sign, but there did used to be a sign that you could see as you headed south on Palm Drive that advertised "Home of the $5 Gram," but that was for PSA Organica, which is one of the newer dispensaries in Palm Springs. The city attorney explained to the commission what the city was able to control and NOT able to control in public advertising. At least one commissioner thought advertising like that could sully the image of the city as "Dime bag DHS. While it did look like the low class sort of advertising you can find in Los Angeles, I think some price competition between dispensaries could be beneficial to the patients.
DHS Diversified
The first cultivation site on the agenda last night was by Ryan Po of DHS Diversified located at 65441 Two Bunch Palms Trail. That building has been used as a recycling center up to now.
One thing I have not heard is where are the tenants of these industrial buildings that are being snapped up for marijuana cultivation, relocating to? The Pentecostal church surely has enough money from its sale to relocate into a residential area of the city, but the industrial businesses must be leaving town. There are no spare buildings in our industrial zone now, and anyone who tried to buy a site to put up a new building would be competing with the marijuana industry. I hope all these cultivation sites become fully developed and employ as many people has they have been saying they will.
An advantage to going into an existing building, is that electric service is already there. Mr. Po said he has 400 amps, which was plenty.
Approved unanimously
Blue Mango
Kamran Amirianfar for Blue Mango was there last night for two different sites, each requiring a separate CUP. The Planning Commission handled them separately. The first will be at 65118 San Jacinto Lane; the second at 65265 San Jacinto Lane.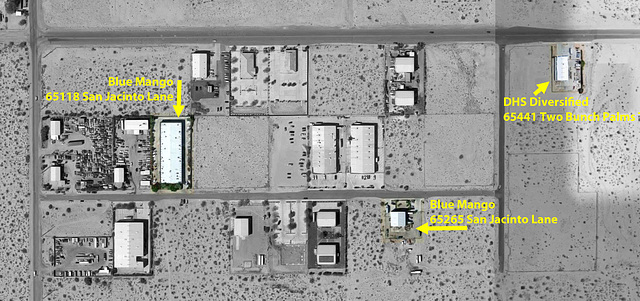 This map shows all three cultivation sites that the Planning Commission addressed last night. Here's a live map link.
The interior of 65118 is divided into 18 separate units which have been rented out to industrial tenants. The interior will be redone to create space for four large cultivation rooms and five smaller rooms for curing, processing, shipping, etc. Chair Romero encouraged them to removed the ficus and palm trees that decorate the street frontage, to be replaced with more drought tolerant plants.
65265 San Jacinto Lane will not require nearly as much work to re-arrange the interior. They'll keep most of the existing interior partitions and have two large, interconnected, double-deck growing rooms. The interior features a mezzanine from which, I imagine, one could gaze across the big spread of green leafy plants, as any farmer likes to do. They will also be cultivating up on the mezzanine.
Both sites were approved unanimously.
Vinyl Fencing
The single non-marijuana item the Planning Commission considered was a request to be permitted to erect vinyl fencing on top of existing "retaining walls" between new homes in the Gallery Vista Santa Fe homes at the northern end of Sonora Drive. The agenda packet describes them as "retaining walls," but it seems unlikely there would be an actual retaining wall between each house, unless they were built on a fairly steep hillside. Nevertheless, the fencing was proposed only between the newest homes (which I think are Coachella Valley Housing Coalition sweat equity homes). There would be no vinyl fencing facing the street.
The Planning Commission rejected the request.
permalink | April 13, 2016 at 02:54 PM | Comments (0)
April 8, 2016
"Stupid" seems to be the word for this
Mr. De-Jesus rolled his red pickup truck up in front of a property on Foxdale, in full view of the security camera facing the street. Then he stole "multiple" televisions from that property, loading them into the rear of his red pickup truck. Then he drove his red pickup truck over to the pawn shop. So when our police went to visit the pawn shop to see if the TVs had shown up there, voila! They were all sitting there in the red pickup truck.

April 6, 2016

Burglary and Possession of Stolen Property Arrests

On 04/06/2016, at approximately 0853 hours, DHSPD Police Officers responded to the 11000 block of Foxdale Dr. regarding a residential burglary where multiple televisions were reported stolen. Officers obtained video surveillance footage of a red Ford pickup truck in front of the location at the time the victim's burglary alarm was activated. Another reporting party advised seeing a suspicious red Ford pickup truck in the area a few minutes later. Officers conducted an area check for the vehicle and located a similar vehicle at a local pawn shop with multiple televisions in the tailgate. Officers contacted Pedro De-Jesus and four other delinquent juveniles.

Investigation and further evidence revealed they were all in possession of the stolen property and connected to the burglary. Pedro De-Jesus and the four other juveniles were arrested and booked into Riverside County Jail and Juvenile Hall. There is some other outstanding property located that did not belong to the victim. If anyone has any further information regarding this case please contact Officer Perez. (DHSPD Case# 1604D-1391)
permalink | April 8, 2016 at 10:28 AM | Comments (0)
April 3, 2016
DHS Walmart Petition
I finally got around to reading the Walmart petition. There's no game-playing in it that I can detect. No exemptions from any taxes or fees. In fact, they'll kick in an additional $75,000 on top of the DIF fees. That's supposed to help pay for something at what will be the future intersections of Cactus and Camino Aventura and Claire Avenue—although I don't think $75,000 would cover very much. Here are some of the bits I found interesting:
Permitted to be open 24 hours.
Exterior payphones permitted. Open 24 hours, outside payphones, right across the street from Dos Palmas. Potential for a public safety issue there.
Landscaping will be xeriscape, but they don't say they will conform to MSWD's ordinance on this.
They will need to extend a 1,806 foot sewer line from Camino Idilio.
Palm Drive will be widened to allow for a right-turn lane.
Traffic signals will be installed at Camino Aventura and Palm Drive.
All (or almost all) of the lighting will be LED. There will also be a daylight harvesting system (is that like a sophisticated skylight?) and a computer controlled continuously active system that adjusts lighting up and down.
Waste heat from refrigeration will be captured and used to heat water.
The site will be inspected for desert tortoises and burrowing owls. But they don't make any promises about any other endangered creatures or plants.
They will also observe the usual rules if they discover archaeological artifacts.
Summary: if you want the Walmart, you can sign this petition with a clear conscience. Unless somebody wants to point out some heinous provision in it that I missed.
permalink | April 3, 2016 at 10:18 PM | Comments (0)
March 29, 2016
Public Indecency Charge
The original mugshot from the DHS Police (left) was so poor, I thought some Dreamscoping was called for. Definite improvement. Mr. Paulsen is accused of standing out in the middle of the street in broad daylight and masturbating. He gets another 5 minutes of infamy for that.
permalink | March 29, 2016 at 05:16 PM | Comments (0)
March 24, 2016
Skyborne Liens
While listening to the March 15 city council meeting I was surprised to learn that Council Member Betts had come to consider me such a worthy expert on financial assurance that he read my opinion that I wrote in 2008 on D.R. Horton's request to replace their bonds with a lien.
It's just too bad that Mr. Betts didn't read the relevant posting from Ron's Log. That would be this one from 2010 which deals with the arrangement that is currently in place. This is the deal with the current owners. The difference between the two offers is that the deal that is in effect requires the developer to get new bonds to get rid of the lien. Otherwise, they can do nothing. No one mentioned a provision like that in the 2008 offer from D.R. Horton.
permalink | March 24, 2016 at 08:50 PM | Comments (4)
March 13, 2016
DHS Planning Commission - March 8, 2016
Box Score
Dispensaries approved: 3
Total dispensaries approved: 12
Dispensaries open: 5
Dispensaries denied: 1 (technically a continuation, but it's going to be denied)
Cultivation facilities approved: 1
____
Dirk Voss presiding at first, as Chair Cathy Romero was late, but Ms. Romero arrived before the Commission had even approved the agenda.
City Manager Magaña and Financial Director Tanner spoke at length about the budget and taxes. After years of underspending and cutbacks, whaddayaknow, there's a lot of critical stuff that's going to start failing. Like staff, even. And some taxes are going to expire. [My editorial: meanwhile the City Council (well, three of 'em) have voted not to even study new or revised taxes.] But I'll spare you the really bad news.
As with last month's report, just the marijuana:
Benno Pabst and Valley Compassionate Care
This is a proposed CUP for a medical marijuana dispensary at 11522 Palm Drive, which is the southeast corner of 4th and Palm, the old chiropractor's office which is 1,207 square feet. Parking for 6 vehicles is proposed to be on the south side of the building (where there may also be a mural) with access via the alley. Four head-in parking spaces on 4th will be eliminated.
Commissioner Cirner recused himself due to a possible conflict of interest.
Benno Pabst was not present this night for health reasons, but his representative was there and spoke. Pabst owns the building outright.
There was a lot of discussion about the parking. Staff had first laid it out with diagonal parking so that patients would drive in from the alley and exit on Palm Drive. The Commission thought it would seem more sensible to drivers coming up Palm Drive to reversed that. Now, the thing I wonder about is left turns from southbound traffic. That entrance on Palm Drive is only 25 feet away from 4th Street.
Approved 4-0.
Yes, there will be two dispensaries directly across the street from each, so there will be no need to run across Palm Drive at night wearing dark clothes, right? And that ought to solve the problem of left turns too.

Lisa Lozano and Stephanie Bodde and Desert Hot Springs Dispensary
Another proposed CUP for a medical marijuana dispensary. This one was continued from last month. You may recall that potential neighbor Rose Mortuary raised objections about inadequate parking. There were other issues as well.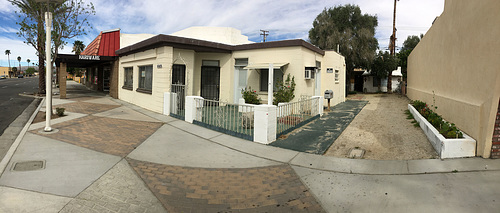 Chair Romero said that she could see all of the issues she had with this CUP had been addressed.
Thomas Moen, manager of Rose Mortuary, said he was concerned a dispensary could conflict with his business. Parking only in the street is still an issue.
Michelle and Michael Lally both expressed their support for medical marijuana generally, and spoke well of Stephanie Bodde. Mr. Lally also criticized Rose Mortuary, saying they both serve the same community, one in life and one in death.
David Lally (son of Michelle and Michael, if you hadn't guessed) talked about the tax benefits to the city. He described the personal experience with medical marijuana by a friend.
Jordan Bratonburg, owner of Rose Mortuary, also shared a personal experience in his family. He was concerned that some of his clientele would be offended by the proximity of the dispensary.
The applicant said that her security guard would not let her clients park in the Rose Mortuary parking lot.
Vice Chair Voss said that he, too, was concerned about the parking situation, especially the lack of a designated handicapped parking space. He also wanted to clarify what will happen with the small house in the rear of the property. He said this is the wrong location for a dispensary.
Commissioner De La Torre said he agreed with Mr. Voss.
Commissioner Terifaj said these were all the same issues brought up last month and that she, too, thought it was a poor location for the dispensary.
Rich Malacoff asked the Commissioners to specify which findings in the prepared CUP the Commission would determine had not been met. Then staff would use that information to craft a legal resolution of denial and bring it back next month. Staff prepared only the positive resolution of approval for the agenda packet, not wasting time on a negative just in case.
Ms. Terifaj cited the parking issue as the reason to deny.
The applicant came back to the podium to say that an elderly gentleman lives in the house in the rear and that he is a member of her collective. She does not want to kick him out so that she can tear down the house for parking. She was not aware of any problems with parking until this meeting. (It did come up as an issue the previous month, though.)
The Chair reopened the public hearing at the suggestion of the city attorney.
The applicant said she had an informal parking survey done at the Brown Dog dispensary which is east of Palm on Pierson. Over the course of a week there was only one time during the day when there were three cars there and the overlap was for only two minutes. In the evenings there would sometimes be as many as three cars there. She expects the same traffic at her dispensary. Street parking would handle that small amount.
Vice Chair Voss moved to continue this until next month at which time staff will have prepared the proper denial paperwork. Approved 5-0.

Eduardo Rivera and D.H.S. Alternative Healing Corporation
How about another CUP for a medical marijuana dispensary? This one is also continued from last month (and the month before that, IIRC). The continuance was to allow a neighbor to come in and comment on this. No changes have been made from last month. This one is going to be at 66328 Pierson Boulevard.
>
Unfortunately, the aggrieved neighbor did not show up. There were no public comments at all.
Vice Chair Voss moved to approve with the additional requirement that there be no neon lighting. Approved 5-0.

Dino Sogoyan - Desert Hot Springs, Collective, Ltd.
This item is a CUP for a medical marijuana dispensary to be located at 66292 Pierson Boulevard. That's just to the east of Wiefels Mortuary.
The monument sign in front of the building will have to be upgraded to meet current sign standards. The applicant is buying the property and said he plans to tear down that monument sign.
Commissioner Cirner moved to approve with the additional requirement that they come up with a different color scheme (and no neon). Approved 5-0.

Adrian Sedlin - Canndescent, MBC
This is for a CUP for a marijuana cultivation facility at 65334 Two Bunch Palms Trail, which is currently occupied by an auto repair business and tire recycling business. The two buildings are about 4,800 square feet each.
The applicant says he hopes to be operating by June 15.
Vice Chair Voss moved to approve with the addition of a ban on neon signs. Approved 5-0.

Other Things
The Planning Commission also approved a design review and development permit for a warehouse and retail facility for Angel View on Dillon Road.
They also appointed Andrew Cirner to the Arts District Committee.
permalink | March 13, 2016 at 09:47 AM | Comments (1)
March 3, 2016
DHS Walmart Taking The Initiative Route To Approval
Mayor Scott Matas has announced that Walmart will present an initiative to the city. The City Council can either adopt the initiative or send it to the voters in November.
permalink | March 3, 2016 at 10:04 PM | Comments (0)
March 2, 2016
Planning Commission February 9, 2016 - just the marijuana
Executive Summary:
Total Dispensary CUPs considered: 5
Continued: 2
Approved: 3
A late report on only the marijuana aspects of last month's Planning Commission meeting based on the city recording...which means I can't hear what they're saying when a microphone is turned off.
Cathy Romero was chosen to be the new Chair, and Dirk Voss the new Vice Chair. Dirk Voss was absent from the meeting.
Public Comments
Ian Armstrong from Palm Springs got up to comment on the state of the medical marijuana market. IMHO, the only experts on the MMJ market are those people who are in it: such as dispensary owners and cultivators; and even they don't have perfect knowledge of this newly legal, rapidly expanding, still somewhat shadowy business. Nevertheless, Mr. Armstrong presented himself as an expert. His research seems to have been little more than looking at Weedmaps.com, which is very unreliable, if for no other reason than that the businesses listed can pay to be promoted on the site. He claimed that only two dispensaries in Palm Springs are operating in the black (i.e., profitably). He didn't say how he knew that. He says the others are expecting to make a profit only after recreational legalization. He said the valley is quickly becoming saturated with medical marijuana facilities, both dispensaries and cultivators. [Note: the only legal cultivation actually underway in the valley right now is the cultivation going on at the dispensaries, which is a fairly small time thing.] He "explained" that the difference between a dispensary and a cultivation is that cultivation reduces consumer prices while dispensary operations destroy multiple dispensaries and "prohibit businesses from actually being engaged properly." That's not how I would define either operation, but Mr. Armstrong was getting to his point.
He said the items on this night's agenda looked "severely problematical" because of the "saturation of medical cannabis facilities in Coachella Valley." You see how he switched from saying it's quickly becoming saturated to saying here that it is saturated. See how quickly that was?
But, heavens no, Mr. Armstrong is not opposed to opening any dispensaries. "After watching Colorado," it is Mr. Armstrong's opinion that any new dispensary must take business from others. IOW, Mr. Armstrong claims to know the maximum amount of demand for medical marijuana, even though this country has never had an experience with MJ like we are having now. He says Coachella Valley has less than 150,000 people - and he admits he came up with that number by adding the population of DHS with the population of Palm Springs. Period. Other areas of Coachella Valley have either no people or no people who want medical marijuana, I guess. "General rule of thumb for a successful medical cannabis facility: one dispensary per 20,000 people," he said
Let's take Riverside County. The population is 2,293,000 (2013) so that works out to a need for 114 dispensaries, if we use that dubious figure of one dispensary for every 20,000. The only legal dispensaries in Riverside County are in Palm Springs and Desert Hot Springs, where there are a total of 10 legally operating MMJ dispensaries. Using Mr. Armstrong's calculation, we still need 104 dispensaries just to satisfy our county's residents. But one might also add in San Bernardino and Imperial Counties, since they have no legal dispensaries. Medical marijuana patients in those two counties must travel to Los Angeles, San Diego or the Coachella Valley to find a legal dispensary. Add in 2,088,000 for San Bernardino County and 176,584 for Imperial and we've got a 3-county population of 4,557,584 or a need for 226 dispensaries, putting us 217 dispensaries shy of his theoretical saturation point.
More modestly, the nominal population of the incorporated areas of Coachella Valley in 2013 was 361,124. Even without adding in the population of the unincorporated areas or trying to calculate what effect the tourists could have on demand for MMJ, that number divided by 20,000 is 18, so we need at least 9 more operating dispensaries, if Mr. Armstrong is correct.
Mr. Armstrong went on to say that with the market over-saturated, businesses will fail, making it difficult for patients to get their medicine. Why would an over-saturated market collapse into a market of short supply? Wouldn't the number of dispensaries shrink to the point where they are all profitable. If it's difficult for patients to get medicine, that's untapped demand, which would signal the need for additional dispensaries. He said the severe competition would INCREASE prices! I don't know what business school Mr. Armstrong attended, but increased competition tends to lower prices.
He asked the Commission to delay new approvals while the Commission conducts an independent evaluation of the cannabis industry in Coachella Valley. This is something outside the purview of the Planning Commission. They are not required (and probably not permitted) to take into account the expected profitability of a proposed business. One assumes the entrepreneur who is risking his money has taken care of that. Mr. Armstrong (not unsurprisingly) offered to assist in conducting that evaluation. Mr. Armstrong, then, is a part of that small niche of the cannabis industry: self-appointed experts who will explain the complex cannabis industry to overwhelmed city leaders. Uh-huh. He said that when more dispensaries open in the valley (Palm Springs, Cathedral City, Rancho Mirage, Indio are the cities he listed, although I'm sure Indio and Rancho Mirage have bans on dispensaries), all the dispensaries in Desert Hot Springs will be eradicated. He did not offer an explanation as to why all DHS medical marijuana patients would seem to prefer to shop in other cities, according to his prediction.
Benno Pabst and Valley Compassionate Care
This would be for a CUP for a medical marijuana dispensary on the southEAST corner of Palm Drive and Fourth Street. That would be this former Chiropractic office:

The applicant had requested a continuance to the March meeting. The Commission approved that 4-0, Vice Chair Dirk Voss being absent.
Eduardo Rivera and D.H.S. Alternative Healing Corporation
This was for a CUP for a medical marijuana dispensary at 66328 Pierson Boulevard. That's this building and the dirt lot to its east, although the applicant now wants that dirt lot excluded from the proposal, as doing so will eliminate some requirements for landscaping and curb repair:

This one came to the Planning Commission in January, but needed a lot of work before it could be approved. Most dispensary applicants have met all the minimum requirements and are offering extras above that by the time they get to the Planning Commission. Not this one, though. Specifically, it needed a paving and landscape plan, removal of wheel stops, removal of all chain link fence, removal of the front fence and gate, a photometric plan, painting exterior conduit to match the building exterior.
A member of the public, Joseph Miner, had submitted written comments that were critical of granting this CUP. Planning Commissioners discussed whether the hearing should be continued. The applicant had brought his attorney along. The attorney addressed the commission.
One member of the public, name sounded like Bruce Newell, not a resident of DHS, got up to comment on this matter. He expressed a general opposition to marijuana that I won't summarize, except to point out one statistic he delivered. He cited the "American Medical Board." I haven't been able to find an organization with that exact name, although it's part of the name of a lot of organizations. But the AMB says that 17% of kids who try marijuana under the age of 24 will develop mental illness. Is it pure coincidence that 17% figure is very close to the 18.2% rate of mental illness in the general American population?.
Commissioner Cirner moved to continue. Approved 4-0.
Umberto Bagnara, Southern Cal Medical Marijuana Patient Association
This is going to be the second dispensary in the Mission Lakes Marketplace, 64949 Mission Lakes at Little Morongo Road. The applicant stated that his lease at that shopping center includes a provision that there will not be more than two dispensaries there.
Commissioner Terifaj said she had invited Ian Armstrong to this meeting. She said he represents the American Cannabis Chamber of Commerce. I wrote about that when I first heard Mr. Armstrong speak at December 8, 2015, Planning Commission meeting.
Chair Romero moved to approve as written. Seconded by Andrew Cirner. Commissioner De La Torre wanted to amend it to ban the use of neon signs in the windows, but that amendment was not included. [The other dispensary there already has a neon Open sign.] Commissioner Terifaj expressed her concern that too many dispensaries were being approved and some would end up going out of business. Approved 4-0.
Jason Foster and CV Wellness
This is for a CUP for a dispensary at 11555 Palm Drive. The two buildings on the southwest corner of Palm and 4th which were both dentist offices at different times; the one set back from the street, second door south of 4th, is 11555 Palm Drive. The lot has parking for seven vehicles. Like Sungrow, this dispensary plans to have separate entrance and exit doors for greater security.
Commissioner Terifaj moved to approve as presented, but after being questioned by the attorney, she amended her motion so that it neon signs would not be permitted anywhere on this site. But then upon further questioning she revised that so that neon signs were banned only from the windows. But, I point out, only neon is neon. The commission probably intended to ban all lighted signs from the windows, but they banned only neon. LED signs are much less expensive and just as effective and flashy. Approved 4-0.

Lisa Lozano and Stephanie Bodde and Desert Hot Springs Dispensary
This is for a CUP for a dispensary at 66406 Pierson Boulevard. That's the little building immediately to the east of Haidet's Hardware.

There is no parking on site, other than the single handicap parking spot. Ms. Terifaj, concerned for the lack of parking, said the front building was not built for commercial use. There is a small house at the back of the property that someone is living in.
The owner of Rose Mortuary next door to this site objected to the odors that would emanate from the dispensary.
Thomas Moen, funeral director at Rose Mortuary, expressed his opposition to the dispensary. He said the driveway is not paved. Also, the mortuary business is very sensitive, he said. He pointed out that the Rose Mortuary is one of extremely few businesses in DHS that draws business from across the Coachella Valley and the high desert.
Another owner of Rose Mortuary expressed his objections as well. He was mostly concerned with the lack of parking, while the two neighboring businesses do have parking lots. He thinks dispensary customers will park in Rose Mortuary's parking lot.
The applicant for the CUP said that her security guard would be out front making sure no one parked illegally. She had reached out to Rose Mortuary, but they had not responded until this meeting. She said there will be more odor coming out of the mortuary's crematory stack than out of her dispensary. She went on to say that she will be operating as a non-profit. Currently she provides medicine to women who are with Rosie's Place at her own expense. She said the retail sales at the dispensary will support her charitable work. Commissioner Terifaj asked her why she needed a location on a busy thoroughfare like Pierson when she already has a clientele, many of whom do not live in DHS.
I might remind Ms. Terifaj that the dispensaries are limited to the commercial zone. If we've got a commercial zone that is NOT on a busy thoroughfare, then it's probably zoned wrong.
The applicant said she thinks she's got a perfect location. She said that the city requires the applicant to have secured a location before they can begin the application process. There was a scramble for buildings and there weren't a lot of choices. She said she had reached out to Rose Mortuary because she thinks they serve much the same population and she hoped to establish some cooperation, but Rose Mortuary never responded to her until they walked into this meeting.
An owner of Rose Mortuary came to the podium again to point out the city's requirement for parking at commercial facilities, which is one space for every 250 square feet. This location doesn't have anything close to that minimum. The owner of the building said that the city code applies to new construction only. His building is grandfathered in.
Rich Malacoff said that there is no grandfathering on the parking rules in this case. This is a CUP process, so the Planning Commission can establish the parking requirements.
Community Development Director Nathan Bouvet suggested the Planning Commission continue this item because it seems there are several items to be resolved: width of the driveway, parking, architectural amenities, site width.
Commissioner Cirner was concerned that handicap access may not be adequate.
Commissioner Terifaj moved to continue and to make a field trip to the site, by which she meant individual trips, not a special meeting of the Commission. Approved 4-0.
permalink | March 2, 2016 at 06:28 PM | Comments (0)
February 16, 2016
MSWD Approves Water & Sewer Rates
At the 218 Public Hearing tonight, after listening to comments from many residents of the district, the MSWD board approved the proposed new rates for both water and sewer by a vote of 4-0, John Furbee being absent for health reasons. One commenter railed against the folly of fluoridating the water. MSWD board President Nancy Wright explained that MSWD does not fluoridate.
One complaint heard repeatedly was that the board was going to "double the rates." This began with, I think, one person who had pointed out the very low per gallon rate and didn't consider all the numbers after the decimal point before rounding.
From 2016 to 2020 the residential rate for 13 units of water (the average amount used in this district) will go from $28.94 to $43.40, a 50% increase, not a doubling. The cost per gallon will go from 0.3¢ to 0.45¢. Again, a 50% increase, not a doubling. Half of that increase will go to pay for chromium 6 abatememnt, which is a complete waste of money, but mandated by the state.
Residential sewer will increase from $31.23 to $50.16 over the same time period. That's a 61% increase.
permalink | February 16, 2016 at 07:52 PM | Comments (0)
February 2, 2016
Another Jaywalker Accident, This Time A Hit & Run
Desert Hot Springs Police on Instagram: "Desert Hot Springs Police Department Press Release: Hit and Run Traffic Collision On 02/02/2016, at approximately 1531 hours, police officers responded to the area of Palm Dr, south of Two Bunch Palms Trail, in the City of Desert Hot Springs, in reference to a traffic collision involving a vehicle vs pedestrian. The pedestrian, whose name is not released due to being a juvenile, was jaywalking across Palm Dr. The juvenile was transported to Desert Regional Medical Center for non life threatening injuries. The vehicle was described as a black Jeep Cherokee, newer model, unknown license plate. The driver of the vehicle and only known occupant was described to be a bald Hispanic male adult. The vehicle fled the scene and the driver has not been identified. Police are requesting your assistance. If you have any information, please contact Officer C.Tooth at (760)329-2904 Ext.352. Desert Hot Springs Police is reminding the public of the serious risks of jaywalking. #DesertHotSprings #DHSPD #DesertHotSpringsPolice"
permalink | February 2, 2016 at 07:45 PM | Comments (0)
January 14, 2016
Desert Hot Springs Veterans Committee
The Desert Hot Springs Veterans Committee invites the Veterans of Desert Hot Springs to participate in a discussion scheduled for Saturday, January 16, 2016 from 11:00 AM - 12:00 PM at the Carl May Community Center.
This event aims to gather a true accounting of Veterans within the community, while providing a forum to collaborate and discuss the unique concerns of the veteran population, and services needed to address these concerns.
Topics of discussion include: Health, Employment, Food and Shelter, Housing and Homelessness. Event Speakers include: Desert Hot Springs Mayor, Scott Matas; Desert Hot Springs Veterans Committee Chair, Jeff Horton; and Desert Hot Springs Veterans Committee Vice-Chair, Bill Cook.
WHERE: The Carl May Community Center; 11711 West Drive; Desert Hot Springs, CA 92240
WHEN: Saturday, January 16, 2016; 11:00 AM - 12:00 PM
permalink | January 14, 2016 at 08:16 PM | Comments (0)
Follow Up On Sungrow
A month ago, allegations were made that the Sungrow dispensary seemed to be violating the law. Tonight, Chief Mondary gave a report to the Public Safety Commission on what was found at Sungrow. He also told us that Detective Larry Essex was going to become the department's marijuana expert.
The police found that the dab bar was not operational when they got there. The rules on that were pointed out to the dispensary's management. There was a slushee machine, but it was also not operational and will not become operational until the county health department issues a permit. The Chief did not say if Sungrow was going to seek a health permit. They found other violations, but it is not yet clear if they are administrative or criminal in nature. The city attorney has written to Sungrow to advise them on what the police found that needs correcting.
The Chief also checked the record of calls for service from the two operating dispensaries. There have been 31 from Sungrow, but it's not always possible to pin every call on Sungrow, since there are other businesses in the shopping center. Four reports have been filed by police:
An attempted burglary of the dispensary.
Battery.
Disturbing the peace. That involved a person who was kicked out of the dispensary (with no medicine) who then created a disturbance in the parking lot.
Informational.
At Brown Dog there have been 13 calls for service and only two reports filed:
Trespassing.
Informational.
permalink | January 14, 2016 at 08:13 PM | Comments (0)
January 6, 2016
Kidnapping
From the DHS Police:
January 6, 2016

Sgt. G. Paiz

760-329-6411 x 325 gpaiz@dhspd.com

Kidnapping/False imprisonment arrest

On Tuesday January 5, 2016, at about 12:32 PM, Officers responded to Desert Regional Medical Center, regarding an adult female kidnapping victim. Officers spoke with the victim who said her ex-boyfriend, Marshall Jones, kidnapped her and held her against her will at his home for several days. Officers responded to Jones' home and conducted a surround call out. Jones walked out of his home in the 9700 Block of San Rafael where he was detained without incident. Jones was booked for the above charges and he was transported to RCJ-Banning jail.

Marshall Eddie Jones 48 years old
M, Black, 5'11, 175, Black, Brown
Desert Hot Springs resident
Sgt. G. Paiz 325

Marshall Jones
permalink | January 6, 2016 at 07:07 PM | Comments (0)
January 1, 2016
Dalian
At last week's Economic Development meeting, Councilmember Joe McKee shared some of the information he brought back from his official visit to Dalian, China.
First, there is the pamphlet about DHS prepared by Councilmember Russell Betts and his wife. For anyone who is worried, Mr. McKee said one of the first things they did in China was to ask one of their hosts to take a look at it to assure it didn't say anything we didn't mean to convey.
The Chinese returned the favor with a book illustrating many of the attractions in the area.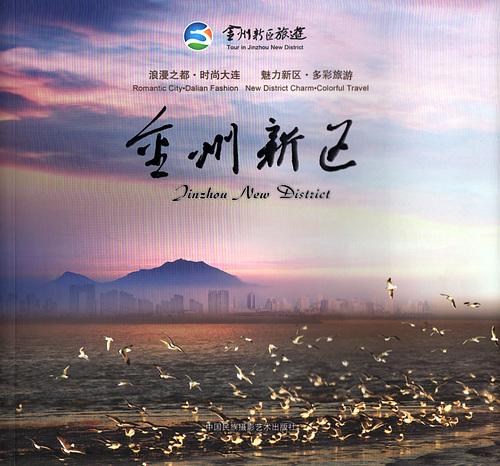 The cover of the book.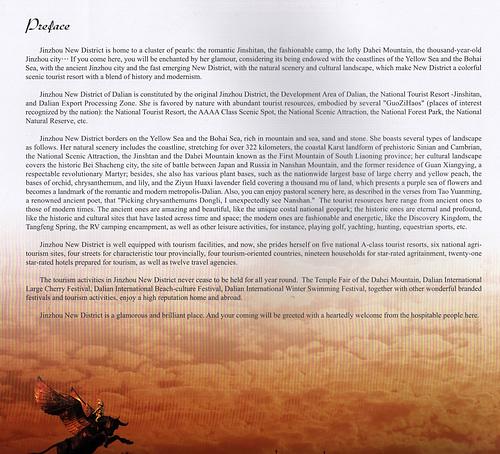 Its preface.
Preface

Jinzhou New District is home to a cluster of pearls: the romantic Jinshitan, the fashionable camp, the lofty Dahei Mountain. the thousand-year-old Jinzhou city... If you come here, you will be enchanted by her glamour, considering its being endowed with the coastlines of the Yellow Sea and the Bohai Sea, with the ancient Jinzhou city and the fast emerging New District, with the natural scenery and cultural landscape. which make New District a colorful scenic tourist resort with a blend of history and modernism.

Jinzhou New District of Dalian is constituted by the original Jinzhou District, the Development Area of Dalian, the National Tourist Resort -Jinshitan, and Dalian Export Processing Zone. She is favored by nature with abundant tourist resources, embodied by several "GuoZiHaos" (places of interest recognized by the nation): the National Tourist Resort, the AAAA Class Scenic Spot, the National Scenic Attraction, the National Forest Park, the National Natural Reserve, etc.

Jinzhou New District borders on the Yellow Sea and the Bohai Sea, rich in mountain and sea, sand and stone. She boasts several types of landscape as follows. Her natural scenery includes the coastline, stretching for over 322 kilometers, the coastal Karst landform of prehistoric Sinian and Cambrian, the National Scenic Attraction, the Jinshtan and the Dahei Mountain known as the First Mountain of South Liaoning province; her cultural landscape covers the historic Bei Shacheng city, the site of battle between Japan and Russia in Nanshun Mountain, and the former residence of Guan Xiangying, a respectable revolutionary Martyr; besides, she also has various plant bases, such as the nationwide largest base of large cherry and yellow peach, the bases of orchid, chrysanthemum, and lily, and the Ziyun Huaxi lavender field covering a thousand mu of land [about 165 acres], which presents a purple sea of flowers and becomes a landmark of the romantic and modem metropolis-Dalian. Also, you can enjoy pastoral scenery here, as described in the verses from Tao Yuanming, a renowned ancient poet, that "Picking chrysanthemums Dongli, I unexpectedly see Nanshan." The tourist resources here range from ancient ones to those of modem times. The ancient ones are amazing and beautiful, like the unique costal national geopark; the historic ones are eternal and profound, like the historic and cultural sites that have lasted across time and space; the modem ones are fashionable and energetic, like the Discovery Kingdom, the Tangfeng Spring, the RV camping encampment, as well as other leisure activities, for instance, playing golf, yachting, hunting, equestrian sports, etc.

Jinzhou New District is well equipped with tourism facilities, and now, she prides herself on five national A-class tourist resorts, six national agri-tourism sites, four streets for characteristic tour provincially, four tourism-oriented countries, nineteen households for star-rated agritainment. twenty-one star-rated hotels prepared for tourism, as well as twelve travel agencies.

The tourism activities in Jinzhou New District never cease to be held for all year round. The Temple Fair of the Dahei Mountain, Dalian International Cherry Festival, Dalian International Beach-culture Festival, Dalian International Winter Swimming Festival, together with other wonderful branded festivals and tourism activities, enjoy a high reputation home and abroad.

Jinzhou New District is a glamorous and brilliant place. And your coming will be greeted with a heartedly welcome from the hospitable people here.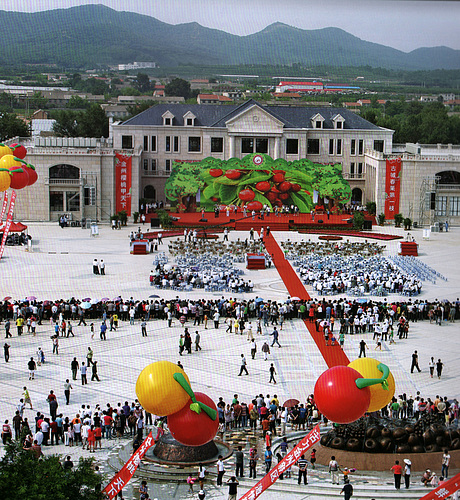 The very aptly named "large cherry festival."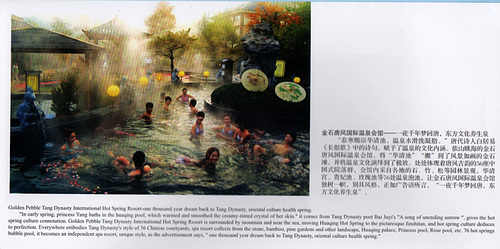 The one hot spring photo in the book.
Golden Pebble Tang Dynasty International Hot Spring Resort-one thousand year dream back to Tang Dynasty, oriental culture health spring.

"In early spring, princess Yang baths in the huaqing pool' which warmed and smoothed the creamy-tinted crystal of her skin." it comes from Tang Dynasty poet Bai Juyi's "A song of unending sorrow", gives the hot spring culture connotation, Golden Pebble Tang Dynasty International Hot Spring Resort is surrounded by mountain and near the sea, moving Huaqing Hot Spring to the picturesque Jinshitan, and hot spring culture deduces to perfection. Everywhere embodies Tang Dynasty's style of 56 Chinese courtyards, spa resort collects from the stone, bamboo, pine gardens and other landscape, Huaqing palace, Princess pool, Rose pool, etc. 76 hot springs bubble pool, it becomes an independent spa resort, unique style, as the advertisement says, "one thousand year dream back to Tang Dynasty, oriental culture health spring."
UPDATE: Councilmember Betts shares this:
Russell Betts
6:55 PM (28 minutes ago)
Reply
to me, Joe
That probably is the stupidest thing I've seen you write Ron.

"At last week's Economic Development meeting, Councilmember Joe McKee shared some of the information he brought back from his official visit to Dalian, China.
First, there is the pamphlet about DHS prepared by Councilmember Russell Betts and his wife. For anyone who is worried, Mr. McKee said one of the first things they did in China was to ask one of their hosts to take a look at it to assure it didn't say anything we didn't mean to convey."
I have asked him to clarify what part of it is stupid:
Which part? It's all accurate.

Ron
Mr. Betts clarified:
Russell Betts
7:29 PM (11 minutes ago)
Reply
to me
Don't waste my time
He was the one who wasted his time by emailing me, and he probably could have clarified his comment using just as many syllables as "Don't waste my time."
What's the problem? Has he gotten tired of bullying everybody else in town?
permalink | January 1, 2016 at 05:02 PM | Comments (2)
December 31, 2015
Aerial Views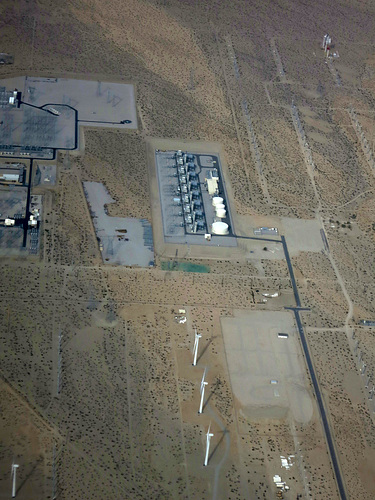 CPE Sentinel power plant.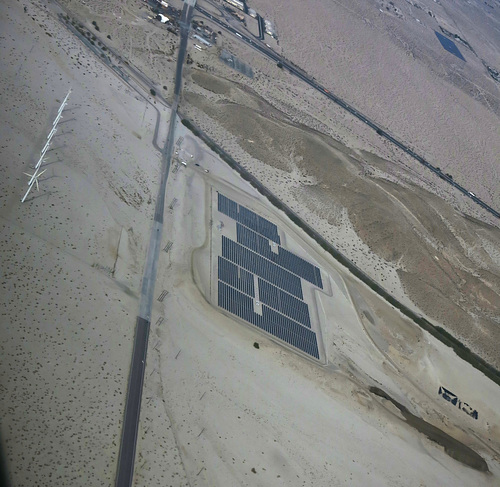 The solar field at the Granite construction site on Indian Canyon.
permalink | December 31, 2015 at 10:54 AM | Comments (0)
December 22, 2015
DHS Planning Commission Approves One More CUP For A Medical Marijuana Dispensary
The Planning Commission held a special meeting on Monday, December 21. Commissioner Voss was absent because he was still in China (or in the process of returning), but the other four commissioners were present.
There were three items on the agenda; all three were CUPs for medical marijuana dispensaries. The proposed dispensaries are:
Benno Pabst and Valley Compassionate Care on the southeast corner of Palm Drive and Fourth Street, formerly the Hart dental building.
Thomas Miller and Greenleaf Wellness at 12285 Palm Drive, Suite B, formerly a church and, I have been told, before that, a theater.
Eduardo Rivera and the D.H.S. Alternative Healing Corporation at 66328 and 66338 Pierson Boulevard which was used by Ocean Tech some years ago.
I sure hope listing these spoilers doesn't ruin your enjoyment:
Continued to the January meeting with no discussion.
Approved.
Continued to the February meeting after quite a bit of discussion.
Let's move right along to the second one, Thomas Miller and Greenleaf Wellness. There is already a nail salon and convenience store as neighbors to this proposed location. The site has already been improved for those businesses. The only exterior improvement suggested by staff was to put more lighting on the Palm Drive front of the building because (1) there's a bus shelter there and (2) it's always too dark at night.
The dispensary will occupy 2,016 sq. ft.
Thomas Miller, the applicant, came to the podium. He said his dispensary will provide free medication to cancer patients and to veteran PTSD patients. He is already in contact with the local Veterans Association. They will offer buy one, get one deals (known as "BOGOs"). There will also be early bird, happy hour, birthday and loyalty card specials. They will offer free classes to patients on the proper way to purchase and use edibles, as well as classes on the effects of the different strains. They have hired two DHS residents already, one a budtender, the other a security guard. They have art from local artists to put on their walls.
Mr. Miller said he has experience in the restaurant business which, he said, is very similar to the marijuana business, especially in terms of customer service. He invites anyone and everyone to come and visit and see what they are building.
Commissioner Duffle asked how many local residents he expects to hire when he opens. Mr. Miller said they plan to have only five employees, because they will not start growing plants immediately. He and his partner will be two of the employees. The other three will all be from Desert Hot Springs, he said. A second security guard will be needed too, and he hopes to hire that guard from DHS as well.
Mr. Duffle asked if he had a system set up to capture the proper sales tax on the free and specially-priced items. Mr. Miller said he did and the tax money for those will come to the City of DHS.
Mr. Miller said he has already been in touch with his landlord about putting in the lighting on the Palm Drive front and he also plans to install a gate of iron bars across the stairs on the south side of the building that go down to the basement. The nail salon has already set up an exterior camera. There will be a camera inside the dispensary as well.
Commissioner Terifaj asked about his delivery service. Mr. Miller said they have run a legal delivery service out of Cathedral City for 2½ years, which sservice I believe is called 420 Express Delivery. He has 400 delivery patients in Desert Hot Springs. Currently any tax on those sales go to the City of Cathedral City. But he said he planned to move the delivery service to his dispensary in Desert Hot Springs, so that tax on deliveries to other cities will come to Desert Hot Springs. [Finally beginning a reverse action on the flood of sales taxes we pay to other cities.]
Mr. Malacoff said the city's current ordinance does not allow deliveries. The city code is actually silent on that issue, but under zoning laws nothing is permitted unless the zoning ordinance specifically says it is permitted. The city council could revise the ordinance, but I don't think it needs to. The new California laws on medical marijuana begin to go into effect on January 1, 2016. Here's what I found in the new law covering deliveries to patients:
Article 9. Delivery

19340

.

(a) Deliveries, as defined in this chapter, can only be made by a dispensary and in a city, county, or city and county that does not explicitly prohibit it by local ordinance.

(b) Upon approval of the licensing authority, a licensed dispensary that delivers medical cannabis or medical cannabis products shall comply with both of the following:

(1) The city, county, or city and county in which the licensed dispensary is located, and in which each delivery is made, do not explicitly by ordinance prohibit delivery, as defined in Section 19300.5.

(2) All employees of a dispensary delivering medical cannabis or medical cannabis products shall carry a copy of the dispensary's current license authorizing those services with them during deliveries and the employee's government-issued identification, and shall present that license and identification upon request to state and local law enforcement, employees of regulatory authorities, and other state and local agencies enforcing this chapter.

(c) A county shall have the authority to impose a tax, pursuant to Article 11 (commencing with Section 19348), on each delivery transaction completed by a licensee.

(d) During delivery, the licensee shall maintain a physical copy of the delivery request and shall make it available upon request of the licensing authority and law enforcement officers. The delivery request documentation shall comply with state and federal law regarding the protection of confidential medical information.

(e) The qualified patient or primary caregiver requesting the delivery shall maintain a copy of the delivery request and shall make it available, upon request, to the licensing authority and law enforcement officers.

(f) A local jurisdiction shall not prevent carriage of medical cannabis or medical cannabis products on public roads by a licensee acting in compliance with this chapter.
Desert Hot Springs does not explicitly prohibit delivery, so I think that it will become legal in DHS on January 1. Once the dispensary gets its final approval the delivery service can move up here.
Ms. Terifaj asked why the city would not allow deliveries. "It just doesn't make any sense." There was a discussion about sending a request to the city council to revise this situation...and that was included in the motion to approve the CUP.
Mr. Miller said there are a lot of DHS residents who don't have cars. And, I might add, there are patients who don't want to be seen entering or exiting a dispensary.
Mr. Duffle said that the crime rate in DHS may make delivery services unsafe. Mr. Miller said he has never felt unsafe in Desert Hot Springs. A patient has to text a copy of their ID and letter of recommendation to his phone before he will deliver. [I think that means delivery is restricted to patients who have access to a smartphone, unless there's some other way to text images.] The one time he was robbed was in Cathedral City.
Commissioner Romero said there is a parallel with how massage is regulated in DHS. One can get a permit to do massage in a hotel, or a permit to do outcall massage, but there is no permit to operate massage therapy out of a home. She rhetorically asked what the city thinks would go on in a home that doesn't go on in other massage settings. It's the mindset and stigma that are still in place along with concerns for legitimacy and propriety.
Mr. Miller said Palm Springs has just dealt with this, allowing deliveries only by established dispensaries.
Steven Henderson, the accountant for Mr. Miller's business, came to the podium to comment. He said he stays on top of the shifting accounting rules that apply in the marijuana business.
Mr. Duffle moved to approve the CUP and to ban delivery services until the city's policy is changed and to install their own camera in the same place as the nail salon's camera (because the nail salon's camera is not compatible with the system used by the police).
Approved 4-0.
This was the fifth marijuana dispensary CUP approved by the Planning Commission, but the dispensary also must get a regulatory permit. On top of that, I believe the number of dispensaries is still limited to three, but that limit is set by City Council resolution so it will be easy to change.
Next, Mr. Duffle moved to have staff notify the City Council that the Planning Commission recommends making delivery services legal. This was approved 4-0. Mr. Malacoff said he would send the message to the City Manager who will then forward it to the council.

Next was the application for CUP by Eduardo Rivera and the D.H.S. Alternative Healing Corporation who want to set up on Pierson Boulevard a few doors west of Casa Blanca. The site is two parcels. The buildings sit on the western parcel which is also paved. The eastern parcel is just dirt. Mr. Malacoff said that if they ever plan to build anything on the eastern parcel, the city will require a parcel merger. The applicant wants to use the dirt lot for special events only, for now. Mr. Malacoff said that each special event will require its own special event permit, which has to be approved by the police and other city departments. The existing buildings have an area of about 1,783 sq. ft.
A couple letters of opposition were sent to city staff. Mr. Malacoff read them into the record. Lisa Mullen wrote that she opposed the application because they have broken the rules. They set up an illegal dispensary at this location in January 2015.
Here's the news article about that from the Desert Sun.
Police: Desert Hot Springs marijuana dispensary closed

Barrett Newkirk, The Desert Sun 5:31 p.m. PST January 13, 2015

Police in Desert Hot Springs say they shut down an illegal marijuana dispensary Monday and arrested two people for possession of marijuana with intent to sell.

Edward Vargas of Cathedral City and Danielle Pappas of Palm Springs were arrested Monday shortly after 6 p.m.

The pair were operating an illegal dispensary out of a standalone commercial building at at 66328 Pierson Blvd., according to a news release. They were arrested at the site.

Police went to the scene after receiving multiple calls about a sign twirler at Palm Drive and Pierson Boulevard, possibly advertising a dispensary, the release said.

Police closed the dispensary and conducted a search after obtaining a warrant, the release said.

The Desert Sun found no signs of activity at the building Tuesday. The property was enclosed by a metal gate secured with a padlock.

Police said they found evidence of illegal marijuana sales in the building. Vargas and Pappas both were arrested on suspicion of possession of marijuana with intent to sell and were booked at the Riverside County jail in Banning. The investigation is ongoing.

The Desert Hot Springs Planning Commission is set to meet Tuesday evening to consider permits for the city's first two authorized medical marijuana dispensaries.
You'll see that article doesn't name either Eduardo Rivera or the D.H.S. Alternative Healing Corporation.
Mr. Malacoff continued reading Ms. Mullen's letter. She said they opened with no business license and lied to her as a new patient, claiming they were the first licensed shop in the city. She saw the sign spinner at Palm and Pierson that is mentioned in the Desert Sun article.
Another letter, from Joseph Miner, was lengthy, so Mr. Malacoff summarized it. The letter said that putting a dispensary in a location within walking distance of residents will exacerbate the health and safety of the community. Mr. Miner owns residential units adjacent to the vacant lot that is behind (north) the proposed location. He said that lot has been a conduit to crime for 20 years. A 90-year old woman and her daughter live next to the vacant lot. He used to own the buildings that D.H.S. Alternative Healing wants to move into so he knows that people climb the chain link fence in back to burgle the place.
Mr. Malacoff reminded the Planning Commission that they deal solely with land use issues. Other issues brought up by the letters from the two residents will be dealt with in the regulatory permit process.
Commissioner Duffle said he had a couple of big concerns. One is the proximity to a high drug crime area. [¡I think he means my 'hood!] He is also concerned about the high number of high school students that would walk past the dispensary.
Ms. Romero asked how many dispensaries are operating and how many are proposed. Mr Malacoff began to list them off, but then Ms. Romero clarified that she meant only on Pierson. Mr. Malacoff said he doesn't have accurate figures because some of dispensary applicants that originally proposed Pierson locations have lost their leases and have not yet re-applied. He said the city does have five applications in queue in addition to the three on this night's agenda.
Ms. Terifaj said the location was isolated. "This is not close to anything, really." There's vacant land next to it and residential property. She said she thinks it's a terrible location.
IMO, the same things could have been said about the Brown Dog dispensary, but there it is, not ruining the city.
Mr. Malacoff said that the applicant had not suggested doing anything to the north side. This surprises me, because there is a chain link fence on the north side of the property. City staff is usually very good about making developers get rid of chain link fences, but this one seemed to get by them.


This is what the north side (1st Street) looks like.
Chair Sobotta said the existing gate and fence on three sides of the property were supposed to have been temporary. He said the gate opens out into Pierson Boulevard. He is incorrect about that. It's a sliding gate.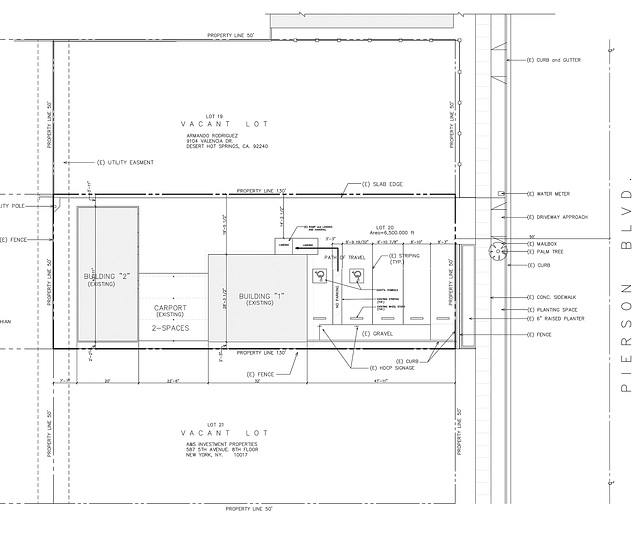 Here's the site layout. North is to the left; Pierson Boulevard is running up and down along the left side. Notice there are only 7 parking spaces, including two handicapped spaces. The space closest to Pierson is going to be almost impossible to park in.
Mr. Sobotta said the ideal solution would be to pave the eastern portion of the site and use that for additional parking. He said this is a chance for the city to really improve that site, but the CUP doesn't call for any real improvements. As an example, he cited the wheel stops in the parking lot. Those are not allowed by the city code, but the CUP doesn't require them to fix that.
Eduardo Rivera came to the podium. He said he's from Hawaii. He has owned a hair and nail salon in La Quinta. He has also worked in the food and hospitality industries. He has been a chef and wants to create his own edibles. He said the back building on the site will not be used for growing, so there's little need to be concerned about the security. Mr. Rivera will have his office there and he will occasionally make it available to a doctor. [That seems to be a violation of the law - if it's the office for the owner of the dispensary, then I'd say it's part of the dispensary, and you can't have a doctor set up in a dispensary.]
He said he only found out about this meeting at 5 o'clock that day. I find that difficult to believe, unless Mr. Rivera is in the habit of not reading his mail; something which is not advisable if you are in the process of trying to open a marijuana dispensary.
He said the gate does not swing out into the right of way. It slides along the fence. He said that if a turnaround is required, it's no problem. He said he will agree to whatever accommodations the commission thinks are necessary, "so long as they are reasonable." He said he could set up a street fair there, or he could serve bread and soup to the hungry. He said those are the sorts of things he wants to do because he's a Rotarian. When he lived on Maui he helped create three Rotary clubs.
"You tell me what you want, I will do it," he said. He said he would light up the vacant lot north of him, if the commission wants that. If they want him to buy that vacant lot, he will.
Mr. Duffle moved to continue this item to the February meeting, including look at its proximity to a high crime area, look at its proximity to the high school and the foot traffic going past the location, look at the concentration of dispensaries on Pierson Boulevard, consider the condition of the north side of the property and what should be done with that, the site is isolated, consider the impacts to the neighboring residential area, investigate the law on locating a doctor's office, check that the gate does not open into the right of way, re-examine the parking, get a better landscape plan (there's a tiny bit of dirt along the fence in front where something skinny might grow), get a lighting plan that shows type of equipment, examine the circulation of the site, examine the exterior of the building and consider whether exposed conduit should be painted or screened. Mr. Sobotta added that the wheel stops should be taken out and replaced with continuous curbing. He also wants to examine whether the fence should be improved or perhaps removed.
Approved 4-0.
permalink | December 22, 2015 at 10:23 PM | Comments (0)
December 21, 2015
Two More Marijuana Cultivation Facilities Approved
Two more medical marijuana grow facilities came before the City Council on Tuesday, December 15. Both were approved unanimously (4-0, Joe McKee was absent because he is in China). Here's the one-hour video of that portion of the meeting.

The first one, brought forward by Oxford Properties, will be on the northeast corner of Little Morongo and Dillon. Initial construction will be four buildings of 47,850 sq. ft. each. The next 16 buildings will be 50,600 sq. ft. each. The grand total will be 1,001,000 sq. ft. which will cover 65% of the 35 acre lot. All 20 buildings are expected to be built within five years, but they may take up to ten years. The buildings will be 50 feet high. Construction will begin "immediately."
The developers will be required to improve Dillon Road along their frontage. But on Little Morongo, the misplaced power poles prevent full improvement. The Development Agreement will require the developer to participate in a "regional effort" to improve and widen Little Morongo. The discussion and vote on the Development Agreement for this property were put off to the next council meeting because the Public Safety Mitigation fee had not yet been negotiated.
I think it's interesting to note that the original landscape plan called for cholla cactus! Good for security, I bet. But the ALRC cut out the cholla.
The development is in the Coachella Valley Water District, not Mission Springs.

This is how the site will be laid out. This is 20 long buildings with their short sides facing Little Morongo. Little Morongo runs across the bottom of the drawing. North is to the left.
The traffic analysis showed that no traffic light will be necessary at the intersection of Little Morongo and Dillon, but the developer will be required to pay his share of that expense into a reserved fund that will be used to pay for traffic lights when they are needed.
There was discussion about the nearly hopeless problem of the power poles that were placed in the right of way. Moving one pole is said to cost $200,000. Counting poles using Google Earth I come up with 76 poles between Dillon Road and Mission Lakes Boulevard. That would mean a total cost of about $15,200,000! I wonder what the cost and challenges would be for the city to shift the right of way to the west sufficiently far that the poles can stay where they are, but be out of the right of way. I imagine the biggest challenge doing that would be encroaching on Dr. Shah's shopping center at Mission Lakes and Little Morongo. City Manager Magaña said that one issue that needs to be resolved first is completion of the General Plan update, which will tell the city how wide the right of way on Little Morongo should be.
The developer said he became interested in medical marijuana when his mother developed cancer. He has a delivery service and cultivation facility in the Inland Empire and a dispensary in Santa Ana. He said grading will commence in January 2016. He said their facilities recapture 70% of the water they use. When the project is complete he estimates it will employ 1,000 people.
The developer of another cultivation site got up to comment and said that his top concern and the top concern of other cultivators is security. He said that the proposed Oxford Properties project is massive and ambitious. He said it has gotten on the radar of the federal DEA. Desert Hot Springs is becoming known nationally as one of the few places to allow cultivation. He said that this must be done right, or all of the marijuana industry could suffer.
The applicant returned to the podium and said they are working with a firm made up of ex Navy Seals and Secret Service along with the head of security at the Commerce Casino.
The attorney for the project came to the podium to say they had already reached out to elected officials and regulatory officials in Washington, DC, to discuss this project and to insure it is within guidelines. It is his opinion that the feds are "comfortable" with this.
Councilmember Betts asked for a 5 minute recess so he could get his questions about the power poles clarified by a member of staff. Mayor Matas would not recess the meeting, saying that all of Mr. Betts's questions had already been answered. Mr. Betts then walked to the backroom with a staffer for that discussion while the meeting proceeded.
Councilmember Parks asked the developer to clarify if the claimed 1,000 jobs would be construction jobs. The developer said that he wasn't counting the construction jobs in that figure of a 1,000. Add those in and the number will be even higher. He said the 1,000 jobs will be full time and each building will have 50-60 employees. A member of the developer's team said that the marijuana cultivation facility will pay better than Walmart. Phase I will be four buildings. Councilmember Zavala asked if most of the employees would be Desert Hot Springs residents. The applicant said he hoped so, and that he was considering setting up a training facility to train new employees. Many of his employees in other facilities were completely new to the industry when hired, he said. In response to another question from Ms. Zavala, the developer said that each building will take about 6 months to complete.
I've got to say that the speed of development promised by this developer and other marijuana developers is rather astonishing, after years of hearing about reasons for delay from other developers of other types of properties.
Mr. Betts came back from his discussion to say that he would vote No on the CUP, because he couldn't figure out what they were going to do in the way of street improvements along Little Morongo—this despite the fact that it had been explained repeatedly that the developer will put in curbs and sidewalks and build driveways from Little Morongo onto his property. The developer suggested putting K-rails (jersey barriers) around the bases of the power poles there, saying he has seen that done in other cities—Brea, specifically. Mr. Betts said he was told that nothing would be paved except the driveways. A member of the developer's team got up and said they would pave everything if the city asked them too, but they just could not move the poles. Mr. Betts said he wanted the curb and sidewalk to be on the street side (west) of the poles, not on the development side (east) of them. The developer could not say Yes enough times in response to this. Years from now, if the poles ever get moved, then the curb and sidewalk would be torn up and moved. The developer has said they have agreed to every request from the city. Mayor Matas said that staff had heard Mr. Betts's concerns quite well and he didn't think Mr. Betts would have a problem getting what he wanted.
Ms. Parks made the motion to approve the CUP (the development agreement will come to the council later). Approved 4-0.

The second marijuana cultivation facility under consideration this night will be a new building on 2.14 acres on the southwest corner of Two Bunch Palms Trail and Cabot Road (Map). That is just east of the tire and auto repair businesses there. The applicant is Bunch Palms Trail, LLC, John Van Beek. Not Two Bunch Palms Trail. Just Bunch Palms Trail. It will be a single 2-story building (up to 37 feet high)) covering a total of 43,161 sq. ft., which is only 46% of the site. It will include four greenhouses (5,914 sq. ft. each). The greenhouses will be screened by the other buildings, so they will not be visible from the street. The site will be surrounded by a wrought iron or tubular steel fence (the applicant had proposed chain link, but the Planning Commission changed that). Water at this site will be delivered by MSWD, of course.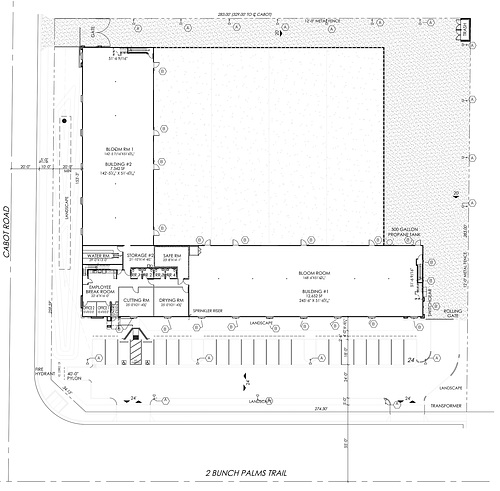 North is down on this plan. Two Bunch Palms runs left and right across the bottom of the drawing. I noticed this plan includes a Safe Room. If that's been on the plans of other marijuana businesses, I haven't noticed it.
Councilmember Betts asked for a view of the property that showed a car. He said if he could get that, then that would save him having to ask "all these questions." He said that's what he's used to looking at. I myself can't say that I recall a car being shown on proposed plans like these.
Mayor Matas asked if the greenhouses would be open to the air. Mr. Malacoff said they would be sealed. Mr. Matas revised his question to ask if they would ever be opened for ventilation. Someone in the audience called out "Yes." The applicant then came to the podium and said that the greenhouses would be opened for air circulation. Mr. Matas asked where the smell would go then. The applicant said that as air is drawn into the greenhouses and then blown back out, it will be "ozonated" (ozonized?) so no odor will be detectable. In addition there will be carbon filters.
The applicant described this as a "small facility" and said they could be up and running and paying taxes in 6 months.
Mr. Betts moved to approve the CUP and continue the development agreement and mitigated negative declaration until the January 19 meeting. Approved 4-0.
* * * *
I must add that the way Mr. Matas ran this meeting is a VAST improvement over what we've been accustomed to. Not only did he keep things moving along very efficiently, but there were no spats or quarrels. Even Lew Stewart showed him respect and refrained from insulting...at least for this meeting.
The meeting included a study session at 3 PM and a presentation from Mission Springs Water District from 5:30 to 6 PM, when the regular meeting began. You can get those in the full video here. The study session was audio only, but is included in the YouTube video.
permalink | December 21, 2015 at 12:27 AM | Comments (1)
December 18, 2015
Alex Meyerhoff Going To Hemet
Alex Meyerhoff, the former Community Development Director in Desert Hot Springs, is in line to become the new City Manager in Hemet. According to the article his starting pay will be $200,000.
permalink | December 18, 2015 at 11:37 AM | Comments (0)
December 9, 2015
What's Up At Sungrow?
There was an item on the 12/8/2015 Planning Commission agenda concerning Sungrow. Apparently at an earlier meeting (I've missed so many!) there was a discussion of code violations or failure to conform with the CUP. Rich Malacoff reported that all of the items discussed previously had been corrected. Mr. Malacoff said there had been an issue with a trailer and an issue with the hours. Both have been resolved. At the point when this item came up in the meeting, no representative for Sungrow had shown up, but the Operation Manager arrived later. Mr. Lee (the younger) showed up just as the meeting adjourned at 8:30 PM. Their "Marketing Director" was nowhere to be seen.
Here's the audio recording of this part of the meeting.

Mr. Malacoff said neither of the dispensaries in town have permanent permits yet. They both have things to accomplish in phase two.
Commissioner Dirk Voss raised the issue of how conformance to CUPs in general are monitored. Mr. Malacoff suggested the city do what some other cities do: they get together staff from the community development department, the Planning Commissioners, and Committee Members from the ALRC; put them all on a bus and drive around town to view some properties.
Commissioner Richard Duffle said he had heard reports that Sungrow has been doing "what is called five dollar wax dabs." Meaning the patient buys a dab of medical marijuana wax, and then consumes the wax on the premises. This not only goes against their CUP, but is outright illegal. When Mr. Duffle asked the city attorney (it was Robert Lee this night) about this, the attorney apologized, saying he was not really up on marijuana law. Yes, he said that. May I suggest that that any attorney sitting in with the Desert Hot Springs Planning Commission should always be well versed in marijuana law. We are, after all, the pioneering city in this area, and the Planning Commission is where the business happens. Would the water district have an attorney who knew nothing about water law?
Mr. Duffle continued, saying that in addition to the dabs, Sungrow is also selling medical marijuana slushies which are made on the premises (a health code violation) and the patients then take them out to their vehicles and drive away, possibly consuming them on the road. The people reporting this to Mr. Duffle said they had gotten their physician's letter of recommendation from the doctor who was operating in a trailer just outside the dispensary.
Mr. Duffle said that if there is trouble with this dispensary it could mean trouble later on for other potential marijuana businesses.
Mr. Malacoff said that if any edibles were being prepared on site, the health department needs to be made aware of that.
Mr. Duffle said he considered Mr. Lee's failure to show up as disrespectful. He said he wanted to follow up personally on this matter with Mr. Malacoff, the City Manager and the Chief of Police. He said we need to get a handle on it immediately, so we don't risk losing any businesses. Mr. Malacoff offered to set up such a meeting.
Mr. Voss warned that if a dispensary were operating illegally, it invited intervention from the state or federal government, and that sort of thing would cast yet another shadow on Desert Hot Springs.
Ian Armstrong came to the podium to comment.
Commission, my name is Ian Armstrong. I'm with the American Cannabis Chamber of Commerce*. All the policies that you're saying you need - we implement this for cities free of charge. Those edibles that are sold at Sungrow, they need to be produced in a commercial kitchen regulated by the State of California. They are not. Their slushies, by the same principle, should be produced in a commercial kitchen. They don't have a commercial kitchen.

Cannabis flowers, typically, in the State of California, have between 23% to 25% THC content. Three hits off of a typical bong or other smoking device is capable of getting an individual stoned. This impairs their judgement. Wax, by contrast, is 74% to 78% THC content. This facility is actively having a dabs bar and a wax bar on its premises, allowing its medical cannabis users to ingest this onsite. This is worse than driving drunk. Colorado has severe penalties in regard to this, as do Oregon and Washington. You're now aware this is occurring onsite. If you go to Weedmaps.com for Sungrow's listing you'll see multiple reviews, some as early as twelve days ago [see below for examples]. A case in point that I'll point is CamOne09 "Awesome Place. Went there Monday and it was fast and easy for first time patients. The bud is a lot better then the other place I went to. The Goji Og is awesome. I like the dab station they have there too. I got a free cheap grinder, lighter, and mini pipe and a free 180mg cheese cake."

Smoking dabs onsite is against every single type of law you can possibly imagine. Federal, state, county and it should be against city. It's basic common sense. The fact that this city is operating right now, I would yank its conditional use permit on the spot. As the head of the National Chamber of Commerce [there is a National Cannabis Chamber of Commerce in Florida that appears to be bigger than Mr. Armstrong's American Cannabis C of C] I work with policy in Vermont, Connecticut, Washington, Oregon. I set up Hawaii's medical cannabis program. The fact that they're doing this here is appalling. I've never advocated for the closure of a dispensary before, but this one I suggest you shut its doors immediately. There's no excuse for this [scattered applause]. None whatsoever. And every single day that you let this continue is a liability for this city. It's atrocious!

As the city attorney, you can tell us that if you let someone walk off those premises stoned or impaired after smoking THC in that context, that's a massive liability. And the city issued this conditional use permit to that liability. So, this facility needs to be closed down immediately. If not closed down, I suggest you suspend their permit. There's, what, eleven other dispensaries in line for permits for your city? And one operating already. There's no argument that can be said that there's not another facility in operation, so Desert Hot Springs' population is taken care of in that respect. You've got other dispensaries scheduled to open within the next two to three months which means there's no competition issue being raised from that. There's no reason to allow this to continue to go on. None whatsoever. And we are slightly horrified as the chamber of commerce about this, and this is something that you guys need to fix immediately.
* American Cannabis Chamber Of Commerce may be fairly new and small. Their website lists only one member. The chamber's contact information gives its address as 1766 E. Camino Parocela #10; Palm Springs, CA 92264, which is in a residential area at Ramon and Sunrise. Here is their Facebook page which seems to go back as far as April 2015. There is some indication that Dean Gray does not like Ian Armstrong. I think you know how to consider that information. The chamber's email address has armstronginternational.org for its domain. http://www.armstronginternational.org/ returns only an error page, but the Whois data for Cannabispolicy.org shows it was registered by Ian Armstrong, giving a mailing address of 1643 Clovis Avenue; second floor; San Jose, California 95124, which is a residential address that doesn't appear to have a second floor. Armstronginternational.org was also registered by Ian Armstrong using the Clovis Avenue address. He also registered 5StarFlowers.org using that address. 5StarFlowers is a dispensary in Palm Springs.
In response to a question from Chair Steve Sobotta, Mr. Armstrong repeated that consumption on premises is not allowed by any law in any jurisdiction in this country. "Furthermore," he said, "they also sell alcohol-based tinctures. ATF would have a field day. That's where you take something like Bacardi 151, fill a mason jar with cannabis, fill it with the alcohol, and then shake it around. After 30 days you have a cannabis tincture, which is mostly THC, chlorophyll, and a bunch of alcohol."
Mr. Armstrong said Sungrow is not a medical facility, that the doctor onsite is not using any medical knowledge. Mr. Armstrong said he is making himself available to the city as a resource. He will help the city draft policy. He will assist in checking the dispensaries. He'll help the city maintain compliance on federal and state levels. He said the main goal of his chamber of commerce is public safety. It is not pro-dispensary, it is pro-consumer.
Mr. Duffle asked Attorney Lee what his recommendation would be at this point. Mr. Lee said that first the allegations must be confirmed. If confirmed, he would recommend staff look into suspension or possible revocation.
If the city proceeded as fast as it could possibly go, they couldn't get the suspension hearing on the Planning Commission's agenda until March 2016, IMO. First you've got to investigate, then schedule a public hearing (which requires 45 day notice, IIRC). Consider that it's December. The investigation would be conducted by our short-staffed police or our very short-staffed code enforcement guy, unless we wanted to bring in the Sheriff to help. IOW, the investigation will not go fast.
At this point Susan Miller commented on another topic entirely. There was some confusion if we were still discussing Sungrow, or if we had gone into a final period of public comments.
Bruce Hutchison spoke next. He will be bringing a proposal for another marijuana grow facility to the Planning Commission. He says there will be four buildings on 7 acres. When complete, they will employ 750 to 1,000 employees [which is, I'm fairly sure, more than one Walmart store employs.] He said that another grow facility that has already been approved expects to employ 800 people. He said his own grow facility, once it's operational, will pay the city $1.6 million per year in taxes, plus all the usual expenses one pays for employees. He has moved his family here.
He warned that Sungrow's activities are threatening all of this. The federal government will not tolerating breaking the law, he said. [The official position of some part of the federal government is that they will ignore medical marijuana so long as it's conducted in accordance with local laws. California's new medical marijuana law, effective 1/1/2016, will finally give us a formal law that the feds can accept.]
Mr. Hutchison said he had heard there is a public arts fund and he said he would be willing to put some of his money into that. Mr. Malacoff explained that when he built his grow facility he would, indeed, be putting money into the art in public places fund.
Chair Sobotta called Ian Armstrong back to the podium. Commissioner Duffle said he would like to see this matter dealt with in the next day or two, not next week. Mr. Armstrong suggested suspending the conditional use permit, saying that other dispensaries would pick up the slack. He repeated that Sungrow is a great threat to the future of Desert Hot Springs. He has witnesses who have seen the dab bar at Sungrow. He said he has never suggested shutting down a dispensary prior to this.
Mr. Duffle asked the attorney about suspending the CUP pending an investigation. Mr. Malacoff said a CUP cannot be suspended. It can be revoked, and that requires a public hearing. He suggested a meeting with the City Manager as soon as possible.
The attorney echoed what Mr. Malacoff had said.
Mr. Duffle said he was prepared to be at city hall the next day for a meeting. Mr. Malacoff said he wasn't sure he could get something on the City Manager's schedule for the next day, but would try for Thursday. Chair Sobotta asked Mr. Armstrong if he would be available, and he said he would be. Mr. Malacoff suggested the first meeting should be city staff (and Mr. Duffle) only.
Mr. Duffle pointed out that it appeared the Planning Commission now had a representative of Sungrow in the audience. Commissioner Voss said "Thank you for showing up, even if it was late."
Chair Sobotta said the goal is to get Sungrow to come into compliance, not to shut them down.
Then Ron Gilbert came up to make a comment. My question was why nobody was talking about sending in the police. If a liquor store was allowing people to drink inside the store and then walk out drunk, the first thing the city would do is send some police over there to stop it. They wouldn't schedule a public hearing to pull their CUP two or three months down the road. Send in Chief Mondary, who I'm sure knows how to identify a dab bar - or can educate himself really fast. He goes in, spots the illegal dab bar, tells management to stop it immediately. Comes back the next day to see if they've complied.
Mr. Duffle said he was will to call law enforcement and have them go down there right then. Mr. Malacoff tried to discourage him, saying he had already messaged the City Manager. Mr. Duffle said he was asking the Commission, not staff, and asked if the other Commissioners would like him to contact the police. [There was some applause from the audience.]
Mr. Voss said it was not uncommon for the police department to investigate conditions that were approved in a CUP.
A member of the audience called out that we should hear from the Sungrow representative, if one were in fact present. Everyone waited a few moments, but the alleged Sungrow representative sat there saying and doing nothing. Then Chair Sobotta invited him to the podium, and he came up.
I couldn't understand his name at all, but he said he is the Operation Manager at Sungrow. He is a representative of Sungrow, "but they are on their way." One assumed that "they" meant the owner. He said they would be there in 2 minutes.
In response to a direct question from Mr. Duffle, the Sungrow rep said they do not have a dab bar in their facility. Then Mr. Duffle asked if they were making medical marijuana slushies. The rep said that question should be directed to the owners. Mr. Duffle repeated his question. The rep said they do make marijuana slushies, but they are not for consumption on site. He said they do make the slushies on site.
Mr. Voss said he thought there should be no more discussion on this issue. The conversation had become investigative, he said. Further discussion may jeopardize legal procedures down the road.
---
Below are some of the patient reviews on Sungrow's Weedmap pages. For a dispensary that allegedly does not have a dab bar, there are a surprising number of patients who say they have enjoyed the dab bar there.
wesleypipes_420
Seven days ago
"Great shop with knowledgeable staff. Its a one stop shop with a dab bar need I say more"

CamOne09
13 days ago
"Went there Monday and it was fast and easy for first time patients. The bud is a lot better then the other place I went to. The Goji Og is awesome. I like the dab station they have there too. I got a free cheap grinder, lighter, and mini pipe and a free 180mg cheese cake."

lumburn-
20 days ago
"Great Staff ! Sungrow is a well run Shop with great bud ! huge variety ! Gotta love the Dab Station & Smoothie machine-"

MetalKush90
Oct 12, 2015
"this spot has dank bud, and awesome slushies! pink lemonade is the way to go. and the dab station is fire!! come support one of the best despinsary around!"

S e a l o w s
Sept 3, 2015
"On the Corner of Palm and Dillon in DHS. Upon first arrival, I thought I was going to get my oil changed because of the uniform (black w/ red trim) polo shirts This place is absolutely amazing. Deals are great. Selection and inventory are on point. The staff is very knowledgeable about their strains and qualities. Dab Station is next level. No one here in the valley that I know of is offering dabs on the way out. GENIUS! I am forever a fan of this place. It will be very difficult to get me to go anywhere else now..."

Xavier_The_Weed_Man
July 25, 2015
"I just love this place I love the people love the DAB Bar it is simply the best this is where every one needs to come!!!!"

diocletian
July 21, 2015
"While it is a rare quality in today's business world to find a business that still practices good ole' fashioned customer service….it's even rarer when the owner of a business reaches-out to its customers when there is an issue with service and/or product. I recently bought some of Sun Grow's "Amber Fire" for my vape and I was left a little dissatisfied with the quality of the oil. I called Sun Grow to a few days ago to discuss my concerns about the quality of the oil and was met with a sense of helplessness from the girl that answered the telephone. She basically stated that there was nothing they could do to rectify the situation and I was left feeling almost victimized by the thought that I was stuck with some crummy oil. I was actually blown-away later that day when the owner, Anthony personally contacted me and apologized for the miscommunication between his staff any myself. He invited me in for a free Dab for my inconvenience and immediately exchanged the oil for, what I now must admit, is some of the best bud I have had the pleasure of smoking in quite some time. The bottom line is, Sun Grow didn't hesitate to fix my complaint and went out of their way to assure that I walked away a happy and satisfied patient. Hat's off to you Anthony for your understanding and for your commitment to professionalism….and for the DaVinci which moves you guys up to the top of my "go to" list for excellent bud!"