July 2, 2015
GoPro at TdF
This year, GoPro is the official camera of the Tour de France. Expect a carload of videos to come out of that, but I hope they offer a livestream from one or more of the GoPros. See what happens in the peloton uncensored!
permalink | July 2, 2015 at 11:06 AM | Comments (0)
June 30, 2015
Meanwhile, On The Other Side Of Market Street
I turned away from videoing the trans parade, and what do I see but Critical Mass coming from the other direction. This effectively shut down Market Street completely for a little while.

permalink | June 30, 2015 at 05:45 PM | Comments (0)
March 13, 2015
Getting To And Hiking The Alexander Zuckermann Bicycle-Pedestrian Path
While I was up in the San Francisco Bay area last weekend, I went over to the east bay and hiked that portion of the new Bay Bridge Trail that is open to the public. Officially it is the Alexander Zuckermann Bicycle-Pedestrian Path. The part everyone is excited about is the path that is constructed along the new eastern span of the Bay Bridge which will eventually allow bicyclists and pedestrians to have direct access to Yerba Buena Island and Treasure Island. Currently, public access to the path stops just as it gets to the suspension portion of the bridge just east of the Yerba Buena tunnel.
But you don't get to bike or walk on that new path unless you find one of the trailheads in the real world environments of Emeryville or Oakland...or the bus stop on the Bay Bridge itself. The bus stop has been there all along, I'm sure, primarily to serve Caltrans employees who work on the bridge. Go to ACTransit.org if you want to figure out how to take advantage of the easy way.
The Bay Bridge's own website offers up a nearly useless map. The map has been shrunk so that no street names are readable with no link to a readable version. Your tax dollars at work. TrailLink has a better map, but you have to register to use it, and it only shows one entry point - the one I used. The Oakland Wiki has a similar map and you don't have to register to use it.
The trailhead that I did not go to is in Oakland at 37.82198, -122.301379, AKA the parking lot at Maritime Street and Burma Road.
The trailhead I did go to is in front of the Emeryville IKEA store at 37.829521,-122.292555. The current imagery at that link puts it in shadow, but it's there. The trailhead on the easterly (IKEA) side of Shellmound Street is for pedestrians and bicycles. Over on the westerly side of the street is another access point that joins the bike path that goes along there. They join immediately after the easterly branch crosses beneath the Shellmound/40th Street viaduct.
There are several bus routes that will take you right to the trailhead (or to IKEA, which is its own kind of hike):
Or, you can do like I did, and just walk the 1.8 miles from MacArthur BART. Head west on 40th Street. As you near the trailhead, 40th will go up on a viaduct that curves to the right and comes down as Shellmound Street. The trailhead is RIGHT THERE to your right. Even the blind can't miss it. If you get to the first driveway for IKEA, then you have gone too far! Turn around! Walk back the way you came a hundred feet or so and wake up and pay attention to the world around you. How in the hell did you miss that?
There is also a crosswalk at that first IKEA driveway which you can use to cross over Shellmound Street to get to the twin trailhead on that side of the street, but why expose yourself to traffic like that? The IKEA, BTW, offers restrooms and water fountains, but comes up pretty short in the hiking supply department. I'm sure you could find a water bottle in there, if you wanted to take the time to look for it. There is a Trader Joe's about half a mile north and you will have passed various retail opportunities on 40th Street.
Once you get to that IKEA trailhead, this video will give you some idea of what you could see along the path:

Here's a link to all my still photos from the hike which was about 10 miles round trip from the MacArthur station. Samples: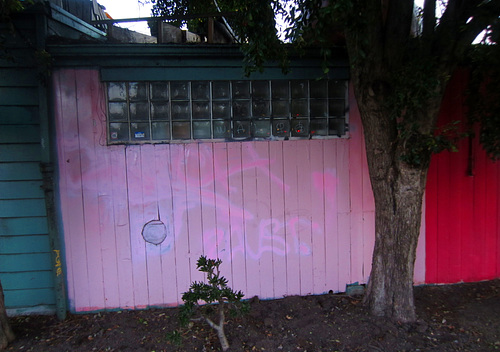 On 40th Street in Oakland.


A Hudson in Emeryville.

A Porsche, also in Emeryville.

Pixar Studios in, you know, Emeryville.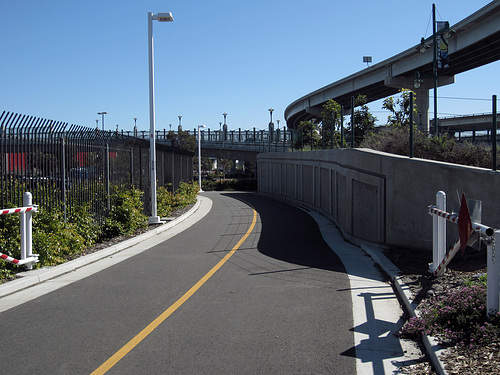 The very beginning of the trail where it curves under the Shellmound Street viaduct.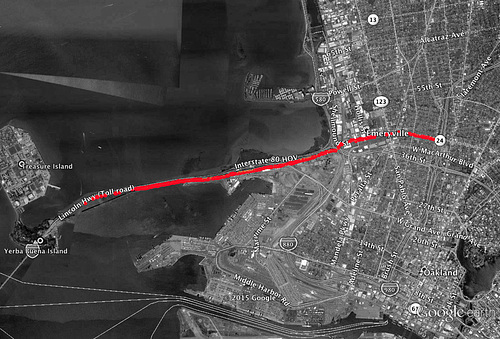 Five-ish miles from MacArthur Station to the limit of the path.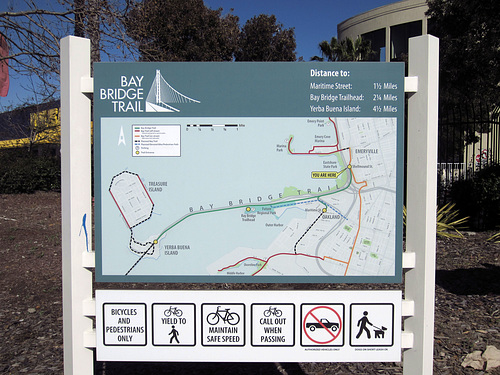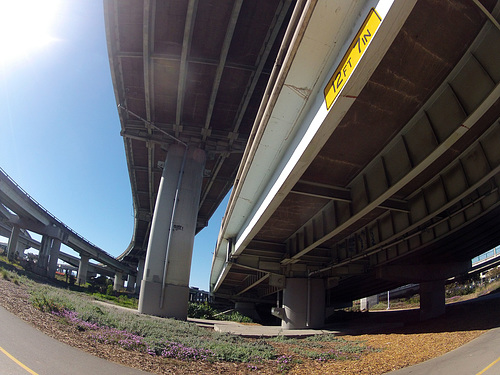 You hike under a lot of elevated highways at first.

Currently the path is open from 7 AM to 6 PM and they say that CHP begins clearing it at 4:30. I was on there after 4:30 and saw no sign of CHP, but a couple of local police (or sheriff's deputies) bicycled up the bridge about then. This photo was taken at about the spot where the path from Oakland joins the path from Emeryville.

There is a sign at these porta-potties saying they are the last ones before the bridge. That is not true.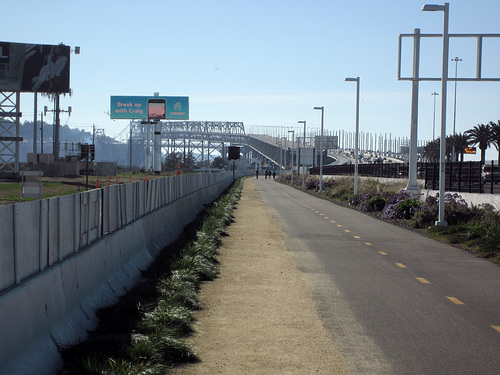 This is the AC Transit bus stop shelter on the Bay Bridge.

FYI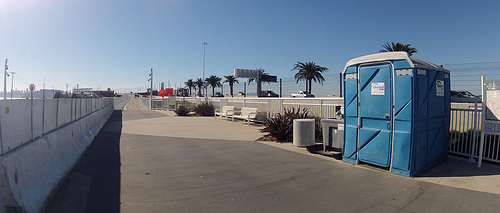 This is the last porta-potty before the bridge. I didn't spot anyplace to get potable water anywhere along the trail, so bring all you need.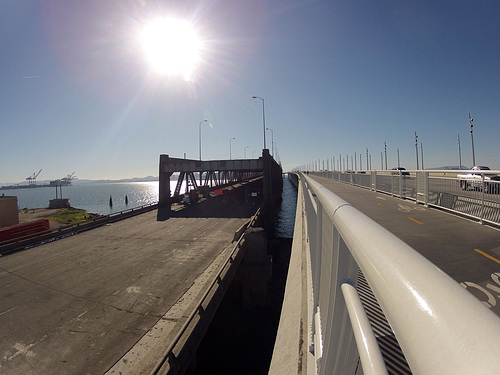 What's left of the old bridge on the left.

Lighting for the path on the bridge comes from these tubes situated about a foot above the pavement.

Closer to the raw end of the old bridge.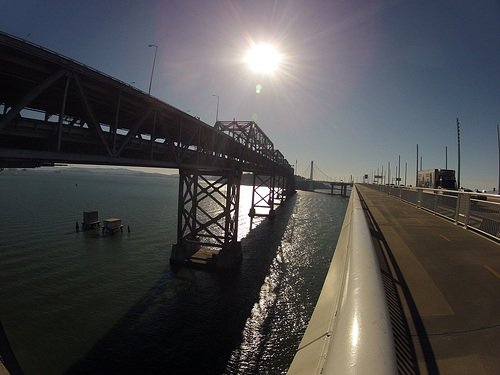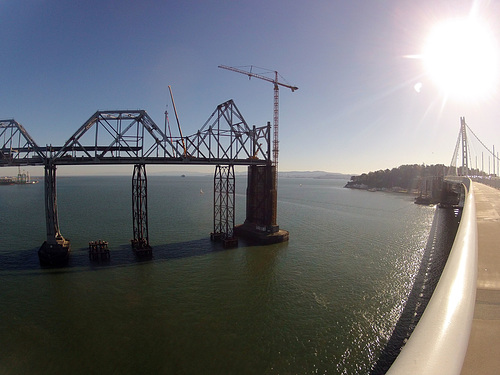 The other end of the old bridge.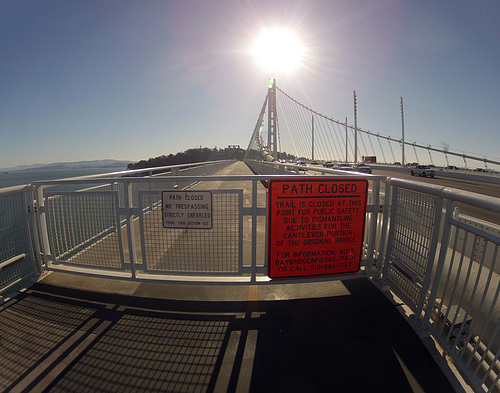 As far as you can go for now. Access to the islands is supposed to happen this summer.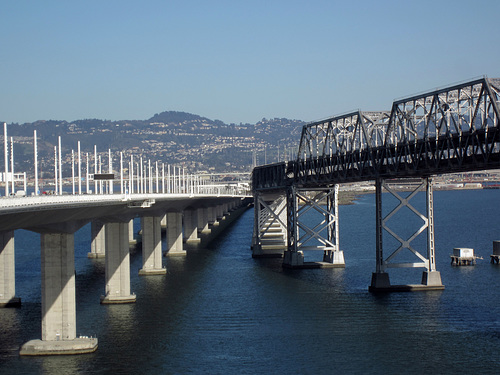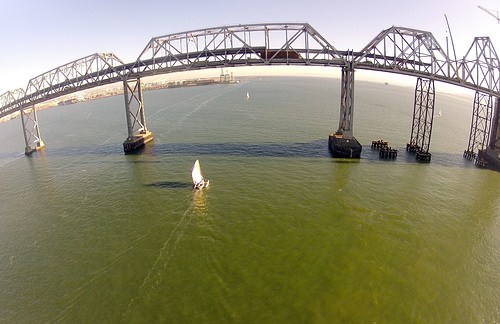 Old equipment under the old Bay Bridge atop one of the support towers. It looks electrical and I wondered why this equipment needed to be this far out from the shore.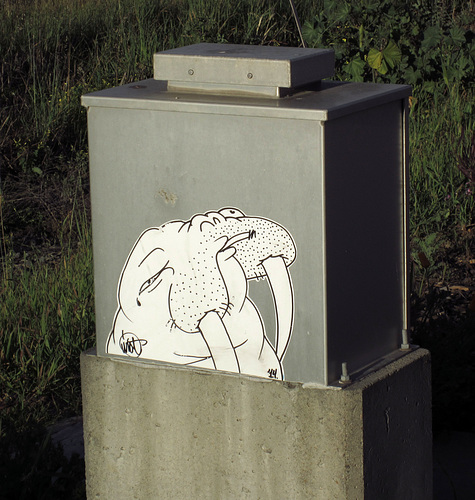 Lots of landscaping along the way before you get to the bridge. Under the biggest snarl of overpasses there is a riparian habitat with all the plants and animals one might expect to find there - except not a lot of water fowl. Of course, buried beneath those highways I don't know how an egret is going to see it, much less get to it.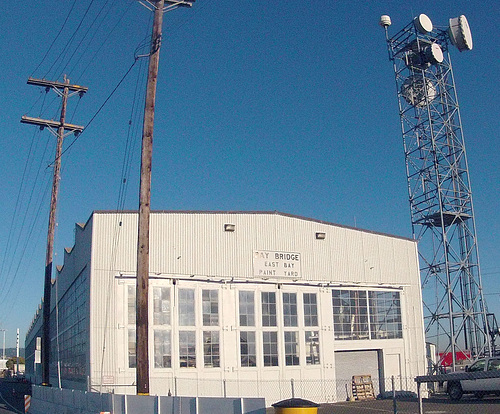 This seems to be the access to the tunnel out to the toll booths. I did not descend. There were no signs telling me to stay away or inviting me in.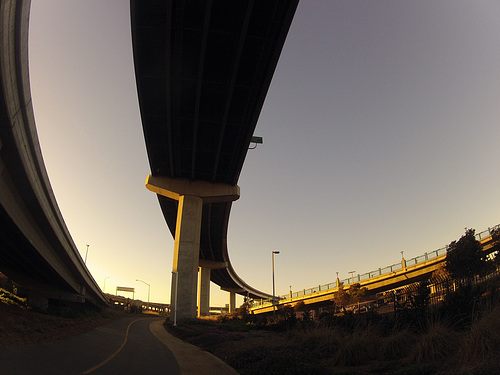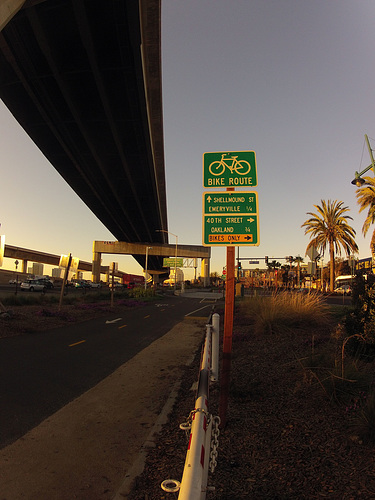 Returning, I followed the branch to the westerly side of Shellmound Street.

On the viaduct facing east on 40th into Emeryville and Oakland. Pedestrians on one side (north and east), bicycles only on the other side.
permalink | March 13, 2015 at 06:55 PM | Comments (1)
February 26, 2015
CV Link Route Identification Workshop #1
Tonight was the first of two community meetings in Desert Hot Springs to discuss the route and other aspects of the proposed CV Link as it may extend to Desert Hot Springs. The second meeting will be Monday, March 2, 6 PM, Carl May Center.
I'll just share the audio with you without comment:

The discussion wandered across many subjects not directly relevant to the CV Link, including access to Joshua Tree National Park. I want to share this map with you to give you an idea of the location of major landmarks north of the city, since these seem to be pretty slippery in the minds of many.


The locations drawn on the map are rough approximations. The blue squiggles from left to right are Big Morongo Canyon, Little Morongo Canyon, Long Canyon. The thin green line represents an approximation of the western boundaries of Joshua Tree National Park. The yellow spot is Black Rock Campground. The pink areas are what are labeled as Lower and Upper Covington on the National Geographic map of Joshua Tree National Park.
But if one is considering access from Desert Hot Springs into the park, one must be aware of the wilderness areas in the park:
The darker areas are designated as wilderness. The red lines are the paved roads. As you can see, the wilderness areas butt up against the entire western boundary of the park. The first break in wilderness as you travel along Dillon away from Desert Hot Springs is at Berdoo Canyon, where you can see they've carved that road out of the wilderness areas. At its narrowest, the Berdoo Canyon gap is more than half a mile wide.
What is wilderness, you may ask. The National Park Service explains it to you here.
Designated wilderness is the highest level of conservation protection for federal lands. Only Congress may designate wilderness or change the status of wilderness areas. Wilderness areas are designated within existing federal public land. Congress has directed four federal land management agencies—U.S. Forest Service, Bureau of Land Management, U.S. Fish and Wildlife Service, and National Park Service—to manage wilderness areas so as to preserve and, where possible, to restore their wilderness character.

The Wilderness Act prohibits permanent roads and commercial enterprises, except commercial services that may provide for recreational or other purposes of the Wilderness Act. Wilderness areas generally do not allow motorized equipment, motor vehicles, mechanical transport, temporary roads, permanent structures or installations (with exceptions in Alaska).
People can recreate in wilderness, though in most places individuals do so without mechanical transport. Visitors may hike, fish, camp, watch wildlife, photograph, or hunt (where legally authorized).
Those wilderness areas will remain a permanent challenge to connecting DHS to JTNP in the big way that I think some people envision. Can we get Congress to carve a chunk out the wilderness to foster the economic development of Desert Hot Springs? How persuasive do we think Congressman Ruiz is? As it stands now, Desert Hot Springs could be the stepping off point for hiking trails into the park, but that's about it.
permalink | February 26, 2015 at 09:22 PM | Comments (2)
December 3, 2014
Unbikeable California
Adventure Cycling is the organization that maps cross-country bicycle routes. They used to be called Bikecentennial. They have been trying to create a bike route that roughly follows old Route 66, using the actual old roadway where possible. But they've run into a problem right here in our backyard.
East of Newberry Springs, … the pavement of Hwy 66 gradually progresses from rough, to bad, to very bad, to "are you kidding me?!" San Bernardino County has delayed making repairs to the road after flooding. Bicycles are prohibited on the parallel stretch of I-40. Caltrans is playing the role of the unmovable bureaucracy, suggesting they send the riders all the way up to I-15, where they could ride the should legally.
Even if Route 66 was smooth and ridable, it goes through the Marine base, so it is sometimes closed to the public. I-40 would provide a ride-around, if it were legal. Contacts with the Marines themselves have proved fruitless so far.

This is the area of concern - Route 66 becomes clearer as you zoom in.
permalink | December 3, 2014 at 12:17 PM | Comments (0)
October 19, 2014
The Playa Provides
Back in the late 1980s in Boston I had a good friend Jeff. Nothing romantic, just a real good friend. About 1991 he left New England, moving to Atlanta, hoping to find less racism. He successfully achieved that goal. If any reader suffers under the illusion that you couldn't possibly find rampant racism in New England, suffer no more. After his move, we drifted apart and foolishly completely lost track of each other, not due to any fight or disagreement; we were just younger and stupider. He's ten years younger than me, so the younger was mostly him and the stupider was mostly me.
Time passed (something like 23 years). Wars began and ended, Al Gore built the internet for us, I left New England for a warmer clime (I successfully achieved that goal). Then it was September 2014 and I began to upload my photos from the most recent Burning Man to Flickr. A Flickr user with the user name Jeff.jeffslastname favorited a couple of them. The name leaped out at me. Could it be? I went to look at some of his Flickr photos to try to identify him. Holy moly, it was him, and there were photos of him at Burning Man! A couple of emails exchanged led to hours on the phone and the re-establishment of our friendship.
It turns out he now lives in San Francisco and has been going to Burning Man every year since 2010, and we have done some of the same events at the same time, meaning he and I were probably brushing past each other without knowing. Yesterday I finally sat myself down to start paging through my Burning Man photos from the last five years and I found him on the 2013 Naked Pub Crawl riding right behind me! We both missed that opportunity to reconnect. My excuse is that I don't have eyes in the back of my head, except for GoPro eyes [for those of you who are new here, I sometimes wear my GoPro on my head pointing backwards on these naked bike rides]. Hence the photo. Jeff's excuse, I suppose, is that after 23 years my ass isn't as lovely as it was when he last saw it, so he failed to recognize me. Black Rock City is a big place and we have been camping on opposite sides of the city. Jeff likes the exciting gayborhood while my Burner Buddies prefer the quieter 'burbs across town.

Isn't that a carefully placed drinking cup?! (Looks like a brushed metal wine glass.) He has hardly aged a bit. One or two more facial wrinkles and that patch of gray in his beard are the only aging I can see. We've been able to pick up almost where we left off, except there are all those years to fill in. It's sort of like Christmas, only a lot better. This kind of thing happens only in movies, I thought.
permalink | October 19, 2014 at 04:05 PM | Comments (4)
October 6, 2014
East Los Angeles
Yesterday's CicLAvia extended much further into East Los Angeles than it (or I) had ever been, so I thought it would be a good opportunity to start at the east end and walk as far as I could.

My route which was about 9 miles (RT).
The next CicLAvia is December 7, 2014. I believe they are trying to put together a route in San Fernando Valley for sometime next year.

Anthony Quinn Public Library. Anthony Quinn lived in East L.A. as a child.

Belvedere Park, the eastern terminus of yesterday's CicLAvia.

A mural with "Bobby & Cesar" based on this photo.

Evergreen Cemetery. Perhaps the most well known celebrity buried here is Eddie Anderson. The cemetery is racially segregated, but never barred any race. It's also where Joseph Winchester Robinson is buried. He came from Waltham, Massachusetts, and founded the "Boston Store" which became Robinson's and then Robinson's May. George Ralphs (founder of the supermarket chain) is buried here as well.

Atlantic Station, the eastern end of Metro's Gold Line.

Mexican-American Veterans Memorial.

A streetlight on Cesar Chavez Boulevard alongside Evergreen Cemetery.

Three Sisters of East Los Angeles.
See the rest of my photos here.
permalink | October 6, 2014 at 05:34 PM | Comments (0)
August 27, 2014
Every Summer At Burning Man...

The naked pub crawl happens.
permalink | August 27, 2014 at 11:00 AM | Comments (0)
July 31, 2014
California Death Ride
125 miles, five mountain passes in Alpine County, California, by bicycle, and whaddaya know, some of the riders have GoPros.

The website of the ride itself, which also uses the name "Tour of the California Alps."
permalink | July 31, 2014 at 10:24 PM | Comments (0)
July 29, 2014
Video at the Tour de France
I didn't know until today that the Tour de France had changed its rules this year to permit action cameras mounted on bicycles. According to Gizmodo most of the on-bike cameras are the Shiman CM-1000 which is 40% lighter than a GoPro Hero3+. $289 at Amazon
. Besides its lighter weight, it supports private wireless connections to Shimano receivers, which would be in the team cars...essential for bike racing.
Here's the best one, starting at the best part. This skips the first 51 seconds which includes the part where we see first hand what TdF riders do to stupid spectators who encroach on their route: quick, physical violence. The videographer apparently was wearing his camera on his helmet which he was holding out at arm's length. The camera went down onto the pavement and was picked up by Kevin Raza who rides with Team Europecar. He fumbled with it for a bit and then finally got it pointed at his massive legs, which we watch for quite a bit. Eventually it got handed off to a team car. I can't remember ever seeing video of the interior of a team car before. Not too interesting.
One minute of sped-up Stage 1 by Cannondale.
Stage 3 in London with famous landmarks.
On the pavé in Stage 5, with rain, of course.
And finally, this one isn't with an action cam, nor mounted on a bike, but it was shot by the guy who dropped his GoPro in that first video. This shows the very lead of the Tour going uphill. First you get motorcycles coming through to push crowd back in order to reduce the amount of fisticuffs in which the riders have to engage; then the lead riders for the stage; then the peloton; and finally the yellow jersey of the overall leader.
Bonus: the descent of Col D'Izoard, which was Stage 14 on this year's Tour, but this was shot on a training ride before the Tour...with a chest-mounted action cam. You will see when the view switches to the accompanying motorcyclist that the speed reaches 95 kph which is 60 MPH.
permalink | July 29, 2014 at 01:17 PM | Comments (0)
June 26, 2014
My L.A. World Naked Bike Ride Photos
This slideshow is made up almost entirely of photos shot with my GoPro mounted on the back of my helmet, so extremely little thought or skill was involved. All I had to do was keep my head from falling off. Enjoy not only the cyclists, but the changing Los Angeles streetscapes. The ride was a little over 16 miles long.

No music added. Please add your own.
permalink | June 26, 2014 at 11:42 AM | Comments (0)
June 20, 2014
Peloton Sprint Finish
You've probably never been here. Someone attached action cams (could be GoPro; I can't say) on two bicycles (one forward, one rearward) in the fifth stage of the Tour de Suisse. You get to see the final 2:48, as the peloton launches itself into the full speed crush for the finish line. Fear not; there are no accidents this time.

permalink | June 20, 2014 at 06:50 PM | Comments (0)
June 16, 2014
LA WNBR Photos

The LAist has a selection of photos from yesterday's World Naked Bike Ride in Los Angeles including the photo above that shows a man who swings both ways: GoPro and Sony action cams. Maybe he was making an A/B comparison video. But that's a Hero2, so probably not.
The photos are NSFW and not pixellated. Lots of complete nudity.
permalink | June 16, 2014 at 10:27 AM | Comments (2)
April 28, 2014
Alaska To Arizona
A couple of bicyclists ride from Alaska to Arizona and document the trip with a variety of cameras, including a GoPro...but most of the shots come from some other camera. Their route included Tioga Pass (arrgh!) and Death Valley.

permalink | April 28, 2014 at 08:57 PM | Comments (0)
April 18, 2014
Of Moderate Interest
Some company that makes, I think, carbon fiber bicycles with electric motors, I think (I'm not going to even bother to search for any clarification) has provided this video shot from a UAV of a couple of their bicycles in the recent CicLAvia on Wilshire Boulevard. You will see that what could be a pretty cool 60-second video becomes little more than beautiful tedium as the cyclists and the UAV (with, probably, a GoPro) cover no more than 3 blocks of the 6-mile event which went from Grand Avenue on the east to LACMA at Fairfax on the west.
The three blocks videoed to death are centered on the Wilshire United Methodist Church and Scottish Rite Masonic Temple. Beautiful and impressive - once or twice. But after the 17th flyover of the church you begin to wonder if this isn't really a roof inspection service that's being promoted.
I do wish to point out that the first of the two cyclists that the camera focuses on right in front of the church doors is wearing way cool white Crocs because who knows? Because it's L.A. I guess. Maybe they are making the point that you pedal so little on these bikes you can even do it in Crocs.
permalink | April 18, 2014 at 12:12 PM | Comments (0)
April 6, 2014
Goat Canyon Trestle
This is a GoPro (I think) video shot by a rider bicycling over the Goat Canyon Trestle which is the tallest (the rider says it's the "longest" but I don't think that's correct) curved wooden trestle in the world. It's in San Diego County on the Carrizo Gorge Railway.

I noticed that when he starts rolling onto those metal grates, there's a gap between them that an ordinary bicycle tire could get caught in. I'm sure most of the people who ride this are doing it on fairly fat tires, and I never experimented with fat tires to see how fat a tire you could jam in a narrow space, but that trestle is not a place I'd want to fall, even if I just fell on the grating.

An aerial view of the trestle.
permalink | April 6, 2014 at 08:57 PM | Comments (0)
February 7, 2014
A New Option For Burner Bikes
I've been asked by a few potential Burning Man virgins "Do I really need a bike?"


Whadda you think? Photo by Danger Ranger.
There are several good ways to get a Burner bike, but one new way has been added this year: Loop Cycles. To participate you order your bike online for $135. You can also buy a few standard accessories every kid needs for a bike: basket, pump, lock, and electroluminescent wire. Starting one week before Burning Man, the bike will be available for pickup in Reno. After Burning Man you can keep the bike, or you can drop it off at one of the many bike recyclers that feed off of Burning Man, or you can drop it off at Loop Cycles in Reno where they will pack them all in containers. "The container is shipped to the Bicycles For Humanity team over there [in Namibia], bikes will be distributed to healthcare workers, students, and other members of the community."
I've heard of similar programs where the bikes are distributed to poor adults or kids in poor families in the U.S., but this operation has selected Namibia as their target.
If you are on the fence about getting your Burner bike this way, let me point out that these bikes will be painted with glow-in-the-dark paint! Now you know what you want to do.
permalink | February 7, 2014 at 01:40 PM | Comments (2)
January 19, 2014
Los Angeles WNBR 2013
I've uploaded the video I made from my GoPro still photos at last year's World Naked Bike Ride in Los Angeles. It's on Vimeo and it includes, as one should expect, naked people on bikes. The GoPro was attached to my helmet facing backwards so I had very little notion of what I had photographed until I got home and looked at the results. The video ends about two-thirds of the way through the ride because that's when the card filled up and I wasn't sufficiently attentive to check on it.
permalink | January 19, 2014 at 11:49 AM | Comments (0)
December 7, 2013
2nd Street Bike Path Upgrade

L.A. Streets Blog reports that plastic dividers have gone up along the bike lane in the 2nd Street Tunnel. They say this is a first for Los Angeles.
(photo by Jessica Meaney)
permalink | December 7, 2013 at 06:18 PM | Comments (0)
November 1, 2013
Valparaiso
Bicyclists with at least three GoPro Heros mounted on themselves, plus uncounted other GoPros on their bikes or mounted along the route, show us some terrifying cycling down the hills of Valparaiso, where the leash law (if there is one) is laxly enforced. Look for the weird balance beam mounted on one rider's helmet. That thing should have a wind vane on it.