June 18, 2017
L.A. World Naked Bike Ride Photos

Here's a link to the full size photo if you want to read that tattoo.
permalink | June 18, 2017 at 04:38 PM | Comments (0)
June 13, 2017
LA World Naked Bike Ride

Actual video of part of the Los Angeles World Naked Bike Ride, 2017.
permalink | June 13, 2017 at 08:29 AM | Comments (0)
March 8, 2017
The IKEA $500 Bicycle
The author, who doesn't sound real handy, finished assembly in only 67 minutes. One presumes he did this without yelling at his kids or kicking the dog.
$500
33 pounds
Has a kickstand
Disc brake on the front!!
Coaster brake on the rear!!
Belt drive
Two speeds, but that doesn't matter because it shifts automatically and the rider has no control over it
All the prices are lower if you have an IKEA Family card, which you can get from a vending machine near the entrance. Bike $399, rear rack $20, front basket $25
They will also sell you a pannier (one) for $30 ($20) in either brilliant yellow, black or purple.
Looks like it should be a good Burner bike.
permalink | March 8, 2017 at 05:10 PM | Comments (0)
September 16, 2016
What I Would Do With My Tricycle If I Could
permalink | September 16, 2016 at 08:48 PM | Comments (0)
September 14, 2016
The Lighting On My Burner Tricycle
permalink | September 14, 2016 at 04:29 PM | Comments (0)
August 18, 2016
L.A. World Naked Bike Ride
The Los Angeles World Naked Bike Ride took place on June 11. I had three cameras, each one shooting a still photo every five seconds. One camera was mounted on the handlebars, facing forward; another on my helmet facing backwards, and the last one also facing backwards, but mounted on the rear rack of my bike. That camera takes good video, but only 5 mp photos, so those turned out to be a lot lower quality than I had hoped for.
The complete set of photos is here. These photos are on Flickr, so in order to see them, you must...
Have registered an account at Flickr (it's free and uses your Yahoo ID).
Be logged into that Flickr account.
Have your Flickr safe search settings turned OFF (here).

2nd Street Tunnel.

Andy.

Jeff.

3rd Street Tunnel.

The man with the beard. More photos of him here.

Jeff and I, R to L.

That tight black outfit is body paint.

That's Rocky with the GoPro on his handlebars.

Provocative dresser.

Tim from Boston. Well, Dorchester, but Boston.

Yes, the ride is clothing optional, but this is really overdoing it.

Tim.

Jim.
permalink | August 18, 2016 at 10:36 PM | Comments (0)
June 14, 2016
Myself On The LA WNBR
LAWeekly has a good slide show from the Los Angeles World Naked Bike Ride that includes at least two three four photos of me.
permalink | June 14, 2016 at 08:15 AM | Comments (0)
April 14, 2016
Nixie Watch
Quite likely, you recall this video from the naked pub crawl at last year's Burning Man. It does contain nudity so, you know, if you don't want to see it, don't click it. It's only to show you this overpowered sound system on a bicycle.

Fast forward to today, and here's Techmoan's review of the new Nixie tube wristwatch.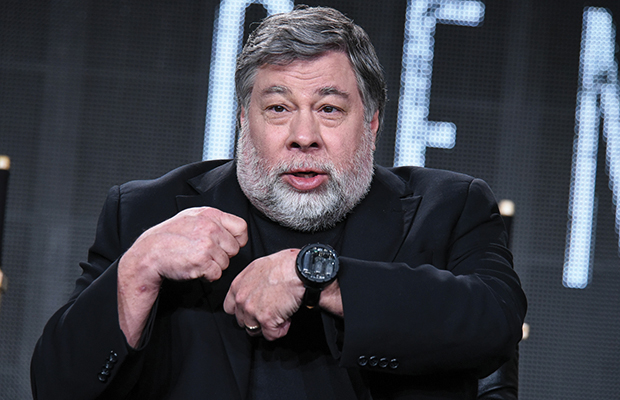 Here's Steve Wozniak showing off his Nixie watch.
From Techmoan's video I jumped to Cathode Corner where you can buy a Nixie watch. Scroll down that page and whadda ya see? The overpowered bike sound system that I videoed above. In short, the Nixie watch designer was on the naked pub crawl with his loud bicycle.
permalink | April 14, 2016 at 09:43 AM | Comments (0)
January 28, 2016
360° CicLAVia

A few shots from a fixed point plus one shot in motion on the Culver City - Venice CicLAVia last August.
permalink | January 28, 2016 at 12:41 PM | Comments (0)
December 26, 2015
NYC Cyclist Finds Route 66 "Not very scenic"
Jeffrey Tanenhaus grabbed a Citi Bike (a bike sharing bike) in New York City this past August and headed west. He has just now reached California. Yes, obviously he should have started sooner, but he's here and hanging out in Joshua Tree National Park now...or at least that's what the article says. He remarks on the sparsity of drug stores and such in the southwest, and he's not carrying any camping gear, so I don't know how he will make it in the park. He has been depending on the kindness of strangers for places to sleep, so maybe he can become the darling of Jumbo Rocks campground, or something like that.
He has done a bulk of the ride along historic Route 66, at times pedaling out on the shoulder.

"Out here in the West, sometimes there is no other road," he said. "It's not very scenic, but that's where the roads are."
One article dated in October said Los Angeles is his goal but he "may end up in San Diego instead of Los Angeles, as he originally planned, because of weather concerns." I wonder what sort of major weather difference he thought he could detect four months in advance.
In effect he bought the bike for $1,200 by not returning it within the time limit. For $1,200 he could have gotten an even better bike. He carried his gear in a trailer.
He was attacked by a crazy man in Oklahoma - a very crazy man.
permalink | December 26, 2015 at 07:18 PM | Comments (0)
September 16, 2015
Video From The Naked Pub Crawl
Don't get too excited, though. I shot this short video to show you the incredibly powerful sound system somebody had mounted on his bicycle:

permalink | September 16, 2015 at 03:45 PM | Comments (0)
September 9, 2015
Dust
Here's a video I shot from the back of my bike as I crossed the inner playa on Wednesday of Burning Man. This is at 4X speed. For much of it I could see only a very few feet ahead and had to stop completely once or twice when I was completely blinded. A camp playing loud music to my right helped me stay oriented. When you use audio orientation on the playa there is the risk that you're following an art car, not going to a stationary camp.
This was an extremely windy and dusty year. Far, far worse than any other year I've gone. I'm not even going to get into the cold temperatures here.
permalink | September 9, 2015 at 06:22 PM | Comments (0)
August 22, 2015
Burner Bike In Motion
On the mean streets of Desert Hot Springs.
permalink | August 22, 2015 at 10:22 PM | Comments (0)
Burner Bike
I re-did the lights on my Burner bike this year. There are two strips of LED lights, one white, one pink - although the pink washes out in these photos. There is also a thin wire strand of pink LEDs. All powered by two rechargeable 12-volt batteries in the bag under the seat.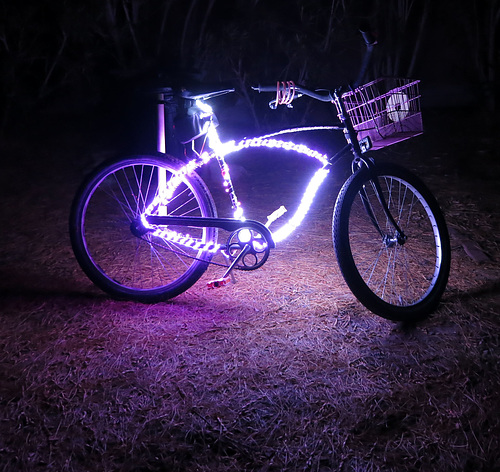 permalink | August 22, 2015 at 09:38 PM | Comments (0)
August 11, 2015
CicLAvia - Culver City & Venice
This past Sunday was another CicLAvia. This one was between Culver City and Venice. I picked a spot about midway – the 405 made a nice dividing line – and walked from there to Venice Beach and back, mostly ignoring Culver City – sorry about that.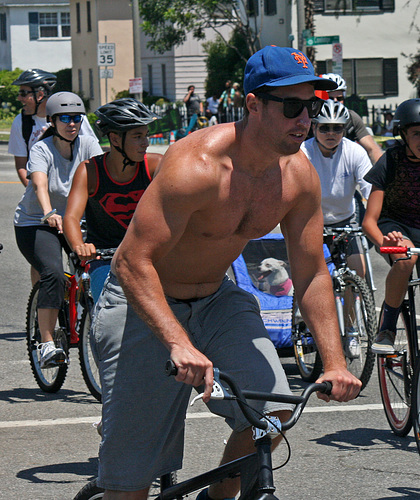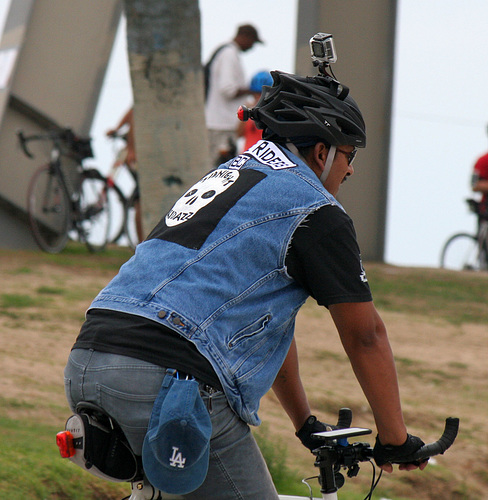 Ideas spread slowly. As you may already know, in events like CicLAvia the best way to mount a GoPro for interesting photos is to point it backwards as this intelligent rider has done – and as I do. I can only guess that this isn't more widely done because GoPro cameras tend to attract people who are all about me me me, not those other people with me.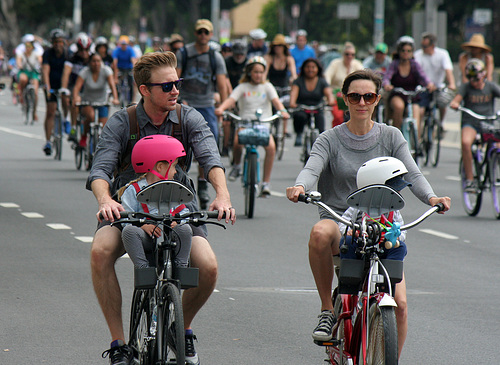 Modern parents with gender-specific helmets on their kids: girl and neuter.

Just look at all the white faces. Random chance, I'm sure.

Venice High School. The high school I attended in Kansas City had landscaping like this, but they finally had to rip out all the palm trees because the ice storms every winter really wrecked 'em.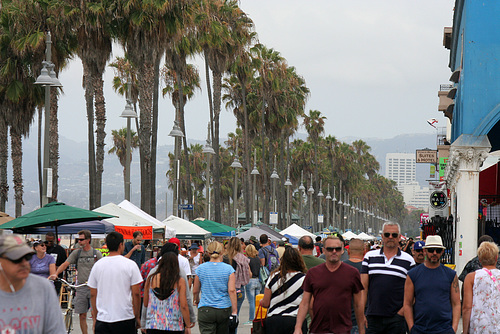 Requisite Venice Beach shot. The interesting thing I noticed was the one smoke shop I looked into had zero customers. Maybe the market has reached the over-saturation point – even at Venice Beach.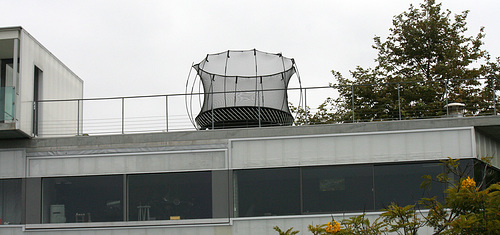 If you're going to put up a trampoline, might as well put it on the roof. I hope they've got a 24-hour camera on that so they can share the horrible accidents that are going to happen.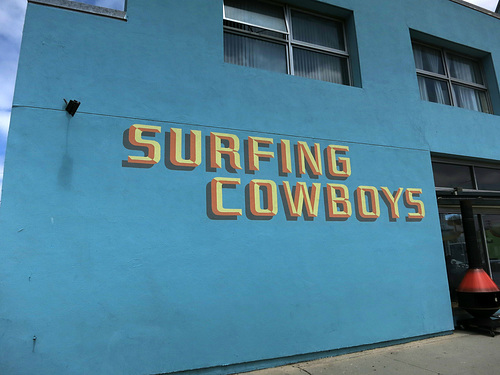 I glanced in and they had backyard barbecues (or were they little fireplaces?), surfboards and some household furniture on display. Not sure which niche of which market they might be serving.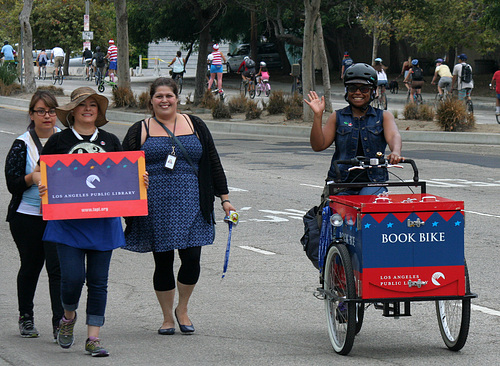 I was gifted an official LA Public Library lanyard after I took this photo. I think I can get free books at this place.

Hot stuff.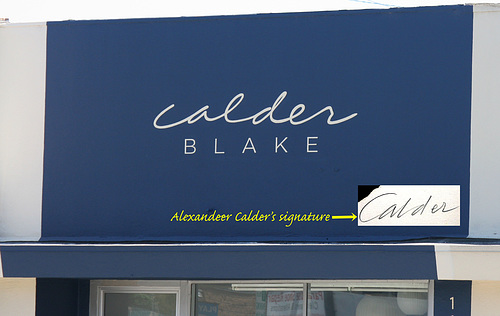 I was so terribly concerned that Mr. Blake was trying to steal away with some of Alexander Calder's fame that I went and looked for an image of the artist's signature and popped it in there for you, so that we can all relax and know that Mr. Blake is probably an honest man.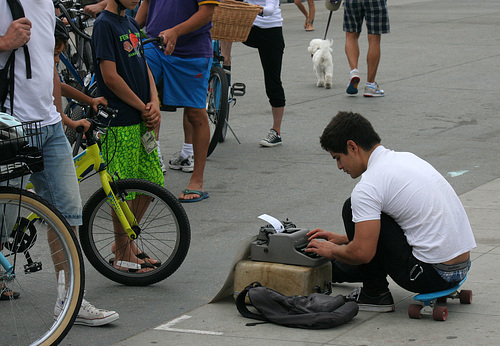 Accept it for what it was. No questions about why I didn't go up and question him as to what was going on. Let the little mysteries of life stay mysteries. It's interesting enough that a display of Manual Typing Skills draws a crowd on Venice Beach. Anybody got a couple of rotary phones? Take them out there and watch the kids try to operate them.

Pretty nice bowling alley. I've decided they mean for the name to be pronounced the same as Bolero. Because BOWLer-oh just sounds stupid.
permalink | August 11, 2015 at 07:48 AM | Comments (0)
August 10, 2015
Yesterday's CicLAvia - Culver City & Venice
Just bikes (mostly) and ambient sound.

I wonder if part of the reason CicLAvia is popular is because there is no overwhelming emphasis on safe cycling. All I've seen is this safety page on their website, although maybe it's also printed on some of the handouts I see floating around during the event itself. And on that list there are only a few "hard" rules. A "soft" rule is like this one: "CicLAvia isn't a race. It's an experience. Take the time to enjoy it!" Hard rules are: pass on the left (good luck!), helmet required if under age 18 (probably enforced only by the parents), motorized transport is only for the officially disabled (I saw a number of healthy people on things powered by electric motors), don't use phones and cameras while riding (almost half of the riders observe that rule). But the event has not had, as far as I know, any disastrous accidents. I saw one skateboarder fall yesterday, but she hopped right back up and kept going.
permalink | August 10, 2015 at 11:27 AM | Comments (0)
July 29, 2015
Tour de France GoPro Highlights
permalink | July 29, 2015 at 05:56 PM | Comments (0)
July 27, 2015
Final Stage Of The Tour de France Seen Through GoPro Lenses
permalink | July 27, 2015 at 08:09 PM | Comments (0)
July 12, 2015
Tour de France GoPro Highlights, Stages 1-7
A little bit of everything, a couple of crashes, time trial, pavé, rain, lunch; all too fast to appreciate the rhythms of the Tour itself, but this is all about the GoPro.

permalink | July 12, 2015 at 12:03 PM | Comments (0)
July 9, 2015
Boston Bike Renters Are Asked To Keep Pants On
Hubway, the company that provides shareable bikes in Boston, does not object to riders taking their bikes to ride in the Boston World Naked Bike Ride which happens this Saturday. But they do ask that you not ride the bikes bareass. Look, that rule applies even at Burning Man. They suggest underwear.
The ride starts at 9 PM in Cambridge at North Point Park, which is a newer park built since I left Boston. I'm sure some will tell you that the ride is at night to avoid the summer heat (big eye roll). Honestly, it may simply have grown out of a tradition among Boston bicycle messengers to hold an annual naked race at night. Or it may be to avoid heavy traffic.
I don't know if casual nudity is legal anywhere in Boston or Cambridge. Video from last year's Boston WNBR when they met in front of the State House shows some people riding actually naked. And also shows them riding in the wrong lanes - at night, in traffic. Idiots. Right turns from far left lanes in front of moving traffic where there is no stop sign or traffic light. Double idiots. Somebody built a high-rise next to Berklee School of Music - is that a dorm? The route was pretty short: across the Common to Tremont, go down to the theater district, back past the Public Garden to Beacon Street to Arlington to Comm Ave, ride that a ways to Mass Ave. That over to Boylston, following Boylston up to Berkeley, then over to Newbury and then somehow popping back up to the State House by some route they don't show. That's like, what, 4 or 5 miles?