October 2, 2016
DHS in Palm Springs Life
Palm Springs Life has a good and accurate article covering all the aspects of marijuana cultivation coming to Desert Hot Springs.
permalink | October 2, 2016 at 03:15 PM | Comments (1)
September 29, 2016
Canndescent Ribbon Cutting
Canndescent is the first cannabis cultivator to go into real operation in Desert Hot Springs, which means it's the first legal cultivation site in California, outside of dispensaries themselves. Boy Scout Troop 1606 brought the American flag and led the Pledge of Allegiance, which the cannabis people thought was a bit unusual. But! One of the Scouts is trying to raise money for a trip to Washington DC for some Boy Scout function. Canndescent covered his remaining financial need with a check for $3,300. I would like to be there when he tells other Scouts how he raised his money.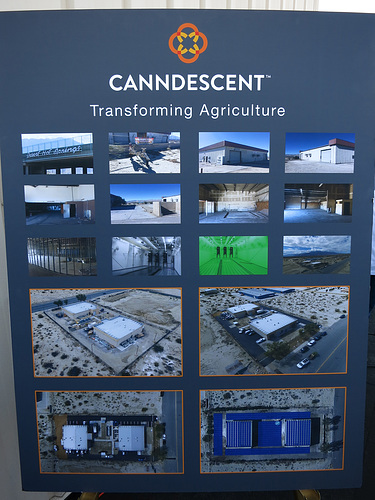 "Transforming Agriculture." I imagine in a few years as the cannabis industry settles down we'll get used to seeing slogans like you'd see in Iowa or any other predominantly agricultural state.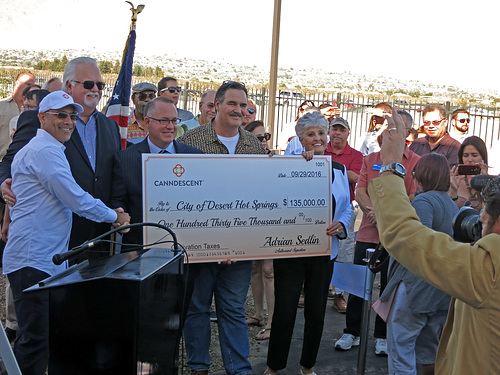 Canndescent also presented the city with its first tax payment of $135,000. The tax rate is based solely on cubic footage of the grow area, so the city doesn't have to wait for a crop to mature and be sold to get taxes. I don't recall if the taxes are paid quarterly or every 6 months, and no one said if this tax payment is one full payment, or does it cover through the end of the calendar year or perhaps the fiscal year? Nevertheless, $135,000 is almost the cost of one cop for one year. So it's a start.


Click for a larger size.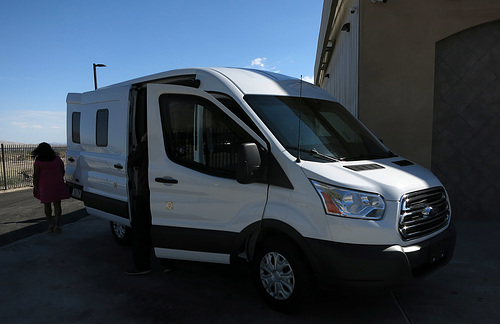 Their armored vehicle which doesn't seem to use CNG.

And it looks like they went all the way to Connecticut to get it.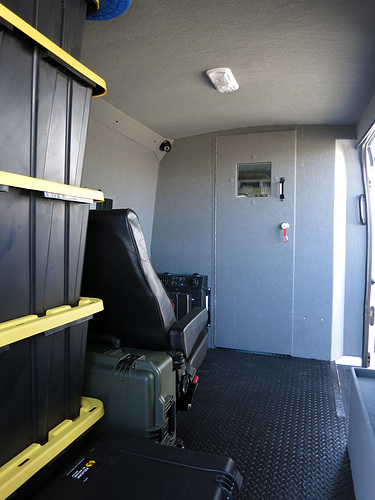 Interior of the vehicle.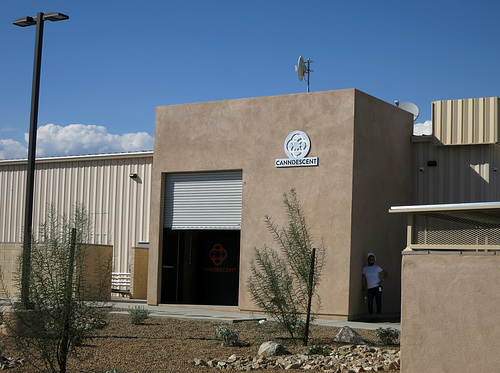 An historical plaque that Canndescent will erect. I suppose this fulfills their "art in public places" requirement. The plaque says:
CANNDESCENT

This marks the site of the first municipally-permitted cannabis cultivator operating in California. On November 5, 1996, California became the first U.S. state to legalize medical cannabis use. On October 21, 2014, Desert Hot Springs became the first city in California to legalize cannabis cultivation. On September 19, 2016, CANNDESCDENT commenced production.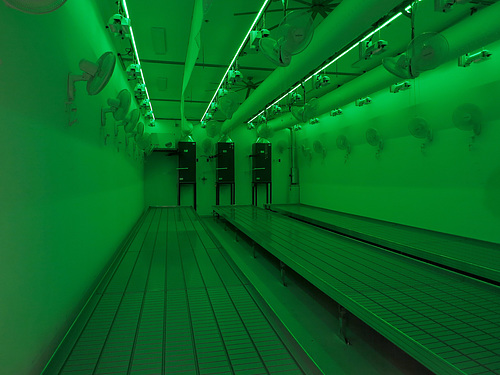 One of their grow rooms (with nothing growing).

Video of the grow room so you can see all the fans and appreciate the resulting noise.
permalink | September 29, 2016 at 07:17 PM | Comments (0)
September 25, 2016
Joint Meeting Of The City Council & Planning Commission, September 13, 2016
This was a special joint meeting of the City Council and Planning Commission solely to consider an Ordinance Amending Chapter 17.180 "Medical Marijuana Facilities Location." The proposed amendment clarifies and expands the current law. The current law did not address manufacturing (making edibles, packaging product, extraction, etc.). The amendment would put manufacturing in the industrial zones along with cultivation. The amendment also included restrictions on extraction methods. Some extraction methods use flammable solvents.
Testing and distribution facilities are addressed in the amendment, too, and they will be restricted to the industrial zones. The definition of "delivery" is also in the amendment. The existing ordinance is silent about delivery which, I think, made it illegal. Does merely defining it in a zoning ordinance make it legal, in the absence of any sort of restriction? Maybe it does.
Attorney Jennifer Mizrahi first covered some corrections to be made to the proposed amendment. After that, Mayor Pro Tem Joe McKee said that section 17.180.060(d) Operational Requirements needed to be culled because as written it would be too burdensome. Here's my summary of the 12 paragraphs that make up that section:
"Manufacturers are limited to certain equipment, methods, solvents, gases and mediums when creating medical marijuana extracts."
"Medical Manufacturing Facilities with a state license of a Type-6 (non-volatile) or a Type 7 (volatile) classification may be allowed to operate under this Chapter."
All of the usual laws regarding air, water, health and safety apply. The usual permits are required.
Class I and Class II solvents (as defined by the FDA) are forbidden.
But "butanes, ethanol, carbon dioxide, propane, heptane or other solvents exhibiting low to minimal potential human health-related toxicity for extraction, or other methods approved by the State" are okay. Any solvent must be at least 99% pure.
Extraction using hydrocarbons must conform with the standards of the American Society of Mechanical Engineers and with proper ventilation.
If CO2 is used for extraction, that also must conform to ASME standards. And there has to be proper ventilation.
If any other method of extraction is used, there must be proper ventilation and ignition source controls.
"The amount of residual solvent per gram of finished extract cannot exceed 300 parts per million when quality assurance tested."
An exact duplicate of 3 above.
"Manufacturers may use heat, screens, presses, steam distillation, ice water, and other methods of extraction without employing solvents or gases to create kief, hashish, bubble hash, or vegetable oils or fats derived from natural sources, and other extracts."
"Manufacturers using extract to create ingestible products shall only use food-grade ingredients."
Attorney Mizrahi said that in a discussion earlier that day with Mr. McKee he had expressed his desire to get rid of 4, 5, 6, 7, 9, 10, 11 and 12; leaving the "less stringent" requirements.
Council Member Anayeli Zavala said she thought it was important to retain the level of detail in the paragraphs that Mr. McKee wanted to eliminate.
Ms. Zavala also spoke about another provision in the proposed amendment. That provision is 17.180.060(e) which requires marijuana manufacturing facilities to hire a Ph.D chemist to "supervise the design, installation and operation of the facility's systems and manufacturing processes." She asked if the intent was for the chemist to be there only during setup, or is the chemist supposed to supervise on an ongoing basis.
Council Member Russell Betts said he didn't see anything in the proposed amendment that gives the city the ability to shut down a non-confirming business. The attorney assured him that provision was in there. [There's only one thing on the agenda, this proposed amendment, and it's only 10 pages long, but that's still too much for Betts]. The relevant bit is at 17.180.120(d): "Failure to abide by any laws mentioned in this subsection shall constitute a public nuisance and shall subject the medical marijuana facility to revocation of any and all entitlements, licenses and permits." Then again in 17.180.130(b) which begins "A conditional use permit approved for a Medical marijuana Facility may be suspended or revoked for any violation of this Chapter..."
Mr. Betts went on to ask if a testing lab could be safely located in a commercial zone. The amendment is written to restrict them to industrial zones, but his concern is that industrial land has become so expensive here that a lab might benefit from being able to open in a less expensive commercial zone.
Planning Commissioner Dirk Voss said he was ready to approve the amendment now.
Commissioner Paula Terifaj said she thought that labs should be permitted in commercial zones.
When Mayor Matas opened the public hearing, the first speaker was Jeff Ridge. He said that he thought the 99-plant limit for dispensaries should be changed so that cultivation in dispensaries is restricted in some other way, such as square footage or wattage used. He said the 99-mature-plant limit made it very difficult for dispensaries to operate. He also suggested delivery services should be required to have city or county permits from any city or county that bans delivery service before the service can deliver there. The intent would be to keep delivery services from going into cities where they are banned.
Bob Sellen spoke next. He was there representing a new group called DHS Can. He said they think it's good to have laws in place until the new state laws go into effect. He said there is no independent third party testing lab for marijuana.
Gretta Carter spoke in favor of the amendment, saying that until the state regulations come into place, city regulations like this protect the marijuana industry.
Dan Osborne with Clonetics Laboratories said the testing will keep the medicine safe for patients.
Brent Furman expressed support for the amendment. He said Ph.D. chemists are usually brought in after the "crude" oil has been extracted to oversee the refining process.
Andrew Milks supports the amendment. He said he would like to see the 99-plant cap removed. The coming California regulations restrict it by square footage, not by number of plants. The smallest state license will be 5000 square feet. He asked for a matching municipal limit.
Back when the original medical marijuana ordinance was debated and approved, the issue of whether the limit should be by square footage or number of plants was discussed quite a bit. I thought square footage would be a lot simpler to administer, but others said counting plants was easier. Representatives from the marijuana industry commented then that the 99-plant limit was fine and they could certainly work with that. Somehow it is now unusable! Five-thousand square feet is more square footage than any dispensary in town, and I mean the entire dispensary, not just the grow room. Organic Solutions of the Desert, the large dispensary on Ramon in Palm Springs is something closer to 5,000 square feet. Maybe it's a coincidence that Organic Solutions of the Desert is also the stinkiest of the dispensaries in the Coachella Valley.
Michael Dixon said he was concerned at the lack of a reference to the most recent state legislation, SB 837. He has found several inconsistencies between that legislation and the proposed amendment. He said the most qualified people in the marijuana industry are not Ph.D. chemists, but those who have had the most innovation in extraction. The proposed amendment's only quality standards concern potency and residual solvents. More than that needs to be tested. He also said there needs to be consideration of the fact that the amendment's definition of "manufacturer" is so broad it includes the simple re-packaging and labeling of products that goes on at a dispensary.
Nicole Salisbury recommended there be a neutral third party tester, rather than having each cultivator hire their own chemist. She also said that testing labs should be permitted in commercial zones. She expressed dissatisfaction with the 99-plant limit, saying it is too small.
Katy Podine said that the ordinance could be re-amended at any time, so there is no real risk in fast-tracking this amendment. She said that the definition of "manufacturer" was taken directly from state law.
Planning Commission Chair Cathy Romero said the discussions so far all focused on safety and quality and warned against the possibility of over-regulating. She said that if a business in Desert Hot Springs wanted to extract the oils of a lavender plant or frankincense or sandalwood, she doubted that the city would be so concerned with quality and safety.
Commissioner Voss pointed out that the provision in the amendment for a Ph.D. chemist already defines the position as neutral and third-party. Here is that paragraph people have been talking about:
As a condition of obtaining a City-issued medical marijuana regulatory permit and conditional use permit, a licensee of a manufacturing facility desiring to operate under this ordinance shall first verify that the licensee employs or contracts with a person who has a PhD in chemical sciences who shall supervise the design, installation and operation of the facility's systems and manufacturing processes. The licensee shall submit to the City a written statement that he or she certifies under penalty of perjury that the name of the employee/contractor is true and correct. The employee/contractor shall also submit a written statement that he or she certifies under penalty of perjury his or her educational qualifications and verifying that the supervisor is employed full-time to supervise the design, installation and operation of the facility's systems and manufacturing processes.
IMO, since the paragraph permits the chemist to be either an employee or an independent contractor, I have to disagree with Mr. Voss. He cited the fact that the paragraph requires certification. But the only verifications actually required are certifications of the chemist's name, qualifications and that he is employed full time.
Commissioner Andrew Cirner also warned against the risk of over-regulating.
Commissioner Terifaj expressed concern that the city might be approving something that would be in conflict with state law in 2018. The attorney pointed out section 17.180.060(f) [it's identified as "(e)" in the agenda packet due to a typo, but this comes right after the requirement for a chemist] which says state regulations take precedence over city regulations..
State Regulations. In the event the State of California implements health and safety regulations applicable to Medical marijuana Manufacturing Facilities, upon implementation of such state regulations, all Medical marijuana Manufacturing Facilities operators shall immediately implement the state regulations. Should there be a conflict between the provisions of this Chapter and the state regulations, the state regulations shall control.
Ms. Terifaj suggested that the city go ahead and approve the zoning component of this amendment, while forbidding extraction until the state regulations are in place.
Commissioner Voss moved for approval of the amendment, with all of the corrections that the attorney listed. In 17.180.060(e) the reference to full-time employment (for the chemist) would be removed. In item 17.180.060(d) all items would be deleted except for 1, 2, 8 and 10. Here those are for your reference:
1. Manufacturers are limited to certain equipment, methods, solvents, gases and mediums when creating medical marijuana extracts.

2. Medical Manufacturing Facilities with a state license of a Type-6 (non-volatile) or a Type 7 (volatile) classification may be allowed to operate under this Chapter.

8. All other methods of extraction shall be conducted in an environment appropriate to the solvent being used, with consideration to proper ventilation and ignition source controls.

10. All equipment, systems and manufacturing processes must meet or exceed all applicable state and federal requirements and regulations regarding air, water, health and safety, and handling, processing and storage of hazardous materials, solvents, gases and waste. No manufacturing facility shall commence operations or be issued any form of certificate of occupancy without first obtaining all required fire, environmental, health and safety, planning, and building certificates, permits and approvals required under City's Municipal Code and all other applicable county, state and federal regulations
The motion did not change the zoning rule that restricts manufacturing to the industrial zone. Commissioner Cirner seconded the motion. Chair Romero asked Commissioner Voss why his motion did not address the 99-plant limit. He said he feels okay with what we have in place.
The motion was approved 5-0.
Then attention went back to the City Council as they discussed the revised amendment approved by the Planning Commission.
Mayor Matas said he had received information about the dispensaries' problems with the 99-plant limit only the evening before, so he has not had time to fully inform himself on the subject. He said he will organize a subcommittee (himself and Mayor Pro Tem McKee) to meet with the dispensary owners and make sure their voices are heard.
Mr. McKee said that at a later date the council needs to address delivery modifications, the 99-plant limit, and labs in commercial zones.
Ms. Zavala moved to approve with the additional requirement that the Ph.D. chemist is required to visit the facility quarterly. Council Member Yvonne Parks seconded. Approved 4-1 with Mayor Pro Tem McKee voting against.
permalink | September 25, 2016 at 08:35 PM | Comments (0)
Desert Hot Springs Fall Festival & Fireworks Show
What better to way to kick off the fall season than to get outdoors and attend a family fall festival? It will be a memorable event with carnival rides, a petting zoo, pony rides, face painting, fire trucks to climb on and police cars to sit in, an art gallery show featuring 25 artists, live music with three live bands, tasty food trucks, a Coachella Valley Brewing beer garden and a full professional fireworks display to top off the evening in grand finale festival style.

The event is privately funded by a generous contribution by the Cannabis Alliance Network "DHSCAN" and other private business contributors with a crew of volunteers working to organize and put on the October 1 event in Desert Hot Springs.

"A big shout out goes to all the businesses that helped make this event possible and especially Cannabis Alliance Network who stepped up with a real show of community support," said Councilman Russell Betts.

Betts, who is leading the organizing effort to put on the event, explained that the event, now in its third year, was coming up short on funding and that as soon as DHSCAN became aware of the need, it stepped in to assure the event would go on. "It is actually a greatly expanded event with their help," said Betts.

"Without hesitation our members said this is something we want to do for the community," said President of DHSCAN Jason Elsasser. "DHSCAN is very happy to support what is looking to be a big Desert Hot Springs fun family event and looks forward to this being one of many great events ahead."

The festival also boasts a Hospitality Patio especially for Police Officers, Fire Fighters and their families to enjoy the fall festivities completely free as a form of appreciation for their dedication and service to the community.

Food is provided at a charge by Bruces Cayote Kitchen serving up BBQ and Jolly Polly selling desserts.

The organizers ask everyone to give a hearty thanks to DHSCAN and its members, Desert Valley Disposal, Solar City, MSA Consulting, Desert Pacific Properties and Q&A Associates Law Offices.

For more information, call 760 333-1374. Ask for Russ.



DATE & TIME: SATURDAY, OCTOBER 1 (2 P.M. TO 10 P.M.)


LOCATION: 64949 Mission Lakes Blvds, Desert Hot Springs, CA.
(Corner of Mission Lakes Blvd and Little Morongo Road)FOR THE KIDS – FREE from 2 p.m. to 8 p.m.

Petting Zoo
Pony Rides
Super Mega Slide
Kiddie Chair Swings
Euro Bungee
Face painting

ART SHOW & GALLARY

Featuring the work of 25 artists

LIVE MUSIC – FREE 4 p.m. to 10 p.m.

Desert Country (Country Western)
Gin Piston (Danceable Rock and Roll)
The Brosquitos (Indie Fusion)

FIRE AND POLICE DEPARTMENTS FUN

Climb on a fire truck and in a police car.
Meet Smokey Bear and McGruff

FOOD TRUCKS

BBQ by Bruce's Cayote Kitchen
Desserts by Jolly Polly

FIREWORKS SHOW: 9:30 p.m.

Fireworks by Pyrospectaculars by Sousa.
permalink | September 25, 2016 at 05:57 PM | Comments (0)
August 10, 2016
Hang Dog
August 10, 2016

Cpl. Christopher Saucier
760-329-2904 x 382 csaucier@dhspd.com

Burglary Suspect Arrested After Pursuit

On 08/10/2016 at approximately 0825 hours, DHSPD officers responded to the area of Hacienda Avenue and Tamar Drive in Desert Hot Springs regarding a reported vehicle burglary. The caller reported that he caught a subject burglarizing his vehicle and the suspect then fled the area on foot with the victim in pursuit before losing sight of the suspect. Officers arrived in the area and located the suspect running in the 12800 Block of Miracle Hill Road. The suspect continued running from officers and subsequently forced his way into a nearby residence. Officers then surrounded the home. At that time the suspect exited a side window from the home and attempted to flee again and was apprehended by officers in the back yard. Gabriel Gallegos (21) was arrested and later booked into the Riverside County Jail in Banning for charges including Penal Code 459 - Burglary 1st Degree, Penal Code 488 - Petty Theft, Penal Code 148 - Resisting Arrest.
permalink | August 10, 2016 at 12:12 PM | Comments (0)
July 31, 2016
"The Journey" - For 2017
I saw this at a Burner presentation/party Saturday evening in Palm Springs.

It's a spiral wooden tube that has been bent into a donut and you can play with it when it's on the playa. 42 feet across. The ring is 10 feet high. The perfect dimensions to attract all sorts of adventurous men who want to play jungle gym. Clothing optionally.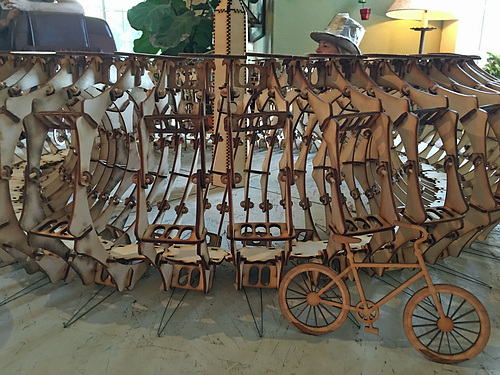 Although it looks tempting, it will not be burned.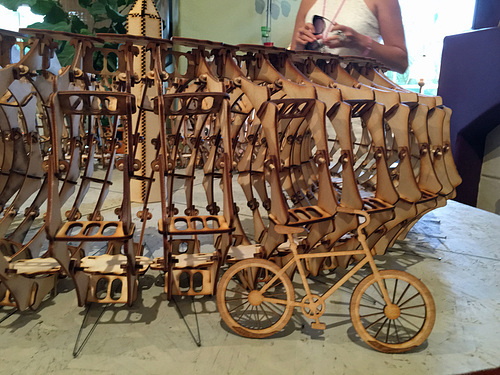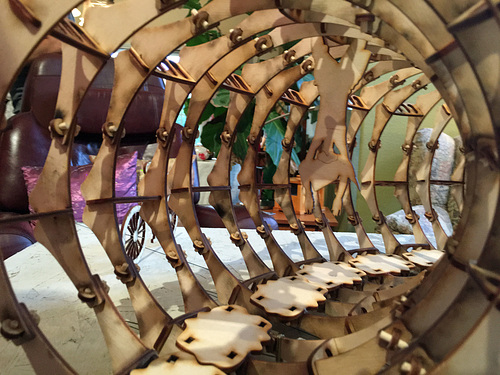 On the interior walkway. Please to note that the structure had already attracted at least one adventurous man who wants to play jungle gym.
It'll have audio and video, too, that will respond to the environment somewhat. Dan Reeves, the brains behind this, specifically said it would respond to art cars when they approach. I consider that a commitment. Here's what the artist had to say - all becomes clear!

Crowdsourcing to come, he said.
He's looking for volunteers.
permalink | July 31, 2016 at 08:35 PM | Comments (1)
June 8, 2016
Marijuana Cultivation Groundbreaking
This took place on Little Morongo, between Two Bunch Palms and Pierson.


The site of the first groundbreaking in Desert Hot Springs for a marijuana cultivation site.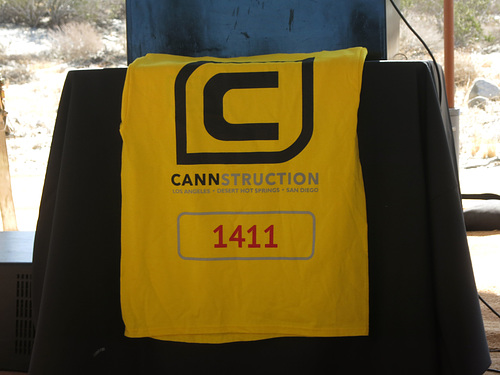 All these t-shirts bore the number 1411, but I don't know the significance of that.

A genuine peace pipe as a gift from the Chamber of Commerce.
permalink | June 8, 2016 at 05:35 PM | Comments (0)
May 11, 2016
Robbers Nailed In DHS
May 11, 2016

Sgt. G. Paiz

On Monday May 09, 2016, at about 1403 hours, Officers were dispatched to the 11900 Block of Palm Drive, regarding a robbery that had just occurred. The victim said two suspects, a male and female, robbed her of her purse and its contents, at gunpoint. The suspects were last seen running north from the location. The victims property along with the weapon were dumped at a nearby trash bin. An area check was conducted but the suspects were not found.

On Tuesday May 10, 2016, at about 1157 hours, the robbery suspects were detained to the front of 7-11, 65971 Pierson Blvd. One of the suspects had the victims stolen property on their possession. The suspects were arrested, booked and transported to RCJ-Banning.

Suspect-Marcus Eugene Benavidez-Downing 38 years old
M, H, 5-7, 250, Bro , Blk,
Desert Hot Springs resident

Suspect-Marlena Contreras 27 years old
F, H, 5-5, 200, Bro, Bro
Desert Hot Springs resident
permalink | May 11, 2016 at 10:21 AM | Comments (0)
April 22, 2016
Meanwhile, in Palm Springs
A Palm Springs police advisory (with photo). This guy sounds dangerously aggressive.
On Thursday morning 4/21/16 at approximately 3:30 AM, the PSPD Communications Center received a 911 call from a distraught female reporting that a male subject had broke a window to her home in the 2700 block of E Mesquite Ave in Palm Springs, climbed through the window and physically and sexually assaulted her and her husband. The caller further stated that the suspect was still in the house. While on the phone with dispatchers the female caller began screaming that the suspect was attacking her. The woman's husband was able to pull the male off of her and pin him down until police arrived.

Officers arrived at the location within 6 minutes of the call and detained the male inside the residence. The male was identified as:

Thomas Mabe DOB - 5/10/1971 of Palm Springs.

Neither homeowner required medical attention.

During further investigation, officers learned that Mabe broke a window to the home, entered the residence and sexually assaulted the husband and wife.

The homeowners were able to push the suspect away but he remained in the home trying to get dressed. The homeowners and suspect moved into the living room where the wife called 911. While on the phone with 911, the suspect lunged at the wife and physically grabbed onto her while trying to take the phone from her. The husband grabbed the suspect and pinned him down until police arrived to detain him.

Thomas Mabe was recently arrested by PSPD on 3/1/16 for Child Annoyance where he approached a 16 year old girl on foot who was walking to school, made sexual comments to the girl and attempted to grab her when a passerby witnessed the incident and stepped in and rescued the child. PSPD filed the case with the Riverside County District Attorney's Office on 3/2/16 who subsequently filed one count of 647.6(a)(1) PC – Child Annoyance with victim under 18 years old and 1203.2 PC – Violation of Probation.

Thomas Mabe plead guilty and was placed on probation for that incident and released from jail on March 19th.

Mabe was also arrested by PSPD on April 17th for being under the influence of a controlled substance and booked into the Riverside County Jail. He was released from custody the following day on April 18th, 2016.

Mabe was arrested on 4/21/16 for the following charges:

459 PC - Residential Burglary

1203.2 PC - Violation of Probation

243.4 (a) PC - Sexual Assault

667.61 (c)(3) PC - Commit Oral Copulation during course of a burglary

288a(f)(1) PC - Oral copulation while victim asleep

290(b) PC - Failure to register as a sex registrant within 30 days
permalink | April 22, 2016 at 10:45 AM | Comments (0)
April 21, 2016
The Desert Hot Springs Marijuana Meeting
Everything you missed at last night's meeting. For the most part, a very interesting couple of hours. That is I, in the red t-shirt on the left of the screen as the video starts.

"I am a very conservative individual. I have totally done a 180 on my opinion" regarding marijuana, said [Desert Hot Springs Mayor Scott] Matas, who describes himself as a right-of-center registered Republican.
permalink | April 21, 2016 at 07:51 PM | Comments (0)
GoPro goes onstage at Coachella
From a fan's hands to the singer's.

permalink | April 21, 2016 at 10:15 AM | Comments (0)
April 13, 2016
Three Cultivations Sites And One Dispensary Approved
I listened to last night's meeting of the Planning Commission from my private personal health facility, where I can exercise my right shoulder and hack up my left lung without disturbing the general public. Got to keep track of which marijuana facility is going where.
Last night the commission approved three more cultivation sites and one more dispensary.
Desert's Finest Patient's Cooperative
The dispensary (Lawrence Bynum - Desert's Finest Patient's Cooperative) is going to occupy the long-former location of Thai Palms on the northeast corner of Palm and Acoma. FINALLY, something to fill that blank in a prominent corner location. This is certainly going to be the most visible dispensary right here in the city. The site, which the dispensary will be renting, is connected also to the empty lot just east across the alley. There will be parking in that lot and quite a bit of discussion was about how MUCH of it would be used. There also was a general lamentation about the planning standards of the 1940s and '50s in this town. Yup. That's our legacy.
The site will have no more than one green cross displayed, and that will be painted on the south-facing Acoma side of the building. There will be potted plants along Acoma as well, including a few palm trees.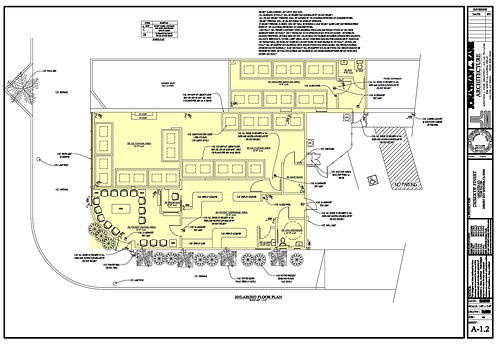 You can see on this interior plan that the dispenary's space includes the area behind the barber shop next door. More than half of the space can be used for cultivation. This is, as far as I can recall, a larger space than at other dispensaries in town, but all the dispensaries are limited to 99 mature plants.
Approved unanimously.
After the approval, there was some discussion about a billboard on Palm that can be seen as you are coming into the city that is promoting a low price at some dispensary. I don't recall seeing that sign, but there did used to be a sign that you could see as you headed south on Palm Drive that advertised "Home of the $5 Gram," but that was for PSA Organica, which is one of the newer dispensaries in Palm Springs. The city attorney explained to the commission what the city was able to control and NOT able to control in public advertising. At least one commissioner thought advertising like that could sully the image of the city as "Dime bag DHS. While it did look like the low class sort of advertising you can find in Los Angeles, I think some price competition between dispensaries could be beneficial to the patients.
DHS Diversified
The first cultivation site on the agenda last night was by Ryan Po of DHS Diversified located at 65441 Two Bunch Palms Trail. That building has been used as a recycling center up to now.
One thing I have not heard is where are the tenants of these industrial buildings that are being snapped up for marijuana cultivation, relocating to? The Pentecostal church surely has enough money from its sale to relocate into a residential area of the city, but the industrial businesses must be leaving town. There are no spare buildings in our industrial zone now, and anyone who tried to buy a site to put up a new building would be competing with the marijuana industry. I hope all these cultivation sites become fully developed and employ as many people has they have been saying they will.
An advantage to going into an existing building, is that electric service is already there. Mr. Po said he has 400 amps, which was plenty.
Approved unanimously
Blue Mango
Kamran Amirianfar for Blue Mango was there last night for two different sites, each requiring a separate CUP. The Planning Commission handled them separately. The first will be at 65118 San Jacinto Lane; the second at 65265 San Jacinto Lane.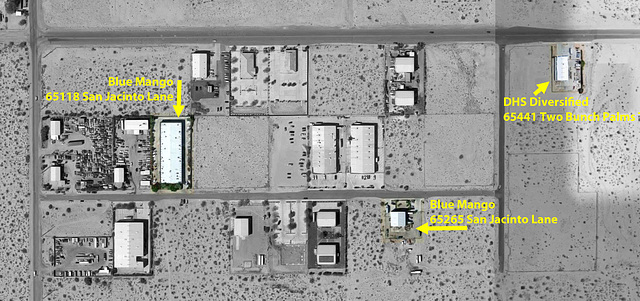 This map shows all three cultivation sites that the Planning Commission addressed last night. Here's a live map link.
The interior of 65118 is divided into 18 separate units which have been rented out to industrial tenants. The interior will be redone to create space for four large cultivation rooms and five smaller rooms for curing, processing, shipping, etc. Chair Romero encouraged them to removed the ficus and palm trees that decorate the street frontage, to be replaced with more drought tolerant plants.
65265 San Jacinto Lane will not require nearly as much work to re-arrange the interior. They'll keep most of the existing interior partitions and have two large, interconnected, double-deck growing rooms. The interior features a mezzanine from which, I imagine, one could gaze across the big spread of green leafy plants, as any farmer likes to do. They will also be cultivating up on the mezzanine.
Both sites were approved unanimously.
Vinyl Fencing
The single non-marijuana item the Planning Commission considered was a request to be permitted to erect vinyl fencing on top of existing "retaining walls" between new homes in the Gallery Vista Santa Fe homes at the northern end of Sonora Drive. The agenda packet describes them as "retaining walls," but it seems unlikely there would be an actual retaining wall between each house, unless they were built on a fairly steep hillside. Nevertheless, the fencing was proposed only between the newest homes (which I think are Coachella Valley Housing Coalition sweat equity homes). There would be no vinyl fencing facing the street.
The Planning Commission rejected the request.
permalink | April 13, 2016 at 02:54 PM | Comments (0)
April 3, 2016
DHS Walmart Petition
I finally got around to reading the Walmart petition. There's no game-playing in it that I can detect. No exemptions from any taxes or fees. In fact, they'll kick in an additional $75,000 on top of the DIF fees. That's supposed to help pay for something at what will be the future intersections of Cactus and Camino Aventura and Claire Avenue—although I don't think $75,000 would cover very much. Here are some of the bits I found interesting:
Permitted to be open 24 hours.
Exterior payphones permitted. Open 24 hours, outside payphones, right across the street from Dos Palmas. Potential for a public safety issue there.
Landscaping will be xeriscape, but they don't say they will conform to MSWD's ordinance on this.
They will need to extend a 1,806 foot sewer line from Camino Idilio.
Palm Drive will be widened to allow for a right-turn lane.
Traffic signals will be installed at Camino Aventura and Palm Drive.
All (or almost all) of the lighting will be LED. There will also be a daylight harvesting system (is that like a sophisticated skylight?) and a computer controlled continuously active system that adjusts lighting up and down.
Waste heat from refrigeration will be captured and used to heat water.
The site will be inspected for desert tortoises and burrowing owls. But they don't make any promises about any other endangered creatures or plants.
They will also observe the usual rules if they discover archaeological artifacts.
Summary: if you want the Walmart, you can sign this petition with a clear conscience. Unless somebody wants to point out some heinous provision in it that I missed.
permalink | April 3, 2016 at 10:18 PM | Comments (0)
March 13, 2016
DHS Planning Commission - March 8, 2016
Box Score
Dispensaries approved: 3
Total dispensaries approved: 12
Dispensaries open: 5
Dispensaries denied: 1 (technically a continuation, but it's going to be denied)
Cultivation facilities approved: 1
____
Dirk Voss presiding at first, as Chair Cathy Romero was late, but Ms. Romero arrived before the Commission had even approved the agenda.
City Manager Magaña and Financial Director Tanner spoke at length about the budget and taxes. After years of underspending and cutbacks, whaddayaknow, there's a lot of critical stuff that's going to start failing. Like staff, even. And some taxes are going to expire. [My editorial: meanwhile the City Council (well, three of 'em) have voted not to even study new or revised taxes.] But I'll spare you the really bad news.
As with last month's report, just the marijuana:
Benno Pabst and Valley Compassionate Care
This is a proposed CUP for a medical marijuana dispensary at 11522 Palm Drive, which is the southeast corner of 4th and Palm, the old chiropractor's office which is 1,207 square feet. Parking for 6 vehicles is proposed to be on the south side of the building (where there may also be a mural) with access via the alley. Four head-in parking spaces on 4th will be eliminated.
Commissioner Cirner recused himself due to a possible conflict of interest.
Benno Pabst was not present this night for health reasons, but his representative was there and spoke. Pabst owns the building outright.
There was a lot of discussion about the parking. Staff had first laid it out with diagonal parking so that patients would drive in from the alley and exit on Palm Drive. The Commission thought it would seem more sensible to drivers coming up Palm Drive to reversed that. Now, the thing I wonder about is left turns from southbound traffic. That entrance on Palm Drive is only 25 feet away from 4th Street.
Approved 4-0.
Yes, there will be two dispensaries directly across the street from each, so there will be no need to run across Palm Drive at night wearing dark clothes, right? And that ought to solve the problem of left turns too.

Lisa Lozano and Stephanie Bodde and Desert Hot Springs Dispensary
Another proposed CUP for a medical marijuana dispensary. This one was continued from last month. You may recall that potential neighbor Rose Mortuary raised objections about inadequate parking. There were other issues as well.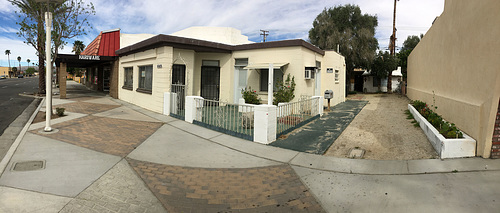 Chair Romero said that she could see all of the issues she had with this CUP had been addressed.
Thomas Moen, manager of Rose Mortuary, said he was concerned a dispensary could conflict with his business. Parking only in the street is still an issue.
Michelle and Michael Lally both expressed their support for medical marijuana generally, and spoke well of Stephanie Bodde. Mr. Lally also criticized Rose Mortuary, saying they both serve the same community, one in life and one in death.
David Lally (son of Michelle and Michael, if you hadn't guessed) talked about the tax benefits to the city. He described the personal experience with medical marijuana by a friend.
Jordan Bratonburg, owner of Rose Mortuary, also shared a personal experience in his family. He was concerned that some of his clientele would be offended by the proximity of the dispensary.
The applicant said that her security guard would not let her clients park in the Rose Mortuary parking lot.
Vice Chair Voss said that he, too, was concerned about the parking situation, especially the lack of a designated handicapped parking space. He also wanted to clarify what will happen with the small house in the rear of the property. He said this is the wrong location for a dispensary.
Commissioner De La Torre said he agreed with Mr. Voss.
Commissioner Terifaj said these were all the same issues brought up last month and that she, too, thought it was a poor location for the dispensary.
Rich Malacoff asked the Commissioners to specify which findings in the prepared CUP the Commission would determine had not been met. Then staff would use that information to craft a legal resolution of denial and bring it back next month. Staff prepared only the positive resolution of approval for the agenda packet, not wasting time on a negative just in case.
Ms. Terifaj cited the parking issue as the reason to deny.
The applicant came back to the podium to say that an elderly gentleman lives in the house in the rear and that he is a member of her collective. She does not want to kick him out so that she can tear down the house for parking. She was not aware of any problems with parking until this meeting. (It did come up as an issue the previous month, though.)
The Chair reopened the public hearing at the suggestion of the city attorney.
The applicant said she had an informal parking survey done at the Brown Dog dispensary which is east of Palm on Pierson. Over the course of a week there was only one time during the day when there were three cars there and the overlap was for only two minutes. In the evenings there would sometimes be as many as three cars there. She expects the same traffic at her dispensary. Street parking would handle that small amount.
Vice Chair Voss moved to continue this until next month at which time staff will have prepared the proper denial paperwork. Approved 5-0.

Eduardo Rivera and D.H.S. Alternative Healing Corporation
How about another CUP for a medical marijuana dispensary? This one is also continued from last month (and the month before that, IIRC). The continuance was to allow a neighbor to come in and comment on this. No changes have been made from last month. This one is going to be at 66328 Pierson Boulevard.
>
Unfortunately, the aggrieved neighbor did not show up. There were no public comments at all.
Vice Chair Voss moved to approve with the additional requirement that there be no neon lighting. Approved 5-0.

Dino Sogoyan - Desert Hot Springs, Collective, Ltd.
This item is a CUP for a medical marijuana dispensary to be located at 66292 Pierson Boulevard. That's just to the east of Wiefels Mortuary.
The monument sign in front of the building will have to be upgraded to meet current sign standards. The applicant is buying the property and said he plans to tear down that monument sign.
Commissioner Cirner moved to approve with the additional requirement that they come up with a different color scheme (and no neon). Approved 5-0.

Adrian Sedlin - Canndescent, MBC
This is for a CUP for a marijuana cultivation facility at 65334 Two Bunch Palms Trail, which is currently occupied by an auto repair business and tire recycling business. The two buildings are about 4,800 square feet each.
The applicant says he hopes to be operating by June 15.
Vice Chair Voss moved to approve with the addition of a ban on neon signs. Approved 5-0.

Other Things
The Planning Commission also approved a design review and development permit for a warehouse and retail facility for Angel View on Dillon Road.
They also appointed Andrew Cirner to the Arts District Committee.
permalink | March 13, 2016 at 09:47 AM | Comments (1)
February 16, 2016
MSWD Approves Water & Sewer Rates
At the 218 Public Hearing tonight, after listening to comments from many residents of the district, the MSWD board approved the proposed new rates for both water and sewer by a vote of 4-0, John Furbee being absent for health reasons. One commenter railed against the folly of fluoridating the water. MSWD board President Nancy Wright explained that MSWD does not fluoridate.
One complaint heard repeatedly was that the board was going to "double the rates." This began with, I think, one person who had pointed out the very low per gallon rate and didn't consider all the numbers after the decimal point before rounding.
From 2016 to 2020 the residential rate for 13 units of water (the average amount used in this district) will go from $28.94 to $43.40, a 50% increase, not a doubling. The cost per gallon will go from 0.3¢ to 0.45¢. Again, a 50% increase, not a doubling. Half of that increase will go to pay for chromium 6 abatememnt, which is a complete waste of money, but mandated by the state.
Residential sewer will increase from $31.23 to $50.16 over the same time period. That's a 61% increase.
permalink | February 16, 2016 at 07:52 PM | Comments (0)
February 9, 2016
Surprising Guzzler Discovered In Joshua Tree National Park
Tom Mahood, investigating an artifact seen in Google Earth, found an interesting guzzler way back in some nearly inaccessible corner of JTNP. Built in 1993 and well camouflaged, the guzzler for bighorn sheep is protected from discovery by a 25-foot dry waterfall.
permalink | February 9, 2016 at 08:46 AM | Comments (0)
February 2, 2016
Southern California Geology
Brand new: "Roadside Geology of Southern California."
And only $22.
Since Mountain Press started the Roadside Geology series forty years ago, southern Californians have been waiting for an RG of their own. During those four decades which were punctuated by jarring earthquakes and landslides geologists continued to unravel the complexity of the Golden State, where some of the most dramatic and diverse geology in the world erupts, crashes, and collides. With dazzling color maps, diagrams, and photographs, Roadside Geology of Southern California takes advantage of this newfound knowledge, combining the latest science with accessible stories about the rocks and landscapes visible from winding two-lane byways as well as from the region s vast network of highways.

Join Arthur Sylvester, an award-winning UC Santa Barbara geologist, and Elizabeth O Black Gans, a geologist-illustrator, as they motor through mountains and deserts to explore the iconic features of the SoCal landscape, from boulder piles in Joshua Tree National Park and brilliant white dunes in the Channel Islands to tar seeps along the rugged coast and youthful cinder cones in the Mojave Desert. Whether you want to find precious gemstones, ponder the mysteries of the Salton Sea, or straddle the boundary between the North American and Pacific Plates, be sure to bring this book along as your tour guide.
permalink | February 2, 2016 at 12:48 PM | Comments (2)
January 6, 2016
Kidnapping
From the DHS Police:
January 6, 2016

Sgt. G. Paiz

760-329-6411 x 325 gpaiz@dhspd.com

Kidnapping/False imprisonment arrest

On Tuesday January 5, 2016, at about 12:32 PM, Officers responded to Desert Regional Medical Center, regarding an adult female kidnapping victim. Officers spoke with the victim who said her ex-boyfriend, Marshall Jones, kidnapped her and held her against her will at his home for several days. Officers responded to Jones' home and conducted a surround call out. Jones walked out of his home in the 9700 Block of San Rafael where he was detained without incident. Jones was booked for the above charges and he was transported to RCJ-Banning jail.

Marshall Eddie Jones 48 years old
M, Black, 5'11, 175, Black, Brown
Desert Hot Springs resident
Sgt. G. Paiz 325

Marshall Jones
permalink | January 6, 2016 at 07:07 PM | Comments (0)
December 31, 2015
Aerial Views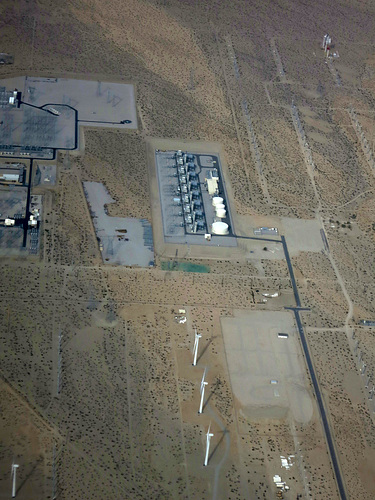 CPE Sentinel power plant.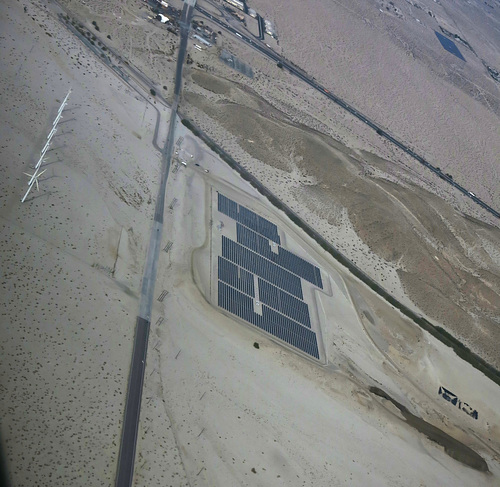 The solar field at the Granite construction site on Indian Canyon.
permalink | December 31, 2015 at 10:54 AM | Comments (0)
December 22, 2015
DHS Planning Commission Approves One More CUP For A Medical Marijuana Dispensary
The Planning Commission held a special meeting on Monday, December 21. Commissioner Voss was absent because he was still in China (or in the process of returning), but the other four commissioners were present.
There were three items on the agenda; all three were CUPs for medical marijuana dispensaries. The proposed dispensaries are:
Benno Pabst and Valley Compassionate Care on the southeast corner of Palm Drive and Fourth Street, formerly the Hart dental building.
Thomas Miller and Greenleaf Wellness at 12285 Palm Drive, Suite B, formerly a church and, I have been told, before that, a theater.
Eduardo Rivera and the D.H.S. Alternative Healing Corporation at 66328 and 66338 Pierson Boulevard which was used by Ocean Tech some years ago.
I sure hope listing these spoilers doesn't ruin your enjoyment:
Continued to the January meeting with no discussion.
Approved.
Continued to the February meeting after quite a bit of discussion.
Let's move right along to the second one, Thomas Miller and Greenleaf Wellness. There is already a nail salon and convenience store as neighbors to this proposed location. The site has already been improved for those businesses. The only exterior improvement suggested by staff was to put more lighting on the Palm Drive front of the building because (1) there's a bus shelter there and (2) it's always too dark at night.
The dispensary will occupy 2,016 sq. ft.
Thomas Miller, the applicant, came to the podium. He said his dispensary will provide free medication to cancer patients and to veteran PTSD patients. He is already in contact with the local Veterans Association. They will offer buy one, get one deals (known as "BOGOs"). There will also be early bird, happy hour, birthday and loyalty card specials. They will offer free classes to patients on the proper way to purchase and use edibles, as well as classes on the effects of the different strains. They have hired two DHS residents already, one a budtender, the other a security guard. They have art from local artists to put on their walls.
Mr. Miller said he has experience in the restaurant business which, he said, is very similar to the marijuana business, especially in terms of customer service. He invites anyone and everyone to come and visit and see what they are building.
Commissioner Duffle asked how many local residents he expects to hire when he opens. Mr. Miller said they plan to have only five employees, because they will not start growing plants immediately. He and his partner will be two of the employees. The other three will all be from Desert Hot Springs, he said. A second security guard will be needed too, and he hopes to hire that guard from DHS as well.
Mr. Duffle asked if he had a system set up to capture the proper sales tax on the free and specially-priced items. Mr. Miller said he did and the tax money for those will come to the City of DHS.
Mr. Miller said he has already been in touch with his landlord about putting in the lighting on the Palm Drive front and he also plans to install a gate of iron bars across the stairs on the south side of the building that go down to the basement. The nail salon has already set up an exterior camera. There will be a camera inside the dispensary as well.
Commissioner Terifaj asked about his delivery service. Mr. Miller said they have run a legal delivery service out of Cathedral City for 2½ years, which sservice I believe is called 420 Express Delivery. He has 400 delivery patients in Desert Hot Springs. Currently any tax on those sales go to the City of Cathedral City. But he said he planned to move the delivery service to his dispensary in Desert Hot Springs, so that tax on deliveries to other cities will come to Desert Hot Springs. [Finally beginning a reverse action on the flood of sales taxes we pay to other cities.]
Mr. Malacoff said the city's current ordinance does not allow deliveries. The city code is actually silent on that issue, but under zoning laws nothing is permitted unless the zoning ordinance specifically says it is permitted. The city council could revise the ordinance, but I don't think it needs to. The new California laws on medical marijuana begin to go into effect on January 1, 2016. Here's what I found in the new law covering deliveries to patients:
Article 9. Delivery

19340

.

(a) Deliveries, as defined in this chapter, can only be made by a dispensary and in a city, county, or city and county that does not explicitly prohibit it by local ordinance.

(b) Upon approval of the licensing authority, a licensed dispensary that delivers medical cannabis or medical cannabis products shall comply with both of the following:

(1) The city, county, or city and county in which the licensed dispensary is located, and in which each delivery is made, do not explicitly by ordinance prohibit delivery, as defined in Section 19300.5.

(2) All employees of a dispensary delivering medical cannabis or medical cannabis products shall carry a copy of the dispensary's current license authorizing those services with them during deliveries and the employee's government-issued identification, and shall present that license and identification upon request to state and local law enforcement, employees of regulatory authorities, and other state and local agencies enforcing this chapter.

(c) A county shall have the authority to impose a tax, pursuant to Article 11 (commencing with Section 19348), on each delivery transaction completed by a licensee.

(d) During delivery, the licensee shall maintain a physical copy of the delivery request and shall make it available upon request of the licensing authority and law enforcement officers. The delivery request documentation shall comply with state and federal law regarding the protection of confidential medical information.

(e) The qualified patient or primary caregiver requesting the delivery shall maintain a copy of the delivery request and shall make it available, upon request, to the licensing authority and law enforcement officers.

(f) A local jurisdiction shall not prevent carriage of medical cannabis or medical cannabis products on public roads by a licensee acting in compliance with this chapter.
Desert Hot Springs does not explicitly prohibit delivery, so I think that it will become legal in DHS on January 1. Once the dispensary gets its final approval the delivery service can move up here.
Ms. Terifaj asked why the city would not allow deliveries. "It just doesn't make any sense." There was a discussion about sending a request to the city council to revise this situation...and that was included in the motion to approve the CUP.
Mr. Miller said there are a lot of DHS residents who don't have cars. And, I might add, there are patients who don't want to be seen entering or exiting a dispensary.
Mr. Duffle said that the crime rate in DHS may make delivery services unsafe. Mr. Miller said he has never felt unsafe in Desert Hot Springs. A patient has to text a copy of their ID and letter of recommendation to his phone before he will deliver. [I think that means delivery is restricted to patients who have access to a smartphone, unless there's some other way to text images.] The one time he was robbed was in Cathedral City.
Commissioner Romero said there is a parallel with how massage is regulated in DHS. One can get a permit to do massage in a hotel, or a permit to do outcall massage, but there is no permit to operate massage therapy out of a home. She rhetorically asked what the city thinks would go on in a home that doesn't go on in other massage settings. It's the mindset and stigma that are still in place along with concerns for legitimacy and propriety.
Mr. Miller said Palm Springs has just dealt with this, allowing deliveries only by established dispensaries.
Steven Henderson, the accountant for Mr. Miller's business, came to the podium to comment. He said he stays on top of the shifting accounting rules that apply in the marijuana business.
Mr. Duffle moved to approve the CUP and to ban delivery services until the city's policy is changed and to install their own camera in the same place as the nail salon's camera (because the nail salon's camera is not compatible with the system used by the police).
Approved 4-0.
This was the fifth marijuana dispensary CUP approved by the Planning Commission, but the dispensary also must get a regulatory permit. On top of that, I believe the number of dispensaries is still limited to three, but that limit is set by City Council resolution so it will be easy to change.
Next, Mr. Duffle moved to have staff notify the City Council that the Planning Commission recommends making delivery services legal. This was approved 4-0. Mr. Malacoff said he would send the message to the City Manager who will then forward it to the council.

Next was the application for CUP by Eduardo Rivera and the D.H.S. Alternative Healing Corporation who want to set up on Pierson Boulevard a few doors west of Casa Blanca. The site is two parcels. The buildings sit on the western parcel which is also paved. The eastern parcel is just dirt. Mr. Malacoff said that if they ever plan to build anything on the eastern parcel, the city will require a parcel merger. The applicant wants to use the dirt lot for special events only, for now. Mr. Malacoff said that each special event will require its own special event permit, which has to be approved by the police and other city departments. The existing buildings have an area of about 1,783 sq. ft.
A couple letters of opposition were sent to city staff. Mr. Malacoff read them into the record. Lisa Mullen wrote that she opposed the application because they have broken the rules. They set up an illegal dispensary at this location in January 2015.
Here's the news article about that from the Desert Sun.
Police: Desert Hot Springs marijuana dispensary closed

Barrett Newkirk, The Desert Sun 5:31 p.m. PST January 13, 2015

Police in Desert Hot Springs say they shut down an illegal marijuana dispensary Monday and arrested two people for possession of marijuana with intent to sell.

Edward Vargas of Cathedral City and Danielle Pappas of Palm Springs were arrested Monday shortly after 6 p.m.

The pair were operating an illegal dispensary out of a standalone commercial building at at 66328 Pierson Blvd., according to a news release. They were arrested at the site.

Police went to the scene after receiving multiple calls about a sign twirler at Palm Drive and Pierson Boulevard, possibly advertising a dispensary, the release said.

Police closed the dispensary and conducted a search after obtaining a warrant, the release said.

The Desert Sun found no signs of activity at the building Tuesday. The property was enclosed by a metal gate secured with a padlock.

Police said they found evidence of illegal marijuana sales in the building. Vargas and Pappas both were arrested on suspicion of possession of marijuana with intent to sell and were booked at the Riverside County jail in Banning. The investigation is ongoing.

The Desert Hot Springs Planning Commission is set to meet Tuesday evening to consider permits for the city's first two authorized medical marijuana dispensaries.
You'll see that article doesn't name either Eduardo Rivera or the D.H.S. Alternative Healing Corporation.
Mr. Malacoff continued reading Ms. Mullen's letter. She said they opened with no business license and lied to her as a new patient, claiming they were the first licensed shop in the city. She saw the sign spinner at Palm and Pierson that is mentioned in the Desert Sun article.
Another letter, from Joseph Miner, was lengthy, so Mr. Malacoff summarized it. The letter said that putting a dispensary in a location within walking distance of residents will exacerbate the health and safety of the community. Mr. Miner owns residential units adjacent to the vacant lot that is behind (north) the proposed location. He said that lot has been a conduit to crime for 20 years. A 90-year old woman and her daughter live next to the vacant lot. He used to own the buildings that D.H.S. Alternative Healing wants to move into so he knows that people climb the chain link fence in back to burgle the place.
Mr. Malacoff reminded the Planning Commission that they deal solely with land use issues. Other issues brought up by the letters from the two residents will be dealt with in the regulatory permit process.
Commissioner Duffle said he had a couple of big concerns. One is the proximity to a high drug crime area. [¡I think he means my 'hood!] He is also concerned about the high number of high school students that would walk past the dispensary.
Ms. Romero asked how many dispensaries are operating and how many are proposed. Mr Malacoff began to list them off, but then Ms. Romero clarified that she meant only on Pierson. Mr. Malacoff said he doesn't have accurate figures because some of dispensary applicants that originally proposed Pierson locations have lost their leases and have not yet re-applied. He said the city does have five applications in queue in addition to the three on this night's agenda.
Ms. Terifaj said the location was isolated. "This is not close to anything, really." There's vacant land next to it and residential property. She said she thinks it's a terrible location.
IMO, the same things could have been said about the Brown Dog dispensary, but there it is, not ruining the city.
Mr. Malacoff said that the applicant had not suggested doing anything to the north side. This surprises me, because there is a chain link fence on the north side of the property. City staff is usually very good about making developers get rid of chain link fences, but this one seemed to get by them.


This is what the north side (1st Street) looks like.
Chair Sobotta said the existing gate and fence on three sides of the property were supposed to have been temporary. He said the gate opens out into Pierson Boulevard. He is incorrect about that. It's a sliding gate.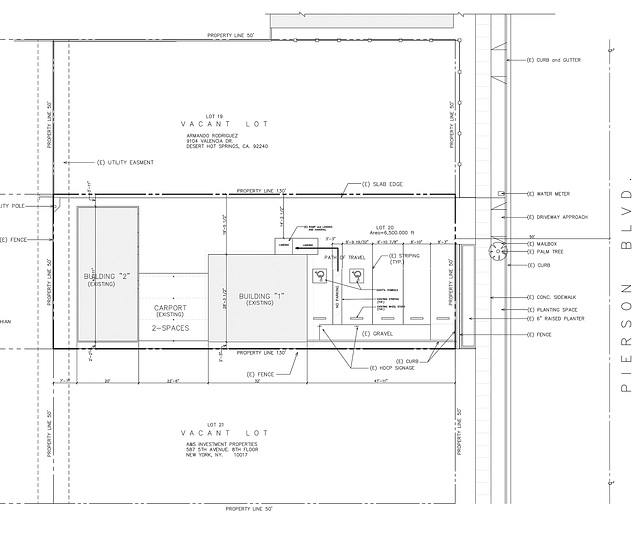 Here's the site layout. North is to the left; Pierson Boulevard is running up and down along the left side. Notice there are only 7 parking spaces, including two handicapped spaces. The space closest to Pierson is going to be almost impossible to park in.
Mr. Sobotta said the ideal solution would be to pave the eastern portion of the site and use that for additional parking. He said this is a chance for the city to really improve that site, but the CUP doesn't call for any real improvements. As an example, he cited the wheel stops in the parking lot. Those are not allowed by the city code, but the CUP doesn't require them to fix that.
Eduardo Rivera came to the podium. He said he's from Hawaii. He has owned a hair and nail salon in La Quinta. He has also worked in the food and hospitality industries. He has been a chef and wants to create his own edibles. He said the back building on the site will not be used for growing, so there's little need to be concerned about the security. Mr. Rivera will have his office there and he will occasionally make it available to a doctor. [That seems to be a violation of the law - if it's the office for the owner of the dispensary, then I'd say it's part of the dispensary, and you can't have a doctor set up in a dispensary.]
He said he only found out about this meeting at 5 o'clock that day. I find that difficult to believe, unless Mr. Rivera is in the habit of not reading his mail; something which is not advisable if you are in the process of trying to open a marijuana dispensary.
He said the gate does not swing out into the right of way. It slides along the fence. He said that if a turnaround is required, it's no problem. He said he will agree to whatever accommodations the commission thinks are necessary, "so long as they are reasonable." He said he could set up a street fair there, or he could serve bread and soup to the hungry. He said those are the sorts of things he wants to do because he's a Rotarian. When he lived on Maui he helped create three Rotary clubs.
"You tell me what you want, I will do it," he said. He said he would light up the vacant lot north of him, if the commission wants that. If they want him to buy that vacant lot, he will.
Mr. Duffle moved to continue this item to the February meeting, including look at its proximity to a high crime area, look at its proximity to the high school and the foot traffic going past the location, look at the concentration of dispensaries on Pierson Boulevard, consider the condition of the north side of the property and what should be done with that, the site is isolated, consider the impacts to the neighboring residential area, investigate the law on locating a doctor's office, check that the gate does not open into the right of way, re-examine the parking, get a better landscape plan (there's a tiny bit of dirt along the fence in front where something skinny might grow), get a lighting plan that shows type of equipment, examine the circulation of the site, examine the exterior of the building and consider whether exposed conduit should be painted or screened. Mr. Sobotta added that the wheel stops should be taken out and replaced with continuous curbing. He also wants to examine whether the fence should be improved or perhaps removed.
Approved 4-0.