December 9, 2017
No Smoke Here

Desert Hot Springs today.
permalink | December 9, 2017 at 05:59 PM | Comments (0)
November 18, 2017
My First 4K Video
Waokiye at Cabot's Museum is the subject for my first 4K video.

I recently acquired a ThiEYE T5e which is $170 at Amazon, but just under $100 at GearBest which is in China. I know buying direct from China is a crapshoot, but a 41% discount is pretty substantial. Reviews of this camera point out that it is genuine 4K, not interpolated from 1080p.
I have a 4K display, but my Mac Mini can't do any better than 1080p, so the only way I can see this in 4K is to connect the camera directly to my monitor and play it from there. I also don't have any software that can output a 4K video, so I can only upload them exactly as shot. Can't even trim off shaky starts or ends without lowering the resolution to 720p.
The video above is on Vimeo, who claims they don't degrade videos. I've also uploaded this video to YouTube which supports 4K, but they degrade the videos somewhat. If you think you can see the difference, here's a chance to do an A/B comparison.
permalink | November 18, 2017 at 04:45 PM | Comments (0)
September 22, 2017
Nude Bowl, With History
permalink | September 22, 2017 at 05:34 PM | Comments (0)
August 21, 2017
Ivan Sewell New Commissioner At MSWD
With a unanimous vote, the MSWD board selected Ivan Sewell to take John Furbee's spot on the board until the next election, November 2018. Then, the voters will get a chance to re-elect him to the remaining 2 years of Furbee's term, or elect someone else.

The two other candidates were perennial candidate Malcolm MacLean and Steve Grasha. Mr. Grasha is the inventor of the misting system, which is so ubiquitous here in Coachella Valley, if I understood him correctly. He's also working with the Trump campaign in some capacity and said that after the meeting today, he was heading over to Arizona. He seemed a bit reluctant to bring this up, at first saying he had been working for a candidate for "national office." There being only two elected national offices in this country, it wasn't hard to guess who he meant, but it became clearer when he referenced Arizona and said that he knew his views on who is in the President's office were not popular in DHS. He never named Trump.
I have been disappointed with the MSWD board's reluctance to replace Mr. Furbee before he passed away. We could have had Mr. Sewall working for the public good months ago.
permalink | August 21, 2017 at 04:10 PM | Comments (0)
August 4, 2017
New Riverside County Building

In Desert Hot Springs.
permalink | August 4, 2017 at 11:28 AM | Comments (0)
John Furbee Memorial - August 18
permalink | August 4, 2017 at 11:01 AM | Comments (0)
July 14, 2017
John Furbee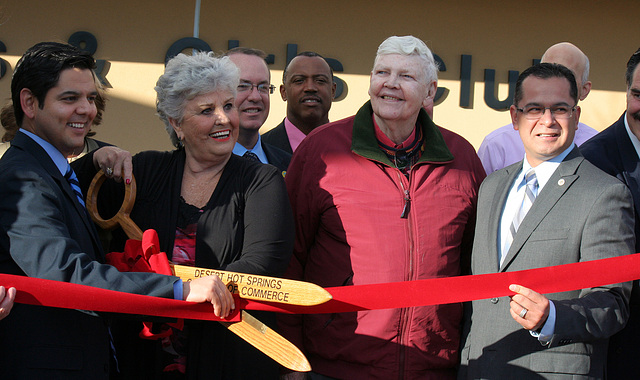 L to R: Rep. Raul Ruiz, Mayor Yvonne Parks, Councilmember Scott Matas, unknown man in back, John Furbee, V. Manuel Perez at the ribbon cutting for the Health & Wellness Center in 2013.
John Furbee - Local Philanthropist, Businessman and Civic Leader Passes Away

Desert Hot Springs, July 13, 2017: It is with tremendous sadness that we announce the passing of John Furbee, a long-time Desert Hot Springs philanthropist, businessman, civic leader and youth supporter. John passed away on July 12, 2017 surrounded by his loving family, following an extended illness.

John Furbee arrived in Desert Hot Springs over 50 years ago, and quickly established the well-known DHS Drug Store. He went on to own and operate several successful businesses within the city and served the community as the President of the Boys and Girls Club and Mission Springs Foundation and sat as Chairman of the Board of both the Desert Hot Springs Planning Commission and Desert Hot Springs Economic Committee.

His commitment and dedication to the city earned him the distinct honor of being named the Senior Inspiration Award Recipient for the City of Desert Hot Springs in 2006 and in 2012 the City Council named the Aquatic Center at the Community Health and Wellness Center the "John H. Furbee Aquatic Center" in his honor. This dedication was based on the significant contributions John made to the community he loved so much, including the donation of the property upon which the facility was built and a significant monetary contribution toward the Center.

John Furbee was a community hero, known for his dedication to the youth, animals, and local charity's. He had a kind heart and will be sorely missed by our entire community.
permalink | July 14, 2017 at 01:13 PM | Comments (2)
July 10, 2017
Action Figure Family Donation Request
These are photos of the creation of the Action Family Figures, which is taking place right in lovely Palm Springs. I think that you'll agree that, like every great art project at Burning Man, this one will bring about world peace and a transcendent consciousness linking all souls. If not that, it will at least generate surprise. The playa has never seen anything quite like this. It's going to be four mannequins covered with the action figures, Lego people, Muppets and even Happy Meal toys that young Jallen has been acquiring throughout his 50-odd years, 20 of which he has spent as a Burner. Do you see the Viewmaster serving as the eyes for the little boy? Look into the little boy's eyes and you'll see some of Jallen's photos from the last 20 years of Burning Man. Of course, you'll have to come to Burning Man or one of our work parties to do that.
Besides its stunning artistic qualities, this project is what's getting me to Burning Man this year. Now I'm working for the price of my admission. Working on this project will get me a ticket, a vehicle pass and an early arrival pass! If they would throw in a free shower on the playa, it would be an even better deal, but that's not to be this year.
Who are the patrons supporting this Sistine-Chapel-of-the-desert? Uh, well, me...and others, and you should too. I've actually contributed more than the value of the ticket & VP, so now it's your time to join the fun.
Go here to make a donation, and don't shy away from a 4-digit donation. Check out the rewards you get for one of those!
You get real value for those, not just a t-shirt or other souvenir. And Jallen's going to tell me who made contributions.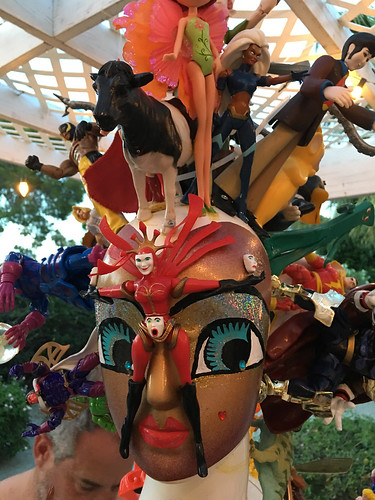 The complete set of photos is here.
permalink | July 10, 2017 at 06:01 PM | Comments (0)
June 30, 2017
Some Photos
Some photos not previously shared.

The stage at Long Beach Opera at intermission during The Perfect American.

This is not an old sign.

I've got my eye on this pink Barbie.

Edward Wenzlaff Education Center, formerly Edward Wenzlaff Elemntary School in Desert Hot Springs.

Like it says on the label.
permalink | June 30, 2017 at 10:23 PM | Comments (0)
June 20, 2017
Desert Hot Springs Planning Commission - June 13, 2017.
Commissioner De La Torre was absent and one seat is vacant, so there were just three commissioners present.
11940 Palm Drive

Over the years I've heard a lot of reasons why nothing could be done about this building at 11940 Palm Drive which I have considered the worst eyesore in the city since I moved here, 13 years ago. Black mold so serious that the only complete demolition could deal with it. Demolition couldn't be immediate because cellphone towers on the roof would have to be moved. We can't locate the owners. As the Inland Empire's largest dovecote, we would have to get permission from the US Department of Interior to kill all those birds. Okay, just kidding about that last one.

Evidence that the city at least sicced Code Enforcement on the building in 2010. There was some improvement in the property following that.
Turns out none of that is true. All the building needed was an investor willing to pour money into it, and we've got one now, thanks to marijuana!
The matter of a conditional use permit for that building as a medical marijuana dispensary came before the Planning Commission last Tuesday night. The applicant (Stephanie Bodde and Desert Hot Springs Dispensary) had previously applied for a CUP for a dispensary at 66406 Pierson. That application was turned down at the March 8, 2016, Planning Commission. The main issue was lack of parking and the fact that nearby Rose Mortuary also objected to it. I thought that was the least we'd hear of them, but they went and found a better location.
There will be no other tenant in the approximately 6,000 s.f. building. The site has 20 parking spaces, two more than the minimum required. Entrance and exit will use the east entrance. The north and south doors are for emergency use only. Most of the second floor will go unused.
Chair Voss said that some residents may be concerned that too many dispensaries are concentrated in this area, but he went on to say that every dispensary in town moved into a substandard building and improved it. I think the two dispensaries in the Mission Lakes shopping center are pretty obvious exceptions to that. The IVTHC dispensary at 11555 Palm Drive opened in a fairly new building. But he's right about all the others. He wanted to make some changes to the external appearance of the building at 11940 Palm Drive to make it look better. He likes the new paint color that you see on the building now (brown), but he wants one additional color to be used, so it isn't just one big blob of brown. He would like to see more landscaping. He would like to see window treatments with wrought iron, and rock treatments on the exterior. He said he was going to leave the details of these matters to be hashed out between the applicant and city staff. The chainlink fencing will be removed (of course) and Mr. Voss would like to see a combination of block and wrought iron wall erected.
Commissioner Larry Buchanan said the building was erected in 1985 by Jack Webb for his real estate office.
Approved unanimously.

Other Planning Commission Actions
The city approved the Ho Ho Express Private Fueling Station to be located on Little Morongo south of Dillon a couple of years ago. The project has been delayed because the Coachella Valley Water District required them to build a 1½ mile water line. They were before the Planning Commission only to get a one-year extension of their entitlements. This was approved unanimously.

That Distribution Center to be constructed on the east side of Indian between 18th and 19th is still identified as a "Distribution Center" on city paperwork, even though the site will now be marijuana cultivation. Originally approved by Riverside County, several time extensions have been granted the project. This evening they came before the Planning Commission seeking another extension to November 2017. An extension will keep their mitigated negative declaration valid, so they can avoid having to go through a CEQA process. Approved unanimously.

Another marijuana cultivation project, Desert Grow, to be located on the north side of Palomar Lane in a site that has not been previously developed was approved 2-0-1 with Commissioner Buchanan abstaining.

Still another marijuana cultivation project, Din Cultivation, will be located on the southeast corner of Palomar Lane and Little Morongo, also previously undeveloped. This one was approved 3-0.

For a change of pace, the Commission then took up a proposal for a marijuana cultivation facility, Kim Cultivation, on undeveloped land on the north side of Palomar Lane, but further east than Desert Grow. This was approved 3-0.

Next, to really mix things up, the Commission considered a marijuana cultivation project located not on Palomar Lane. This one, MIRO, LLC or Desert Springs Cultivation, will be on San Gorgonio Lane. Approved 3-0.

Victor Muñoz brought a proposal for the Starlite Lodge Motel to the Planning Commission. The Starlite Lodge Motel is located on Palm Drive, a bit south of Hacienda, across the street from the Stater Bros. parking lot. He proposes to remodel and expand the existing one-story building and erect a new two-story building on a parcel south of the one-story building. The bus stop located there will not be moved. The developer says that they expect to do well because there is no motel in that area, and it's close to a lot of restaurants. That motel at Palm and Ironwood which has been undergoing incremental improvements for years does not seem to be a competitive threat.

Approved 3-0.

The next item was a proposal to allow Post and wire fencing, not to exceed 48 inches in height, \along the perimeter of vacant property. "Post and wire," I take it, is legalese for chainlink fencing. The intent is to discourage illegal dumping on vacant parcels. Approved 3-0.

DHS Properties which already has approval for a marijuana cultivation site on Two Bunch Palms Trail returned to the Planning Commission only to get an amendment to their Development Agreement to permit extraction and manufacturing at the location. Approved 3-0.

Commissioner Romero asked if there is a moratorium on new residential construction in the Hot Water Overlay zone. Community Development Director Daniel Porras said he doesn't think there's a Hot Water Overlay zone (see, he's still new), but he would find out if there is a moratorium. Mr. Porras thought she had it confused with the Spa Zone sign toppers.
permalink | June 20, 2017 at 10:17 PM | Comments (0)
April 26, 2017
Desert Hot Springs Public Safety Tax Survey
The two public safety taxes in Desert Hot Springs are set to expire in a couple of years, so, as before, the city hired a firm to survey the residents on how they saw things. They've published three documents from that survey which are available on the city's website. Here's one, the press release:
A recently commissioned independent survey shows 70% of respondents approve of the job the City of Desert Hot Springs is doing to provide city services. "We are thrilled that residents can see our hard work paying off. We appreciate their feedback very much," said City Manager and retired Police Chief Charles Maynard.

Amid nearly $10 million in state takeaways, the current administration and Council have avoided bankruptcy, reduced a $6 million deficit, maintained emergency reserves, and took [sic] steps to improve transparency. In March, the City was assigned an "A" rating with a stable outlook from Standard and Poor's for the 2017A and 2017A-T lease revenue bonds. Their Report cited strong fiscal management, budgetary performance, and liquidity as crucial factors for the positive rating.

"We must continue this momentum to secure our City's ongoing financial stability, safety and quality of life. We have taken decisive action to improve fiscal stability and public safety," continued City Manager Maynard. The City's overall crime rate has decreased 18 percent in the past year.

Constituents are particularly interested in maintaining and preventing cuts to public safety, including crime investigation and prevention, recruiting and retaining experienced police officers, increasing drug house investigations, and maintaining anti-gang and anti-drug programs.

"This community input is invaluable as we continue to work to decrease crime in Desert Hot Springs. Reducing and preventing crime, drugs, and gangs not only makes us safer, but more attractive to businesses that can revitalize our City. While we have reduced our overall crime rate, we must stay focused on patrolling our neighborhoods, anti-gang programs, cracking down on parole violators and monitoring sex offenders, even as the state continues to put more offenders back on our streets," elaborated Police Chief Dale Mondary.

The independent community survey was conducted March 24-30 by the highly respected opinion research firm Fairbank, Maslin, Maullin, Metz & Associates (FM3 Research).

Constituents also overwhelmingly perceive there is a need for additional local funding with 87% saying there is "great" or "some" need. A majority, 57%, say there is "great" need.

Constituents expressed interest in the concept of continuing local, voter-approved funding to maintain and prevent cuts to public safety services with percentages as high as 77%. Existing, voter-approved local funding provides $5 million dollars annually for police officers and emergency response dispatchers, anti-gang enforcement operations, graffiti removal, code enforcement, and other public safety services. By law, all funds are specifically used only for Desert Hot Springs public safety services and are critical to the safety and survival of the City.

The City will continue to solicit feedback from the community about their public safety budget priorities. Residents can provide input and get more information by visiting: www.cityofdhs.org/Public_Safety_Conversation
Another document is a Powerpoint presentation summarizing the findings.
The survey consisted of 271 interviews conducted by landlines, cell phones and on-line. Seventy percent of respondents say they either strongly or somewhat approve of the city's work to provide services. Eighty-seven percent say there is a either a great need or some need for more funding for the city.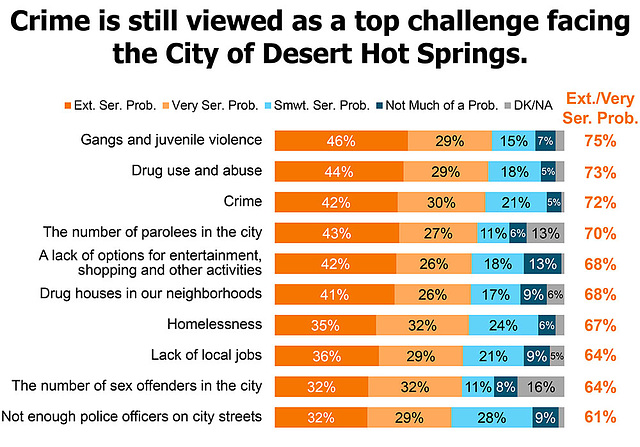 Summarizing these issues, from top to bottom, they are
public safety
public safety
public safety
public safety
not much to do [economy?]
public safety
economy
economy
public safety
public safety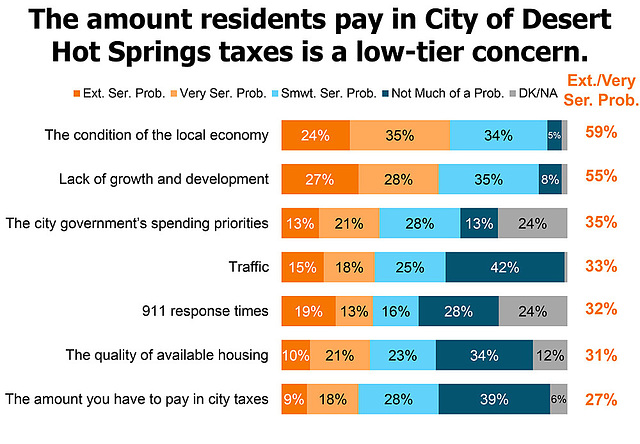 Of these seven issues, local taxes are the least concern.
Compared to ten years ago, residents now are more concerned about parolees, crime, gangs and juvenile violence. They have become less concerned about city taxes, the number of police officers, the number of sex offenders and the condition of the local economy.
Here's the language that would describe an increase in the utility users' tax, which is currently 7%.
To maintain and increase rapid police, fire and 911 emergency response times; police training, recruitment/retention; and crime investigation; and to hire additional police officers to patrol streets, shall the City of Desert Hot Springs increase its existing, voter-approved utility users' tax by 2%, raising approximately $714,000 [additional] annually, until ended by voters, with independent citizens' oversight, annual audits and all fund required to stay local?
I want to point out that the proposal is not to raise the UUT by 2%, but by two percentage points to 9%. An increase of only 2% would change the rate of the UUT to only 7.14%.
67% of likely voters said they would definitely or probably vote yes or were undecided but "lean yes." The no vote came to 29%, with 5% genuinely undecided and not leaning.
Here's the text for an extension of the public safety parcel tax:
To prevent essential public safety services cuts such as police/emergency response, anti-gang/drug, youth violence prevention and sex offender/parolee monitoring programs, shall the City of Desert Hot Springs extend its existing, voter-approved public safety measure providing approximately $2 million annually at the current rate of $135 per single-family residence, until ended by voters, requiring citizens review, audits, all funds to stay in Desert Hot Springs, with no tax increase for these parcels?
Note that this survey question does not say what will be done with the public safety parcel taxes for hotels, multi-family housing, commercial or industrial parcels. I imagine they would be considering increasing those, but they don't say that. But the question as is generates a 77% yes rate, which includes 54% definitely yes, 18% probably yes and 4% undecided but leaning to yes. 17% answered no. Six percent undecided. If they restrict the answers to likely voters, the yes rate increases to 78%; the no rate stays at 17%.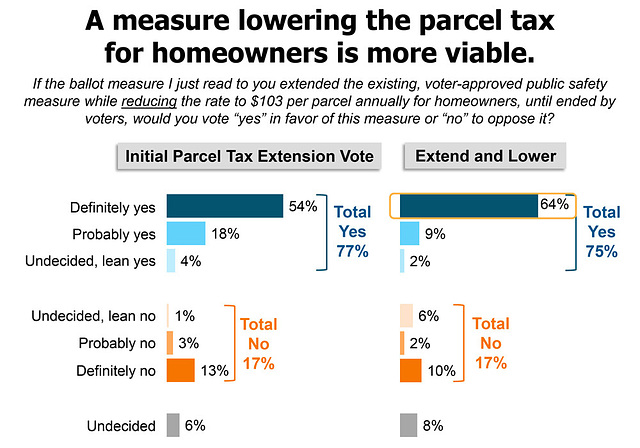 Check out the heading for this page and then look at the data. Offering a tax cut lowers the total yes vote from 77% to 75%, but those answering definitely yes rose from 54% to 64%. 73% say they definitely or probably would vote for a tax cut, which is one point more than the definites and probablies for holding the rate at its current level. The undecided, but lean yes drops from 4% to 2%, but the those who say they are undecided but lean towards no added to those who are simply undecided goes up from 7% to 14%. I'd say the two offers are equally viable, which is pretty surprising to me.
Democrats give the parcel tax proposal an 83% yes rate, Republicans a 75% yes rate and independents 63%.
Latinos support it at the rate of 92%(!) while whites support it at the rate of 71%.
Homeowners support the parcel tax measure at the rate of 73%, while 83% of renters support it.
The measure draws support ranging from 74% to 79% regardless of how long the voter has been residing in DHS.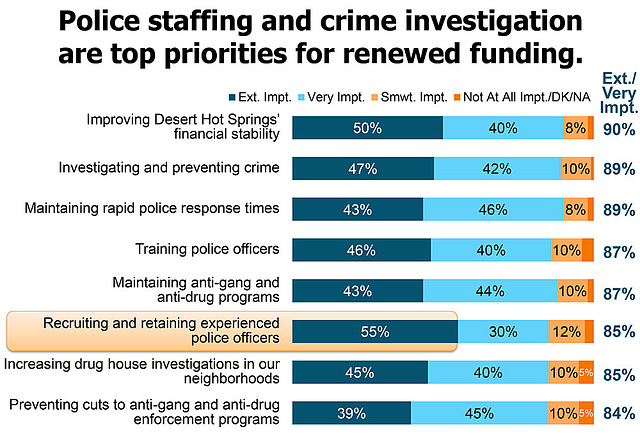 Check out that highlighted item, "Recruiting and retaining experienced police officers." While overall support for that is a tad lower than the five items listed higher, those who answered "extremely important" rose to 55%, the highest rated "extremely important" issue.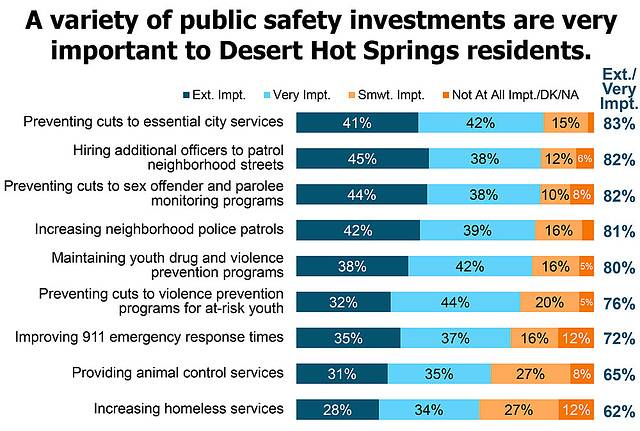 permalink | April 26, 2017 at 07:55 PM | Comments (0)
April 22, 2017
Action Figure Family Fundraising Party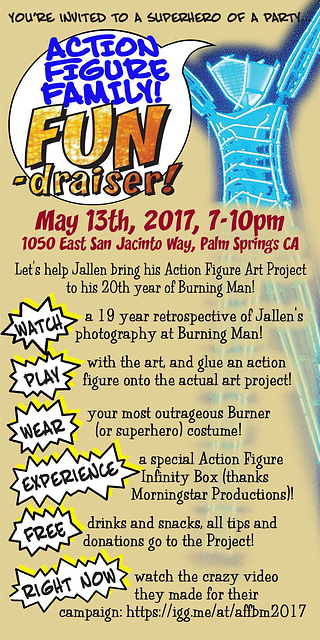 This is a fundraiser for the first art project that I've ever worked on for Burning Man.
Here's the Indiegogo page for donations.
permalink | April 22, 2017 at 11:21 PM | Comments (0)
April 15, 2017
MedMen Cultivation Facility
This coming Tuesday, the marijuana cultivation facility proposed by MedMen will come before the Desert Hot Springs City Council. I wanted to share a few images from their proposal to build at Hacienda and Little Morongo. There's no paved Hacienda on the east side of Little Morongo, but on the west (county) side it's paved and called 13th Avenue.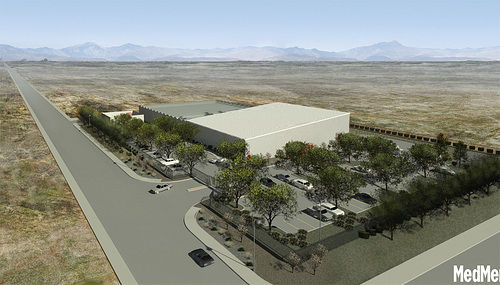 The little red figure on the right of the driveway is the public art contribution.

Here's a closer view. They almost look like penguins, don't they? The artist will be Gerardo Hacer.
The piece will consist of two red metal penguins in origami form. MedMen's COO and cofounder [Andrew Modlin] envisioned a piece that drew upon his own affinity for penguins, which frequent his own original paintings. and functioned as a juxtaposition between penguins' natural habitat and Desert Hot Springs' climate. Furthermore, the penguins' lifelong companionship and partnership is emblematic of our hope to build a lasting relationship with the City of Desert Hot Springs. The installation is red as that is MedMen's signature color.
MedMen broke ground on a cultivation facility in Reno last year.

permalink | April 15, 2017 at 03:55 PM | Comments (0)
March 29, 2017
Good Nude Bowl Video
permalink | March 29, 2017 at 05:28 PM | Comments (1)
March 8, 2017
Tesloop - Palm Springs to Las Vegas
permalink | March 8, 2017 at 02:46 PM | Comments (0)
February 6, 2017
Planning Commission - January 31, 2017
This was a special meeting of the Planning Commission to deal with the heavy marijuana workload. There are currently only four Planning Commissioners. Those two statements aren't directly connected. It's city staff that has a heavy marijuana workload and, coincidentally, there are only four commissioners for now.
Basement Cultivation at Green Leaf Wellness
This item was the agenda for the January 10 Planning Commission meeting, but was continued because the owner of the dispensary didn't show up. Now, on January 31, the owner was present.

North is up.
Commissioner De La Torre asked if the cultivation area in the basement extended under any neighboring business, such as the nail salon. City staff said it did not. Aw, too bad, because when I first saw these plans I could tell that it would extend under the nail salon. When the owner came to the podium he explained that the basement did, in fact, go under the nail spa. The point of that question was to determine whether an additional fire alarm should be installed in the nail salon, in case of a fire in the basement. The owner went on to list security measures he was putting in place, such as hardening the exit doors and installing card readers so he can track every employee who goes into a cultivation room.
Commissioner Cirner asked about ADA compliance. The plans show only two ways to access the basement and both of them are stairways. Rather than answer that question, the owner described more security measures he was putting in place. Mr. Cirner seemed to accept that as an answer. At the end of the meeting I asked Community Development Director Rangel about ADA requirements. His answer was, basically, that full ADA access in this space would be cost prohibitive. Yes, of course, but I didn't know you could compromise on ADA improvements solely because of their cost.
Someone (I could neither see nor hear who) moved to approve with the addition of an alarm in the nail salon connected to the fire detection system in the basement, Mr. Cirner seconded. Approved 4-0.

Tentative Parcel Map by DHS Properties, LLC
This is an empty 14.9 acre lot on Little Morongo Road north of Two Bunch Palms Trail. This tentative parcel map is for condominium purposes for marijuana cultivation. The agenda packet showed the applicant to be DHS Properties, LLC, but staff said the applicant was David Snyder.

This map shows the old city limits, prior to the annexation that reached to I-10.
The CUP for this parcel was approved in November 2015.
With no discussion or public comments, Commissioner Romero moved for approval, Mr. Cirner seconded, approved 4-0.

Four Parcels on Cabot Road
These four parcels are all adjacent and all will be used for cultivation. But there are two owners and some differences between each parcel, so this item includes FOUR CUPs, two development agreements and one mitigated negative declaration. (No partridges.) The two owners are Cabot Building Partners and DHS Therapeutics. It's on the east side of Cabot Road, a couple of empty lots south of Two Bunch Palms Trail. 6.29 empty acres.
Commissioner Cirner moved for approval with the addition of two lights on poles, seconded by Commissioner De La Torre, approved 4-0.
The entire meeting wrapped up in only 35 minutes.
permalink | February 6, 2017 at 01:53 AM | Comments (0)
January 11, 2017
Planning Commission January 10, 2017 - Cultivation, Cultivation, Cultivation, Cultivation
Commissioner Terifaj is no longer with the Planning Commission. Here's the form to fill out if you want to be part of shaping the future of DHS. Mayor Pro Tem Joe McKee is the one to make the appointment to fill this seat. Present tonight were Andrew Cirner, Scott De la Torre, Dirk Voss (Chair) and Cathy Romero.
The agenda this night consisted of four public hearings:
A marijuana cultivator's tentative parcel map
A CUP for a marijuana cultivation facility
Amending a CUP to allow for marijuana cultivation in a dispensary
Subdivision of land to be used for marijuana cultivation
Tentative Parcel Map for We Care DHS
The CUP for this grow facility got final approval back in August. The location is vacant land on Two Bunch Palms just west of the only cultivation site that is currently operational.

Approved 4-0.

Conditional Use Permit and Development Agreement for A Green Culture DHS, Inc.
This location is the northeast corner of 15th Avenue and Little Morongo Road. 15th Avenue is just a dirt road there.

The building will have 22,479 square feet of cultivation area and greenhouse roofs, so their electric bill will be a bit lower. The design of the building includes two 9 x 12 feet rollup doors that the cultivators don't need, but the city has started adding requirements to the cultivators' CUPs that will make the building more likely to be useful for other purposes when the day comes that they decide not to cultivate there anymore.

It looks like it's going to be right purty!
Approved 4-0.

CUP Amendment for Greenleaf Wellness
All marijuana dispensaries are permitted to grow up to 99 plants in Desert Hot Springs. When the CUP for Greenleaf Wellness was approved, however, the dispensary did not include any plans for the 1,315 s.f. basement. Now, they've got plans and they've come back for this amendment. The owner, Thom Miller was not present at the hearing.

I believe north is to the left. The shops on the street level face the north. Across the top would be Palm Drive.
Ted Mayerhofen commented that he had worked on this building before it was a dispensary. He thought there were security issues. He also said that delivery would have to be from the alley, and an ordinary truck would block that alley. OTOH, any delivery to any business in that little shopping center on the southwest corner of Buena Vista and Palm Drive could block an alley. Plus, I thought the main reason for alleys was using them to load and unload, because then the trucks are not blocking the main streets or taking up parking lot space. So what if it blocks a short alley for a short time? Later, the discussion of the Commission indicated that they understood a dispensary would have no large deliveries or shipments, so no big trucks would be in that alley anyway.
Commissioner Cirner raised the question of ADA access to the basement. In the floor plan above you can see there is a stairway coming down from the first floor and one door that exits to the exterior. It looks to me like that's the door that opens onto the stairway that goes up to Palm Drive. That would mean this basement space is not 100% beneath the dispensary, as it seems to extend to the eastmost end of the building.

The stairway from the one exterior door is on the left side of the building.
This would certainly not seem to be ADA compliant. Do small business have to conform to ADA when doing major renovations? I think they do. Installing an elevator in this building would, it seems to me, be very cost prohibitive. This cultivation space may never come to be.
The vote was 2-2, making it a denial. Commissioners Cirner and De la Torre voted against. Mr. Cirner had brought up the ADA issue, but Mr. De la Torre never expressed his concerns about the project. Then a motion was made to continue the hearing to next month's hearing (February 14) so some of their questions could get answered and to give the owner the opportunity to show up and explain. That motion was approved 4-0.

Coachillin Holdings Tentative Parcel Map
Before discussion started on this one Charles Rangel introduced himself as the new Interim Community Development Director.
Coachillin Holdings propose to build the biggest cultivation site in the city on Indian Canyon between 18th and 19th. You may have already noticed that there has been some grading there. The land is vacant, but the Google satellite view below is recent enough to show some of the grading.

The site is 150 acres and the developer proposes to subdivide it into 40 parcels. Mr. Rangel said that staff recommended this item be continued...again. This is not the first time this has come before the Commission and been continued. Part of the reason this time is that the developer handed a new map to the city on the very day of this meeting. That map would need to be reviewed by both the planning department and fire department before the staff could make any recommendation on that.
Another, bigger reason for the continuance is that the property has on it what the Army Corps of Engineers calls a blue-line stream. Here's the definition of blue-line stream as given by the Riverside County Flood Control and Water Conservation District:
Blue Line Stream - Any stream shown as a solid or broken blue line on 7.5 Minute Series quadrangle maps prepared by the U.S. Department of the Interior Geological Survey (USGS). A blue line stream may be any creek, stream or other flowing water feature, perennial or ephemeral, indicated on USGS quadrangle maps, with the exception of man-made watercourses. The United States Army Corps of Engineers uses USGS blue line stream markings as a preliminary indicator of "Waters of the United States". Streams identified on USGS maps in such a manner are therefore generally subject to federal environmental regulations.

A USGS map of the site. That's I-10 at the bottom. Dillon Road runs across the top of the map. It shows that "blue-line stream" coming down from the north, crossing Dillon and then Indian, then parallelling Indian as it crosses Coachillin's property. You can make it out in a regular Google satellite view, but it's also been used by off roaders, which somewhat obscures it. Before they can do anything on that site they need a sign off from the Army Corps of Engineers which will state, in effect, that they don't expect to be sending any ships up that stream, nor do they plan to dam it for hydropower or irrigation. BUT, the guy who does that at the Army Corps of Engineers retired in November and it seems he has not been replaced. Kenny Dickerson who represented Coachillin Holdings at this meeting, suggested that if both he and Interim Community Development Director Rangel went together to the Army Corps, they would get some action.
Coachillin Holdings disagrees with the requirement to put sidewalks on the streets around the project (except along Indian Canyon - there will be a sidewalk there). They also object to sidewalks inside their property. Their reasoning is that sidewalks make it easier for nefarious people to get closer to their valuable product. What a lot of nonsense. If your security plans are overwhelmed by simply providing evil doers a level path to walk on, then your security plans need a lot of beefing up. Every dispensary, every cultivator, everybody actually, puts in sidewalks. Never have I heard an argument that sidewalks attract crime. That sort of non-logic is usually used when a city is planning to extend a subway line or bike path, because everyone knows most stolen TVs are transported by either bicycle or mass transit. Crooks never have cars.
Coachillin is paying to build the roads around its facility. The sidewalks are a only a small part of that. Why would the city want to force people to walk in the street in an industrial zone?
Mr. Dickerson said that he would redo his proposal so that it only dealt with the parcels to the rear, which the blue-line stream doesn't cross. Mr. Rangel said that wouldn't help, because the Army Corps of Engineers would also have to sign off on a decision that the blue-line stream doesn't cross those parcels.
These are the remaining issues that still must be resolved before the Planning Commission can make a decision. Rather than bringing this proposal back month after month simply to approve a continuance, the Planning Commission voted to table it, meaning it hasn't been rejected and it isn't scheduled for a decision. Whenever Coachillin can get all their ducks in a row, they'll come back to the Commission.
Approved 4-0.

Special Meeting, Tuesday, January 31
Mr. Rangel said there is a bit of a backlog of proposed cultivation facilities that are ready for the Commission, so the Commission agreed to a special meeting on the 31st to review some of those.
permalink | January 11, 2017 at 12:10 AM | Comments (0)
January 3, 2017
Live Like Howard Hughes

This, yes this, was a residence of Howard Hughes. It's on the market now for only $1.2 million. The real estate company has much nicer photos.
permalink | January 3, 2017 at 01:56 PM | Comments (0)
November 27, 2016
Palm Springs Construction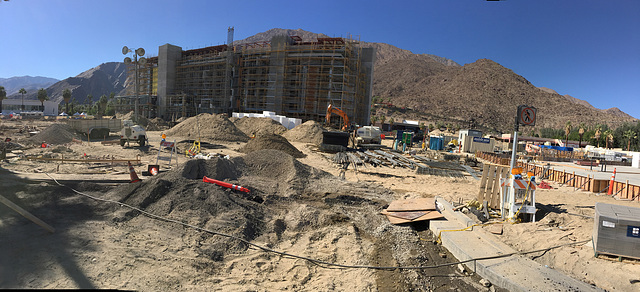 permalink | November 27, 2016 at 02:06 PM | Comments (0)
November 19, 2016
Rare Double Survival Of Lost Desert Hikers
None of the details of how this all came down are included in this article and I imagine the couple haven't talked to any press about it. I was astonished that after being found they decided to go to Joshua Tree where they would spend the night. That is far from a direct route home. It sounds like they're continuing their vacation! They sound pretty tough. I hope they make some babies.
In the map below, Black Mountain Road, where they were found, is roughly diagonal across the center of the image. They seem to have been not too far from a broadcast tower. I wonder if the lights they spotted were on that tower.