February 16, 2018
Desert Hot Springs Planning Commission - 2/13/2018
Commissioners Sworn In
All five commissioners were sworn in for this term. Four of them were familiar incumbents, and the new one (taking Cathy Romero's seat) was Gary Gardner who was appointed by Yvonne Parks. The members of the Planning Commission for this year are: Dirk Voss (Chair), Jan Pye, Scot De La Torre, Gary Gardner and Larry Buchanan.

Cultivation: Cabot Road
First item was a CUP for a cultivation development (33,200 s.f.) on the east side of Cabot Road (map). It will be a 2-story building. The Planning Commission had already approved an identical proposal for the parcel next door, so this one was even more of a slam dunk than the usual cultivation CPU. Approved 5-0. Construction will start in June, the developer said.

Cultivation: Desert Land Ventures
This is the third Really Big Cultivation proposal in DHS that I'm aware of. Really Big as in 123.4 acres, 13 parcels, 1.9 million s.f. of development, some streets, all infrastructure (estimated $30 million - just infrastructure), and it's all going into that blank space along I-10, west of Palm, east of Indian. The proposal is for more than marijuana. The developer plans a 150-room hotel, along with the usual sorts of commercial projects you see around a hotel along the interstate. The approximate location is shown in the aerial view below:

As a Really Big Project, it includes a specific plan, a vesting tentative tract map, and a development agreement.
They want to put a dispensary there too. The city has a list of 16 parties who have been approved to get (or try to get) a CUP for a dispensary. I believe we have 8 dispensaries open. One dispensary has been permitted behind the AM/PM station at Palm and I-10. There is some site preparation there, and I believe at least some of the roads have been paved. That leaves 7 parties who have not started any development and may not yet have gotten a CUP. The Desert Land Ventures developer (he's owned the site since 2006) did not want to have to get in bed with some dispensary owner that he doesn't know. No one suggested the alternative. He could buy out the CUP rights from one of those parties.
The specific plan is flexible so that the developer can determine which parts will be industrial and which commercial. City staff and the commissioners expressed the desire that there be no cultivation on the parcels that are adjacent to I-10. The developer who, BTW, is also developing the new San Diego airport that will be over by Otay Mesa (!!) says he understands and he wants his development to be top notch, so he wouldn't have put cultivation. Those parcels need to have businesses that attract people from the highway. Some of it could be ancillary marijuana businesses, like a bakery, a testing lab, whatever else I can't think of right now.
The Commissioners, recognizing the value of the site, said it would be a window onto Desert Hot Springs, so it needs to look really good. The developer agreed, saying it's in his interests to do just that.
The developer said this development will extend over years and nobody knows what's going to happen to cannabis in the future, and that's one reason for the flexibility in the specific plan.
The part of the site that is north of Varner Road extends into the MSHCP area, but it was said that development of 10% of the area within the MSHCP is permitted! I had never heard that before, and I'm sure there are more strings to it than simply wanting to build in the MSHCP. The developer said they might put solar or wind power there.
Varner Road, which goes through the project, is supposed to be paved to a width of six (6!) lanes. Both the developer and the commission agreed this was excessive to start with, since it just deadends and it will be years before six lanes are needed, so they're going to start with something less (to be negotiated with staff, unless the city council says different). Comparisons were drawn with the "Bridge To Nowhere" (the Alaska one, not the Los Angeles one). Some day (after your prince comes) 20th Avenue will also be paved coming east from Indian. It would make sense, IMO, to connect that with Varner.
Approved 5-0.

Cultivation: Collective Solutions
This is a CUP for a cultivation site of 22,176 s.f. total, in three buildings on 1.26 acres. It will be on currently unpaved 15th Avenue, between Little Morongo and Cabot Road. This will include two 10,000 s.f. greenhouses. There will be a temporary trailer, but that has to be out of there before August 13.
Approved 5-0.

Dispensaries: Special Dispensary Entitlements
Currently, our city ordinances define a dispensary (which must be located in a commercial zone) and cultivation (which must be located in an industrial zone). But what about baking? Tasting rooms? And very small scale dispensing, such as at a hotel? This ordinance attempts to address some of those issues.
It would define light manufacturing as any kind of production of cannabis products using only "chemical synthesis," by which they mean baking or infusing, but absolutely not any extraction.
A Special Dispensary Conditional Use Permit would be created for light manufacturing, hotels that want to dispense cannabis, and cultivators who want to have a tasting room in their facility.
A cultivator's tasting room would be limited to offering samples of products produced on that site only. There can be no on-site sales and consumption; i.e., the tasting is free. Any sales must be "off-site," that is you carry it away with you...like a liquor store, where you can buy alcohol but can't consume it on premises. For existing cultivation facilities, the Director of Community Development would be able to approve the Special Dispensary Conditional Use Permit in most cases.
Hotels could get a Special Dispensary Conditional Use Permit if they want to dispense marijuana. Note that any hotel that serves alcohol cannot also dispense marijuana under California state law. Any sales at a hotel must be for on-site consumption only. No off-site sales. Just like a bar that serves alcohol. You can buy it and drink it, but you can't walk out the door with the glass in your hand (except in New Orleans). No cultivation or manufacturing would be permitted at a hotel.
A Special Dispensary Conditional Use Permit would also allow light manufacturing in a commercial zone. The simple reason for this is that light manufacturing is not nearly as profitable as cultivation and light manufacturers cannot now afford the price of land in our industrial zones. Light manufacturing facilities that already have a CUP (there are some at the cultivation sites) can get a Special Dispensary Conditional Use Permit with approval just by the Director of Community Development in most cases.
Gretta Carter, who represents some cultivators and other cannabis businesses, made a public comment. She said this ordinance is "about 90% there." She suggested that the commercial zone also accept lab testing facilities.
Ryan Fingerhut asked that the ordinance be delayed so that small improvements can be made in it.
Andrew Milks of Brown Dog dispensary said there are safe extraction methods that don't use flammable solvents. He would like "light extraction" to be permitted in commercial zones. He thinks dispensaries should have the right to some light manufacturing.
The Commissioners discussed the issue of intoxicated driving that might result from tasting rooms.
Approved 5-0 with some clarifications of the language in the ordinance.
permalink | February 16, 2018 at 09:48 PM | Comments (0)
February 13, 2018
My First Hummingbird Nest
Just spotted it today when I noticed the future mother flying in exactly the same path twice very close to my house. I'll have to get a ladder to see down into the nest.
UPDATE: I can't get high enough on my ladder to see clear to the bottom of the nest, but for now here's a photo of the mother sitting.

\
permalink | February 13, 2018 at 11:48 AM | Comments (0)
February 6, 2018
Miller High Life/Molotov Cocktail in DHS
Molotov Cocktail Arrest

Support Services Manager Tom Pittenger from Desert Hot Springs Police Department · 34m ago

On 02/05/2018, at approximately 1630 hours, Desert Hot Springs Police Officers were dispatched to a residence in the 66000 block of 2nd St, reference a family disturbance. The occupants of the residence refused to cooperate but after approximately 30 minutes, they exited the residence after police officers conducted a surround and call out due to circumstances noted on scene.

A probation search of the residence was conducted. During the search, Officers located two Molotov cocktails in the kitchen of the residence. Cal Fire Law Enforcement Division responded to assist in the investigation.

Bernadette Noriega (age 49), Jesus Noriega (age 28) and Mario Vigel (age 19) were arrested for PC 18715-Possession of Explosive Device, PC 148(a)-Resist or delay Law Enforcement, PC 273A(a)-Child Endangerment as well as several other related charges. All three subjects were transported and booked into RSO Banning Jail.
permalink | February 6, 2018 at 07:20 PM | Comments (0)
January 28, 2018
Fitness Trackers
Here's the news story about Strava posting a "global heat map" of fitness tracker usage. The news concerns what it reveals about military bases, but I looked at the Strava heat map to see if it told me anything about Desert Hot Springs.

It seems to me that someone (or ones) in Mission Lakes Country Club are doing a lot of exercising. Some of the more heavily used routes around DHS are where cyclists ride, including the upcoming Tour De Palm Springs.
permalink | January 28, 2018 at 03:40 PM | Comments (0)
January 19, 2018
Desert Hot Springs City Council - January 16, 2018
These are some of what I think are the important bits of the January 16, 2018, meeting of the Desert Hot Springs City Council.

Fully Staffed Police Department
Five new police officers were sworn in. Chief Mondary said the police department is fully staffed. I think the definition of fully staffed is "up to the limit authorized by the City Council," because we all know our PD has never been staffed up the level we really need.

AIPP Cut To 0.25% In Industrial Zone
Some people didn't like that the AIPP rules were being assessed fairly for all kinds of property. That is, the value of the art or the amount of the in-lieu fee in effect since the program was approved in 2009 has been 0.5% of valuation for residential property and 0.75% of valuation for commercial and industrial properties.
The proposal was to eliminate the choice of putting a piece of art on site in the industrial zone. Development in the industrial zone would have to pay the in-lieu fee. I am not sure who didn't like it that the art paid for by the industrial developers would be displayed on the property developed. I didn't hear any of the City Council members express an objection to that.
This proposal went to the Planning Commission first, and they didn't like it. I could explain just why the Planning Commission didn't like it if the city's damn website would actually play the audio of that meeting, but it doesn't and they don't upload the audio to Youtube or any of the other several easy, reliable websites that actually play recorded audio flawlessly.
The choice before the City Council seemed to be to follow the Planning Commission's recommendation (leave things unchanged) or to re-insert the language taking the choice away from industrial developers. So imagine our surprise when Mr. McKee suddenly proposed to drop the rate for industrial development from 0.75% to 0.25%! Even more surprising was that Russell Betts immediately agreed to it! Ever since this program was approved, any mention of it would trigger a story-telling by Mr. Betts, in which story he would cast himself as the lonely white knight standing against everybody else who hates art. In reality, support for the AIPP program was widespread and the only discussion was the rates. The proposed rate was an even 1%, I believe, and Mr. Betts will tell you a story about how he had to fight to keep it as high as 0.75%. But now that it is 2018, he easily agreed to a two-thirds reduction in the rate.
Yvonne Parks had said she wouldn't vote for an ordinance that retained the 0.75% rate because she thought it was too high. But when the vote came, she still voted against it, even though the rate had been lowered to 0.25%. The vote was 4-1.
Some of the cannabis developers got up and complained about the surprising costs they've run into, and seemed to think this AIPP was something recently concocted to get more money out of them. In reality, the reason the cannabis developers are running into these expensive surprises is that many of them don't do sufficient due diligence (probably due to lack of experience in real estate) to find out all the expenses before they commit themselves. One cannabis developer argued that since he was having to build a road and put in underground infrastructure he ought to be excused from paying the AIPP. Again it's probably due to inexperience in real estate, but he didn't realize every developer is responsible for all that work and all those expenses. The city didn't come up with any new ideas to get in the way of cannabis development. Quite the contrary, they've now given them a two-thirds fee reduction.
In case you thought that the super-high price of land in our industrial zone would offset this rate cut, the cost of land is not included in the valuation against which the fee is assessed. IOW, it is a percentage of the value of the building only. Once you've removed the land cost, the value of the buildings will be whatever the usual value of such buildings are. The reduction in this fee is, therefore, a genuine cut to the amount of money that we would have expected to come into our AIPP fund.
Mr. McKee said he intended this to be temporary, and the council has asked that the ordinance be brought back before them in about 6 weeks to re-examine the rates. Mr. Betts said he didn't think it needed to be brought back; he was happy with the new 0.25% rate.

Resolution Setting Forth Certain Regulations Pertaining to Dispensaries
This item was removed from the agenda to be brought back at a later meeting. The proposed text in this agenda packet would have permitted a marijuana dispensary to change location, but they would still have to get a new CUP and any other of the usual necessary paperwork. The city started with 19 people who were allowed to seek a CUP and open a dispensary. Three of those people withdrew, leaving 16. Eight of those people have, indeed, opened dispensaries in town. The remaining eight still have all their rights intact, but the resolution would have specified that the right to apply for a CUP and open a dispensary is NOT transferable. The resolution also would have set the limit for cannabis dispensaries in the city at 16.
Here is a handy table provided in the agenda packet which you can use to keep track of the players. Click it for a bigger version.


New (and Re-Appointed) Commissioners
| | | | | | |
| --- | --- | --- | --- | --- | --- |
| | Matas | Parks | Zavala | McKee | Betts |
| CCAC | Michael Picardi | Barbara Eastman | Michael Burke | Untumane Turner | Donna Poyuzina |
| Planning | Dirk Voss | [hasn't decided] | Jan Pye | Larry Buchanan | Scott De La Torre |
| Public Safety | Donna Lozano | Lee Eastman | Nina Duarte | Walt Meyer | Ted Mayrhofen [this is not a typo] |

New Library
Riverside County has proposed to build a completely new library on the vacant land between Aqua Soleil and the new county building at Park Lane and Palm Drive, entirely at County expense. The current library is 3,500 s.f. The proposed library would be 15,000 s.f.
When the current library opened in 1972 the population of the city was less than 3,000 and half of it was senior citizens. The official population is 9 times greater now, and it's 40% kids 18 and under.
This item simply authorizes city staff to continue to work with the county on this. After construction of the new library the old library will be converted to a broom closet, but it won't be big enough to let everybody keep their brooms there.

permalink | January 19, 2018 at 11:05 PM | Comments (0)
December 27, 2017
Palm Springs Panorama from 2001

In 2001 I shot this panorama with Kodachrome from the intersection of San Luis Rey and Sky Point Drive. Today that would put me immediately between Lowes and Walmart on Ramon Road. In this photo Lowes would be on the right end of the photo, Walmart on the right.
Clicking the image will get you the full size version.
permalink | December 27, 2017 at 07:12 PM | Comments (0)
December 9, 2017
No Smoke Here

Desert Hot Springs today.
permalink | December 9, 2017 at 05:59 PM | Comments (0)
November 18, 2017
My First 4K Video
Waokiye at Cabot's Museum is the subject for my first 4K video.

I recently acquired a ThiEYE T5e which is $170 at Amazon, but just under $100 at GearBest which is in China. I know buying direct from China is a crapshoot, but a 41% discount is pretty substantial. Reviews of this camera point out that it is genuine 4K, not interpolated from 1080p.
I have a 4K display, but my Mac Mini can't do any better than 1080p, so the only way I can see this in 4K is to connect the camera directly to my monitor and play it from there. I also don't have any software that can output a 4K video, so I can only upload them exactly as shot. Can't even trim off shaky starts or ends without lowering the resolution to 720p.
The video above is on Vimeo, who claims they don't degrade videos. I've also uploaded this video to YouTube which supports 4K, but they degrade the videos somewhat. If you think you can see the difference, here's a chance to do an A/B comparison.
permalink | November 18, 2017 at 04:45 PM | Comments (0)
September 22, 2017
Nude Bowl, With History
permalink | September 22, 2017 at 05:34 PM | Comments (0)
August 21, 2017
Ivan Sewell New Commissioner At MSWD
With a unanimous vote, the MSWD board selected Ivan Sewell to take John Furbee's spot on the board until the next election, November 2018. Then, the voters will get a chance to re-elect him to the remaining 2 years of Furbee's term, or elect someone else.

The two other candidates were perennial candidate Malcolm MacLean and Steve Grasha. Mr. Grasha is the inventor of the misting system, which is so ubiquitous here in Coachella Valley, if I understood him correctly. He's also working with the Trump campaign in some capacity and said that after the meeting today, he was heading over to Arizona. He seemed a bit reluctant to bring this up, at first saying he had been working for a candidate for "national office." There being only two elected national offices in this country, it wasn't hard to guess who he meant, but it became clearer when he referenced Arizona and said that he knew his views on who is in the President's office were not popular in DHS. He never named Trump.
I have been disappointed with the MSWD board's reluctance to replace Mr. Furbee before he passed away. We could have had Mr. Sewall working for the public good months ago.
permalink | August 21, 2017 at 04:10 PM | Comments (0)
August 4, 2017
New Riverside County Building

In Desert Hot Springs.
permalink | August 4, 2017 at 11:28 AM | Comments (0)
John Furbee Memorial - August 18
permalink | August 4, 2017 at 11:01 AM | Comments (0)
July 14, 2017
John Furbee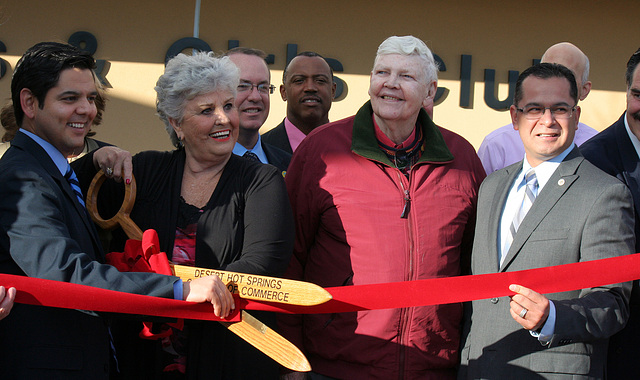 L to R: Rep. Raul Ruiz, Mayor Yvonne Parks, Councilmember Scott Matas, unknown man in back, John Furbee, V. Manuel Perez at the ribbon cutting for the Health & Wellness Center in 2013.
John Furbee - Local Philanthropist, Businessman and Civic Leader Passes Away

Desert Hot Springs, July 13, 2017: It is with tremendous sadness that we announce the passing of John Furbee, a long-time Desert Hot Springs philanthropist, businessman, civic leader and youth supporter. John passed away on July 12, 2017 surrounded by his loving family, following an extended illness.

John Furbee arrived in Desert Hot Springs over 50 years ago, and quickly established the well-known DHS Drug Store. He went on to own and operate several successful businesses within the city and served the community as the President of the Boys and Girls Club and Mission Springs Foundation and sat as Chairman of the Board of both the Desert Hot Springs Planning Commission and Desert Hot Springs Economic Committee.

His commitment and dedication to the city earned him the distinct honor of being named the Senior Inspiration Award Recipient for the City of Desert Hot Springs in 2006 and in 2012 the City Council named the Aquatic Center at the Community Health and Wellness Center the "John H. Furbee Aquatic Center" in his honor. This dedication was based on the significant contributions John made to the community he loved so much, including the donation of the property upon which the facility was built and a significant monetary contribution toward the Center.

John Furbee was a community hero, known for his dedication to the youth, animals, and local charity's. He had a kind heart and will be sorely missed by our entire community.
permalink | July 14, 2017 at 01:13 PM | Comments (2)
July 10, 2017
Action Figure Family Donation Request
These are photos of the creation of the Action Family Figures, which is taking place right in lovely Palm Springs. I think that you'll agree that, like every great art project at Burning Man, this one will bring about world peace and a transcendent consciousness linking all souls. If not that, it will at least generate surprise. The playa has never seen anything quite like this. It's going to be four mannequins covered with the action figures, Lego people, Muppets and even Happy Meal toys that young Jallen has been acquiring throughout his 50-odd years, 20 of which he has spent as a Burner. Do you see the Viewmaster serving as the eyes for the little boy? Look into the little boy's eyes and you'll see some of Jallen's photos from the last 20 years of Burning Man. Of course, you'll have to come to Burning Man or one of our work parties to do that.
Besides its stunning artistic qualities, this project is what's getting me to Burning Man this year. Now I'm working for the price of my admission. Working on this project will get me a ticket, a vehicle pass and an early arrival pass! If they would throw in a free shower on the playa, it would be an even better deal, but that's not to be this year.
Who are the patrons supporting this Sistine-Chapel-of-the-desert? Uh, well, me...and others, and you should too. I've actually contributed more than the value of the ticket & VP, so now it's your time to join the fun.
Go here to make a donation, and don't shy away from a 4-digit donation. Check out the rewards you get for one of those!
You get real value for those, not just a t-shirt or other souvenir. And Jallen's going to tell me who made contributions.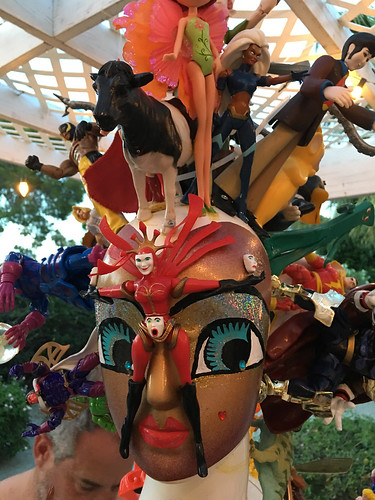 The complete set of photos is here.
permalink | July 10, 2017 at 06:01 PM | Comments (0)
June 30, 2017
Some Photos
Some photos not previously shared.

The stage at Long Beach Opera at intermission during The Perfect American.

This is not an old sign.

I've got my eye on this pink Barbie.

Edward Wenzlaff Education Center, formerly Edward Wenzlaff Elemntary School in Desert Hot Springs.

Like it says on the label.
permalink | June 30, 2017 at 10:23 PM | Comments (0)
June 20, 2017
Desert Hot Springs Planning Commission - June 13, 2017.
Commissioner De La Torre was absent and one seat is vacant, so there were just three commissioners present.
11940 Palm Drive

Over the years I've heard a lot of reasons why nothing could be done about this building at 11940 Palm Drive which I have considered the worst eyesore in the city since I moved here, 13 years ago. Black mold so serious that the only complete demolition could deal with it. Demolition couldn't be immediate because cellphone towers on the roof would have to be moved. We can't locate the owners. As the Inland Empire's largest dovecote, we would have to get permission from the US Department of Interior to kill all those birds. Okay, just kidding about that last one.

Evidence that the city at least sicced Code Enforcement on the building in 2010. There was some improvement in the property following that.
Turns out none of that is true. All the building needed was an investor willing to pour money into it, and we've got one now, thanks to marijuana!
The matter of a conditional use permit for that building as a medical marijuana dispensary came before the Planning Commission last Tuesday night. The applicant (Stephanie Bodde and Desert Hot Springs Dispensary) had previously applied for a CUP for a dispensary at 66406 Pierson. That application was turned down at the March 8, 2016, Planning Commission. The main issue was lack of parking and the fact that nearby Rose Mortuary also objected to it. I thought that was the least we'd hear of them, but they went and found a better location.
There will be no other tenant in the approximately 6,000 s.f. building. The site has 20 parking spaces, two more than the minimum required. Entrance and exit will use the east entrance. The north and south doors are for emergency use only. Most of the second floor will go unused.
Chair Voss said that some residents may be concerned that too many dispensaries are concentrated in this area, but he went on to say that every dispensary in town moved into a substandard building and improved it. I think the two dispensaries in the Mission Lakes shopping center are pretty obvious exceptions to that. The IVTHC dispensary at 11555 Palm Drive opened in a fairly new building. But he's right about all the others. He wanted to make some changes to the external appearance of the building at 11940 Palm Drive to make it look better. He likes the new paint color that you see on the building now (brown), but he wants one additional color to be used, so it isn't just one big blob of brown. He would like to see more landscaping. He would like to see window treatments with wrought iron, and rock treatments on the exterior. He said he was going to leave the details of these matters to be hashed out between the applicant and city staff. The chainlink fencing will be removed (of course) and Mr. Voss would like to see a combination of block and wrought iron wall erected.
Commissioner Larry Buchanan said the building was erected in 1985 by Jack Webb for his real estate office.
Approved unanimously.

Other Planning Commission Actions
The city approved the Ho Ho Express Private Fueling Station to be located on Little Morongo south of Dillon a couple of years ago. The project has been delayed because the Coachella Valley Water District required them to build a 1½ mile water line. They were before the Planning Commission only to get a one-year extension of their entitlements. This was approved unanimously.

That Distribution Center to be constructed on the east side of Indian between 18th and 19th is still identified as a "Distribution Center" on city paperwork, even though the site will now be marijuana cultivation. Originally approved by Riverside County, several time extensions have been granted the project. This evening they came before the Planning Commission seeking another extension to November 2017. An extension will keep their mitigated negative declaration valid, so they can avoid having to go through a CEQA process. Approved unanimously.

Another marijuana cultivation project, Desert Grow, to be located on the north side of Palomar Lane in a site that has not been previously developed was approved 2-0-1 with Commissioner Buchanan abstaining.

Still another marijuana cultivation project, Din Cultivation, will be located on the southeast corner of Palomar Lane and Little Morongo, also previously undeveloped. This one was approved 3-0.

For a change of pace, the Commission then took up a proposal for a marijuana cultivation facility, Kim Cultivation, on undeveloped land on the north side of Palomar Lane, but further east than Desert Grow. This was approved 3-0.

Next, to really mix things up, the Commission considered a marijuana cultivation project located not on Palomar Lane. This one, MIRO, LLC or Desert Springs Cultivation, will be on San Gorgonio Lane. Approved 3-0.

Victor Muñoz brought a proposal for the Starlite Lodge Motel to the Planning Commission. The Starlite Lodge Motel is located on Palm Drive, a bit south of Hacienda, across the street from the Stater Bros. parking lot. He proposes to remodel and expand the existing one-story building and erect a new two-story building on a parcel south of the one-story building. The bus stop located there will not be moved. The developer says that they expect to do well because there is no motel in that area, and it's close to a lot of restaurants. That motel at Palm and Ironwood which has been undergoing incremental improvements for years does not seem to be a competitive threat.

Approved 3-0.

The next item was a proposal to allow Post and wire fencing, not to exceed 48 inches in height, \along the perimeter of vacant property. "Post and wire," I take it, is legalese for chainlink fencing. The intent is to discourage illegal dumping on vacant parcels. Approved 3-0.

DHS Properties which already has approval for a marijuana cultivation site on Two Bunch Palms Trail returned to the Planning Commission only to get an amendment to their Development Agreement to permit extraction and manufacturing at the location. Approved 3-0.

Commissioner Romero asked if there is a moratorium on new residential construction in the Hot Water Overlay zone. Community Development Director Daniel Porras said he doesn't think there's a Hot Water Overlay zone (see, he's still new), but he would find out if there is a moratorium. Mr. Porras thought she had it confused with the Spa Zone sign toppers.
permalink | June 20, 2017 at 10:17 PM | Comments (0)
April 26, 2017
Desert Hot Springs Public Safety Tax Survey
The two public safety taxes in Desert Hot Springs are set to expire in a couple of years, so, as before, the city hired a firm to survey the residents on how they saw things. They've published three documents from that survey which are available on the city's website. Here's one, the press release:
A recently commissioned independent survey shows 70% of respondents approve of the job the City of Desert Hot Springs is doing to provide city services. "We are thrilled that residents can see our hard work paying off. We appreciate their feedback very much," said City Manager and retired Police Chief Charles Maynard.

Amid nearly $10 million in state takeaways, the current administration and Council have avoided bankruptcy, reduced a $6 million deficit, maintained emergency reserves, and took [sic] steps to improve transparency. In March, the City was assigned an "A" rating with a stable outlook from Standard and Poor's for the 2017A and 2017A-T lease revenue bonds. Their Report cited strong fiscal management, budgetary performance, and liquidity as crucial factors for the positive rating.

"We must continue this momentum to secure our City's ongoing financial stability, safety and quality of life. We have taken decisive action to improve fiscal stability and public safety," continued City Manager Maynard. The City's overall crime rate has decreased 18 percent in the past year.

Constituents are particularly interested in maintaining and preventing cuts to public safety, including crime investigation and prevention, recruiting and retaining experienced police officers, increasing drug house investigations, and maintaining anti-gang and anti-drug programs.

"This community input is invaluable as we continue to work to decrease crime in Desert Hot Springs. Reducing and preventing crime, drugs, and gangs not only makes us safer, but more attractive to businesses that can revitalize our City. While we have reduced our overall crime rate, we must stay focused on patrolling our neighborhoods, anti-gang programs, cracking down on parole violators and monitoring sex offenders, even as the state continues to put more offenders back on our streets," elaborated Police Chief Dale Mondary.

The independent community survey was conducted March 24-30 by the highly respected opinion research firm Fairbank, Maslin, Maullin, Metz & Associates (FM3 Research).

Constituents also overwhelmingly perceive there is a need for additional local funding with 87% saying there is "great" or "some" need. A majority, 57%, say there is "great" need.

Constituents expressed interest in the concept of continuing local, voter-approved funding to maintain and prevent cuts to public safety services with percentages as high as 77%. Existing, voter-approved local funding provides $5 million dollars annually for police officers and emergency response dispatchers, anti-gang enforcement operations, graffiti removal, code enforcement, and other public safety services. By law, all funds are specifically used only for Desert Hot Springs public safety services and are critical to the safety and survival of the City.

The City will continue to solicit feedback from the community about their public safety budget priorities. Residents can provide input and get more information by visiting: www.cityofdhs.org/Public_Safety_Conversation
Another document is a Powerpoint presentation summarizing the findings.
The survey consisted of 271 interviews conducted by landlines, cell phones and on-line. Seventy percent of respondents say they either strongly or somewhat approve of the city's work to provide services. Eighty-seven percent say there is a either a great need or some need for more funding for the city.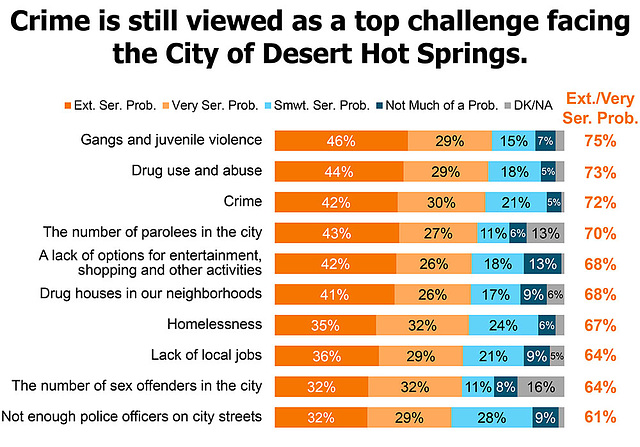 Summarizing these issues, from top to bottom, they are
public safety
public safety
public safety
public safety
not much to do [economy?]
public safety
economy
economy
public safety
public safety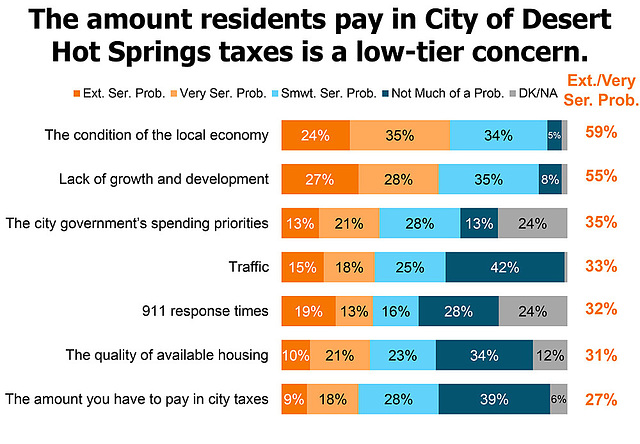 Of these seven issues, local taxes are the least concern.
Compared to ten years ago, residents now are more concerned about parolees, crime, gangs and juvenile violence. They have become less concerned about city taxes, the number of police officers, the number of sex offenders and the condition of the local economy.
Here's the language that would describe an increase in the utility users' tax, which is currently 7%.
To maintain and increase rapid police, fire and 911 emergency response times; police training, recruitment/retention; and crime investigation; and to hire additional police officers to patrol streets, shall the City of Desert Hot Springs increase its existing, voter-approved utility users' tax by 2%, raising approximately $714,000 [additional] annually, until ended by voters, with independent citizens' oversight, annual audits and all fund required to stay local?
I want to point out that the proposal is not to raise the UUT by 2%, but by two percentage points to 9%. An increase of only 2% would change the rate of the UUT to only 7.14%.
67% of likely voters said they would definitely or probably vote yes or were undecided but "lean yes." The no vote came to 29%, with 5% genuinely undecided and not leaning.
Here's the text for an extension of the public safety parcel tax:
To prevent essential public safety services cuts such as police/emergency response, anti-gang/drug, youth violence prevention and sex offender/parolee monitoring programs, shall the City of Desert Hot Springs extend its existing, voter-approved public safety measure providing approximately $2 million annually at the current rate of $135 per single-family residence, until ended by voters, requiring citizens review, audits, all funds to stay in Desert Hot Springs, with no tax increase for these parcels?
Note that this survey question does not say what will be done with the public safety parcel taxes for hotels, multi-family housing, commercial or industrial parcels. I imagine they would be considering increasing those, but they don't say that. But the question as is generates a 77% yes rate, which includes 54% definitely yes, 18% probably yes and 4% undecided but leaning to yes. 17% answered no. Six percent undecided. If they restrict the answers to likely voters, the yes rate increases to 78%; the no rate stays at 17%.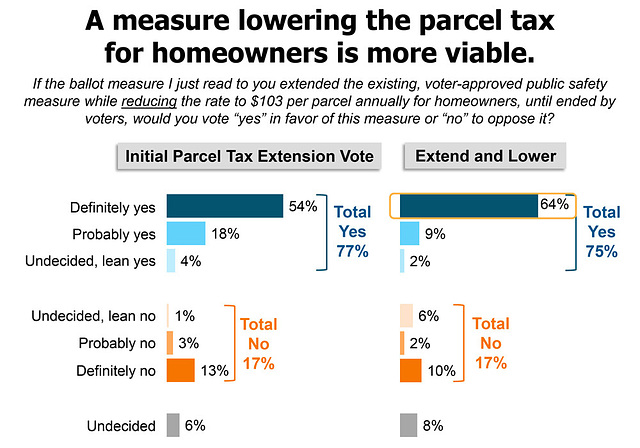 Check out the heading for this page and then look at the data. Offering a tax cut lowers the total yes vote from 77% to 75%, but those answering definitely yes rose from 54% to 64%. 73% say they definitely or probably would vote for a tax cut, which is one point more than the definites and probablies for holding the rate at its current level. The undecided, but lean yes drops from 4% to 2%, but the those who say they are undecided but lean towards no added to those who are simply undecided goes up from 7% to 14%. I'd say the two offers are equally viable, which is pretty surprising to me.
Democrats give the parcel tax proposal an 83% yes rate, Republicans a 75% yes rate and independents 63%.
Latinos support it at the rate of 92%(!) while whites support it at the rate of 71%.
Homeowners support the parcel tax measure at the rate of 73%, while 83% of renters support it.
The measure draws support ranging from 74% to 79% regardless of how long the voter has been residing in DHS.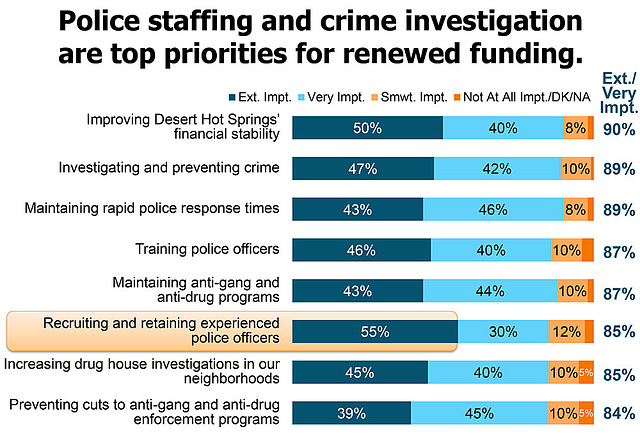 Check out that highlighted item, "Recruiting and retaining experienced police officers." While overall support for that is a tad lower than the five items listed higher, those who answered "extremely important" rose to 55%, the highest rated "extremely important" issue.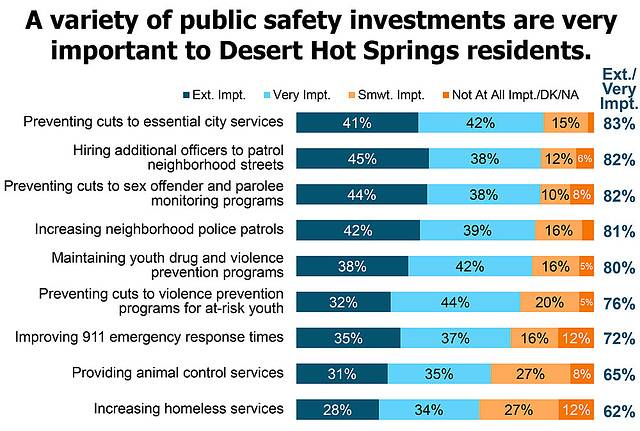 permalink | April 26, 2017 at 07:55 PM | Comments (0)
April 22, 2017
Action Figure Family Fundraising Party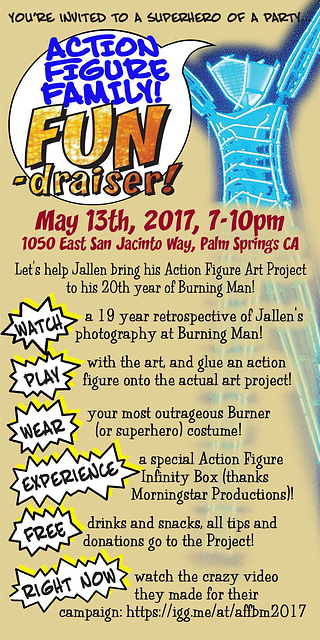 This is a fundraiser for the first art project that I've ever worked on for Burning Man.
Here's the Indiegogo page for donations.
permalink | April 22, 2017 at 11:21 PM | Comments (0)
April 15, 2017
MedMen Cultivation Facility
This coming Tuesday, the marijuana cultivation facility proposed by MedMen will come before the Desert Hot Springs City Council. I wanted to share a few images from their proposal to build at Hacienda and Little Morongo. There's no paved Hacienda on the east side of Little Morongo, but on the west (county) side it's paved and called 13th Avenue.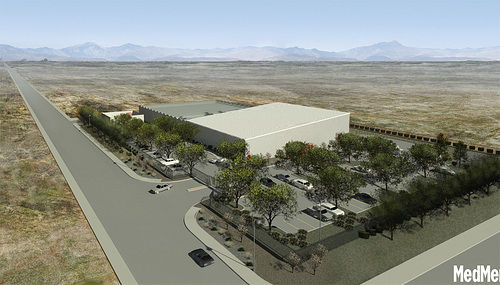 The little red figure on the right of the driveway is the public art contribution.

Here's a closer view. They almost look like penguins, don't they? The artist will be Gerardo Hacer.
The piece will consist of two red metal penguins in origami form. MedMen's COO and cofounder [Andrew Modlin] envisioned a piece that drew upon his own affinity for penguins, which frequent his own original paintings. and functioned as a juxtaposition between penguins' natural habitat and Desert Hot Springs' climate. Furthermore, the penguins' lifelong companionship and partnership is emblematic of our hope to build a lasting relationship with the City of Desert Hot Springs. The installation is red as that is MedMen's signature color.
MedMen broke ground on a cultivation facility in Reno last year.

permalink | April 15, 2017 at 03:55 PM | Comments (0)
March 29, 2017
Good Nude Bowl Video