April 12, 2016
Toy District
The Los Angeles Toy District is "bounded by Los Angeles Street on the west, Third and Fifth streets on the north and south and San Pedro Street on the east."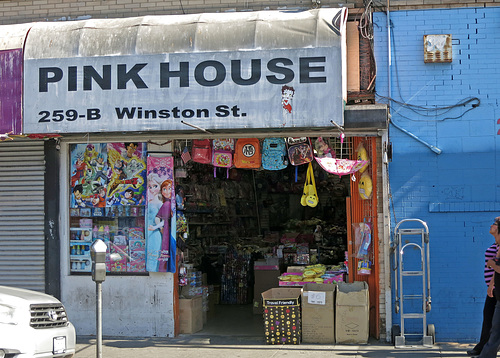 Nothing especially pink in there.

Marijuana supplies.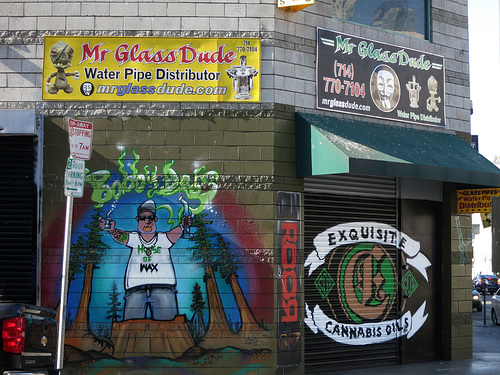 More marijuana supplies.

Where do you stick the firefighter's key?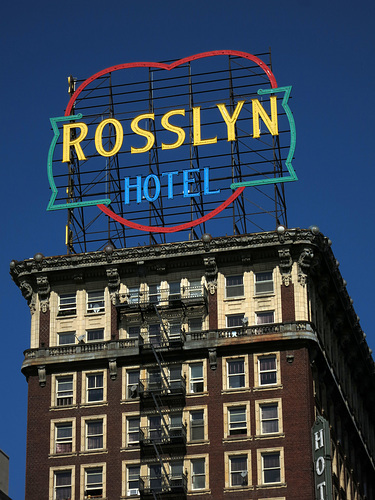 permalink | April 12, 2016 at 07:09 PM | Comments (0)
April 3, 2016
DHS Walmart Petition
I finally got around to reading the Walmart petition. There's no game-playing in it that I can detect. No exemptions from any taxes or fees. In fact, they'll kick in an additional $75,000 on top of the DIF fees. That's supposed to help pay for something at what will be the future intersections of Cactus and Camino Aventura and Claire Avenue—although I don't think $75,000 would cover very much. Here are some of the bits I found interesting:
Permitted to be open 24 hours.
Exterior payphones permitted. Open 24 hours, outside payphones, right across the street from Dos Palmas. Potential for a public safety issue there.
Landscaping will be xeriscape, but they don't say they will conform to MSWD's ordinance on this.
They will need to extend a 1,806 foot sewer line from Camino Idilio.
Palm Drive will be widened to allow for a right-turn lane.
Traffic signals will be installed at Camino Aventura and Palm Drive.
All (or almost all) of the lighting will be LED. There will also be a daylight harvesting system (is that like a sophisticated skylight?) and a computer controlled continuously active system that adjusts lighting up and down.
Waste heat from refrigeration will be captured and used to heat water.
The site will be inspected for desert tortoises and burrowing owls. But they don't make any promises about any other endangered creatures or plants.
They will also observe the usual rules if they discover archaeological artifacts.
Summary: if you want the Walmart, you can sign this petition with a clear conscience. Unless somebody wants to point out some heinous provision in it that I missed.
permalink | April 3, 2016 at 10:18 PM | Comments (0)
Los Angeles Public Wi-fi
There was a half-million dollar grant to provide free public Wi-fi in areas of Los Angeles. The company setting it up said "it had deployed free Wi-Fi hot spots at eight parks and 16 community Wi-Fi networks." "The [Los Angeles] Times checked seven parks and 11 network locations, finding no Wi-Fi at any of them."
permalink | April 3, 2016 at 08:41 PM | Comments (0)
Art In Downtown L.A.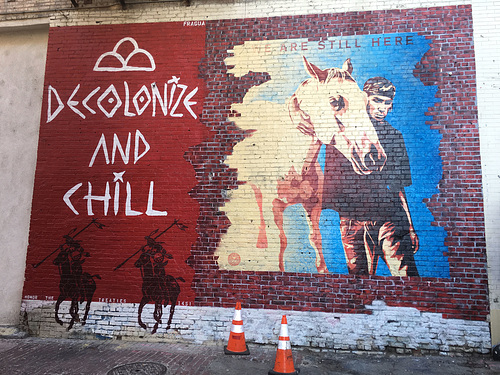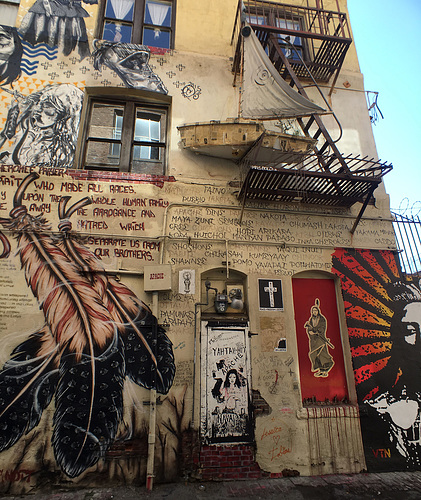 More photos from this alley as well as photos inside the adjoining artist's studio can be seen here.
permalink | April 3, 2016 at 06:05 PM | Comments (0)
March 13, 2016
DHS Planning Commission - March 8, 2016
Box Score
Dispensaries approved: 3
Total dispensaries approved: 12
Dispensaries open: 5
Dispensaries denied: 1 (technically a continuation, but it's going to be denied)
Cultivation facilities approved: 1
____
Dirk Voss presiding at first, as Chair Cathy Romero was late, but Ms. Romero arrived before the Commission had even approved the agenda.
City Manager Magaña and Financial Director Tanner spoke at length about the budget and taxes. After years of underspending and cutbacks, whaddayaknow, there's a lot of critical stuff that's going to start failing. Like staff, even. And some taxes are going to expire. [My editorial: meanwhile the City Council (well, three of 'em) have voted not to even study new or revised taxes.] But I'll spare you the really bad news.
As with last month's report, just the marijuana:
Benno Pabst and Valley Compassionate Care
This is a proposed CUP for a medical marijuana dispensary at 11522 Palm Drive, which is the southeast corner of 4th and Palm, the old chiropractor's office which is 1,207 square feet. Parking for 6 vehicles is proposed to be on the south side of the building (where there may also be a mural) with access via the alley. Four head-in parking spaces on 4th will be eliminated.
Commissioner Cirner recused himself due to a possible conflict of interest.
Benno Pabst was not present this night for health reasons, but his representative was there and spoke. Pabst owns the building outright.
There was a lot of discussion about the parking. Staff had first laid it out with diagonal parking so that patients would drive in from the alley and exit on Palm Drive. The Commission thought it would seem more sensible to drivers coming up Palm Drive to reversed that. Now, the thing I wonder about is left turns from southbound traffic. That entrance on Palm Drive is only 25 feet away from 4th Street.
Approved 4-0.
Yes, there will be two dispensaries directly across the street from each, so there will be no need to run across Palm Drive at night wearing dark clothes, right? And that ought to solve the problem of left turns too.

Lisa Lozano and Stephanie Bodde and Desert Hot Springs Dispensary
Another proposed CUP for a medical marijuana dispensary. This one was continued from last month. You may recall that potential neighbor Rose Mortuary raised objections about inadequate parking. There were other issues as well.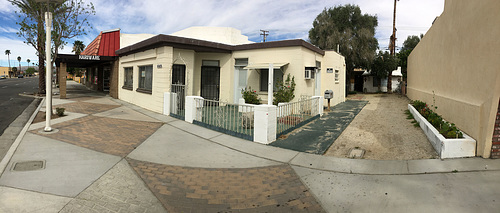 Chair Romero said that she could see all of the issues she had with this CUP had been addressed.
Thomas Moen, manager of Rose Mortuary, said he was concerned a dispensary could conflict with his business. Parking only in the street is still an issue.
Michelle and Michael Lally both expressed their support for medical marijuana generally, and spoke well of Stephanie Bodde. Mr. Lally also criticized Rose Mortuary, saying they both serve the same community, one in life and one in death.
David Lally (son of Michelle and Michael, if you hadn't guessed) talked about the tax benefits to the city. He described the personal experience with medical marijuana by a friend.
Jordan Bratonburg, owner of Rose Mortuary, also shared a personal experience in his family. He was concerned that some of his clientele would be offended by the proximity of the dispensary.
The applicant said that her security guard would not let her clients park in the Rose Mortuary parking lot.
Vice Chair Voss said that he, too, was concerned about the parking situation, especially the lack of a designated handicapped parking space. He also wanted to clarify what will happen with the small house in the rear of the property. He said this is the wrong location for a dispensary.
Commissioner De La Torre said he agreed with Mr. Voss.
Commissioner Terifaj said these were all the same issues brought up last month and that she, too, thought it was a poor location for the dispensary.
Rich Malacoff asked the Commissioners to specify which findings in the prepared CUP the Commission would determine had not been met. Then staff would use that information to craft a legal resolution of denial and bring it back next month. Staff prepared only the positive resolution of approval for the agenda packet, not wasting time on a negative just in case.
Ms. Terifaj cited the parking issue as the reason to deny.
The applicant came back to the podium to say that an elderly gentleman lives in the house in the rear and that he is a member of her collective. She does not want to kick him out so that she can tear down the house for parking. She was not aware of any problems with parking until this meeting. (It did come up as an issue the previous month, though.)
The Chair reopened the public hearing at the suggestion of the city attorney.
The applicant said she had an informal parking survey done at the Brown Dog dispensary which is east of Palm on Pierson. Over the course of a week there was only one time during the day when there were three cars there and the overlap was for only two minutes. In the evenings there would sometimes be as many as three cars there. She expects the same traffic at her dispensary. Street parking would handle that small amount.
Vice Chair Voss moved to continue this until next month at which time staff will have prepared the proper denial paperwork. Approved 5-0.

Eduardo Rivera and D.H.S. Alternative Healing Corporation
How about another CUP for a medical marijuana dispensary? This one is also continued from last month (and the month before that, IIRC). The continuance was to allow a neighbor to come in and comment on this. No changes have been made from last month. This one is going to be at 66328 Pierson Boulevard.
>
Unfortunately, the aggrieved neighbor did not show up. There were no public comments at all.
Vice Chair Voss moved to approve with the additional requirement that there be no neon lighting. Approved 5-0.

Dino Sogoyan - Desert Hot Springs, Collective, Ltd.
This item is a CUP for a medical marijuana dispensary to be located at 66292 Pierson Boulevard. That's just to the east of Wiefels Mortuary.
The monument sign in front of the building will have to be upgraded to meet current sign standards. The applicant is buying the property and said he plans to tear down that monument sign.
Commissioner Cirner moved to approve with the additional requirement that they come up with a different color scheme (and no neon). Approved 5-0.

Adrian Sedlin - Canndescent, MBC
This is for a CUP for a marijuana cultivation facility at 65334 Two Bunch Palms Trail, which is currently occupied by an auto repair business and tire recycling business. The two buildings are about 4,800 square feet each.
The applicant says he hopes to be operating by June 15.
Vice Chair Voss moved to approve with the addition of a ban on neon signs. Approved 5-0.

Other Things
The Planning Commission also approved a design review and development permit for a warehouse and retail facility for Angel View on Dillon Road.
They also appointed Andrew Cirner to the Arts District Committee.
permalink | March 13, 2016 at 09:47 AM | Comments (1)
March 7, 2016
The I-10 Express Lanes
Back in January I had my first opportunity to use the express lanes on I-10 heading into Los Angeles and, boy, I was impressed! The regular lanes were a parking lot while I passed them doing 80 MPH. Last weekend I used them again and discovered congestion pricing. The first time I drove them, it cost me $2.60. This past weekend it was only $1.10! Cheaper than a bus ride! You have to have Fastrak, but getting set up with a Fastrak device costs you nothing at all. Sign up online, linking it to a credit card, and everything gets mailed to you. Stick it on your windshield and you don't have to think about it again, unless you have more passengers. You can set it to say you're solo, have two in the car, or more than two. Pricing may vary. I got it initially for the bridge tolls in the Bay Area. There is no way to pay your toll in person on the Golden Gate anymore. It's either Fastrak or go online afterwards and pay it.
This video picks up where I'm transferring from southbound 605 to westbound 10 which is where the express lanes begin. If they can ever extend them further east, that will be wonderful! The predictable permanent backup on I-10 begins east of the 605.
The thing to note in this video is that the regular lanes of I-10 on my right are mostly a parking lot, while I'm staying in the 70-80 MPH range. This is one of the very few places where I think the leftmost lane is where you should do most of your driving, while passing on the right. This gives you a buffer of one lane most of the time between you and the parked cars. One stupid driver opening his door, unaware of the faster traffic immediately to his left, and everything goes to hell.
As it approaches downtown there is a split between I-10 and 101. I've only followed the 101 branch. It crosses the L.A. River and puts you on Alameda Street right at Union Station. There's an entrance right there to get you back on the 101. But in this video I exited the express lane just before the bridge over the river. Would've been faster to stay in the express lane.
An interesting thing about the congestion pricing is that if the average speed in the express lanes drops below 45 MPH, Fastrak customers will no longer be permitted to enter, as the lanes will be reserved for those vehicles qualifying for HOV status.
permalink | March 7, 2016 at 12:01 PM | Comments (1)
February 20, 2016
Great Los Angeles Walk Photos
I winnowed my photos from the Great LA Walk (November 21, 2015) down to the 1,930 best ones that you can see here. Blut I think the easiest way to see them is via this video slideshow which is only a little more than half an hour long, if you watch all of it. Most of the photos are from my GoPro, but I shot some with my pocket camera.
permalink | February 20, 2016 at 09:32 PM | Comments (2)
February 17, 2016
L.A. Parcels
There is a bot that is identifying a Google street view image for every parcel in Los Angeles and posting them to Twitter in order by Tax ID! Here's the Twitter feed.
permalink | February 17, 2016 at 01:17 PM | Comments (0)
December 6, 2015
Ghost Roads
An interesting article about unusual diagonals seen in Los Angeles as viewed from above. They seem to be the remains of old rights of way, streets, streetcar tracks.
permalink | December 6, 2015 at 12:18 PM | Comments (0)
November 30, 2015
Los Angeles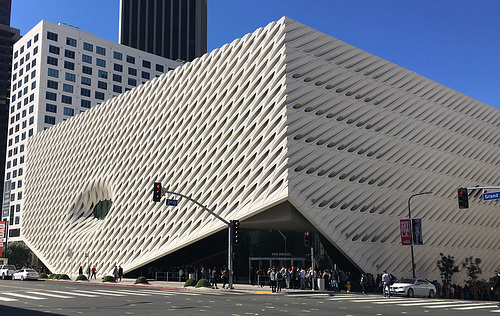 The Broad is now open, the tickets are free, and the lines appear to be long.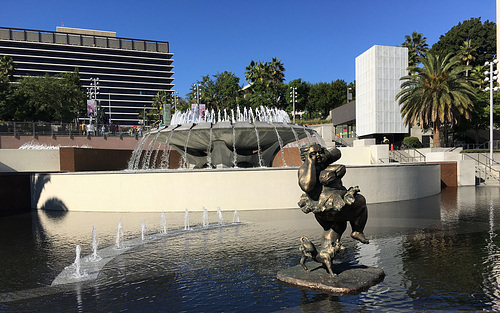 In Grand Park with the LADWP in the background.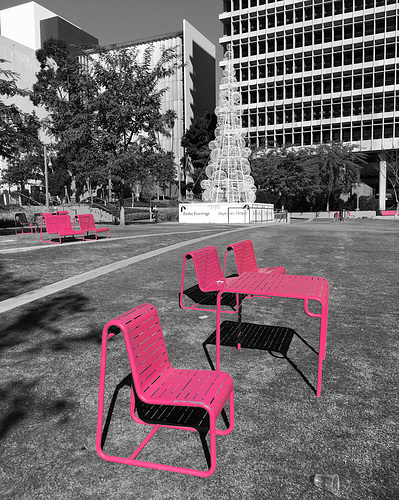 Grand Park.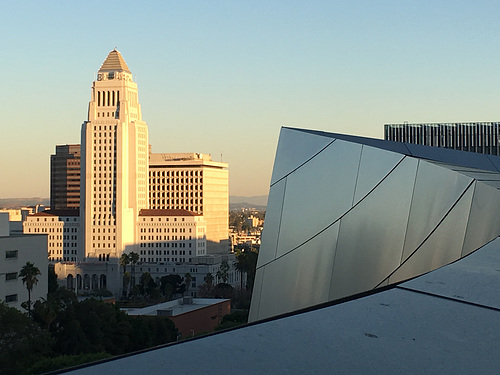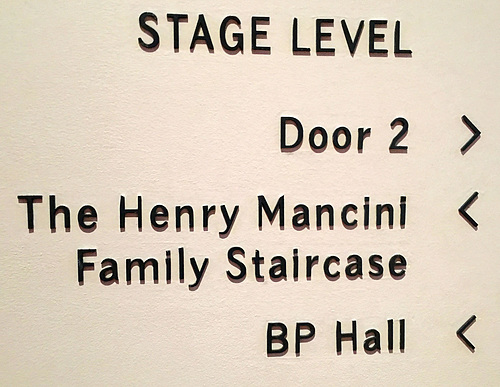 In Disney Hall.
permalink | November 30, 2015 at 07:31 AM | Comments (1)
October 26, 2015
Mission Lakes Country Club

From a few years ago. Can someone estimate the date based on the surrounding construction? Photo by Michael Rymer.
permalink | October 26, 2015 at 08:42 AM | Comments (1)
October 25, 2015
Marijuana Real Estate
In central Denver 9% of the industrial buildings are now being used to grow marijuana. That comes to at least 3.7 million square feet. But one person says that those facilities are not being fully utilized yet, so he thinks the market will cool for a bit.
The article includes an interesting map of all the marijuana grow facilities in Colorado. There are 487 in the Denver area. As you click on the numbers the map zooms in and you begin to see that some small areas of the city have large numbers of grow facilities.
permalink | October 25, 2015 at 10:10 PM | Comments (0)
October 23, 2015
Well, This Explains That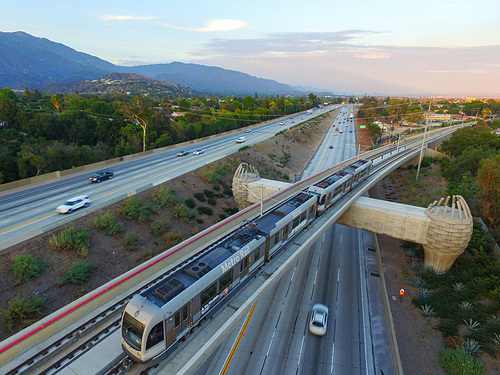 The extension of the Gold Line along the 210. I first noticed this bridge sometime last year, I think. I thought it strange that I couldn't recall noticing the distinctive design, nor could I recall a lot of construction in that area. I thought maybe I had just been paying too damn much attention to traffic. But, now I learn that it is a new bridge and it's for the Gold Line extension.
permalink | October 23, 2015 at 12:21 PM | Comments (0)
October 17, 2015
Downtown Los Angeles

As seen from Baldwin Hills Scenic Overlook.
permalink | October 17, 2015 at 10:03 AM | Comments (0)
October 12, 2015
A Little History Of Jaywalking
The right thing to do, now, is to watch that video on your mobile device while actually jaywalking. When they come to scrape your remains off the pavement they'll find your phone or tablet telling them the sad and sorry truth that you were morally superior right up until the car got you.
permalink | October 12, 2015 at 04:52 PM | Comments (0)
August 21, 2015
The Hollywood Freeway Today & Tomorrow
permalink | August 21, 2015 at 09:16 PM | Comments (0)
Opening Of The Hollywood Freeway
Silent film from 1950. Watch to the end and tell me if it doesn't seem that the Hollywood Freeway was built with sidewalks...or A sidewalk.

permalink | August 21, 2015 at 09:08 PM | Comments (0)
August 19, 2015
Hyper Video Survey Of Los Angeles
Some class in video production must have just graduated in L.A. because here's another video survey of Los Angeles, but much faster and flashier.
permalink | August 19, 2015 at 04:40 PM | Comments (0)
Aerial Video Survey Of Los Angeles
Not 100% pure Los Angeles, though. There's Santa Monica and Beverly Hills for sure, and there's probably a piece of West Hollywood and Pasadena in there too.

permalink | August 19, 2015 at 04:20 PM | Comments (0)
August 17, 2015
Corona to Palm Springs
While driving along CA-91 on one of the hottest days this summer my Ford Ranger seemed to lose its air conditioning. I didn't notice the temperature gauge climbing severely. What had happened was a small plastic part in the heater core had failed (after only 215,000 miles!). I drove probably another ten miles and didn't realize the trouble I was in until I pulled off for gas. When I stopped, steam was pouring out from under the hood. I thought I had blown the water pump, since that is also still original equipment, but it wasn't that. AAA covered my tow back to my mechanic in Palm Springs, about 85 miles one way.
And I took what I hope is a rare opportunity to video the route from a bit higher than I usually sit. I just left my dashcam turned on. Most of this video is at 12X speed. The parts that are not at that speed are faster. So it's only 5½ minutes long.
Music: "Break and Enter" by Prodigy
The highways are CA-91, CA-60/I-215, CA-60, I-10, CA-111.