March 7, 2016
The I-10 Express Lanes
Back in January I had my first opportunity to use the express lanes on I-10 heading into Los Angeles and, boy, I was impressed! The regular lanes were a parking lot while I passed them doing 80 MPH. Last weekend I used them again and discovered congestion pricing. The first time I drove them, it cost me $2.60. This past weekend it was only $1.10! Cheaper than a bus ride! You have to have Fastrak, but getting set up with a Fastrak device costs you nothing at all. Sign up online, linking it to a credit card, and everything gets mailed to you. Stick it on your windshield and you don't have to think about it again, unless you have more passengers. You can set it to say you're solo, have two in the car, or more than two. Pricing may vary. I got it initially for the bridge tolls in the Bay Area. There is no way to pay your toll in person on the Golden Gate anymore. It's either Fastrak or go online afterwards and pay it.
This video picks up where I'm transferring from southbound 605 to westbound 10 which is where the express lanes begin. If they can ever extend them further east, that will be wonderful! The predictable permanent backup on I-10 begins east of the 605.
The thing to note in this video is that the regular lanes of I-10 on my right are mostly a parking lot, while I'm staying in the 70-80 MPH range. This is one of the very few places where I think the leftmost lane is where you should do most of your driving, while passing on the right. This gives you a buffer of one lane most of the time between you and the parked cars. One stupid driver opening his door, unaware of the faster traffic immediately to his left, and everything goes to hell.
As it approaches downtown there is a split between I-10 and 101. I've only followed the 101 branch. It crosses the L.A. River and puts you on Alameda Street right at Union Station. There's an entrance right there to get you back on the 101. But in this video I exited the express lane just before the bridge over the river. Would've been faster to stay in the express lane.
An interesting thing about the congestion pricing is that if the average speed in the express lanes drops below 45 MPH, Fastrak customers will no longer be permitted to enter, as the lanes will be reserved for those vehicles qualifying for HOV status.
permalink | March 7, 2016 at 12:01 PM | Comments (1)
February 20, 2016
Great Los Angeles Walk Photos
I winnowed my photos from the Great LA Walk (November 21, 2015) down to the 1,930 best ones that you can see here. Blut I think the easiest way to see them is via this video slideshow which is only a little more than half an hour long, if you watch all of it. Most of the photos are from my GoPro, but I shot some with my pocket camera.
permalink | February 20, 2016 at 09:32 PM | Comments (2)
February 17, 2016
L.A. Parcels
There is a bot that is identifying a Google street view image for every parcel in Los Angeles and posting them to Twitter in order by Tax ID! Here's the Twitter feed.
permalink | February 17, 2016 at 01:17 PM | Comments (0)
December 6, 2015
Ghost Roads
An interesting article about unusual diagonals seen in Los Angeles as viewed from above. They seem to be the remains of old rights of way, streets, streetcar tracks.
permalink | December 6, 2015 at 12:18 PM | Comments (0)
November 30, 2015
Los Angeles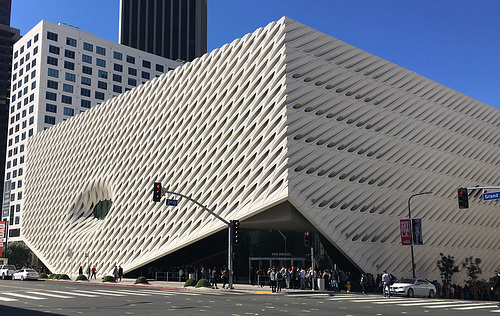 The Broad is now open, the tickets are free, and the lines appear to be long.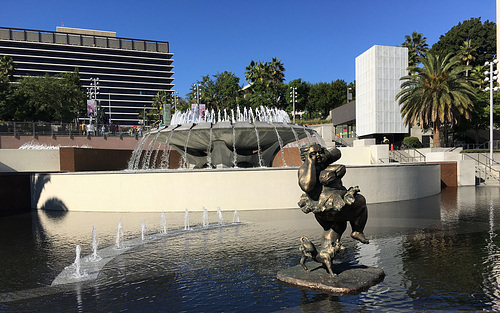 In Grand Park with the LADWP in the background.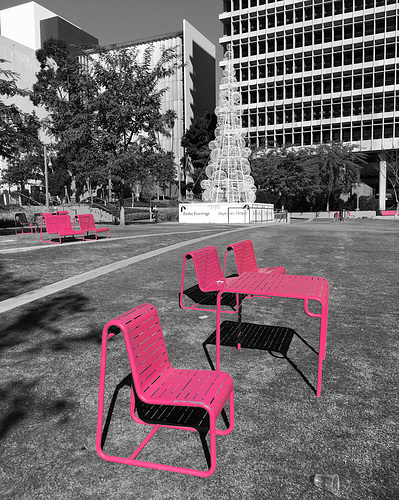 Grand Park.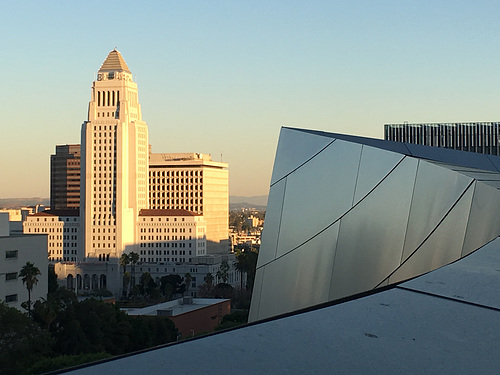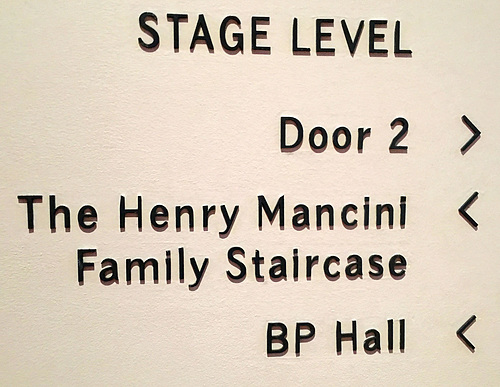 In Disney Hall.
permalink | November 30, 2015 at 07:31 AM | Comments (1)
October 26, 2015
Mission Lakes Country Club

From a few years ago. Can someone estimate the date based on the surrounding construction? Photo by Michael Rymer.
permalink | October 26, 2015 at 08:42 AM | Comments (1)
October 25, 2015
Marijuana Real Estate
In central Denver 9% of the industrial buildings are now being used to grow marijuana. That comes to at least 3.7 million square feet. But one person says that those facilities are not being fully utilized yet, so he thinks the market will cool for a bit.
The article includes an interesting map of all the marijuana grow facilities in Colorado. There are 487 in the Denver area. As you click on the numbers the map zooms in and you begin to see that some small areas of the city have large numbers of grow facilities.
permalink | October 25, 2015 at 10:10 PM | Comments (0)
October 23, 2015
Well, This Explains That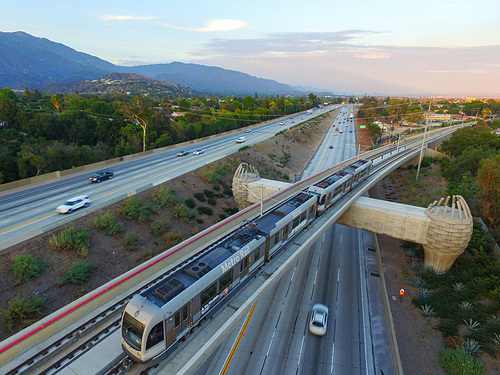 The extension of the Gold Line along the 210. I first noticed this bridge sometime last year, I think. I thought it strange that I couldn't recall noticing the distinctive design, nor could I recall a lot of construction in that area. I thought maybe I had just been paying too damn much attention to traffic. But, now I learn that it is a new bridge and it's for the Gold Line extension.
permalink | October 23, 2015 at 12:21 PM | Comments (0)
October 17, 2015
Downtown Los Angeles

As seen from Baldwin Hills Scenic Overlook.
permalink | October 17, 2015 at 10:03 AM | Comments (0)
October 12, 2015
A Little History Of Jaywalking
The right thing to do, now, is to watch that video on your mobile device while actually jaywalking. When they come to scrape your remains off the pavement they'll find your phone or tablet telling them the sad and sorry truth that you were morally superior right up until the car got you.
permalink | October 12, 2015 at 04:52 PM | Comments (0)
August 21, 2015
The Hollywood Freeway Today & Tomorrow
permalink | August 21, 2015 at 09:16 PM | Comments (0)
Opening Of The Hollywood Freeway
Silent film from 1950. Watch to the end and tell me if it doesn't seem that the Hollywood Freeway was built with sidewalks...or A sidewalk.

permalink | August 21, 2015 at 09:08 PM | Comments (0)
August 19, 2015
Hyper Video Survey Of Los Angeles
Some class in video production must have just graduated in L.A. because here's another video survey of Los Angeles, but much faster and flashier.
permalink | August 19, 2015 at 04:40 PM | Comments (0)
Aerial Video Survey Of Los Angeles
Not 100% pure Los Angeles, though. There's Santa Monica and Beverly Hills for sure, and there's probably a piece of West Hollywood and Pasadena in there too.

permalink | August 19, 2015 at 04:20 PM | Comments (0)
August 17, 2015
Corona to Palm Springs
While driving along CA-91 on one of the hottest days this summer my Ford Ranger seemed to lose its air conditioning. I didn't notice the temperature gauge climbing severely. What had happened was a small plastic part in the heater core had failed (after only 215,000 miles!). I drove probably another ten miles and didn't realize the trouble I was in until I pulled off for gas. When I stopped, steam was pouring out from under the hood. I thought I had blown the water pump, since that is also still original equipment, but it wasn't that. AAA covered my tow back to my mechanic in Palm Springs, about 85 miles one way.
And I took what I hope is a rare opportunity to video the route from a bit higher than I usually sit. I just left my dashcam turned on. Most of this video is at 12X speed. The parts that are not at that speed are faster. So it's only 5½ minutes long.
Music: "Break and Enter" by Prodigy
The highways are CA-91, CA-60/I-215, CA-60, I-10, CA-111.
permalink | August 17, 2015 at 06:16 PM | Comments (0)
August 15, 2015
Up Palm Drive, Down Santa Cruz Road
permalink | August 15, 2015 at 08:45 PM | Comments (0)
August 13, 2015
How The City Of West Hollywood Keeps Its Citizenry Informed
This is really real, not that anyone would doubt that.

permalink | August 13, 2015 at 09:38 PM | Comments (0)
August 11, 2015
CicLAvia - Culver City & Venice
This past Sunday was another CicLAvia. This one was between Culver City and Venice. I picked a spot about midway – the 405 made a nice dividing line – and walked from there to Venice Beach and back, mostly ignoring Culver City – sorry about that.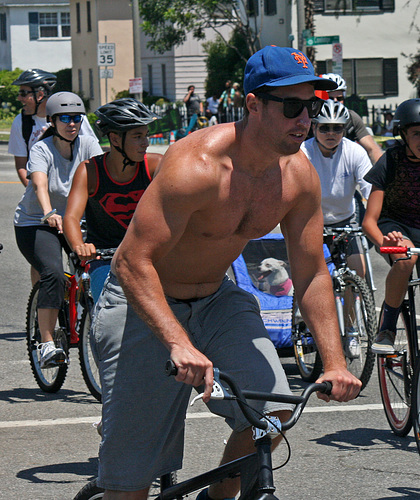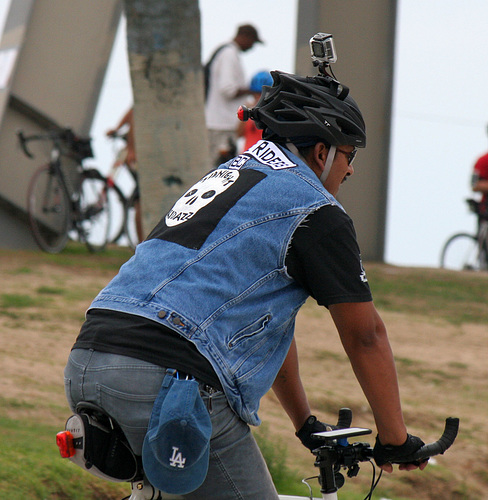 Ideas spread slowly. As you may already know, in events like CicLAvia the best way to mount a GoPro for interesting photos is to point it backwards as this intelligent rider has done – and as I do. I can only guess that this isn't more widely done because GoPro cameras tend to attract people who are all about me me me, not those other people with me.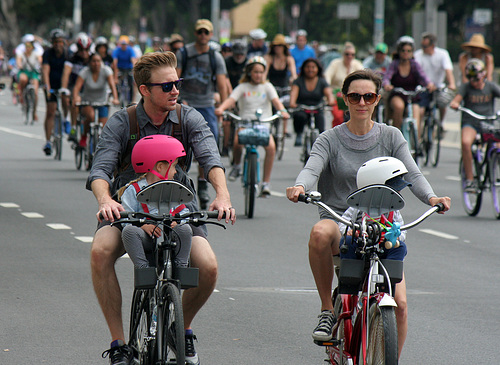 Modern parents with gender-specific helmets on their kids: girl and neuter.

Just look at all the white faces. Random chance, I'm sure.

Venice High School. The high school I attended in Kansas City had landscaping like this, but they finally had to rip out all the palm trees because the ice storms every winter really wrecked 'em.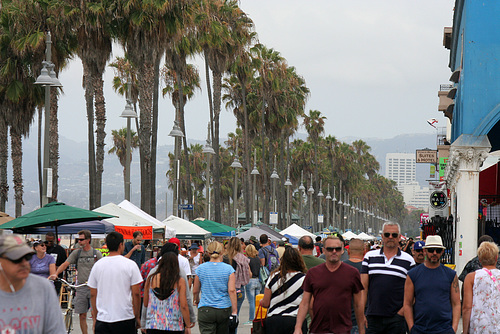 Requisite Venice Beach shot. The interesting thing I noticed was the one smoke shop I looked into had zero customers. Maybe the market has reached the over-saturation point – even at Venice Beach.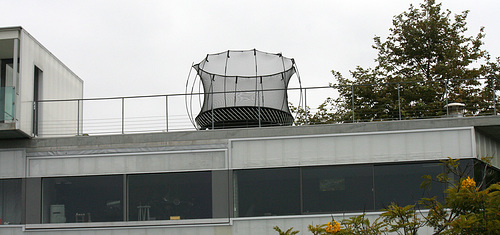 If you're going to put up a trampoline, might as well put it on the roof. I hope they've got a 24-hour camera on that so they can share the horrible accidents that are going to happen.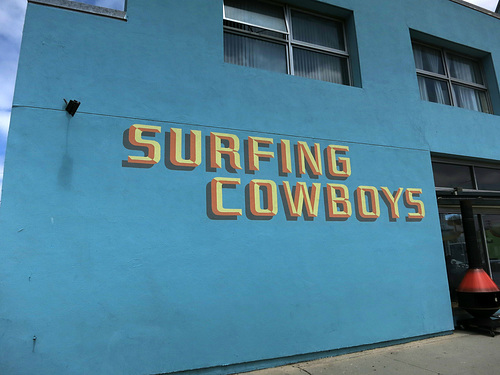 I glanced in and they had backyard barbecues (or were they little fireplaces?), surfboards and some household furniture on display. Not sure which niche of which market they might be serving.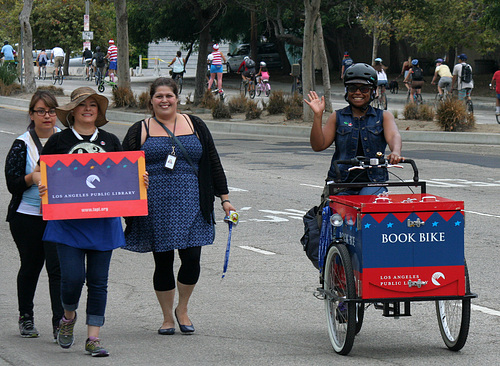 I was gifted an official LA Public Library lanyard after I took this photo. I think I can get free books at this place.

Hot stuff.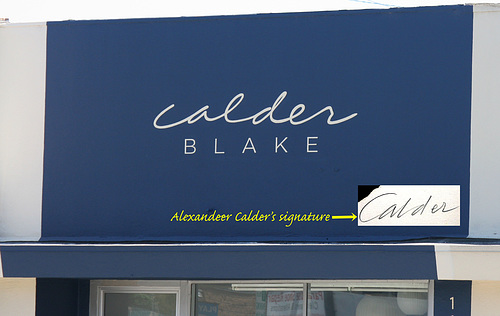 I was so terribly concerned that Mr. Blake was trying to steal away with some of Alexander Calder's fame that I went and looked for an image of the artist's signature and popped it in there for you, so that we can all relax and know that Mr. Blake is probably an honest man.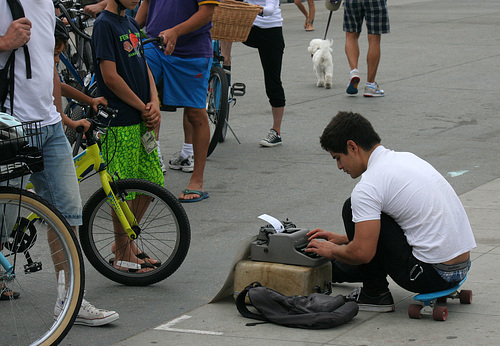 Accept it for what it was. No questions about why I didn't go up and question him as to what was going on. Let the little mysteries of life stay mysteries. It's interesting enough that a display of Manual Typing Skills draws a crowd on Venice Beach. Anybody got a couple of rotary phones? Take them out there and watch the kids try to operate them.

Pretty nice bowling alley. I've decided they mean for the name to be pronounced the same as Bolero. Because BOWLer-oh just sounds stupid.
permalink | August 11, 2015 at 07:48 AM | Comments (0)
August 10, 2015
Yesterday's CicLAvia - Culver City & Venice
Just bikes (mostly) and ambient sound.

I wonder if part of the reason CicLAvia is popular is because there is no overwhelming emphasis on safe cycling. All I've seen is this safety page on their website, although maybe it's also printed on some of the handouts I see floating around during the event itself. And on that list there are only a few "hard" rules. A "soft" rule is like this one: "CicLAvia isn't a race. It's an experience. Take the time to enjoy it!" Hard rules are: pass on the left (good luck!), helmet required if under age 18 (probably enforced only by the parents), motorized transport is only for the officially disabled (I saw a number of healthy people on things powered by electric motors), don't use phones and cameras while riding (almost half of the riders observe that rule). But the event has not had, as far as I know, any disastrous accidents. I saw one skateboarder fall yesterday, but she hopped right back up and kept going.
permalink | August 10, 2015 at 11:27 AM | Comments (0)
August 6, 2015
Light Pole Collapse
In San Francisco, the sudden collapse of a light pole at the intersection of Taylor and Pine Streets has been blamed on "some contribution of dog or human urine on the base of the pole." Turns out this is not the first time this has happened in San Francisco. Below is a photo taken from Google Streetview of the base of the offending light pole. You can see the permanent stain of something running from the light pole base to the gutter...but the preferred hydrant right next to it is showing some use too.
>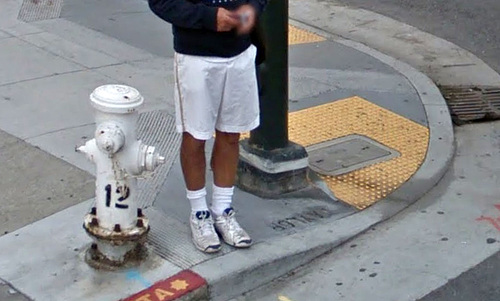 Judging from the position of this pole, completely exposed as it is, I would guess almost all of the contributions came from dogs, not men.