March 3, 2015
Not Missing It
Boston Virtual Imaging sent someone out with a drone and a camera to document the snow in Boston. They made a tour of some of the major tourist highlights in central Boston:

In order of appearance:
Charlestown (Bunker Hill)
Public Garden
Boston Common/Beacon Hill
Commonwealth Avenue/Back Bay
Fenway Park
Beacon Hill or maybe Charlestown again - hard to tell when you're up that close, although the unusual house one sees on the left will identify it for someone who knows Boston better than I - but I'm betting heavily on Beacon Hill
Charles River/The Esplanade (Hatch Shell)
Waterfront/Harbor Hotel/that thing that used to be an elevated highway which is now called the "Rose Fitzgerald Kennedy Greenway"
permalink | March 3, 2015 at 10:18 AM | Comments (0)
February 26, 2015
The Beauty Of Los Angeles
A good video of downtown L.A. shot with a drone that shows off a lot of the architectural detail and murals that people either can't see, don't see or take for granted.

permalink | February 26, 2015 at 02:35 PM | Comments (0)
February 20, 2015
Los Angeles City Hall Observation Deck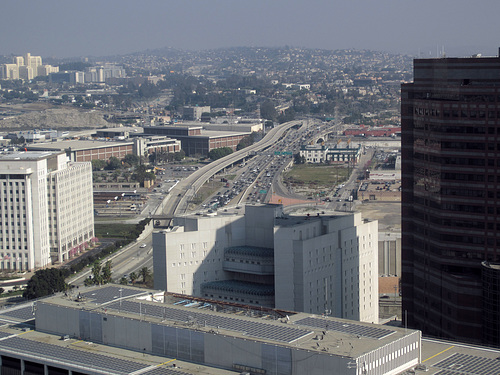 A view of the US 101 linear parking lot.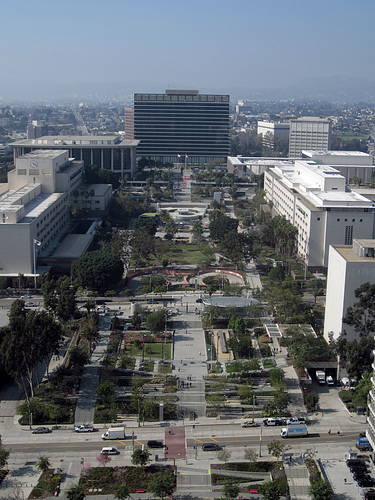 West of City Hall is its equally tough sister agency, the LADWP. You can see the Dorothy Chandler Pavilion cowering in front of the LADWP, a bit to the left.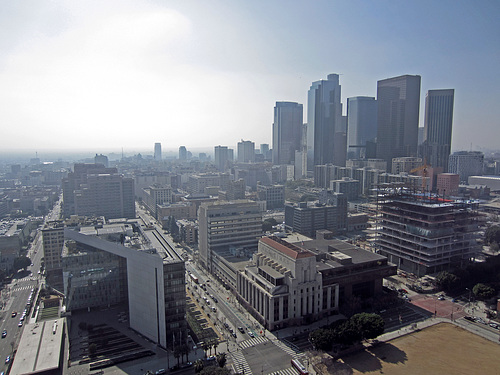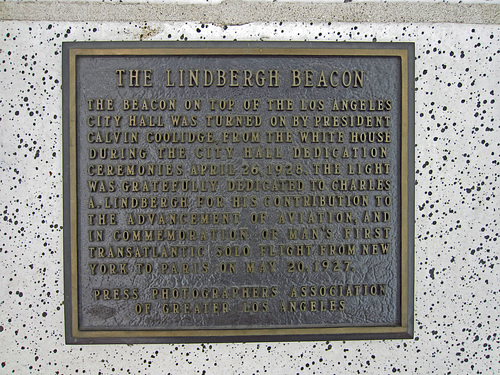 The Lindbergh Beacon

The beacon on top of the Los Angeles City Hall was turned on by President Calvin Coolidge from the White House during the City Hall dedication ceremonies April 26, 1928. The light was gratefully dedicated to Charles A. Lindbergh for his contribution to the advancement of aviation, and in commemoriation of man's first transatlantic solo flight from New York to Paris on May 20, 1927.

Press Photographer Association of greater Los Angeles.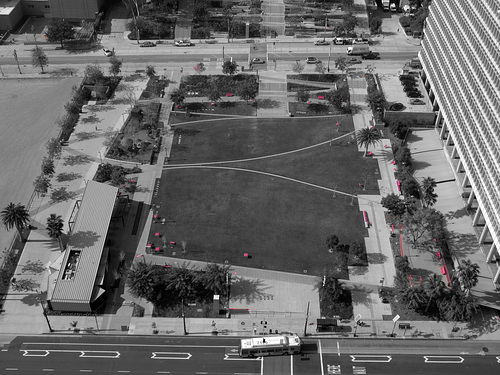 In the park just west of City Hall, the park furniture is bright pink, as it should be. You may need to click the image to get the full-res version in order to appreciate the pink highlights.

They've got some very nice elevators in LA City Hall.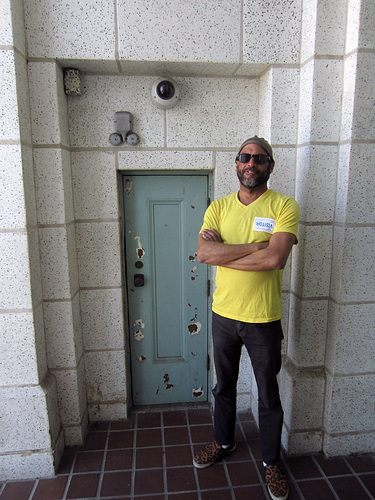 Jeff guards the door to make sure no trolls emerge.
See more of these photos here.
permalink | February 20, 2015 at 12:43 PM | Comments (0)
January 23, 2015
Downtown Palm Springs
A couple of panoramas of the work being done west of Palm Canyon, east of the museum.


permalink | January 23, 2015 at 01:38 PM | Comments (0)
January 12, 2015
Ten Bridges Epic Walk
Yesterday I went on the Ten Bridges Epic walk, which crosses 10 of the bridges over the Los Angeles River. It came to about 14½ miles. Maps: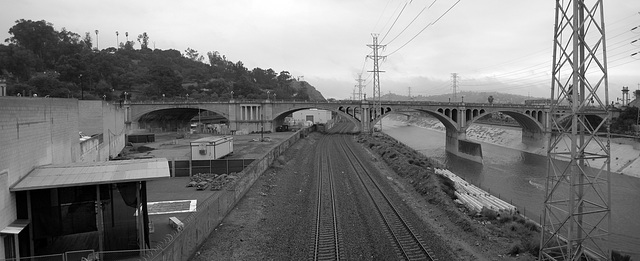 Broadway Bridge.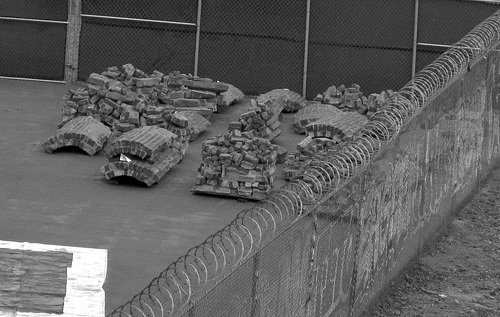 This is a detail from the photo above. These are the most recently unearthed remains of the Zanja Madre which were found in 2014. The brick probably dates from the 1880s, although the ditch itself goes back to the settling of Los Angeles. News story with photos here.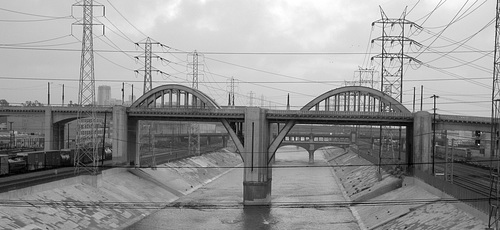 Sixth Street Bridge which will be demolished this year.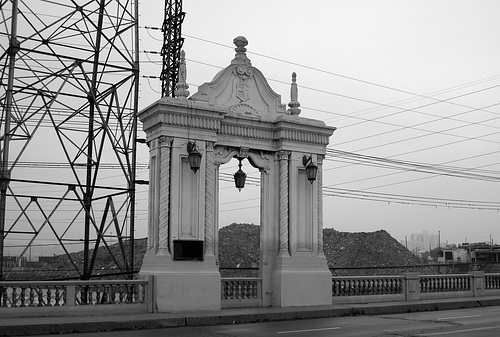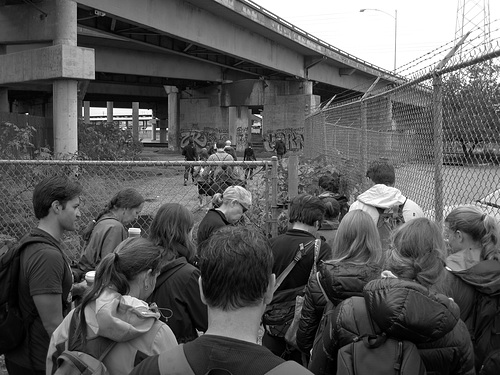 We try a shortcut along the river that is probably railroad property. It turned out to be a dead end and we had to follow our steps back and loop around.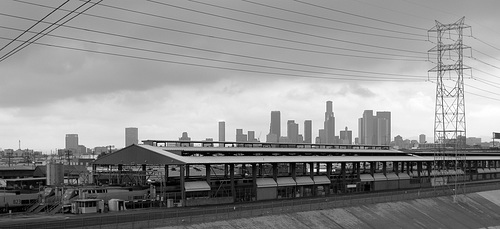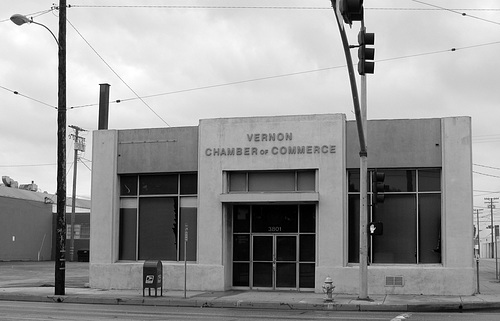 The Vernon Chamber of Commerce. I expected something a bit nicer.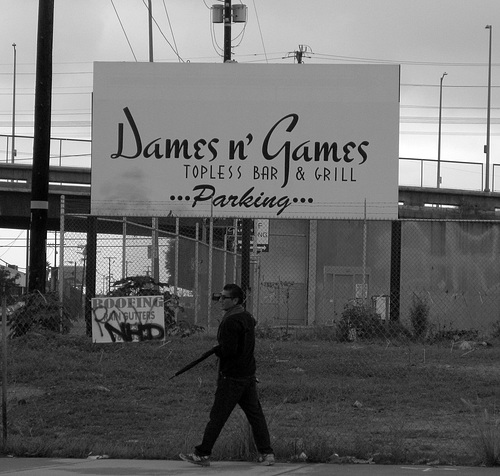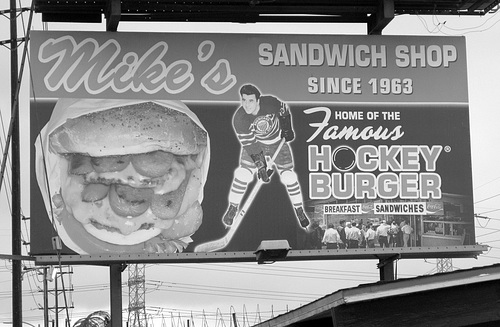 The famous hockey burger - which sets it apart from those ordinary hockey burgers that you never heard of.
The complete set of photos is here.
permalink | January 12, 2015 at 01:53 PM | Comments (0)
January 8, 2015
Oldest Palm Tree In L.A.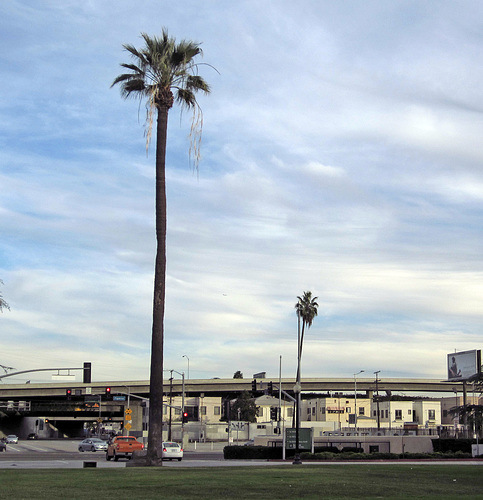 The oldest palm tree in Los Angeles is this one at the entrance to Exposition Park (the Coliseum). That's the 110 in the background. Here's what the official plaque says.
This historic palm tree stood for more than twenty-five years at the entrance of the Southern Pacific station. At this railroad portal of the city it became a familiar landmark to many thousands of Los Angeles and southern California citizens and visitors from elsewhere, and was a mute witness to the growth of Los Angeles from a community of pueblo days to a great world metropolis of today. When construction of a new Southern Pacific station necessitated removal, under the auspices of the Los Angeles Examiner it was presented to the City of Los Angeles by the Southern Pacific Company. On September 5, 1914, it was placed here, where it and its sentimental associations will be permanently preserved.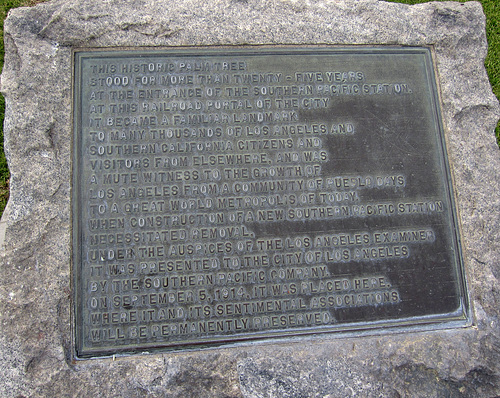 Note the unusual line lengths used in the plaque.
This story on the KCET website says the tree came from an arroyo north of now-downtown L.A. and is more like 150 years old.
permalink | January 8, 2015 at 11:06 AM | Comments (0)
December 17, 2014
San Francisco
From my recent visit to San Francisco.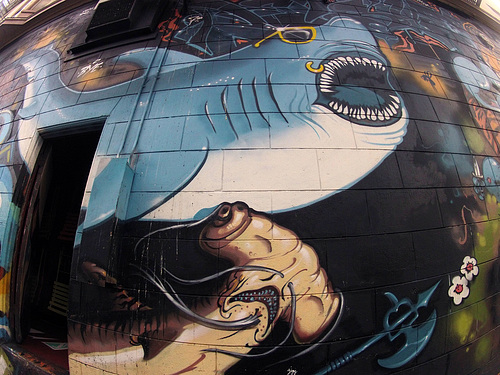 That ain't no orca.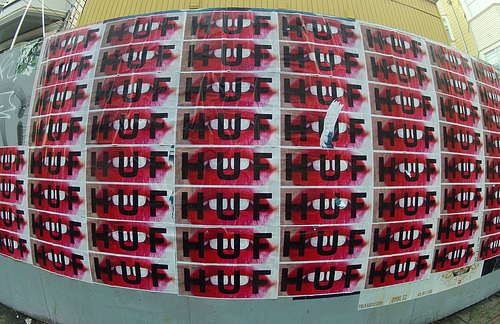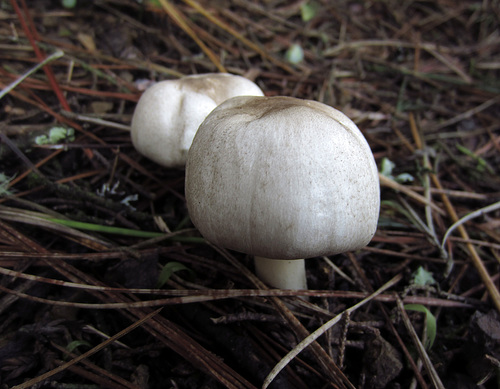 On Valencia Street.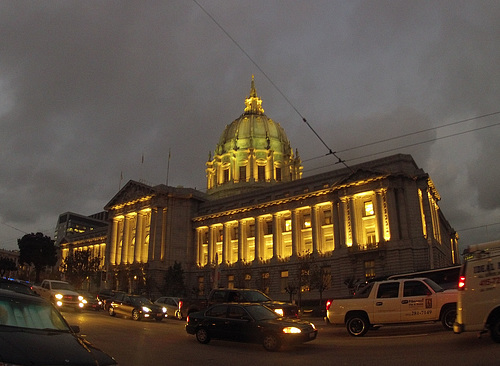 City Hall.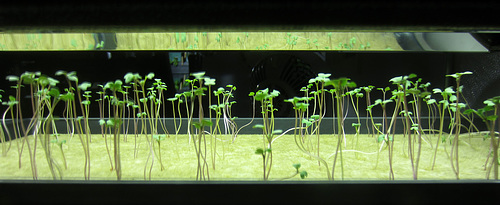 They grow sprouts and other vegetables in the windows of the Shanti Project on Polk.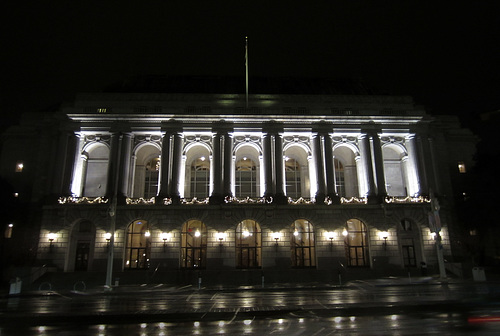 Opera House.
The complete set of photos is here.
permalink | December 17, 2014 at 06:02 PM | Comments (0)
November 23, 2014
Great Los Angeles Walk 2014
This year's Great Los Angeles Walk was all in the San Fernando Valley, proceeding from Warner Center mostly along Ventura Boulevard easterly to Lankershim Boulevard and then north to the North Hollywood Red/Orange Lines station. The organizer measured it at 17.12 miles, but I think his distances are car miles and, therefore, straighter and shorter than pedestrian wandering miles. My GPS said my mileage was 18.8. All of it was in Los Angeles proper, but the neighborhoods included Woodland Hills, Tarzana, Encino, Sherman Oaks, Studio City and North Hollywood.

The route also traversed this neighborhood I've marked in green for which I could find no name. It's bordered by Toluca Lake, West Toluca Lake, Studio City, Universal City and North Hollywood. If anyone can give me a name, I'd appreciate it.

The route, plain and simple, left to right.

A little rotation and perspective. North is to the right in this image and we walked from top to bottom.
A big plus for some people this year was that the beginning and end of the route were close to the Orange Line Busway, making it easy to put your vehicle at one end or the other and get back to it fairly easily after the walk. I have some advice, however, for tourists who follow after me and come to the North Hollywood station for their fist time to catch the Orange Line. That large structure with a big orange arch over the entrance to the escalators that go underground to the ticket machine area where the highlight color is orange and to the waiting platform which is also highlighted with orange where you will see NO signs at all bearing the word "Red;" yeah, that place is NOT the Orange Line. It's the Red Line and your first clue that you have gone in the wrong entrance will come after you pay your fare and proceed to the waiting platform where you will see that either side of the platform will take you to Union Station and you would get there on a train that runs on rails. So, not the Orange Line. If you're looking for the Orange Line, it's across the street. There is one sign at the Red Line station with one arrow pointing to your right as you exit the Red Line station, but it doesn't indicate that you need to cross the street. Over there is a sort of nondescript bus shelter where you will see no color orange and there are no signs saying "Orange," until you get right into the station and look at the maps. The buses are, however, labeled with the word "Orange" and have some orange trim. This will only help you if a bus is there and you can see it from across the street.
IOW, the Metro's system designer must have worked for Boston's MBTA before coming here.
And while I'm on it, I have a few more observations about the Orange Line. As expected, every sign is in both Spanish and English, except for the warning labels on the poles next to the rear doors that tell you not to hold onto them. Those are only in Spanish. Both poles, left and right, have Spanish warnings. Are we to assume that English speaking people don't ever grab those poles or that they never ride standing up?
The names of stops on the Orange Line are announced once and once only. For some reason, the recorded voice always drops slightly when speaking the actual name, so that I could almost never understand it. Simultaneously, the electronic message display at the front (which is far less sophisticated than the ones they use on ordinary buses) will also display the name of the next stop once and once only at the same time as the recorded announcement. Then the display goes blank. Why it can't be continuously displaying the name of the next stop until it's needed for something else is something I don't know.
When you're waiting in a station and the electronic display shows you the times of the next three Orange Line buses coming, those are not the times of the next three buses coming. That is only a list of the scheduled times. You might as well look at your paper schedule. There seems to be no communication link between the Orange Line buses and the Metro system so that passengers might be able to realistically gauge their travel times. Every other transit system I've encountered that electronically shows train or bus times uses real times based on real feedback, not simply a display of scheduled times.
Despite all of that I somehow managed to traverse the distance from North Hollywood to Warner Center where our walk began. The walk was far less interesting than my three previous walks which all started in central L.A. and headed to Santa Monica, routing us through a range of economic levels and historical architecture. Ventura Boulevard in the San Fernando Valley is fairly much homogenous.

The Fernando Award obelisk in Warner Ranch Park where we organized. The Fernando Awards are given as recognition for volunteerism in the San Fernando Valley.

The Fleetwood Center was never a car dealership.

This unusual building heralded a view to the east that let us know our walk was going to be downhill for the next 15 or 16 miles as we descended towards the L.A. River.

Casa de Cadillac.

Note the curb feelers.

The small building on the left is the Blue Velvet Beauty Boutique on Lankershim Boulevard.

Detail from a mural in North Hollywood.

The mural on Floyd's Barbershop in Sherman Oaks.

I never saw this before: a sign spinner for a medical marijuana doctor.

I'm not as impressed by the claim of "real falling snow" (you can just rent that from Hollywood) as I am by the idea of a 7-foot Hanukkah puppy. This is a Hanukkah tradition I'd not heard of before.

The Valley's Miracle Mile is not quite as impressive as the one on Wilshire Boulevard, but I'm sure they are trying really hard.

Memorial to Thomas G. Taylor who died fighting a fire at this location which is now a Wells Fargo bank. The full story is here and there you will find the photo of the firefighter's 9-year old son which was the basis for the image on the memorial that wraps around the corner to the right. Here's a recent news story. The fire was started by an arsonist who, as of 2013, was still in prison.

"Vape" - new dictionary word of the year. On a related note, while I was waiting for the Orange Line bus a fairly stereotypical medium-sized old lady, wearing her everyday cloth coat, and carrying some shopping whipped out her vape device, took a big draw, and exhaled a cloud of smoke that was obviously from cannabis. Then she put it away.

Related to that is this sign I saw on Lankershim Boulevard. If it needs explaining, an ounce is 28.3495 grams. Marijuana traditionally has been sold in "eighths," an eighth of an ounce, which is about 4 grams. This dispensary claims their 8ths somehow contain 6 grams, which is all fine and good, but it's what they charge for that eighth that matters, isn't it?

This was the goal at the end of the walk. Not exactly the ocean view from Santa Monica, is it? In fact, I would have passed this by except there were about a dozen walkers hanging out there chatting and taking photos.
My complete set of photos is here. Other walkers are sharing their photos in this Flickr pool.
permalink | November 23, 2014 at 05:45 PM | Comments (2)
October 22, 2014
It's The Great L.A. Walk, Charlie Brown!
Everything (almost) you need to know. Saturday, November 22, meet at Warner Center Park in Woodland Hills (5800 Topanga Canyon Boulevard) for the 9 AM departure. Walk at your own pace, relying on your own wits and resourcefulness to get to the Television Academy courtyard (5200 Lankershim Boulevard), a scant 17 miles away.
I hope that the Television Academy is an incredibly beautiful structure, because when the walk ended in Santa Monica (the last three years), getting a sunset view of the Pacific was some good motivation. The intersection of Magnolia and Lankershim in North Hollywood does not seem to have the same draw. But what do I know? I've never been to that intersection, which probably has vistas to rival any national park.
There is no fee to walk. This is not a charity fundraiser. You walk to enjoy walking in an ever-shifting urban environment. No waiver to sign, because who're you gonna sue?
They've got a Facebook page, of course, and a Twitter account.
permalink | October 22, 2014 at 02:17 PM | Comments (0)
October 13, 2014
First American Aerial Photo
The first aerial photo shot in the U.S. was by James Wallace Black, and it was of central Boston on October 13, 1860. The photo is now in the possession of the Metropolitan Museum of Art as part of the Gilman Collection.

(Here's a link to a version that I edited to adjust contrast and sharpness a little which might assist in picking out smaller details.)
The significant landmark that's easy to pick out is Old South Meeting House.
After the Boston Massacre in 1770, yearly anniversary meetings were held at the church until 1775 featuring speakers such as John Hancock and Dr. Joseph Warren. In 1773 5,000 people met in the Meeting House to debate British taxation, and after the meeting a group raided a nearby tea ship in what became known as the Boston Tea Party.
Old South Meeting House still stands at the same spot, very little altered since 1860 - since 1773, for that matter.


This is from roughly the same viewpoint as the 1860 photo. You can just barely see the steeple on Old South.