July 9, 2015
Boston Bike Renters Are Asked To Keep Pants On
Hubway, the company that provides shareable bikes in Boston, does not object to riders taking their bikes to ride in the Boston World Naked Bike Ride which happens this Saturday. But they do ask that you not ride the bikes bareass. Look, that rule applies even at Burning Man. They suggest underwear.
The ride starts at 9 PM in Cambridge at North Point Park, which is a newer park built since I left Boston. I'm sure some will tell you that the ride is at night to avoid the summer heat (big eye roll). Honestly, it may simply have grown out of a tradition among Boston bicycle messengers to hold an annual naked race at night. Or it may be to avoid heavy traffic.
I don't know if casual nudity is legal anywhere in Boston or Cambridge. Video from last year's Boston WNBR when they met in front of the State House shows some people riding actually naked. And also shows them riding in the wrong lanes - at night, in traffic. Idiots. Right turns from far left lanes in front of moving traffic where there is no stop sign or traffic light. Double idiots. Somebody built a high-rise next to Berklee School of Music - is that a dorm? The route was pretty short: across the Common to Tremont, go down to the theater district, back past the Public Garden to Beacon Street to Arlington to Comm Ave, ride that a ways to Mass Ave. That over to Boylston, following Boylston up to Berkeley, then over to Newbury and then somehow popping back up to the State House by some route they don't show. That's like, what, 4 or 5 miles?
permalink | July 9, 2015 at 07:37 PM | Comments (1)
Bubbling
Most people in San Francisco are aware they live in a bubble. How then to learn about the rest of the wild and wooly United States? Go to this conference on "LGBT Life Outside the Bay Area Bubble." It's conveniently located in downtown San Francisco at 555 California Street. This way the attendee can stay so far from the edge of the bubble he won't even be able to see the iridescent rainbow shimmering that would alert you that would alert him to the approaching bubble boundary.
The first topic in the conference is entitled "People Actually Live In Fresno And Why" or so I am told.
permalink | July 9, 2015 at 12:43 PM | Comments (0)
July 5, 2015
Some Photos From San Francisco

It's the centennial of the ferry building as well as city hall.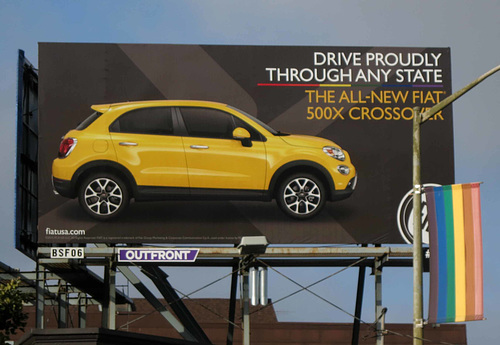 Fiat targeting gay customers a block or two from Castro on Market.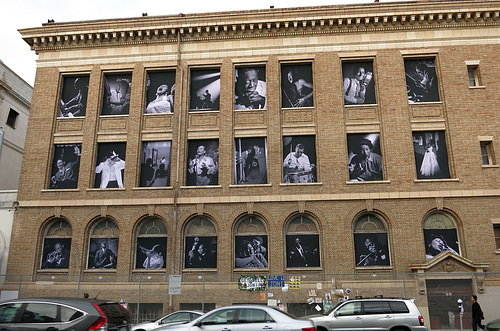 Jazz greats on the closed building across the street from San Francisco Jazz.

The Russian émigrés were mystified by the complete lack of interest in signing up for SAMBO lessons in the African American community.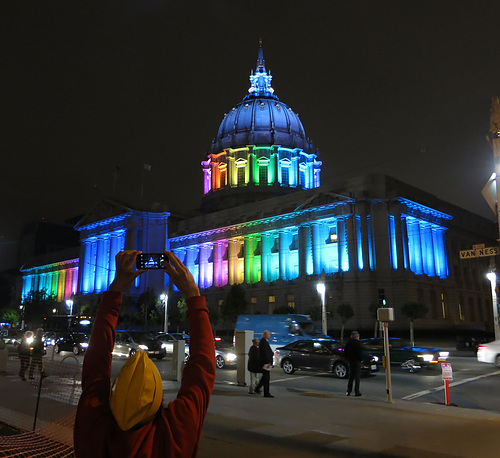 Two for one, that's Jeff taking the photo in the foreground. We discovered that night that the rainbow lights on city hall are constantly shifting, and we were surprised and excited by that, although when you think about it, it's San Francisco where one might reasonably ask why all lights don't inherently come with an ability to cycle through rainbow colors automatically upon the playing of the famous Judy Garland song. Google could do that in a weekend with some cardboard and 3 LEDs.

At the marriage equality celebration in the Castro on Friday evening.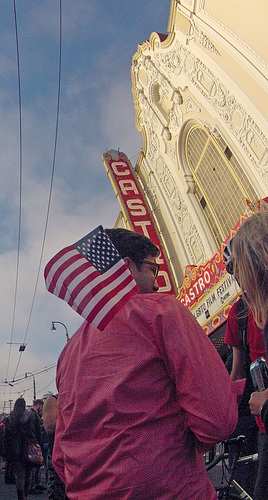 Also at the marriage equality celebration.

The trans pride parade crossing at the intersection of Market Street and the 101 while Mickey, always happy, looks on.
permalink | July 5, 2015 at 07:08 PM | Comments (0)
June 30, 2015
Meanwhile, On The Other Side Of Market Street
I turned away from videoing the trans parade, and what do I see but Critical Mass coming from the other direction. This effectively shut down Market Street completely for a little while.

permalink | June 30, 2015 at 05:45 PM | Comments (0)
June 21, 2015
Vernon's Population To Double!
From 100 to 200 (plus or minus). 45 new privately owned apartments will open next month. Twelve units will be reserved for families who already work in Vernon. But the remaining apartments will allow 33 families from other less industrialized areas to enjoy industrial living to its fullest in lovely Vernon.
"'I love the quietness,' said Councilwoman Melissa Ybarra, who said Vernon has a peculiar, industrial charm for the few who have ever called it home."
California Senate President Pro Tem Kevin de León believes this may bring democracy to Vernon. His earlier proposal was simply to disband the city. Until now, the City of Vernon has owned all of the few housing units in the city. The city also owns the power company. Hard to establish residency without a physical home or electricity.
In 2006, a small group of people intent on forcing the first contested election in a generation moved into a boxy commercial building in the industrial town. Vernon utility trucks quickly arrived, and workers turned off the power and put red tags on the property.
permalink | June 21, 2015 at 03:15 PM | Comments (0)
May 28, 2015
Seen In Burbank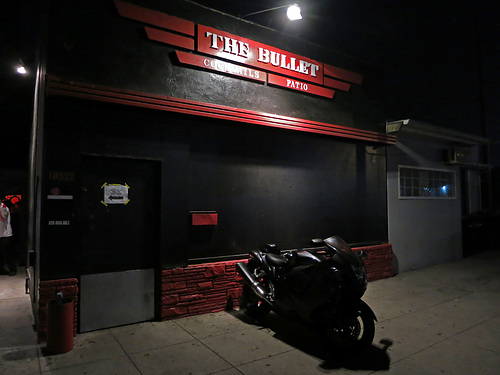 Well, this one is actually North Hollywood.

So why a billboard promoting an event that happened two months ago?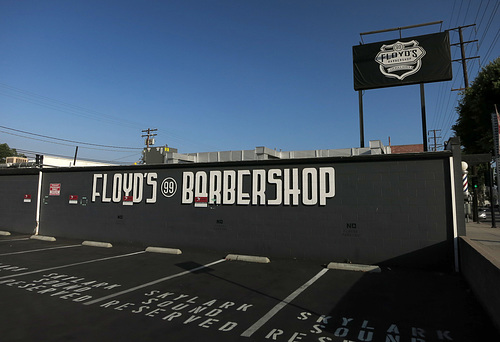 Glad to see he eventually got out of that depressing Mayberry, where nobody's hair ever grew! Did you ever notice that? Was it because of their twice daily haircuts?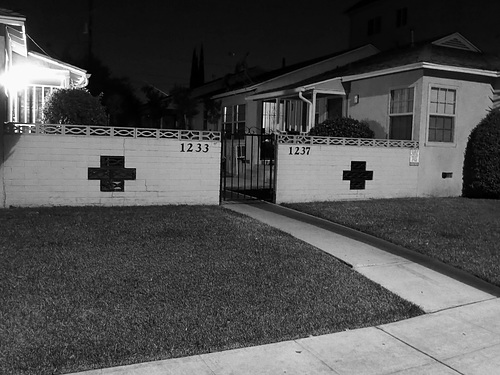 No, those were not green crosses.
permalink | May 28, 2015 at 09:16 PM | Comments (0)
May 26, 2015
Walk Wilshire
On May 6 I participated in Walk Wilshire, which is yet another of those long distance Los Angeles walks that people do just for fun. No waiver. No t-shirt. No fee. It was to be all the way from Grand Avenue, where Wilshire begins, out to Ocean Boulevard in Santa Monica. I've walked various, but not all, chunks of Wilshire before. Filled in the gaps on this walk. I went only so far as the Westwood Village Memorial Park Cemetery, which I overshot on the last Great L.A. Walk that came down Wilshire, so I made a point of visiting this time, before taking the bus back downtown. Walking the segment of Wilshire from Westwood to the Ocean is as good as any other part, I suppose, but not so interesting that I felt I should walk it a third time.
The best way (trust me) to see my photos is to watch this video, which is one photo per second, so it takes only about 36 minutes!

All the still photos are available here. Flickr has a slide show too, but the viewer has no ability to skip ahead or back in their slide show.
A few of the photos:

The walk organizer explains the history of MacArthur Park.

At Vermont.

"What is that on your hat?"

Wilshire Boulevard Temple.

Near Western.

"WTF?"

At the Tar Pits.

Going through and under LACMA.

The Observation Pit. I didn't go see who they had down in the pit.

"Levitated Mass."

Johnie's, used as a location in Reservoir Dogs as well as several other movies and videos.

The view from the offices of "Good" magazine.

The statue on top of this is John Wayne on a horse.

Beverly Hills a hundred years old; who knew?

A vape store.

Google says this building is Sony Corp.

At the construction site of the new Waldorf Astoria.

Don Knotts.

Marilyn Monroe.

Oscar Levant.

I forgot to check on the exact location of Burt Lancaster's grave before I left home, but I knew I was close to it when I was standing here. I left the color in his grave marker. Next to the flowers.

Karl Malden.

Peter Falk.

Rodney Dangerfield.
permalink | May 26, 2015 at 05:12 PM | Comments (0)
May 4, 2015
Watts Towers
Built over the period of 1921 to 1954 by Italian immigrant Simon Rodia. In 1959...
The Committee [for Simon Rodia's Towers in Watts] negotiated with the city to allow for an engineering test to establish the safety of the structures and avoid demolition of the structures.

The test took place on October 10, 1959. For the test, steel cable was attached to each Tower and a crane was used to exert lateral force all connected to a 'load-force' meter. The crane was unable to topple or even shift the Towers with the forces applied, and the test was concluded when the crane experienced mechanical failure. Bud Goldstone and Edward Farrell were the engineer and architect leading the team. The stress test registered 10,000 lbs. The Towers are anchored less than 2 feet (0.61 m) in the ground, and have been highlighted in Architectural textbooks, and have changed the way some structures are designed for stability and endurance.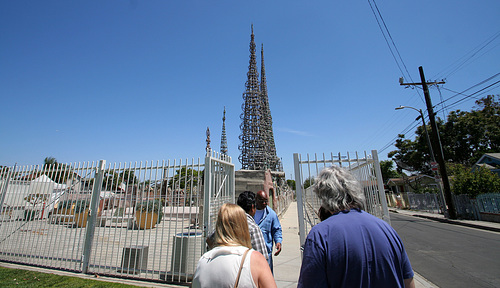 The tour commences. $7, IIRC.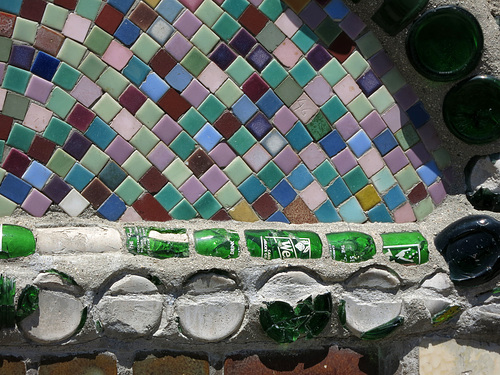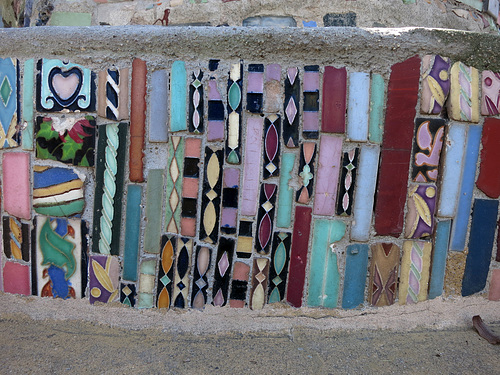 They're down a dead end residential street that has parking only on one side (despite what you may see here). You drive to the end of 107th Street, turn around, and parallel park. There is a small parking lot if you proceed north of 107th on Graham.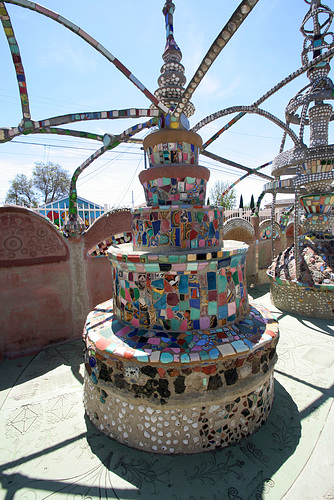 The wedding cake.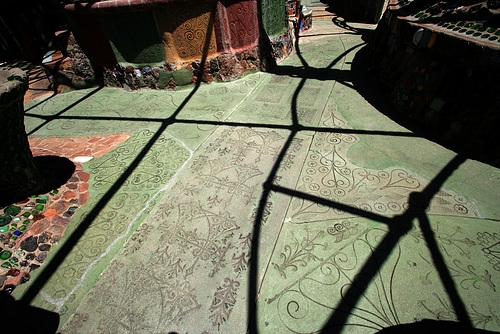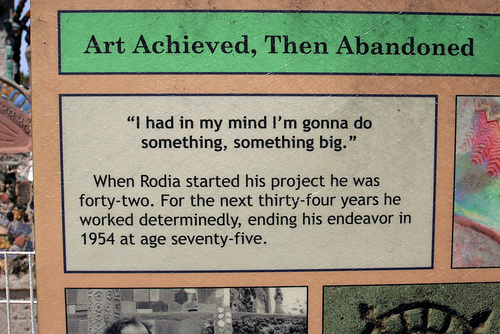 The view from the "back" side (northeasterly).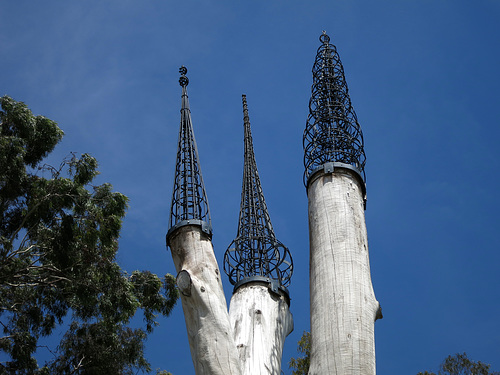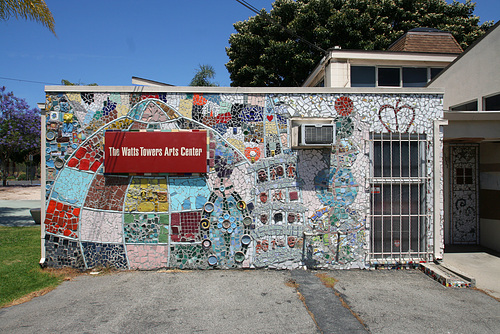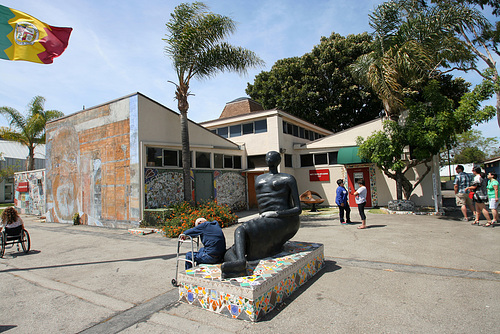 Click here for the complete set of photos.
permalink | May 4, 2015 at 11:55 AM | Comments (3)
April 14, 2015
That Griffith Park Cougar
P-22 has gotten himself more publicity by wandering out of Griffith Park and taking of residence in the crawl space under a home in Los Feliz. The map below shows the outlines of that neighborhood, according to Google.

permalink | April 14, 2015 at 12:03 PM | Comments (1)
April 10, 2015
Desert Hot Springs Boundaries
Let it be a mystery no longer. I took this map from the PDF version that's on the city's website.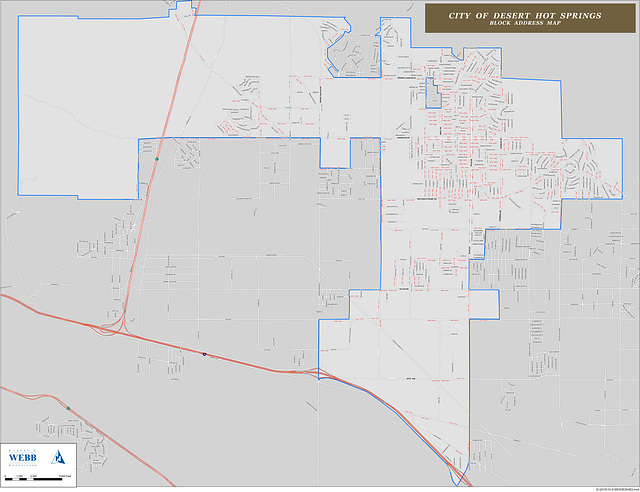 Click this and you will get surprisingly detailed map of the city with which you ought to be able to resolve any number of questions. It includes the little detail that I-10 is completely within our boundaries between Palm Drive and Indian. The city limits do not run along the median, but along the south side.