February 6, 2017
Carjacked 1,200 Pounds Of Marijuana
In Pomona! They were caught when they were spotted from the police helicopter unloading the weed in the "700 block of Washington." So I went to Google maps to look at the aerial view to see if possibly there were other indications.
Well, looky here. Can you pick out the weed house in this neighborhood of neat homes? I imagine the police already had their eye on this place.

permalink | February 6, 2017 at 07:15 PM | Comments (0)
Planning Commission - January 31, 2017
This was a special meeting of the Planning Commission to deal with the heavy marijuana workload. There are currently only four Planning Commissioners. Those two statements aren't directly connected. It's city staff that has a heavy marijuana workload and, coincidentally, there are only four commissioners for now.
Basement Cultivation at Green Leaf Wellness
This item was the agenda for the January 10 Planning Commission meeting, but was continued because the owner of the dispensary didn't show up. Now, on January 31, the owner was present.

North is up.
Commissioner De La Torre asked if the cultivation area in the basement extended under any neighboring business, such as the nail salon. City staff said it did not. Aw, too bad, because when I first saw these plans I could tell that it would extend under the nail salon. When the owner came to the podium he explained that the basement did, in fact, go under the nail spa. The point of that question was to determine whether an additional fire alarm should be installed in the nail salon, in case of a fire in the basement. The owner went on to list security measures he was putting in place, such as hardening the exit doors and installing card readers so he can track every employee who goes into a cultivation room.
Commissioner Cirner asked about ADA compliance. The plans show only two ways to access the basement and both of them are stairways. Rather than answer that question, the owner described more security measures he was putting in place. Mr. Cirner seemed to accept that as an answer. At the end of the meeting I asked Community Development Director Rangel about ADA requirements. His answer was, basically, that full ADA access in this space would be cost prohibitive. Yes, of course, but I didn't know you could compromise on ADA improvements solely because of their cost.
Someone (I could neither see nor hear who) moved to approve with the addition of an alarm in the nail salon connected to the fire detection system in the basement, Mr. Cirner seconded. Approved 4-0.

Tentative Parcel Map by DHS Properties, LLC
This is an empty 14.9 acre lot on Little Morongo Road north of Two Bunch Palms Trail. This tentative parcel map is for condominium purposes for marijuana cultivation. The agenda packet showed the applicant to be DHS Properties, LLC, but staff said the applicant was David Snyder.

This map shows the old city limits, prior to the annexation that reached to I-10.
The CUP for this parcel was approved in November 2015.
With no discussion or public comments, Commissioner Romero moved for approval, Mr. Cirner seconded, approved 4-0.

Four Parcels on Cabot Road
These four parcels are all adjacent and all will be used for cultivation. But there are two owners and some differences between each parcel, so this item includes FOUR CUPs, two development agreements and one mitigated negative declaration. (No partridges.) The two owners are Cabot Building Partners and DHS Therapeutics. It's on the east side of Cabot Road, a couple of empty lots south of Two Bunch Palms Trail. 6.29 empty acres.
Commissioner Cirner moved for approval with the addition of two lights on poles, seconded by Commissioner De La Torre, approved 4-0.
The entire meeting wrapped up in only 35 minutes.
permalink | February 6, 2017 at 01:53 AM | Comments (0)
January 14, 2017
SpaceX Launch And Landing This Morning
If you don't want to watch the whole thing, start it at 22:25 which may seem a bit early, but I think you'll find it entertaining. There's some great photography on this 100% successful mission that launched from Vandenburg. Cameras on the first stage give you a few glimpses of much of the coast of California (mostly clear everywhere, it seems) as it ascends. You also get to watch the perfect descent from the POV of the first stage. The second stage gets screen time too.

Maybe I've just missed it before, but the speedometer constantly displayed in the upper right is new to me. I notice that the speedometer and the altimeter both have red lines. What happens if it red lines? It's not going to throw a rod. Does it mean it's overreached and achieved escape velocity? Milky Way here we come?
permalink | January 14, 2017 at 02:07 PM | Comments (0)
January 11, 2017
Planning Commission January 10, 2017 - Cultivation, Cultivation, Cultivation, Cultivation
Commissioner Terifaj is no longer with the Planning Commission. Here's the form to fill out if you want to be part of shaping the future of DHS. Mayor Pro Tem Joe McKee is the one to make the appointment to fill this seat. Present tonight were Andrew Cirner, Scott De la Torre, Dirk Voss (Chair) and Cathy Romero.
The agenda this night consisted of four public hearings:
A marijuana cultivator's tentative parcel map
A CUP for a marijuana cultivation facility
Amending a CUP to allow for marijuana cultivation in a dispensary
Subdivision of land to be used for marijuana cultivation
Tentative Parcel Map for We Care DHS
The CUP for this grow facility got final approval back in August. The location is vacant land on Two Bunch Palms just west of the only cultivation site that is currently operational.

Approved 4-0.

Conditional Use Permit and Development Agreement for A Green Culture DHS, Inc.
This location is the northeast corner of 15th Avenue and Little Morongo Road. 15th Avenue is just a dirt road there.

The building will have 22,479 square feet of cultivation area and greenhouse roofs, so their electric bill will be a bit lower. The design of the building includes two 9 x 12 feet rollup doors that the cultivators don't need, but the city has started adding requirements to the cultivators' CUPs that will make the building more likely to be useful for other purposes when the day comes that they decide not to cultivate there anymore.

It looks like it's going to be right purty!
Approved 4-0.

CUP Amendment for Greenleaf Wellness
All marijuana dispensaries are permitted to grow up to 99 plants in Desert Hot Springs. When the CUP for Greenleaf Wellness was approved, however, the dispensary did not include any plans for the 1,315 s.f. basement. Now, they've got plans and they've come back for this amendment. The owner, Thom Miller was not present at the hearing.

I believe north is to the left. The shops on the street level face the north. Across the top would be Palm Drive.
Ted Mayerhofen commented that he had worked on this building before it was a dispensary. He thought there were security issues. He also said that delivery would have to be from the alley, and an ordinary truck would block that alley. OTOH, any delivery to any business in that little shopping center on the southwest corner of Buena Vista and Palm Drive could block an alley. Plus, I thought the main reason for alleys was using them to load and unload, because then the trucks are not blocking the main streets or taking up parking lot space. So what if it blocks a short alley for a short time? Later, the discussion of the Commission indicated that they understood a dispensary would have no large deliveries or shipments, so no big trucks would be in that alley anyway.
Commissioner Cirner raised the question of ADA access to the basement. In the floor plan above you can see there is a stairway coming down from the first floor and one door that exits to the exterior. It looks to me like that's the door that opens onto the stairway that goes up to Palm Drive. That would mean this basement space is not 100% beneath the dispensary, as it seems to extend to the eastmost end of the building.

The stairway from the one exterior door is on the left side of the building.
This would certainly not seem to be ADA compliant. Do small business have to conform to ADA when doing major renovations? I think they do. Installing an elevator in this building would, it seems to me, be very cost prohibitive. This cultivation space may never come to be.
The vote was 2-2, making it a denial. Commissioners Cirner and De la Torre voted against. Mr. Cirner had brought up the ADA issue, but Mr. De la Torre never expressed his concerns about the project. Then a motion was made to continue the hearing to next month's hearing (February 14) so some of their questions could get answered and to give the owner the opportunity to show up and explain. That motion was approved 4-0.

Coachillin Holdings Tentative Parcel Map
Before discussion started on this one Charles Rangel introduced himself as the new Interim Community Development Director.
Coachillin Holdings propose to build the biggest cultivation site in the city on Indian Canyon between 18th and 19th. You may have already noticed that there has been some grading there. The land is vacant, but the Google satellite view below is recent enough to show some of the grading.

The site is 150 acres and the developer proposes to subdivide it into 40 parcels. Mr. Rangel said that staff recommended this item be continued...again. This is not the first time this has come before the Commission and been continued. Part of the reason this time is that the developer handed a new map to the city on the very day of this meeting. That map would need to be reviewed by both the planning department and fire department before the staff could make any recommendation on that.
Another, bigger reason for the continuance is that the property has on it what the Army Corps of Engineers calls a blue-line stream. Here's the definition of blue-line stream as given by the Riverside County Flood Control and Water Conservation District:
Blue Line Stream - Any stream shown as a solid or broken blue line on 7.5 Minute Series quadrangle maps prepared by the U.S. Department of the Interior Geological Survey (USGS). A blue line stream may be any creek, stream or other flowing water feature, perennial or ephemeral, indicated on USGS quadrangle maps, with the exception of man-made watercourses. The United States Army Corps of Engineers uses USGS blue line stream markings as a preliminary indicator of "Waters of the United States". Streams identified on USGS maps in such a manner are therefore generally subject to federal environmental regulations.

A USGS map of the site. That's I-10 at the bottom. Dillon Road runs across the top of the map. It shows that "blue-line stream" coming down from the north, crossing Dillon and then Indian, then parallelling Indian as it crosses Coachillin's property. You can make it out in a regular Google satellite view, but it's also been used by off roaders, which somewhat obscures it. Before they can do anything on that site they need a sign off from the Army Corps of Engineers which will state, in effect, that they don't expect to be sending any ships up that stream, nor do they plan to dam it for hydropower or irrigation. BUT, the guy who does that at the Army Corps of Engineers retired in November and it seems he has not been replaced. Kenny Dickerson who represented Coachillin Holdings at this meeting, suggested that if both he and Interim Community Development Director Rangel went together to the Army Corps, they would get some action.
Coachillin Holdings disagrees with the requirement to put sidewalks on the streets around the project (except along Indian Canyon - there will be a sidewalk there). They also object to sidewalks inside their property. Their reasoning is that sidewalks make it easier for nefarious people to get closer to their valuable product. What a lot of nonsense. If your security plans are overwhelmed by simply providing evil doers a level path to walk on, then your security plans need a lot of beefing up. Every dispensary, every cultivator, everybody actually, puts in sidewalks. Never have I heard an argument that sidewalks attract crime. That sort of non-logic is usually used when a city is planning to extend a subway line or bike path, because everyone knows most stolen TVs are transported by either bicycle or mass transit. Crooks never have cars.
Coachillin is paying to build the roads around its facility. The sidewalks are a only a small part of that. Why would the city want to force people to walk in the street in an industrial zone?
Mr. Dickerson said that he would redo his proposal so that it only dealt with the parcels to the rear, which the blue-line stream doesn't cross. Mr. Rangel said that wouldn't help, because the Army Corps of Engineers would also have to sign off on a decision that the blue-line stream doesn't cross those parcels.
These are the remaining issues that still must be resolved before the Planning Commission can make a decision. Rather than bringing this proposal back month after month simply to approve a continuance, the Planning Commission voted to table it, meaning it hasn't been rejected and it isn't scheduled for a decision. Whenever Coachillin can get all their ducks in a row, they'll come back to the Commission.
Approved 4-0.

Special Meeting, Tuesday, January 31
Mr. Rangel said there is a bit of a backlog of proposed cultivation facilities that are ready for the Commission, so the Commission agreed to a special meeting on the 31st to review some of those.
permalink | January 11, 2017 at 12:10 AM | Comments (0)
January 2, 2017
Tecopa Update
I'm just home from three nights of camping at Tecopa Hot Springs. The water there is as odorless as the hot water in Desert Hot Springs. Below is a comparison of the minerals between DHS and Tecopa.
Information on the Desert Hot Springs Aquifer came from Two Bunch Palms Resort. The numbers for Tecopa's hot mineral water came from Delight's. Units are PPM. ND = "Not Detected." I would appreciate it if anyone who can fill in a blank spot would leave a comment with the data.
DHS Aquifer
(hot)
Tecopa
Aluminum Oxide
ND
0.2
Bicarbonate
39
668
Calcium
31
7.2
Chloride
120
371
Fluoride
6.2
2.4
Hydrogen-ion Activity (ph)
8.4
7.5
Iron Oxide
ND
0.094
Magnesium
ND
9.7
Silica
0.53
Sodium
300
725
Sulphate
470
497.5
Lithium
0.24
Lead
4
Boron
9.2
Selenium
8
Potassium
22.3
Arsenic
0.24
Carbonates
ND
45.2
Another difference that I only noticed this time (although it's never changed) is that in Tecopa, they are pumping a LOT of water into the hot tubs, 24 hours a day. I couldn't give you an objective estimate of gallons per minute, but I'll say that in DHS the flow of the water into and out of any particular hot tub is pretty subtle. The owner of the place could tell you if the water is flowing, otherwise you'd probably never notice. At the county baths in Tecopa the water is gushing into the first tub and roaring as it pours out of the second tub on its journey back into the ground. You have to really speak up to be heard over the water.
I counted the cinder blocks so I can tell you that the second tub at Tecopa is 16 feet long...and after that I forgot to do any more counting. I'd estimate the width at 10 feet. I didn't count any cinder blocks in the first tub, but it's roughly the same volume. One night when I was there, someone slapped what looked like a plastic bucket lid over the drain (which is just a 6-inch hole) in the second pool. This completely stopped the outflow and made it possible to talk at a normal volume. Over a period of about half an hour I watched the water level rise about six inches. With another couple of inches it would have started to run out into the dressing area. They pulled that plug off when they left.
Tecopa is showing astounding (for Tecopa) signs of prosperity for such a tiny, remote, and harsh town. There's a brewery. My big question was: What is the source of their water? There is no drinking water aquifer there. All the springs are hot mineral springs. Here's what I found on their website: "Now, we hearken back to the days when miners lived there and brewed their own beer with the same artesian water which flows daily from the natural springs." Maybe they run it through reverse osmosis to bring it closer to potability...or maybe not! For those Tecopans who drink more beer than water, this could be a risk.
The Bistro restaurant is still there, but I hear it's gone through a number of personnel changes. The food is still good (AMAZINGLY good for this outpost of civilization). I had the pork chops. All the guys said that the night before the pork chops were wonderful. Mine were dry and overcooked. They do pizza and there is no additional charge for additional toppings! Pig out! The best thing about the place, though, is the people. They are seriously understaffed (especially on New Year's Eve), but all the staff are really great. Service is slow, but very willing to customize to your pleasure. Prices are not bad at all ($21 for those pork chops). When I was there it was almost like being at a party. On their menu you will find a few dishes with scorpions in them. I asked, so I can tell you the scorpions are canned in alcohol in Thailand, so they come into the U.S. as food and it's about as safe as eating a dead Thai scorpion can be. When someone orders a scorpion dish, it's a big show...and not like those restaurants where the entire staff turns out to sing you a really bad birthday song. One of the staff comes out carrying a bullhorn and an instant camera (you know, nueva Polaroid style) along with the food. She'll ask you to hold the scorpion in front of your open mouth while she takes a picture. I was told they have no flavor, but are crunchy and fairly hard to chew, according to three local experts, ages 6, 7 and 8. They all ate scorpions that night. For some this was a repeat adventure. And then they came over and wanted to tell us their ages! There's a lot of screaming, cheering and applauding when a scorpion is successfully swallowed.
A scorpion eater is supposed to write his name on the instant photo and then it gets pinned up to their wall of fame.
There was a table of four young people, two men, two women, seated boy-girl-boy-girl, so if I were to stereotype I'd guess heterosexual dates. The men ordered a scorpion dish (ice cream and some cake in a big bowl), one took a selfie as he held it in front of his mouth—and then he put it back into the ice cream! He didn't swallow! The other guy didn't eat one either, so we got to find out what happens with failures like this. The nice lady with the bullhorn announces to the room "We've got a couple of chicken shits right here!" and the crowd goes wild.
BTW, this is a BYO alcohol place.
Further up the road, there is now a McNeal's BBQ at the entrance road to Delight's. Some of us went there this morning for breakfast. They have a very brief menu, but the waitress named off a list of other dishes they had that was longer than the menu. They should probably just print out new menus every day on plain 8½x11. The staff was great...as staff seems to be everywhere in Tecopa. Outside of Burning Man, I've never seen such a bunch of hardworking, nice, and apparently quite honest people.
But the food at McNeal's. Urgh. I had the brisket sandwich. In Kansas City a barbecue brisket sandwich is a couple of slices of white sandwich bread laid out side by side on a plate, topped with a big pile of sliced brisket with some dill chips and something like coleslaw on the side. At Gates BBQ in Kansas City that would cost you $5.75. It might be more than some people can eat. At McNeal's where all the meat is smoked for 15 hours, the brisket sandwich (their only other meat option is pulled pork - no chicken, no ribs) was a hamburger bun laid open face on top of which was shredded cabbage with no dressing at all (they called it "coleslaw") and a small amount of cubed brisket (I've never seen it cubed) that was dry and not very flavorful. Ten bucks. The pulled pork looked like a much better deal and the guys who ordered that said they thought it was very good. They got a much larger quantity of meat and sauce.
I didn't notice the most obvious lack at the table until someone asked the waitress for barbecue sauce!! She brought out one cold bottle of a thin red sauce. I put some on my brisket and it didn't seem to add flavor or moisture. At any other barbecue restaurant I would have tasted a couple of straight spoonfuls of the sauce, but I didn't even think of it, I was already so disappointed with what I had.
I'd say go there and try it. Mine was so bad it had to have been a fluke. They had been closed the day before, so my brisket may have been left from Saturday night. Order anything but the brisket (they have vegetarian choices) and just enjoy the Tecopa ambiance. They've got a big screen TV and play music (possibly satellite) and there's a large area of the floor that's clear, just about the right amount of space if some people wanted to dance.
I was there for three nights with Great Outdoors. I was the only one in a tent, my nice windtight tent, not the lightweight cool one I took to Burning Man, so I was always comfortable in there. But most of the time it was too cold (and sometimes windy) to sit outside. There was always, of course, the hot water tubs across the street. The cost of camping ($22/night for a spot with electricity) includes unlimited usage of the hot water tubs. One night we held a potluck dinner inside the RV that had the biggest popout. I brought my last package of Hydrox cookies. Most of the guys had never heard of them...and they were all of an age that the original Hydrox should have been available in their yoots. Maybe Sunshine Biscuit company was not entirely nationwide.
The county-owned campground and hot tubs use this website: tecopahotspringscampground.com which is not to be confused with the Tecopa Hot Springs Resort (tecopahotsprings.org) next door.
Neglected to mention for those new to the subject, the county hot tubs are sex-segregated with mandatory nudity. Very popular with immigrants from Korea, but it's not at all in the style of a Korean spa. Besides the group tubs, there is a third private hot tub room that is handicapped accessible and can be rented by anyone for their private enjoyment.

Here's your county campground on the west side of the roadway, and your county hot tubs on the east side and a bit to the northish. I never knew until I looked at this aerial view that the county tubs had one outdoor tub in back...or on the women's side.
permalink | January 2, 2017 at 09:54 PM | Comments (3)
November 21, 2016
Hotel Cecil
The L.A. Cultural Heritage Commission visited Hotel Cecil on Main Street. The lobby is quite nice. They also took us up to the 14th floor to see a couple of typical rooms. Most rooms do not have baths, so there are shared toilets and showers on each floor. All of the rooms are small; about 11' by 17'. We saw one room that had no bath and it was pretty small, but included a small flat screen TV and a clock radio that included a mount for an iPod (the old Apple connection, not Lightning). Then they showed us a room with a bath. It was still 11' x 17', so they just used almost all the open floor space to put a bathroom (shower, toilet, sink) in there. There was about 18 inches of clearance on either side of the bed, and if there was any furniture besides the bed, I can't recall it. The hotel is now doing business as "Stay On Main." The rooms are very plain,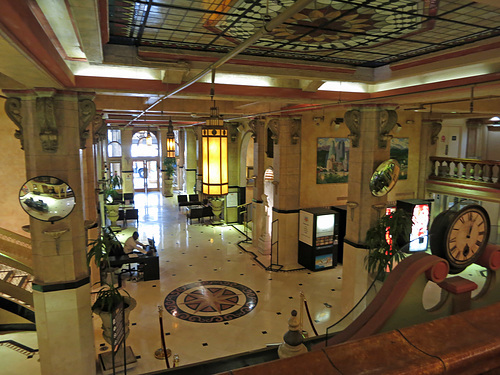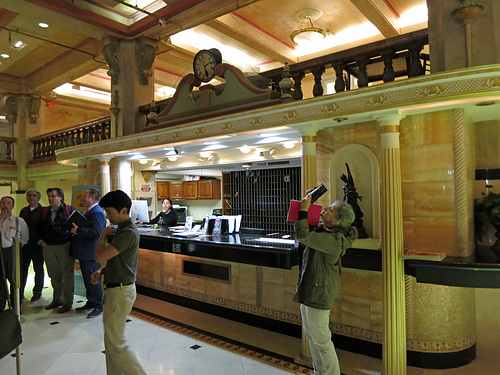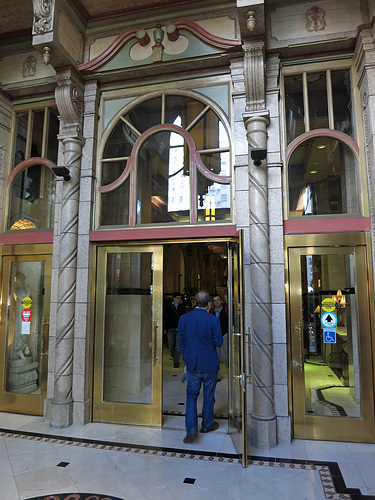 Looking out the window of a 14th floor guest room, this is the view.
More photos of Hotel Cecil can be found here.
permalink | November 21, 2016 at 08:30 PM | Comments (0)
Catalina Swimwear Building
On a tour with the Los Angeles Cultural Heritage Commission. Here's the Wikipedia article for Catalina Swimwear.


The building is live/work lofts. That's one of the Commissioners front and lower center.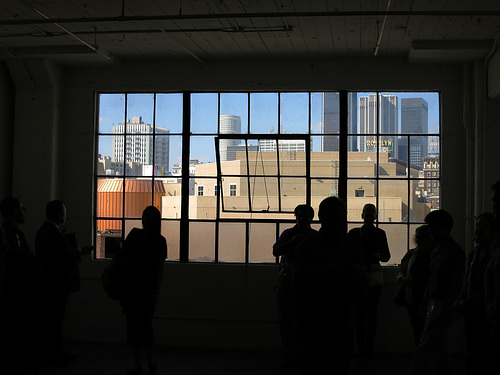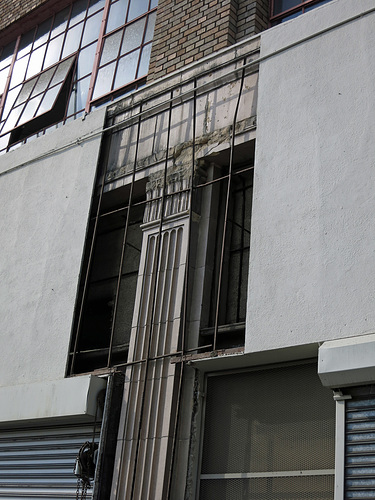 A bit of newer stuff was pulled off to reveal some of the original facade, which will be restore.
More photos of the Catalina Swimwear Building are here.
permalink | November 21, 2016 at 07:07 PM | Comments (0)
Los Angeles Cultural Heritage Commission
On Thursday morning last week I attended a 9 AM meeting of the Los Angeles Cultural Heritage Commission in LA City Hall. They had two things on their agenda that morning: first was to consider designating the Bob and Dolores Hope Estate in Toluca Lake as a monument; second was to go visit and tour Hotel Cecil and the Catalina Swimwear Building. It was the second thing that I came for, but the Bob Hope house issue was very interesting.

Above is the Google Earth view of the estate.
Below is what the public could see from the street.

The place is owned by the Bob & Dolores Hope Foundation. First the staff made its presentation with a slide show and talk all about how ultra famous Bob Hope was. Under Los Angeles law there are two different bases that can justify declaring something a monument. One basis is the usual: great cultural, historical, architectural (etc.) significance. The second is that it was the home of a celebrity. The Bob Hope house was proposed (by a city council member) due solely to the celebrity status. Staff admits it has no cultural, historical, architectural (etc.) significance. In discussion the Commissioners said that in L.A. they obviously are not going to declare every residence of every celebrity a monument or they would consume a significant portion of the housing market. But they agreed that Bob Hope was just about the most famous person in the world.
After the staff report the Foundation got up to make their comments. They were daughter Linda Hope and a couple of other people, one of whom may have been an attorney. They told us quite a different story than staff told. Right off the bat, Linda Hope said they had the wrong address. The correct address is 10346 Moorpark Street. Staff had supplied the address as 10350 Moorpark Street. No points for staff there. Then she went on to explain that while staff had described the house as French Chateau style, only the original house was French Chateau and that Dolores Hope had almost continually added wings and additions so that now the house was some sort hodge-podge of no significance. She also disputed their description of the grounds which staff said included a "one-hole par 3 golf 'course'." Linda Hope said it was only a small decorative thing that could not really be used for golf.
Worse, she said, was that there was no way the Los Angeles public could access the house. In the '90s the Hopes had considered making it into a museum, but quickly learned that since it was in a quiet upscale residential area with narrow streets, there was no way it could be a museum open to the public. So the Hopes' final instructions were to use the estate to help fund the Bob & Dolores Hope Foundation. The intention of the trustees was to sell it. The place had been sitting on the market for ages but not long ago the first decent offer was submitted. That was when the city council member asked that the Cultural Heritage Commission consider the property. The decent offer was immediately withdrawn.
Linda Hope listed all of the memorials to Bob Hope that are scattered over the Los Angeles area. She said each and every one of those was more significant to the legacy of Bob and Dolores Hope than the estate. Later, Commissioners said they were surprised by the list, not realizing there were already so many memorials; so obviously staff didn't do that research either.
A couple of residents got up to also speak against the designation, but the essence of their arguments was that Toluca Lake is a beautiful, quiet community and any kind of monument there would bring traffic, noise and lower property values. The President of the Commission interrupted both of those commenters (!) to tell them that was of absolutely no concern to this Commission.
One Commissioner suggested giving monument status to only the hedge and gate in front of the house, because those were the only things the public would ever see. I was pretty sure that was a joke, but the President went ahead and explained how impractical that would be.
Finally, a Commissioner made the motion to deny monument status and that was approved 5-0. The decision now goes to city council, since it had originated there and city council could overrule this decision.
The meeting was adjourned and we headed out on our field trip.
permalink | November 21, 2016 at 07:04 PM | Comments (0)
November 19, 2016
Rare Double Survival Of Lost Desert Hikers
None of the details of how this all came down are included in this article and I imagine the couple haven't talked to any press about it. I was astonished that after being found they decided to go to Joshua Tree where they would spend the night. That is far from a direct route home. It sounds like they're continuing their vacation! They sound pretty tough. I hope they make some babies.
In the map below, Black Mountain Road, where they were found, is roughly diagonal across the center of the image. They seem to have been not too far from a broadcast tower. I wonder if the lights they spotted were on that tower.
permalink | November 19, 2016 at 09:20 PM | Comments (0)
November 13, 2016
Blythe Outlawed Marijuana Sales
But that was some time ago when the issue was solely medical marijuana. Now, however, the city leaders see that Blythe could be THE city to supply recreational marijuana to all of Arizona...illegally, of course, but how many cops can Arizona tie up just to watch for marijuana to cross the Colorado River.
permalink | November 13, 2016 at 05:22 PM | Comments (0)
September 29, 2016
Canndescent Ribbon Cutting
Canndescent is the first cannabis cultivator to go into real operation in Desert Hot Springs, which means it's the first legal cultivation site in California, outside of dispensaries themselves. Boy Scout Troop 1606 brought the American flag and led the Pledge of Allegiance, which the cannabis people thought was a bit unusual. But! One of the Scouts is trying to raise money for a trip to Washington DC for some Boy Scout function. Canndescent covered his remaining financial need with a check for $3,300. I would like to be there when he tells other Scouts how he raised his money.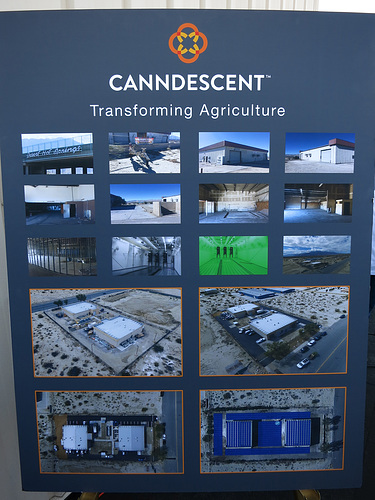 "Transforming Agriculture." I imagine in a few years as the cannabis industry settles down we'll get used to seeing slogans like you'd see in Iowa or any other predominantly agricultural state.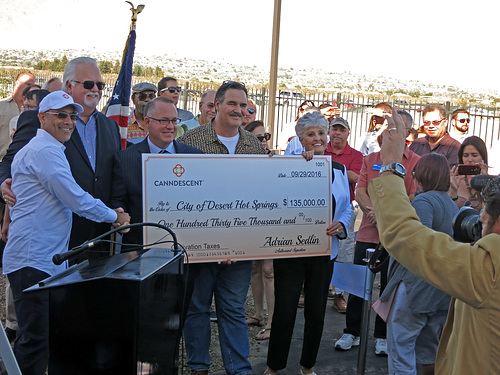 Canndescent also presented the city with its first tax payment of $135,000. The tax rate is based solely on cubic footage of the grow area, so the city doesn't have to wait for a crop to mature and be sold to get taxes. I don't recall if the taxes are paid quarterly or every 6 months, and no one said if this tax payment is one full payment, or does it cover through the end of the calendar year or perhaps the fiscal year? Nevertheless, $135,000 is almost the cost of one cop for one year. So it's a start.


Click for a larger size.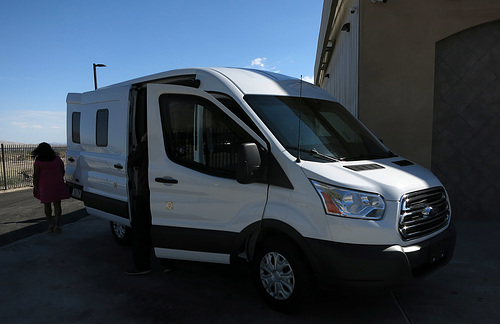 Their armored vehicle which doesn't seem to use CNG.

And it looks like they went all the way to Connecticut to get it.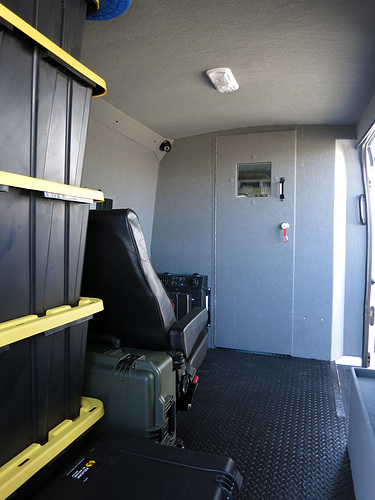 Interior of the vehicle.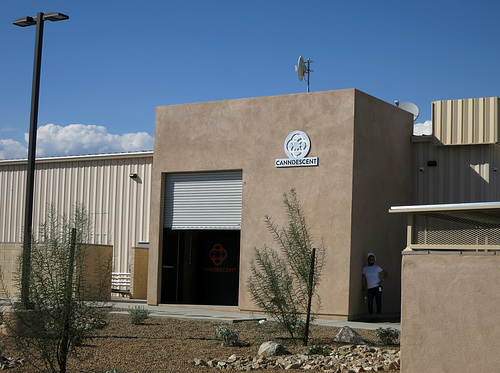 An historical plaque that Canndescent will erect. I suppose this fulfills their "art in public places" requirement. The plaque says:
CANNDESCENT

This marks the site of the first municipally-permitted cannabis cultivator operating in California. On November 5, 1996, California became the first U.S. state to legalize medical cannabis use. On October 21, 2014, Desert Hot Springs became the first city in California to legalize cannabis cultivation. On September 19, 2016, CANNDESCDENT commenced production.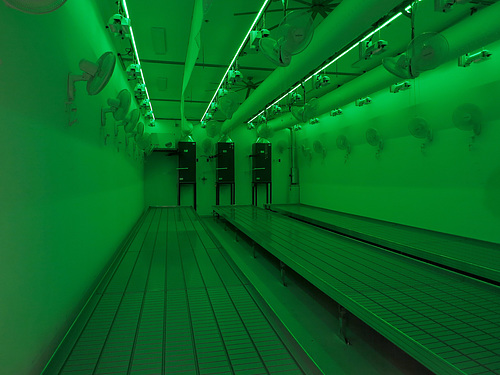 One of their grow rooms (with nothing growing).

Video of the grow room so you can see all the fans and appreciate the resulting noise.
permalink | September 29, 2016 at 07:17 PM | Comments (0)
August 8, 2016
Camp Photos From This Weekend
This past weekend I went to the northern California CMEN gathering. I had never been to this gathering before. This was its third year. The location was about midway between Reno and Sacramento. Some photos of the campground.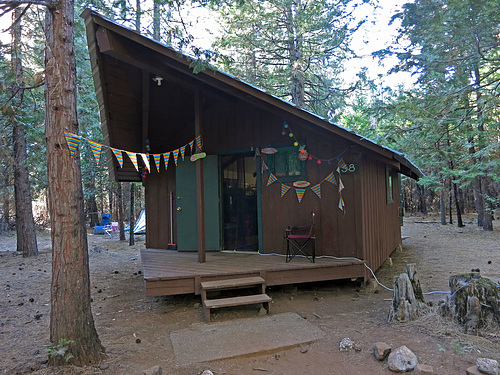 My tent was behind this cabin. You can see it poking out on the left.

My new tent, showing the roof vents propped open.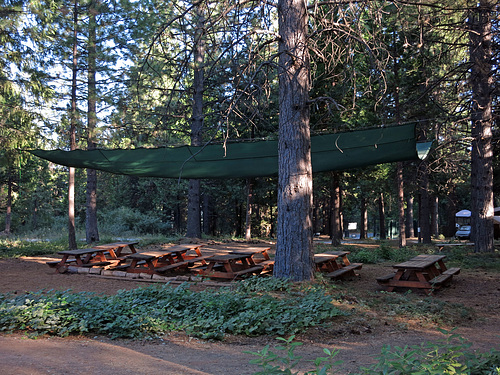 The outdoor dining area.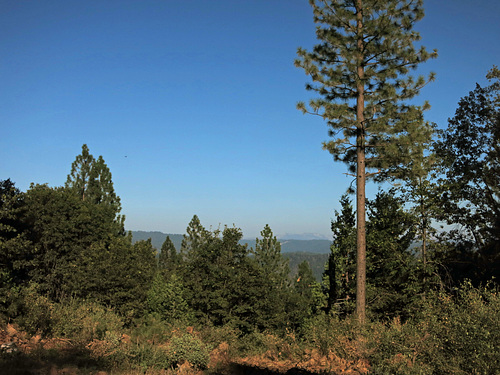 The view from the dining hall.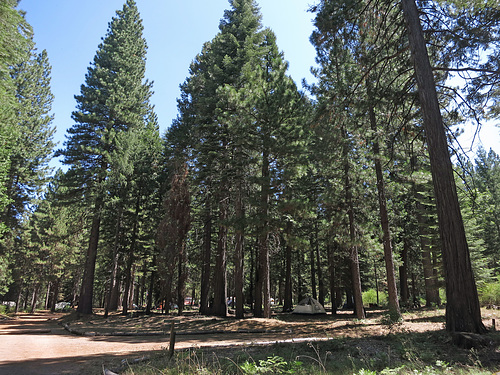 This is the most crowded camping area I could find. Can you see the tents? This is at the eastern end of the camp. My tent at the western end was almost a mile away.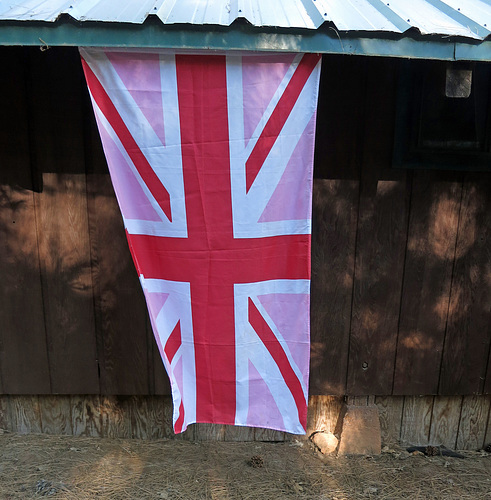 You know I want one of these.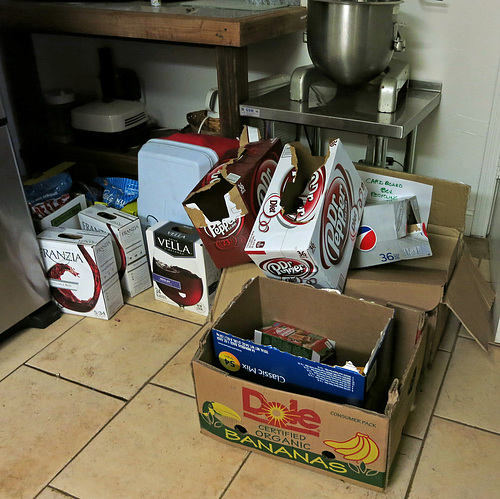 My volunteer job was keeping one particular building neat and clean. Allegedly, four other people had signed up for the same job, but somehow it was always me who washed the floor or crushed the boxes for recycling.
The complete set of photos is here.
permalink | August 8, 2016 at 06:55 PM | Comments (0)
July 5, 2016
Pink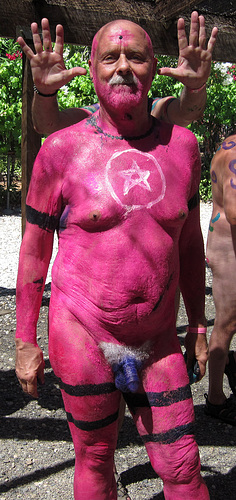 This past week I was at a Billys gathering in northern California. One of the Billys asked me if he could paint my whole body pink. Who am I to say no? Oddly, it was the white paint in my pubic hair that drew the most attention.
permalink | July 5, 2016 at 09:20 PM | Comments (2)
June 8, 2016
Marijuana Cultivation Groundbreaking
This took place on Little Morongo, between Two Bunch Palms and Pierson.


The site of the first groundbreaking in Desert Hot Springs for a marijuana cultivation site.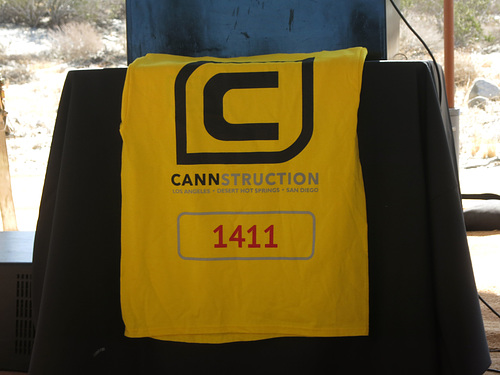 All these t-shirts bore the number 1411, but I don't know the significance of that.

A genuine peace pipe as a gift from the Chamber of Commerce.
permalink | June 8, 2016 at 05:35 PM | Comments (0)
June 3, 2016
Santa Monica Photos
Things seen on a Sunday near the Santa Monica downtown Expo Line stop.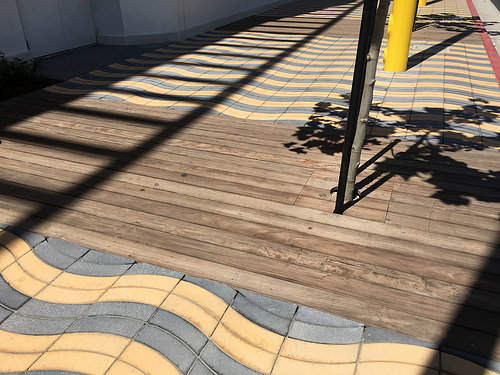 See how nicely they do the trees, with a big expanse of wood with lots of spaces to allow rain (as if it ever rained!) to get to the soil. Also expensive, I'm sure. But how much does it cost to replace dead trees?

I think the Big Blue Bus garage is behind this, or I may just be imagining that for obvious reasons.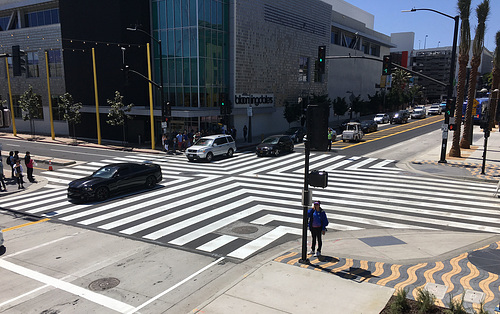 The street intersection at the Expo Line goes all four ways whenever it goes into Walk mode and so, knowing how L.A. drivers are, no expense was spared in slapping paint all over the place. Also, there's a cop on duty.

Back in Los Angeles proper, this is how they've painted the Hollywood & Highland intersection for the same purpose. Photo by LA Great Streets.


Pedestrians streaming away from the Expo train.

This was a bit of a challenge for me. Even when you're walking on this flat surface, your brain tells you its wavy. Easiest solution was to look away.

Simple and durable directions. Now, try to find that in the press of a crowd.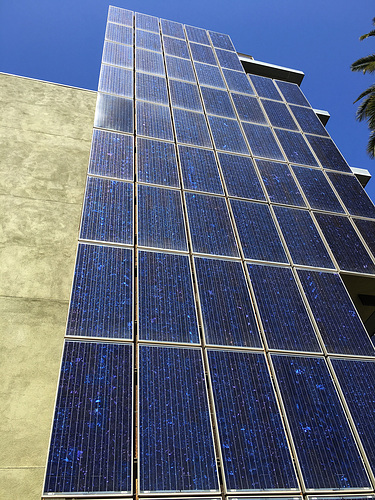 I'd like to see their calculations on the efficiency of putting solar panels in a fixed vertical array like this. Their western wall, where these are mounted, is a lot bigger than their roof.

Please excuse my stupid finger in the view. I want you to notice how they handle their public education campaign.
permalink | June 3, 2016 at 07:57 PM | Comments (0)
Up In The San Bernardino National Forest
Photos from Camp Round Meadow where I camped with CalComMen last weekend. It's at an elevation of about 6,500 feet, so while the desert was getting its first seriously warm weekend, I was up there freezing to death. Specifically, 40s at night.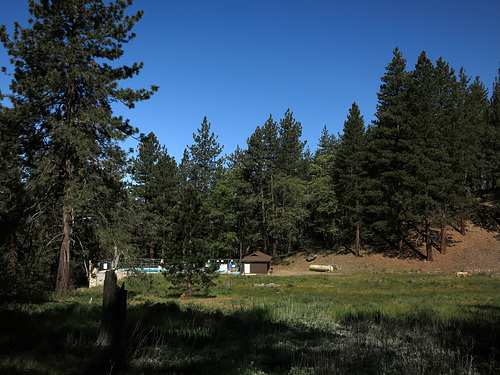 Looking across the field of stinging nettles toward the swimming pool, heated to a comfortable 75°.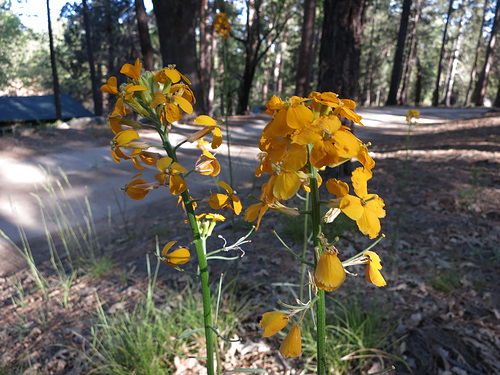 The view from the door of my tent.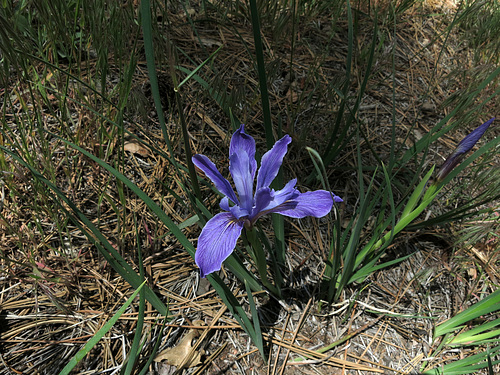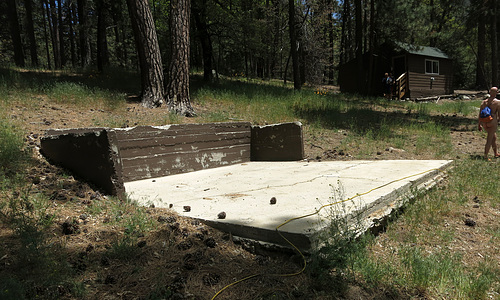 Next time I'm setting up my tent here. It's got electricity and a view!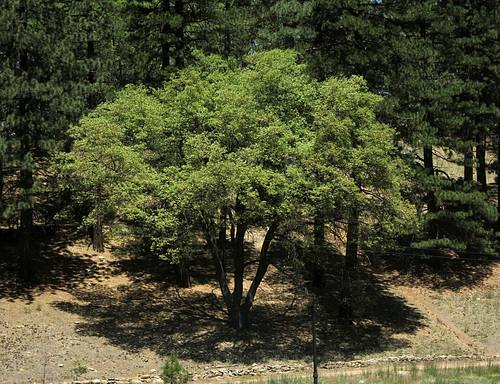 permalink | June 3, 2016 at 07:48 AM | Comments (0)
April 21, 2016
The Desert Hot Springs Marijuana Meeting
Everything you missed at last night's meeting. For the most part, a very interesting couple of hours. That is I, in the red t-shirt on the left of the screen as the video starts.

"I am a very conservative individual. I have totally done a 180 on my opinion" regarding marijuana, said [Desert Hot Springs Mayor Scott] Matas, who describes himself as a right-of-center registered Republican.
permalink | April 21, 2016 at 07:51 PM | Comments (0)
April 3, 2016
DHS Walmart Petition
I finally got around to reading the Walmart petition. There's no game-playing in it that I can detect. No exemptions from any taxes or fees. In fact, they'll kick in an additional $75,000 on top of the DIF fees. That's supposed to help pay for something at what will be the future intersections of Cactus and Camino Aventura and Claire Avenue—although I don't think $75,000 would cover very much. Here are some of the bits I found interesting:
Permitted to be open 24 hours.
Exterior payphones permitted. Open 24 hours, outside payphones, right across the street from Dos Palmas. Potential for a public safety issue there.
Landscaping will be xeriscape, but they don't say they will conform to MSWD's ordinance on this.
They will need to extend a 1,806 foot sewer line from Camino Idilio.
Palm Drive will be widened to allow for a right-turn lane.
Traffic signals will be installed at Camino Aventura and Palm Drive.
All (or almost all) of the lighting will be LED. There will also be a daylight harvesting system (is that like a sophisticated skylight?) and a computer controlled continuously active system that adjusts lighting up and down.
Waste heat from refrigeration will be captured and used to heat water.
The site will be inspected for desert tortoises and burrowing owls. But they don't make any promises about any other endangered creatures or plants.
They will also observe the usual rules if they discover archaeological artifacts.
Summary: if you want the Walmart, you can sign this petition with a clear conscience. Unless somebody wants to point out some heinous provision in it that I missed.
permalink | April 3, 2016 at 10:18 PM | Comments (0)
March 29, 2016
Bequinox 2016 Photos
I've got all my photos from Bequinox edited and uploaded here. Some samples: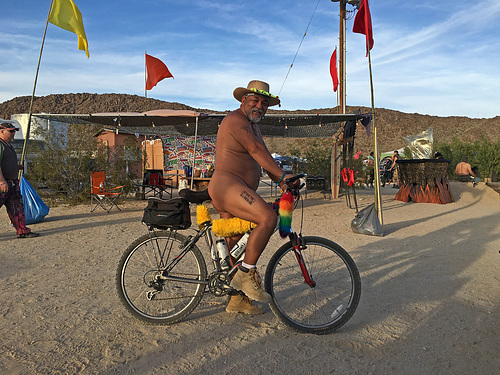 Andy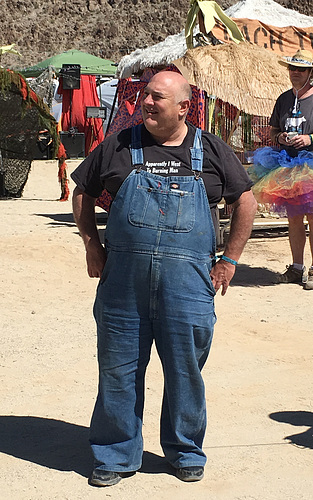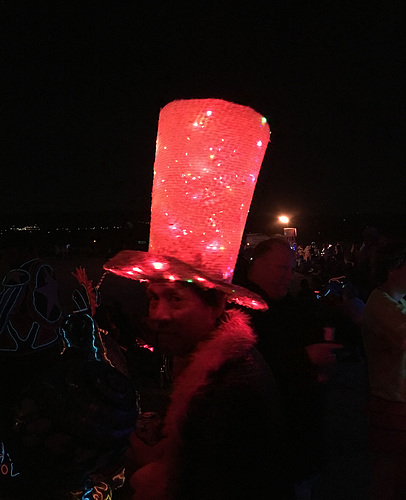 At the burn on Saturday night.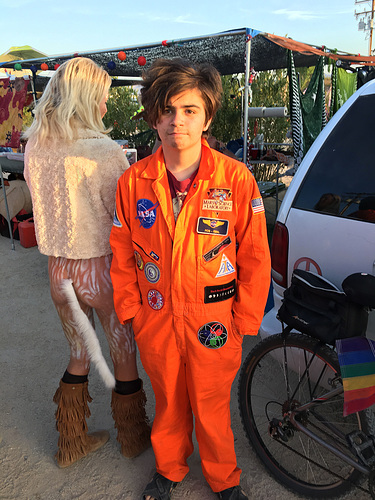 I didn't realize how young this guy was until after I took this photo. He seemed to be stumped when I asked him if I could take his photo. "Whadda ya mean?" he asked.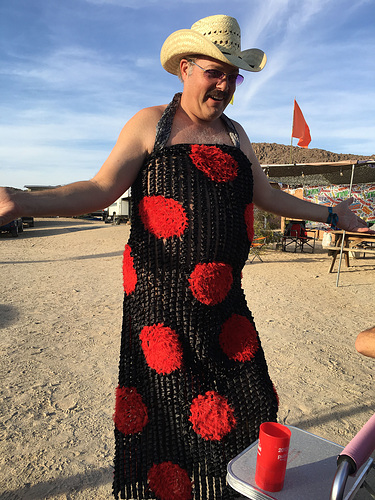 Brian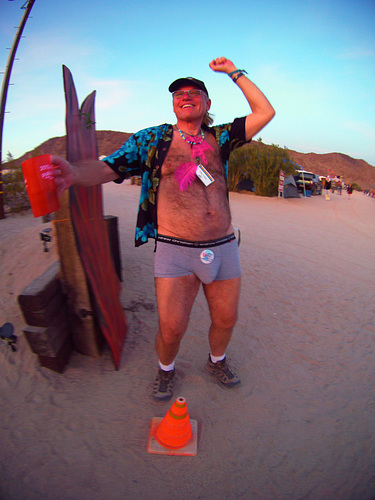 Ed L. who will be a Burning Man virgin this year.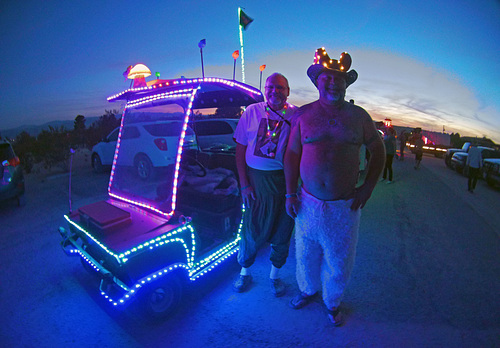 George and Tony and their art car.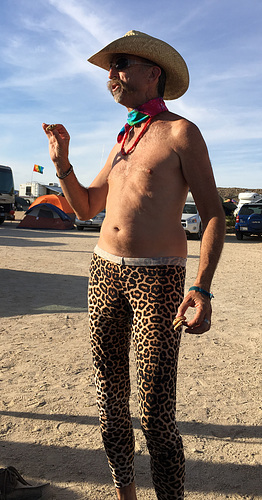 Jim. Of course, we're all familiar with the story of how he found this leopard outfit at the Dollar General in Hawthorne, Nevada, where all the finest Burner ladies acquire their wardrobe.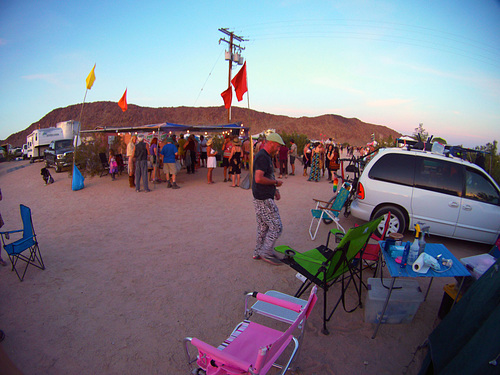 This is the view from our vantage point while the Nacho Daddies were in full action. We spotted a lot of fun stuff.

For example.

The robot was friendly to children and adults.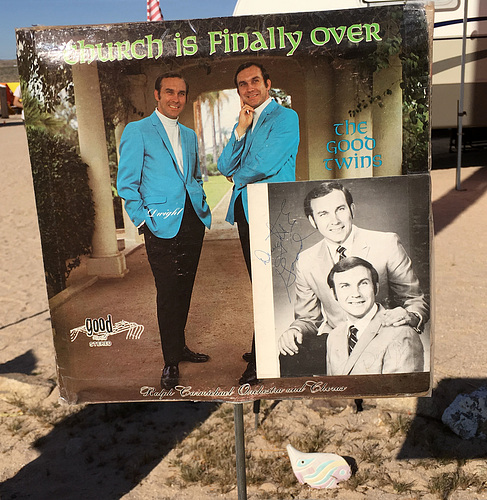 "Church Is Finally Over" for these twins.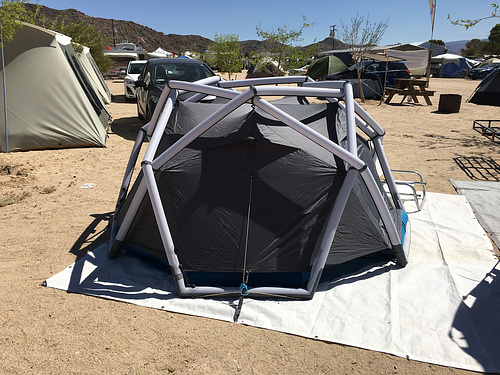 I'd seen these Heimplanet tents online, but this was my first in person. That outer skeletal structure is inflated.
permalink | March 29, 2016 at 07:34 PM | Comments (0)
March 25, 2016
More Bequinox Videos