November 19, 2016
Rare Double Survival Of Lost Desert Hikers
None of the details of how this all came down are included in this article and I imagine the couple haven't talked to any press about it. I was astonished that after being found they decided to go to Joshua Tree where they would spend the night. That is far from a direct route home. It sounds like they're continuing their vacation! They sound pretty tough. I hope they make some babies.
In the map below, Black Mountain Road, where they were found, is roughly diagonal across the center of the image. They seem to have been not too far from a broadcast tower. I wonder if the lights they spotted were on that tower.
permalink | November 19, 2016 at 09:20 PM | Comments (0)
November 13, 2016
Blythe Outlawed Marijuana Sales
But that was some time ago when the issue was solely medical marijuana. Now, however, the city leaders see that Blythe could be THE city to supply recreational marijuana to all of Arizona...illegally, of course, but how many cops can Arizona tie up just to watch for marijuana to cross the Colorado River.
permalink | November 13, 2016 at 05:22 PM | Comments (0)
September 29, 2016
Canndescent Ribbon Cutting
Canndescent is the first cannabis cultivator to go into real operation in Desert Hot Springs, which means it's the first legal cultivation site in California, outside of dispensaries themselves. Boy Scout Troop 1606 brought the American flag and led the Pledge of Allegiance, which the cannabis people thought was a bit unusual. But! One of the Scouts is trying to raise money for a trip to Washington DC for some Boy Scout function. Canndescent covered his remaining financial need with a check for $3,300. I would like to be there when he tells other Scouts how he raised his money.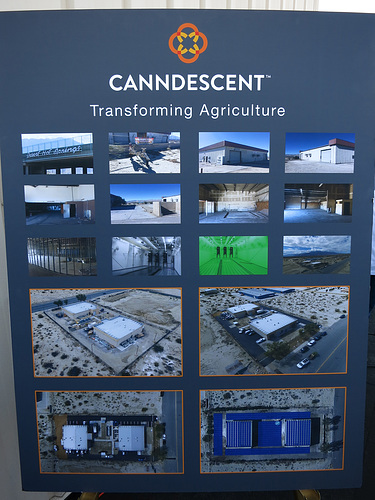 "Transforming Agriculture." I imagine in a few years as the cannabis industry settles down we'll get used to seeing slogans like you'd see in Iowa or any other predominantly agricultural state.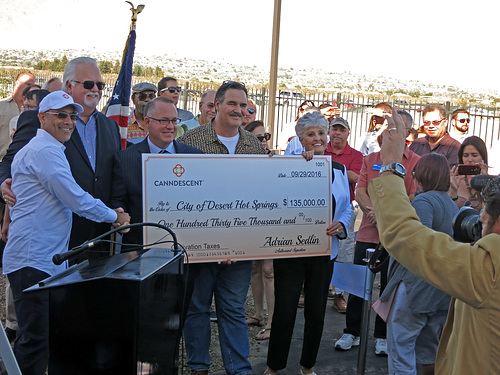 Canndescent also presented the city with its first tax payment of $135,000. The tax rate is based solely on cubic footage of the grow area, so the city doesn't have to wait for a crop to mature and be sold to get taxes. I don't recall if the taxes are paid quarterly or every 6 months, and no one said if this tax payment is one full payment, or does it cover through the end of the calendar year or perhaps the fiscal year? Nevertheless, $135,000 is almost the cost of one cop for one year. So it's a start.


Click for a larger size.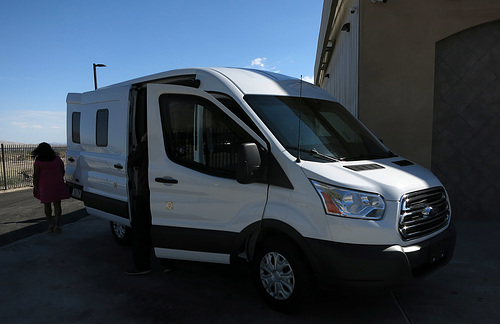 Their armored vehicle which doesn't seem to use CNG.

And it looks like they went all the way to Connecticut to get it.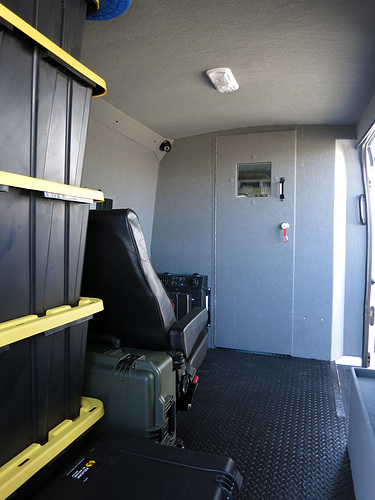 Interior of the vehicle.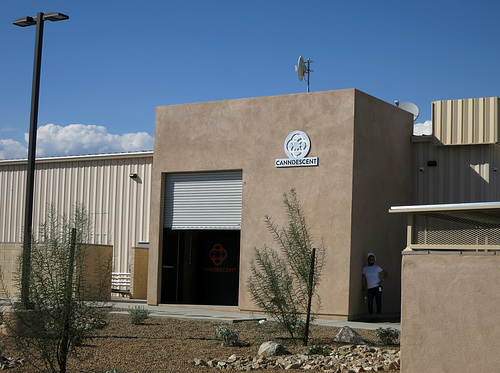 An historical plaque that Canndescent will erect. I suppose this fulfills their "art in public places" requirement. The plaque says:
CANNDESCENT

This marks the site of the first municipally-permitted cannabis cultivator operating in California. On November 5, 1996, California became the first U.S. state to legalize medical cannabis use. On October 21, 2014, Desert Hot Springs became the first city in California to legalize cannabis cultivation. On September 19, 2016, CANNDESCDENT commenced production.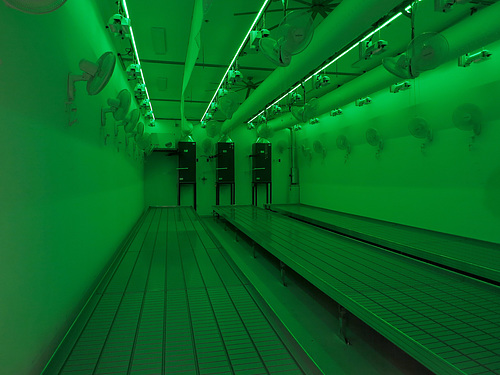 One of their grow rooms (with nothing growing).

Video of the grow room so you can see all the fans and appreciate the resulting noise.
permalink | September 29, 2016 at 07:17 PM | Comments (0)
August 8, 2016
Camp Photos From This Weekend
This past weekend I went to the northern California CMEN gathering. I had never been to this gathering before. This was its third year. The location was about midway between Reno and Sacramento. Some photos of the campground.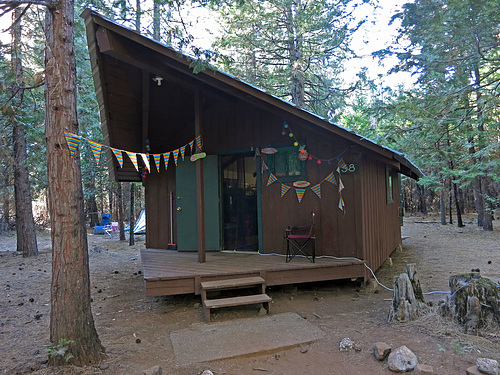 My tent was behind this cabin. You can see it poking out on the left.

My new tent, showing the roof vents propped open.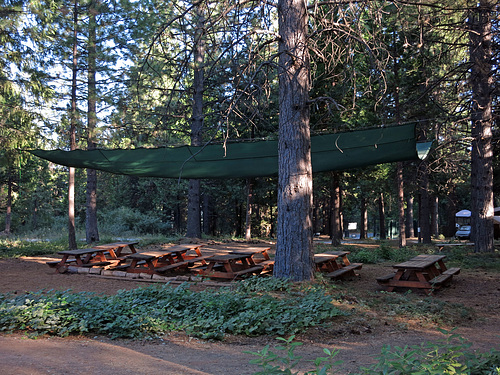 The outdoor dining area.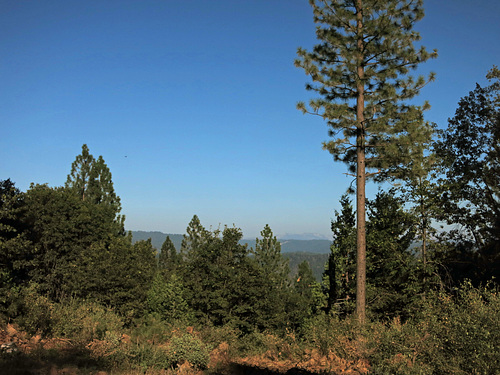 The view from the dining hall.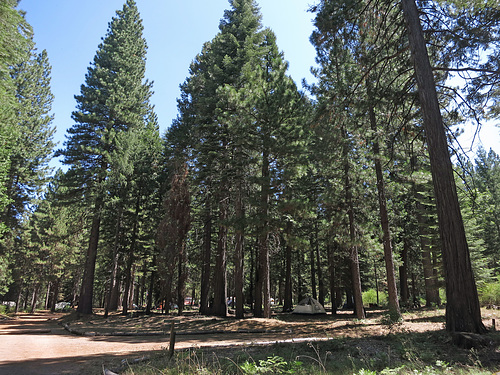 This is the most crowded camping area I could find. Can you see the tents? This is at the eastern end of the camp. My tent at the western end was almost a mile away.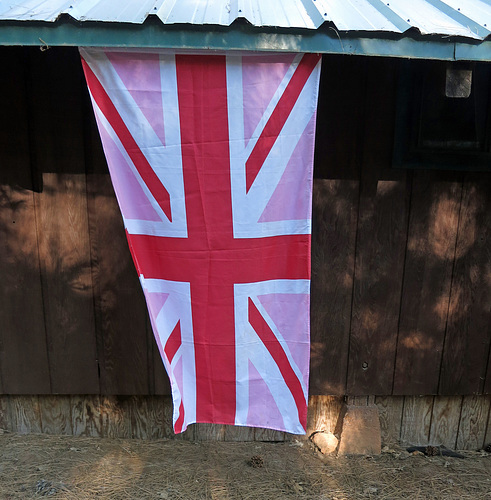 You know I want one of these.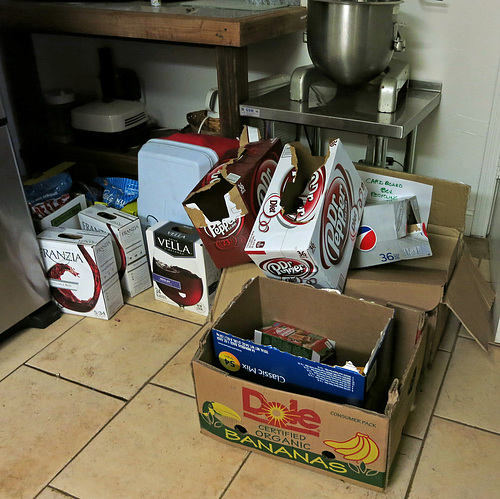 My volunteer job was keeping one particular building neat and clean. Allegedly, four other people had signed up for the same job, but somehow it was always me who washed the floor or crushed the boxes for recycling.
The complete set of photos is here.
permalink | August 8, 2016 at 06:55 PM | Comments (0)
July 5, 2016
Pink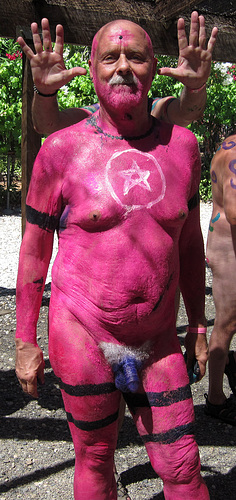 This past week I was at a Billys gathering in northern California. One of the Billys asked me if he could paint my whole body pink. Who am I to say no? Oddly, it was the white paint in my pubic hair that drew the most attention.
permalink | July 5, 2016 at 09:20 PM | Comments (2)
June 8, 2016
Marijuana Cultivation Groundbreaking
This took place on Little Morongo, between Two Bunch Palms and Pierson.


The site of the first groundbreaking in Desert Hot Springs for a marijuana cultivation site.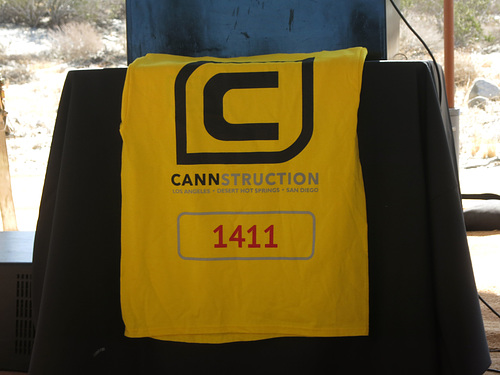 All these t-shirts bore the number 1411, but I don't know the significance of that.

A genuine peace pipe as a gift from the Chamber of Commerce.
permalink | June 8, 2016 at 05:35 PM | Comments (0)
June 3, 2016
Santa Monica Photos
Things seen on a Sunday near the Santa Monica downtown Expo Line stop.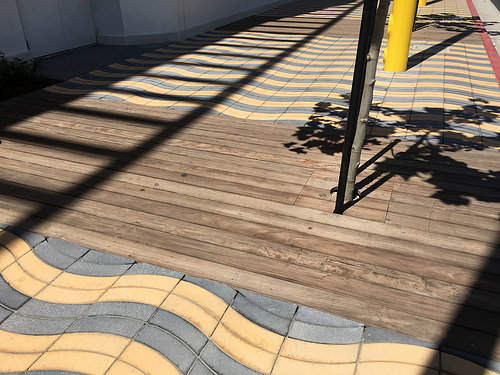 See how nicely they do the trees, with a big expanse of wood with lots of spaces to allow rain (as if it ever rained!) to get to the soil. Also expensive, I'm sure. But how much does it cost to replace dead trees?

I think the Big Blue Bus garage is behind this, or I may just be imagining that for obvious reasons.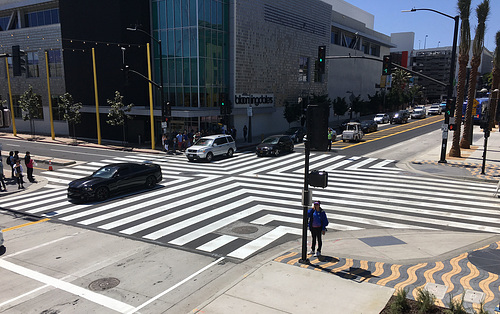 The street intersection at the Expo Line goes all four ways whenever it goes into Walk mode and so, knowing how L.A. drivers are, no expense was spared in slapping paint all over the place. Also, there's a cop on duty.

Back in Los Angeles proper, this is how they've painted the Hollywood & Highland intersection for the same purpose. Photo by LA Great Streets.


Pedestrians streaming away from the Expo train.

This was a bit of a challenge for me. Even when you're walking on this flat surface, your brain tells you its wavy. Easiest solution was to look away.

Simple and durable directions. Now, try to find that in the press of a crowd.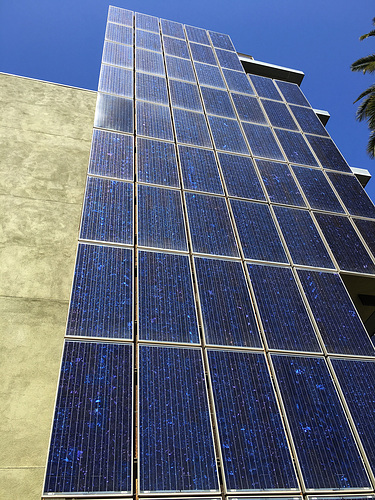 I'd like to see their calculations on the efficiency of putting solar panels in a fixed vertical array like this. Their western wall, where these are mounted, is a lot bigger than their roof.

Please excuse my stupid finger in the view. I want you to notice how they handle their public education campaign.
permalink | June 3, 2016 at 07:57 PM | Comments (0)
Up In The San Bernardino National Forest
Photos from Camp Round Meadow where I camped with CalComMen last weekend. It's at an elevation of about 6,500 feet, so while the desert was getting its first seriously warm weekend, I was up there freezing to death. Specifically, 40s at night.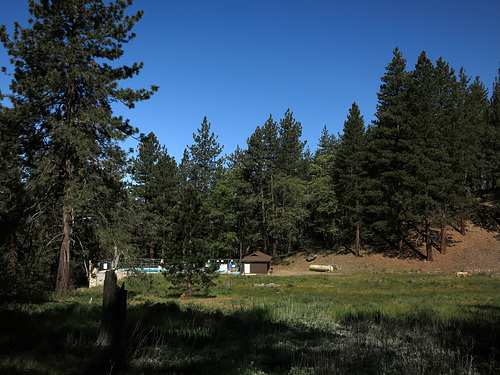 Looking across the field of stinging nettles toward the swimming pool, heated to a comfortable 75°.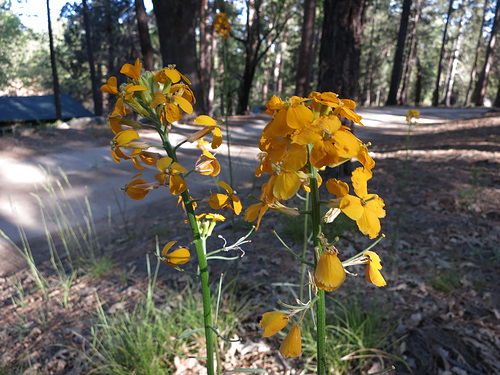 The view from the door of my tent.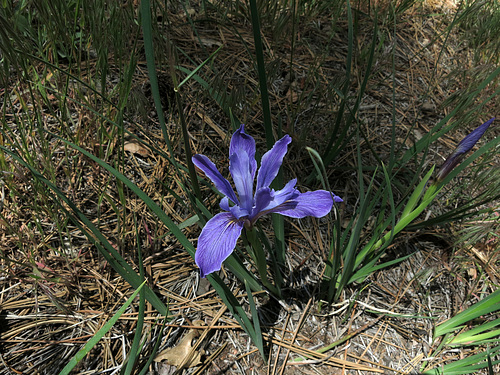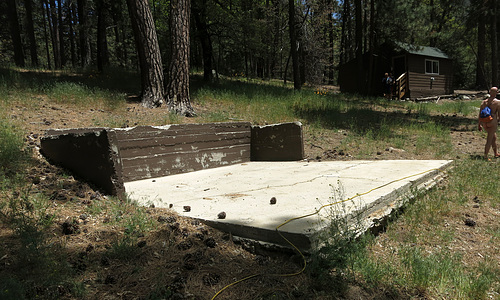 Next time I'm setting up my tent here. It's got electricity and a view!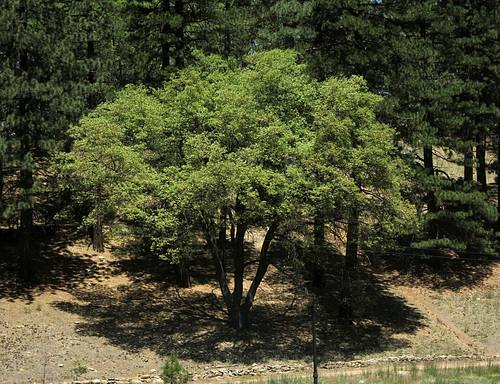 permalink | June 3, 2016 at 07:48 AM | Comments (0)
April 21, 2016
The Desert Hot Springs Marijuana Meeting
Everything you missed at last night's meeting. For the most part, a very interesting couple of hours. That is I, in the red t-shirt on the left of the screen as the video starts.

"I am a very conservative individual. I have totally done a 180 on my opinion" regarding marijuana, said [Desert Hot Springs Mayor Scott] Matas, who describes himself as a right-of-center registered Republican.
permalink | April 21, 2016 at 07:51 PM | Comments (0)
April 3, 2016
DHS Walmart Petition
I finally got around to reading the Walmart petition. There's no game-playing in it that I can detect. No exemptions from any taxes or fees. In fact, they'll kick in an additional $75,000 on top of the DIF fees. That's supposed to help pay for something at what will be the future intersections of Cactus and Camino Aventura and Claire Avenue—although I don't think $75,000 would cover very much. Here are some of the bits I found interesting:
Permitted to be open 24 hours.
Exterior payphones permitted. Open 24 hours, outside payphones, right across the street from Dos Palmas. Potential for a public safety issue there.
Landscaping will be xeriscape, but they don't say they will conform to MSWD's ordinance on this.
They will need to extend a 1,806 foot sewer line from Camino Idilio.
Palm Drive will be widened to allow for a right-turn lane.
Traffic signals will be installed at Camino Aventura and Palm Drive.
All (or almost all) of the lighting will be LED. There will also be a daylight harvesting system (is that like a sophisticated skylight?) and a computer controlled continuously active system that adjusts lighting up and down.
Waste heat from refrigeration will be captured and used to heat water.
The site will be inspected for desert tortoises and burrowing owls. But they don't make any promises about any other endangered creatures or plants.
They will also observe the usual rules if they discover archaeological artifacts.
Summary: if you want the Walmart, you can sign this petition with a clear conscience. Unless somebody wants to point out some heinous provision in it that I missed.
permalink | April 3, 2016 at 10:18 PM | Comments (0)
March 29, 2016
Bequinox 2016 Photos
I've got all my photos from Bequinox edited and uploaded here. Some samples: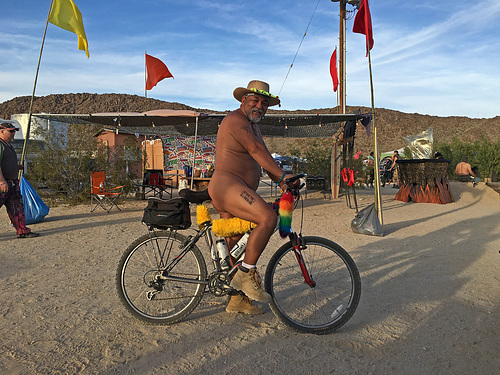 Andy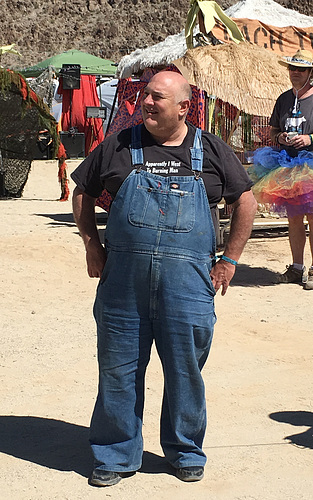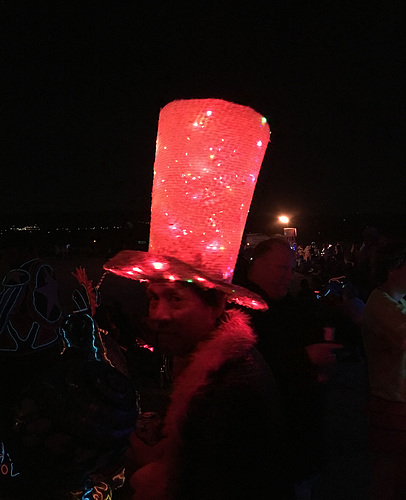 At the burn on Saturday night.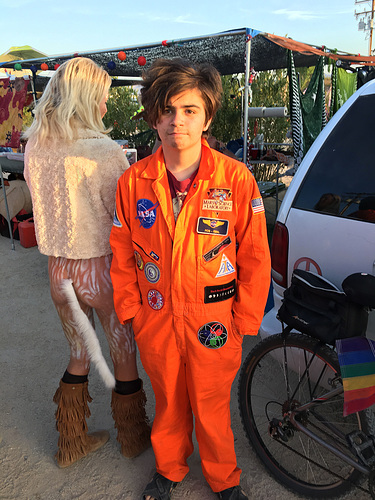 I didn't realize how young this guy was until after I took this photo. He seemed to be stumped when I asked him if I could take his photo. "Whadda ya mean?" he asked.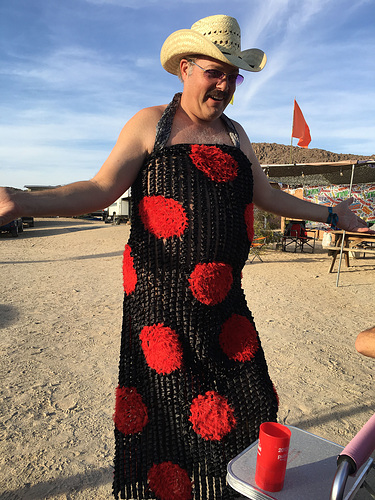 Brian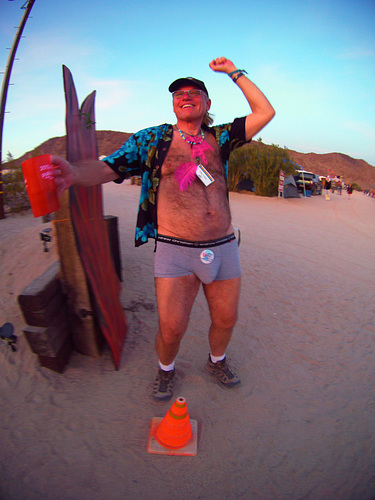 Ed L. who will be a Burning Man virgin this year.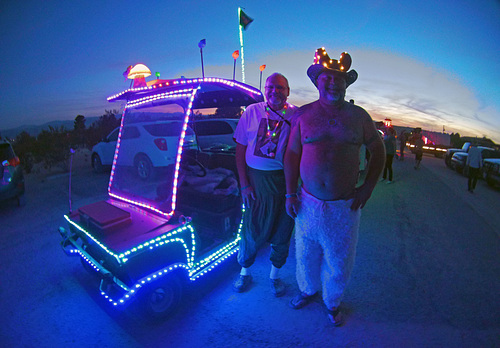 George and Tony and their art car.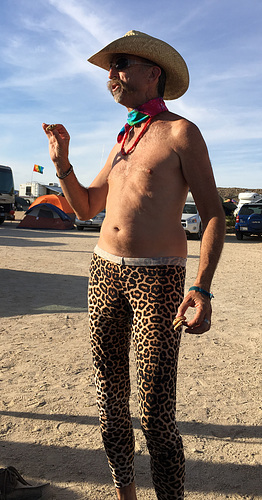 Jim. Of course, we're all familiar with the story of how he found this leopard outfit at the Dollar General in Hawthorne, Nevada, where all the finest Burner ladies acquire their wardrobe.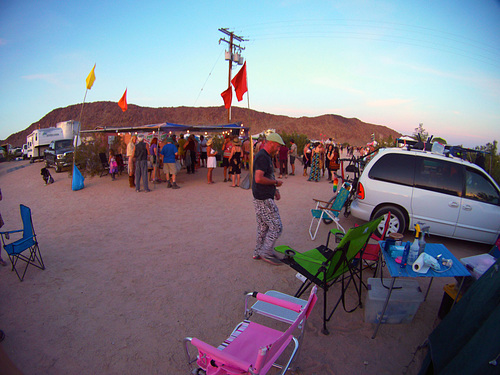 This is the view from our vantage point while the Nacho Daddies were in full action. We spotted a lot of fun stuff.

For example.

The robot was friendly to children and adults.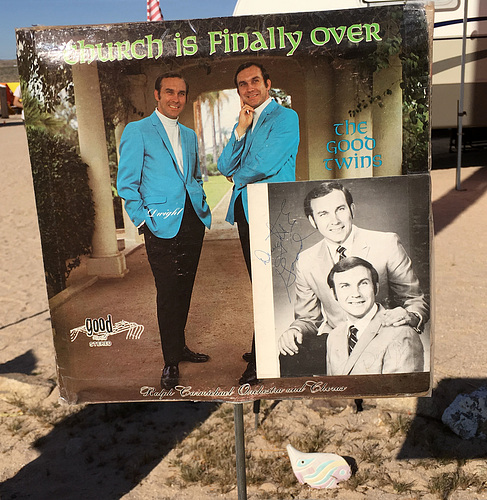 "Church Is Finally Over" for these twins.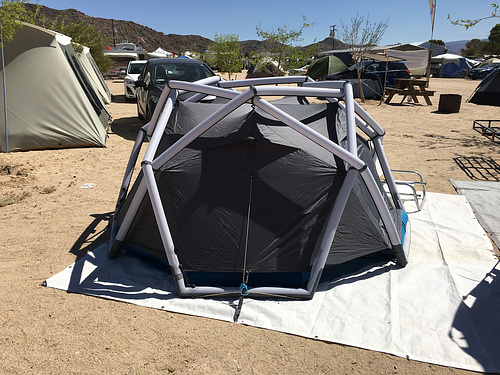 I'd seen these Heimplanet tents online, but this was my first in person. That outer skeletal structure is inflated.
permalink | March 29, 2016 at 07:34 PM | Comments (0)
March 25, 2016
More Bequinox Videos
permalink | March 25, 2016 at 10:20 PM | Comments (0)
March 24, 2016
The Bequinox Robot
And I got to find out how iMovie handles video where I go crazy and hold the phone in portrait mode.

permalink | March 24, 2016 at 10:19 PM | Comments (0)
March 13, 2016
DHS Planning Commission - March 8, 2016
Box Score
Dispensaries approved: 3
Total dispensaries approved: 12
Dispensaries open: 5
Dispensaries denied: 1 (technically a continuation, but it's going to be denied)
Cultivation facilities approved: 1
____
Dirk Voss presiding at first, as Chair Cathy Romero was late, but Ms. Romero arrived before the Commission had even approved the agenda.
City Manager Magaña and Financial Director Tanner spoke at length about the budget and taxes. After years of underspending and cutbacks, whaddayaknow, there's a lot of critical stuff that's going to start failing. Like staff, even. And some taxes are going to expire. [My editorial: meanwhile the City Council (well, three of 'em) have voted not to even study new or revised taxes.] But I'll spare you the really bad news.
As with last month's report, just the marijuana:
Benno Pabst and Valley Compassionate Care
This is a proposed CUP for a medical marijuana dispensary at 11522 Palm Drive, which is the southeast corner of 4th and Palm, the old chiropractor's office which is 1,207 square feet. Parking for 6 vehicles is proposed to be on the south side of the building (where there may also be a mural) with access via the alley. Four head-in parking spaces on 4th will be eliminated.
Commissioner Cirner recused himself due to a possible conflict of interest.
Benno Pabst was not present this night for health reasons, but his representative was there and spoke. Pabst owns the building outright.
There was a lot of discussion about the parking. Staff had first laid it out with diagonal parking so that patients would drive in from the alley and exit on Palm Drive. The Commission thought it would seem more sensible to drivers coming up Palm Drive to reversed that. Now, the thing I wonder about is left turns from southbound traffic. That entrance on Palm Drive is only 25 feet away from 4th Street.
Approved 4-0.
Yes, there will be two dispensaries directly across the street from each, so there will be no need to run across Palm Drive at night wearing dark clothes, right? And that ought to solve the problem of left turns too.

Lisa Lozano and Stephanie Bodde and Desert Hot Springs Dispensary
Another proposed CUP for a medical marijuana dispensary. This one was continued from last month. You may recall that potential neighbor Rose Mortuary raised objections about inadequate parking. There were other issues as well.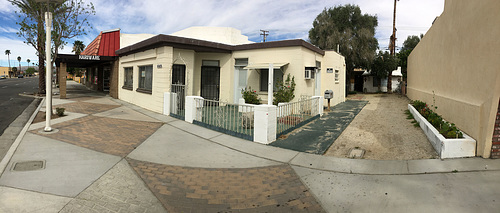 Chair Romero said that she could see all of the issues she had with this CUP had been addressed.
Thomas Moen, manager of Rose Mortuary, said he was concerned a dispensary could conflict with his business. Parking only in the street is still an issue.
Michelle and Michael Lally both expressed their support for medical marijuana generally, and spoke well of Stephanie Bodde. Mr. Lally also criticized Rose Mortuary, saying they both serve the same community, one in life and one in death.
David Lally (son of Michelle and Michael, if you hadn't guessed) talked about the tax benefits to the city. He described the personal experience with medical marijuana by a friend.
Jordan Bratonburg, owner of Rose Mortuary, also shared a personal experience in his family. He was concerned that some of his clientele would be offended by the proximity of the dispensary.
The applicant said that her security guard would not let her clients park in the Rose Mortuary parking lot.
Vice Chair Voss said that he, too, was concerned about the parking situation, especially the lack of a designated handicapped parking space. He also wanted to clarify what will happen with the small house in the rear of the property. He said this is the wrong location for a dispensary.
Commissioner De La Torre said he agreed with Mr. Voss.
Commissioner Terifaj said these were all the same issues brought up last month and that she, too, thought it was a poor location for the dispensary.
Rich Malacoff asked the Commissioners to specify which findings in the prepared CUP the Commission would determine had not been met. Then staff would use that information to craft a legal resolution of denial and bring it back next month. Staff prepared only the positive resolution of approval for the agenda packet, not wasting time on a negative just in case.
Ms. Terifaj cited the parking issue as the reason to deny.
The applicant came back to the podium to say that an elderly gentleman lives in the house in the rear and that he is a member of her collective. She does not want to kick him out so that she can tear down the house for parking. She was not aware of any problems with parking until this meeting. (It did come up as an issue the previous month, though.)
The Chair reopened the public hearing at the suggestion of the city attorney.
The applicant said she had an informal parking survey done at the Brown Dog dispensary which is east of Palm on Pierson. Over the course of a week there was only one time during the day when there were three cars there and the overlap was for only two minutes. In the evenings there would sometimes be as many as three cars there. She expects the same traffic at her dispensary. Street parking would handle that small amount.
Vice Chair Voss moved to continue this until next month at which time staff will have prepared the proper denial paperwork. Approved 5-0.

Eduardo Rivera and D.H.S. Alternative Healing Corporation
How about another CUP for a medical marijuana dispensary? This one is also continued from last month (and the month before that, IIRC). The continuance was to allow a neighbor to come in and comment on this. No changes have been made from last month. This one is going to be at 66328 Pierson Boulevard.
>
Unfortunately, the aggrieved neighbor did not show up. There were no public comments at all.
Vice Chair Voss moved to approve with the additional requirement that there be no neon lighting. Approved 5-0.

Dino Sogoyan - Desert Hot Springs, Collective, Ltd.
This item is a CUP for a medical marijuana dispensary to be located at 66292 Pierson Boulevard. That's just to the east of Wiefels Mortuary.
The monument sign in front of the building will have to be upgraded to meet current sign standards. The applicant is buying the property and said he plans to tear down that monument sign.
Commissioner Cirner moved to approve with the additional requirement that they come up with a different color scheme (and no neon). Approved 5-0.

Adrian Sedlin - Canndescent, MBC
This is for a CUP for a marijuana cultivation facility at 65334 Two Bunch Palms Trail, which is currently occupied by an auto repair business and tire recycling business. The two buildings are about 4,800 square feet each.
The applicant says he hopes to be operating by June 15.
Vice Chair Voss moved to approve with the addition of a ban on neon signs. Approved 5-0.

Other Things
The Planning Commission also approved a design review and development permit for a warehouse and retail facility for Angel View on Dillon Road.
They also appointed Andrew Cirner to the Arts District Committee.
permalink | March 13, 2016 at 09:47 AM | Comments (1)
March 7, 2016
California County History
Here's an interesting interactive map that displays the history of county lines in California. I only know the southern counties well, so that's what I paid attention to.
1850 - San Diego County was HUGE!
1851 - Los Angeles and Mariposa Counties get big chunks of San Diego County.
1852 - Tulare County carved out of Mariposa County.
1853 - San Bernardino County carved out of Los Angeles County.
1866 - Kern County created from pieces of Los Angeles and Tulare Counties. Inyo County is carved out of Tulare County.
1872 - Ventura County carved out of Santa Barbara County. Boundaries adjusted between San Bernardino, Inyo, Kern, Tulare, San Luis Obispo and Monterey Counties to give us that nice straight line running from the Pacific to Nevada. Is that the defining line between northern and southern California?
1889 - Orange County carved out of Los Angeles County.
1893 - Chunks of San Bernardino and San Diego Counties taken to create Riverside County.
1907 - Imperial County carved out of San Diego County.
permalink | March 7, 2016 at 05:33 PM | Comments (0)
The I-10 Express Lanes
Back in January I had my first opportunity to use the express lanes on I-10 heading into Los Angeles and, boy, I was impressed! The regular lanes were a parking lot while I passed them doing 80 MPH. Last weekend I used them again and discovered congestion pricing. The first time I drove them, it cost me $2.60. This past weekend it was only $1.10! Cheaper than a bus ride! You have to have Fastrak, but getting set up with a Fastrak device costs you nothing at all. Sign up online, linking it to a credit card, and everything gets mailed to you. Stick it on your windshield and you don't have to think about it again, unless you have more passengers. You can set it to say you're solo, have two in the car, or more than two. Pricing may vary. I got it initially for the bridge tolls in the Bay Area. There is no way to pay your toll in person on the Golden Gate anymore. It's either Fastrak or go online afterwards and pay it.
This video picks up where I'm transferring from southbound 605 to westbound 10 which is where the express lanes begin. If they can ever extend them further east, that will be wonderful! The predictable permanent backup on I-10 begins east of the 605.
The thing to note in this video is that the regular lanes of I-10 on my right are mostly a parking lot, while I'm staying in the 70-80 MPH range. This is one of the very few places where I think the leftmost lane is where you should do most of your driving, while passing on the right. This gives you a buffer of one lane most of the time between you and the parked cars. One stupid driver opening his door, unaware of the faster traffic immediately to his left, and everything goes to hell.
As it approaches downtown there is a split between I-10 and 101. I've only followed the 101 branch. It crosses the L.A. River and puts you on Alameda Street right at Union Station. There's an entrance right there to get you back on the 101. But in this video I exited the express lane just before the bridge over the river. Would've been faster to stay in the express lane.
An interesting thing about the congestion pricing is that if the average speed in the express lanes drops below 45 MPH, Fastrak customers will no longer be permitted to enter, as the lanes will be reserved for those vehicles qualifying for HOV status.
permalink | March 7, 2016 at 12:01 PM | Comments (1)
March 4, 2016
New Camera in Death Valley
A short time ago I acquired a GitUp Git 2 camera, yet another inexpensive action camera ($160 at Amazon). It has a few features that GoPro still does not offer: image stabilization, user control of color saturation, white balance, and ISO.
So I headed up to the flower bloom that's going on in Death Valley, taking along a few of my collection of action cameras. I was really surprised at how very much better the video from the GitUp was than from other cameras. I did have the color saturation set to vivid, which I don't usually do. And it was shooting at 1080p 60fps, which I simply don't have available on another camera. Upon seeing the video I thought it was good enough to post it with no color editing at all. I just removed the wind noise and added music (you can listen to your own, if you don't like my choices) and I edited out the bits where I pulled to the side of the road a few times. The route is northbound on Badwater Road, then east on 190.
The flowers were mostly yellow, but there's a lot of purple too, and some white. Occasionally the roadside may appear to have a reddish-brown cast that could make you think the landscapers had put down some colored rock there, until you realized Death Valley is not landscaped — well, at least not by humans. The color comes from very tiny flowers on plants that are that color.
Here.

Set it to 1080p, please, and full screen.
permalink | March 4, 2016 at 08:23 PM | Comments (0)
March 2, 2016
The Current State Of Tecopa Hot Springs
I stopped in at Tecopa Hot Springs briefly on my way home from Death Valley yesterday. This is my first time visiting since the change in management. Things are much better now! Open 24 hours (yay!), only $7, the new personnel are VERY friendly and helpful, they put up a really nice new website, and they've moved their point-of-sale operations to the little kiosk that you walk through to get to the bathhouses where it was intended to be, not in the building 100 feet away.
Inside the bathhouses, everything was pretty much the same. They still have a nominal rule against bottles of water that most guys ignored. Also, irrelevant to the subject, last night everyone there was (half a dozen guys) white, old and anti-Trump.
permalink | March 2, 2016 at 09:45 AM | Comments (0)
February 16, 2016
MSWD Approves Water & Sewer Rates
At the 218 Public Hearing tonight, after listening to comments from many residents of the district, the MSWD board approved the proposed new rates for both water and sewer by a vote of 4-0, John Furbee being absent for health reasons. One commenter railed against the folly of fluoridating the water. MSWD board President Nancy Wright explained that MSWD does not fluoridate.
One complaint heard repeatedly was that the board was going to "double the rates." This began with, I think, one person who had pointed out the very low per gallon rate and didn't consider all the numbers after the decimal point before rounding.
From 2016 to 2020 the residential rate for 13 units of water (the average amount used in this district) will go from $28.94 to $43.40, a 50% increase, not a doubling. The cost per gallon will go from 0.3¢ to 0.45¢. Again, a 50% increase, not a doubling. Half of that increase will go to pay for chromium 6 abatememnt, which is a complete waste of money, but mandated by the state.
Residential sewer will increase from $31.23 to $50.16 over the same time period. That's a 61% increase.
permalink | February 16, 2016 at 07:52 PM | Comments (0)
February 15, 2016
Competition For MJ Dollars
Adelanto, like DHS, permits cultivation facilities in its industrial zone. The article says 27 marijuana cultivators have been approved in Adelanto, but the voters haven't approved a tax yet. So if that new tax is too high, or if it doesn't get approved, things may not go swimmingly. One city planner there is suggesting the cultivation tax be a straight $25/square foot/year.