July 28, 2016
A Different Sort Of Map Of L.A. Restaurants
This map shows restaurants in Los Angeles that are identified with one of the 50 states. For Massachusetts there are two places: the Dunkin' Donuts downtown and Malibu Seafood in (where else?) Malibu.
It even lists four California restaurants, one of which is Smittens ice cream which comes from San Francisco.
Missouri gets only one entry, a St. Louis style barbecue. Fortunately, the map also includes a Kansas City, Kansas, barbecue joint: Charcoal Silverlake, although when I look at their website their description of how they cook their meet is not Kansas City style.
permalink | July 28, 2016 at 06:38 PM | Comments (0)
July 27, 2015
Payoff From The Rain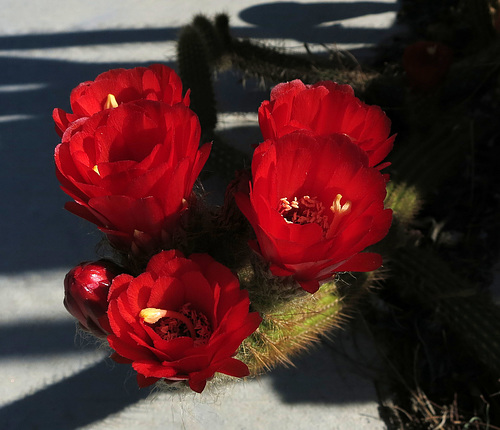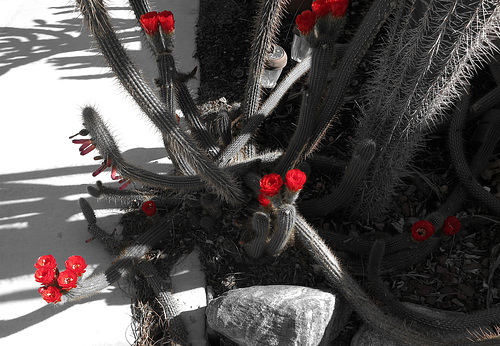 permalink | July 27, 2015 at 07:48 PM | Comments (0)
June 1, 2014
Succulent Flower

This is a plant I got from my friend Emrys last year. He lived in Concord, California, which has a warm, dry season, but never experiences heat like we do here in Coachella Valley. The succulent is still in the very lovely pot that Emrys put it in. It's in a spot with a little shade and it gets regular water. It didn't seem to be dying, but I couldn't say it was thriving either. Just sort of at stasis. And then today I saw this flower stalk on it. Apparently all it needed was four sequential days of trans-100° heat to achieve rapturous joy so that it could flower.
Here's a picture of the leaves if anyone would care to give it an identity.


I don't know what it is.
permalink | June 1, 2014 at 07:21 PM | Comments (2)
April 27, 2014
Jumbo Rocks Campout
These are some photos from the Great Outdoors campout at Jumbo Rocks in Joshua Tree National Park a couple of weeks ago.

We visited Samuelson's Rocks again.

We were able to find the site of Samuelson's cabin for the first time.

And Samuelson's parking lot.

This is Scott in Samuelson's cellar which was in pretty decent shape.

The Jumbo Rocks campground was completely filled.

There were Joshua Trees and rocks.

I think I was standing in front of my tent when I took this shot.

That tortoise again.

Flowers were abundant.

Fellow campers informed me that a few million photos of this cypress and and rock were already on the internet.

We went looking for the Crown Prince Lookout which was an observation point during World War II. We made a wrong turn. The lookout is in those rocks over there, which we did not explore.

Flower with bugs,
Bonus. Here's a brief GoPro video of our lunch spot one day.

permalink | April 27, 2014 at 11:33 AM | Comments (0)
May 5, 2013
Photos From The Jumbo Rocks Campout

Panorama on the North View Trail.

This is where the aliens climbed the rock on their way back to the rocket ship.

My newest tent - a little two-man model from REI. It is destined to suffer the trials of Burning Man.

A fallen Joshua Tree. As you see, they have no tap root. We saw several live Joshuas down during this campout and on the hike earlier in April. These were probably due to the big windstorms we had in March.

Jumbo Rocks campground.

Pink moon rise at Jumbo Rocks.

Anteater rock.

Face on a rock.

The biggest damn nolina I've ever seen, by far! I had no idea they could reach this tremendous height. Nearby was a huge clump of nolinas that weren't as tall, but much more massive. Obviously, this little area was ideal for nolinas.
The complete set of photos is here.
permalink | May 5, 2013 at 07:14 PM | Comments (0)
Hike in Joshua Tree
Earlier in April I went on a hike with Great Outdoors in Joshua Tree while the blooms were still blooming.

The Mojave yuccas were blooming too.
The complete set of photos is here.
permalink | May 5, 2013 at 10:57 AM | Comments (1)
April 22, 2013
A Visit To The Gardens At Sunnylands
permalink | April 22, 2013 at 05:22 PM | Comments (0)
April 16, 2013
Cactus Flower

A cactus in my yard that had never bloomed before. Had a few of these blooms for a day and none since.
permalink | April 16, 2013 at 12:09 PM | Comments (3)
February 17, 2013
Cholla!

Not me, not my photo.
permalink | February 17, 2013 at 08:53 PM | Comments (1)
August 15, 2012
Something Loves This Weather