August 25, 2016
Photos from past Burning Mans

The burning of the man in 2007, my first year at Burning Man. Photo by Scott Ashkenaz.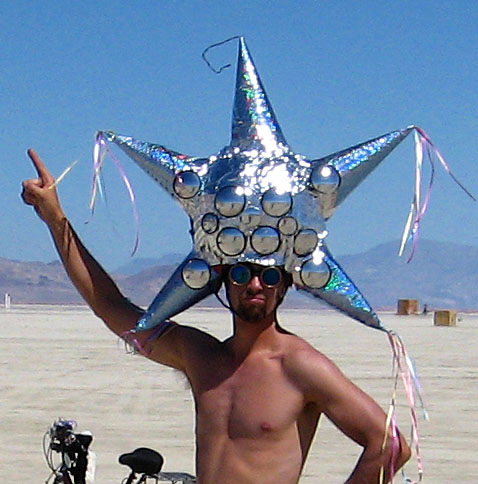 permalink | August 25, 2016 at 06:09 AM | Comments (0)
August 21, 2016
The 2016 Man Of Burning Man
Understand it completely in only 32 seconds.

permalink | August 21, 2016 at 04:40 PM | Comments (0)
August 18, 2016
The 747 Is On The Playa

The 747 rolling past the DPW outpost at Black Rock City.
Now I believe it.
permalink | August 18, 2016 at 12:24 PM | Comments (0)
July 31, 2016
"The Journey" - For 2017
I saw this at a Burner presentation/party Saturday evening in Palm Springs.

It's a spiral wooden tube that has been bent into a donut and you can play with it when it's on the playa. 42 feet across. The ring is 10 feet high. The perfect dimensions to attract all sorts of adventurous men who want to play jungle gym. Clothing optionally.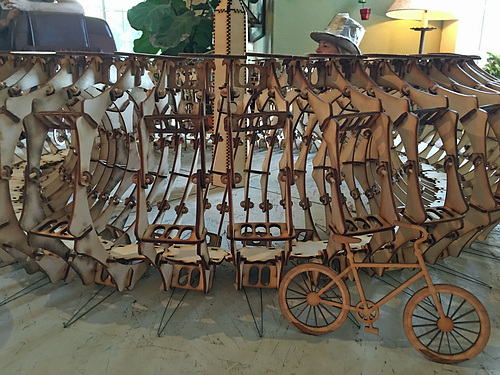 Although it looks tempting, it will not be burned.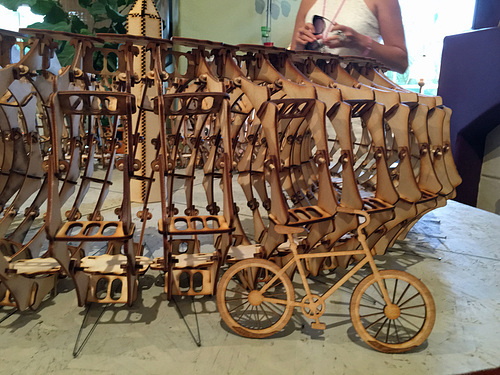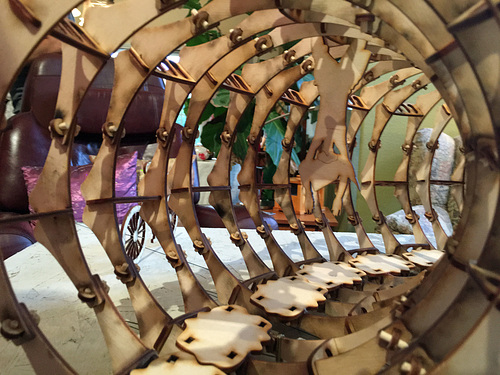 On the interior walkway. Please to note that the structure had already attracted at least one adventurous man who wants to play jungle gym.
It'll have audio and video, too, that will respond to the environment somewhat. Dan Reeves, the brains behind this, specifically said it would respond to art cars when they approach. I consider that a commitment. Here's what the artist had to say - all becomes clear!

Crowdsourcing to come, he said.
He's looking for volunteers.
permalink | July 31, 2016 at 08:35 PM | Comments (1)
July 14, 2016
Outback Logic Siesta4
I've just received a tent that was designed specifically for the weather conditions at Burning Man, the Outback Logic Siesta4. The reflective exterior is actually a rain fly that is permanently attached to the tent inside. Every vent on it can be sealed to keep out dust. It has two ports where you can insert an electric fan. I have one fan on order. The floor is 7'6" square and I can almost stand up straight in it, so it must be about 5'10" high. Staking it is required in order to get it to hold its shape.
I set it up in the wind and that was easier than setting up my Cabela's Alaskan Guide Geodesic tent in the wind. But the only way to test it against Burning Man strength winds would be to move it out to some open desert on the west side of the city, and I'm not going to do that.
No instructions came with it, and I made only one false start. There are only four fiber glass poles, but they are two lengths, so you've got to lay them all out to be sure you pick the right one.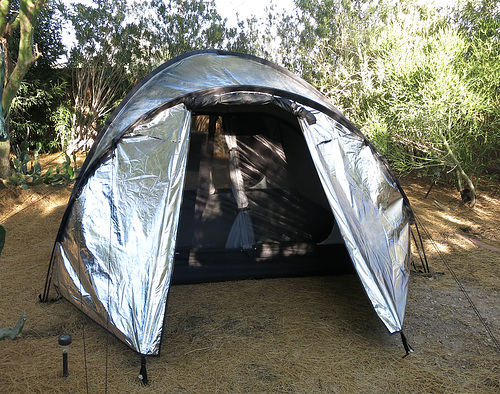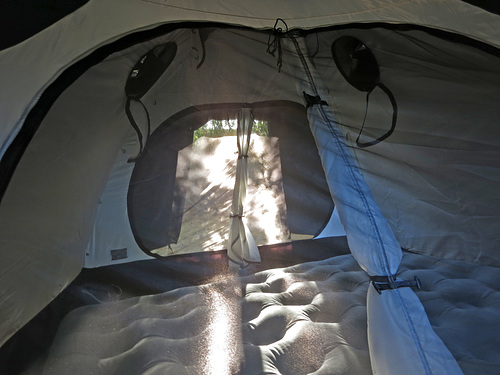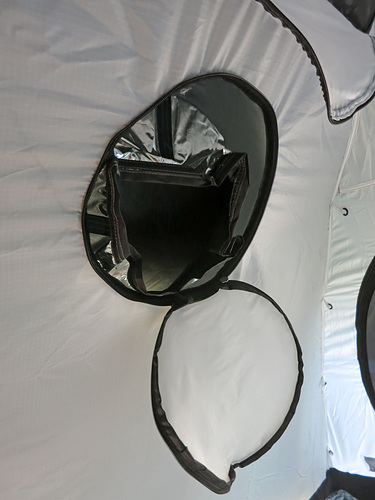 One of the fan ports.
permalink | July 14, 2016 at 07:31 PM | Comments (6)
July 13, 2016
Look What I Acquired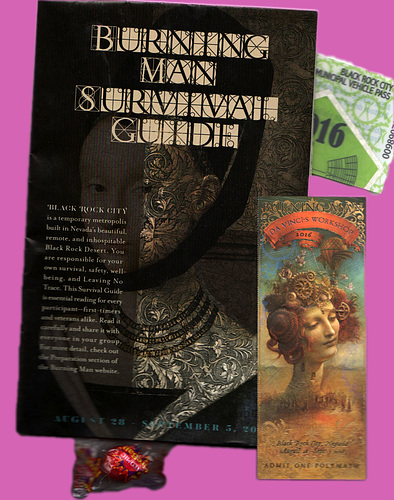 permalink | July 13, 2016 at 07:04 PM | Comments (0)
April 14, 2016
Nixie Watch
Quite likely, you recall this video from the naked pub crawl at last year's Burning Man. It does contain nudity so, you know, if you don't want to see it, don't click it. It's only to show you this overpowered sound system on a bicycle.

Fast forward to today, and here's Techmoan's review of the new Nixie tube wristwatch.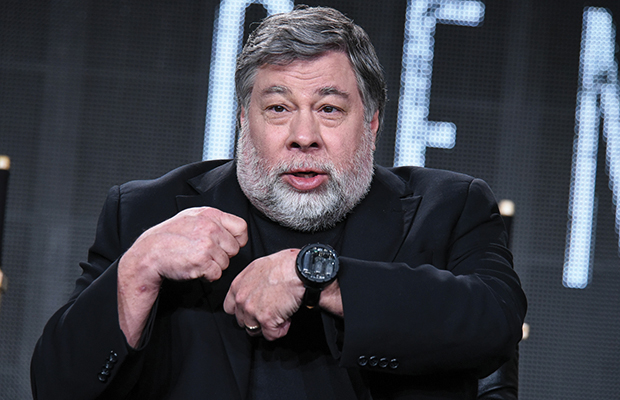 Here's Steve Wozniak showing off his Nixie watch.
From Techmoan's video I jumped to Cathode Corner where you can buy a Nixie watch. Scroll down that page and whadda ya see? The overpowered bike sound system that I videoed above. In short, the Nixie watch designer was on the naked pub crawl with his loud bicycle.
permalink | April 14, 2016 at 09:43 AM | Comments (0)
March 29, 2016
Bequinox 2016 Photos
I've got all my photos from Bequinox edited and uploaded here. Some samples: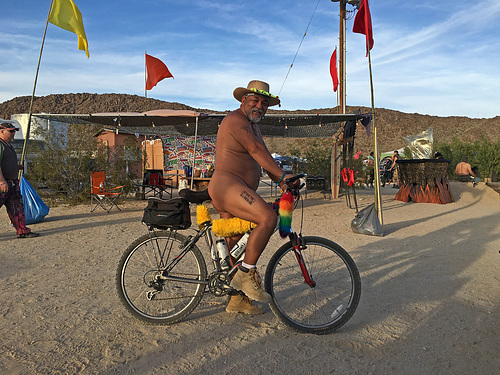 Andy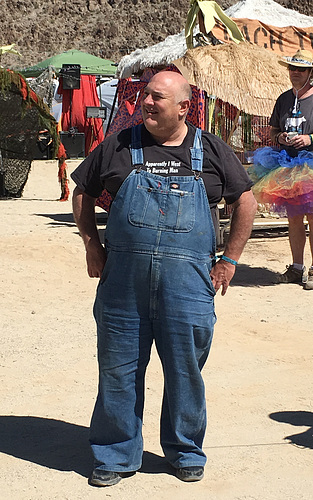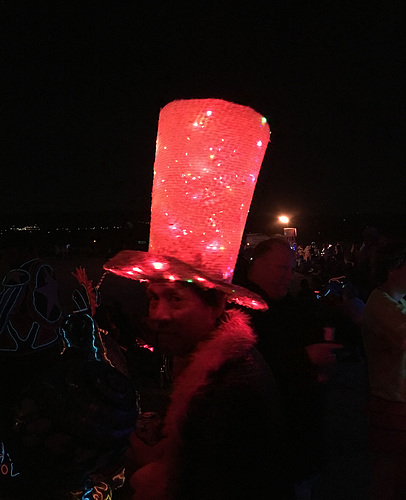 At the burn on Saturday night.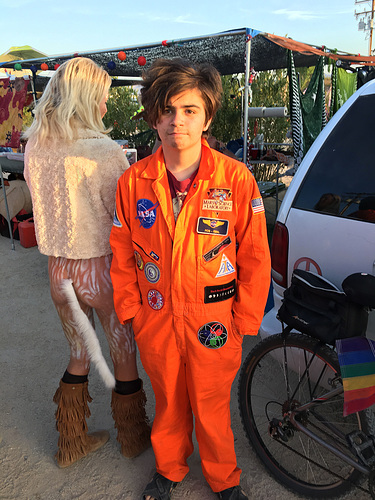 I didn't realize how young this guy was until after I took this photo. He seemed to be stumped when I asked him if I could take his photo. "Whadda ya mean?" he asked.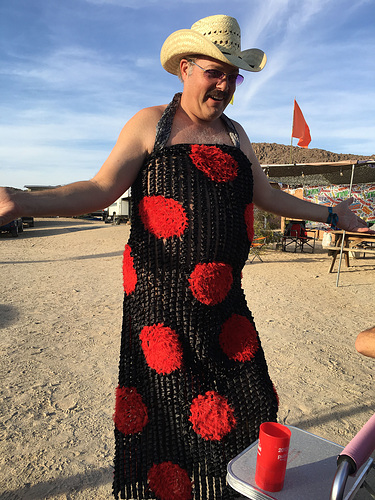 Brian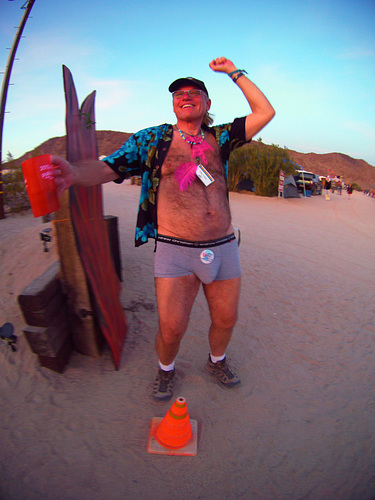 Ed L. who will be a Burning Man virgin this year.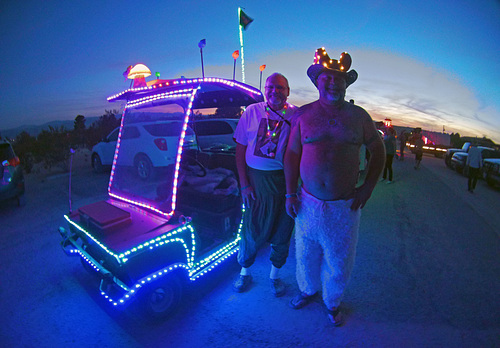 George and Tony and their art car.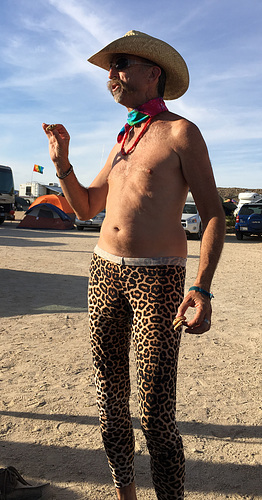 Jim. Of course, we're all familiar with the story of how he found this leopard outfit at the Dollar General in Hawthorne, Nevada, where all the finest Burner ladies acquire their wardrobe.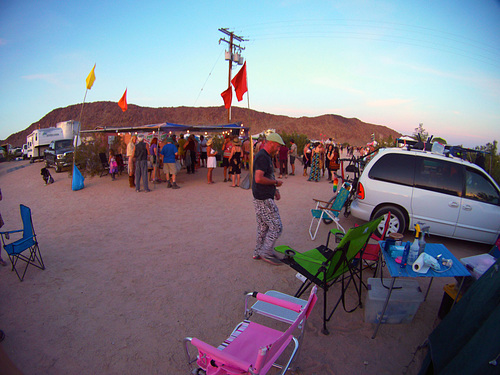 This is the view from our vantage point while the Nacho Daddies were in full action. We spotted a lot of fun stuff.

For example.

The robot was friendly to children and adults.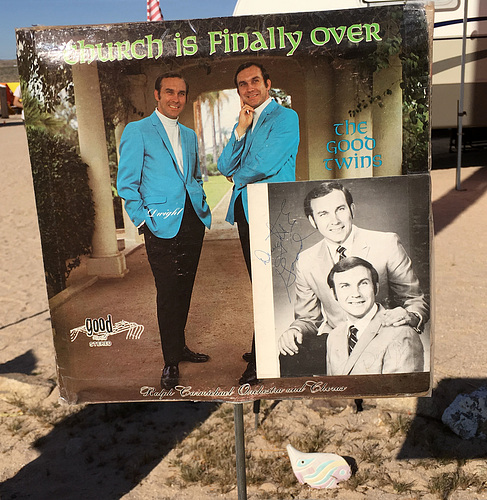 "Church Is Finally Over" for these twins.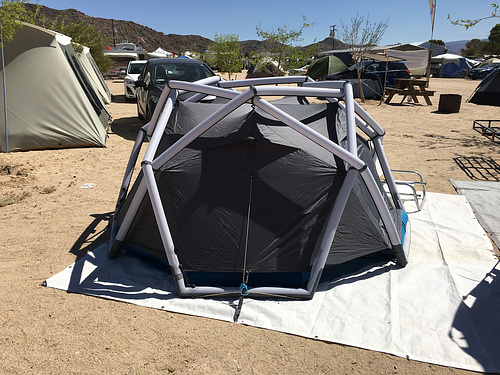 I'd seen these Heimplanet tents online, but this was my first in person. That outer skeletal structure is inflated.
permalink | March 29, 2016 at 07:34 PM | Comments (0)
March 25, 2016
More Bequinox Videos
permalink | March 25, 2016 at 10:20 PM | Comments (0)
March 24, 2016
The Bequinox Robot
And I got to find out how iMovie handles video where I go crazy and hold the phone in portrait mode.

permalink | March 24, 2016 at 10:19 PM | Comments (0)
February 14, 2016
"10 Terrible Secrets Behind the 'Burning Man' Festival That Sodomites and Socialists Don't Want You to Know!"
At the end of every summer, a secret cult gathers in an obscure corner of the Nevada desert. They're young, they're old, they're from nations across the world. They say they're celebrating artistic creativity and old-fashioned self-reliance. Maybe they're even planting a seed that could change our culture forever… Yet what really happens behind those 6-foot high gates and armies of security guards? Does this scene pose a clear and present danger to America's youths? Why does this celebration of sodomy and socialism look so much like the worst of End Times Bible prophecy?
permalink | February 14, 2016 at 04:31 PM | Comments (1)
February 8, 2016
Slo-Mo Artsy Burning Man Video

It says 2015, but at least one shot is from 2014.
permalink | February 8, 2016 at 08:09 PM | Comments (0)
February 4, 2016
Center Camp
There are three major points along the axis that runs through the center of Black Rock City. The figure of the Man stands right at the center of Black Rock City, representing, I suppose, everything Burning Man. Moving up along that axis to a higher plane, there is the Tempe at 12 o'clock. But moving in the other direction, down to the realities of daily living in the residential areas of Black Rock City, you find Center Camp.

I have never stood in line to buy (with cash money, federal reserve notes) a drink at Center Camp. Never felt the desire to do so. Maybe I should give it a try some time to see if I really freak out.
permalink | February 4, 2016 at 10:11 AM | Comments (0)
February 2, 2016
Another Karma Drone Sample
GoPro teases us some more about the future Karma drone. What I would like GoPro to do is to lay out exactly what software and what steps they use to process their videos so they don't look at all lossy, even when viewed through YouTube. I've seen GoPro videos from other professionals that show evidence of compression and loss.

permalink | February 2, 2016 at 12:31 PM | Comments (0)
February 1, 2016
Burning Man As Grief Therapy
Excellently photographed, and I'm pretty sure the narrator is Oprah, but she is given no credit here.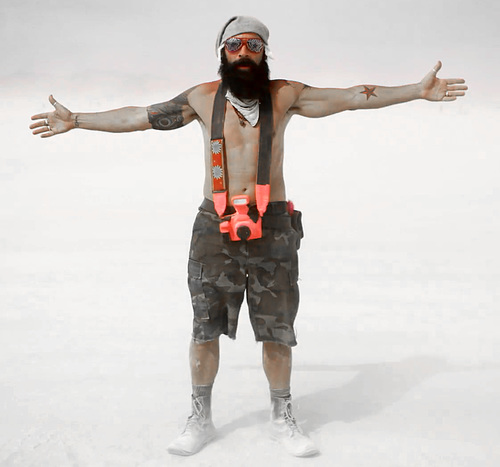 Watch for this brief shot of the man with what appears to me to be a pink flocked camera. It looks orange-ish here, but it looked pink to me in the video.
permalink | February 1, 2016 at 11:05 AM | Comments (2)
January 27, 2016
Burner Buddy View

A view of Black Rock City from atop one of the RVs in our Burner Buddy camp. Photo by KC Later (AKA "Rocket") who you can see in the lower part of the photo.
permalink | January 27, 2016 at 03:27 PM | Comments (2)
January 21, 2016
This Is How It Burns
Video shot right up at the very ignition of the Temple at the 2015 Burn. I've never seen it close up like this, and I don't expect I will ever be able to get that close in person.

permalink | January 21, 2016 at 12:08 PM | Comments (0)
Burning Man Art

Sometimes art from the playa goes away to live in strange lands, like Reno. Photo by Danger Ranger.
permalink | January 21, 2016 at 11:31 AM | Comments (0)
Burning Man and its Intellectual Property
Festival Concierge Services is a company that Burning Man has been fighting with for a couple of years over its use of Burning Man trademarks. "We believe strongly that paying upfront for a prescribed, curated experience that doesn't require individual effort misses the mark and erodes Burning Man culture, and it's absolutely not okay to sell people 'the Burning Man experience' as a vacation package." It's okay for people to pay money upfront for services (or actual material objects) at Burning Man. Almost every camp pools money and shares resources to some degree. The flight I got to ride in 2014, I paid for well in advance. What Burning Man doesn't like is insular, non-involved camps. Maybe there are such camps made up of lower income people, but who knows? How would you find them? But the insular, non-involved camps set up by rich people are not so hard to find. When you see a dozen identical quarter-million dollar RVs all lined up neatly together, you sort of have a clue.
But it's cleaner and neater to go after intellectual property theft, so that's what they've been doing with FCS which is still using Burning Man's IP. But that's not really what I wanted to write about it. What I want to show you is the FCS "survival kit."
Backpack hydration kit
Headlamp
A set of walkie-talkies
Two pair of goggles
Six "headwear scarf wraps" (looks like, but is not a bandana)
Dust mask
Steel mug
Ten (10!) Spiral notebooks
Three bottles of hand sanitizer
Wingman multi-tool (now we're talkin')
A 24-pack of AA batteries
A dozen Sharpies!
A little first aid kit
Eye lubricant
Aspirin (are they expecting their customers to have heart problems? why not acetaminophen or ibuprofen?)
Two bottles of nasal spray
Three lip moisturizers
800 baby wipes
Two spray bottles of sunblock
55 yards of "duck" tape
Forty ear plugs
[I think it's assumed that food, water, alcohol, and costumery will be provided by the luxury camp the customer buys into]
They will you sell you that whole survival pack for $500! And they openly state that includes a 30% markup for their "services." Someone could easily set up a competing service simply by going to the Reno Walmart, buying all the equivalent items and then selling the bundle to rich people for some price lower than $500. You'd have to promote it so that the rich people understand that a visit to Walmart at the height of Burning Man shopping insanity is a part of the whole culture of Burning Man. Don't actually use the word "slumming," but communicate that somehow. You may also need to point out that Walmart carries a good selection of organic fruits and veggies to avoid scaring away the shy ones.
permalink | January 21, 2016 at 10:26 AM | Comments (1)
January 17, 2016
A Dutch Burgin

This is mostly in Dutch, but it's understandable, nonetheless.
Burning Man has not announced either ticket prices or ticket dates yet, as they are still chewing over the new Nevada "entertainment" tax. But they have promised to give us some facts real soon now. One of the suggestions is just to blow the whole thing off this year. And that suggestion was not dismissed out of hand.