February 2, 2018
Burning Man Dates For 2018
In a handy graphic!

permalink | February 2, 2018 at 11:38 AM | Comments (0)
January 18, 2018
Le Sacre du printemps Under The Tree of Ténéré At Burning Man 2017
permalink | January 18, 2018 at 11:27 PM | Comments (0)
January 11, 2018
Seen at CES
I'm just back from two days at CES in Las Vegas and here's a video of one little thing I saw. This costume would, I believe, be acceptable at Burning Man, but wouldn't draw a crowd.

BTW, this company (Hisense) was displaying a 150-inch dual laser TV (in a darkened room) that was just stunning. Supposed to be easier on the eye because the laser light is reflected to your eyes rather than beamed directly as an LED screen (for example) would. Won't be on the market until later this year. They wouldn't estimate a price other than to say it will be more expensive than their 100-inch single laser display. That one goes for $30,000.
permalink | January 11, 2018 at 11:04 PM | Comments (0)
November 15, 2017
Sonic Runway in San Jose
The Sonic Runway was an installation at Burning Man in 2016.

permalink | November 15, 2017 at 03:19 PM | Comments (0)
September 21, 2017
A Few Of My Burning Man 2017 Photos

Dusk on Sunday, just before the Temple burn.

Atlas, of the Action Figure Family, had this little surprise for those Burners who were sufficiently curious to open the door on his crotch.

Inside the chest of Atlas. Quite remarkably, there was no vandalism of the Action Figure Family, as far as I could see. Someone did steal the mini-Etch-a-Sketch, but it wasn't attached to anything and I kind of expected it to disappear.

Jacky at the end of the week.

Jallen arriving at the scene of the art.

Our address tag, sort of.

On the big master map at the Artery.

My tricycle on the evening of the Temple burn.

Beginning to disassemble the Tree of Ténéré. This was one of the two brightest pieces of stationary art on the playa. (The Flower Tower was the other one.)

Map of the placed theme camps along the 4:30 axis. Burner Buddies are in pink.

You can tell this is the boy's bike because the tires are pink.
permalink | September 21, 2017 at 05:27 PM | Comments (0)
September 7, 2017
The Action Figure Family on the playa

This photo by Pat M. shows how the Action Figure Family looked after a few days on the playa of the Black Rock Desert.

Andrew Jorgensen's photo of the Action Figure Family at twilight. Here's a link to the Rolling Stone article with more pictures of other art projects at Burning Man.

The Action Figure Family crew (Palm Springs Branch). L to R, top row: John, Jallen; bottom row: myself, Dennis. The fifth member, Stitch, is the San Francisco branch and primarily helped with dealing with Indiegogo and other financing attempts.
permalink | September 7, 2017 at 08:04 PM | Comments (0)
July 10, 2017
Action Figure Family Donation Request
These are photos of the creation of the Action Family Figures, which is taking place right in lovely Palm Springs. I think that you'll agree that, like every great art project at Burning Man, this one will bring about world peace and a transcendent consciousness linking all souls. If not that, it will at least generate surprise. The playa has never seen anything quite like this. It's going to be four mannequins covered with the action figures, Lego people, Muppets and even Happy Meal toys that young Jallen has been acquiring throughout his 50-odd years, 20 of which he has spent as a Burner. Do you see the Viewmaster serving as the eyes for the little boy? Look into the little boy's eyes and you'll see some of Jallen's photos from the last 20 years of Burning Man. Of course, you'll have to come to Burning Man or one of our work parties to do that.
Besides its stunning artistic qualities, this project is what's getting me to Burning Man this year. Now I'm working for the price of my admission. Working on this project will get me a ticket, a vehicle pass and an early arrival pass! If they would throw in a free shower on the playa, it would be an even better deal, but that's not to be this year.
Who are the patrons supporting this Sistine-Chapel-of-the-desert? Uh, well, me...and others, and you should too. I've actually contributed more than the value of the ticket & VP, so now it's your time to join the fun.
Go here to make a donation, and don't shy away from a 4-digit donation. Check out the rewards you get for one of those!
You get real value for those, not just a t-shirt or other souvenir. And Jallen's going to tell me who made contributions.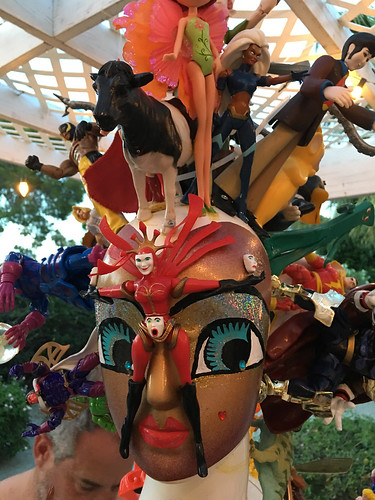 The complete set of photos is here.
permalink | July 10, 2017 at 06:01 PM | Comments (0)
June 8, 2017
Queer Burner Retreat
Over Memorial Day weekend I returned to Saratoga Springs, this time for what used to be called the "Queer Burner Retreat," but has been renamed to the meaningless "All Of Us." As a result we got one paying guest who feeling the need for a meditative weekend Googled and found Saratoga Springs, which led her to "All Of Us." She read no further, knowing that she must be one of us. She submitted her credit card and showed up to be rather surprised to find a Burner party underway. She stayed one night and then escaped.

Dan Reeves, the artist behind The Journey Project.

About one-quarter of the Journey Project.

My little camp.

The view from my tent door.

The well-known colors of Comfort & Joy, the biggest gay camp at Burning Man.

The jacuzzi, all fresh and clean when I arrived.

After a couple of days of hard use.

On the front porch of the main lodge.

Rand Larson on the left.

A new fire escape and an entirely new deck!
The complete set of photos can be seen here.
permalink | June 8, 2017 at 07:53 PM | Comments (0)
June 2, 2017
The Journey Project at Saratoga Springs


About a quarter of The Journey Project was constructed at Saratoga Springs over Memorial Day weekend for the Queer Burners Retreat. Their fundraising page.
permalink | June 2, 2017 at 08:51 AM | Comments (0)
May 1, 2017
The Journey at Saguaro Man
Saguaro Man is the annual Arizona regional burn (for Burning Man), and it took place this past weekend. Here's a video that shows you Saguaro Man and highlights The Journey Project which built one-quarter of the project that they are going to put on the playa in August.

More info on The Journey Project which is mostly San Diego based.
permalink | May 1, 2017 at 09:24 AM | Comments (0)
April 26, 2017
Burning Man Wrap-Up Video - 2016
I have had bits and pieces of video from last year's Burning Man just kicking around so I made this video with them. Some of the bits you've seen before, probably, but not all. The music is "Riw Akoii" by MigloJE.

permalink | April 26, 2017 at 06:16 PM | Comments (0)
April 22, 2017
Action Figure Family Fundraising Party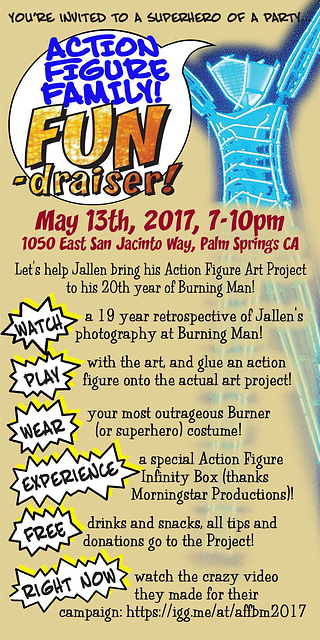 This is a fundraiser for the first art project that I've ever worked on for Burning Man.
Here's the Indiegogo page for donations.
permalink | April 22, 2017 at 11:21 PM | Comments (0)
April 4, 2017
Burning Man Census 2016
The Black Rock City census for 2016 has been released. I suspect the results are not accurate because completion of a census form is entirely voluntary and, I imagine, birgins are more likely to fill one out than veterans. But the BRC census people insist they know their statistics and can correct for the sampling bias. Maybe they are right. Anyway, I want to point out just a few of the interesting bits in the census that I noticed.

39.3% of the Burners in 2016 were birgins, which is consistent with prior years. 4.2% had been to Burning Man 8 to 10 times...that includes me.
Only 1.3% of Burners were under age 20.
72.5% of Burners had attended college.
3.4% had an income above $300,000.
The median household income (back in the default world) was $94,200.
56.8% male, 41.4% female, 1.8% fluid/both/neither.
8.8% said they were sexually attracted to either mostly or exclusively the same sex. 7.8% identify as gay or lesbian. (I thought it would be higher).
35.9% were not in a committed personal relationship (i.e., married or something like that).
1.1% of Burners identified themselves as black. 4.3% as Hispanic/Latino. (I thought it would be higher).
6.7% reside in Canada; 5.5% in Europe.
In the U.S. 48.5% of Burners resided in California. New York was the second most popular state of residence at 8.1%. Nevada was 5.7%, in 4th place behind Washington.
Only 2.8% named Spanish as their primary language, while 3.7% claimed French! 2.2% Russian.
46.5% "spiritual, not religious." 24.8% atheist (hoo boy!). 14.7% agnostic. 6.1% "religious." (I had no idea!)
Breaking it down by religious denomination shows Burners were 7% Catholic, 2.6% Protestant, 6.4% Jewish, 4.6% other Christian, Buddhist 1.9%.
89.6% arrived at the gate by motor vehicle. 1.1% flew into the landing strip.
18.8% came in an RV (I thought it would be higher). 47.3% arrived by car, pickup truck or SUV. 0.8% came in a semi with trailer.
Most popular reason to come to Burning Man? Survey says "To see/experience the art" at 62.5%! 3.7% said it was to consume intoxicants. "Bucket list" was 10.2%. "To grow or connect spiritually" was 21.6%
91.8% said they enjoyed Burning Man either "extremely" or "a lot." 0.1% said "not at all."
94.4% absolutely or probably intend to come back. 0.4% said they would absolutely not be back.
81.6% sort their trash at Burning Man.
Power sources include batteries (54.1%), a camp generator (46%), solar (40.1%). 4.3% get it from the Black Rock City grid. Burning Man, using diesel generators, supplies electricity via buried cables to a few select camps and installations...how did you think they got the lights on the Man to work?
64.3% were in a placed (i.e. theme) camp.
52.6% of those not in placed camps said they chose their location based just on where they could find space.
34.7% were in camps with a population of 50 to 199.
32.6% came with at least one family member.
28.4% stayed in an RV or camper-trailer. I guess it just seems like there are more RVs than that because each one takes up so much more space than a tent.
66.7% spent $1000 to $5000 on Burning Man, exclusive of ticket price.
On average, each Burner spent $635 in Nevada, mostly on food and lodging. 0.9% spent more than $5000 in Nevada.
39.4% got a ticket in an open sale from Burning Man. 3.1% got their ticket from a stranger.
2.5% paid more than face value for a ticket. 1.7% paid less than face value and 7.8% received theirs as a gift.
permalink | April 4, 2017 at 06:58 PM | Comments (0)
February 2, 2017
Investigation of Dan Love
Dan Love, you may have forgotten, was the BLM agent who was "Utah's former Special Agent in Charge...who oversaw law enforcement at Burning Man for several years." He was the man behind the request for a million dollars worth of luxury for the BLM agents at Burning Man in 2015. Well, he had that position until he was removed from that position for that request...among other things. He was the Choco-taco man.
And those other things are coming out now, according to this article in the Reno Gazette-Journal. The official report can be found here. The BLM investigation revealed many of Love's abuses of the system, including buying three regular priced tickets after the point where all of those were supposed to have been sold out. He also brought family into the event and had on-duty BLM agents transport them around the playa in official vehicles. Love also created and placed a memorial at the Temple while on duty.
Love had been the BLM agent in charge at the 2014 Bundy standoff. After that he was transferred to a position in Utah where he seems to have managed to piss off just about everybody in Utah. And then he came to Burning Man and embarrassed the BLM there, after which he was transferred away, in time to get him out of there before the 2015 Burn.
permalink | February 2, 2017 at 12:44 PM | Comments (0)
October 6, 2016
The Temple Burn
My video of my ride from the Burner Buddies camp out to and around the Temple on the night of its burn. This was shot entirely from a camera mounted on my tricycle's handlebars.

permalink | October 6, 2016 at 07:43 PM | Comments (0)
September 29, 2016
"BURNING MAN: LIKE A VACATION, BUT TERRIBLE"
A year old, but very good.

permalink | September 29, 2016 at 02:02 AM | Comments (0)
September 23, 2016
The Temple
permalink | September 23, 2016 at 04:23 PM | Comments (0)
September 19, 2016
Small Coincidence
I was watching this video about the GoPro Hero5 Session when I realized I recognized Chris Farro who shows up at about 27 seconds into the video.


In the video.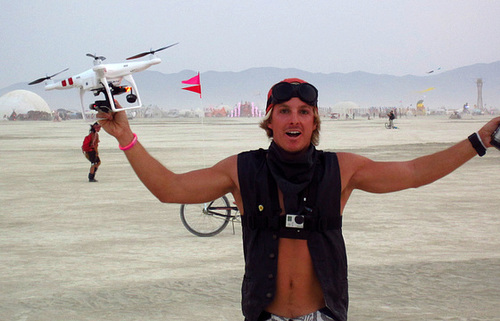 At Burning Man 2013.
permalink | September 19, 2016 at 07:11 PM | Comments (0)
September 16, 2016
What I Would Do With My Tricycle If I Could
permalink | September 16, 2016 at 08:48 PM | Comments (0)
September 15, 2016
Burning Man 2016

Just arrived at our site.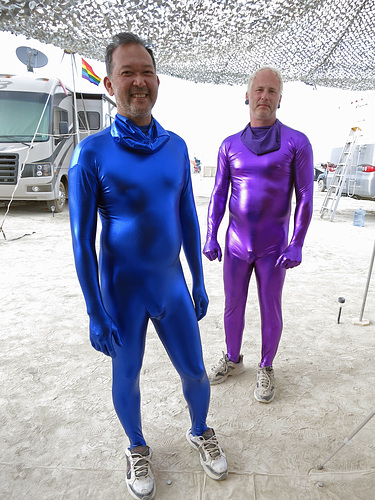 Alex & John in their zentai outfits.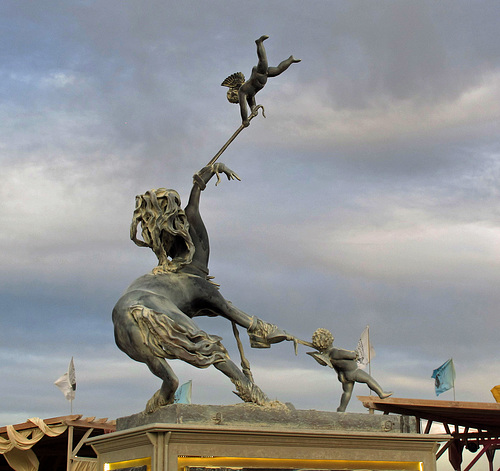 One of four sculptures around the Man base.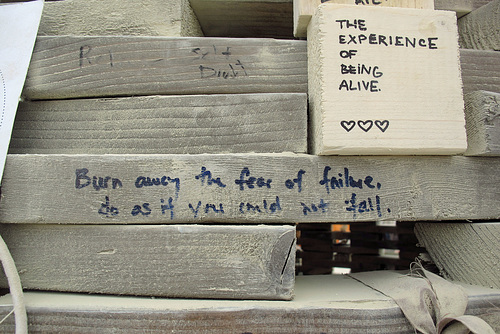 In the Temple.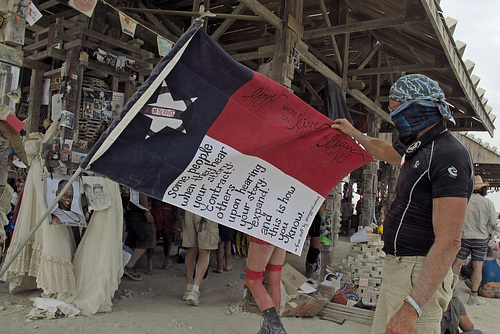 At the Temple.

Where I volunteered to work four 6-hour shifts which were pretty enjoyable.

Lighting up the Man was delayed due to weather, so I was able to get there early enough to see the ceremonial parade bringing the flame from the keyhole at Center Camp to the Man.

Art car.

I believe this was new this year.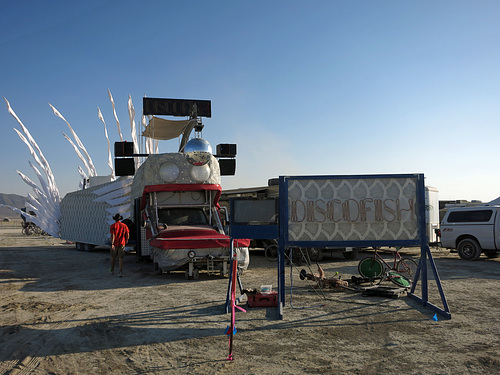 The art car Discofish early in the week, still being put together. They were camped just across the street from us, so I thought that ought to make it really easy for me to get on board and ride this prestigious craft around the playa. Across another street was Hippocampus which has the slightly less exotic Hippocambus that plays only acoustic music. That one would have been even easier to get on as they announced their departures on their excellent PA system. But, no, I never rode either.

Some portion of the tips at Ice goes to family planning in the valley we drive through to get to the Black Rock Desert. I asked somebody how this works and was told that each worker is given a choice: keep all the tips, give all the tips to family planning (or whatever this year's charity is) or split them 50/50.

Inner playa at dusk.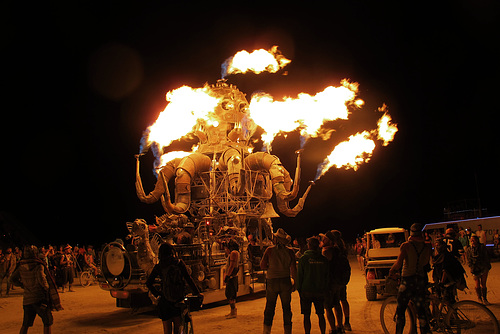 El Pulpo Mecanico.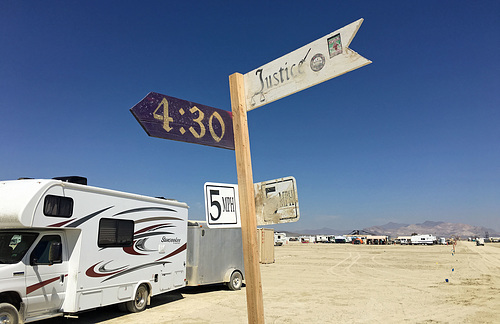 Street signs on our corner.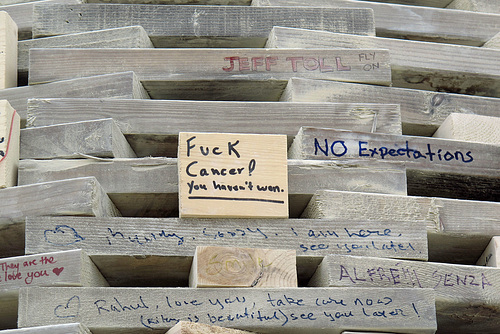 At the Temple.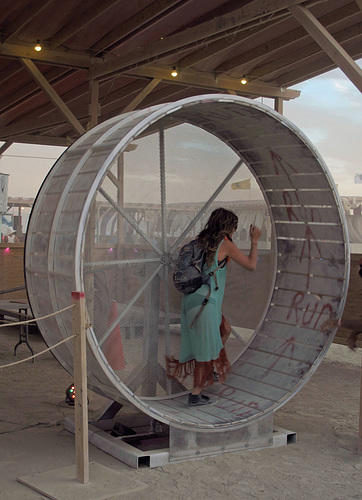 A hamster wheel for humans. It's nothing more than a hamster wheel. It doesn't pump water, grind grain, generate electricity, or anything!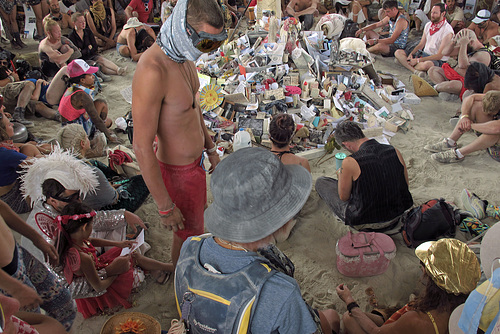 The interior of the Temple. Try to find a seat. Try to walk through! This is the smallest temple interior I've ever seen at Burning Man, despite that on the outside this appeared to be one of the larger temples built. I estimated this interior space at 40 feet by 40 feet.

Somebody made some intaglios out there. Not on any official art list. You just had to stumble across it and know what you were seeing.

Anyone who does the LA World Naked Bike Ride will surely remember June - that's her name, June.

At the beginning of the Naked Pub Crawl. I had never seen anything quite like those shoulder thingies at Burning Man and asked the man about them. He made them and it was the first time he had tried anything like that, he said. My jaw dropped.

The Naked Pub Crawl goes up against a water truck.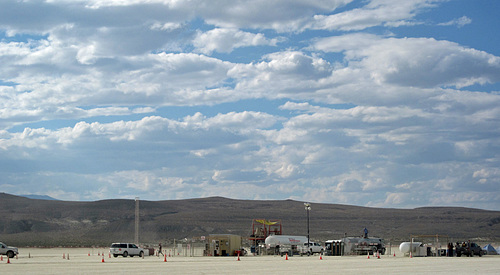 The fuel depot that is beyond 10 O'clock and L. I know this is for art cars, but it may also be the fuel stop for official BM vehicles too. I imagine law enforcement has its own fuel somewhere else. One has to prepare for this place in advance, IIRC. You have to make reservations or pay before coming to the playa or something. It's not like pulling into a Chevron.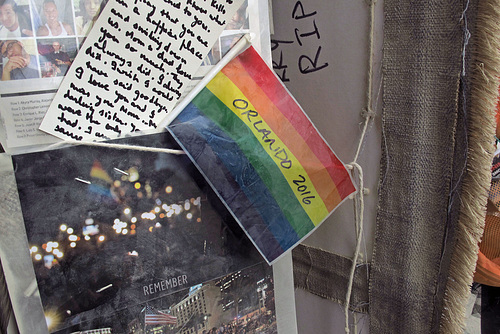 At the Temple.

On the Naked Pub Crawl I spotted this pink Schwinn saddle and asked the nice young man to stand up so I could get a good photo. I spotted this saddle on Amazon just before coming to Burning Man and didn't have the time to buy it...and pink handgrips. Those items have since been purchased and installed, so my trike is even better than it was.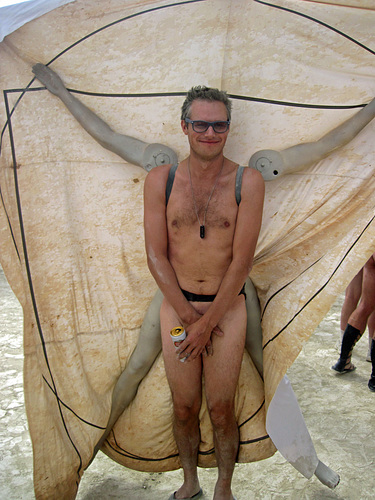 Don't ask me why somebody who wants to do a nude Vitruvian man would cover himself up like this, but he got over it pretty quickly and I have other photos of him.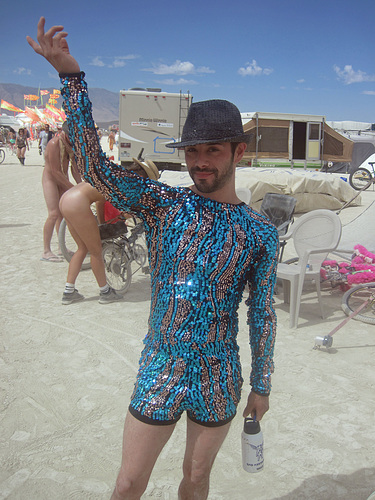 Spotted this little number sashaying around the gayborhood!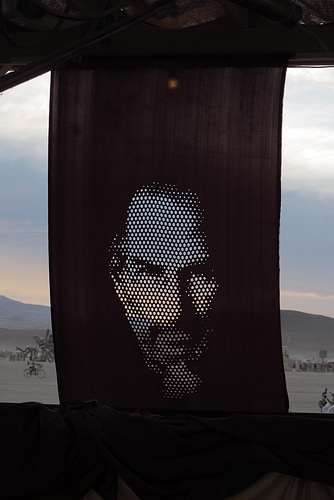 Steve Jobs. This was part of an exhibit of portraits under the Man. Leonardo was also depicted. Everyone else was someone who had been in Apple's "Think Different" advertising campaign, IIRC.

Words to live by.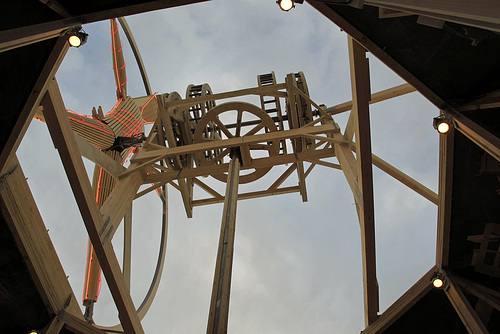 Looking up at the mechanism behind the Man. The Man never worked. It was connected to a wheel at ground level that several people could push to rotate. That motion was to be transferred through these gears to make the man spin! Fab-o idea. But Leonardo wasn't there. Bolts sheared and a finger was lost even before they could open it to Burners. So they just made sure the man was upright and locked everything down. The wheel the Man was mounted in didn't even fall off during the burn and start rolling across the playa. That would have helped with our disappointment.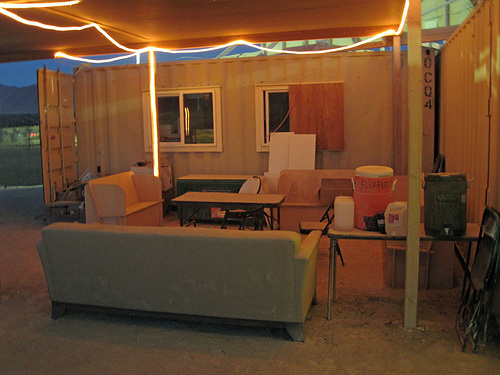 This is the lounge at Box Office where we waited before our shifts and where we ate. All the dust and fresh air you could want, plus cold water. In the storage box in the background there was a kitchen and a storage room for snacks.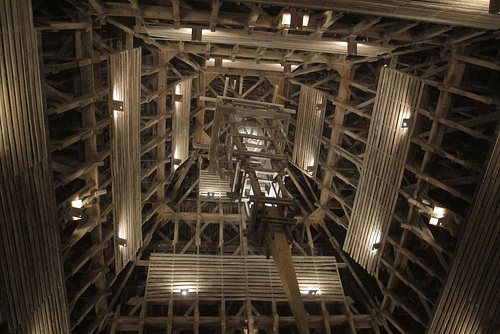 Looking up to the peak in the Temple.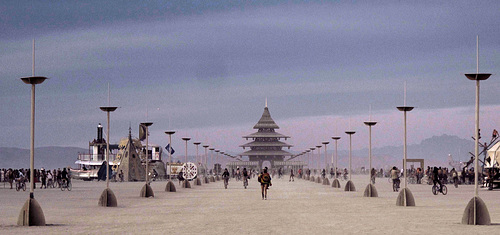 The Temple as viewed from the Man along the 12 O'clock road.
The complete set of photos is here. My videos will come later.
My new tent worked wonderfully. I installed the fan and I believe the interior of my tent may have been more comfortable than any RV in our camp. I noticed RVers sleeping in chairs midday. We need to organize a big napping area. I have never had the interior of any tent so free of dust at Burning Man. The only dust was what I tracked in. I took to leaving the sheet on my air mattress all day long and it was never dusty when I turned in. Usually, one takes his bedding and packs it up somehow during the day, so that it doesn't become dustier...if you're a tent camper, I mean.
The tricycle was a far greater success than I expected! Everyone at BM should have a tricycle if they have the storage and shipping capacity. Once my body fully realized that I didn't need to worry about balance, steering became much easier. I discovered I could now ride and video simultaneously! Expect to see some horrid videos as a result. Any place I wanted to stop, all I had to do was stop pedaling, and just sit. Made it easier to sit out a brief whiteout. You never have to dismount and find a place to lean a trike before you run into wherever you are running in to. The big storage capacity of the trike allows me to pack cameras and a tripod and ride without a backpack. In the past, I've had to choose whether I would go out on the bike or would I do a photo walk. The bike was a big inconvenience when I mostly just wanted to take photos.
Once when I was leaving Box Office to return home, I forgot I had cable-locked one of the rear wheels to the frame. I got about 10 feet. The cable had wrapped itself around the rear axle a few times. Unfortunately, the locking mechanism was cheap enough that it bent, making a normal unlock impossible. The wheel, however, was completely undamaged. I guess it's pretty easy to build superstrong 20-inch wheels, especially since they don't have to be dished. I needed bolt cutters, and my sense was that I would get no help there from the Box Office crew, so I walked next door to the Gate Crew. A nice looking, shirtless man with a handlebar moustache smoking a cigarette was standing in front. I approached and complimented the masculinity of the Gate Crew generally and of this man in particular, and so that's why I came to them to ask for bolt cutters. The nice looking smoker looks at me askance and says, "Yeah, I can help you with that." We walked down to the Gate Crew camp where he found a pair of bolt cutters nearly as big as himself. He explained that no one on Gate Crew could keep track of the combination of the lock on their storage container, so every year they just brought bolt cutters, cut the lock off and bought a new one. Gate.
We came back, he snipped the cable, I gave him a hug and thanks, and that was it. Fortunately for me, I had another pink cable lock back in camp; a Schwinn.
The next night, after my shift at Box Office, I saw that my trike had been moved from where I left it. Somebody had tried to steal it, but had suffered the same problem I did just 24 hours earlier. The new cable lock was wrapped around the axle, but the locking mechanism was undamaged, so I could unlocked it and unwind it. The only damage was a cut to the outer plastic casing of the cable. The wheel was still fine.
I realized that a pink cable lock in the rear alongside all that pink tubing and pink tires, is camouflaged. After that, I only wheel-locked the front wheel, where the lock was obvious.
Klank gave me a shade structure he no longer uses, and I erected it in front of my Costco tent (which my new tent was under). It worked well enough. Once I put a couple of chairs out there, it began to attract Burners. Like ducks seeing a decoy on a pond.
One small improvement I made was to reduce my battery size. I bought this smaller, deep cycle, 12-volt battery. I used it charge my camera batteries and to charge the small 12-volt power packs that ran the fan in the tent. I never attached the solar panels to it, since I saw no need. It weighs only 23 pounds and takes up a space only a little larger than 5" x 7". Much nicer to haul around than the regular deep cycle 12-volt automobile battery, which is even heavier than water. I could probably eliminate the solar panels too, freeing up a little space in the truck. Frank, another of us Burner Buddies, had a similar battery but just half as big that he said was a motorcycle battery.
Working at Box Office was a lot more pleasant than I expected. All the volunteers are friendly and usually helpful. Even more impressive were the Burners coming to window to pick up their will-call tickets. They were so happy, that even people whose debit cards were being declined, remained pleasant to deal with. It was also nice to see that I still know how to get up to show up for work on time, dressed appropriately (there is a dress code: You have to be dressed) and listen to my supervisors. A little to my surprise is that they always use playa names, even on records. When I first introduced myself, they said "No, your playa name." Then they could look me up. My first day on the job I sat next to Brisket, who was very lean. Costumes were not a big thing at Box Office...except for me. I usually made it easy for them to remember my name.
I had two morning shifts (6 AM - noon) and two evening shifts (6 PM - midnight). In the city, Box Office is at 5:45 and E next to Gate Crew, but the Box Office is pretty discreet. I couldn't find it at first.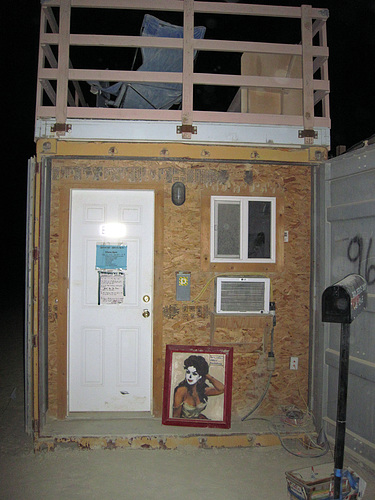 This is what Box Office looks like in the city. It says "Box Office" on the mailbox.
Next door to this is the Lamp Lounge where the decor features regular old table lamps fastened at right angles to uprights, or hanging down from a beam above. I wonder why I haven't seen more of this. There the shift would gather and then, at a sign, walk together down the road, just past Gate Crew to board a yellow school bus. Gate Crew was with us. Or, really, it's Gate Crew's bus and we're with them. The bus moseys at the 5 MPH speed limit out to Greeter's Gate and then through a break in the string of pennants that line the entrance road. The other side of those pennants, I learned, is a Free Zone where there is no speed limit. We would get up a decent speed as we shortcut that long curve that comes after Gate going to the Greeters. There are openings in the pennant string there, too, so we can drive across the entrance road to Gate Crew's headquarters. Box Office crew had to walk all the way, uphill, in the snow, against the wind to the Box Office, but at least we didn't use the same porta-potties as Gate Crew and we had our own kitchen. Not saying that they aren't fine, good-looking, helpful and masculine people in that Gate Crew.
Six hours later we do it in reverse. Once or twice we missed the express bus and took the local, which ran us out to "Point 1," which is the lower left angle of the pentagon. There's a gate there for vehicles that get to skip the entrance road - like cops, official Burning Man vehicles, and I think the Burner Express bus. It's dark and cold out there, but the law enforcement village is not far away.
We got fed while we were on the job. Some sorts of warm meals made their way out from the commissary to the Gate and us. Having these meals seemed to be an important reason for some people volunteering. The quality was like not very good dorm food. But, it was oversalted (at least to my taste) and that made it wonderful! I inhaled that food.