May 12, 2018
No Spectators - The Art of Burning Man

That's Greg & Shep looking at the penny bear.

Maya Angelou.

People played around on this in pretty much the same way Burners did.

"Truth is Beauty" one-third scale replica.

These people are looking up at a small version of the artwork seen at the beginning of the following video:

This complete set of photos can be seen here.
permalink | May 12, 2018 at 11:30 PM | Comments (0)
April 5, 2018
Arriving At Burning Man, last year
.
My shirt is clean; my tent behind me is not yet covered by my shade structure, so it's midday of my first day on the playa last year, 2017. Photo by George Post who is always there when I arrive and always still there when I leave and I'm beginning to suspect he might live out there all the time.
The umbrella hat, to my surprise, proved very practical. Kept my head well shaded, well ventilated, and the headband did not irritate me. That was what I expected to be my main objection, but, no, it's fairly comfortable. Not practical in wind, however.
If somebody wants to give me a word balloon, send it complete (not just an idea or suggestion) to me at RonsLog@RBGilbert.com
permalink | April 5, 2018 at 09:18 PM | Comments (0)
Gigapan Aerial Image of Black Rock City 2017
The Gigapan image is here. Below is the view of our Burner Buddies camp.
permalink | April 5, 2018 at 11:39 AM | Comments (0)
February 2, 2018
Burning Man Dates For 2018
In a handy graphic!

permalink | February 2, 2018 at 11:38 AM | Comments (0)
January 18, 2018
Le Sacre du printemps Under The Tree of Ténéré At Burning Man 2017
permalink | January 18, 2018 at 11:27 PM | Comments (0)
January 11, 2018
Seen at CES
I'm just back from two days at CES in Las Vegas and here's a video of one little thing I saw. This costume would, I believe, be acceptable at Burning Man, but wouldn't draw a crowd.

BTW, this company (Hisense) was displaying a 150-inch dual laser TV (in a darkened room) that was just stunning. Supposed to be easier on the eye because the laser light is reflected to your eyes rather than beamed directly as an LED screen (for example) would. Won't be on the market until later this year. They wouldn't estimate a price other than to say it will be more expensive than their 100-inch single laser display. That one goes for $30,000.
permalink | January 11, 2018 at 11:04 PM | Comments (0)
November 15, 2017
Sonic Runway in San Jose
The Sonic Runway was an installation at Burning Man in 2016.

permalink | November 15, 2017 at 03:19 PM | Comments (0)
September 21, 2017
A Few Of My Burning Man 2017 Photos

Dusk on Sunday, just before the Temple burn.

Atlas, of the Action Figure Family, had this little surprise for those Burners who were sufficiently curious to open the door on his crotch.

Inside the chest of Atlas. Quite remarkably, there was no vandalism of the Action Figure Family, as far as I could see. Someone did steal the mini-Etch-a-Sketch, but it wasn't attached to anything and I kind of expected it to disappear.

Jacky at the end of the week.

Jallen arriving at the scene of the art.

Our address tag, sort of.

On the big master map at the Artery.

My tricycle on the evening of the Temple burn.

Beginning to disassemble the Tree of Ténéré. This was one of the two brightest pieces of stationary art on the playa. (The Flower Tower was the other one.)

Map of the placed theme camps along the 4:30 axis. Burner Buddies are in pink.

You can tell this is the boy's bike because the tires are pink.
permalink | September 21, 2017 at 05:27 PM | Comments (0)
September 7, 2017
The Action Figure Family on the playa

This photo by Pat M. shows how the Action Figure Family looked after a few days on the playa of the Black Rock Desert.

Andrew Jorgensen's photo of the Action Figure Family at twilight. Here's a link to the Rolling Stone article with more pictures of other art projects at Burning Man.

The Action Figure Family crew (Palm Springs Branch). L to R, top row: John, Jallen; bottom row: myself, Dennis. The fifth member, Stitch, is the San Francisco branch and primarily helped with dealing with Indiegogo and other financing attempts.
permalink | September 7, 2017 at 08:04 PM | Comments (0)
July 10, 2017
Action Figure Family Donation Request
These are photos of the creation of the Action Family Figures, which is taking place right in lovely Palm Springs. I think that you'll agree that, like every great art project at Burning Man, this one will bring about world peace and a transcendent consciousness linking all souls. If not that, it will at least generate surprise. The playa has never seen anything quite like this. It's going to be four mannequins covered with the action figures, Lego people, Muppets and even Happy Meal toys that young Jallen has been acquiring throughout his 50-odd years, 20 of which he has spent as a Burner. Do you see the Viewmaster serving as the eyes for the little boy? Look into the little boy's eyes and you'll see some of Jallen's photos from the last 20 years of Burning Man. Of course, you'll have to come to Burning Man or one of our work parties to do that.
Besides its stunning artistic qualities, this project is what's getting me to Burning Man this year. Now I'm working for the price of my admission. Working on this project will get me a ticket, a vehicle pass and an early arrival pass! If they would throw in a free shower on the playa, it would be an even better deal, but that's not to be this year.
Who are the patrons supporting this Sistine-Chapel-of-the-desert? Uh, well, me...and others, and you should too. I've actually contributed more than the value of the ticket & VP, so now it's your time to join the fun.
Go here to make a donation, and don't shy away from a 4-digit donation. Check out the rewards you get for one of those!
You get real value for those, not just a t-shirt or other souvenir. And Jallen's going to tell me who made contributions.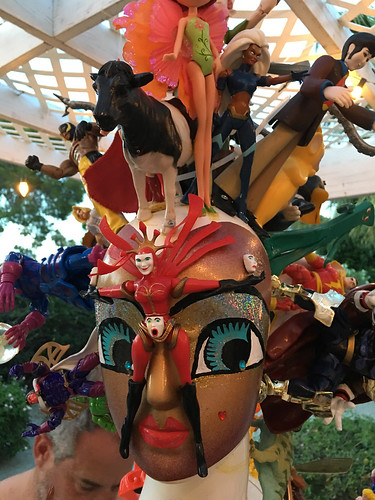 The complete set of photos is here.
permalink | July 10, 2017 at 06:01 PM | Comments (0)
June 8, 2017
Queer Burner Retreat
Over Memorial Day weekend I returned to Saratoga Springs, this time for what used to be called the "Queer Burner Retreat," but has been renamed to the meaningless "All Of Us." As a result we got one paying guest who feeling the need for a meditative weekend Googled and found Saratoga Springs, which led her to "All Of Us." She read no further, knowing that she must be one of us. She submitted her credit card and showed up to be rather surprised to find a Burner party underway. She stayed one night and then escaped.

Dan Reeves, the artist behind The Journey Project.

About one-quarter of the Journey Project.

My little camp.

The view from my tent door.

The well-known colors of Comfort & Joy, the biggest gay camp at Burning Man.

The jacuzzi, all fresh and clean when I arrived.

After a couple of days of hard use.

On the front porch of the main lodge.

Rand Larson on the left.

A new fire escape and an entirely new deck!
The complete set of photos can be seen here.
permalink | June 8, 2017 at 07:53 PM | Comments (0)
June 2, 2017
The Journey Project at Saratoga Springs


About a quarter of The Journey Project was constructed at Saratoga Springs over Memorial Day weekend for the Queer Burners Retreat. Their fundraising page.
permalink | June 2, 2017 at 08:51 AM | Comments (0)
May 1, 2017
The Journey at Saguaro Man
Saguaro Man is the annual Arizona regional burn (for Burning Man), and it took place this past weekend. Here's a video that shows you Saguaro Man and highlights The Journey Project which built one-quarter of the project that they are going to put on the playa in August.

More info on The Journey Project which is mostly San Diego based.
permalink | May 1, 2017 at 09:24 AM | Comments (0)
April 26, 2017
Burning Man Wrap-Up Video - 2016
I have had bits and pieces of video from last year's Burning Man just kicking around so I made this video with them. Some of the bits you've seen before, probably, but not all. The music is "Riw Akoii" by MigloJE.

permalink | April 26, 2017 at 06:16 PM | Comments (0)
April 22, 2017
Action Figure Family Fundraising Party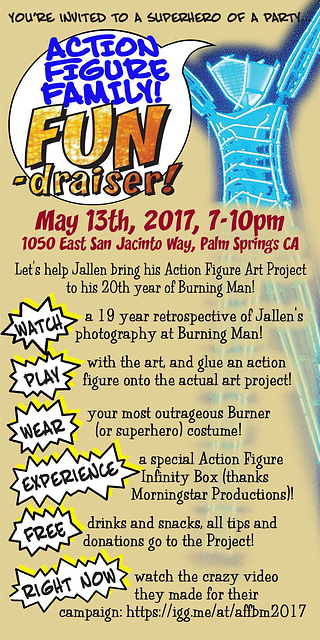 This is a fundraiser for the first art project that I've ever worked on for Burning Man.
Here's the Indiegogo page for donations.
permalink | April 22, 2017 at 11:21 PM | Comments (0)
April 4, 2017
Burning Man Census 2016
The Black Rock City census for 2016 has been released. I suspect the results are not accurate because completion of a census form is entirely voluntary and, I imagine, birgins are more likely to fill one out than veterans. But the BRC census people insist they know their statistics and can correct for the sampling bias. Maybe they are right. Anyway, I want to point out just a few of the interesting bits in the census that I noticed.

39.3% of the Burners in 2016 were birgins, which is consistent with prior years. 4.2% had been to Burning Man 8 to 10 times...that includes me.
Only 1.3% of Burners were under age 20.
72.5% of Burners had attended college.
3.4% had an income above $300,000.
The median household income (back in the default world) was $94,200.
56.8% male, 41.4% female, 1.8% fluid/both/neither.
8.8% said they were sexually attracted to either mostly or exclusively the same sex. 7.8% identify as gay or lesbian. (I thought it would be higher).
35.9% were not in a committed personal relationship (i.e., married or something like that).
1.1% of Burners identified themselves as black. 4.3% as Hispanic/Latino. (I thought it would be higher).
6.7% reside in Canada; 5.5% in Europe.
In the U.S. 48.5% of Burners resided in California. New York was the second most popular state of residence at 8.1%. Nevada was 5.7%, in 4th place behind Washington.
Only 2.8% named Spanish as their primary language, while 3.7% claimed French! 2.2% Russian.
46.5% "spiritual, not religious." 24.8% atheist (hoo boy!). 14.7% agnostic. 6.1% "religious." (I had no idea!)
Breaking it down by religious denomination shows Burners were 7% Catholic, 2.6% Protestant, 6.4% Jewish, 4.6% other Christian, Buddhist 1.9%.
89.6% arrived at the gate by motor vehicle. 1.1% flew into the landing strip.
18.8% came in an RV (I thought it would be higher). 47.3% arrived by car, pickup truck or SUV. 0.8% came in a semi with trailer.
Most popular reason to come to Burning Man? Survey says "To see/experience the art" at 62.5%! 3.7% said it was to consume intoxicants. "Bucket list" was 10.2%. "To grow or connect spiritually" was 21.6%
91.8% said they enjoyed Burning Man either "extremely" or "a lot." 0.1% said "not at all."
94.4% absolutely or probably intend to come back. 0.4% said they would absolutely not be back.
81.6% sort their trash at Burning Man.
Power sources include batteries (54.1%), a camp generator (46%), solar (40.1%). 4.3% get it from the Black Rock City grid. Burning Man, using diesel generators, supplies electricity via buried cables to a few select camps and installations...how did you think they got the lights on the Man to work?
64.3% were in a placed (i.e. theme) camp.
52.6% of those not in placed camps said they chose their location based just on where they could find space.
34.7% were in camps with a population of 50 to 199.
32.6% came with at least one family member.
28.4% stayed in an RV or camper-trailer. I guess it just seems like there are more RVs than that because each one takes up so much more space than a tent.
66.7% spent $1000 to $5000 on Burning Man, exclusive of ticket price.
On average, each Burner spent $635 in Nevada, mostly on food and lodging. 0.9% spent more than $5000 in Nevada.
39.4% got a ticket in an open sale from Burning Man. 3.1% got their ticket from a stranger.
2.5% paid more than face value for a ticket. 1.7% paid less than face value and 7.8% received theirs as a gift.
permalink | April 4, 2017 at 06:58 PM | Comments (0)
February 2, 2017
Investigation of Dan Love
Dan Love, you may have forgotten, was the BLM agent who was "Utah's former Special Agent in Charge...who oversaw law enforcement at Burning Man for several years." He was the man behind the request for a million dollars worth of luxury for the BLM agents at Burning Man in 2015. Well, he had that position until he was removed from that position for that request...among other things. He was the Choco-taco man.
And those other things are coming out now, according to this article in the Reno Gazette-Journal. The official report can be found here. The BLM investigation revealed many of Love's abuses of the system, including buying three regular priced tickets after the point where all of those were supposed to have been sold out. He also brought family into the event and had on-duty BLM agents transport them around the playa in official vehicles. Love also created and placed a memorial at the Temple while on duty.
Love had been the BLM agent in charge at the 2014 Bundy standoff. After that he was transferred to a position in Utah where he seems to have managed to piss off just about everybody in Utah. And then he came to Burning Man and embarrassed the BLM there, after which he was transferred away, in time to get him out of there before the 2015 Burn.
permalink | February 2, 2017 at 12:44 PM | Comments (0)
October 6, 2016
The Temple Burn
My video of my ride from the Burner Buddies camp out to and around the Temple on the night of its burn. This was shot entirely from a camera mounted on my tricycle's handlebars.

permalink | October 6, 2016 at 07:43 PM | Comments (0)
September 29, 2016
"BURNING MAN: LIKE A VACATION, BUT TERRIBLE"
A year old, but very good.

permalink | September 29, 2016 at 02:02 AM | Comments (0)
September 23, 2016
The Temple