May 26, 2015
Walk Wilshire
On May 6 I participated in Walk Wilshire, which is yet another of those long distance Los Angeles walks that people do just for fun. No waiver. No t-shirt. No fee. It was to be all the way from Grand Avenue, where Wilshire begins, out to Ocean Boulevard in Santa Monica. I've walked various, but not all, chunks of Wilshire before. Filled in the gaps on this walk. I went only so far as the Westwood Village Memorial Park Cemetery, which I overshot on the last Great L.A. Walk that came down Wilshire, so I made a point of visiting this time, before taking the bus back downtown. Walking the segment of Wilshire from Westwood to the Ocean is as good as any other part, I suppose, but not so interesting that I felt I should walk it a third time.
The best way (trust me) to see my photos is to watch this video, which is one photo per second, so it takes only about 36 minutes!

All the still photos are available here. Flickr has a slide show too, but the viewer has no ability to skip ahead or back in their slide show.
A few of the photos:

The walk organizer explains the history of MacArthur Park.

At Vermont.

"What is that on your hat?"

Wilshire Boulevard Temple.

Near Western.

"WTF?"

At the Tar Pits.

Going through and under LACMA.

The Observation Pit. I didn't go see who they had down in the pit.

"Levitated Mass."

Johnie's, used as a location in Reservoir Dogs as well as several other movies and videos.

The view from the offices of "Good" magazine.

The statue on top of this is John Wayne on a horse.

Beverly Hills a hundred years old; who knew?

A vape store.

Google says this building is Sony Corp.

At the construction site of the new Waldorf Astoria.

Don Knotts.

Marilyn Monroe.

Oscar Levant.

I forgot to check on the exact location of Burt Lancaster's grave before I left home, but I knew I was close to it when I was standing here. I left the color in his grave marker. Next to the flowers.

Karl Malden.

Peter Falk.

Rodney Dangerfield.
permalink | May 26, 2015 at 05:12 PM | Comments (0)
May 8, 2015
Bliss Dance Leaving Treasure Island

Bliss Dance tonight. Despite attempts to weatherize her, Bliss Dance is not dealing well with the salt air, so she will be removed from Treasure Island this month.
Photo by Jeff Ford.
permalink | May 8, 2015 at 11:20 PM | Comments (0)
May 7, 2015
See The Temple Burn
At George Mason University, that is. A handbuilt 20-foot tall pagoda will be burned at 8:30 PM tomorrow night on Mason Pond.
Facebook for the burning of the temple.
I haven't read everything, but so far the lack of any clear reference to Burning Man is interesting.
permalink | May 7, 2015 at 04:03 PM | Comments (0)
May 5, 2015
Huntington Gardens
This past weekend I paid my first visit to "The Huntington Library, Art Collections, and Botanical Gardens", AKA Huntington Gardens in San Marino.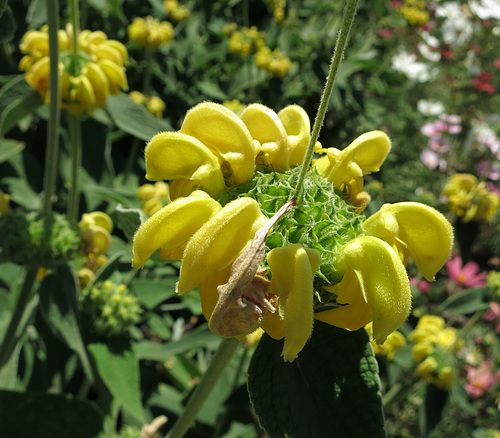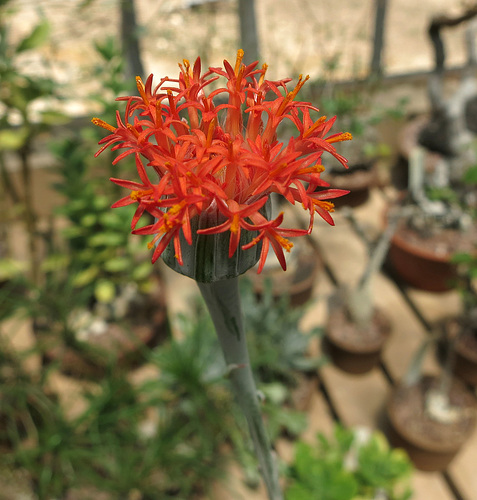 A strangely leafless bougainvillea.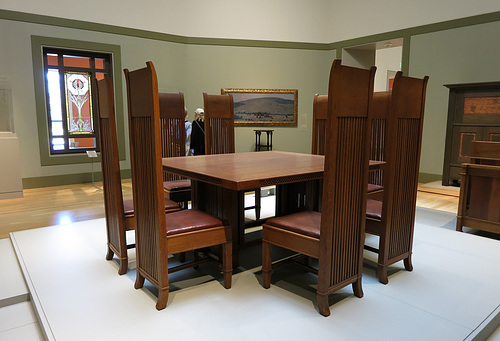 Their one bit of Frank Lloyd Wright.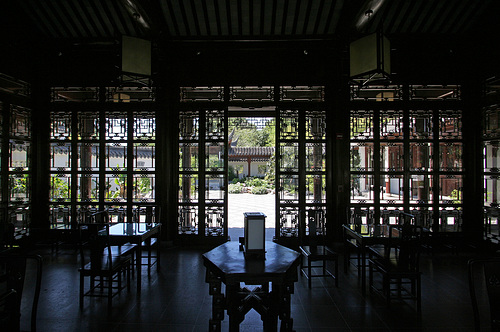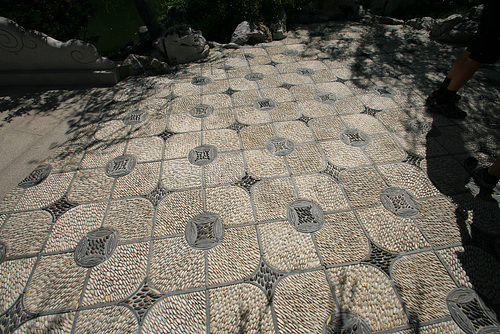 Even the walkways are impressive!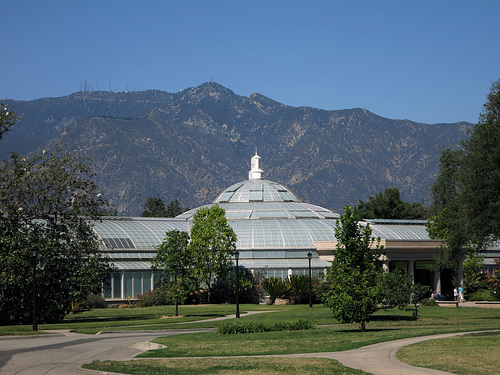 Mt. Wilson in the background.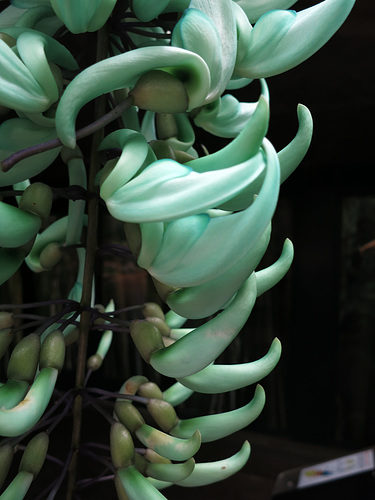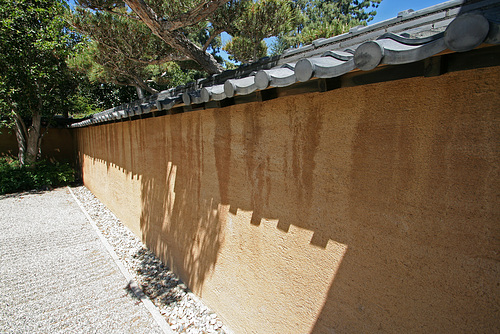 A wall in the Zen garden.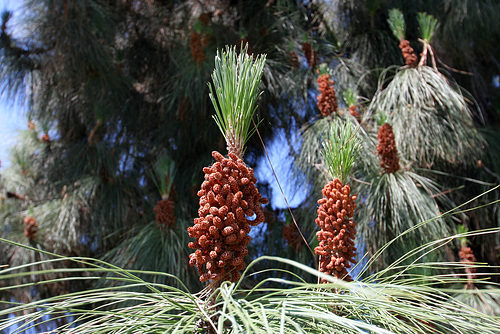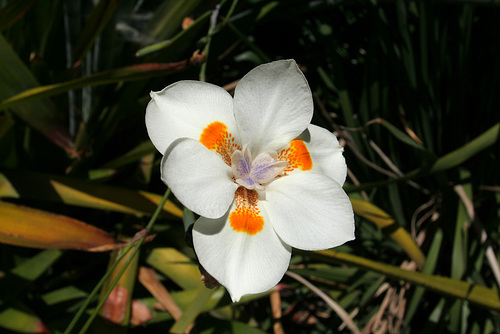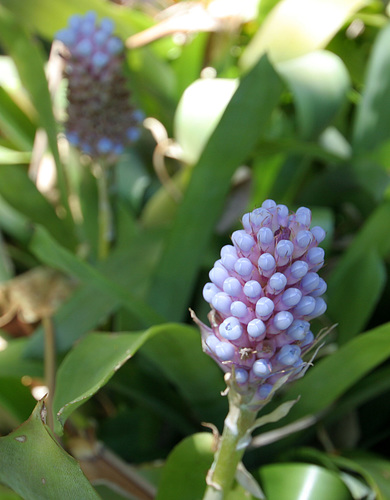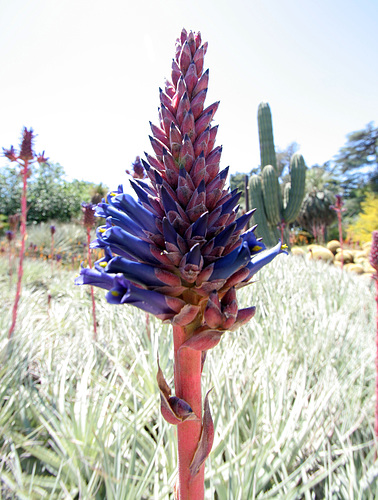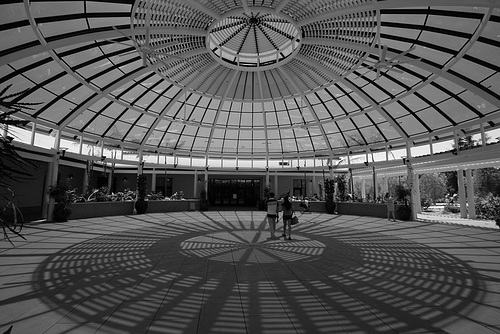 This is what my shade structure at Burning Man is going to look like this year.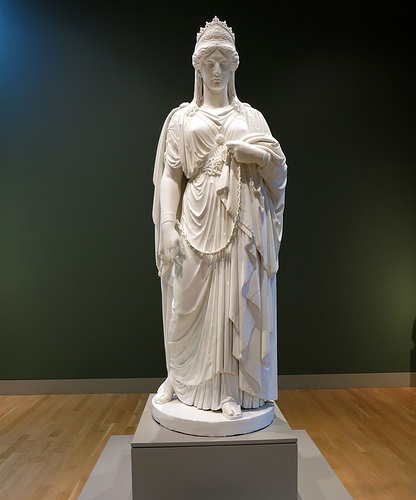 Zenobia In Chains by Harriet Hosmer.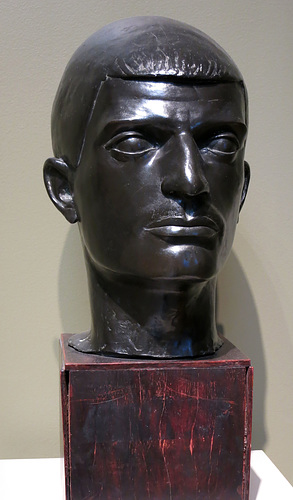 The Bomb Thrower by Maurice Sterne.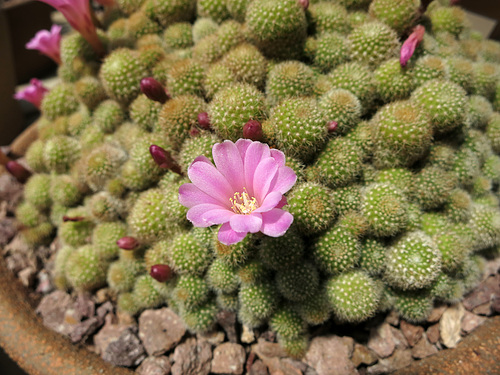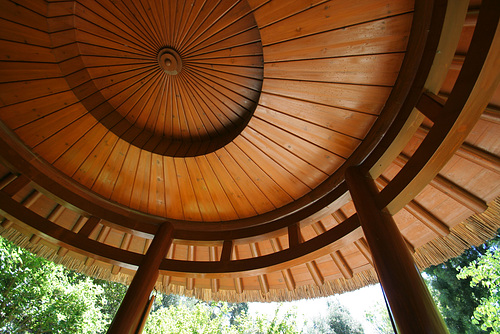 The ceiling of the "Pavilion For Washing Away Thoughts." I'm sure there must be a corresponding brainwashing pavilion somewhere else. Maybe in the North Korean gardens.
The complete set of photos is here.
permalink | May 5, 2015 at 11:31 AM | Comments (2)
May 4, 2015
Watts Towers
Built over the period of 1921 to 1954 by Italian immigrant Simon Rodia. In 1959...
The Committee [for Simon Rodia's Towers in Watts] negotiated with the city to allow for an engineering test to establish the safety of the structures and avoid demolition of the structures.

The test took place on October 10, 1959. For the test, steel cable was attached to each Tower and a crane was used to exert lateral force all connected to a 'load-force' meter. The crane was unable to topple or even shift the Towers with the forces applied, and the test was concluded when the crane experienced mechanical failure. Bud Goldstone and Edward Farrell were the engineer and architect leading the team. The stress test registered 10,000 lbs. The Towers are anchored less than 2 feet (0.61 m) in the ground, and have been highlighted in Architectural textbooks, and have changed the way some structures are designed for stability and endurance.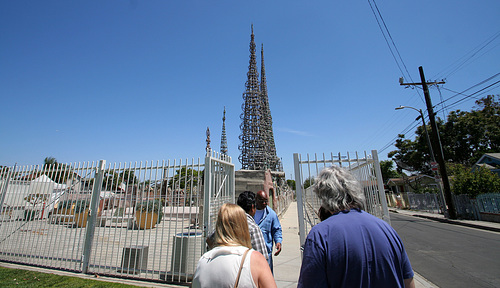 The tour commences. $7, IIRC.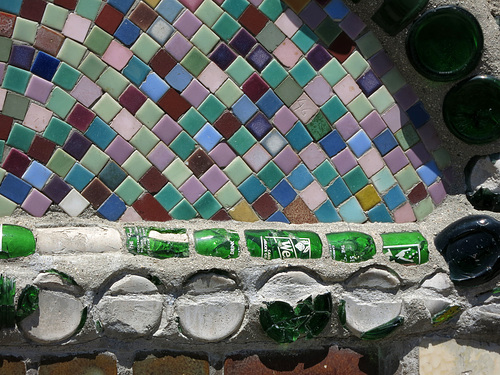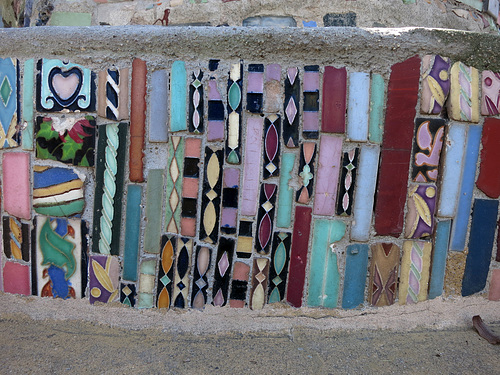 They're down a dead end residential street that has parking only on one side (despite what you may see here). You drive to the end of 107th Street, turn around, and parallel park. There is a small parking lot if you proceed north of 107th on Graham.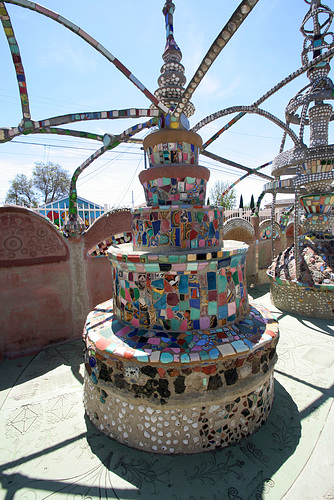 The wedding cake.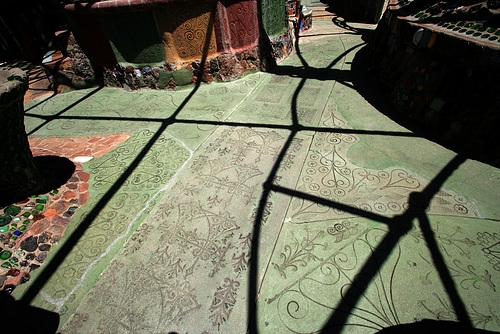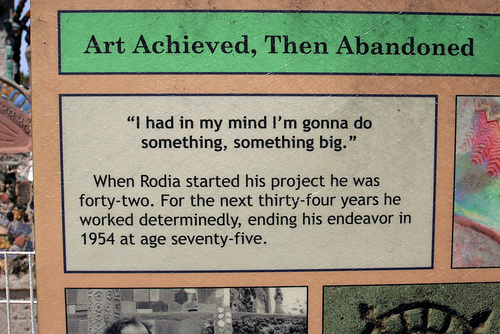 The view from the "back" side (northeasterly).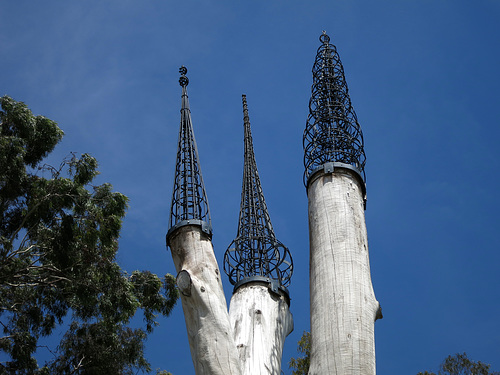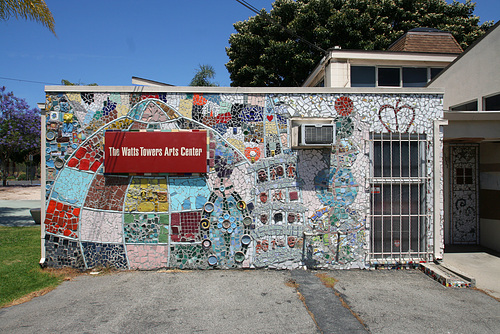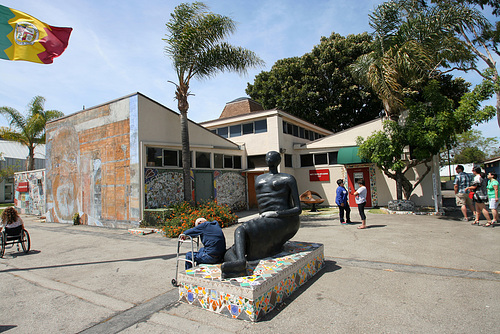 Click here for the complete set of photos.
permalink | May 4, 2015 at 11:55 AM | Comments (3)
April 12, 2015
Low Desert Rock Supply
Last week the Community and Cultural Affairs Commission convened one hour early at Low Desert Rock Supply on Dillon to see what they could offer in the making of an appropriate "welcome to DHS" sign.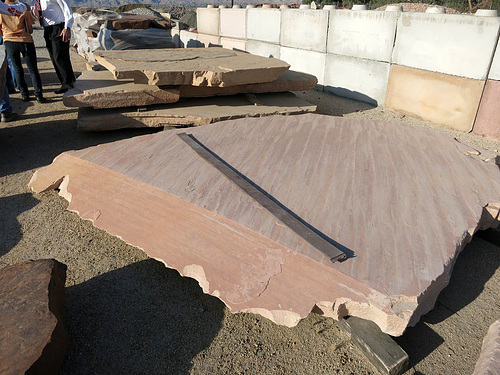 This rock was considered to be just the thing for a welcome sign.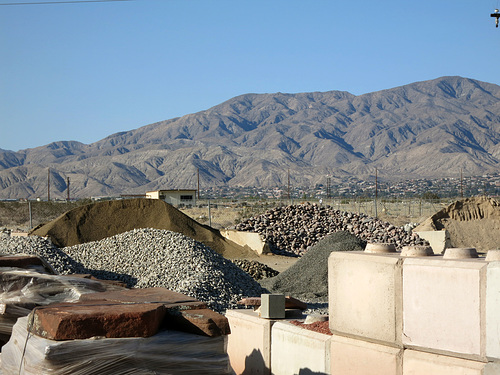 Looking back toward the city.

The proprietor.
permalink | April 12, 2015 at 05:40 PM | Comments (2)
April 7, 2015
The Third And Final Installment In This Trilogy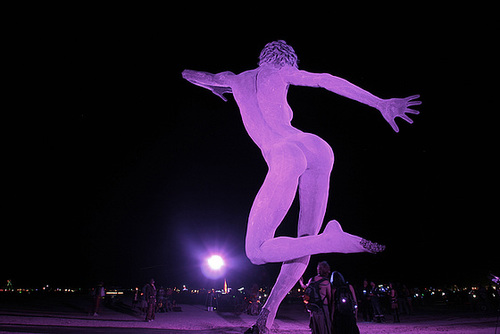 Remember "Bliss Dance" and how it thrilled the world at Burning Man 2010?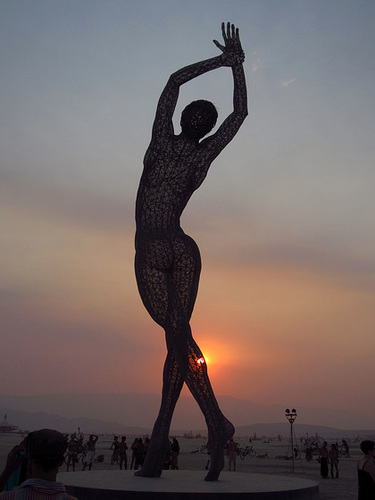 And how it was outdone by "Truth Is Beauty" in 2013?
Prepare yourself for the final sculpture in the series: "R-Evolution: The Woman Stands" which will be on the playa this year. And open your wallet too, because that's an Indiegogo link where you will find this remarkably unslick, unpretentious video:

Here's a photo of a model of R-Evolution.
permalink | April 7, 2015 at 10:30 PM | Comments (0)
March 28, 2015
Marmol Talk
I went to hear Leo Marmol speak at the art museum on the subject of preservation and its tangled web. The second half of the event had us scurrying over to the Architecture and Design Center - the Santa Fe Federal Savings and Loan building at Baristo and Palm Canyon. 98% of the attendees at the lecture drove those three blocks. Less than a handful of us walked.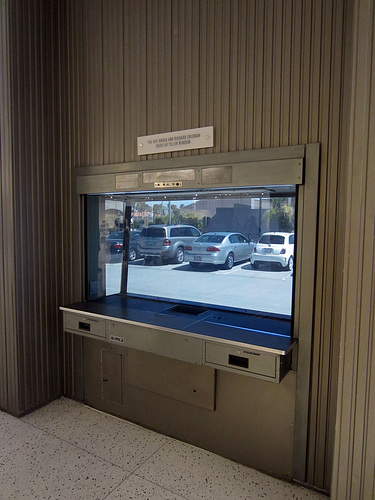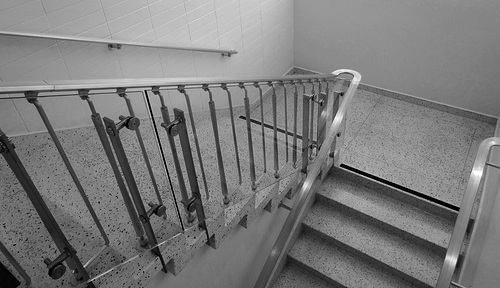 The stairs and the handrail are original. The glass wall was added behind the railing because the gaps were wider than current building codes permit.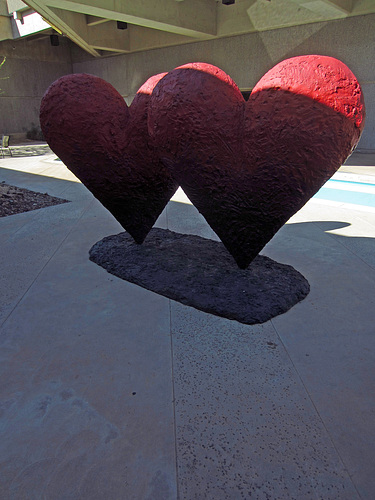 Meanwhile, back at the art museum.
permalink | March 28, 2015 at 09:19 PM | Comments (0)
February 26, 2015
The Beauty Of Los Angeles
A good video of downtown L.A. shot with a drone that shows off a lot of the architectural detail and murals that people either can't see, don't see or take for granted.

permalink | February 26, 2015 at 02:35 PM | Comments (0)
February 20, 2015
Getty Villa
Yesterday, Jeff and I visited the Getty Villa - the one overlooking the Pacific - not the Getty Center, which is the one overlooking the 405 and the rest of Los Angeles. This was the first time at the Villa for both of us.
If you were one of those students who excelled in learning to identify corinthian, ionic and doric columns, then the Getty Villa will be your opportunity to show off that knowledge.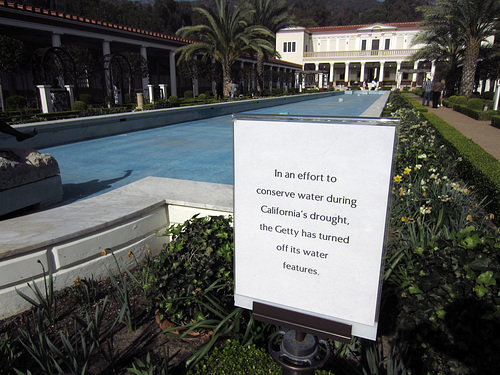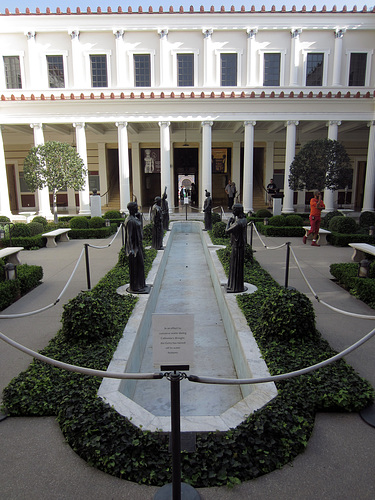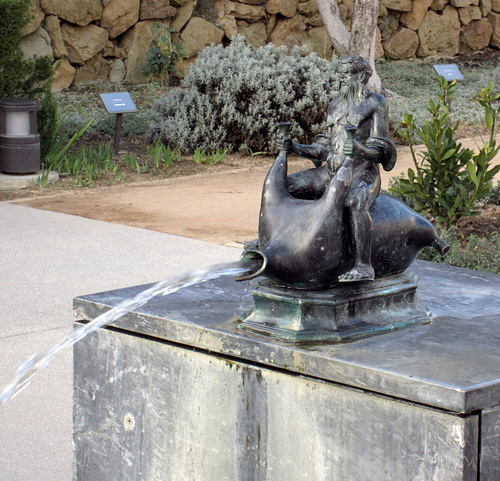 But the fountains in the gardens are still running.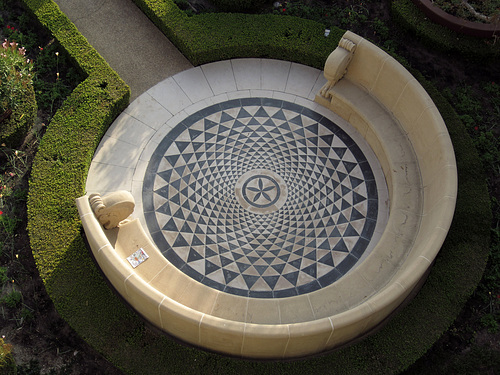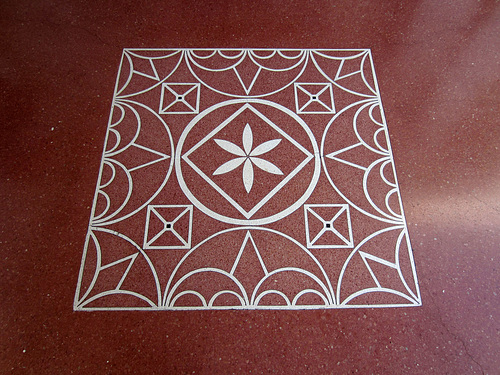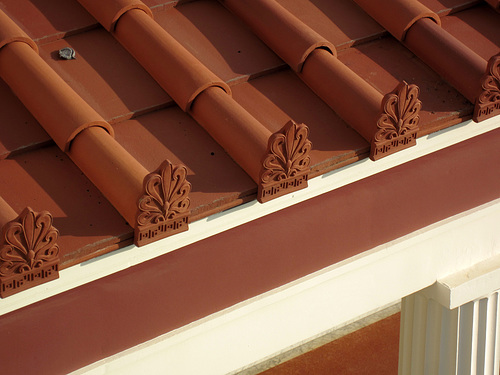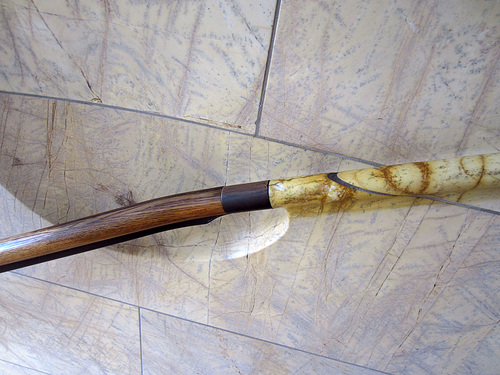 Handrail on a stairway.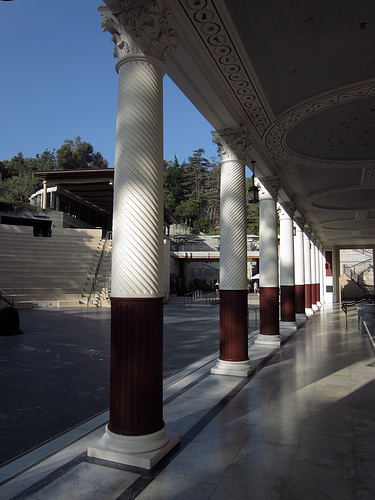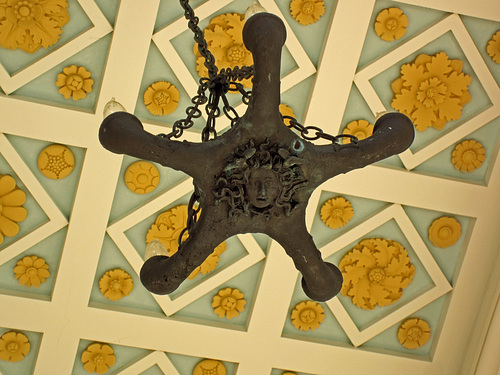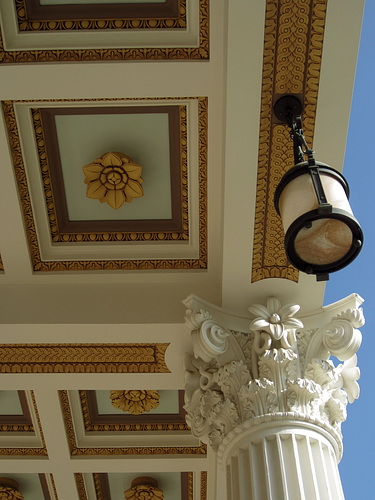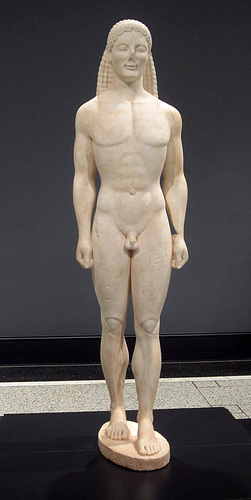 The complete set of photos is here.
permalink | February 20, 2015 at 09:05 PM | Comments (0)
January 15, 2015
Biggest Ever Burning Man Art Project
Even the 2014 Man is puny in comparison.

permalink | January 15, 2015 at 07:49 PM | Comments (0)
January 12, 2015
Ten Bridges Epic Walk
Yesterday I went on the Ten Bridges Epic walk, which crosses 10 of the bridges over the Los Angeles River. It came to about 14½ miles. Maps: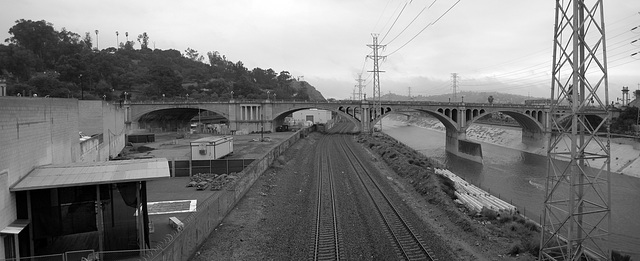 Broadway Bridge.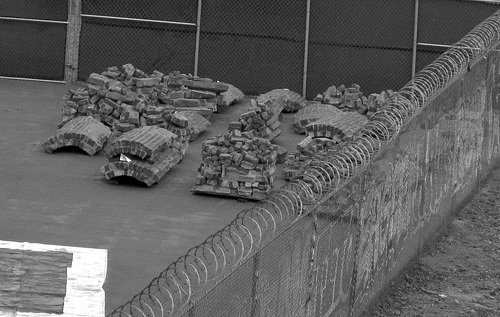 This is a detail from the photo above. These are the most recently unearthed remains of the Zanja Madre which were found in 2014. The brick probably dates from the 1880s, although the ditch itself goes back to the settling of Los Angeles. News story with photos here.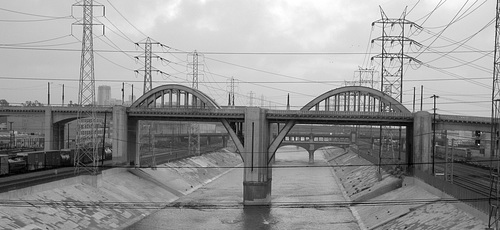 Sixth Street Bridge which will be demolished this year.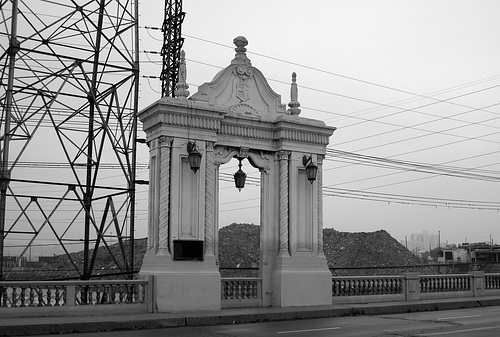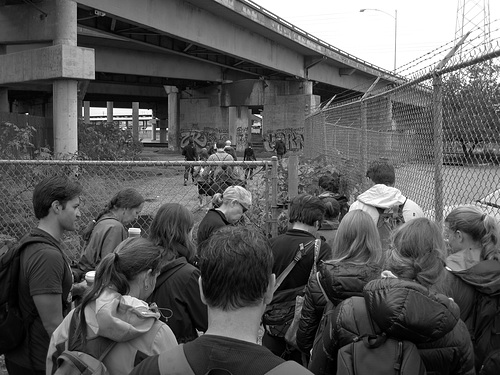 We try a shortcut along the river that is probably railroad property. It turned out to be a dead end and we had to follow our steps back and loop around.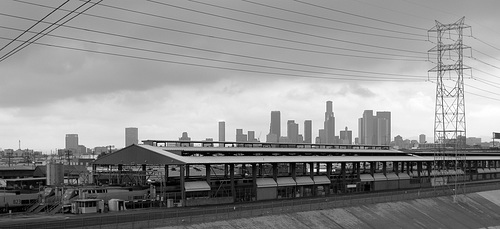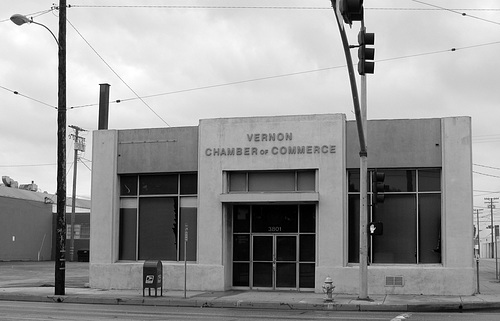 The Vernon Chamber of Commerce. I expected something a bit nicer.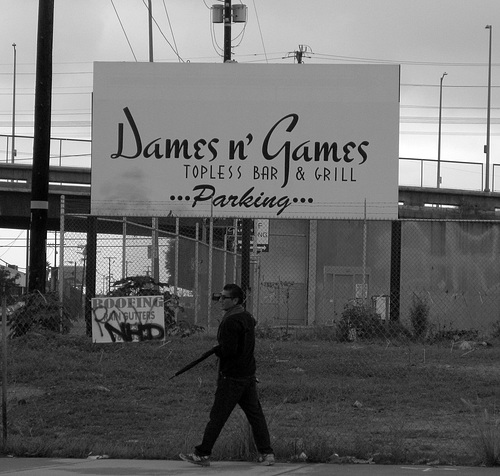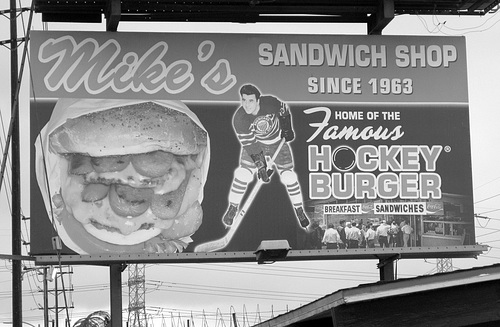 The famous hockey burger - which sets it apart from those ordinary hockey burgers that you never heard of.
The complete set of photos is here.
permalink | January 12, 2015 at 01:53 PM | Comments (0)
November 25, 2014
New At Cabot's Pueblo
BIG CHANGES at the PUEBLO
New Tour - New Experience Announcing our new Signature Tour beginning on December 2nd.

You'll experience Cabot's Pueblo Museum in a whole new way! There is so much to learn about the man responsible for the settling of the Coachella Valley. Do you think the Valley would be the same if Cabot hadn't made it his home?

New rooms open to the pubic for viewing!

Many haven't been open in decades. Cabot's Office and Artist sleeping quarters and drawing space are open for viewing. More rooms will be open soon!

Walk around the beautiful grounds.

We've been hard at work creating peaceful paths and gardens throughout the grounds for you to enjoy. Make sure you see the Alter in the Wilderness - Meditation Garden (it's also the perfect place for a wedding or special event!)

Remind yourself why there is No Place Just Like this Place.

Few people have left as indelible a legacy on the Coachella Valley as Cabot Yerxa. When you tour his remarkable hand-built 5,000 sf Pueblo you experience how his life changed the Valley. His stories will inspire you.

Cabot's Pueblo Museum is open Tuesday through Sunday between 9:00 AM and 4:00 PM. Guided tours are offered every half hour.
permalink | November 25, 2014 at 10:09 PM | Comments (0)
The Future Has Arrived

This...THIS is the genuine, real, official poster for the current crew on the International Space Station. Your jetpack and flying car will be available for pick-up in the first week of December. The crew includes two Americans, three Russians and one from the European Space Agency who is, to be specific, Italian.
Have I mentioned that the ISS will be landing on the Black Rock Desert next August? Oh yeah, you gotta be there.
permalink | November 25, 2014 at 12:42 PM | Comments (0)
November 14, 2014
The Orca Mural
On Two Bunch Palms Trail next door to the middle school, by John Coleman.
permalink | November 14, 2014 at 12:36 PM | Comments (1)
November 4, 2014
Mural In Coachella
KCET has an article and video about a mural in Coachella:


The Shady Lane mural began in 1979 by "Artistas Del Barrio," a group of neighborhood artists who started painting on a visible wall and completed a few feet entering the early 1980s. It never got close to the idealized vision of filling the space with Chicano history. The original set of murals only took up a very small section of the six-foot high wall that runs just over 1,000 feet long. Years later, the wall began to crumble and sections fell to the ground, said Ruben Gonzalez, who with other neighborhood leaders pushed to restore the idea of a long wall with history that showcased local artists. The city agreed to help. "We got people together when the wall was to be taken down." Gonzalez said, and who now coordinates the new version of the same mural project, and takes the lead in looking for funding, securing donations of paint, and plans themes that replace the first set murals that were unsalvageable.
permalink | November 4, 2014 at 10:18 AM | Comments (0)
October 27, 2014
The Orca Mural Thus Far
Photos by John Coleman.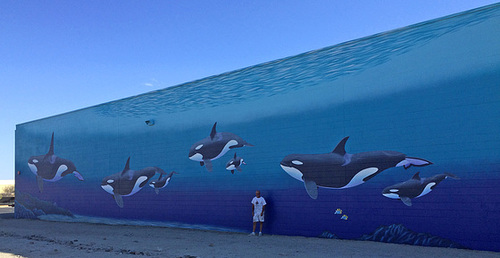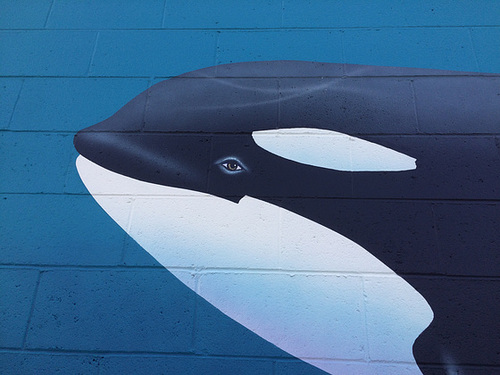 permalink | October 27, 2014 at 03:23 PM | Comments (2)
October 21, 2014
Returning To The Big Screen!
The Greatest Science Fiction Film Of All Time: 2001: A Space Odyssey has been digitally remastered and will open November 28 in the UK at a British Film Institute film festival. Go back and watch the original 1977 version (or whatever version of the original you can find) of Star Wars. If you were around in 1977, you will recall that its special effects blew us away. Now they look cheezily obvious. Then go watch 2001 which was made before most of you were born: 1969 1968! It still works. It still takes your breath away when it jumps to Jupiter space. And at the end you still don't know WTF was going on*. That's good cinema!
Appropriately enough, they've brought the trailer up to the standards of 2014:

HAL is still so sorry he couldn't open that podbay door.
*it's just a lengthy attempt to direct blame away from the opposable thumb and put it on some "space aliens."
permalink | October 21, 2014 at 03:37 PM | Comments (3)
High Desert Art Tours
Somebody was recently asking me about this and I don't remember who, so I'm just putting it here. The Highway 62 Open Studio Art Tours will take place October 25-26 (east) and November 1-2 (west). Get your PDF art tour guide right here.
And there's this:
Closing Party at Furstworld

Join us for the Annual Art Tours Closing Party! Held at the crazy world of Bobby Furst's Sunday Nov. 2nd; 7pm – 11pm

8528 Desert Shadows Rd., Joshua Tree (see Studio #68 on the catalog map)

$10 cover charge (Free to participating artists and accompanying guest)

Pot Luck Dinner – bring a dish to share

No Host Bar

Enjoy live music brought to you by Radio Free Joshua Tree, our local non-profit online radio station

Dance Floor – Get up and shake your booty!

Make it a Masquerade – Dress up and get crazy, funky, wild!
permalink | October 21, 2014 at 03:12 PM | Comments (0)
October 10, 2014
Art At Burning Man
The art at Burning Man is essential and differentiates Burning Man from every other sort of festival that people try to compare it with. Larissa Archer, an art critic, has written this article about art at Burning Man explaining why life in the default world is underwhelming after life on the playa.
In such harsh, isolated conditions, anything you can't experience in the moment is no longer important. Every performance or art installation you witness represents a sublimation of the spoiled body's nagging, an overcoming of the niggling mundanities that usually distract and disperse your attentions. When you stand in front of one of Black Rock City's many art projects (or crawl under it, or sleep inside it, etc.), you feel you've earned your place there, like you're able to take in more of it because there is less of you in the way. The low-pitched drone of everyday concerns—career, relationships, groceries—falls silent.
She also mentions the attempt to see the same art piece at different times of the day in order to appreciate the change of light. That's a true and great thing, but a huge luxury that I can usually enjoy only at each year's temple. There's so much to see, a choice between seeing new stuff or seeing previously seen stuff in a new light means you will miss something that you will never again have the opportunity to see ever. But Ms. Archer is an art critic, so she's got different priorities.