July 5, 2016
Pink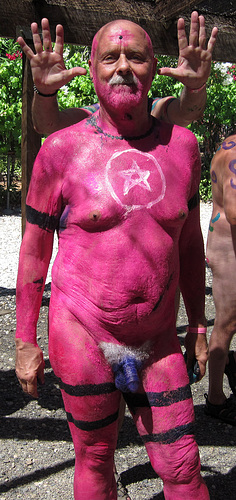 This past week I was at a Billys gathering in northern California. One of the Billys asked me if he could paint my whole body pink. Who am I to say no? Oddly, it was the white paint in my pubic hair that drew the most attention.
permalink | July 5, 2016 at 09:20 PM | Comments (2)
April 3, 2016
Art In Downtown L.A.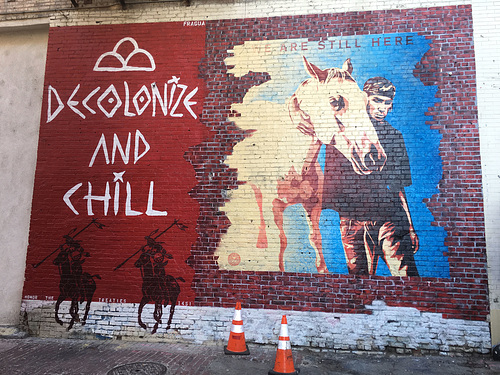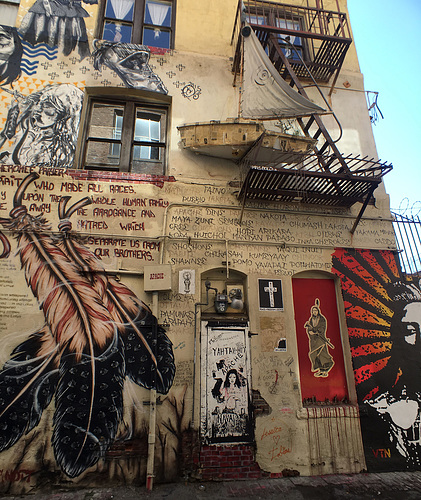 More photos from this alley as well as photos inside the adjoining artist's studio can be seen here.
permalink | April 3, 2016 at 06:05 PM | Comments (0)
March 16, 2016
Public Art

A mural in Santa Monica.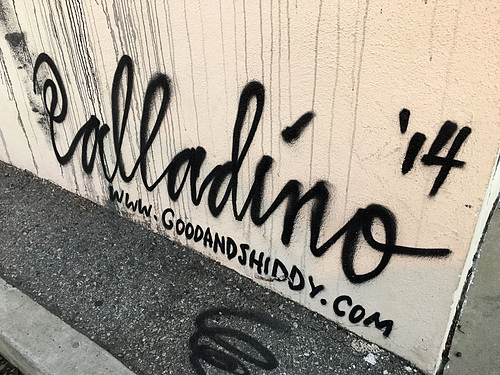 The artist's signature. His website.
permalink | March 16, 2016 at 08:40 PM | Comments (0)
August 25, 2015
Burning Man Getting Real
John Curley reports that the Man is up (but still missing his head), the Temple is looking like the Temple it's going to be, and center camp has all its walls up (actually, center camp has no walls). Major art works are coming up nicely. The bugs are gone. Temps are predicted to stay below 90° all week long. There's just the matter of smoke from wildfires.
Follow the link above for many photos.
permalink | August 25, 2015 at 06:56 PM | Comments (0)
August 22, 2015
Naked Performance Festival
Biel, Switzerland, is hosting naked performances as part of the Body and Freedom Festival.
Video of a performance piece done in Biel last year.
permalink | August 22, 2015 at 07:05 PM | Comments (0)
3D Printing With Glass
A team from Mediated Matter and MIT's Department of Mechanical Engineering developed this precision technique.
Some of the objects created will go on display at the Cooper Hewitt, Smithsonian Design Museum on Fifth Avenue in New York City next year.
permalink | August 22, 2015 at 04:51 PM | Comments (0)
July 22, 2015
Giant Interactive Tesla Coil - what could go wrong?
2000 amps, 700 volts. Worth a look to admire Mr. Baritone Beardman (AKA "Matt F.", I think).
permalink | July 22, 2015 at 11:30 AM | Comments (0)
July 13, 2015
Dream Deeply
There's a website dreamdeeply.com that will transform a photograph into something surreal. See below. You just give them your email address and upload your photo. Before long the new photo is ready for you to download. Free.

permalink | July 13, 2015 at 08:56 PM | Comments (0)
July 3, 2015
Hayes Valley Temple Video
San Franciscans doing the temple thing.

permalink | July 3, 2015 at 03:28 PM | Comments (0)
June 30, 2015
Marriage Rights Celebration Interpretive Dance
Or something like that. Here's a video of a dancer giving an interpretation of the Supreme Court decision on marriage rights at the celebration in the Castro this past Friday evening.

The celebration was still being set up, so there was plenty of room for this dance. You saw that the dance started right at 18th and Castro, but after being upstaged by two mere men who merely got married, the dance was moved a half block to the center of Castro Street.
permalink | June 30, 2015 at 02:09 PM | Comments (0)
June 26, 2015
David Best's Hayes Valley Temple
Tonight, in Patricia's Green at Linden and Hayes Streets in San Francisco, David Best will open his Hayes Valley Temple to the public. It's the same temple that he constructed there in 2005. David Best built the first temple at Burning Man and has built the majority of temples there since then. I'm pretty sure they're not going to burn this one.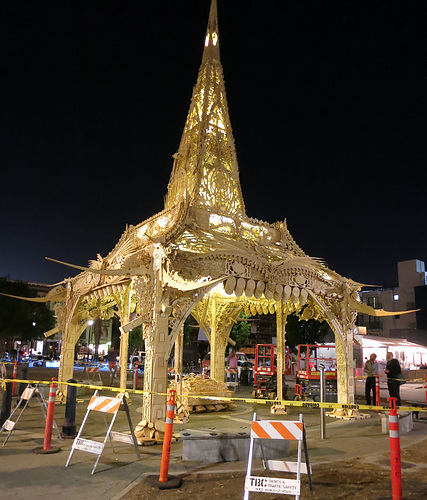 permalink | June 26, 2015 at 02:05 PM | Comments (0)
June 25, 2015
Military Veterans Honored At Burning Man
Camphellnback will be displaying art that is "borrowed or donated from our own campers, as well as independent artists and art therapy programs at active military and veteran hospitals." And they will create a 32-foot Memorial Wall:
Our Memorial Wall is a space where we leave the names of our own friends and family who served their country. Our visitors are welcome to write messages to their loved ones or those veterans they did not know but still appreciate.

At the end of the event, the wall will be disassembled and brought to the temple, where it will be burned as a symbolic way to say good bye or let go of the pain, hardship or burden that we carry for our lost comrades and family.
Camp Hellnback is seeking donations of material, tickets, and money.
permalink | June 25, 2015 at 08:33 PM | Comments (0)
Pentagramal Spiral Stairway At Burning Man
The people who brought the Cradle of MIR to the playa in 2013 will be building what looks to be a fascinating structure of five intersecting stairways. Own Way:

Unfortunately the video suffers from unnecessarily loud music - or unnecessarily soft speakers.
permalink | June 25, 2015 at 08:05 PM | Comments (0)
June 18, 2015
BELIEVE Sells For $70,000

BELIEVE by Laura Kimpton and Jeff Schomberg. Photo by Paul D Carey.
The City of Reno has purchased the 2013 Burning Man sculpture "Believe" for $70,000.
In June of next year, the city will permanently install the sculpture in City Plaza following the construction of the new Virginia Street bridge, which began earlier this month. The sculpture was placed at the same location in July 2014 to serve as the backdrop for filming of the American Idol summer bus tour.
permalink | June 18, 2015 at 02:27 PM | Comments (2)
May 26, 2015
Walk Wilshire
On May 6 I participated in Walk Wilshire, which is yet another of those long distance Los Angeles walks that people do just for fun. No waiver. No t-shirt. No fee. It was to be all the way from Grand Avenue, where Wilshire begins, out to Ocean Boulevard in Santa Monica. I've walked various, but not all, chunks of Wilshire before. Filled in the gaps on this walk. I went only so far as the Westwood Village Memorial Park Cemetery, which I overshot on the last Great L.A. Walk that came down Wilshire, so I made a point of visiting this time, before taking the bus back downtown. Walking the segment of Wilshire from Westwood to the Ocean is as good as any other part, I suppose, but not so interesting that I felt I should walk it a third time.
The best way (trust me) to see my photos is to watch this video, which is one photo per second, so it takes only about 36 minutes!

All the still photos are available here. Flickr has a slide show too, but the viewer has no ability to skip ahead or back in their slide show.
A few of the photos:

The walk organizer explains the history of MacArthur Park.

At Vermont.

"What is that on your hat?"

Wilshire Boulevard Temple.

Near Western.

"WTF?"

At the Tar Pits.

Going through and under LACMA.

The Observation Pit. I didn't go see who they had down in the pit.

"Levitated Mass."

Johnie's, used as a location in Reservoir Dogs as well as several other movies and videos.

The view from the offices of "Good" magazine.

The statue on top of this is John Wayne on a horse.

Beverly Hills a hundred years old; who knew?

A vape store.

Google says this building is Sony Corp.

At the construction site of the new Waldorf Astoria.

Don Knotts.

Marilyn Monroe.

Oscar Levant.

I forgot to check on the exact location of Burt Lancaster's grave before I left home, but I knew I was close to it when I was standing here. I left the color in his grave marker. Next to the flowers.

Karl Malden.

Peter Falk.

Rodney Dangerfield.
permalink | May 26, 2015 at 05:12 PM | Comments (0)
May 8, 2015
Bliss Dance Leaving Treasure Island

Bliss Dance tonight. Despite attempts to weatherize her, Bliss Dance is not dealing well with the salt air, so she will be removed from Treasure Island this month.
Photo by Jeff Ford.
permalink | May 8, 2015 at 11:20 PM | Comments (0)
May 7, 2015
See The Temple Burn
At George Mason University, that is. A handbuilt 20-foot tall pagoda will be burned at 8:30 PM tomorrow night on Mason Pond.
Facebook for the burning of the temple.
I haven't read everything, but so far the lack of any clear reference to Burning Man is interesting.
permalink | May 7, 2015 at 04:03 PM | Comments (0)
May 5, 2015
Huntington Gardens
This past weekend I paid my first visit to "The Huntington Library, Art Collections, and Botanical Gardens", AKA Huntington Gardens in San Marino.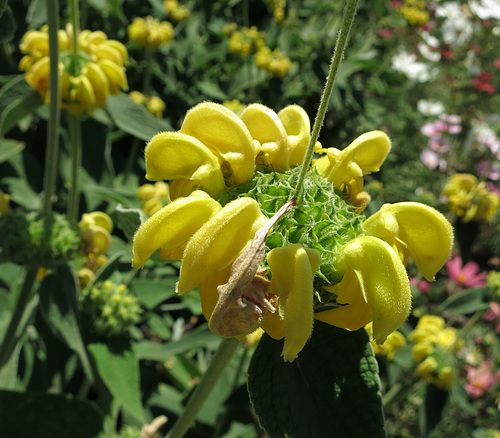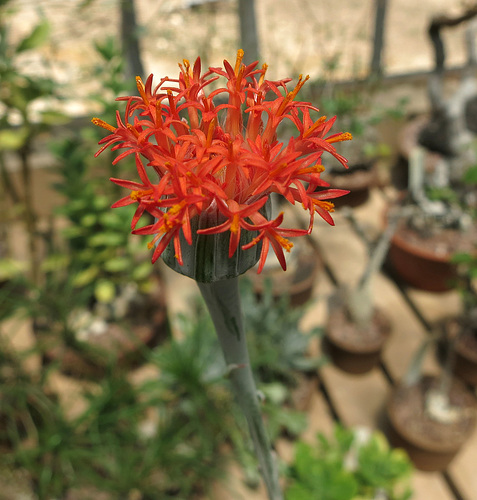 A strangely leafless bougainvillea.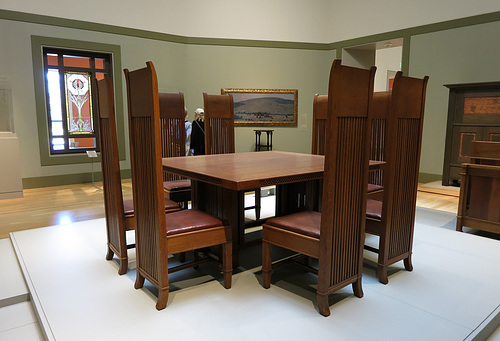 Their one bit of Frank Lloyd Wright.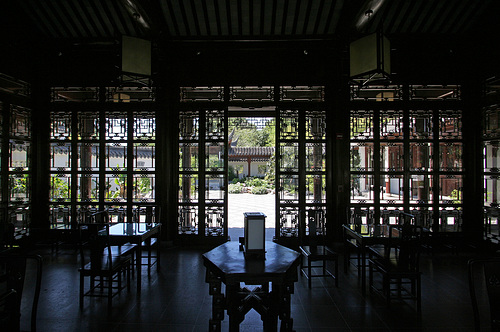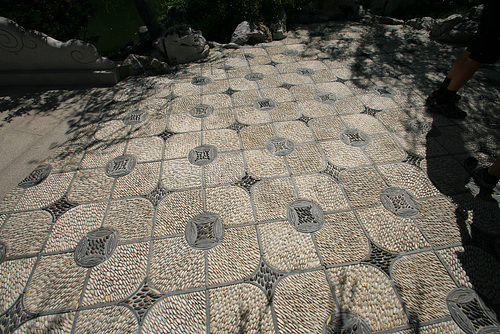 Even the walkways are impressive!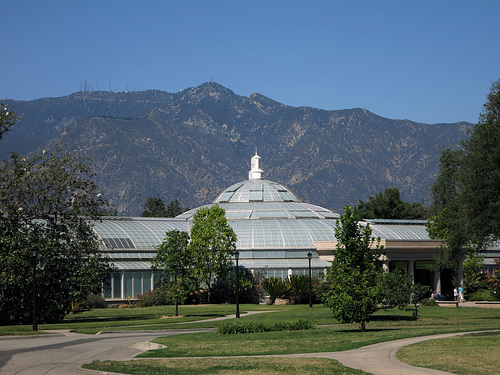 Mt. Wilson in the background.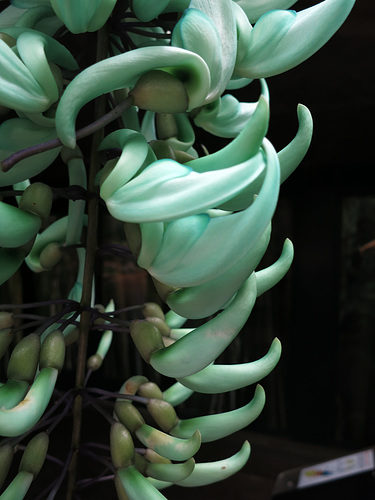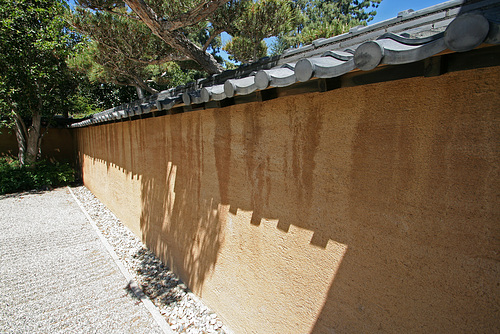 A wall in the Zen garden.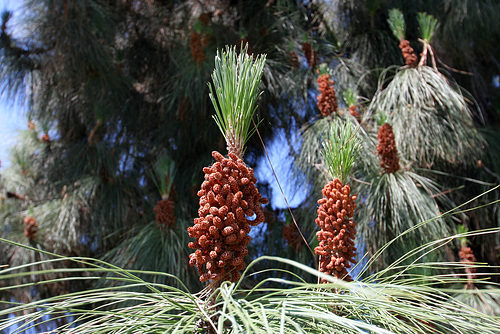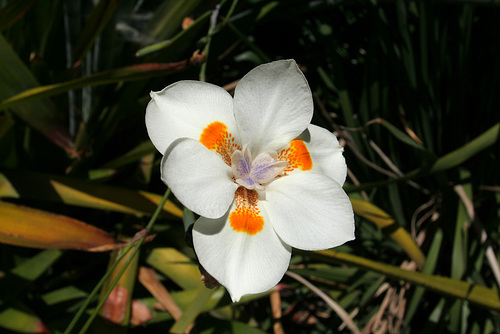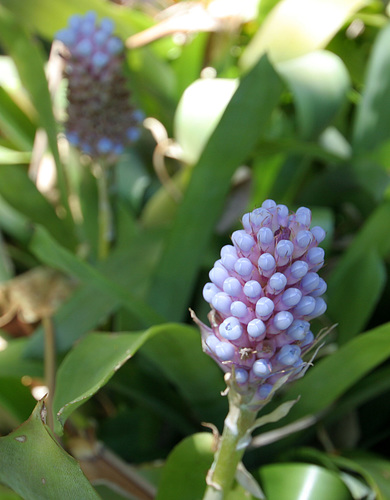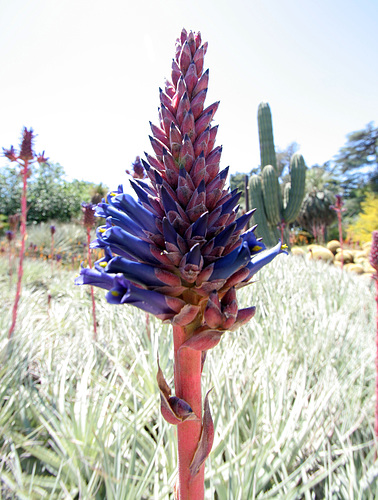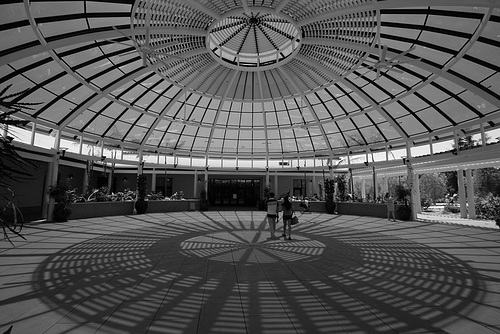 This is what my shade structure at Burning Man is going to look like this year.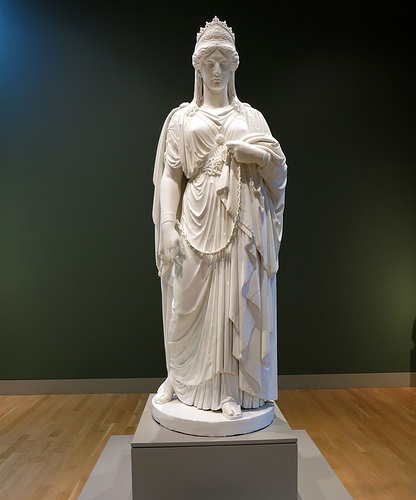 Zenobia In Chains by Harriet Hosmer.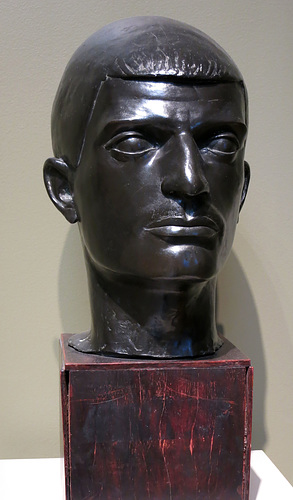 The Bomb Thrower by Maurice Sterne.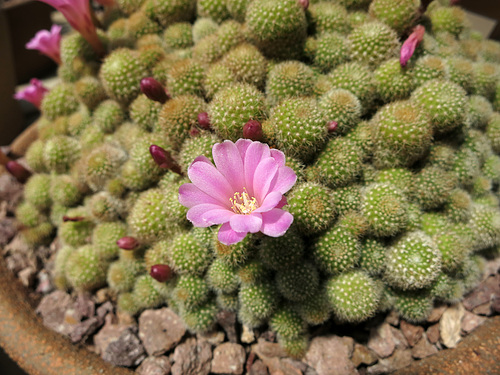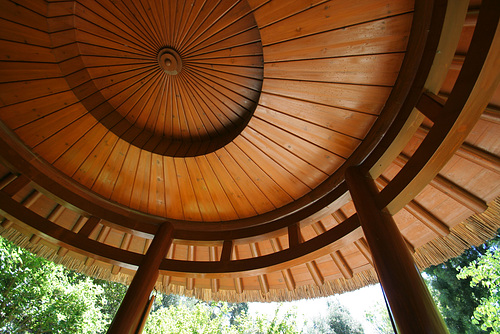 The ceiling of the "Pavilion For Washing Away Thoughts." I'm sure there must be a corresponding brainwashing pavilion somewhere else. Maybe in the North Korean gardens.
The complete set of photos is here.
permalink | May 5, 2015 at 11:31 AM | Comments (2)
May 4, 2015
Watts Towers
Built over the period of 1921 to 1954 by Italian immigrant Simon Rodia. In 1959...
The Committee [for Simon Rodia's Towers in Watts] negotiated with the city to allow for an engineering test to establish the safety of the structures and avoid demolition of the structures.

The test took place on October 10, 1959. For the test, steel cable was attached to each Tower and a crane was used to exert lateral force all connected to a 'load-force' meter. The crane was unable to topple or even shift the Towers with the forces applied, and the test was concluded when the crane experienced mechanical failure. Bud Goldstone and Edward Farrell were the engineer and architect leading the team. The stress test registered 10,000 lbs. The Towers are anchored less than 2 feet (0.61 m) in the ground, and have been highlighted in Architectural textbooks, and have changed the way some structures are designed for stability and endurance.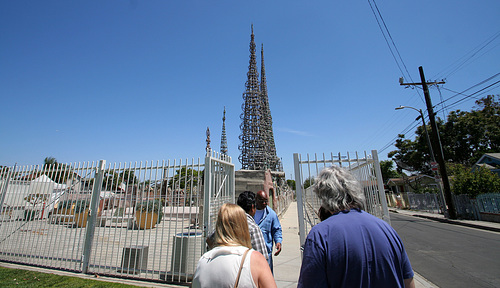 The tour commences. $7, IIRC.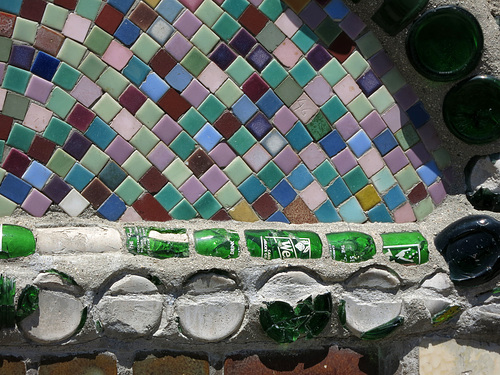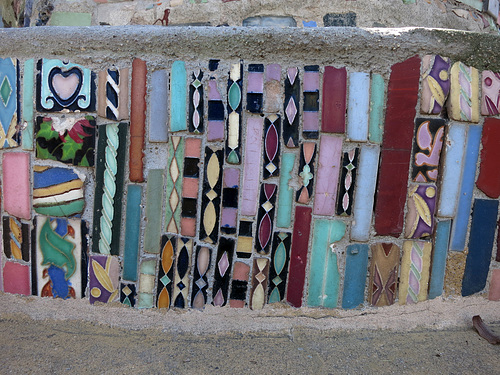 They're down a dead end residential street that has parking only on one side (despite what you may see here). You drive to the end of 107th Street, turn around, and parallel park. There is a small parking lot if you proceed north of 107th on Graham.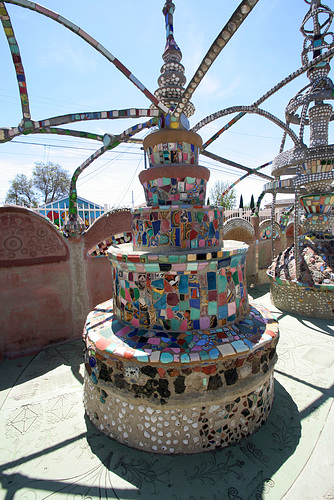 The wedding cake.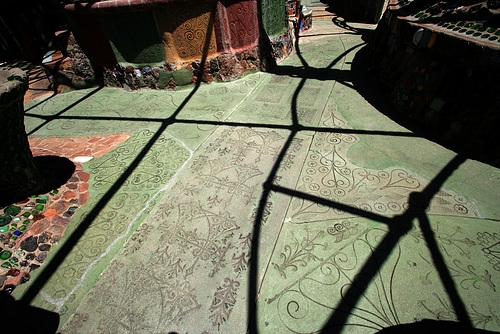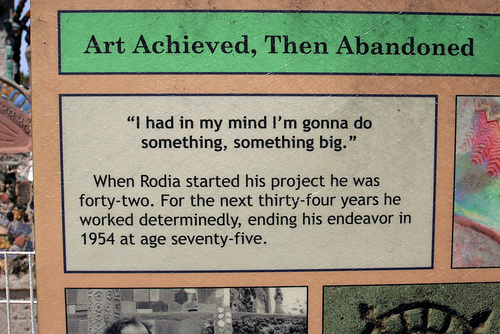 The view from the "back" side (northeasterly).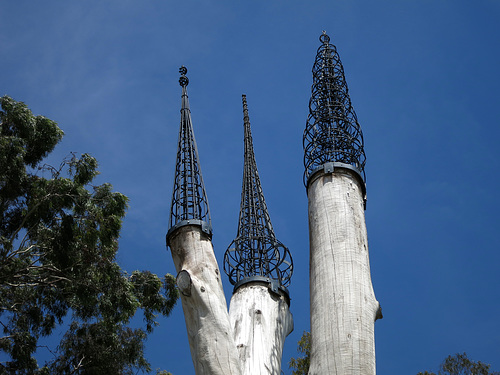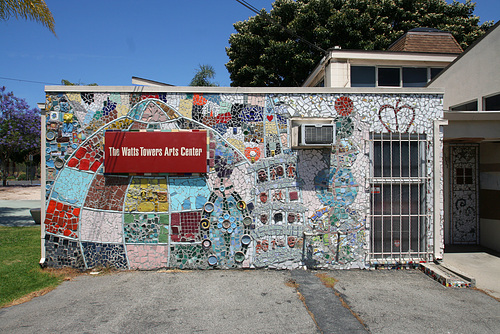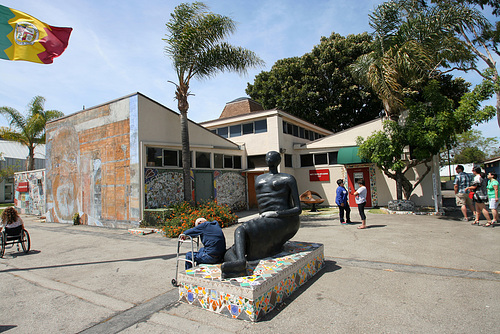 Click here for the complete set of photos.
permalink | May 4, 2015 at 11:55 AM | Comments (3)
April 12, 2015
Low Desert Rock Supply
Last week the Community and Cultural Affairs Commission convened one hour early at Low Desert Rock Supply on Dillon to see what they could offer in the making of an appropriate "welcome to DHS" sign.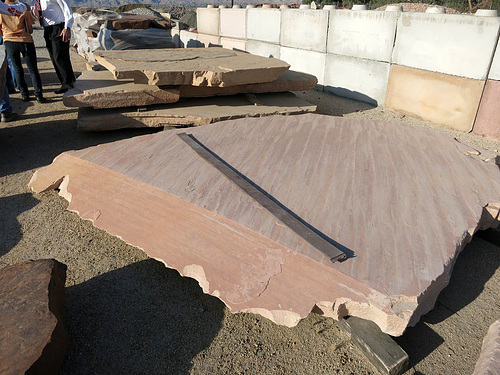 This rock was considered to be just the thing for a welcome sign.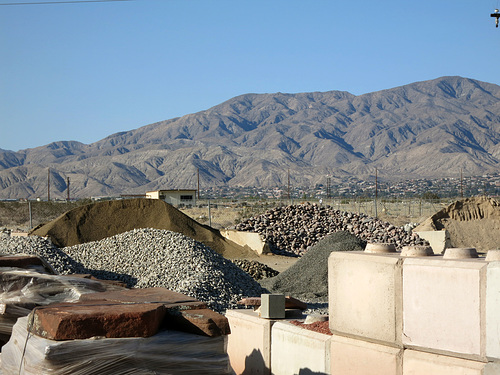 Looking back toward the city.

The proprietor.