May 9, 2017
The Gilbert Font

Download links can be found here. At the moment, it's only fully supported in Photoshop CC 2017. But it will work in monochrome on any Mac...and I assume Windows, too.
permalink | May 9, 2017 at 08:59 AM | Comments (0)
May 1, 2017
The Journey at Saguaro Man
Saguaro Man is the annual Arizona regional burn (for Burning Man), and it took place this past weekend. Here's a video that shows you Saguaro Man and highlights The Journey Project which built one-quarter of the project that they are going to put on the playa in August.

More info on The Journey Project which is mostly San Diego based.
permalink | May 1, 2017 at 09:24 AM | Comments (0)
April 22, 2017
Action Figure Family Fundraising Party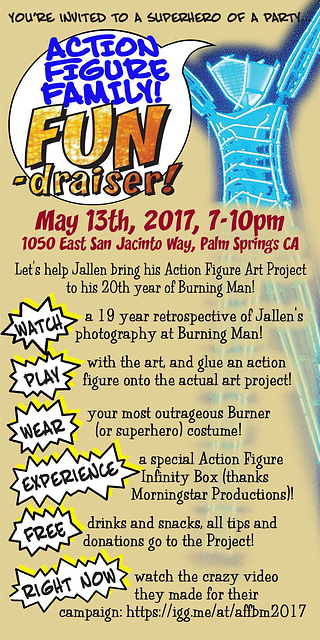 This is a fundraiser for the first art project that I've ever worked on for Burning Man.
Here's the Indiegogo page for donations.
permalink | April 22, 2017 at 11:21 PM | Comments (0)
April 15, 2017
MedMen Cultivation Facility
This coming Tuesday, the marijuana cultivation facility proposed by MedMen will come before the Desert Hot Springs City Council. I wanted to share a few images from their proposal to build at Hacienda and Little Morongo. There's no paved Hacienda on the east side of Little Morongo, but on the west (county) side it's paved and called 13th Avenue.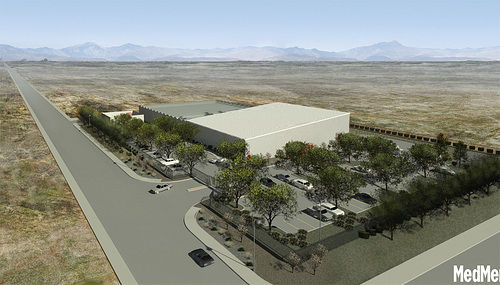 The little red figure on the right of the driveway is the public art contribution.

Here's a closer view. They almost look like penguins, don't they? The artist will be Gerardo Hacer.
The piece will consist of two red metal penguins in origami form. MedMen's COO and cofounder [Andrew Modlin] envisioned a piece that drew upon his own affinity for penguins, which frequent his own original paintings. and functioned as a juxtaposition between penguins' natural habitat and Desert Hot Springs' climate. Furthermore, the penguins' lifelong companionship and partnership is emblematic of our hope to build a lasting relationship with the City of Desert Hot Springs. The installation is red as that is MedMen's signature color.
MedMen broke ground on a cultivation facility in Reno last year.

permalink | April 15, 2017 at 03:55 PM | Comments (0)
April 11, 2017
The 14th Factory
Not long ago I paid a visit to 14th Factory in Los Angeles. I already posted the video. Now here are the still photos.

People waiting to get into the replica "2001" room.

This is their trademark (I guess) which I read as "nine gamma," but that makes no sense, not even in context, so I don't know its significance.

One of the pieces of art was this park.

Pitchforks!

The item on the left resembles a plow.
The complete set of photos is here.
permalink | April 11, 2017 at 08:00 PM | Comments (0)
April 5, 2017
The 14th Factory Videos
These are mostly videos of videos, with one exception.

permalink | April 5, 2017 at 11:30 AM | Comments (0)
February 28, 2017
Amargosa Opera House & Death Valley Junction
I was camping with Great Outdoors at Tecopa Hot Springs this past weekend. One day we took a little drive up to Death Valley Junction to see the Amargosa Opera House. My first visit there. Read all about the opera house and hotel here. Marta Becket died January 30, 2017, at age 92.

Marta Becket.

Amargosa Hotel lobby.

The stove is the only source of heat and was burning with a low fire when we were there.

Death Valley Junction Garage

Historic pink tutu not for sale.
permalink | February 28, 2017 at 11:13 PM | Comments (2)
February 19, 2017
The Broad Museum

Michael Jackson and Bubbles by Jeff Koons

No Arts; No Letters; No Society by Damien Hirst

Norm's, La Cienega, on Fire by Edward Ruscha

The Nazis by Piotr Uklański
These are photographs of actors who played Nazi officers.

The Broad Museum Lobby. The stack of giant plates is simply No Title by Robert Therrien. I think I could come up with a name easily.

Untitled, 1984 by Keith Haring

Under The Table by Robert Therrien

The Broad provides two windows through which you can view their storage area. I've never heard of something like this before. This is the first time I've seen museum storage. I overbrightened this photo to bring out details in the shadows.

Inflammatory Essays by Jenny Holzer

Infinity Mirrored Room-The Souls Of Millions Light Years Away by Yayoi Kusama

Giant Figure (Cyclops) by Thomas Houseago

Balloon Dog (Blue) by Jeff Koons
The complete set of my photos from The Broad are here.
permalink | February 19, 2017 at 02:31 PM | Comments (1)
December 18, 2016
Tom Of Finland Music Video
If you don't already know that this is very NSFW, then you should not follow this link.
permalink | December 18, 2016 at 10:34 PM | Comments (0)
Keith Haring Exhibit at Petersen Automotive Museum
The five vehicles painted by Keith Haring are on display at Petersen Automotive Museum in L.A. The website doesn't say how long the vehicles will be on display there.

1990 BMW Z1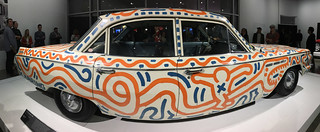 1963 Buick Special

1987 Honda CBR1000F Hurricane

1971 Land Rover Series III

1962 SCAF/Mortarini Mini Ferrari 330 P2 Motorized Child's Automobile
The complete set of photos is here.
permalink | December 18, 2016 at 10:19 PM | Comments (0)
July 31, 2016
"The Journey" - For 2017
I saw this at a Burner presentation/party Saturday evening in Palm Springs.

It's a spiral wooden tube that has been bent into a donut and you can play with it when it's on the playa. 42 feet across. The ring is 10 feet high. The perfect dimensions to attract all sorts of adventurous men who want to play jungle gym. Clothing optionally.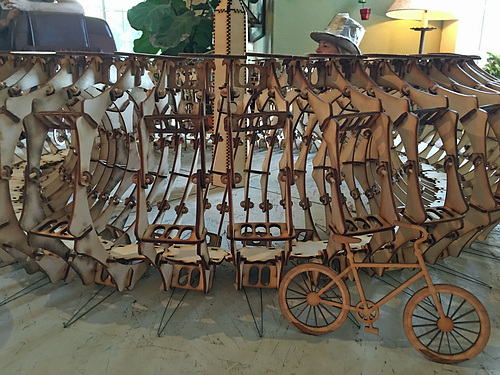 Although it looks tempting, it will not be burned.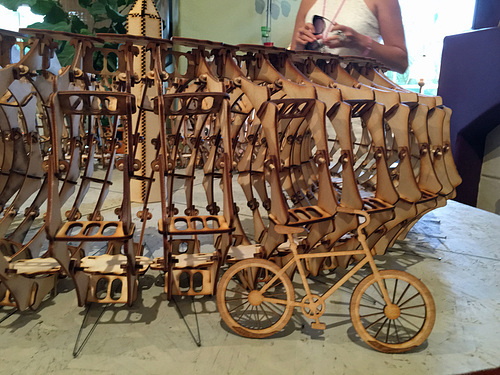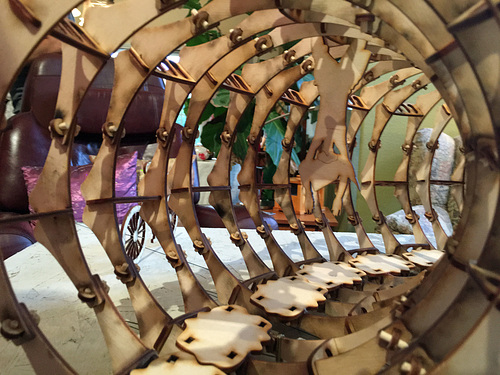 On the interior walkway. Please to note that the structure had already attracted at least one adventurous man who wants to play jungle gym.
It'll have audio and video, too, that will respond to the environment somewhat. Dan Reeves, the brains behind this, specifically said it would respond to art cars when they approach. I consider that a commitment. Here's what the artist had to say - all becomes clear!

Crowdsourcing to come, he said.
He's looking for volunteers.
permalink | July 31, 2016 at 08:35 PM | Comments (1)
July 5, 2016
Pink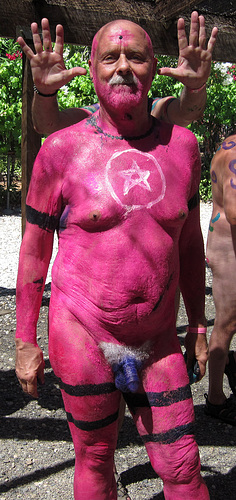 This past week I was at a Billys gathering in northern California. One of the Billys asked me if he could paint my whole body pink. Who am I to say no? Oddly, it was the white paint in my pubic hair that drew the most attention.
permalink | July 5, 2016 at 09:20 PM | Comments (2)
April 3, 2016
Art In Downtown L.A.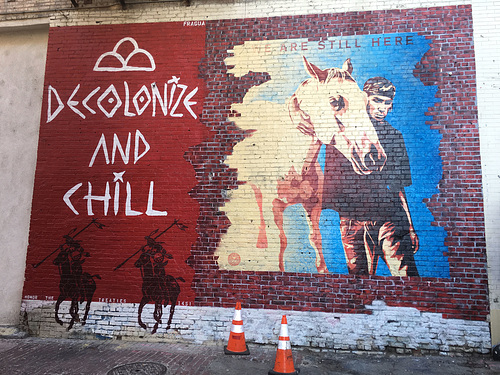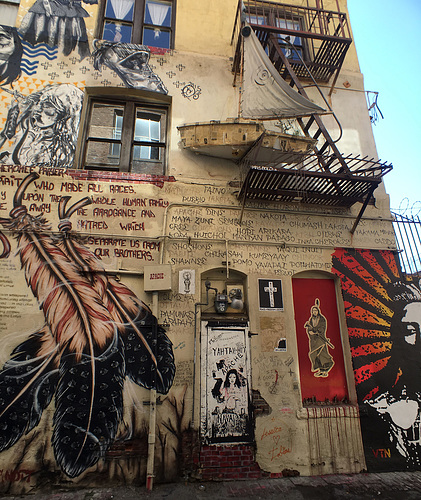 More photos from this alley as well as photos inside the adjoining artist's studio can be seen here.
permalink | April 3, 2016 at 06:05 PM | Comments (0)
March 16, 2016
Public Art

A mural in Santa Monica.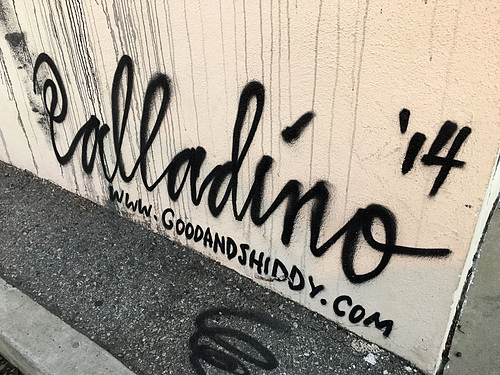 The artist's signature. His website.
permalink | March 16, 2016 at 08:40 PM | Comments (0)
August 25, 2015
Burning Man Getting Real
John Curley reports that the Man is up (but still missing his head), the Temple is looking like the Temple it's going to be, and center camp has all its walls up (actually, center camp has no walls). Major art works are coming up nicely. The bugs are gone. Temps are predicted to stay below 90° all week long. There's just the matter of smoke from wildfires.
Follow the link above for many photos.
permalink | August 25, 2015 at 06:56 PM | Comments (0)
August 22, 2015
Naked Performance Festival
Biel, Switzerland, is hosting naked performances as part of the Body and Freedom Festival. More info here.
Video of a performance piece done in Biel last year.
permalink | August 22, 2015 at 07:05 PM | Comments (0)
3D Printing With Glass
A team from Mediated Matter and MIT's Department of Mechanical Engineering developed this precision technique.
Some of the objects created will go on display at the Cooper Hewitt, Smithsonian Design Museum on Fifth Avenue in New York City next year.
permalink | August 22, 2015 at 04:51 PM | Comments (0)
July 22, 2015
Giant Interactive Tesla Coil - what could go wrong?
2000 amps, 700 volts. Worth a look to admire Mr. Baritone Beardman (AKA "Matt F.", I think).
permalink | July 22, 2015 at 11:30 AM | Comments (0)
July 21, 2015
San Leandro, Kansas
A few people in San Leandro, California, have already started condemning the erection of the sculpture "Truth Is Beauty" in their fair city.
This person, Corey Anderson, started it by calling the sculpture "porn."
This is salacious and indecent at best, and is an insult to every moral person in our town. It draws my mind to places I would rather not go. Should we now put Playboy pictures, or worse, on our office halls and call that "art?" Is this not what some object to as a sexist message, and a 55-foot tall one at that?
Lisa Gaspari-Salmon and Brent Heath like it. Antoinette Troya does not like it and says the city should be ashamed, but she does have one question: "what color lights will be affixed to her nipples?" I suspect Ms. Troya will be out there the first night after the sculpture is dedicated to get an answer.
Gerry Isham doesn't think it's porn, but does think it's tacky. Cathy Costa likes it and applauds the Mayor and Council. Peter Ambrosia thinks it is inappropriate, but suggests pairing it with a statue of Arnold Schwarzenegger from his bodybuilding days.
News story here and here.
The sculpture has not yet been erected in San Leandro, so I hope the good art critics of that city know they still have options. There are lots of Burning Man art pieces sitting around in warehouses that could be substituted for "Truth Is Beauty." Oh yeah, plenty of art. Like this or maybe a larger version of this or, of course, this. Given the choice, I think San Leandrans would beg to have "Truth Is Beauty."
permalink | July 21, 2015 at 02:11 PM | Comments (0)
July 13, 2015
Dream Deeply
There's a website dreamdeeply.com that will transform a photograph into something surreal. See below. You just give them your email address and upload your photo. Before long the new photo is ready for you to download. Free.