January 3, 2017
Live Like Howard Hughes

This, yes this, was a residence of Howard Hughes. It's on the market now for only $1.2 million. The real estate company has much nicer photos.
permalink | January 3, 2017 at 01:56 PM | Comments (0)
December 17, 2016
Forest Lawn - Glendale
Last weekend I went on an actual paid tour of some of Forest Lawn Glendale. I got to see the show in the Hall of the Crucifixion/Resurrection. That's pretty impressive. There is a diorama of the scene of Christ's crucifixion with an interesting history. The diorama of the Resurrection is smaller and much newer and depicts heaven (it's up in the clouds, so it's got to be heaven, right?) as populated with a lot of Christian crusaders. It also includes St. Peter's in Rome, St. Paul's in London and Christ Church in the City of Boston, i.e., Old North Church. I didn't see anything like a Mormon temple there.
I also went into the Great Mausoleum for the first time. This mausoleum has the greatest concentration of celebrities and also the big stained glass Last Supper (so they really enforce the no photos inside rule here). Michael Jackson is interred here, as well as Elizabeth Taylor. I saw Taylor's grave, but didn't notice it was hers because I was distracted by the huge angel atop it.
They've removed the curtain from the Last Supper, so they can't do the big unveil anymore, but they still play the pre-recorded story of its history.

Depicting Michelangelo in his studio with the completed statue of David.

1896 - 2005

The Hall of the Crucifixion/Resurrection.

The Builder's Creed.

"The Republic." This is a scaled down replica of the original which was erected at the World's Columbian Exposition in Chicago in 1893. The original is gone, but there is a replica in Jackson Park in Chicago.
The complete set of photos can be found here.
permalink | December 17, 2016 at 09:08 PM | Comments (0)
December 16, 2016
Salk Institute
permalink | December 16, 2016 at 09:48 PM | Comments (0)
Campaign Detritus
permalink | December 16, 2016 at 12:43 PM | Comments (0)
November 21, 2016
Hotel Cecil
The L.A. Cultural Heritage Commission visited Hotel Cecil on Main Street. The lobby is quite nice. They also took us up to the 14th floor to see a couple of typical rooms. Most rooms do not have baths, so there are shared toilets and showers on each floor. All of the rooms are small; about 11' by 17'. We saw one room that had no bath and it was pretty small, but included a small flat screen TV and a clock radio that included a mount for an iPod (the old Apple connection, not Lightning). Then they showed us a room with a bath. It was still 11' x 17', so they just used almost all the open floor space to put a bathroom (shower, toilet, sink) in there. There was about 18 inches of clearance on either side of the bed, and if there was any furniture besides the bed, I can't recall it. The hotel is now doing business as "Stay On Main." The rooms are very plain,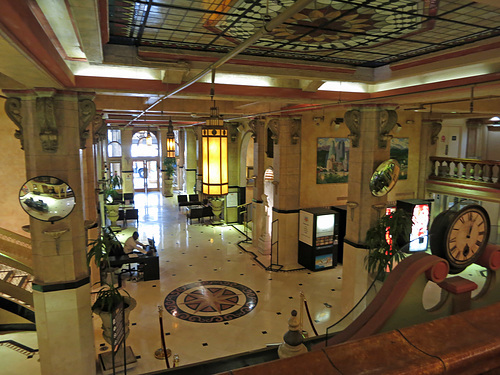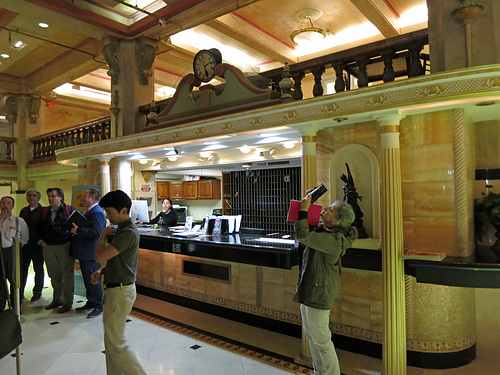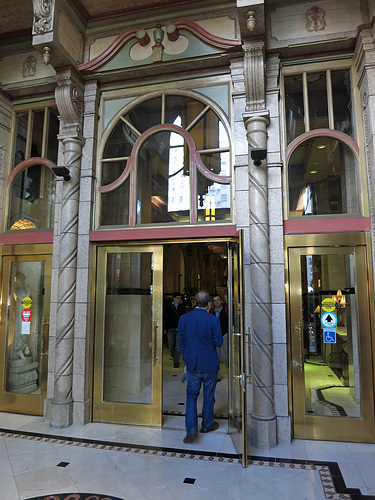 Looking out the window of a 14th floor guest room, this is the view.
More photos of Hotel Cecil can be found here.
permalink | November 21, 2016 at 08:30 PM | Comments (0)
Catalina Swimwear Building
On a tour with the Los Angeles Cultural Heritage Commission. Here's the Wikipedia article for Catalina Swimwear.


The building is live/work lofts. That's one of the Commissioners front and lower center.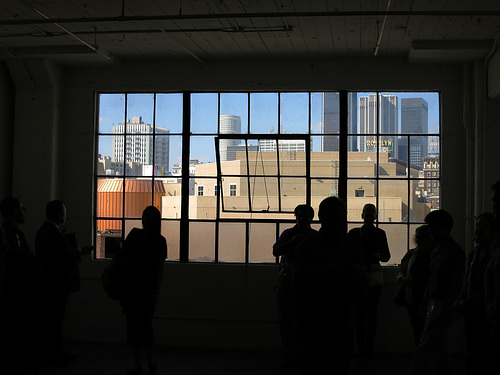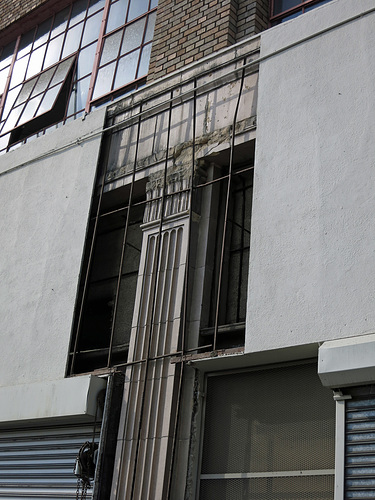 A bit of newer stuff was pulled off to reveal some of the original facade, which will be restore.
More photos of the Catalina Swimwear Building are here.
permalink | November 21, 2016 at 07:07 PM | Comments (0)
Los Angeles Cultural Heritage Commission
On Thursday morning last week I attended a 9 AM meeting of the Los Angeles Cultural Heritage Commission in LA City Hall. They had two things on their agenda that morning: first was to consider designating the Bob and Dolores Hope Estate in Toluca Lake as a monument; second was to go visit and tour Hotel Cecil and the Catalina Swimwear Building. It was the second thing that I came for, but the Bob Hope house issue was very interesting.

Above is the Google Earth view of the estate.
Below is what the public could see from the street.

The place is owned by the Bob & Dolores Hope Foundation. First the staff made its presentation with a slide show and talk all about how ultra famous Bob Hope was. Under Los Angeles law there are two different bases that can justify declaring something a monument. One basis is the usual: great cultural, historical, architectural (etc.) significance. The second is that it was the home of a celebrity. The Bob Hope house was proposed (by a city council member) due solely to the celebrity status. Staff admits it has no cultural, historical, architectural (etc.) significance. In discussion the Commissioners said that in L.A. they obviously are not going to declare every residence of every celebrity a monument or they would consume a significant portion of the housing market. But they agreed that Bob Hope was just about the most famous person in the world.
After the staff report the Foundation got up to make their comments. They were daughter Linda Hope and a couple of other people, one of whom may have been an attorney. They told us quite a different story than staff told. Right off the bat, Linda Hope said they had the wrong address. The correct address is 10346 Moorpark Street. Staff had supplied the address as 10350 Moorpark Street. No points for staff there. Then she went on to explain that while staff had described the house as French Chateau style, only the original house was French Chateau and that Dolores Hope had almost continually added wings and additions so that now the house was some sort hodge-podge of no significance. She also disputed their description of the grounds which staff said included a "one-hole par 3 golf 'course'." Linda Hope said it was only a small decorative thing that could not really be used for golf.
Worse, she said, was that there was no way the Los Angeles public could access the house. In the '90s the Hopes had considered making it into a museum, but quickly learned that since it was in a quiet upscale residential area with narrow streets, there was no way it could be a museum open to the public. So the Hopes' final instructions were to use the estate to help fund the Bob & Dolores Hope Foundation. The intention of the trustees was to sell it. The place had been sitting on the market for ages but not long ago the first decent offer was submitted. That was when the city council member asked that the Cultural Heritage Commission consider the property. The decent offer was immediately withdrawn.
Linda Hope listed all of the memorials to Bob Hope that are scattered over the Los Angeles area. She said each and every one of those was more significant to the legacy of Bob and Dolores Hope than the estate. Later, Commissioners said they were surprised by the list, not realizing there were already so many memorials; so obviously staff didn't do that research either.
A couple of residents got up to also speak against the designation, but the essence of their arguments was that Toluca Lake is a beautiful, quiet community and any kind of monument there would bring traffic, noise and lower property values. The President of the Commission interrupted both of those commenters (!) to tell them that was of absolutely no concern to this Commission.
One Commissioner suggested giving monument status to only the hedge and gate in front of the house, because those were the only things the public would ever see. I was pretty sure that was a joke, but the President went ahead and explained how impractical that would be.
Finally, a Commissioner made the motion to deny monument status and that was approved 5-0. The decision now goes to city council, since it had originated there and city council could overrule this decision.
The meeting was adjourned and we headed out on our field trip.
permalink | November 21, 2016 at 07:04 PM | Comments (0)
June 10, 2016
Mike O'Callaghan - Pat Tillman Memorial Bridge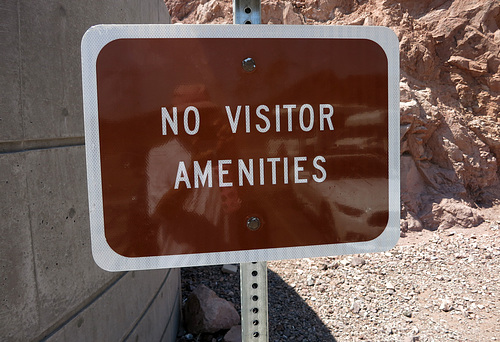 A sign in the parking lot for visitors to the bridge is excessively modest. Not only are there four trangender-friendly restrooms, but the parking lot is paved, there's a paved walkway that takes you to the bridge (imagine if they just let visitors clamber over bare rock), and plenty of informative plaques and signs. there is, however, NO DRINKING WATER here. No gift shop either. And certainly no taco trucks.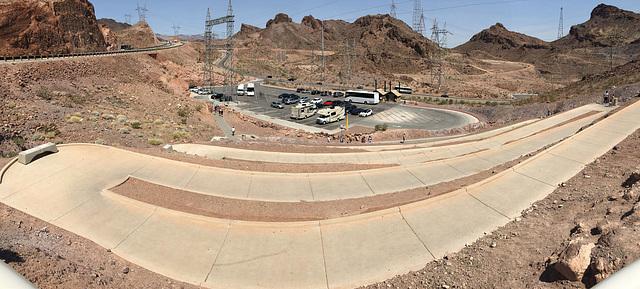 The parking lot for bridge visitors. If you want to use your GPS to find it, the name is "Mike O'Callaghan - Pat Tillman Memorial Bridge," but I found that as long as you're in the general area, a simple "Tillman" will suffice to find it. "General area" includes at least Las Vegas, where my trip started this day. There are stairs not very visible at the right edge of this photo, so if you can walk stairs, the hike is not so long as if you took the ramp. Hey, I only now noticed the little exposed concrete bench in the curve at the left side of the photo. Yet another amenity!
"Hoover Dam Bypass" may also be a good search term to find it.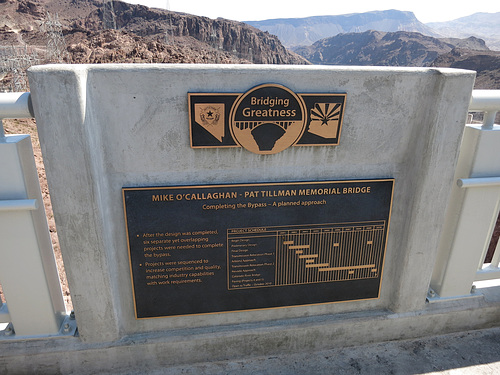 Talk about amenities, when did you ever see a Gantt chart rendered in a bronze plaque before? This is clearly a government project. The bridge must have about a dozen of these concrete forms on which plaques could be mounted. The order must have gone forth to come up with a plaque for every one of them (use up that budget!), so they go into a lot more detail than I've ever seen on plaques.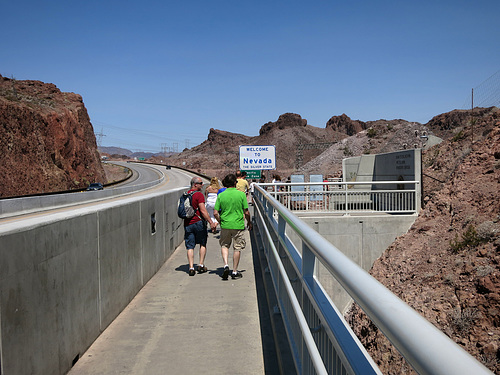 The Nevada end of the bridge.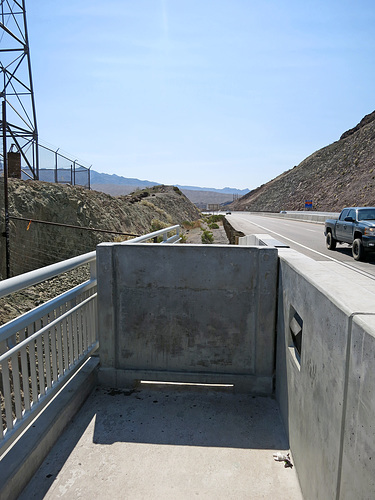 The Arizona end of the bridge. This spot screams out for a brass plaque! No pedestrian access to Arizona. I can see the necessity for this. Unless you've got a nice visitor center with A/C, water and restrooms on the Arizona end, allowing people to simply proceed into the wilderness would, undoubtedly, result in dozens of rescues and the occasional death, as tourists, thinking this is Disneyland, get lost in the rugged terrain. And then there are also the falls to consider. Nope, a relatively cheap concrete wall reduces all those risks substantially. And any young man who thinks he will never die, can easily jump this barrier without having to vandalize any public property.

Looking toward Nevada, you can see the road switchbacking down to the dam itself. I thought when this bridge opened, all unofficial vehicles were banned from atop the dam, but the road seems to be open. Everyone does go through a fairly quick and cursory vehicle inspection before they can proceed to the bridge and dam. I was directed aside there because they saw the storage box in the back of my truck where I keep emergency supplies, like water, a blanket, etc. The officer (is this Bureau of Reclamation jurisdiction?) simply asked me what it was and I told him what I just told you, and he sent me on my way.


Just exactly who Mike O'Callaghan and Pat Tillman were, is the subject of at least four different sets of signs or plaques.

There were some brass inserts on the walkway on the bridge, too. Who got the brass plaque contract for this job?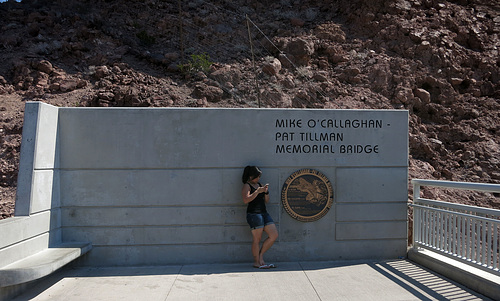 A few photographers were standing alongside me as we all waited for Miss Oblivious to step out of our shot. Look, she isn't even using the shade to make it easier to her phone's screen. I just took this shot and moved on. I wonder if she would object?

This is the only place you get to see any of the exciting guts of the bridge's construction.

On the opposite side of the same walkway.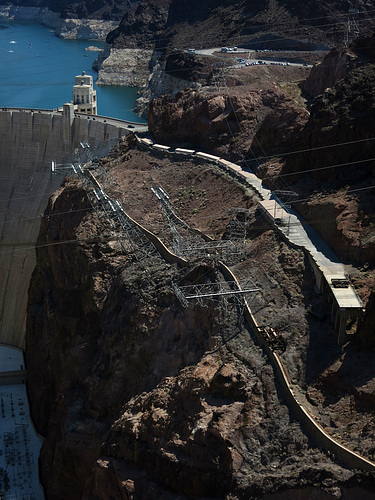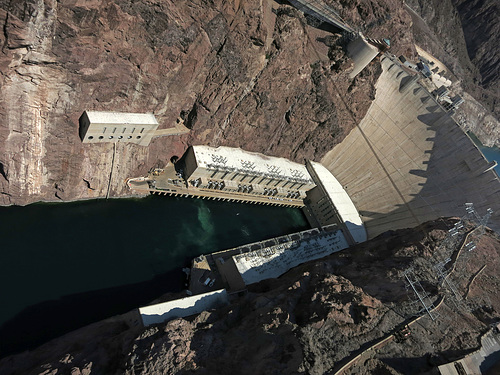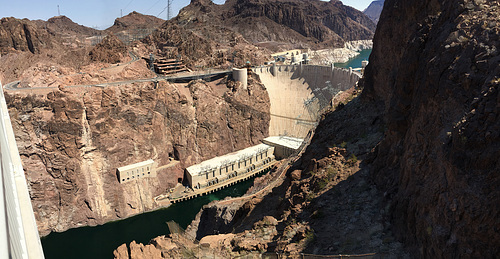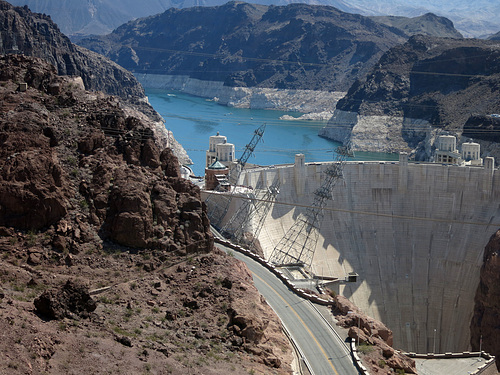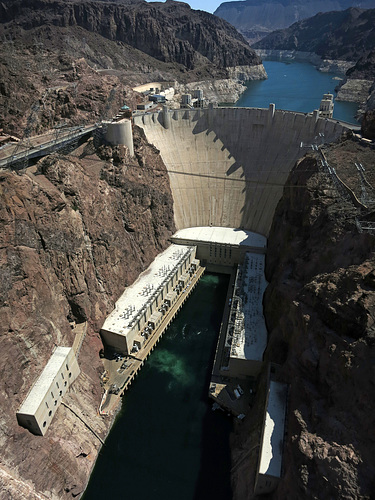 The complete set of photos can be seen here, including photos of every single brass plaque on the bridge!
permalink | June 10, 2016 at 10:50 AM | Comments (1)
May 2, 2016
Apple Campus Update
Another drone video of the construction of the new Apple Campus. This one has a few captions, so we know what we're looking at.

permalink | May 2, 2016 at 08:58 PM | Comments (0)
April 17, 2016
Apple Patents Glass Doors
Actually, they've gotten a design patent on large glass doors without handles for their "Next-Gen" stores. The lack of handles will allow crowds of shoppers to flow more smoothly when a new product is released. [sarcasm]

Here you see them in use at the new Apple store in the Chestnut Hill mall. Boston readers are invited to go inspect these and report back on their magical properties. They can't just be doors, can they?
permalink | April 17, 2016 at 12:53 PM | Comments (1)
April 12, 2016
Toy District
The Los Angeles Toy District is "bounded by Los Angeles Street on the west, Third and Fifth streets on the north and south and San Pedro Street on the east."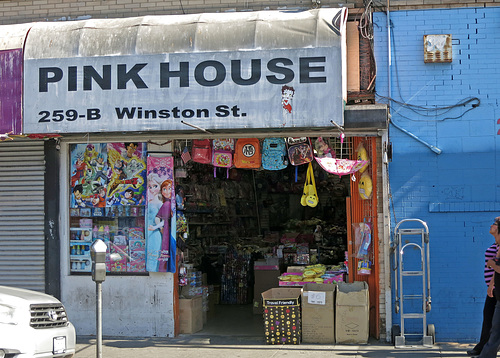 Nothing especially pink in there.

Marijuana supplies.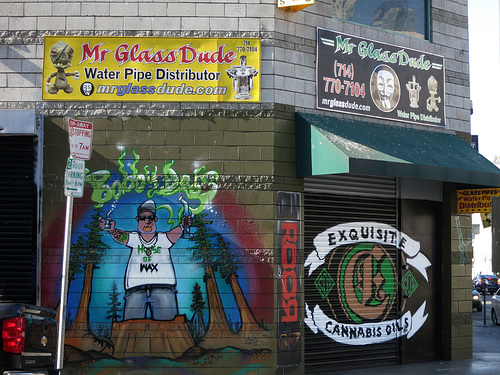 More marijuana supplies.

Where do you stick the firefighter's key?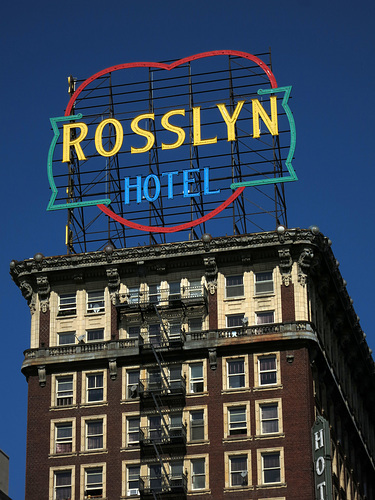 permalink | April 12, 2016 at 07:09 PM | Comments (0)
February 20, 2016
Great Los Angeles Walk Photos
I winnowed my photos from the Great LA Walk (November 21, 2015) down to the 1,930 best ones that you can see here. Blut I think the easiest way to see them is via this video slideshow which is only a little more than half an hour long, if you watch all of it. Most of the photos are from my GoPro, but I shot some with my pocket camera.
permalink | February 20, 2016 at 09:32 PM | Comments (2)
January 19, 2016
More Los Angeles Photos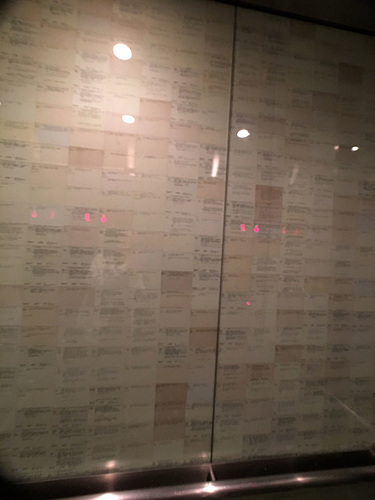 The walls of a couple of elevators in the L.A. Public Library are covered entirely in old cards from card catalogs.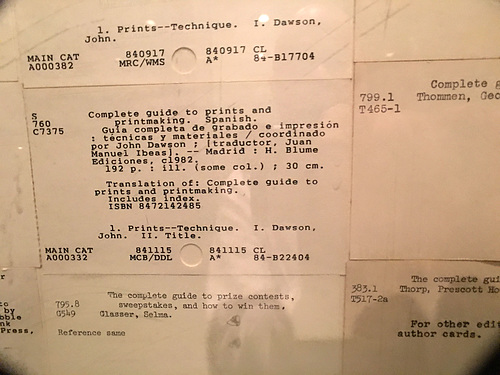 See? Real cards.

The elevator has a glass panel through which you can see they've even mounted old cards in the shaft itself.

Some floor tile in the LA Public Library.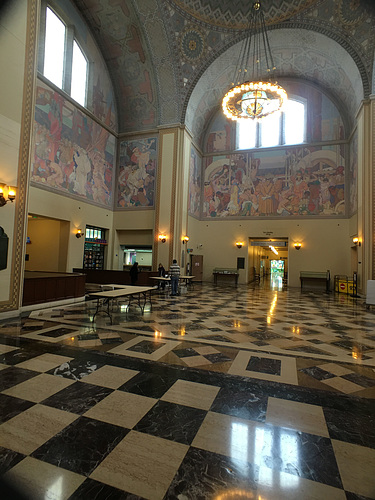 The rotunda in the LAPL.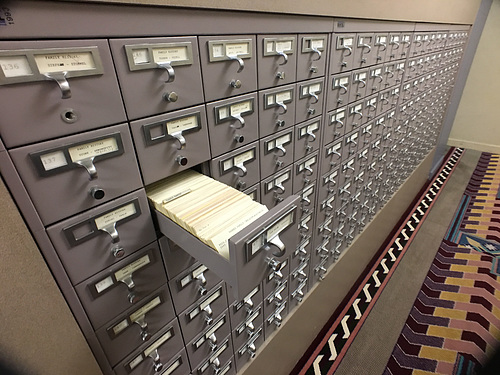 A functioning card catalog in the genealogy department.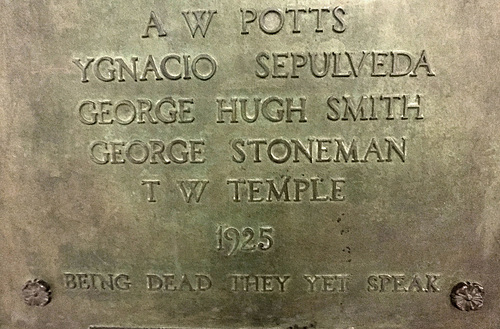 "Being dead they yet speak." Apparently a wave of zombyism wiped out the city fathers in the 1920s.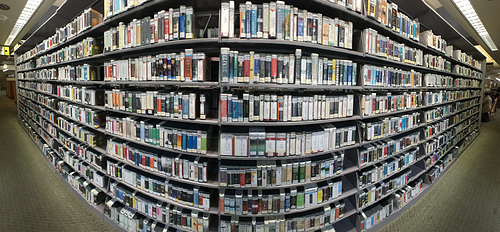 Audiobooks.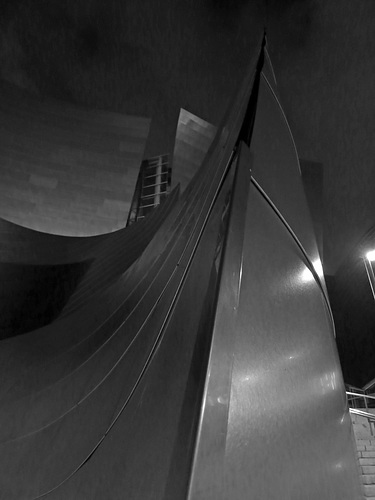 Disney Hall.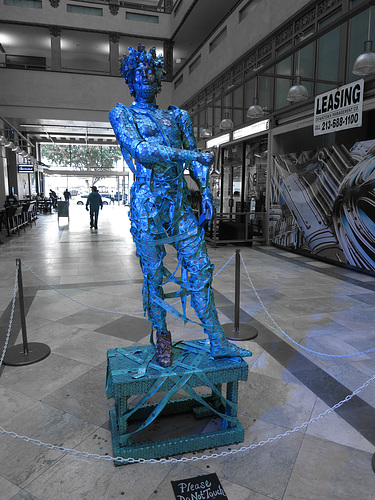 In the Spring Street Arcade.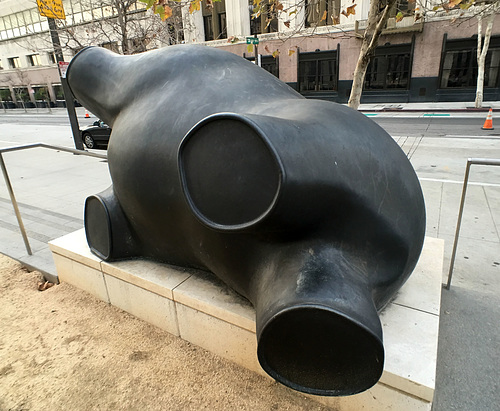 One of the sculptures on Spring Street next to LAPD headquarters. These were created by Peter Shelton.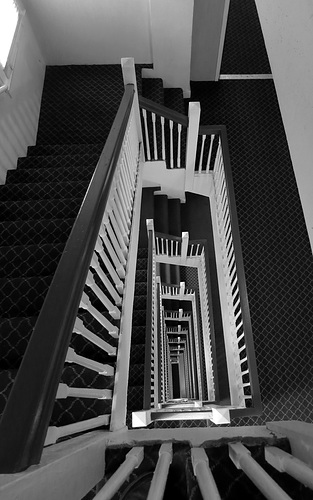 Old hotel stairway.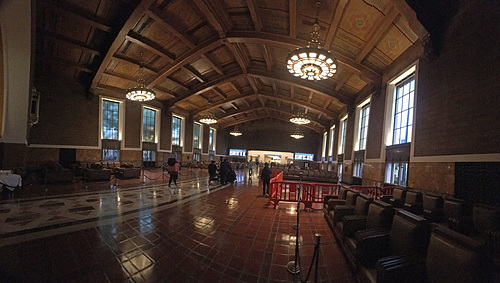 Union Station - iPhone panorama.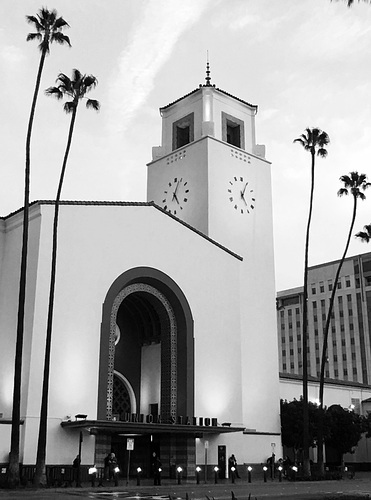 Union Station.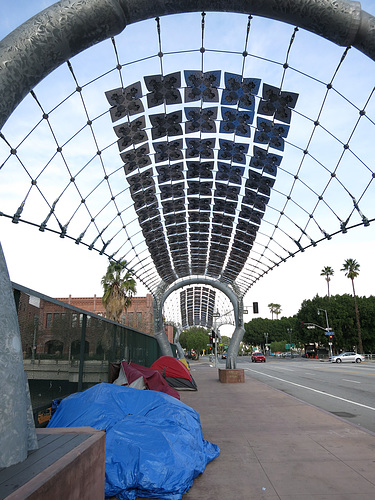 This is that very noticeable public art on the Los Angeles Street bridge over the 101 downtown. Here's a news article all about this art. The process to get it done began in 2006. The art supports its own weight (rather than resting on the bridge) through a deep foundation that can't be seen.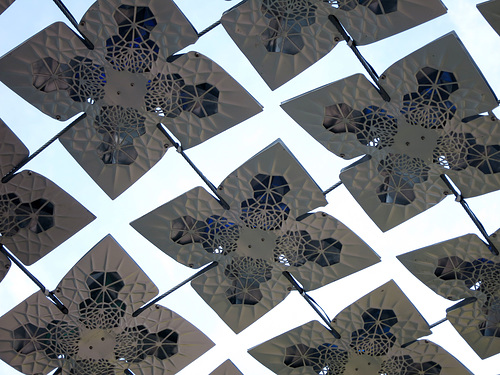 Detail of the art on the bridge.
The article says the art is on Main Street, but Google backs up my observation that it's on Los Angeles Street.


Metro Rail observes its 25th anniversary with this display in Union Station. For comparison, here are the same numbers from NYC (which did not abandon it's mass transit rail system in the 1950s): 6,384 rail cars, 422 stations, 660.75 miles of rail.

At 5th and Spring Streets.

On 8th Street.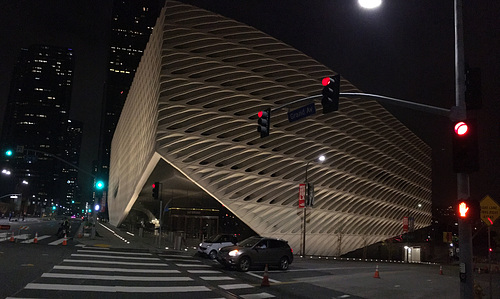 The Broad Museum.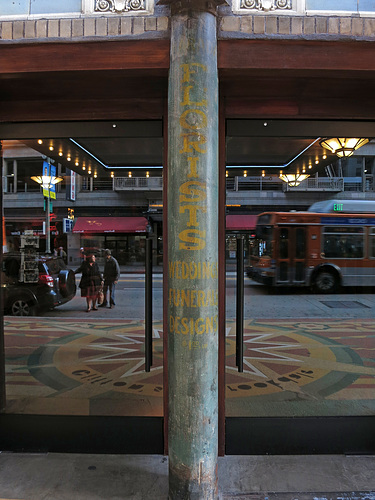 This is an easily overlooked detail uncovered in the rehab of Clifton's Cafeteria. Right between the two entrance doors. There used to be a florist shop there. This sign pre-dates 1931, when Clifton's opened.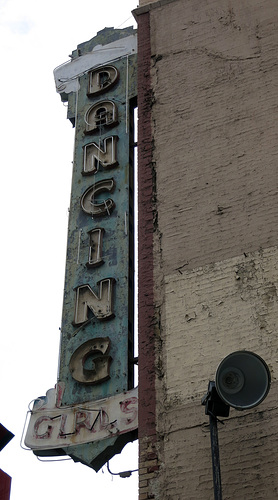 "Dancing Girls!"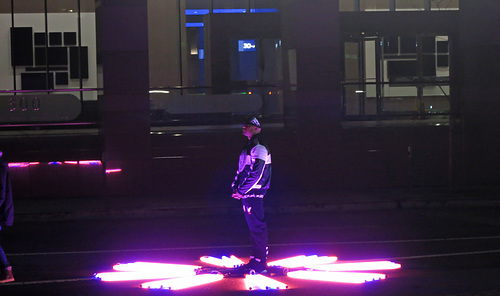 On Grand Avenue at about midnight some filming was about to happen. This guy just stood there surrounded by blue and red fluorescent tubes. There was one camera on a crane and a couple of guys with the camera. Off to the side were another couple of guys keeping an eye on the generator (which was noisier than permitted at Burning Man). There wasn't any filming actually happening. Everybody just seemed to be waiting and collecting their pay.

permalink | January 19, 2016 at 07:34 PM | Comments (1)
January 9, 2016
Check Out These Windows
Here's the latest video-by-drone update on the construction of the Apple 3 campus in Cupertino.

The glass for the windows is to be noted; curved and very big.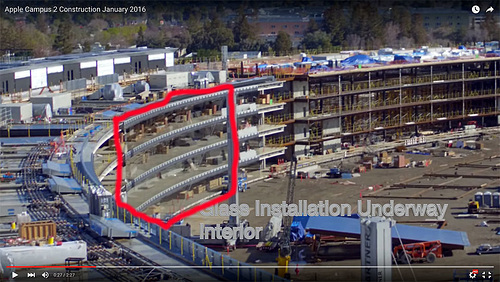 At least the top three floors inside the red box are glassed in. In the photo above, that's only three sheets of glass. Below, it looks like we've got two sections windowed on the exterior.
permalink | January 9, 2016 at 04:00 PM | Comments (0)
December 17, 2015
San Francisco
Some photos from my weekend in San Francisco.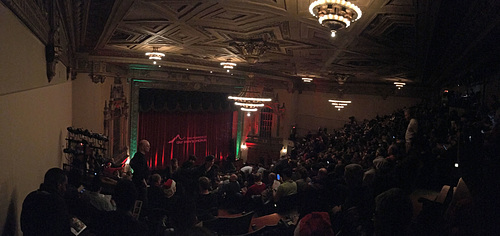 Nourse Theater where the San Francisco Gay Men's Chorus performs.

If anyone has insight into what might be the native language of the author who wrote "lock back" rather than "relock" or just "lock," I would appreciate it.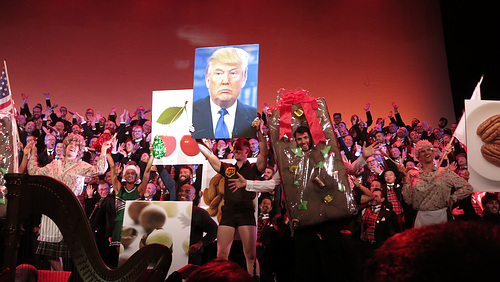 After "Recycle The Fruitcake" the Director had Mr. UPS (who was very popular with the audience) come back with the Trump poster so that the audience could take photos. While singing, chorus members held up, one by one, photos of "fruitcakes." They were Liberace, Richard Simmons, Pee Wee Herman (each one getting a good laugh), and then Donald Trump to which the audience reacted with a great roar. It was clearly the peak of excitement for the whole concert...in both performances that I attended. The Director said that when they came up with this idea four weeks ago it had seemed a bit iffy, but as the weeks passed the idea became better and better.

That's Darrell who I met at the Billy gathering at Halloween. I ran into him at the 440.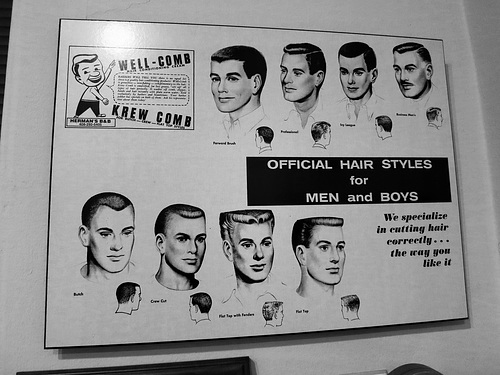 These are "Official" hair cuts. Anything else is simply unofficial. This is hanging in the barbershop where G. Fry works.

I don't need to explain this one, do I?

South San Francisco BART.


Civic Center BART with the UN shield front and center.
permalink | December 17, 2015 at 05:43 PM | Comments (2)
December 6, 2015
Ghost Roads
An interesting article about unusual diagonals seen in Los Angeles as viewed from above. They seem to be the remains of old rights of way, streets, streetcar tracks.
permalink | December 6, 2015 at 12:18 PM | Comments (0)
November 30, 2015
Los Angeles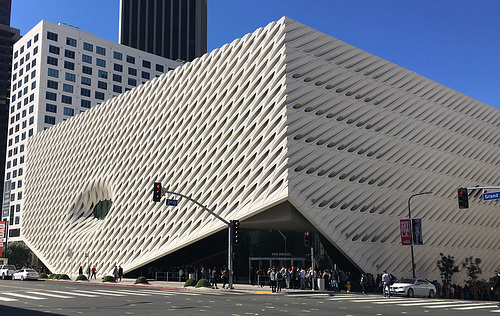 The Broad is now open, the tickets are free, and the lines appear to be long.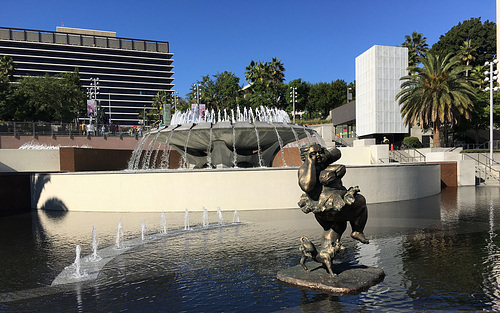 In Grand Park with the LADWP in the background.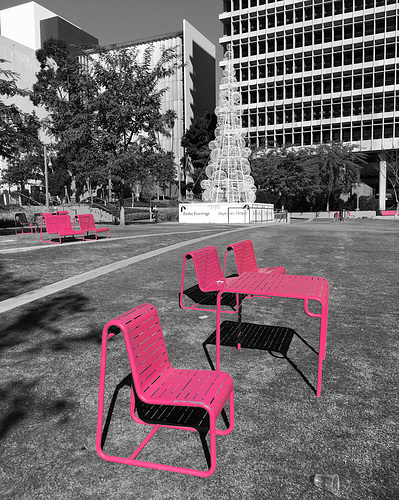 Grand Park.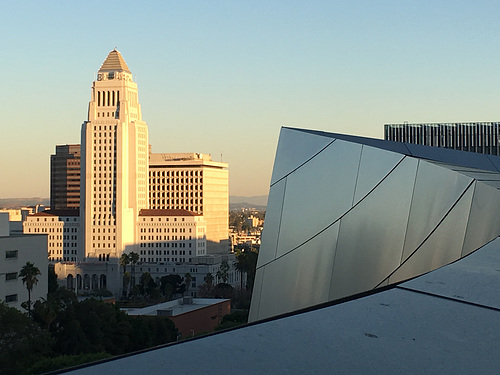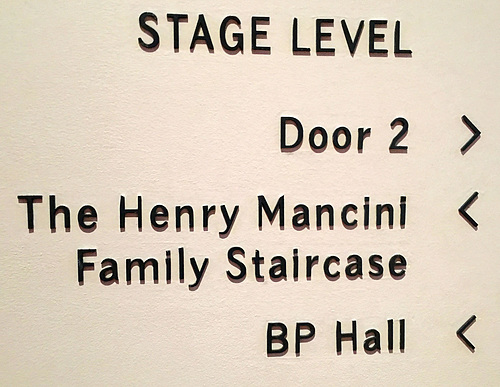 In Disney Hall.
permalink | November 30, 2015 at 07:31 AM | Comments (1)
November 8, 2015
Rockhaven Sanitarium
I went on a tour of Rockhaven Sanitarium for women in Glendale yesterday. It was founded by Agnes Richards, a nurse, in 1923 at a time when there were as many as 20 sanitariums in the area. It was operated by Agnes Richards until 1967, when she turned it over to her granddaughter Patricia Traviss who continued to operate it until 2001, when it was sold to a nursing home chain. Five years later it was closed when it became obvious that meeting ADA standards would be financially impossible. The City of Glendale bought it in 2008. Since then the city has done little with the site, not having the money to renovate it nor the will to just get rid of it.
It was a place for women with mild to moderate "nervous disorders," and featured none of the tortures that one would normally see in an insane asylum of that time. It's two most famous residents were Billie Burke and Gladys Pearl Monroe Baker, the mother of Marilyn Monroe.
The docents told of some spooky happenings at the place. A face seen behind a curtain that was pulled back from a window on the second floor of a building that was empty; small objects (a rosary, a valentine card, for example) simply appearing where it had never been before. The contents of the site were well documented when the city bought it. Even though old photos of the place show a piano, no piano is listed in the city's inventory. One day, when the docents opened the garage where they have stored statuary and other vulnerable items, there was the piano. I could believe the small things were pranks played by one of the docents, but the appearance of the piano is quite a stretch. How many ghosts does it take to move a piano?
An hour long video about Rockhaven.
The Crescenta Valley Water District is putting in a well on the site.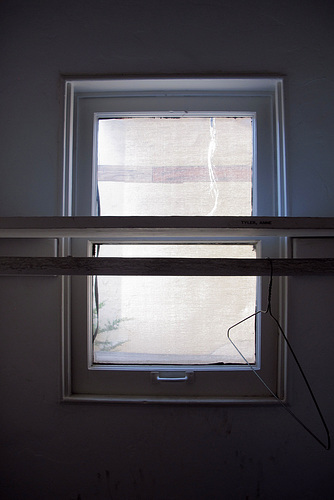 The closet window through which Marilyn Monroe's mother escaped using rope made from bed sheets. She had a much larger window in her room that would have been much easier to go through. The drop from the closet window to the ground below was about 6 feet. IOW, she was a drama queen.

According to this illustration germs used to be much larger back in the 20th century.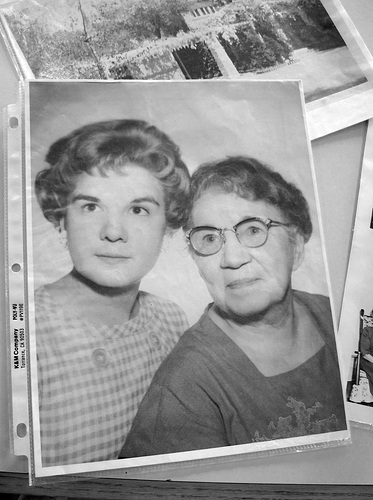 Patricia Traviss and Agnes Richards

The Rose house existed on the site before Richards created the sanitarium. She had it lifted and turned to face into the inner courtyard of the sanitarium.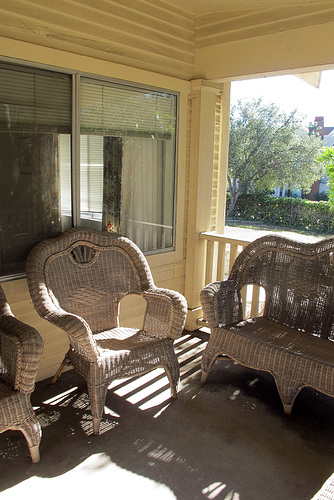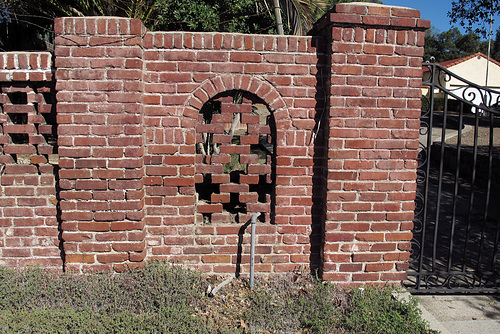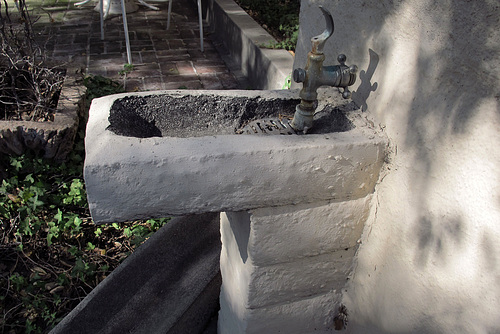 A drinking fountain.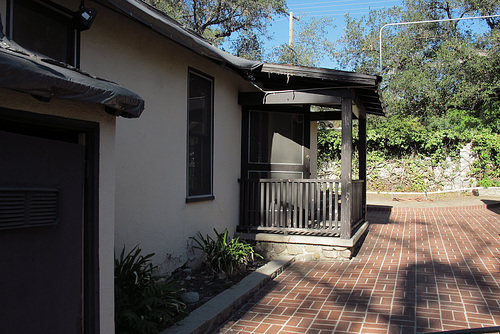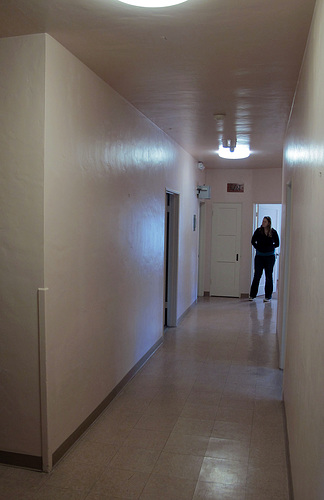 The walls are pink.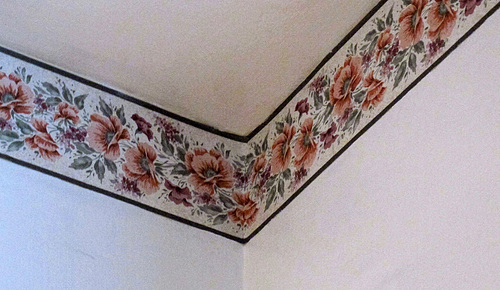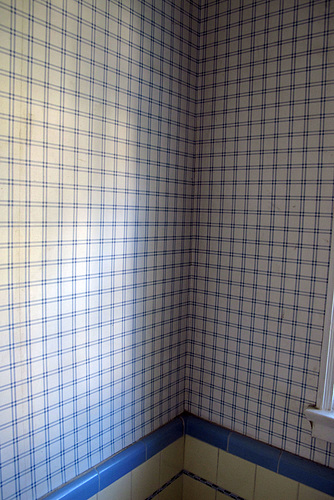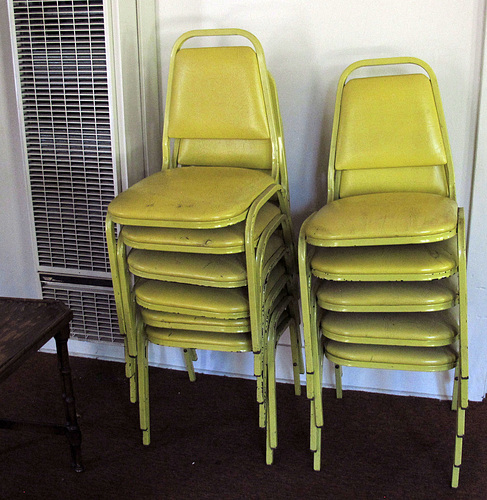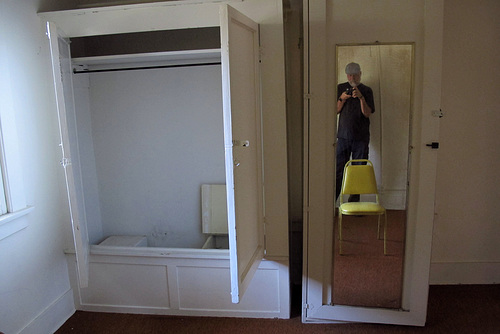 A Murphy bed.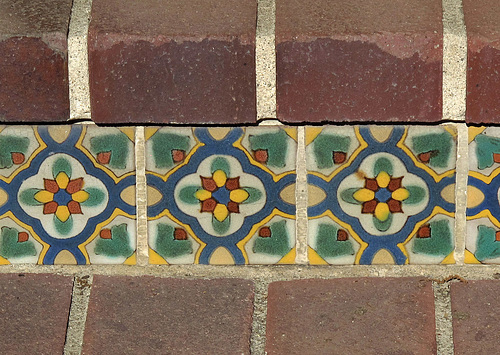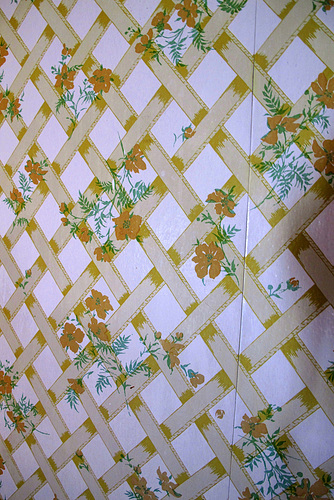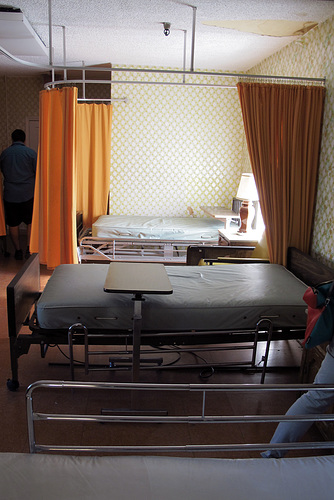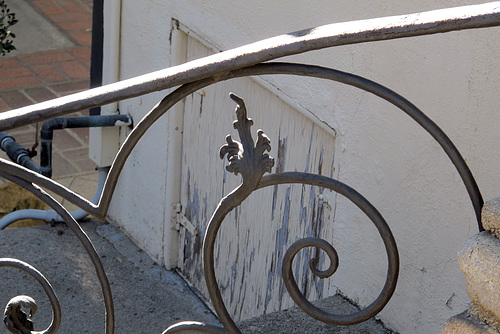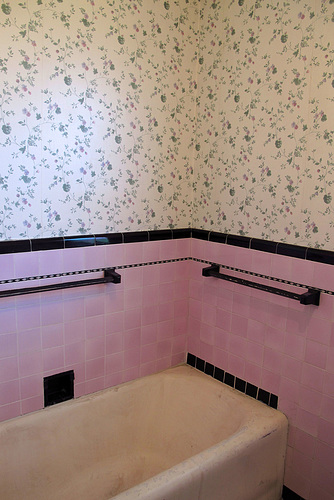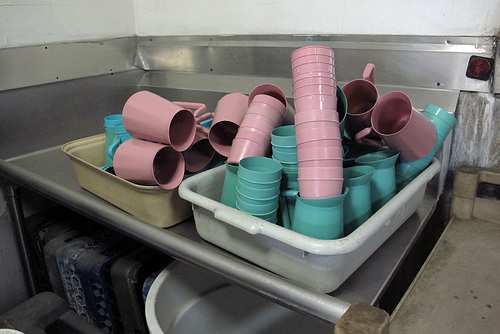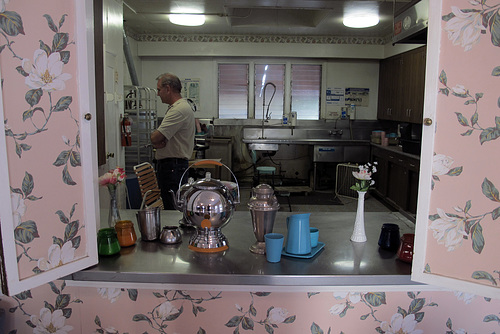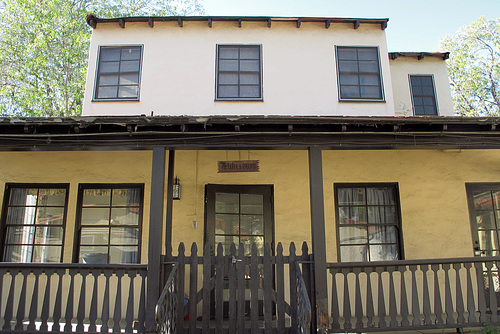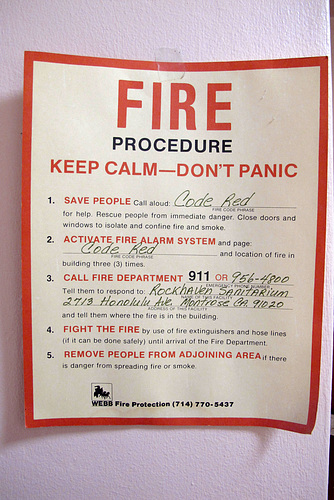 "The Lady of Rockhaven" by Gladding, McBean.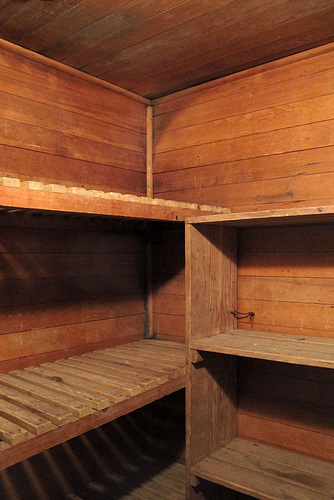 The walk-in cooler which could obviously be converted easily into a sauna for small people.
More of my photos from Rockhaven Sanitarium are here.
permalink | November 8, 2015 at 05:08 PM | Comments (3)
November 6, 2015
Wexler House For Sale
permalink | November 6, 2015 at 07:58 PM | Comments (0)
October 23, 2015
Well, This Explains That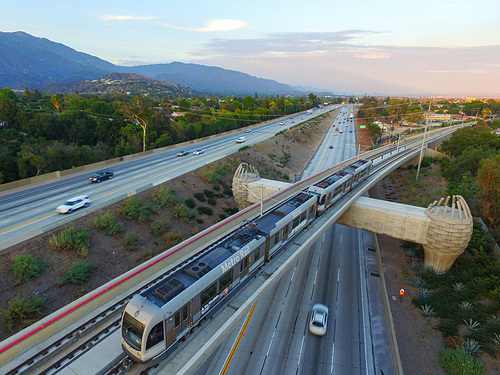 The extension of the Gold Line along the 210. I first noticed this bridge sometime last year, I think. I thought it strange that I couldn't recall noticing the distinctive design, nor could I recall a lot of construction in that area. I thought maybe I had just been paying too damn much attention to traffic. But, now I learn that it is a new bridge and it's for the Gold Line extension.