December 14, 2017
Slides

Boston City Hall, 1985.

Looking up Canal Street to the old Boston Garden.

Looking upstream on the Charles River from the Harvard Bridge. Boston University is on the left. This is from a black & white slide, and I'm pretty sure that was Ilford film.

Commonwealth Avenue and Green Line east of Allston Street.

A DC-3 at the Smithsonian in 1983.

Fort Point Channel, Boston; Ilford black & white slide film.

Frog Pond in the Boston Common.

Looking at the Ritz-Carlton from the Public Garden, Ektachrome.

Ektachrome, 1985.

Polapan, 1985.

The John Hancock Buildings, Back Bay, Boston.

On Boston Common in 1985.

Storrow Drive seen from the BU Bridge; Ilford black & white slide film.

The conversion of the building at 360 Newbury Street for Tower Records.
permalink | December 14, 2017 at 07:38 PM | Comments (0)
December 10, 2017
Aged Slide
In my recent slide scanning I hadn't come across any badly aged or damaged slides until today. It's from the mid-1980s. I don't know what kind of film it is, but it sure ain't Kodachrome. I've got lots of Ektachromes and Agfachromes that show no aging, so I'm sure this isn't either of those. BTW, I have no recollection of what this building is or where it's located.
Before:

permalink | December 10, 2017 at 11:50 PM | Comments (0)
December 7, 2017
Slides, More Slides

Tanglewood, 1983, Agfachrome.

Sears warehouse building in The Fenway, Boston, Agfachrome, 1985.

The Nantucket Light Ship, Kodachrome.

Construction of the MBTA Back Bay Station in Boston, 1986.

Copley Square, Boston, Kodachrome, showing Trinity Church and the two John Hancocks.
permalink | December 7, 2017 at 04:31 PM | Comments (0)
October 7, 2017
President Clinton Library
On my way to Tennessee I stopped in at the Clinton Library in Little Rock, Arkansas.
The complete set of photos is here.
permalink | October 7, 2017 at 06:54 PM | Comments (0)
August 11, 2017
Los Angeles Neon Tours
Recently I went on two different bus tours offered by the Museum of Neon Art in Glendale. We toured on two Saturday nights, starting at 7:30 PM in downtown Los Angeles. The tours, while mostly about neon, become tours of architecture and history as well as drinking and dining suggestions. The buses rarely stop and stand still just where you want them to, but the surprisingly good image stabilization and fast focusing of one of my cheap Canon cameras managed to produce some good images.

Tower Theater, which has been acquired by Apple to become the downtown Apple Store.

Just like it says, in downtown LA.

Neon KFC!

To my utter surprise, I learned this is the oldest gay bathhouse in LA! I'd never heard of it before...nor had any of my friends who I asked. Klyt (I don't know what it stands for) opened in the 1920s on 4th Street not as a gay bathhouse, but evolved into one. How this escaped the 1980s, I can't imagine. My fear of bedbugs will keep me from exploring this one, although I'd really like to check it out.

The Chinatown Chevron must have the highest prices in the state. The price at Furnace Creek this day was only $3.069.

The Bradbury Building.

Angels Flight, which is supposed to return to service in 2018.

2nd Street Tunnel video. Click through to see the video.

Still the tallest building in L.A., IMO.

Eric, the tour guide for the first tour I went on. The guide for the second tour was also named Eric, but looked a little different.

"New Chinatown" is Chinatown, which was moved here in the 1930s to clear way for the construction of Union Station.

"Bendix," of course, but the bus was rolling and by the time I got the camera aimed, this is all I got.

Mayan Theater

The Bradbury Building with its controversial new lighting.

A parking garage at 4th & Main. I think it's just art.
The complete sets of photos can be seen here.
permalink | August 11, 2017 at 12:08 PM | Comments (0)
August 4, 2017
New Riverside County Building

In Desert Hot Springs.
permalink | August 4, 2017 at 11:28 AM | Comments (0)
June 30, 2017
Some Photos
Some photos not previously shared.

The stage at Long Beach Opera at intermission during The Perfect American.

This is not an old sign.

I've got my eye on this pink Barbie.

Edward Wenzlaff Education Center, formerly Edward Wenzlaff Elemntary School in Desert Hot Springs.

Like it says on the label.
permalink | June 30, 2017 at 10:23 PM | Comments (0)
June 17, 2017
Pink Houses
I visited these houses in L.A. that have been painted entirely pink, pending their demolition. NBC had a story about them.
permalink | June 17, 2017 at 07:40 PM | Comments (0)
March 31, 2017
Mountain View Mausoleum
In early March I went on a tour of Mountain View Mausoleum in Altadena. This is part of Mountain View Cemetery, but separated from it by a road.

This landing was used in an Ozzy Osbourne video and is supposed to stand in as Michael Jackson's site of interment in an upcoming film.
Ozzy Osbourne in Mountain View Mausoleum.


The main corridor.

An empty crypt being used for storage.

My primary reason for going on this tour was to see this hall.

The designer of this mausoleum.

A Spanish-American war veteran.
June 4, 1898, [Dr. Schuyler C. Graves] was appointed, by President McKinley, as major and brigade surgeon, to serve, during the recent war with Spain, in the First brigade, Third division, Fourth army corps, on the staff of Brig-Gen. Jacob Kline, and did duty at Tampa and Fernandina, Fla., and at Huntsville, Ala., and then, hostilities having come to a lull, was granted a leave of absence, after which he was honorably discharged from service.
The complete set of photos can be seen here.
permalink | March 31, 2017 at 06:19 PM | Comments (0)
January 3, 2017
Live Like Howard Hughes

This, yes this, was a residence of Howard Hughes. It's on the market now for only $1.2 million. The real estate company has much nicer photos.
permalink | January 3, 2017 at 01:56 PM | Comments (0)
December 17, 2016
Forest Lawn - Glendale
Last weekend I went on an actual paid tour of some of Forest Lawn Glendale. I got to see the show in the Hall of the Crucifixion/Resurrection. That's pretty impressive. There is a diorama of the scene of Christ's crucifixion with an interesting history. The diorama of the Resurrection is smaller and much newer and depicts heaven (it's up in the clouds, so it's got to be heaven, right?) as populated with a lot of Christian crusaders. It also includes St. Peter's in Rome, St. Paul's in London and Christ Church in the City of Boston, i.e., Old North Church. I didn't see anything like a Mormon temple there.
I also went into the Great Mausoleum for the first time. This mausoleum has the greatest concentration of celebrities and also the big stained glass Last Supper (so they really enforce the no photos inside rule here). Michael Jackson is interred here, as well as Elizabeth Taylor. I saw Taylor's grave, but didn't notice it was hers because I was distracted by the huge angel atop it.
They've removed the curtain from the Last Supper, so they can't do the big unveil anymore, but they still play the pre-recorded story of its history.

Depicting Michelangelo in his studio with the completed statue of David.

1896 - 2005

The Hall of the Crucifixion/Resurrection.

The Builder's Creed.

"The Republic." This is a scaled down replica of the original which was erected at the World's Columbian Exposition in Chicago in 1893. The original is gone, but there is a replica in Jackson Park in Chicago.
The complete set of photos can be found here.
permalink | December 17, 2016 at 09:08 PM | Comments (0)
December 16, 2016
Salk Institute
permalink | December 16, 2016 at 09:48 PM | Comments (0)
Campaign Detritus
permalink | December 16, 2016 at 12:43 PM | Comments (0)
November 21, 2016
Hotel Cecil
The L.A. Cultural Heritage Commission visited Hotel Cecil on Main Street. The lobby is quite nice. They also took us up to the 14th floor to see a couple of typical rooms. Most rooms do not have baths, so there are shared toilets and showers on each floor. All of the rooms are small; about 11' by 17'. We saw one room that had no bath and it was pretty small, but included a small flat screen TV and a clock radio that included a mount for an iPod (the old Apple connection, not Lightning). Then they showed us a room with a bath. It was still 11' x 17', so they just used almost all the open floor space to put a bathroom (shower, toilet, sink) in there. There was about 18 inches of clearance on either side of the bed, and if there was any furniture besides the bed, I can't recall it. The hotel is now doing business as "Stay On Main." The rooms are very plain,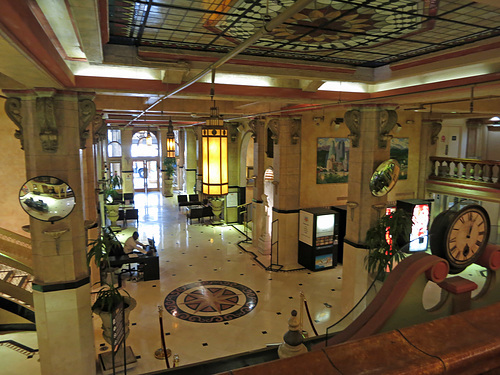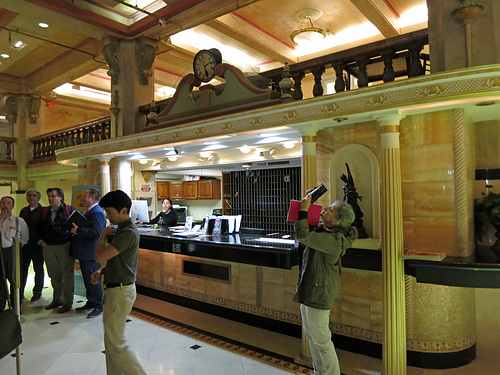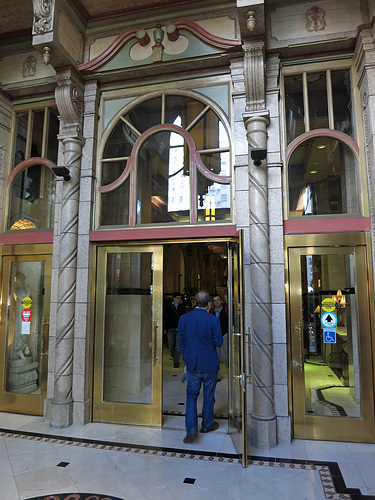 Looking out the window of a 14th floor guest room, this is the view.
More photos of Hotel Cecil can be found here.
permalink | November 21, 2016 at 08:30 PM | Comments (0)
Catalina Swimwear Building
On a tour with the Los Angeles Cultural Heritage Commission. Here's the Wikipedia article for Catalina Swimwear.


The building is live/work lofts. That's one of the Commissioners front and lower center.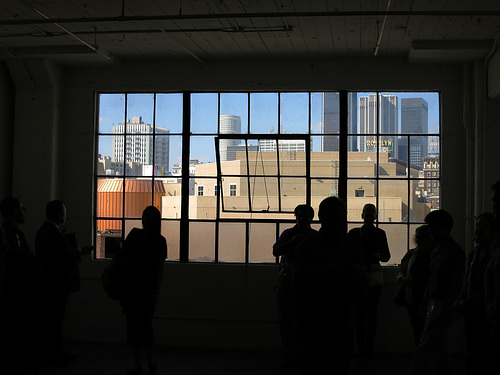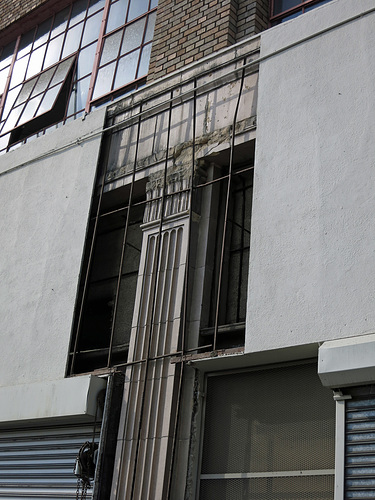 A bit of newer stuff was pulled off to reveal some of the original facade, which will be restore.
More photos of the Catalina Swimwear Building are here.
permalink | November 21, 2016 at 07:07 PM | Comments (0)
Los Angeles Cultural Heritage Commission
On Thursday morning last week I attended a 9 AM meeting of the Los Angeles Cultural Heritage Commission in LA City Hall. They had two things on their agenda that morning: first was to consider designating the Bob and Dolores Hope Estate in Toluca Lake as a monument; second was to go visit and tour Hotel Cecil and the Catalina Swimwear Building. It was the second thing that I came for, but the Bob Hope house issue was very interesting.

Above is the Google Earth view of the estate.
Below is what the public could see from the street.

The place is owned by the Bob & Dolores Hope Foundation. First the staff made its presentation with a slide show and talk all about how ultra famous Bob Hope was. Under Los Angeles law there are two different bases that can justify declaring something a monument. One basis is the usual: great cultural, historical, architectural (etc.) significance. The second is that it was the home of a celebrity. The Bob Hope house was proposed (by a city council member) due solely to the celebrity status. Staff admits it has no cultural, historical, architectural (etc.) significance. In discussion the Commissioners said that in L.A. they obviously are not going to declare every residence of every celebrity a monument or they would consume a significant portion of the housing market. But they agreed that Bob Hope was just about the most famous person in the world.
After the staff report the Foundation got up to make their comments. They were daughter Linda Hope and a couple of other people, one of whom may have been an attorney. They told us quite a different story than staff told. Right off the bat, Linda Hope said they had the wrong address. The correct address is 10346 Moorpark Street. Staff had supplied the address as 10350 Moorpark Street. No points for staff there. Then she went on to explain that while staff had described the house as French Chateau style, only the original house was French Chateau and that Dolores Hope had almost continually added wings and additions so that now the house was some sort hodge-podge of no significance. She also disputed their description of the grounds which staff said included a "one-hole par 3 golf 'course'." Linda Hope said it was only a small decorative thing that could not really be used for golf.
Worse, she said, was that there was no way the Los Angeles public could access the house. In the '90s the Hopes had considered making it into a museum, but quickly learned that since it was in a quiet upscale residential area with narrow streets, there was no way it could be a museum open to the public. So the Hopes' final instructions were to use the estate to help fund the Bob & Dolores Hope Foundation. The intention of the trustees was to sell it. The place had been sitting on the market for ages but not long ago the first decent offer was submitted. That was when the city council member asked that the Cultural Heritage Commission consider the property. The decent offer was immediately withdrawn.
Linda Hope listed all of the memorials to Bob Hope that are scattered over the Los Angeles area. She said each and every one of those was more significant to the legacy of Bob and Dolores Hope than the estate. Later, Commissioners said they were surprised by the list, not realizing there were already so many memorials; so obviously staff didn't do that research either.
A couple of residents got up to also speak against the designation, but the essence of their arguments was that Toluca Lake is a beautiful, quiet community and any kind of monument there would bring traffic, noise and lower property values. The President of the Commission interrupted both of those commenters (!) to tell them that was of absolutely no concern to this Commission.
One Commissioner suggested giving monument status to only the hedge and gate in front of the house, because those were the only things the public would ever see. I was pretty sure that was a joke, but the President went ahead and explained how impractical that would be.
Finally, a Commissioner made the motion to deny monument status and that was approved 5-0. The decision now goes to city council, since it had originated there and city council could overrule this decision.
The meeting was adjourned and we headed out on our field trip.
permalink | November 21, 2016 at 07:04 PM | Comments (0)
June 10, 2016
Mike O'Callaghan - Pat Tillman Memorial Bridge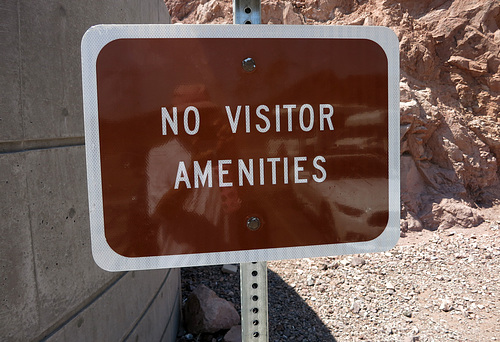 A sign in the parking lot for visitors to the bridge is excessively modest. Not only are there four trangender-friendly restrooms, but the parking lot is paved, there's a paved walkway that takes you to the bridge (imagine if they just let visitors clamber over bare rock), and plenty of informative plaques and signs. there is, however, NO DRINKING WATER here. No gift shop either. And certainly no taco trucks.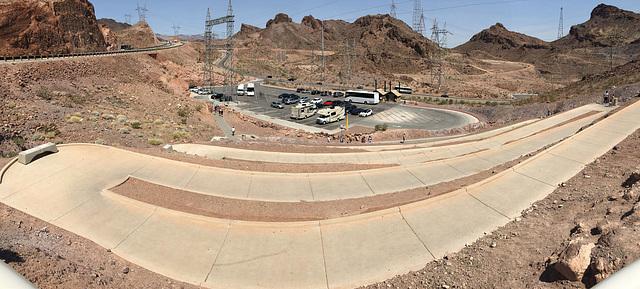 The parking lot for bridge visitors. If you want to use your GPS to find it, the name is "Mike O'Callaghan - Pat Tillman Memorial Bridge," but I found that as long as you're in the general area, a simple "Tillman" will suffice to find it. "General area" includes at least Las Vegas, where my trip started this day. There are stairs not very visible at the right edge of this photo, so if you can walk stairs, the hike is not so long as if you took the ramp. Hey, I only now noticed the little exposed concrete bench in the curve at the left side of the photo. Yet another amenity!
"Hoover Dam Bypass" may also be a good search term to find it.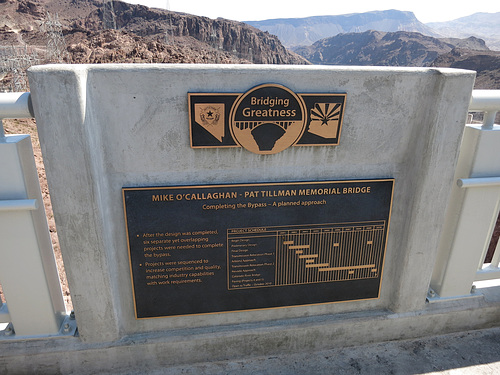 Talk about amenities, when did you ever see a Gantt chart rendered in a bronze plaque before? This is clearly a government project. The bridge must have about a dozen of these concrete forms on which plaques could be mounted. The order must have gone forth to come up with a plaque for every one of them (use up that budget!), so they go into a lot more detail than I've ever seen on plaques.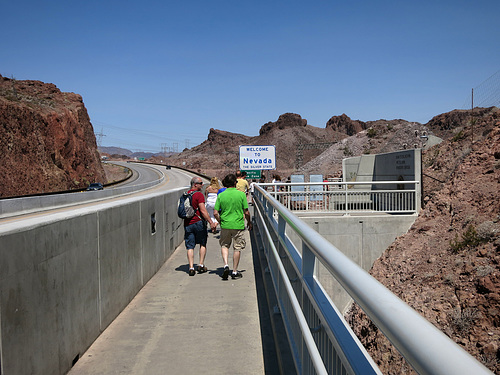 The Nevada end of the bridge.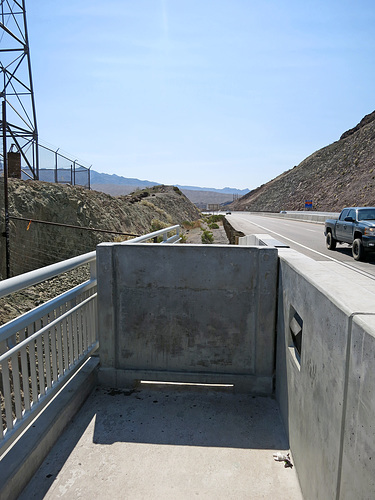 The Arizona end of the bridge. This spot screams out for a brass plaque! No pedestrian access to Arizona. I can see the necessity for this. Unless you've got a nice visitor center with A/C, water and restrooms on the Arizona end, allowing people to simply proceed into the wilderness would, undoubtedly, result in dozens of rescues and the occasional death, as tourists, thinking this is Disneyland, get lost in the rugged terrain. And then there are also the falls to consider. Nope, a relatively cheap concrete wall reduces all those risks substantially. And any young man who thinks he will never die, can easily jump this barrier without having to vandalize any public property.

Looking toward Nevada, you can see the road switchbacking down to the dam itself. I thought when this bridge opened, all unofficial vehicles were banned from atop the dam, but the road seems to be open. Everyone does go through a fairly quick and cursory vehicle inspection before they can proceed to the bridge and dam. I was directed aside there because they saw the storage box in the back of my truck where I keep emergency supplies, like water, a blanket, etc. The officer (is this Bureau of Reclamation jurisdiction?) simply asked me what it was and I told him what I just told you, and he sent me on my way.


Just exactly who Mike O'Callaghan and Pat Tillman were, is the subject of at least four different sets of signs or plaques.

There were some brass inserts on the walkway on the bridge, too. Who got the brass plaque contract for this job?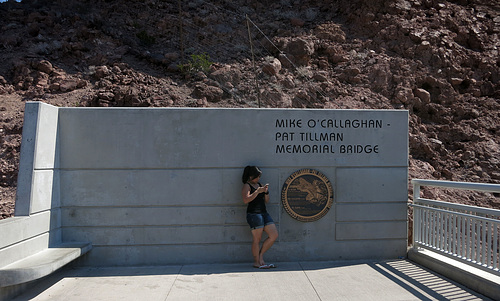 A few photographers were standing alongside me as we all waited for Miss Oblivious to step out of our shot. Look, she isn't even using the shade to make it easier to her phone's screen. I just took this shot and moved on. I wonder if she would object?

This is the only place you get to see any of the exciting guts of the bridge's construction.

On the opposite side of the same walkway.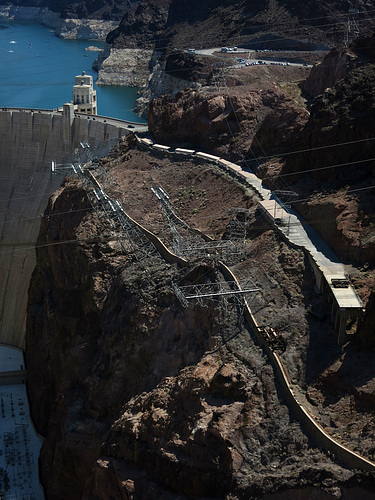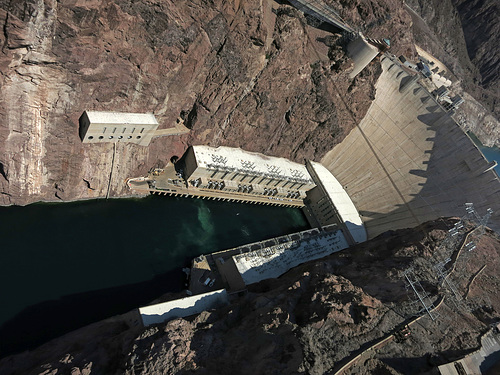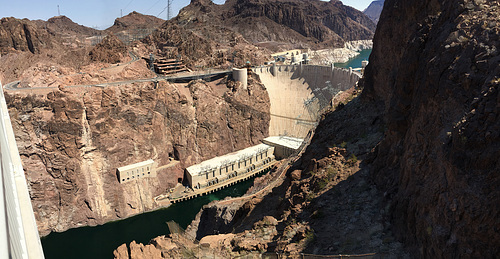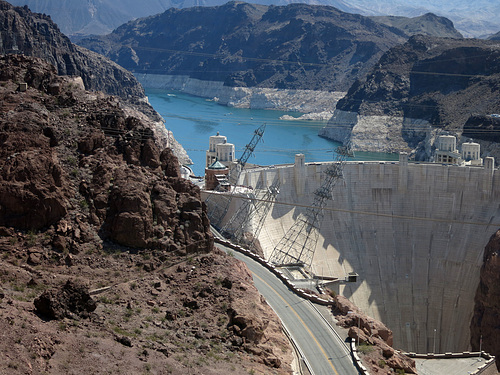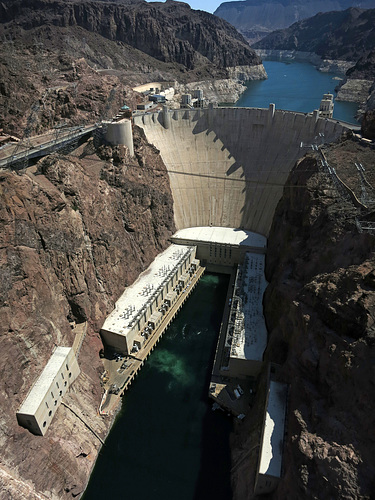 The complete set of photos can be seen here, including photos of every single brass plaque on the bridge!
permalink | June 10, 2016 at 10:50 AM | Comments (1)
May 2, 2016
Apple Campus Update
Another drone video of the construction of the new Apple Campus. This one has a few captions, so we know what we're looking at.

permalink | May 2, 2016 at 08:58 PM | Comments (0)
April 17, 2016
Apple Patents Glass Doors
Actually, they've gotten a design patent on large glass doors without handles for their "Next-Gen" stores. The lack of handles will allow crowds of shoppers to flow more smoothly when a new product is released. [sarcasm]

Here you see them in use at the new Apple store in the Chestnut Hill mall. Boston readers are invited to go inspect these and report back on their magical properties. They can't just be doors, can they?
permalink | April 17, 2016 at 12:53 PM | Comments (1)
April 12, 2016
Toy District
The Los Angeles Toy District is "bounded by Los Angeles Street on the west, Third and Fifth streets on the north and south and San Pedro Street on the east."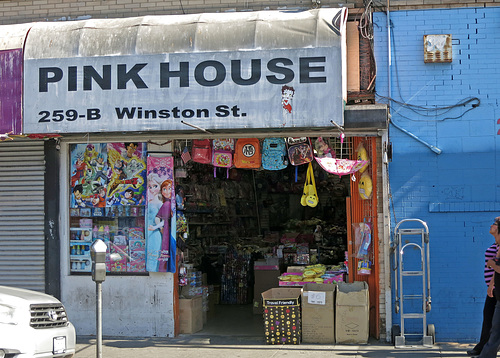 Nothing especially pink in there.

Marijuana supplies.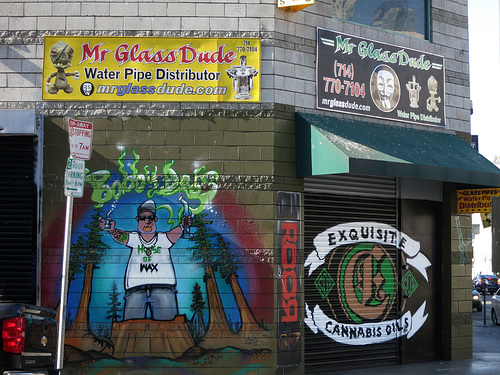 More marijuana supplies.

Where do you stick the firefighter's key?