« October 2016 | Main | December 2016 »
November 27, 2016
Palm Springs Construction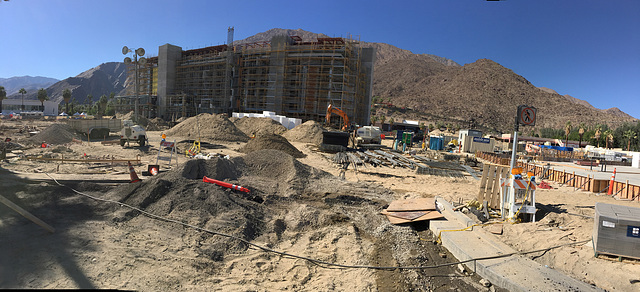 Filed under Cities/Urbanism,Coachella Valley,Photography | permalink | November 27, 2016 at 02:06 PM | Comments (0)
November 21, 2016
LA Opera - Akhnaten


Los Angeles Music Center - the Dorothy Chandler Pavilion is on the right.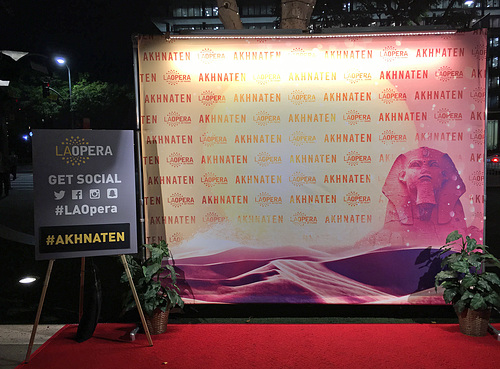 The LA Opera seems a bit heavy handed in promoting social media.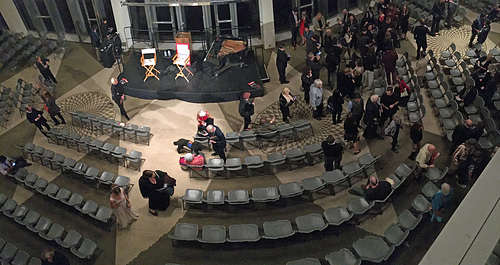 Composer Philip Glass and conductor Matthew Aucoin had a talk in the lobby before the performance. Philip Glass is in the crowd in the upper right with his hand on a lady's shoulder.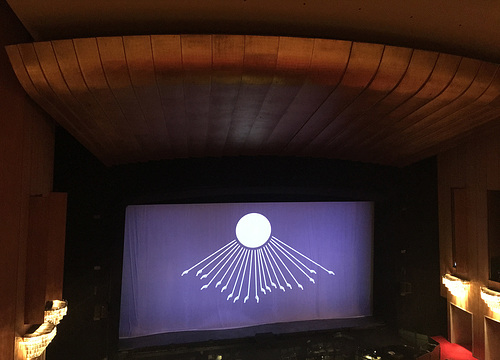 During the intermission after Act II.
More photos from my visit to the LA Opera can be seen here.
Here's the LA Times review of LA Opera's "Akhnaten."
Wikipedia article about the opera.

Here's a short video that gives you a few brief samples of the performance. The jugglers were amazing. Often there was so much action on the stage that you just couldn't follow it all - a sort of five-ring circus. It was great!
If you want a sampling of the music, here is the first 10 minutes and 44 seconds of the opera.
Akhnaten himself is sung by a counter-tenor. Here Anthony Roth Costanzo explains how he prepared.

Akhnaten imposed a monotheistic religion on Egypt during his reign (1353 BC to 1336 BC). His queen was Nefertiti. His son was Tutankhamen. More facts.
Filed under Music | permalink | November 21, 2016 at 10:13 PM | Comments (2)
Hotel Cecil
The L.A. Cultural Heritage Commission visited Hotel Cecil on Main Street. The lobby is quite nice. They also took us up to the 14th floor to see a couple of typical rooms. Most rooms do not have baths, so there are shared toilets and showers on each floor. All of the rooms are small; about 11' by 17'. We saw one room that had no bath and it was pretty small, but included a small flat screen TV and a clock radio that included a mount for an iPod (the old Apple connection, not Lightning). Then they showed us a room with a bath. It was still 11' x 17', so they just used almost all the open floor space to put a bathroom (shower, toilet, sink) in there. There was about 18 inches of clearance on either side of the bed, and if there was any furniture besides the bed, I can't recall it. The hotel is now doing business as "Stay On Main." The rooms are very plain,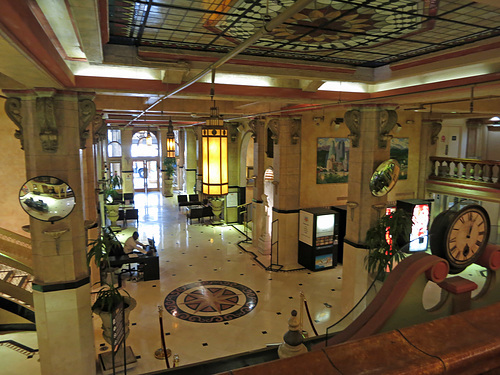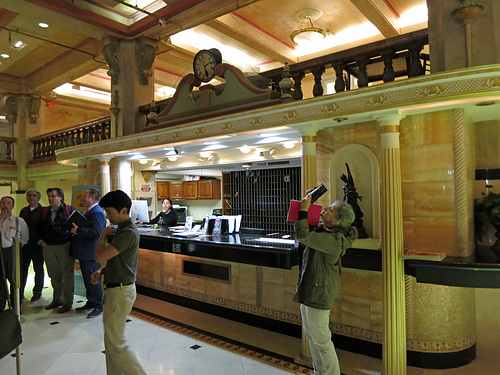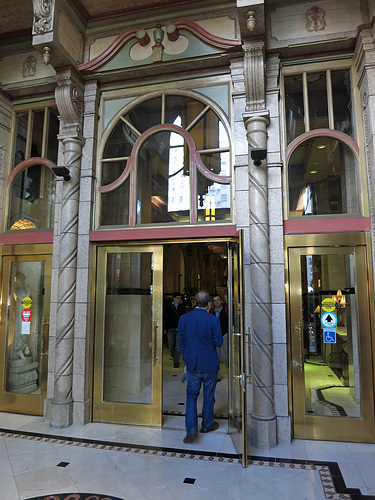 Looking out the window of a 14th floor guest room, this is the view.
More photos of Hotel Cecil can be found here.
Filed under Architecture,California,Cities/Urbanism,History | permalink | November 21, 2016 at 08:30 PM | Comments (0)
Catalina Swimwear Building
On a tour with the Los Angeles Cultural Heritage Commission. Here's the Wikipedia article for Catalina Swimwear.


The building is live/work lofts. That's one of the Commissioners front and lower center.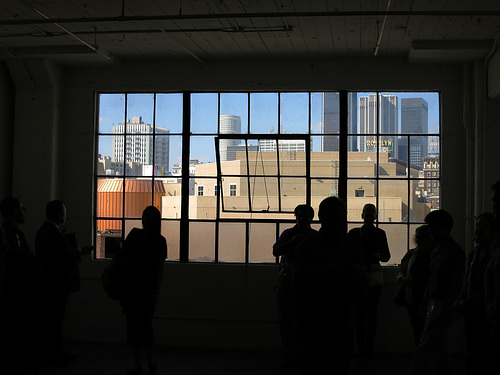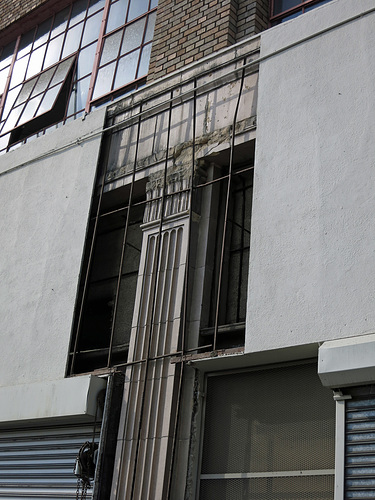 A bit of newer stuff was pulled off to reveal some of the original facade, which will be restore.
More photos of the Catalina Swimwear Building are here.
Filed under Architecture,California,Cities/Urbanism,History | permalink | November 21, 2016 at 07:07 PM | Comments (0)
Los Angeles Cultural Heritage Commission
On Thursday morning last week I attended a 9 AM meeting of the Los Angeles Cultural Heritage Commission in LA City Hall. They had two things on their agenda that morning: first was to consider designating the Bob and Dolores Hope Estate in Toluca Lake as a monument; second was to go visit and tour Hotel Cecil and the Catalina Swimwear Building. It was the second thing that I came for, but the Bob Hope house issue was very interesting.

Above is the Google Earth view of the estate.
Below is what the public could see from the street.

The place is owned by the Bob & Dolores Hope Foundation. First the staff made its presentation with a slide show and talk all about how ultra famous Bob Hope was. Under Los Angeles law there are two different bases that can justify declaring something a monument. One basis is the usual: great cultural, historical, architectural (etc.) significance. The second is that it was the home of a celebrity. The Bob Hope house was proposed (by a city council member) due solely to the celebrity status. Staff admits it has no cultural, historical, architectural (etc.) significance. In discussion the Commissioners said that in L.A. they obviously are not going to declare every residence of every celebrity a monument or they would consume a significant portion of the housing market. But they agreed that Bob Hope was just about the most famous person in the world.
After the staff report the Foundation got up to make their comments. They were daughter Linda Hope and a couple of other people, one of whom may have been an attorney. They told us quite a different story than staff told. Right off the bat, Linda Hope said they had the wrong address. The correct address is 10346 Moorpark Street. Staff had supplied the address as 10350 Moorpark Street. No points for staff there. Then she went on to explain that while staff had described the house as French Chateau style, only the original house was French Chateau and that Dolores Hope had almost continually added wings and additions so that now the house was some sort hodge-podge of no significance. She also disputed their description of the grounds which staff said included a "one-hole par 3 golf 'course'." Linda Hope said it was only a small decorative thing that could not really be used for golf.
Worse, she said, was that there was no way the Los Angeles public could access the house. In the '90s the Hopes had considered making it into a museum, but quickly learned that since it was in a quiet upscale residential area with narrow streets, there was no way it could be a museum open to the public. So the Hopes' final instructions were to use the estate to help fund the Bob & Dolores Hope Foundation. The intention of the trustees was to sell it. The place had been sitting on the market for ages but not long ago the first decent offer was submitted. That was when the city council member asked that the Cultural Heritage Commission consider the property. The decent offer was immediately withdrawn.
Linda Hope listed all of the memorials to Bob Hope that are scattered over the Los Angeles area. She said each and every one of those was more significant to the legacy of Bob and Dolores Hope than the estate. Later, Commissioners said they were surprised by the list, not realizing there were already so many memorials; so obviously staff didn't do that research either.
A couple of residents got up to also speak against the designation, but the essence of their arguments was that Toluca Lake is a beautiful, quiet community and any kind of monument there would bring traffic, noise and lower property values. The President of the Commission interrupted both of those commenters (!) to tell them that was of absolutely no concern to this Commission.
One Commissioner suggested giving monument status to only the hedge and gate in front of the house, because those were the only things the public would ever see. I was pretty sure that was a joke, but the President went ahead and explained how impractical that would be.
Finally, a Commissioner made the motion to deny monument status and that was approved 5-0. The decision now goes to city council, since it had originated there and city council could overrule this decision.
The meeting was adjourned and we headed out on our field trip.
Filed under Architecture,California,Cities/Urbanism,Film/Movies,History,Television | permalink | November 21, 2016 at 07:04 PM | Comments (0)
November 19, 2016
Rare Double Survival Of Lost Desert Hikers
None of the details of how this all came down are included in this article and I imagine the couple haven't talked to any press about it. I was astonished that after being found they decided to go to Joshua Tree where they would spend the night. That is far from a direct route home. It sounds like they're continuing their vacation! They sound pretty tough. I hope they make some babies.
In the map below, Black Mountain Road, where they were found, is roughly diagonal across the center of the image. They seem to have been not too far from a broadcast tower. I wonder if the lights they spotted were on that tower.
Filed under California,Coachella Valley | permalink | November 19, 2016 at 09:20 PM | Comments (0)
November 14, 2016
This is something to watch
Filed under Automotive | permalink | November 14, 2016 at 11:52 PM | Comments (0)
Drones, Chapter 2
There are enough drones in a sufficient number of hands now, it became inevitable that they'd finally be used for some real nitty gritty. This is not pleasant to watch and it's got some really good swearing, but there's no blood or gore…or even sex!

Filed under Photography | permalink | November 14, 2016 at 11:46 PM | Comments (0)
November 13, 2016
Blythe Outlawed Marijuana Sales
But that was some time ago when the issue was solely medical marijuana. Now, however, the city leaders see that Blythe could be THE city to supply recreational marijuana to all of Arizona...illegally, of course, but how many cops can Arizona tie up just to watch for marijuana to cross the Colorado River.
Filed under California,Marijuana | permalink | November 13, 2016 at 05:22 PM | Comments (0)
November 4, 2016
DHS Dispensary #6
The city's sixth medical marijuana dispensary is open, and this is the one that's only one block from where I live! Great for the day I'm in a wheelchair. They give their web address as IVTHC.com, but it looks like they let their domain registration slip, because there's nothing there now. They are on the west side of Palm Drive almost at 4th Street, 11555 Palm, immediately next to the dentist's office, in that set back building that used to be a dentist's office.
Here's their Weedmaps page. They opened only yesterday, November 3. Hours are 10 AM to 7 PM, every day of the week.

It's the building on the left.
Filed under Coachella Valley,Desert Hot Springs,Marijuana | permalink | November 4, 2016 at 02:45 PM | Comments (0)