« Look What I Acquired | Main | Public Nudity »
July 14, 2016
Outback Logic Siesta4
I've just received a tent that was designed specifically for the weather conditions at Burning Man, the Outback Logic Siesta4. The reflective exterior is actually a rain fly that is permanently attached to the tent inside. Every vent on it can be sealed to keep out dust. It has two ports where you can insert an electric fan. I have one fan on order. The floor is 7'6" square and I can almost stand up straight in it, so it must be about 5'10" high. Staking it is required in order to get it to hold its shape.
I set it up in the wind and that was easier than setting up my Cabela's Alaskan Guide Geodesic tent in the wind. But the only way to test it against Burning Man strength winds would be to move it out to some open desert on the west side of the city, and I'm not going to do that.
No instructions came with it, and I made only one false start. There are only four fiber glass poles, but they are two lengths, so you've got to lay them all out to be sure you pick the right one.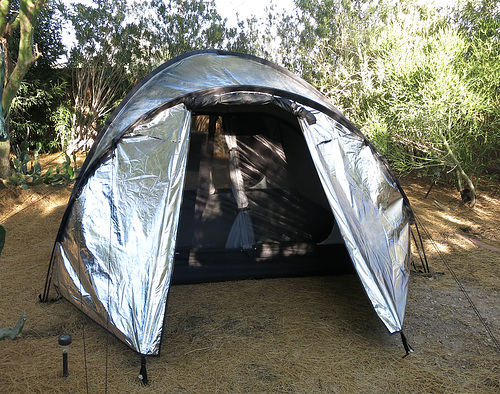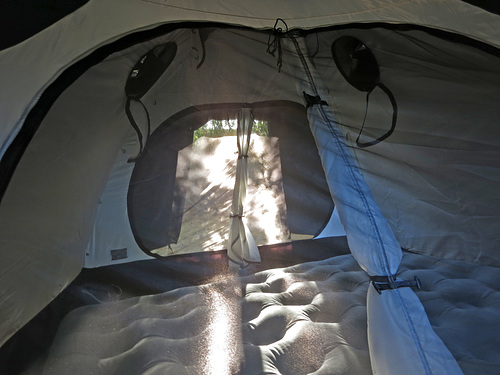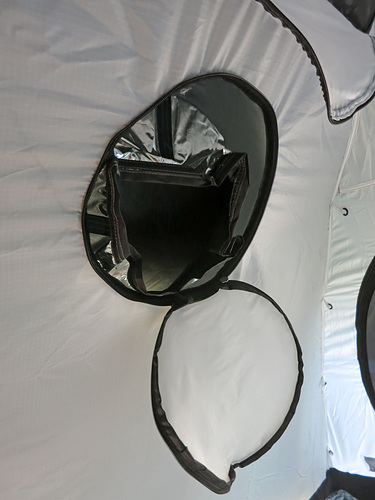 One of the fan ports.
Filed under Burning Man,Shopping | permalink | July 14, 2016 at 07:31 PM
Comments
Yes, and I included a short paragraph about it on September 15, 2016:
"My new tent worked wonderfully. I installed the fan and I believe the interior of my tent may have been more comfortable than any RV in our camp. I noticed RVers sleeping in chairs midday. We need to organize a big napping area. I have never had the interior of any tent so free of dust at Burning Man. The only dust was what I tracked in. I took to leaving the sheet on my air mattress all day long and it was never dusty when I turned in. Usually, one takes his bedding and packs it up somehow during the day, so that it doesn't become dustier...if you're a tent camper, I mean."
I don't seem to have taken a photo of it at Burning Man. I put it under my "Costco tent", which I kept open along a long side. The tent is slightly too big for that, so the staking on one side extends outside of the Costco tent.
Posted by: Ron at Jan 30, 2017 2:12:53 PM
Hi!
Did you end up bringing this to the Burn?
How well did it hold up last year? I'm thinking about replacing my h6 stretch hexayurt.
-Jeff
Posted by: Jeff at Jan 30, 2017 11:59:15 AM