« Desert Hot Springs City Council Meeting - June 7, 2016 | Main | Myself On The LA WNBR »
June 10, 2016
Mike O'Callaghan - Pat Tillman Memorial Bridge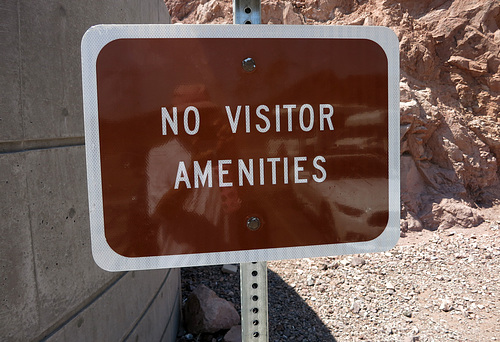 A sign in the parking lot for visitors to the bridge is excessively modest. Not only are there four trangender-friendly restrooms, but the parking lot is paved, there's a paved walkway that takes you to the bridge (imagine if they just let visitors clamber over bare rock), and plenty of informative plaques and signs. there is, however, NO DRINKING WATER here. No gift shop either. And certainly no taco trucks.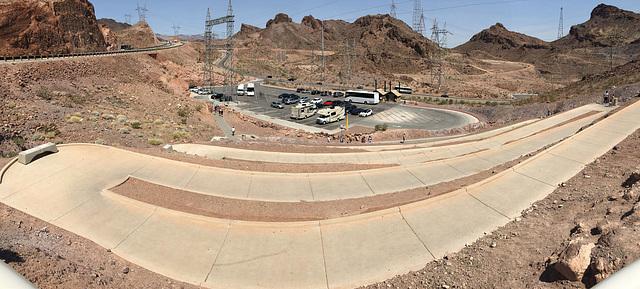 The parking lot for bridge visitors. If you want to use your GPS to find it, the name is "Mike O'Callaghan - Pat Tillman Memorial Bridge," but I found that as long as you're in the general area, a simple "Tillman" will suffice to find it. "General area" includes at least Las Vegas, where my trip started this day. There are stairs not very visible at the right edge of this photo, so if you can walk stairs, the hike is not so long as if you took the ramp. Hey, I only now noticed the little exposed concrete bench in the curve at the left side of the photo. Yet another amenity!
"Hoover Dam Bypass" may also be a good search term to find it.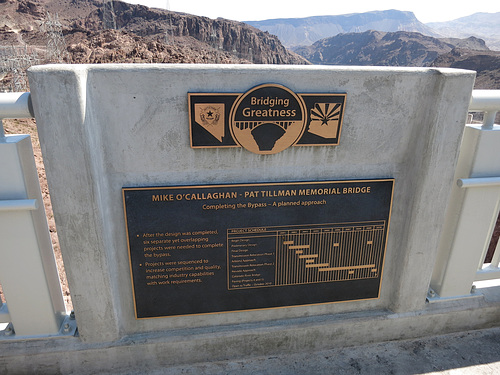 Talk about amenities, when did you ever see a Gantt chart rendered in a bronze plaque before? This is clearly a government project. The bridge must have about a dozen of these concrete forms on which plaques could be mounted. The order must have gone forth to come up with a plaque for every one of them (use up that budget!), so they go into a lot more detail than I've ever seen on plaques.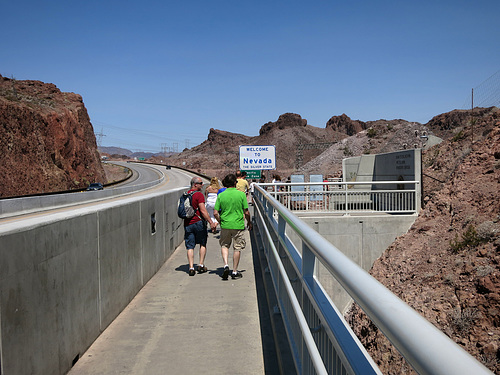 The Nevada end of the bridge.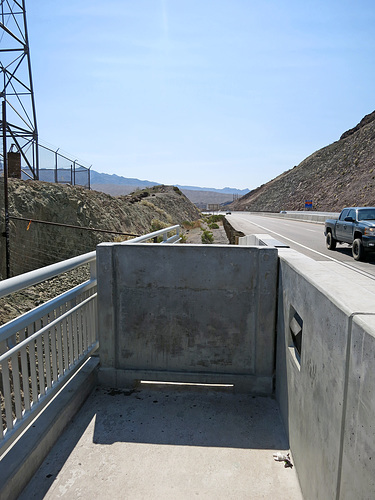 The Arizona end of the bridge. This spot screams out for a brass plaque! No pedestrian access to Arizona. I can see the necessity for this. Unless you've got a nice visitor center with A/C, water and restrooms on the Arizona end, allowing people to simply proceed into the wilderness would, undoubtedly, result in dozens of rescues and the occasional death, as tourists, thinking this is Disneyland, get lost in the rugged terrain. And then there are also the falls to consider. Nope, a relatively cheap concrete wall reduces all those risks substantially. And any young man who thinks he will never die, can easily jump this barrier without having to vandalize any public property.

Looking toward Nevada, you can see the road switchbacking down to the dam itself. I thought when this bridge opened, all unofficial vehicles were banned from atop the dam, but the road seems to be open. Everyone does go through a fairly quick and cursory vehicle inspection before they can proceed to the bridge and dam. I was directed aside there because they saw the storage box in the back of my truck where I keep emergency supplies, like water, a blanket, etc. The officer (is this Bureau of Reclamation jurisdiction?) simply asked me what it was and I told him what I just told you, and he sent me on my way.


Just exactly who Mike O'Callaghan and Pat Tillman were, is the subject of at least four different sets of signs or plaques.

There were some brass inserts on the walkway on the bridge, too. Who got the brass plaque contract for this job?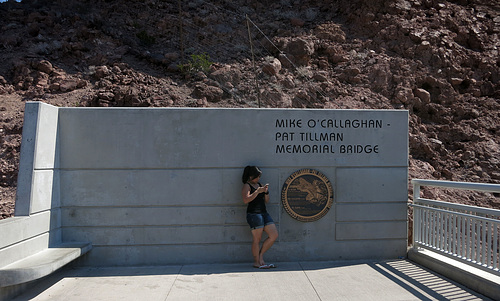 A few photographers were standing alongside me as we all waited for Miss Oblivious to step out of our shot. Look, she isn't even using the shade to make it easier to her phone's screen. I just took this shot and moved on. I wonder if she would object?

This is the only place you get to see any of the exciting guts of the bridge's construction.

On the opposite side of the same walkway.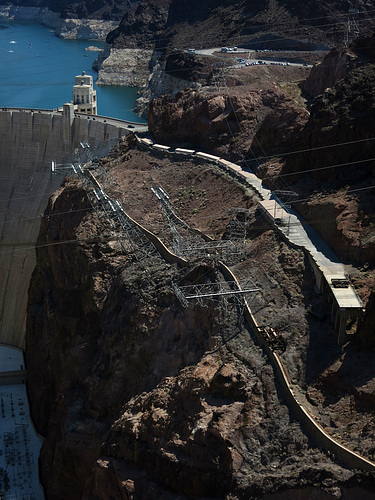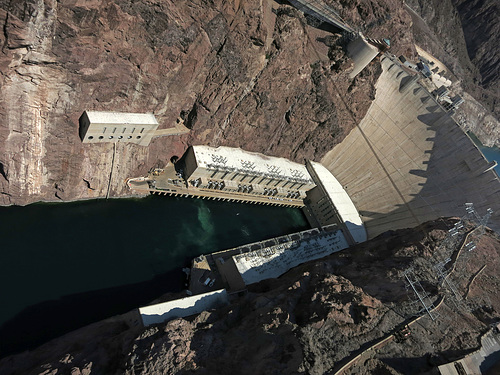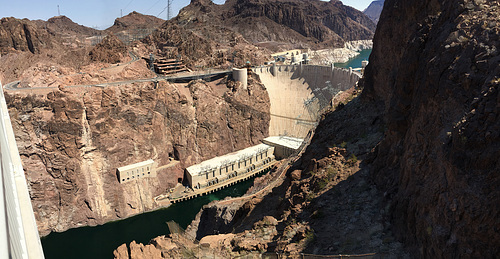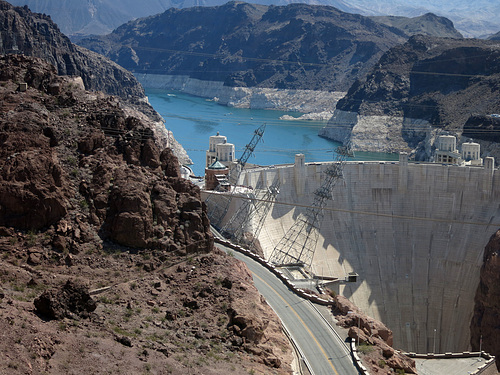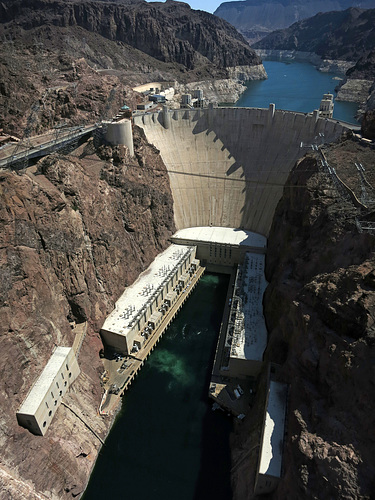 The complete set of photos can be seen here, including photos of every single brass plaque on the bridge!
Filed under Architecture,Photography | permalink | June 10, 2016 at 10:50 AM
Comments
Wow, thanks, Ron.
Posted by: Earl at Jun 11, 2016 12:24:57 PM