« Toy District | Main | Nixie Watch »
April 13, 2016
Three Cultivations Sites And One Dispensary Approved
I listened to last night's meeting of the Planning Commission from my private personal health facility, where I can exercise my right shoulder and hack up my left lung without disturbing the general public. Got to keep track of which marijuana facility is going where.
Last night the commission approved three more cultivation sites and one more dispensary.
Desert's Finest Patient's Cooperative
The dispensary (Lawrence Bynum - Desert's Finest Patient's Cooperative) is going to occupy the long-former location of Thai Palms on the northeast corner of Palm and Acoma. FINALLY, something to fill that blank in a prominent corner location. This is certainly going to be the most visible dispensary right here in the city. The site, which the dispensary will be renting, is connected also to the empty lot just east across the alley. There will be parking in that lot and quite a bit of discussion was about how MUCH of it would be used. There also was a general lamentation about the planning standards of the 1940s and '50s in this town. Yup. That's our legacy.
The site will have no more than one green cross displayed, and that will be painted on the south-facing Acoma side of the building. There will be potted plants along Acoma as well, including a few palm trees.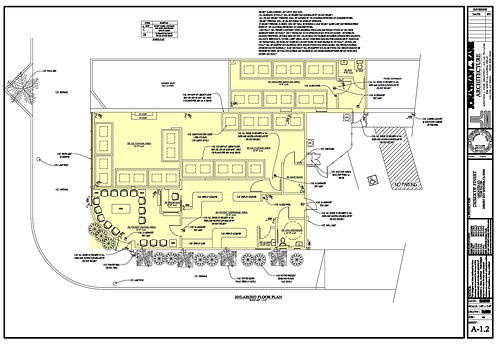 You can see on this interior plan that the dispenary's space includes the area behind the barber shop next door. More than half of the space can be used for cultivation. This is, as far as I can recall, a larger space than at other dispensaries in town, but all the dispensaries are limited to 99 mature plants.
Approved unanimously.
After the approval, there was some discussion about a billboard on Palm that can be seen as you are coming into the city that is promoting a low price at some dispensary. I don't recall seeing that sign, but there did used to be a sign that you could see as you headed south on Palm Drive that advertised "Home of the $5 Gram," but that was for PSA Organica, which is one of the newer dispensaries in Palm Springs. The city attorney explained to the commission what the city was able to control and NOT able to control in public advertising. At least one commissioner thought advertising like that could sully the image of the city as "Dime bag DHS. While it did look like the low class sort of advertising you can find in Los Angeles, I think some price competition between dispensaries could be beneficial to the patients.
DHS Diversified
The first cultivation site on the agenda last night was by Ryan Po of DHS Diversified located at 65441 Two Bunch Palms Trail. That building has been used as a recycling center up to now.
One thing I have not heard is where are the tenants of these industrial buildings that are being snapped up for marijuana cultivation, relocating to? The Pentecostal church surely has enough money from its sale to relocate into a residential area of the city, but the industrial businesses must be leaving town. There are no spare buildings in our industrial zone now, and anyone who tried to buy a site to put up a new building would be competing with the marijuana industry. I hope all these cultivation sites become fully developed and employ as many people has they have been saying they will.
An advantage to going into an existing building, is that electric service is already there. Mr. Po said he has 400 amps, which was plenty.
Approved unanimously
Blue Mango
Kamran Amirianfar for Blue Mango was there last night for two different sites, each requiring a separate CUP. The Planning Commission handled them separately. The first will be at 65118 San Jacinto Lane; the second at 65265 San Jacinto Lane.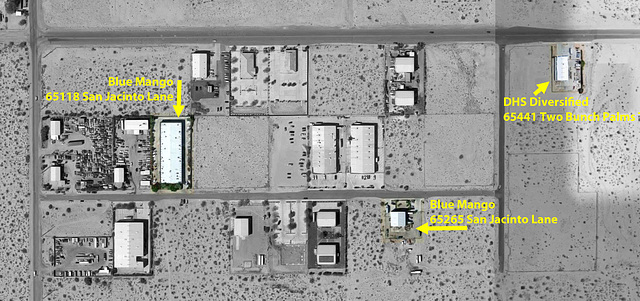 This map shows all three cultivation sites that the Planning Commission addressed last night. Here's a live map link.
The interior of 65118 is divided into 18 separate units which have been rented out to industrial tenants. The interior will be redone to create space for four large cultivation rooms and five smaller rooms for curing, processing, shipping, etc. Chair Romero encouraged them to removed the ficus and palm trees that decorate the street frontage, to be replaced with more drought tolerant plants.
65265 San Jacinto Lane will not require nearly as much work to re-arrange the interior. They'll keep most of the existing interior partitions and have two large, interconnected, double-deck growing rooms. The interior features a mezzanine from which, I imagine, one could gaze across the big spread of green leafy plants, as any farmer likes to do. They will also be cultivating up on the mezzanine.
Both sites were approved unanimously.
Vinyl Fencing
The single non-marijuana item the Planning Commission considered was a request to be permitted to erect vinyl fencing on top of existing "retaining walls" between new homes in the Gallery Vista Santa Fe homes at the northern end of Sonora Drive. The agenda packet describes them as "retaining walls," but it seems unlikely there would be an actual retaining wall between each house, unless they were built on a fairly steep hillside. Nevertheless, the fencing was proposed only between the newest homes (which I think are Coachella Valley Housing Coalition sweat equity homes). There would be no vinyl fencing facing the street.
The Planning Commission rejected the request.
Filed under Coachella Valley,Desert Hot Springs,Health,Marijuana | permalink | April 13, 2016 at 02:54 PM
Comments