« November 2015 | Main | January 2016 »
December 31, 2015
Aerial Views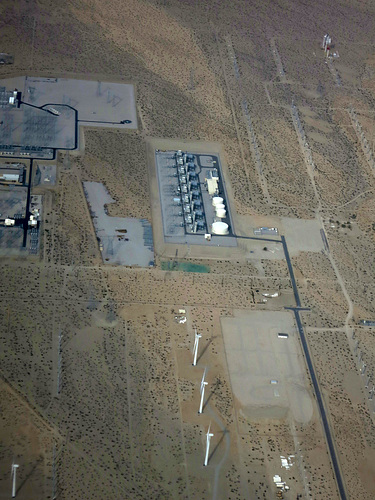 CPE Sentinel power plant.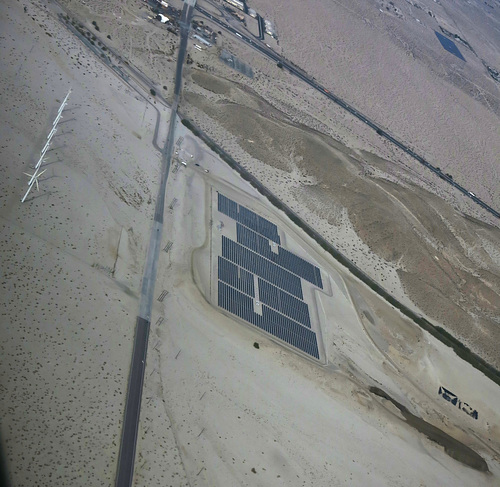 The solar field at the Granite construction site on Indian Canyon.
Filed under Coachella Valley,Desert Hot Springs,Photography | permalink | December 31, 2015 at 10:54 AM | Comments (0)
December 30, 2015
Public Health Problem or Public Safety Problem?
Here's an opinion piece in the Washington Post comparing the battle against tobacco with the "war on drugs." The ban on TV and radio ads for tobacco began under the Nixon administration, as did the war on drugs. Tobacco was treated as a public health issue. Drugs were criminalized. The end result? Tobacco use has declined by a huge percentage, especially among children. Drugs? No change.
According to the Monitoring the Future report, daily use of marijuana by 12th-graders was at 6 percent in 1975; in 2014, it was 5.8 percent. The picture with heroin has shown similar stability. In 1975, 1 percent of 12th-graders had used heroin within the year. In 2000 that figure was 1.5 percent. In 2014 it was down to 0.6 percent, but it may be climbing again.
The war on drugs has done nothing except increase the costs of law enforcement and engendered a generalized disrespect for law enforcement...just as alcohol prohibition did.
Filed under Health,Marijuana,Public Safety | permalink | December 30, 2015 at 06:49 PM | Comments (0)
Suspicion Of DUI
If it's not DUI, then it was something else just as bad that afflicted Thomas Steffen of Palm Desert early this morning. He was headed east on 111 when he a hit a curb in Indian Wells in such a way that his right front tire popped off the rim. Anyone with only a few drinks in them would have stopped, but Mr. Steffen made a U-turn and drove back west all the way to Fred Waring Drive. Google maps tell me that's 2.8 miles. I wonder if he noticed that his car was pulling to the right just a bit? He was nabbed by the Indian Wells police.
Filed under Public Safety | permalink | December 30, 2015 at 12:04 PM | Comments (0)
December 29, 2015
Birdlike Flight
You've seen old films like this plenty of times, laughing at these early misguided attempts to fly like a bird.

Laugh no more. They've gone and done it.
Filed under Technology | permalink | December 29, 2015 at 06:32 PM | Comments (0)
Alexander Graham Bell Invented Wireless Telephony
And he did it 19 years before radio.
Filed under Technology | permalink | December 29, 2015 at 05:51 PM | Comments (0)
Comcast Wins
That is, it wins in the race to be the object of the greatest number of FCC complaints. Here are the numbers of complaints for the major providers from January 1 to November 9, 2015:
Comcast 11,812 complaints
AT&T 3,896
Verizon 1,588
Time Warner 1,240
Filed under Web/Tech | permalink | December 29, 2015 at 05:42 PM | Comments (0)
You Can Get Anything At Amazon
You can buy cow dung patties from Amazon India.
2.2 Kg of cow dung for ₹99 (about US$1.49).
1.6 Kg of cow dung for ₹419 (about US$6.32). This must be of superior quality, but nothing like that is claimed.
This fine quality stuff can be had at the price of ₹249 for about 1 Kg (US$3.76)


The camel in the background raises my suspicions. What if they are selling camel dung as cow dung?
If you're buying cow dung from Amazon, you might as well also buy cow urine. Or, for the squeamish, powdered cow urine in capsules.
Each of those items has customer reviews, some real, some joke.
Filed under Food and Drink,Shopping | permalink | December 29, 2015 at 05:27 PM | Comments (0)
Attention Ferrari Drivers
No matter what the dealer told you, a Ferrari does not give you license to assault a cop.

Unfortunately, we don't get the enjoyment of watching the ultimate punishment: the towing of the Ferrari to a police impound lot.
Filed under Automotive,Public Safety | permalink | December 29, 2015 at 03:02 PM | Comments (0)
December 26, 2015
NYC Cyclist Finds Route 66 "Not very scenic"
Jeffrey Tanenhaus grabbed a Citi Bike (a bike sharing bike) in New York City this past August and headed west. He has just now reached California. Yes, obviously he should have started sooner, but he's here and hanging out in Joshua Tree National Park now...or at least that's what the article says. He remarks on the sparsity of drug stores and such in the southwest, and he's not carrying any camping gear, so I don't know how he will make it in the park. He has been depending on the kindness of strangers for places to sleep, so maybe he can become the darling of Jumbo Rocks campground, or something like that.
He has done a bulk of the ride along historic Route 66, at times pedaling out on the shoulder.

"Out here in the West, sometimes there is no other road," he said. "It's not very scenic, but that's where the roads are."
One article dated in October said Los Angeles is his goal but he "may end up in San Diego instead of Los Angeles, as he originally planned, because of weather concerns." I wonder what sort of major weather difference he thought he could detect four months in advance.
In effect he bought the bike for $1,200 by not returning it within the time limit. For $1,200 he could have gotten an even better bike. He carried his gear in a trailer.
He was attacked by a crazy man in Oklahoma - a very crazy man.
Filed under California,Cycling,Travel | permalink | December 26, 2015 at 07:18 PM | Comments (0)
December 23, 2015
Happy Holidays
Filed under Photography | permalink | December 23, 2015 at 11:54 PM | Comments (0)