« 60 Minutes Visits Apple | Main | Happy Holidays »
December 22, 2015
DHS Planning Commission Approves One More CUP For A Medical Marijuana Dispensary
The Planning Commission held a special meeting on Monday, December 21. Commissioner Voss was absent because he was still in China (or in the process of returning), but the other four commissioners were present.
There were three items on the agenda; all three were CUPs for medical marijuana dispensaries. The proposed dispensaries are:
Benno Pabst and Valley Compassionate Care on the southeast corner of Palm Drive and Fourth Street, formerly the Hart dental building.
Thomas Miller and Greenleaf Wellness at 12285 Palm Drive, Suite B, formerly a church and, I have been told, before that, a theater.
Eduardo Rivera and the D.H.S. Alternative Healing Corporation at 66328 and 66338 Pierson Boulevard which was used by Ocean Tech some years ago.
I sure hope listing these spoilers doesn't ruin your enjoyment:
Continued to the January meeting with no discussion.
Approved.
Continued to the February meeting after quite a bit of discussion.
Let's move right along to the second one, Thomas Miller and Greenleaf Wellness. There is already a nail salon and convenience store as neighbors to this proposed location. The site has already been improved for those businesses. The only exterior improvement suggested by staff was to put more lighting on the Palm Drive front of the building because (1) there's a bus shelter there and (2) it's always too dark at night.
The dispensary will occupy 2,016 sq. ft.
Thomas Miller, the applicant, came to the podium. He said his dispensary will provide free medication to cancer patients and to veteran PTSD patients. He is already in contact with the local Veterans Association. They will offer buy one, get one deals (known as "BOGOs"). There will also be early bird, happy hour, birthday and loyalty card specials. They will offer free classes to patients on the proper way to purchase and use edibles, as well as classes on the effects of the different strains. They have hired two DHS residents already, one a budtender, the other a security guard. They have art from local artists to put on their walls.
Mr. Miller said he has experience in the restaurant business which, he said, is very similar to the marijuana business, especially in terms of customer service. He invites anyone and everyone to come and visit and see what they are building.
Commissioner Duffle asked how many local residents he expects to hire when he opens. Mr. Miller said they plan to have only five employees, because they will not start growing plants immediately. He and his partner will be two of the employees. The other three will all be from Desert Hot Springs, he said. A second security guard will be needed too, and he hopes to hire that guard from DHS as well.
Mr. Duffle asked if he had a system set up to capture the proper sales tax on the free and specially-priced items. Mr. Miller said he did and the tax money for those will come to the City of DHS.
Mr. Miller said he has already been in touch with his landlord about putting in the lighting on the Palm Drive front and he also plans to install a gate of iron bars across the stairs on the south side of the building that go down to the basement. The nail salon has already set up an exterior camera. There will be a camera inside the dispensary as well.
Commissioner Terifaj asked about his delivery service. Mr. Miller said they have run a legal delivery service out of Cathedral City for 2½ years, which sservice I believe is called 420 Express Delivery. He has 400 delivery patients in Desert Hot Springs. Currently any tax on those sales go to the City of Cathedral City. But he said he planned to move the delivery service to his dispensary in Desert Hot Springs, so that tax on deliveries to other cities will come to Desert Hot Springs. [Finally beginning a reverse action on the flood of sales taxes we pay to other cities.]
Mr. Malacoff said the city's current ordinance does not allow deliveries. The city code is actually silent on that issue, but under zoning laws nothing is permitted unless the zoning ordinance specifically says it is permitted. The city council could revise the ordinance, but I don't think it needs to. The new California laws on medical marijuana begin to go into effect on January 1, 2016. Here's what I found in the new law covering deliveries to patients:
Article 9. Delivery

19340

.

(a) Deliveries, as defined in this chapter, can only be made by a dispensary and in a city, county, or city and county that does not explicitly prohibit it by local ordinance.

(b) Upon approval of the licensing authority, a licensed dispensary that delivers medical cannabis or medical cannabis products shall comply with both of the following:

(1) The city, county, or city and county in which the licensed dispensary is located, and in which each delivery is made, do not explicitly by ordinance prohibit delivery, as defined in Section 19300.5.

(2) All employees of a dispensary delivering medical cannabis or medical cannabis products shall carry a copy of the dispensary's current license authorizing those services with them during deliveries and the employee's government-issued identification, and shall present that license and identification upon request to state and local law enforcement, employees of regulatory authorities, and other state and local agencies enforcing this chapter.

(c) A county shall have the authority to impose a tax, pursuant to Article 11 (commencing with Section 19348), on each delivery transaction completed by a licensee.

(d) During delivery, the licensee shall maintain a physical copy of the delivery request and shall make it available upon request of the licensing authority and law enforcement officers. The delivery request documentation shall comply with state and federal law regarding the protection of confidential medical information.

(e) The qualified patient or primary caregiver requesting the delivery shall maintain a copy of the delivery request and shall make it available, upon request, to the licensing authority and law enforcement officers.

(f) A local jurisdiction shall not prevent carriage of medical cannabis or medical cannabis products on public roads by a licensee acting in compliance with this chapter.
Desert Hot Springs does not explicitly prohibit delivery, so I think that it will become legal in DHS on January 1. Once the dispensary gets its final approval the delivery service can move up here.
Ms. Terifaj asked why the city would not allow deliveries. "It just doesn't make any sense." There was a discussion about sending a request to the city council to revise this situation...and that was included in the motion to approve the CUP.
Mr. Miller said there are a lot of DHS residents who don't have cars. And, I might add, there are patients who don't want to be seen entering or exiting a dispensary.
Mr. Duffle said that the crime rate in DHS may make delivery services unsafe. Mr. Miller said he has never felt unsafe in Desert Hot Springs. A patient has to text a copy of their ID and letter of recommendation to his phone before he will deliver. [I think that means delivery is restricted to patients who have access to a smartphone, unless there's some other way to text images.] The one time he was robbed was in Cathedral City.
Commissioner Romero said there is a parallel with how massage is regulated in DHS. One can get a permit to do massage in a hotel, or a permit to do outcall massage, but there is no permit to operate massage therapy out of a home. She rhetorically asked what the city thinks would go on in a home that doesn't go on in other massage settings. It's the mindset and stigma that are still in place along with concerns for legitimacy and propriety.
Mr. Miller said Palm Springs has just dealt with this, allowing deliveries only by established dispensaries.
Steven Henderson, the accountant for Mr. Miller's business, came to the podium to comment. He said he stays on top of the shifting accounting rules that apply in the marijuana business.
Mr. Duffle moved to approve the CUP and to ban delivery services until the city's policy is changed and to install their own camera in the same place as the nail salon's camera (because the nail salon's camera is not compatible with the system used by the police).
Approved 4-0.
This was the fifth marijuana dispensary CUP approved by the Planning Commission, but the dispensary also must get a regulatory permit. On top of that, I believe the number of dispensaries is still limited to three, but that limit is set by City Council resolution so it will be easy to change.
Next, Mr. Duffle moved to have staff notify the City Council that the Planning Commission recommends making delivery services legal. This was approved 4-0. Mr. Malacoff said he would send the message to the City Manager who will then forward it to the council.

Next was the application for CUP by Eduardo Rivera and the D.H.S. Alternative Healing Corporation who want to set up on Pierson Boulevard a few doors west of Casa Blanca. The site is two parcels. The buildings sit on the western parcel which is also paved. The eastern parcel is just dirt. Mr. Malacoff said that if they ever plan to build anything on the eastern parcel, the city will require a parcel merger. The applicant wants to use the dirt lot for special events only, for now. Mr. Malacoff said that each special event will require its own special event permit, which has to be approved by the police and other city departments. The existing buildings have an area of about 1,783 sq. ft.
A couple letters of opposition were sent to city staff. Mr. Malacoff read them into the record. Lisa Mullen wrote that she opposed the application because they have broken the rules. They set up an illegal dispensary at this location in January 2015.
Here's the news article about that from the Desert Sun.
Police: Desert Hot Springs marijuana dispensary closed

Barrett Newkirk, The Desert Sun 5:31 p.m. PST January 13, 2015

Police in Desert Hot Springs say they shut down an illegal marijuana dispensary Monday and arrested two people for possession of marijuana with intent to sell.

Edward Vargas of Cathedral City and Danielle Pappas of Palm Springs were arrested Monday shortly after 6 p.m.

The pair were operating an illegal dispensary out of a standalone commercial building at at 66328 Pierson Blvd., according to a news release. They were arrested at the site.

Police went to the scene after receiving multiple calls about a sign twirler at Palm Drive and Pierson Boulevard, possibly advertising a dispensary, the release said.

Police closed the dispensary and conducted a search after obtaining a warrant, the release said.

The Desert Sun found no signs of activity at the building Tuesday. The property was enclosed by a metal gate secured with a padlock.

Police said they found evidence of illegal marijuana sales in the building. Vargas and Pappas both were arrested on suspicion of possession of marijuana with intent to sell and were booked at the Riverside County jail in Banning. The investigation is ongoing.

The Desert Hot Springs Planning Commission is set to meet Tuesday evening to consider permits for the city's first two authorized medical marijuana dispensaries.
You'll see that article doesn't name either Eduardo Rivera or the D.H.S. Alternative Healing Corporation.
Mr. Malacoff continued reading Ms. Mullen's letter. She said they opened with no business license and lied to her as a new patient, claiming they were the first licensed shop in the city. She saw the sign spinner at Palm and Pierson that is mentioned in the Desert Sun article.
Another letter, from Joseph Miner, was lengthy, so Mr. Malacoff summarized it. The letter said that putting a dispensary in a location within walking distance of residents will exacerbate the health and safety of the community. Mr. Miner owns residential units adjacent to the vacant lot that is behind (north) the proposed location. He said that lot has been a conduit to crime for 20 years. A 90-year old woman and her daughter live next to the vacant lot. He used to own the buildings that D.H.S. Alternative Healing wants to move into so he knows that people climb the chain link fence in back to burgle the place.
Mr. Malacoff reminded the Planning Commission that they deal solely with land use issues. Other issues brought up by the letters from the two residents will be dealt with in the regulatory permit process.
Commissioner Duffle said he had a couple of big concerns. One is the proximity to a high drug crime area. [¡I think he means my 'hood!] He is also concerned about the high number of high school students that would walk past the dispensary.
Ms. Romero asked how many dispensaries are operating and how many are proposed. Mr Malacoff began to list them off, but then Ms. Romero clarified that she meant only on Pierson. Mr. Malacoff said he doesn't have accurate figures because some of dispensary applicants that originally proposed Pierson locations have lost their leases and have not yet re-applied. He said the city does have five applications in queue in addition to the three on this night's agenda.
Ms. Terifaj said the location was isolated. "This is not close to anything, really." There's vacant land next to it and residential property. She said she thinks it's a terrible location.
IMO, the same things could have been said about the Brown Dog dispensary, but there it is, not ruining the city.
Mr. Malacoff said that the applicant had not suggested doing anything to the north side. This surprises me, because there is a chain link fence on the north side of the property. City staff is usually very good about making developers get rid of chain link fences, but this one seemed to get by them.


This is what the north side (1st Street) looks like.
Chair Sobotta said the existing gate and fence on three sides of the property were supposed to have been temporary. He said the gate opens out into Pierson Boulevard. He is incorrect about that. It's a sliding gate.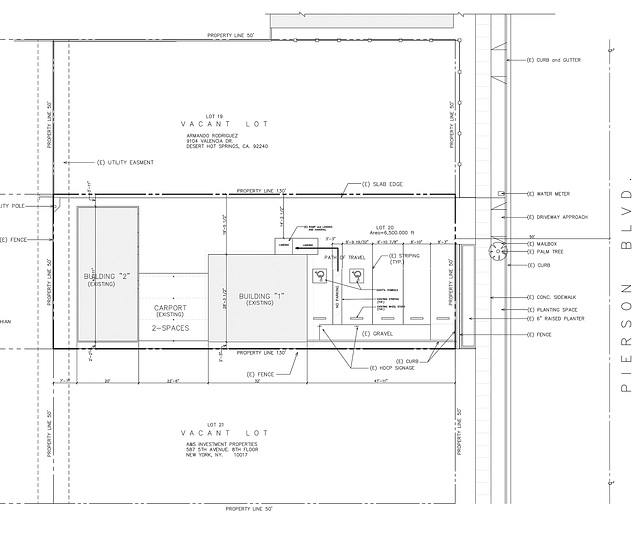 Here's the site layout. North is to the left; Pierson Boulevard is running up and down along the left side. Notice there are only 7 parking spaces, including two handicapped spaces. The space closest to Pierson is going to be almost impossible to park in.
Mr. Sobotta said the ideal solution would be to pave the eastern portion of the site and use that for additional parking. He said this is a chance for the city to really improve that site, but the CUP doesn't call for any real improvements. As an example, he cited the wheel stops in the parking lot. Those are not allowed by the city code, but the CUP doesn't require them to fix that.
Eduardo Rivera came to the podium. He said he's from Hawaii. He has owned a hair and nail salon in La Quinta. He has also worked in the food and hospitality industries. He has been a chef and wants to create his own edibles. He said the back building on the site will not be used for growing, so there's little need to be concerned about the security. Mr. Rivera will have his office there and he will occasionally make it available to a doctor. [That seems to be a violation of the law - if it's the office for the owner of the dispensary, then I'd say it's part of the dispensary, and you can't have a doctor set up in a dispensary.]
He said he only found out about this meeting at 5 o'clock that day. I find that difficult to believe, unless Mr. Rivera is in the habit of not reading his mail; something which is not advisable if you are in the process of trying to open a marijuana dispensary.
He said the gate does not swing out into the right of way. It slides along the fence. He said that if a turnaround is required, it's no problem. He said he will agree to whatever accommodations the commission thinks are necessary, "so long as they are reasonable." He said he could set up a street fair there, or he could serve bread and soup to the hungry. He said those are the sorts of things he wants to do because he's a Rotarian. When he lived on Maui he helped create three Rotary clubs.
"You tell me what you want, I will do it," he said. He said he would light up the vacant lot north of him, if the commission wants that. If they want him to buy that vacant lot, he will.
Mr. Duffle moved to continue this item to the February meeting, including look at its proximity to a high crime area, look at its proximity to the high school and the foot traffic going past the location, look at the concentration of dispensaries on Pierson Boulevard, consider the condition of the north side of the property and what should be done with that, the site is isolated, consider the impacts to the neighboring residential area, investigate the law on locating a doctor's office, check that the gate does not open into the right of way, re-examine the parking, get a better landscape plan (there's a tiny bit of dirt along the fence in front where something skinny might grow), get a lighting plan that shows type of equipment, examine the circulation of the site, examine the exterior of the building and consider whether exposed conduit should be painted or screened. Mr. Sobotta added that the wheel stops should be taken out and replaced with continuous curbing. He also wants to examine whether the fence should be improved or perhaps removed.
Approved 4-0.
Filed under Coachella Valley,Desert Hot Springs,Marijuana | permalink | December 22, 2015 at 10:23 PM
Comments