« August 2015 | Main | October 2015 »
September 15, 2015
Billion Bunny March
The Billion Bunny March is one of the more popular events at Burning Man - probably because all it involves is the least bit of costumery and a willingness to wander around and yell out in the wide open. You start with your bunny ears and then stand in line to get made-up, but you can only be made-up if you recite the bunny oath and jump in the air like a bunny. I guess if you can't jump, you'll have to rely on other burners to throw you in the air.
Go here to see a photo of the bunny oath that I did not shoot.
After you get made-up (and get a drink) you mill about like bunnies do. There is some tradition that Elmer Fudds come in among our herd. Some of them carry sticks bearing a carrot on a string to tempt us, so some of the bunnies go off on a paranoid bent regarding anyone wearing any sort of orange. Eventually the Burning Man Marching Band leads us up 6 o'clock to a piece of art called "Hare Today" which was a giant magician's hat made of wood with two giant rabbit ears sticking up out of it. Our "leaders" seized it, mounted to the top, and with a bullhorn ranted to the gathered crowd about bunny rights and the protection of bunny-dom, I guess. It wasn't easy to hear with the bunny art car behind us blasting music, but the exact content was unimportant. We were just supposed to yell when our cue came.
Then we proceeded as a group toward the Man. What happens to those who went all the way through the maze and mounted the Man's surrounding platform, I don't know. We (Jeff, Vicente and I) got hung up in the area where we met Animal Control. These people run around with little "dog tags" on chains and hang them around the necks of any bunny who does not have one. Kids are involved at this point and are often the ones to chase and catch the bunny while mom or dad carries a bunch of tags.
And then there come the sharks. It doesn't have to make sense, but people in shark costumes descend on the bunnies and "eat" them. Lots of kids are involved in that because it's easy. All you have to do is run at any bunny. The bunny's responsibility is to just run away. So it looks sort of like a giant chaotic game of "Tag," except there are multiple "its" and you don't know always know who they are (not all sharks are in costume) and people are dressed as bunnies and sharks and people are screaming and running around like crazy but you do want to get your animal control tag and the bunny art car is still blasting its music and the Elmer Fudds are still trying catch us and it's dusty as hell and the sun is about to set. Afterwards when I looked at my photos I told Jeff "These photos make the Billion Bunny March look dull!" Gotta be there.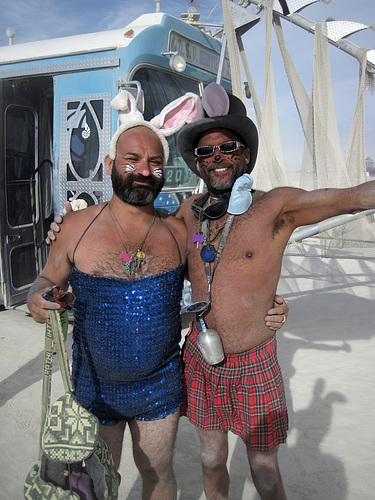 Vicente and Jeff showing off their bunny make-up which was applied in the bus behind them, which I didn't realize until I started reviewing these photos was about three vehicles ahead of me when exiting Burning Man several days later. It was no speed demon and along highway 447 it pulled over, appearing to be in some distress...and that was the last I saw of the bunny bus.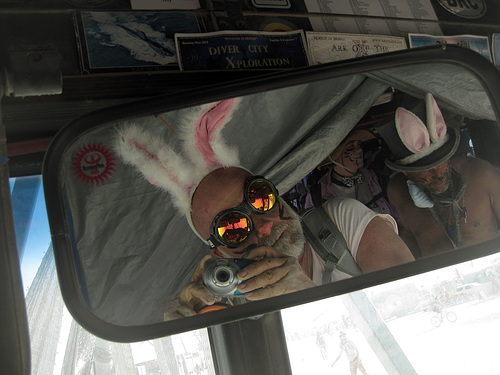 Here I am in the bus just after getting my make-up.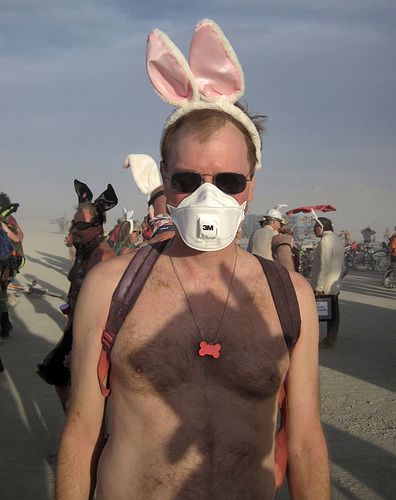 Jonathan, a Burner Buddie. Hard to tell if he got the make-up or not, but he got his animal control tag.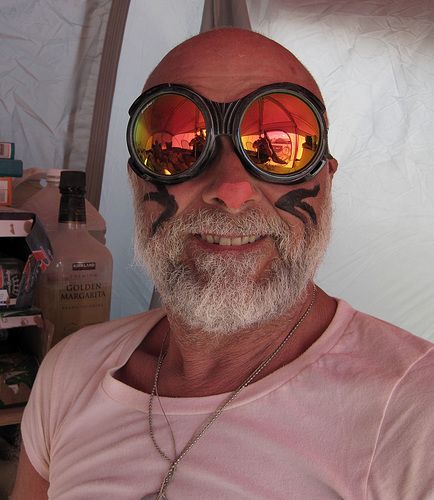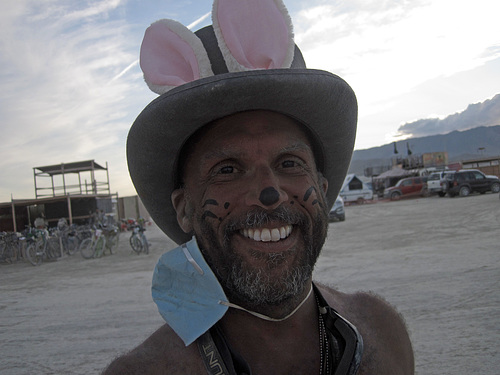 Now I notice that Jeff got a black nose while I got a pink one. Is this some sort of racial stereotyping?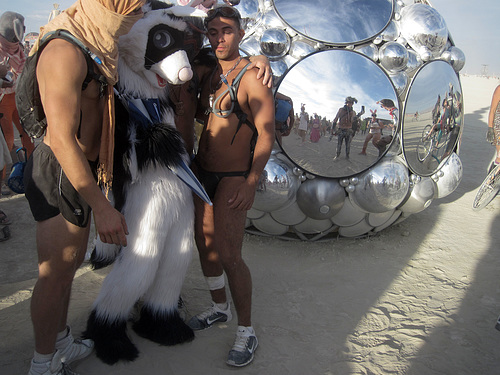 Not long after this shot I had a special moment with the attractive young man when I went to shake hands with him. "Animal Control" came along to tag him at the same moment, so we just ended up holding hands for about 30 seconds while that happened, then went our separate ways. We never spoke to each other. And, upon close examination, I found my reflection in this photo. I'm the one with bunny ears.
More Billion Bunny March photos here.
Filed under Burning Man,Photography | permalink | September 15, 2015 at 09:08 AM | Comments (0)
September 14, 2015
Some Early Burning Man Photos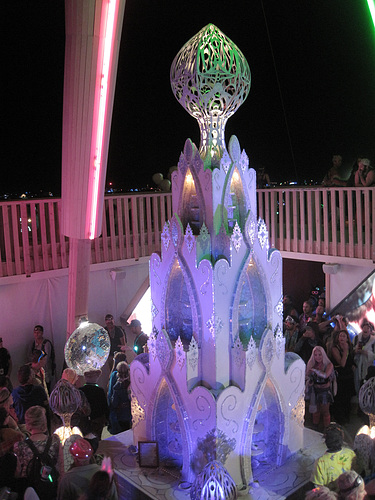 A thing that was under the Man. Not sure how it was intended, but they left it in there for the burn and it held up a long time (pics coming later).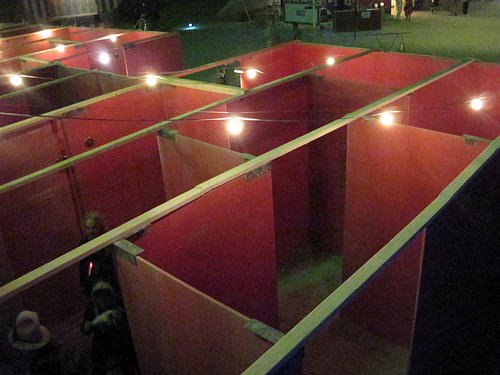 To get to the Man himself, you had to go through this maze. There were no deadends, but that doesn't mean it was easy. Nevertheless, I was one of the first ones to get to the center when they first opened the Man on Sunday night. In the course of running through the maze, one could come upon rooms that were decorated in various themes. One of them was a parody of an Apple store.
One of my concerns was fire safety. But someone else pointed out to me that in two places there were emergency handles that when pulled opened a clear exit from the center to the outside. That wouldn't help, however, with someone suddenly overcome with claustrophobia or who needed a porta-potty immediately.

Looking up a leg of the Man.

The view from our camp before general opening day. We are at Jolly looking along 4:30 towards the center of the city. You can see the Man in the distance. The closer sculpture is in the plaza at 4:30 and G. New this year are satellite medical centers (on the right in this photo) on 4:30 and 7:30. This required our porta-potties to be bumped one block further out, putting them much closer to us, and ruining the perfect symmetry of porta-potty placement across the city. When wandering home late at night, one can roughly gauge distance and location by counting porta-potty locations.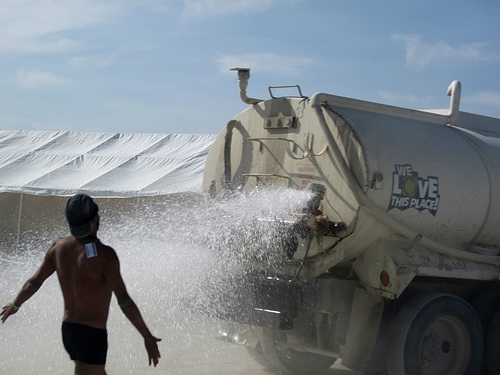 Jeff trying to catch up to a water truck.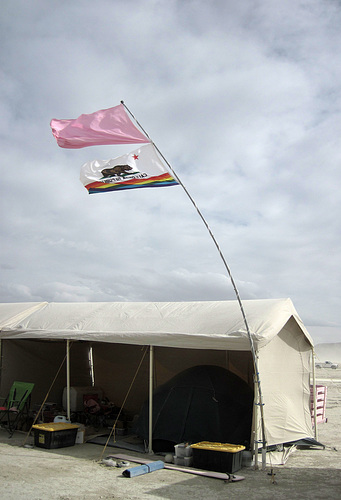 My shade structure. The tent I slept in is the dark dome shape inside. Neither the shade structure nor the flagpole suffered any failures during the high winds we experienced.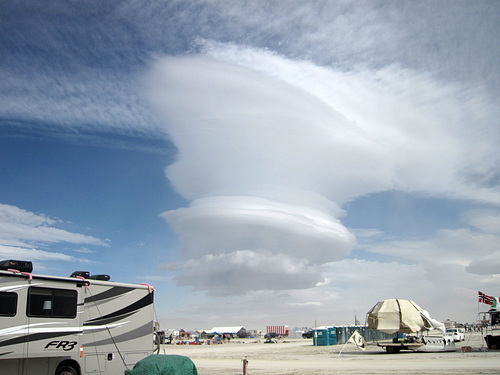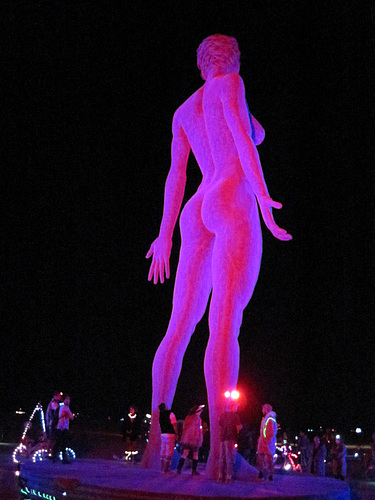 "R-Evolution" by Marc Cochrane. This is third in his series of giant female sculptures. The first one went to Treasure Island, but has been removed due to damage from the salt air. The second one is going to San Leandro, much to the excitement of some residents. I don't know what the plans are for number three, if any.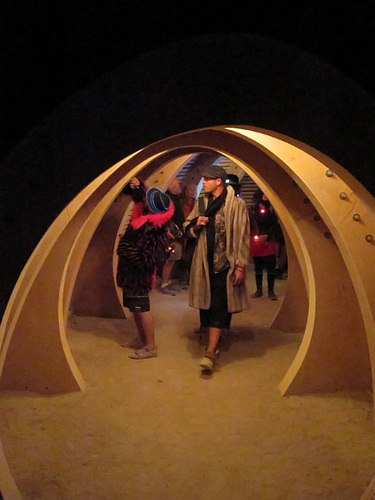 The Temple of Promise at the small end.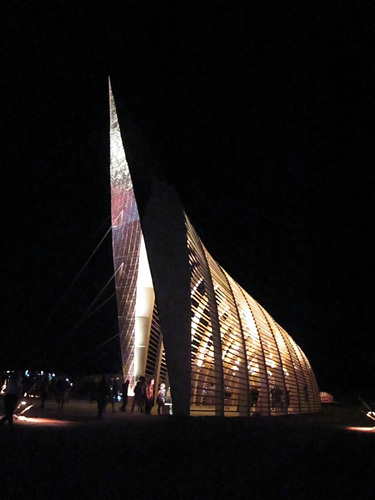 The big end of the Temple of Promise.
There are more photos here, and I will be adding even more over time.
Filed under Burning Man,Photography | permalink | September 14, 2015 at 07:07 PM | Comments (0)
That Only Works In The Movies
CITY OF DESERT HOT SPRINGS POLICE DEPARTMENT

PRESS RELEASE

INCIDENT: Burglary arrest

LOCATION: 13700 Block of Mark Drive

DATE/TIME OF INCIDENT: September 14, 2015 1130 hours

SUSPECT: Name withheld (Juvenile suspects 2)

CHARGES: PC-459 Burglary PC-182 Conspiracy PC-69 Resisting arrest

STATUS: In Custody, Indio juvenile hall

On Monday September 14, 2015, at approximately 1130 hours, Officers from the Desert Hot Springs Police Department responded to the 13700 block of Mark Drive regarding a burglary in progress. The home owner reported coming home and finding subjects unknown to them in the

Officers arrived, established a perimeter and cleared the house. While officers cleared the house, they encountered two suspects inside the house. One suspect escaped through an open window and was apprehended by officers on the outside perimeter after a short foot pursuit. The other suspect attempted to jump out a closed window and was apprehended inside the house. He suffered severe lacerations to his arm from the glass shards and needed medical treatment at Desert Regional Hospital.

Both suspects were booked at Juvenile Hall on suspicion of burglary, conspiracy and resisting arrest. Their identities are not released due to being juveniles. Property stolen from the residence was recovered, and returned to the victim.
Filed under Desert Hot Springs,Public Safety | permalink | September 14, 2015 at 05:28 PM | Comments (0)
Harbin Hot Springs Destroyed
The well known naturist resort has been destroyed by the Valley Fire. Closed indefinitely.
Filed under California,Naturism-Nudism | permalink | September 14, 2015 at 03:44 PM | Comments (0)
September 13, 2015
"How can I go to Burning Man?"
Well, here's one way, starting at Barstow. (Hang in there, it gets pretty on the playa.)

Filed under Burning Man,Photography,Travel | permalink | September 13, 2015 at 10:35 PM | Comments (0)
September 12, 2015
Bexar County, Texas
Bexar County, Texas, Sheriff Deputies are the latest LEOs to learn that video cameras are everywhere.
Filed under Public Safety | permalink | September 12, 2015 at 11:12 PM | Comments (0)
In Roselawn, Indiana
Real soft news parody of the way every other TV news program deals with nudist resorts. This one is Ponderosa Sun Club.
Filed under Naturism-Nudism | permalink | September 12, 2015 at 10:11 PM | Comments (0)
First Drone Video
No sooner do I complain, but here comes the first drone video. This one conformed to the new rules in Black Rock City, and you may notice the result is much less exciting than what we've seen in the past.

Filed under Burning Man,Photography | permalink | September 12, 2015 at 03:03 AM | Comments (0)
September 11, 2015
Burner Buddies Group Shot
Filed under Burning Man,Gay Issues,Naturism-Nudism,Photography | permalink | September 11, 2015 at 09:39 PM | Comments (0)
First Overblown Video
The first Burning Man videos out of the box are always the most overblown, so here we go, what you missed and never will see:
Lasers and drones were severely restricted this year. That is, no lasers. And drones were limited to a select 30 fliers. Who the 30 were and how they were selected seems to be secret. I've yet to see any drone video from this year's Burn.
Filed under Burning Man | permalink | September 11, 2015 at 09:38 AM | Comments (0)
Quizno's Burns The Man
BMOrg takes issue with a Burning Man parody ad for Quizno's and so it is rattling its lawyers. So here's the ad:
Filed under Burning Man,Food and Drink | permalink | September 11, 2015 at 03:03 AM | Comments (1)
September 9, 2015
Dust
Here's a video I shot from the back of my bike as I crossed the inner playa on Wednesday of Burning Man. This is at 4X speed. For much of it I could see only a very few feet ahead and had to stop completely once or twice when I was completely blinded. A camp playing loud music to my right helped me stay oriented. When you use audio orientation on the playa there is the risk that you're following an art car, not going to a stationary camp.
This was an extremely windy and dusty year. Far, far worse than any other year I've gone. I'm not even going to get into the cold temperatures here.
Filed under Burning Man,Cycling | permalink | September 9, 2015 at 06:22 PM | Comments (0)
September 6, 2015
Burning Man 2014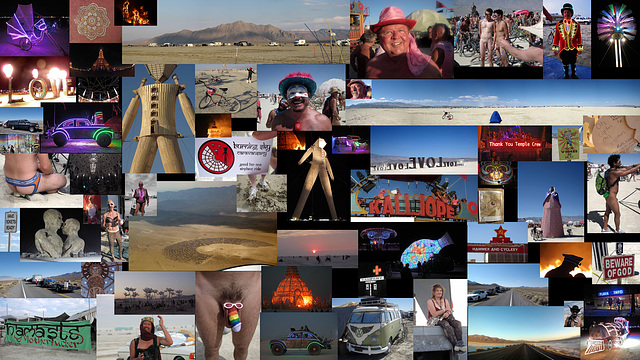 "8) Leaving No Trace: Our community respects the environment. We are committed to leaving no physical trace of our activities wherever we gather. We clean up after ourselves and endeavor, whenever possible, to leave such places in a better state than when we found them."
"9) Participation: Our community is committed to a radically participatory ethic. We believe that transformative change, whether in the individual or in society, can occur only through the medium of deeply personal participation. We achieve being through doing. Everyone is invited to work. Everyone is invited to play. We make the world real through actions that open the heart."
"10) Immediacy: Immediate experience is, in many ways, the most important touchstone of value in our culture. We seek to overcome barriers that stand between us and a recognition of our inner selves, the reality of those around us, participation in society, and contact with a natural world exceeding human powers. No idea can substitute for this experience."
Filed under Burning Man,Naturism-Nudism,Photography | permalink | September 6, 2015 at 09:30 AM | Comments (0)
September 5, 2015
Burning Man 2013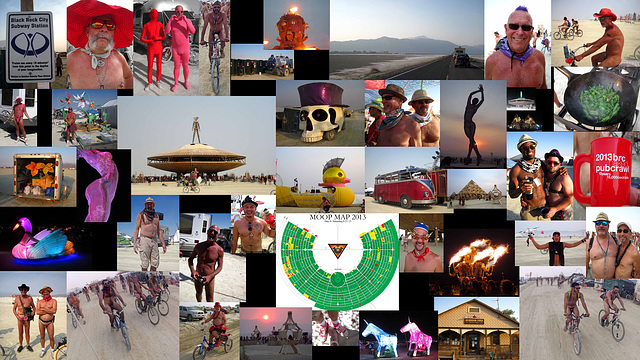 "7) Civic Responsibility: We value civil society. Community members who organize events should assume responsibility for public welfare and endeavor to communicate civic responsibilities to participants. They must also assume responsibility for conducting events in accordance with local, state, and federal laws."
Filed under Burning Man,Naturism-Nudism,Photography | permalink | September 5, 2015 at 06:00 AM | Comments (0)
September 4, 2015
Burning Man 2012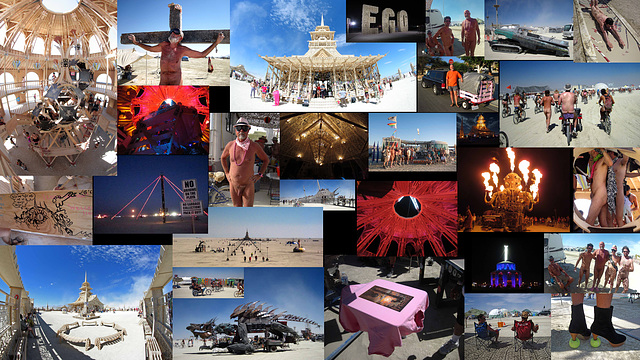 "6) Communal Effort: Our community values creative cooperation and collaboration. We strive to produce, promote, and protect social networks, public spaces, works of art, and methods of communication that support such interaction."
Filed under Burning Man,Naturism-Nudism,Photography | permalink | September 4, 2015 at 06:00 AM | Comments (0)
September 3, 2015
Burning Man 2011
"5) Radical Self-expression: Radical self-expression arises from the unique gifts of the individual. No one other than the individual or a collaborating group can determine its content. It is offered as a gift to others. In this spirit, the giver should respect the rights and liberties of the recipient."
Filed under Burning Man,Naturism-Nudism,Photography | permalink | September 3, 2015 at 06:00 AM | Comments (0)
September 2, 2015
Burning Man 2010
"4) Radical Self-reliance: Burning Man encourages the individual to discover, exercise, and rely on his or her inner resources."
Filed under Burning Man,Naturism-Nudism,Photography | permalink | September 2, 2015 at 06:00 AM | Comments (0)
September 1, 2015
Burning Man 2009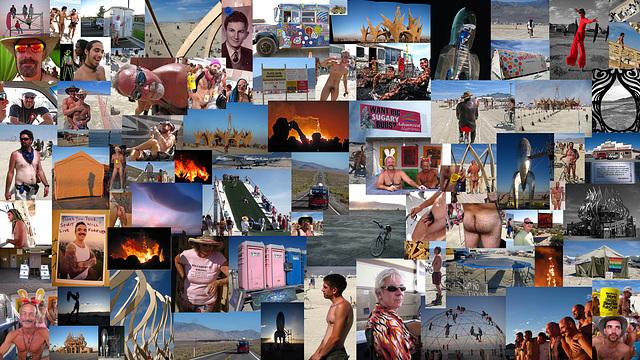 "3) Decommodification: In order to preserve the spirit of gifting, our community seeks to create social environments that are unmediated by commercial sponsorships, transactions, or advertising. We stand ready to protect our culture from such exploitation. We resist the substitution of consumption for participatory experience."
Filed under Burning Man,Naturism-Nudism,Photography | permalink | September 1, 2015 at 06:00 AM | Comments (0)