« June 2015 | Main | August 2015 »
July 22, 2015
DUI Checkpoint In DHS Friday Night
Desert Hot Springs Police Department will be conducting a DUI/Drivers License Checkpoint on July 24th, 2015, at an undisclosed location within the city limits between the hours of 8:00 p.m. to 3:00 a.m.

The deterrent effect of DUI checkpoints is a proven resource in reducing the number of persons killed and injured in alcohol or drug involved crashes. Research shows that crashes involving an impaired driver can be reduced by up to 20 percent when well-publicized DUI checkpoints and proactive DUI patrols are conducted routinely.

In California, this deadly crime led to 802 deaths in 2012 because someone failed to designate a sober driver. Nationally, the latest data shows nearly 10,000 were killed by an impaired driver.

Officers will be looking for signs of alcohol and/or drug impairment with officers checking drivers for proper licensing delaying motorists only momentarily. When possible, specially trained officers will be available to evaluate those suspected of drug-impaired driving. Recent statistics reveal that 30 percent of drivers in fatal crashes had one or more drugs in their systems. A study of active drivers showed more tested positive for drugs that may impair driving (14 percent) than did for alcohol (7.3 percent). Of the drugs, marijuana was most prevalent, at 7.4 percent, slightly more than alcohol. According to the National Highway Traffic Safety Administration (NHTSA), checkpoints have provided the most effective documented results of any of the DUI enforcement strategies, while also yielding considerable cost savings of $6 for every $1 spent. Nearly 90 percent of California drivers approve of DUI Checkpoints are placed in locations based on collision statistics and frequency of DUI arrests affording the greatest opportunity for achieving drunk and drugged driving deterrence. Locations are chosen with safety considerations for the officers and the public.

Drivers caught driving impaired can expect the impact of a DUI arrest to include jail time, fines, fees, DUI classes, other expenses that can exceed $10,000 not to mention the embarrassment when friends and family find out.

Funding for this checkpoint is provided to Desert Hot Springs Police Department by a grant from the California Office of Traffic Safety, through the National Highway Traffic Safety Administration, reminding everyone to report a drunk driver – Call 9-1-1.
Filed under Desert Hot Springs,Public Safety | permalink | July 22, 2015 at 12:44 PM | Comments (0)
Giant Interactive Tesla Coil - what could go wrong?
2000 amps, 700 volts. Worth a look to admire Mr. Baritone Beardman (AKA "Matt F.", I think).
Filed under Art,Burning Man,Music | permalink | July 22, 2015 at 11:30 AM | Comments (0)
There Must Be A Drought
For the first time since I began going to Burning Man in 2007 the price of ice has been nudged upward slightly. A single bag of ice remains at $3 which would be high in the default world, but I consider quite reasonable at Burning Man - they've got three semis of ice coming from Reno (or Fernley, who knows?) every day - somebody's gotta pay for that diesel. The bags of ice are delivered pre-wrapped in 6-packs and there has always been a little discount for buying a 6-pack, but not anymore. A 6-pack will cost $18, American.
Filed under Burning Man | permalink | July 22, 2015 at 11:20 AM | Comments (0)
"101 Lessons from the Playa"
All 101 "lessons" are accurate! I have never seen a list of anything that doesn't include some clinkers, but this one is right on. All the way from "1. You will cry. Everyone does. Its ok. Let it go," (so true) to "101. It really was better last year." One of the standard playa jokes, like "I heard it will be dusty this year."
Filed under Burning Man | permalink | July 22, 2015 at 11:10 AM | Comments (0)
Same Old Story, But Different
Same old story of rescued hikers, I mean, but the difference is that at least two of the three rescued hikers were suffering hypothermia - in July! That's new. The third hiker was also miserable because she was soaked, but they didn't call it hypothermia. She was hiking down the north side of Mt. San Jacinto, lost, assuming she would find a trail if she descended. The logic of a lost person. There's only one trail she could have found that way, and it's called route 111.
Filed under Coachella Valley | permalink | July 22, 2015 at 09:35 AM | Comments (0)
July 21, 2015
San Leandro, Kansas
A few people in San Leandro, California, have already started condemning the erection of the sculpture "Truth Is Beauty" in their fair city.
This person, Corey Anderson, started it by calling the sculpture "porn."
This is salacious and indecent at best, and is an insult to every moral person in our town. It draws my mind to places I would rather not go. Should we now put Playboy pictures, or worse, on our office halls and call that "art?" Is this not what some object to as a sexist message, and a 55-foot tall one at that?
Lisa Gaspari-Salmon and Brent Heath like it. Antoinette Troya does not like it and says the city should be ashamed, but she does have one question: "what color lights will be affixed to her nipples?" I suspect Ms. Troya will be out there the first night after the sculpture is dedicated to get an answer.
Gerry Isham doesn't think it's porn, but does think it's tacky. Cathy Costa likes it and applauds the Mayor and Council. Peter Ambrosia thinks it is inappropriate, but suggests pairing it with a statue of Arnold Schwarzenegger from his bodybuilding days.
News story here and here.
The sculpture has not yet been erected in San Leandro, so I hope the good art critics of that city know they still have options. There are lots of Burning Man art pieces sitting around in warehouses that could be substituted for "Truth Is Beauty." Oh yeah, plenty of art. Like this or maybe a larger version of this or, of course, this. Given the choice, I think San Leandrans would beg to have "Truth Is Beauty."
Filed under Art,Burning Man | permalink | July 21, 2015 at 02:11 PM | Comments (0)
Video Editing
So, there's this new app called Shred. Throw a video and some music at it and it will edit them down to something short and effective. So I threw about 1½ hours of video from Burning Man at it, plus The Trammps' "Disco Inferno" and this is what I got back:

Not great, but clearly more entertaining than my own edits.
Filed under Burning Man,GoPro,Photography,Technology | permalink | July 21, 2015 at 01:48 PM | Comments (1)
Pinto Basin Road Closed
The paved road, Pinto Basin Road, that goes from Joshua Tree's southern (I-10) entrance up to the higher, Mojave areas of the national park is closed. Also, there is a bee alert for the cholla cactus garden. They are out there sucking up water while they can.
As for I-10 itself, CalTrans is doing its best to confuse me. On their front page they say I-10 is closed in both directions and refer the reader to their Twitter feed for frequent updates. There the latest update is 5 hours old and says the highway is closed in both directions. But if I go to their QuickMap I see that it says only westbound lanes are closed. But if you click on the traffic cameras along I-10 all you'll see is an abandoned highway in the desert. I hope some film makers can take advantage of this rare opportunity for filming post-apocalypse stories.
Filed under California,Coachella Valley,Travel | permalink | July 21, 2015 at 11:41 AM | Comments (0)
"Can You Feel The Love Tonight"
An authorized, legal video of part of the Pride concert by San Francisco Gay Men's Chorus.

In addition, an album with two (or is it three?) of the pieces performed at the earlier spring concert is now available for purchase. #twitterlieder: 15 Tweets in 3 Acts and For a Look or a Touch (plus Epilogue: The Narrow Bridge From Tyler's Suite):
Filed under Gay Issues,Music | permalink | July 21, 2015 at 10:57 AM | Comments (0)
July 20, 2015
Best Temple Video Ever
This uses two Temples, 2013 and 2014. The pyramidal Temple is 2013; the more ornate Temple is another by David Best for 2014. This is as close as you're going to get to the Temple without playa dust in your teeth.

This year's Temple Of Promise is still a few thousand dollars short of its goal and is asking for donations.
Filed under Burning Man,Music,Photography | permalink | July 20, 2015 at 09:47 PM | Comments (0)
Desert Hot Springs PD
Here's a forum where an anonymous member of our police department tried to spread the word that our PD is hiring, but also tried to give the potential new officer a heads up:
For new academy grads looking for work and great experience, my department is hiring. The city of Desert Hot Springs is a small city in the Coachella Valley in Riverside County. It borders Palm Springs, Cathedral City, etc. It's no secret that the city is broke, full of crime, gangs, and dope. That is all well publicized. The pay is low, but the experience is outstanding. I came from a PD back east with 10+ years on the job and I've done more since I've been here than in my entire time as a cop back east. Even in patrol you'll be working homicides, sex crimes, and all the gangs, dope, and stolen cars you can handle. The benefits are ok, typical PERS retirement, etc. There is opportunity for advancement into special teams and promotion and plenty of OT. We have a new permanent chief and the city recently voted to keep the PD for at least the next 5 years after considering contracting with the Sheriff's department. The POA is currently in negotiations for a new contract with the city and we hope to have that resolved soon. We are a small city at 30,000 people, but don't let that fool you. This city is very high call volume and you WILL be busy.

Like I said, the money isn't great, but if you are a newly trained cop or looking to move to SoCal and are looking for a job, look into us. http://www.cityofdhs.org/Current_Openings

The guys are good, supervisors are very good, and the administration is very reasonable, and supportive of the team. We can only go up from where we are and we are looking for bodies.
Following that are a range of comments, some snarky. I don't think there's a guarantee that all of the commenters are in law enforcement themselves.
Filed under Desert Hot Springs,Public Safety | permalink | July 20, 2015 at 12:21 PM | Comments (1)
Harvey Milk Plaza

Video by Jeff Ford.
Filed under Gay Issues,Photography | permalink | July 20, 2015 at 11:54 AM | Comments (0)
Best GoPro Video Ever: "It's A Boy!"
GoPro justifies its existence. Nothing is going to top this for a long time.

Filed under GoPro,Photography | permalink | July 20, 2015 at 11:05 AM | Comments (0)
July 19, 2015
Stop The Presses!
(Some day we're going to have to explain to kids what "presses" were.)
Here it is! Incontrovertible proof of John Travolta's gayness:
He had lunch with a guy-pal at Melvyn's!
The two of them traveled in a Mercedes!
That's a smoking condom if I ever saw one. I'm lucky I don't have a Mercedes to drive around in myself, or people might think I'm gay. I had Easter dinner at Melvyn's with two guy-pals. Maybe I do three-ways.
Filed under Gay Issues | permalink | July 19, 2015 at 10:48 AM | Comments (0)
Interesting Road Rage Video
Oh, I hear what you're saying, "Aren't they all interesting?" But in this one we get to see the 51-year old, drunk perpetrator (in flip-flops!) attack the 24-year old motorcycle operator (who is wearing a GoPro, of course) and his girlfriend passenger. Pretty quickly we get to see the perps face go through some changes after he gets pinned to the pavement while the cops are called.

Filed under GoPro | permalink | July 19, 2015 at 10:38 AM | Comments (0)
July 18, 2015
Flag Lovers
Well, Confederate flag lovers celebrating their history and traditions (which somehow exclude people of color) in the best way they know how.

| permalink | July 18, 2015 at 08:50 PM | Comments (0)
Family Leadership Summit
At the meeting of the Family Leadership Summit in Iowa, Trump criticized McCain's war record because he became a POW! That is not the worse, because we already know Trump is a wackjob.
"'He's a war hero because he was captured. I like people who weren't captured,' he said, to a mix of laughs and jeers from the several hundred social conservatives gathered at the Family Leadership Summit." Trump's speech drew louder applause than Rick Perry's call on Trump to apologize.
This is, apparently, what it means to be a conservative in America: favor big government, favor more taxes, oppose individual liberty, and hate veterans. (And being a wackjob obviously doesn't hurt.)
"The purpose of The Family Leadership Summit is to inspire, motivate, and educate conservatives regarding worldview application and the most pressing issues facing America's families."
And why pick on McCain at all? He's not running, is he? Is Trump afraid he'll get McCain's endorsement?
| permalink | July 18, 2015 at 03:46 PM | Comments (0)
Genuine New News About The Benefits Of Legal Marijuana
RAND Corporation and UC-Irvine teamed up on a study that showed in the 18 states where medical marijuana dispensaries are legal, there has been "a 16% reduction in 'opioid-related mortality' and 28% reduction in opioid-abuse treatment admissions."
"Opioids" are those legal poisonous painkillers that doctors prescribe. In 2013 they killed 16,000 people, accounting for 60% of all overdose deaths.
In states where medical marijuana is legal, but dispensaries are not, the rates of opioid-related mortality and opioid-abuse treatment admissions did NOT drop
Filed under Desert Hot Springs,Health | permalink | July 18, 2015 at 01:17 PM | Comments (0)
July 17, 2015
Pink Party
The "Pink Party" takes place on Saturday afternoon and evening of Pride weekend. It replaces "Pink Saturday" which ran a little later in the day and was organized and paid for by the Sisters Of Perpetual Indulgence. They had been seeking a subsidy from the city, but never got it, so they pulled out. So, guess what, the city came in and funded this. I'm sure it makes sense in some San Francisco political way.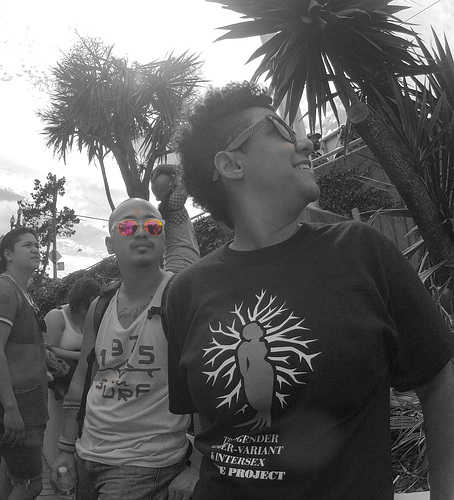 Some sort of trans flag was attached to the lower end of the pole that bears the rainbow flag in the Castro. People seemed excited that the police let them do it (why not?). And it's fair to note that whatever the design is, it's too complex for a flag. Never could quite see what it was.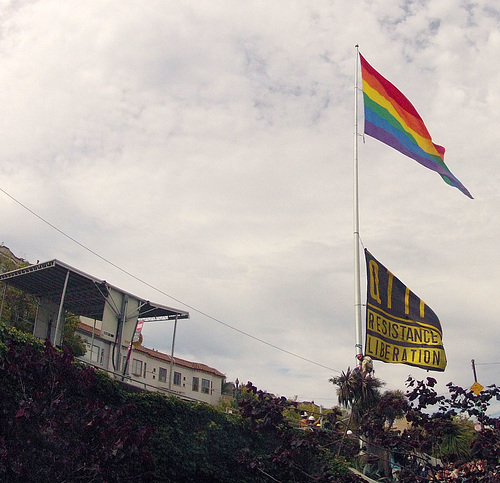 A little better here.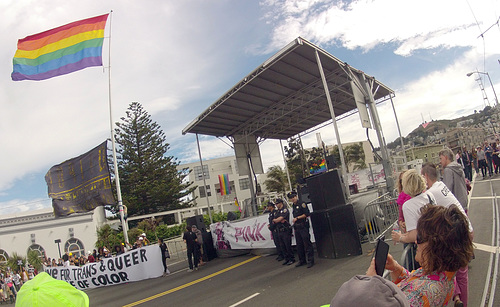 the dominant wind is from the west, so they should have known the one side of the flag they designed could be seen only by those people exiting the Muni.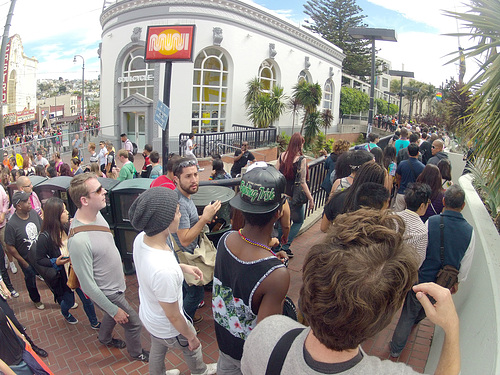 When you come up out of the Muni they can't just let you flow out onto Castro or the crowds would back up all the way down to the trains, so they route people about a block up Market Street before releasing them into the wild.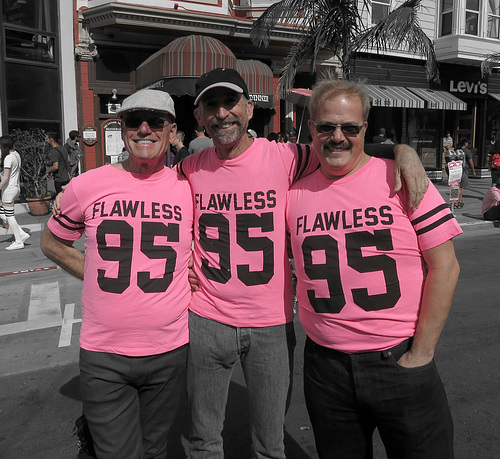 Ed, Jim and Brian from the Coachella Valley.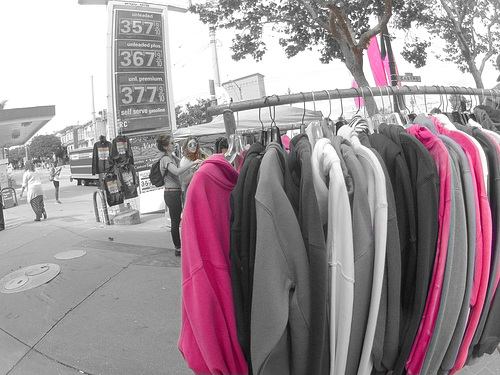 Those gas prices looked high two weeks ago.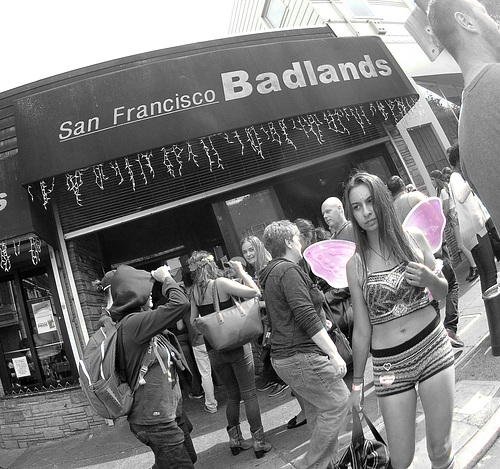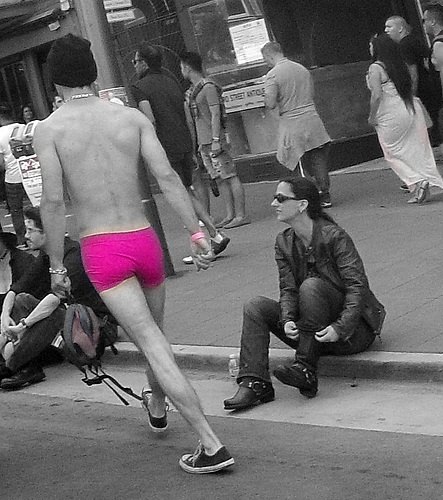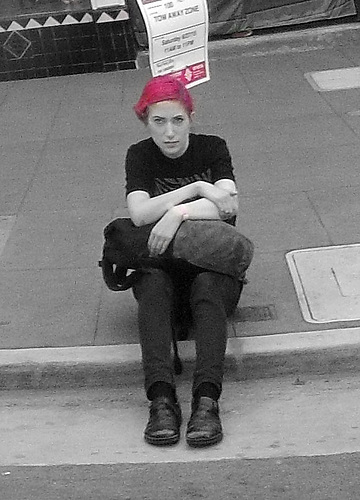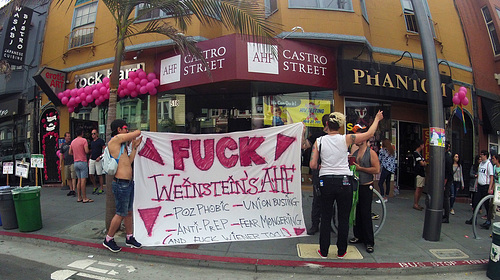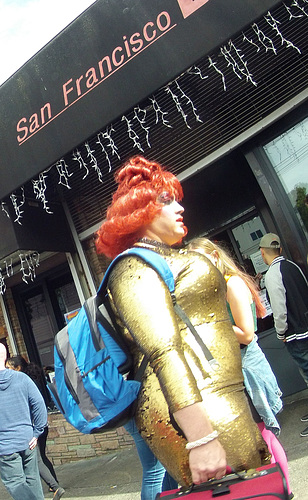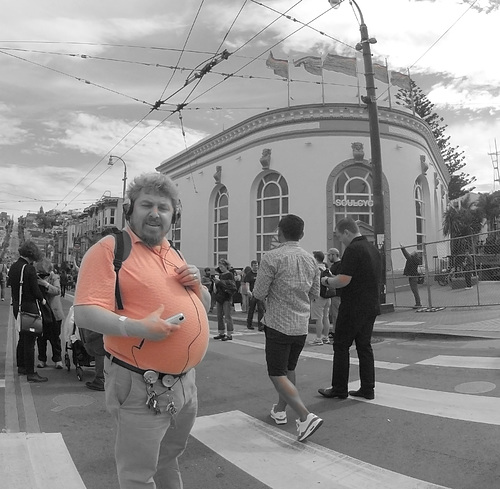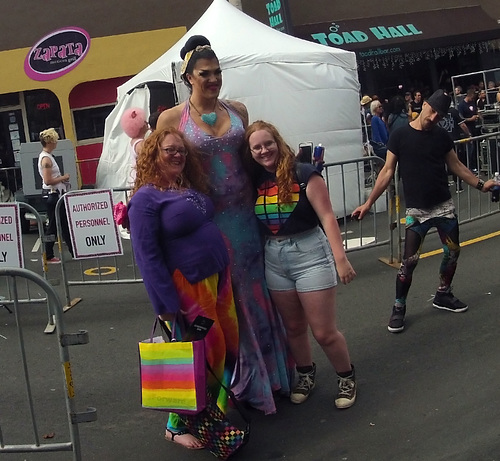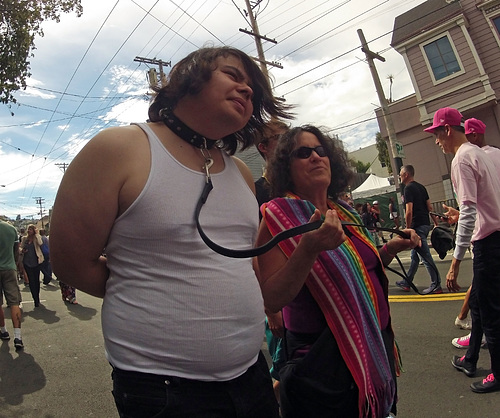 I know it looks like mother and son, but I'm not going there.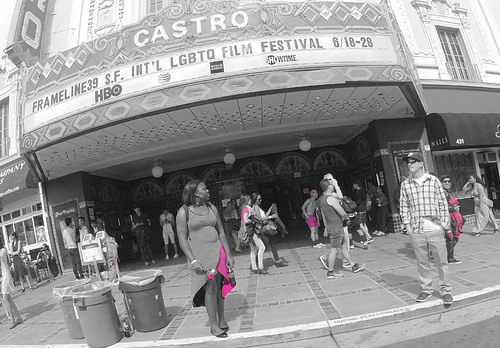 The complete set of my photos from the Pink Party can be seen here.
Filed under Gay Issues,Photography | permalink | July 17, 2015 at 07:18 PM | Comments (0)
MSWD Turf Rebate Winners
It was a best case scenario for Mission Springs Water District (MSWD) and residential customers who applied for the first-ever turf rebate program. Every qualified applicant received preliminary approval to receive funding.

MSWD proposed a "lottery-style" approach that was created to ensure that all MSWD customers would have an equal chance at receiving a rebate for replacing their lawn with water efficient desert landscaping. The District allocated $300,000 of its $500,000 Proposition 84 grant to residential projects. The remaining funds are set aside for non-residential projects and administrative costs for running the program. The funding was part of a $5.2 million grant distributed to the Coachella Valley Regional Water Management Group (CVRWMG) for the Coachella Valley Regional Turf Reduction Program.

143 residential applications were received by the deadline of July 13th at 5 p.m. Of those, 134 were preliminarily qualified (field verification is required), with the total rebate requests in at just shy of the $300,000 program budget. "We couldn't be happier and I'm sure our customers will be just as pleased" said Nancy Wright, President of the MSWD Board of Directors. The program will result in savings of over 5 million gallons of water per year.

John Soulliere, the Turf Rebate program manager, said that the next step is to notify the applicants, set up site visits to authenticate eligibility and get the projects under way to reduce water use on turf landscaping. MSWD is mandated to reduce consumption by 28% from 2013 consumption as part of the Governor's efforts to achieve a 25% state-wide reduction in response to the historic California drought.
Filed under California,Desert Hot Springs | permalink | July 17, 2015 at 04:14 PM | Comments (0)