« May 2015 | Main | July 2015 »
June 25, 2015
Pentagramal Spiral Stairway At Burning Man
The people who brought the Cradle of MIR to the playa in 2013 will be building what looks to be a fascinating structure of five intersecting stairways. Own Way:

Unfortunately the video suffers from unnecessarily loud music - or unnecessarily soft speakers.
Filed under Art,Burning Man | permalink | June 25, 2015 at 08:05 PM | Comments (0)
National Park Service Backs Away From Confederate Flag Sales
A press release today:
National Parks Pull Confederate Flag Sales Items

WASHINGTON – Confederate Battle Flag sales items are being removed from national park bookstores and gift shops.

"We strive to tell the complete story of America," National Park Service Director Jonathan B. J arvis said of the agency's reputation for telling difficult parts of our history. "All sales items in parks are evaluated based on educational value and their connection to the park. Any stand-alone depictions of Confederate flags have no place in park stores."

Jarvis said the murders of nine church members at Emanuel African Methodist Episcopal Church in Charleston, South Carolina, which is near Fort Sumter National Monument, galvanized a national discussion that includes symbols and relics from our nation's past such as the Confederate Battle Flag.

"As that discussion spread across the country," Jarvis said, "one of our largest cooperating associations, Eastern National, began to voluntarily remove from the park stores that it manages any items that depict a Confederate flag as its primary feature. I've asked other cooperating associations, partners and concession providers to withdraw from sale items that solely depict a Confederate flag."

In the telling of the historical story, Confederate flags have a place in books, exhibits, reenactments, and interpretive programs. Books, DVDs, and other educational and interpretive media where the Confederate flag image is depicted in its historical context may remain as sales items as long as the image cannot be physically detached. Confederate flags include the Stainless Banner, the Third National Confederate Flag, and the Confederate Battle Flag.

Jarvis said, "All superintendents and program managers will personally evaluate which sales items fit this description, have educational value, and are appropriate for the site."
Filed under History | permalink | June 25, 2015 at 09:09 AM | Comments (0)
June 23, 2015
Burning Man Events
Burning Man has launched the events pages that list the thousands of events that are, uh, listed. The great majority of "events" never get listed. The list is interactive for now, so camps can add more events. Keep coming back if your favorite freak is not represented.
I found two events that, I think, represent the opposite poles of art and fun on the playa:
The titles don't really tell you much.
Filed under Burning Man | permalink | June 23, 2015 at 09:57 PM | Comments (0)
June 22, 2015
Farm To Table
The Green Exchange has created an app called Loud Cannabis that allows marijuana farmers to market directly to consumers.
We're a bunch of farmers from the breadbasket of Cannabis in Northern California that are tired of the current distribution system, and the Green Exchange is our solution. One phase of The Green Exchange is our free farm-to-door app for Android called Loud Cannabis (mobile web, Android, and iOS coming soon), to help streamline retail distribution.
Filed under California,Marijuana | permalink | June 22, 2015 at 06:55 PM | Comments (0)
June 21, 2015
Vernon's Population To Double!
From 100 to 200 (plus or minus). 45 new privately owned apartments will open next month. Twelve units will be reserved for families who already work in Vernon. But the remaining apartments will allow 33 families from other less industrialized areas to enjoy industrial living to its fullest in lovely Vernon.
"'I love the quietness,' said Councilwoman Melissa Ybarra, who said Vernon has a peculiar, industrial charm for the few who have ever called it home."
California Senate President Pro Tem Kevin de León believes this may bring democracy to Vernon. His earlier proposal was simply to disband the city. Until now, the City of Vernon has owned all of the few housing units in the city. The city also owns the power company. Hard to establish residency without a physical home or electricity.
In 2006, a small group of people intent on forcing the first contested election in a generation moved into a boxy commercial building in the industrial town. Vernon utility trucks quickly arrived, and workers turned off the power and put red tags on the property.
Filed under California,Cities/Urbanism | permalink | June 21, 2015 at 03:15 PM | Comments (0)
June 19, 2015
In HD From The ISS
Like the title says. The Vimeo channel has selected three sample cities: Boston and a cuppla others. In Boston they focused on the neighborhood where I lived my first one or two years there. I was extremely lucky.

>
Filed under Photography | permalink | June 19, 2015 at 11:20 PM | Comments (0)
What's That You Say?
Show you another Burning Man video? You got it!

Filed under Burning Man | permalink | June 19, 2015 at 10:12 PM | Comments (0)
Balls Pyramid
Not a pyramid, actually, but what may be the strangest island anywhere on Earth does take balls [to visit]. Here it is wingsuited and GoProed.

Filed under GoPro,Photography | permalink | June 19, 2015 at 09:19 PM | Comments (1)
Lake Fire Smoke


I shot this from Two Bunch Palms Trail.
Filed under California,Coachella Valley,Desert Hot Springs,Photography | permalink | June 19, 2015 at 12:41 AM | Comments (1)
June 18, 2015
BELIEVE Sells For $70,000

BELIEVE by Laura Kimpton and Jeff Schomberg. Photo by Paul D Carey.
The City of Reno has purchased the 2013 Burning Man sculpture "Believe" for $70,000.
In June of next year, the city will permanently install the sculpture in City Plaza following the construction of the new Virginia Street bridge, which began earlier this month. The sculpture was placed at the same location in July 2014 to serve as the backdrop for filming of the American Idol summer bus tour.
Filed under Art,Burning Man | permalink | June 18, 2015 at 02:27 PM | Comments (2)
Lake Fire
There's a photo here that was taken this morning that shows a view of the smoke of the fire as seen from near Toro Peak, which is south of the fire.
Here's a webcam pointed at the fire.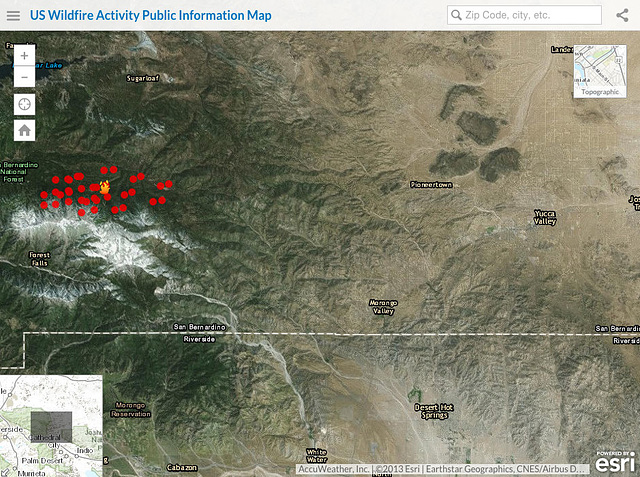 A map showing the location of the fire relative to Desert Hot Springs which is in the lower right of this map.
Filed under California,Coachella Valley,Desert Hot Springs | permalink | June 18, 2015 at 10:52 AM | Comments (4)
June 17, 2015
Close Counts In Horseshoes
The best part is when the driver disgustedly checks for chips in his paint.
| permalink | June 17, 2015 at 08:59 AM | Comments (0)
June 15, 2015
Desert Hot Springs to Palm Springs
At twilight, via Pierson to Indian. Shot with a Contour Roam, not a GoPro.

Filed under California,Coachella Valley,Desert Hot Springs,Photography | permalink | June 15, 2015 at 10:26 AM | Comments (0)
June 13, 2015
Santa Ana Police Eat Evidence On Camera
Even in sophisticated Santa Ana, the rank and file police have not gotten the word that cameras are everywhere, so they should stop behaving like street hoodlums - at least while in uniform. Actually, in this particular case, it wasn't that they forgot the cameras, it was that they were confident in their own perfect ability to detect and disable every single camera. Tripped up by potheads. The shame.
Filed under Marijuana,Photography,Public Safety | permalink | June 13, 2015 at 12:20 PM | Comments (0)
June 12, 2015
Riverside County Sheriff Says Yes To Cameras On Deputies
They will be mandatory throughout the patrol division. The individual deputies will have discretion on when to turn them on or off.
Sheriff Approves Body Worn Cameras (BWC)

Reporting Officer: Lieutenant David Teets

Details:

Sheriff Stan Sniff has approved the fielding of Body Worn Cameras throughout its patrol operations over the next few years, subject to county funding of the devices and storage.

The Riverside County Sheriff's Department has completed its field testing of Body Worn Cameras in its patrol operations. Earlier this year the Department began "voluntary" field testing of the VieVu model BWC at its Jurupa Valley Station, deploying over 150 BWCs throughout the station's patrol operations, including deputies, corporals, investigators, sergeants and community service officers (CSOs). The Sheriff had specified an initial test period of 60 to 90 days to determine what issues would arise in the Department's first large scale fielding of these devices, to work through any issues that did arise, and for end-users to provide feedback on both their utility and cost-effectiveness. In addition, the Department researched and absorbed "lessons learned" and best practices from other agencies fielding various varieties of BWC technology.

Although the Department was prepared to continue testing, if required, for another 60 to 90 days, input from the Jurupa Valley chain of command has indicated they have learned what we needed to know, and recommended transition from voluntary testing of these devices to mandatory Department-wide use. The manufacturer has worked closely with the Sheriff's Department in dealing with desired equipment modifications for problems encountered in the real-world testing and deployment of BWCs in our local patrol environment, under tactical conditions and used in our patrol vehicles. Our technology specialists have also been able to resolve issues concerning downloading and data storage to our satisfaction.

The Sheriff's Department has refined its BWC procedures during the Jurupa Valley Station testing period, and the Department-wide document will replace the separate patrol station SOPs that have evolved over the last several years for this emerging technology. The Sheriff's Department has notified County Human Resources that the decision on "mandatory" use in patrol operations has been made and the County remains open to meeting and conferring with the various labor groups on any foreseeable workplace impacts of that management decision.

The Jurupa Valley Station testing has validated that the known presence of BWCs has positively altered potential confrontations between deputies and the public, often gaining voluntary compliance by the public. Formal personnel complaints against our deputies at the Jurupa Valley Station during the testing period have declined 30%.

Based on the voluntary testing period input from the Jurupa Valley Station, the Sheriff has concurred that patrol deputies and other Department personnel utilizing BWCs shall continue to have discretion in deciding when to activate their cameras pursuant to the BWC policy guidance developed.

The Sheriff's Department deeply appreciates the leadership efforts of our Jurupa Valley Station in fielding this BWC technology, paving the way for its use throughout our patrol operations over the next few years. In the interim, the Sheriff will continue to allow personal BWCs for on-duty use until full deployment of county-owned BWCs is completed. After full deployment occurs within patrol operations, only county-owned BWCs will be used.

The Riverside County Sheriff's Department will continue testing the potential usage of BWC technology throughout its operations outside of its patrol divisions, including Corrections and Courts, but the challenges and required stakeholder input will be somewhat different than in patrol operations.

The Sheriff will seek funding from the Riverside County Board of Supervisors in Fiscal Year 15/16, for a phased acquisition, training, and fielding plan of BWCs, initially throughout its patrol operations, and ultimately across its other specialized jail and court areas after preliminary testing and needed guidance from our judicial officers has been completed.

In addition, the Sheriff's Department is submitting for the FY "2015 Body-Worn Camera Pilot Implementation Program" grant through the U.S. Department of Justice. If awarded, the grant will require a 50% in-kind match for the purchase of Body Worn Cameras, but excludes the cost of data storage. Ultimately, nearly 3,000 BWCs may someday be deployed throughout all of the Department's massive operations across Riverside County.
Filed under Photography,Public Safety | permalink | June 12, 2015 at 07:33 PM | Comments (0)
June 11, 2015
MMJ Dispensary Applicant Workshop
This morning, city staff held a workshop for the medical marijuana dispensary applicants that was intended to clarify the whole process and to answer the questions of those applicants. It was held in the Carl May and I attended. I've been to a lot of city council meetings and planning commission meetings where some small business person was at the podium seeking approval for their plans. And the people at this MMJ meeting didn't seem any different. Business people being different from government people, the process is always confusing. Want to get a permit to sell hard liquor? Confusing and non-business like. Want to open a medical marijuana dispensary? Same deal.
There was one applicant who insisted that the question about whether the applicant had been identified as a non-profit by IRS was a trick question, because the IRS can't do that. It's only a trick question if the applicant is either (A) lying, or (B) too dumb to understand the question. Whether the reason is A or B, I think an applicant who answered that question Yes should lose points. But, in fact, no one got points added or subtracted, no matter how the question was answered. IOW, it doesn't matter what anybody thought of the question, it didn't count for anything. So why are we still talking about it? I don't know. I'm not a business person.
Chief Kirkpatrick talked about safety and security and said that there have been no public safety problems with either dispensary yet. He also mentioned, off handedly, that the biggest proposed cultivation facility that he has reviewed the plans for yet would cover 10 acres. To give you a sense of scale, that is about 2.8 times bigger than our proposed Wal-Mart building. But no application has been filed yet, so it may never come to pass.
Dean Gray made a reappearance like a stubborn case of herpes. The police escorted him from the Carl May after he disrupted the meeting a few times, yelling questions at Attorney Quintanilla and Development Director Meyerhoff about that planning commission meeting this past January. This was not a Brown Act meeting, so no one on staff was obligated to let him talk or to answer his questions. After four or five outbursts, two of our finest politely showed him the door.
Filed under Desert Hot Springs,Marijuana | permalink | June 11, 2015 at 12:10 PM | Comments (1)
June 10, 2015
In McKinney
A former police officer and current law professor at the University of South Carolina discusses the two kinds of policing we have seen in the McKinney video. "The two officers in this brief video represent two different policing styles, two different mindsets that officers use as they interact with civilians: the Guardian and the Warrior." [The video] "shows us the avoidable results of an unnecessarily aggressive approach to policing. But in the same video, we can see a few seconds of policing the way the way it should be done."
It may just be a fluke of the universe, or maybe there's something in the water in McKinney, but just a few days earlier (June 4) this was the news story out of McKinney. Fifteen students came to school wearing t-shirts saying "Gay O.K." The school dress code forbids "clothing including tee shirts which displays sex, violence, drugs, tobacco, alcohol, death, gang or hate slogans or pictures." Two or three were sent home. The rest were told to cover up their t-shirts.
BUT (good news folks) the school board did NOT back the school administrators:
"We told the campus administration that they should not have asked the students to take off the shirts, or change shirts," Cody Cunningham, the chief spokesman for McKinney Independent School District, told BuzzFeed News. "We told them that students have every right to wear the shirts."
Filed under Gay Issues,Public Safety | permalink | June 10, 2015 at 10:02 PM | Comments (0)
Black Rock City 2015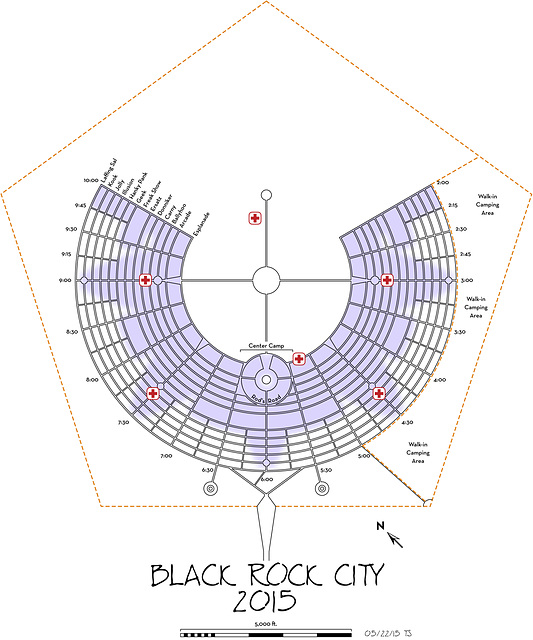 The theme this year is "Carnival of Mirrors." So the streets will be:
Arcade
Ballyhoo
Carny
Ersatz
Freak Show
Geek
Hanky Pank
Illusion
Jolly
Kook
Laffing Sal
The areas somewhat shaded in something purplish are the approximate areas where theme camps will be located. The white areas are the free areas. First come, first served.
Filed under Burning Man | permalink | June 10, 2015 at 09:32 PM | Comments (0)
June 8, 2015
John Waters at RISD
This year's commencement speech.

Filed under Film/Movies,Gay Issues | permalink | June 8, 2015 at 09:25 PM | Comments (0)
Who Wouldn't Want To Be On The CCAC?
You too can bask in the glory of being a Community and Cultural Affairs Commissioner. It's the only commission guaranteed only to talk about nice things. They have a vacancy, so if you are a registered voter in Desert Hot Springs, you qualify! Get this PDF, fill it out, get it to the City Clerk. I believe it is Scott Matas who will be nominating the next commissioner for this seat, so it would probably help if you have spoken to him at some time. But I don't think that's an absolute requirement.
New rule: now that it's June, no Commissioners will be allowed to resign, get sick, move out of town, or discontinue their service in any way. At least until January. The police have got some old handcuffs we can use to enforce this. This is MY rule, in case anybody asks.
Filed under Desert Hot Springs | permalink | June 8, 2015 at 09:06 PM | Comments (1)