« May 2015 | Main | July 2015 »
June 30, 2015
U.S. Has The 2nd Largest Population Of Native Spanish Speakers In The World
52.6 million, they say, while Spain has only 46 million. Mexico takes the top spot with 121 million. The U.S. Census estimates that the U.S. will surpass Mexico by 2050, when they expect the number of native Spanish speakers in the U.S. to have become 138 million.
Filed under English | permalink | June 30, 2015 at 09:56 PM | Comments (0)
Why Did The SFGMC Cross The Street?
The answer is there is inadequate (like nearly none, I am told) backstage area at Nourse Hall because it was originally a high school auditorium, so the chorus does its dressing across the street in Davies Symphony Hall. Then, a few minutes before the performance, they cross the street. Since one is not permitted to video their performances, this is a rare opportunity to video most of the members of the chorus while they are in performance dress.

Jeff shows up at the 1:00 mark, but you'll have to pick him out on your own. That's Vicente who comes up to give me a hug at 1:40.
Filed under Gay Issues,Music | permalink | June 30, 2015 at 09:40 PM | Comments (0)
New Property Of Graphene Discovered
Shine a laser or just strong light on it, and it moves. Researchers don't yet know how that works, but think it's possible the laser builds up an electron charge on the graphene until the electrons are released in one direction. They also don't know why the electrons would be released that way, rather than randomly. But even without knowing why, one can see that this could be a pretty fabulous technology to build fuel-less spacecraft able to travel forever.
Filed under Technology | permalink | June 30, 2015 at 07:25 PM | Comments (0)
Putting Siri To Shame
That's what Soundhound's voice recognition software can do (maybe). It's currently available only in beta, only for Android. Watch this video to see how quickly it responds to complex, but challenging questions:

Filed under Technology | permalink | June 30, 2015 at 07:17 PM | Comments (0)
Artificial Spider Silk
Bolt Threads has the process and $40 million to make it commercially. Fabrics made from the artificial silk should hit the market in 2016.
Filed under Technology | permalink | June 30, 2015 at 07:11 PM | Comments (0)
Meanwhile, On The Other Side Of Market Street
I turned away from videoing the trans parade, and what do I see but Critical Mass coming from the other direction. This effectively shut down Market Street completely for a little while.

Filed under Cities/Urbanism,Cycling | permalink | June 30, 2015 at 05:45 PM | Comments (0)
Trans Parade
In most big cities pride parades are organized for communities that are within the greater community that is represented in the one big Pride parade. Leather, people of color, lesbian, and trans are some that come to mind. Last Friday, after leaving the marriage rights celebration in the Castro, I was riding an F train inbound until it encountered the Trans Pride parade at Dolores Street. There was no way to keep the parade from spilling onto the trolley tracks, so that became the end of the line. This meant I got to walk along with the parade for awhile, until I got up to the front and shot this little video.

Filed under Gay Issues | permalink | June 30, 2015 at 02:32 PM | Comments (0)
Marriage Rights Celebration Interpretive Dance
Or something like that. Here's a video of a dancer giving an interpretation of the Supreme Court decision on marriage rights at the celebration in the Castro this past Friday evening.

The celebration was still being set up, so there was plenty of room for this dance. You saw that the dance started right at 18th and Castro, but after being upstaged by two mere men who merely got married, the dance was moved a half block to the center of Castro Street.
Filed under Art,Gay Issues | permalink | June 30, 2015 at 02:09 PM | Comments (0)
June 27, 2015
Pink Party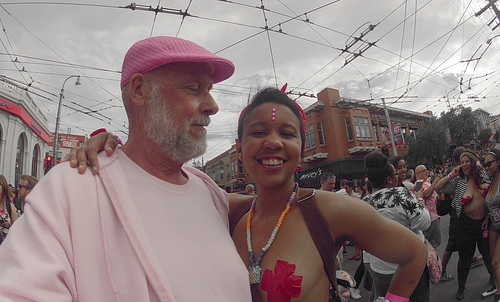 I have had a number of people come up and ask about my GoPro, saying they had never seen or heard of such a thing - and all of them have been women, like this young lady.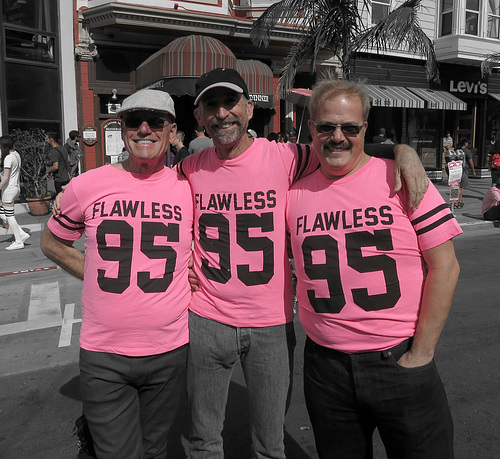 Look at these flawless Palm Springs boys I found at the Pink Party. They got the shirts and matching real Converse sneakers in correct sizes! At Ross. This morning.
Filed under Gay Issues,GoPro,Photography | permalink | June 27, 2015 at 06:40 PM | Comments (0)
Marriage Equality Celebration in the Castro
I got there early yesterday as they were setting up and I stuck around for only about the first half hour of the actual celebration. It was cold and windy and the sun was about to set. But I got some photos.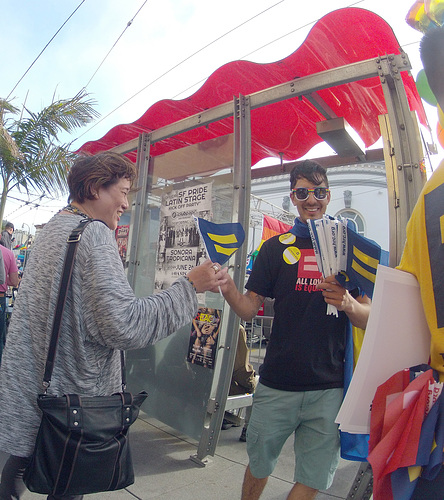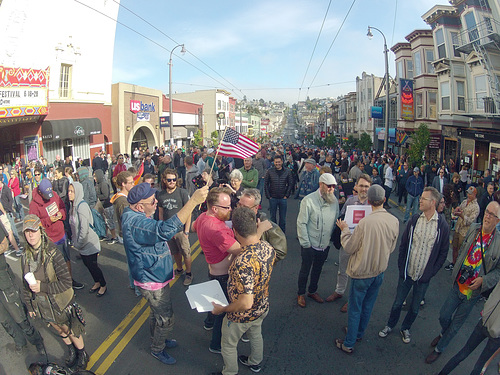 Filed under Gay Issues,Photography | permalink | June 27, 2015 at 02:54 PM | Comments (0)