« April 2015 | Main | June 2015 »
May 15, 2015
NYC Music Map
TouchTunes released data from their e-jukeboxes in New York City and the Wall Street Journal mapped it by zip code. Zoom out on that map to see the entire city. The Rolling Stones, Romeo Santos, and Vicente Fernandez are the big ones. Take a look at Staten Island. It's got the only zip codes that prefer Billy Joel, Led Zeppelin, Eminem and the Zac Brown Band. Two zip codes on the north shore of Queens are the only two for Metallica. There's one Beatles zip code along the East River in Queens. One for Marvin Gaye in Harlem. And one for Johnny Cash at the northern extreme of The Bronx.
Filed under Music | permalink | May 15, 2015 at 06:57 PM | Comments (1)
Consent Made Very Clear
| permalink | May 15, 2015 at 05:21 PM | Comments (0)
Fundraiser For The Temple Of Promise
Filed under Burning Man,Religion | permalink | May 15, 2015 at 05:16 PM | Comments (0)
May 13, 2015
DHS Planning Commission - May 12, 2015: A Tale Of Two CUPs
Commissioner Romero was absent (excused) from this night's meeting.
The agenda for this night's Planning Commission was, basically, only two items, both public hearings, both on the subject of revocation of conditional use permits. I cannot recall the Planning Commission revoking a CUP in the few years I've been attending the meetings, but it is possible I missed or forgot something.
The two projects up for review were
The motel on the northwest corner of Palm and Ironwood that has been sitting half-redone for several years; and
The Hyundae Hotel

Oath Of Office
But first was the swearing in of the newest Commissioner, Paul Duffle, who was appointed by Mayor Pro Tem Betts a week earlier. You can read his application form here if you want to know his background.

Motel At Ironwood, 13475 Palm Drive
There are a number of ways a CUP can become revocable. One of the more obvious ones is failure to comply with the CUP; and that's what has happened with this motel project. The staff report specifies the long, long list of items in the CUP that the project has not conformed to. Too long a list for me to transcribe for you. Also, if no work is done on a project for two years, the CUP becomes null and void. That's true for this project as well. When the CUP is revocable, it's not staff's decision to either extend it or terminate it immediately. That can only be done by the Planning Commission.
The CUP for this project was approved by the Planning Commission in 2009. A building permit was issued in 2010. Pursuant to that permit, inspections were done on the work three times in May 2010, but the developer never requested a final inspection and the permit expired in April 2011.
But, there are new owners. The owners' representative pointed out that they are all female and members of a minority. I don't think the Commission can award bonus points for stuff like that. They own properties in both China and California.
The new owner took possession in July 2014 and applied for a building permit in January 2015 and has submitted plans to the Building Division which is currently reviewing them. But nothing can proceed without a CUP in place. The Planning Commission could revoke the CUP, which would require the new owner to go right back to square one and start the whole process for the CUP and other entitlements all over again. This would be an expense for the property owner and would mean a delay in the construction and opening of the motel.
The owner's representative was Mr. Li. I didn't quite catch the first name, but it could have been "Tommy" or something else. He promised that if the CUP were not revoked, work would begin immediately. He said he thought they could correct the most severe deficiencies in one month. Construction should be completed in 3 months. They aim for a September opening.
Commissioner Voss moved to NOT revoke the CUP and to continue the public hearing in order to have the project come back to the Planning Commission for review at their June and August meetings - I hope the Planning Commission remembers this and doesn't go dark in August.
I've heard any number of developers promise the Planning Commission that work would begin "tomorrow" and would proceed at a speed that would put a WW2 aircraft factory to shame. As far as I can recall, all of those promises were broken. The difference in this case is that the Commission itself will review progress while holding the big hammer. They can still revoke the CUP.
Approved 4-0.

Hotel Hyundae, 11000 Palm Drive
This chronic problem again. When last we heard, in 2013 the Planning Commission had approved a phasing plan that staff negotiated with the owner that would allow him to rent rooms to guests while improvements were underway so he would have some income and the city would get some TOT.
The CUP was approved in September 2013. The owner has been cited for numerous health and safety code violations since then, none of which have been corrected. If you want to read the complete list of problems, here's the staff report. It's a much longer list than the little motel dealt with earlier. The owner is not in compliance. Period.
They were given four phases to complete exterior repairs. Interior improvements got three phases.
The fire department has cited several violations at the hotel. Here's a copy of their most recent (March 2015) write up of fire safety issues at the hotel: riser/sprinkler certification; fire alarm maintenance; height of fire extinguisher mounts; curtains not approved by the State Fire Marshall (if I understand "Stage curtains/decorative materials SFM tagged" correctly); no fire and evacuation safety plan; one broken exit light; have not maintained fire rated construction in the basement; have not abated electrical hazards; have not provided adequate working space in front of electrical service equipment; pressurized gas cylinders not properly secured; and material safety data sheets not on premises. The fire department also ordered that there be no cooking on the stove in the kitchen due to outdated and missing fire suppression equipment there. This is an active hotel with paying guests in the rooms.
Commissioner Voss asked if nothing had been done (under permit) since September 2013. Community Development Director Alex Meyerhoff affirmed that was correct.
One of the requirements for this project was that they work out a written reciprocal parking agreement with the church on the adjacent parcel. They did arrive at such an agreement, but when they submitted it to the county for recordation, the county rejected it. The developer has not followed up on that. Chair Sobotta said a reciprocal parking agreement was recorded in 1999.
Charles and James Yeh came to the podium. Charles Yeh is the owner and developer who we've seen at previous meetings. James is his son who has just completed medical school. James Yeh said nothing has been done for so long because of language and cultural barriers. Mr. Yeh is Korean. Also, Charles Yeh had retained an architect who did not speak English very well. James said that Charles and his architect "in their Korean frame of mind" considered that the elements of the approved CUP were "negotiable." James came to the project only 3 or 4 weeks ago when they got the notice of hearing. That was when James learned that the project was in "dire straits."
James said that problem with the reciprocal parking agreement was due to a problem between Charles and his attorney. The attorney suggested an amendment to the easement. The county rejected it because certain clauses were missing from the agreement. They are willing to work on a reciprocal parking agreement.
Also "another curiosity of Korean culture" (as James described it) is that things were done without a building permit "because we don't do things in that manner." "That manner" meaning getting and conforming to building permits, I guess. James said he understands that in American culture it is necessary to get building permits, go through plan check, and get a final inspection. He said improvements have been made without building permits and he would like the Planning Commission to visit and see how they've improved the place. He said he truly believes it's a property to be proud of.
Attorney Quintanilla explained that the law in America is that you follow the rules and procedures. It's not a matter of culture, he said. "Absolutely, absolutely," Mr. Yeh responded. Mr. Quintanilla went on to say that everyone is presumed to know the law. Also, he has an attorney on staff who speaks fluent Korean and he offered to bring him in to make sure nothing is lost in translation.
Senior Planner Rich Malacoff said he has had significant conversations with James Yeh in the past month and they have been communicating successfully.
Chair Sobotta said the law required their architect to be certified in California and to have an understanding of the laws of California and the local jurisdictions. He went on to say that he was surprised that a certified architect didn't know the most rudimental, fundamental, basic facts about the law. "How did he get licensed, if he wasn't aware of this," Mr. Sobotta asked rhetorically.
Commissioner Terifaj said she was most concerned that the spa facility, restaurant and bar/lounge are "substandard and unsanitary" (according to the report in the agenda packet). The hotel has been cited for numerous health and safety violations. She asked Charles Yeh to verify that he was, indeed, open for business with paying guests staying there. Charles said the hotel does not use the kitchen or bar. James said the spa facilities are also off limits to their guests. He said they are looking for someone to sublet those parts of the hotel, fix them up and run them. He said several parties have shown interest, but when they are asked to sign an agreement "they get scared and back off."
Ms. Terifaj said "Your place is a fire hazard."
"Right," James Yeh responded. He said he got that report from the fire inspectors on March 31 and since then they have hired a new fire contractor to bring the hotel into compliance.
Commissioner Voss said he was very surprised the place hadn't already been shut down.
Charles Yeh said nothing is dangerous now. James Yeh asked for additional time to come into compliance. The bar and restaurant were supposed to be completed in the first phase of work. He said he didn't think there would be any more misunderstandings.
Chair Sobotta asked what sort of assurance the Yehs could offer the city that things would be done according to rules and regulations henceforth. James answered that his presence on the job now was their assurance. [A med school graduate who claimed no prior experience in resort development.]
The representatives of the fire department were invited to come to the podium. They were Steven Otero, Fire Safety Specialist for Desert Hot Springs and Jason Stubble, Assistant Fire Marshal who supervises Mr. Otero. Chief Tomlinson asked Mr. Otero to visit the Hyundae Hotel based on a complaint from a guest. He did the annual fire inspection while he was there. The three violations he considered the most serious were...
The failure to maintain the fire alarms. They must be certified and maintained by a C10 contractor. There was no documentation to show that was done.
One burned out exit sign.
The hood suppression system in the kitchen. Besides removing grease-laden vapors from the kitchen, the hoods are also supposed to include a fire suppression system with a wet chemical agent. The hotel has two hoods. One hood had no suppression system. The other had a very old suppression system that was not up to code. Even though the kitchen is supposedly closed, the hotel allows guests to use the stoves to cook their own food! The inadequacy of the hood system was noted in April 2013 and the owner was notified at that time. Mr. Otero red-tagged the hoods so that if it is discovered that anyone continues to use the stoves, the fire department will be able to shut down the entire hotel.
Mr. Otero has been back twice since the March 31 notice. None of the violations have been corrected. He said it has been difficult to communicate with the people on site.
The guest complaint came by email with photos that showed smoke detectors had been removed or were nonfunctional. Mr. Otero did not observe that when he inspected, but he did not go into every hotel room. He does spot checks. But the annual fire alarm certification (which the Yehs are supposed to get too) includes inspecting every room for smoke detectors.
Attorney Quintanilla said he could not believe the hotel could be insured in its current state and that if there is a fire with deaths, suits will be filed against the city.
In answer to a question from Chair Sobotta, James Yeh said that 86 of the 97 rooms were being rented out.
Commissioner Voss said that in addition to the known health and safety violations, the Commission didn't know if any of the guest rooms were up to code. He said this is an "utter mess" and they should start over from scratch. He moved to adopt staff's recommendation to revoke the CUP. Commissioner Terifaj asked for clarification that revoking the CUP would shut down the business. Attorney Quintanilla said it would. He also said that the city code allows the Planning Commission to require performance security - bonds that would assure the developer does the work he's supposed to do.
Mr. Meyerhoff said that if the Commission revoked the CUP, the applicant could appeal it to the City Council. The approval process would have to restart at the very beginning.
Commissioner Terifaj seconded Mr. Voss's motion to revoke. Approved 4-0.

Reports
Commissioner Terifaj asked Mr. Meyerhoff how the city will put the hotel out of business until they fix the problems. Attorney Quintanilla answered "If they don't shut down immediately - like now - we can get a court order to get them shut down." He said staff will follow up on it and they can be in court by Friday, if necessary. The court order will allow the city to chain the doors.
Mr. Meyerhoff said that temporary permits have been issued for a construction trailer and electricity at the site of the future Pierson Professional Plaza. Yes, finally, some actual work seems to be imminent.
There is no new information about Walmart.
Filed under Desert Hot Springs | permalink | May 13, 2015 at 06:56 PM | Comments (0)
And Now They Were Three
It's another semi-autonomous drone that can follow and video you. Yes YOU! You are so special!
This one is the Lily and my first impressions are (1) it's the cheapest right now ($519 pre-order - they say the full price will be $999); and (2) the launching. Just throw this thing in the air and it figures it all out and starts up and flies...the way your falcon does when you're out falconing.
Hold on, let me point out unique feature #3: the water launch! Watch for it in the video below.


The rest of the market (AFAIK) consists of two other semi-autonomous drones:
The HEXO+ which is $1,300 and you have to add your own GoPro to that. The Lily has its own camera.
And the IRIS+ (everybody likes names that are all caps with a plus sign on the end, I guess). The IRIS+ is only $750 right now and you have to add your own GoPro, BUT in addition to following you, you can give it a route to follow which might be more useful if your desire to make an interesting video is a little bigger than your desire to get videos of yourself. Of these three, it seems only the IRIS+ can do videos of scenes that don't have you standing in them.
With the HEXO+ you can pre-program your camera shots to make it a more interesting video, but it doesn't have the ability to follow a pre-assigned route. It just follows you.
Filed under Photography | permalink | May 13, 2015 at 12:03 PM | Comments (1)
May 9, 2015
At Skull Rock
Consideration is being given to building a new trail at Skull Rock in Joshua Tree National Park. The trail would be 0.6 miles long and here is the 35-page environmental assessment.
This environmental assessment will be on public review for 30 days.

Hard copies of this assessment will be available for review at San Bernardino County libraries in the Morongo Basin, the Twentynine Palms Branch, the Joshua Tree Branch, and the Yucca Valley Branch, and at Park Headquarters, at 74485 National Park Drive in Twentynine Palms.
Filed under California | permalink | May 9, 2015 at 11:00 AM | Comments (0)
May 8, 2015
Bliss Dance Leaving Treasure Island

Bliss Dance tonight. Despite attempts to weatherize her, Bliss Dance is not dealing well with the salt air, so she will be removed from Treasure Island this month.
Photo by Jeff Ford.
Filed under Art,Burning Man | permalink | May 8, 2015 at 11:20 PM | Comments (0)
May 7, 2015
Antarctica
It must be a trend. We've got two videos shot along the rugged shoreline of Antarctica using drones. And why not? If you're going to the expense and effort to travel there, you are going to want to be able to impress the hell out of those you left back home.
This first one was shot with a GoPro Hero3+ Black mounted on a DJI Phantom 2:


The second one was shot with the new DJI Inspire 1 which possesses its own camera:

Filed under GoPro,Photography,Travel | permalink | May 7, 2015 at 09:14 PM | Comments (0)
See The Temple Burn
At George Mason University, that is. A handbuilt 20-foot tall pagoda will be burned at 8:30 PM tomorrow night on Mason Pond.
Facebook for the burning of the temple.
I haven't read everything, but so far the lack of any clear reference to Burning Man is interesting.
Filed under Art,Burning Man | permalink | May 7, 2015 at 04:03 PM | Comments (0)
May 5, 2015
Huntington Gardens
This past weekend I paid my first visit to "The Huntington Library, Art Collections, and Botanical Gardens", AKA Huntington Gardens in San Marino.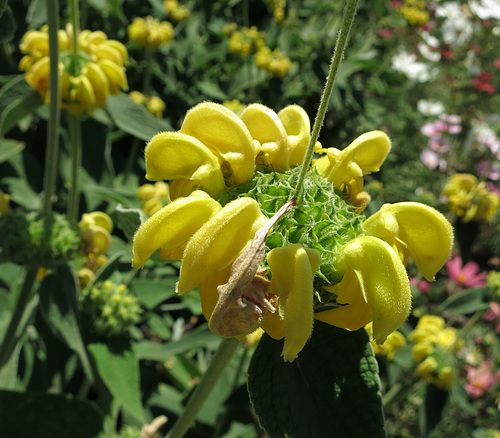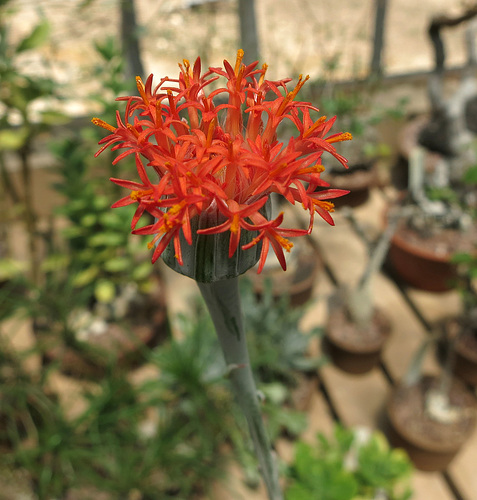 A strangely leafless bougainvillea.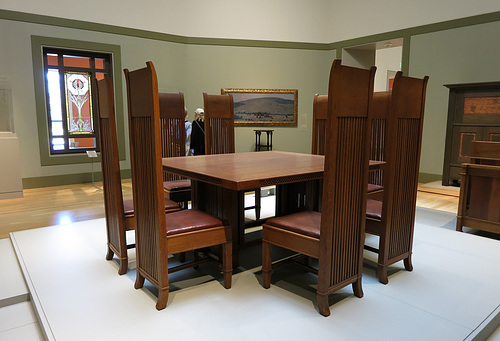 Their one bit of Frank Lloyd Wright.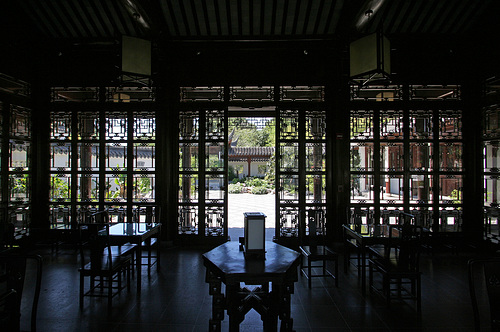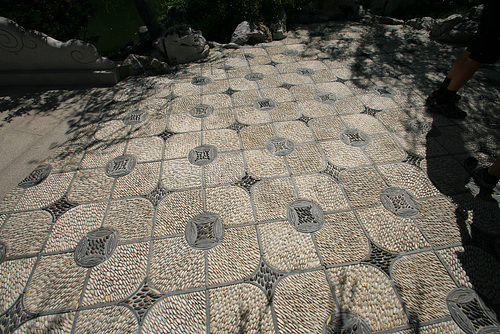 Even the walkways are impressive!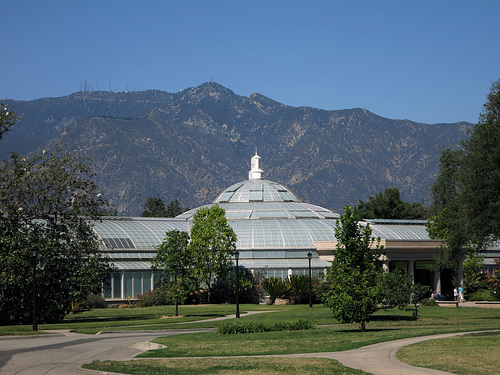 Mt. Wilson in the background.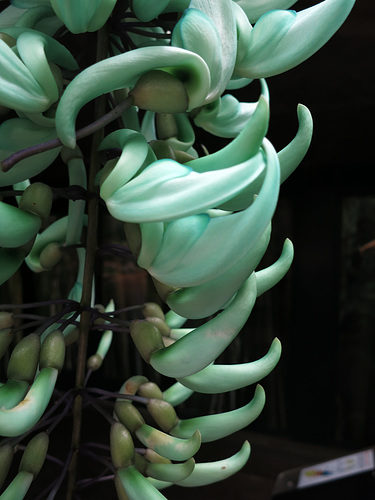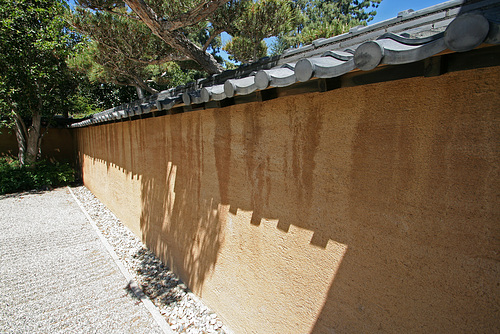 A wall in the Zen garden.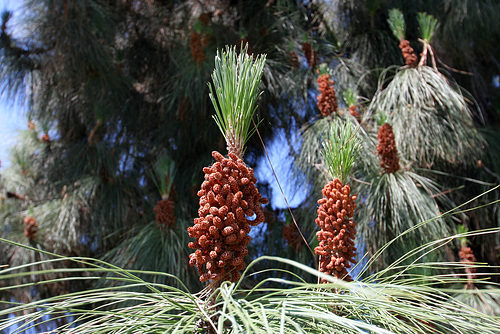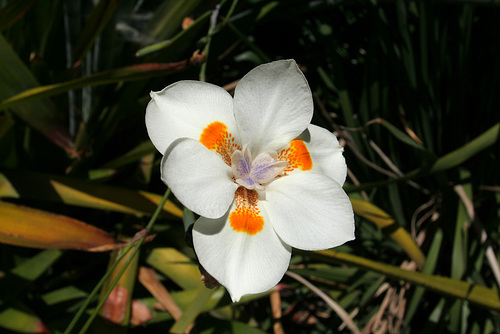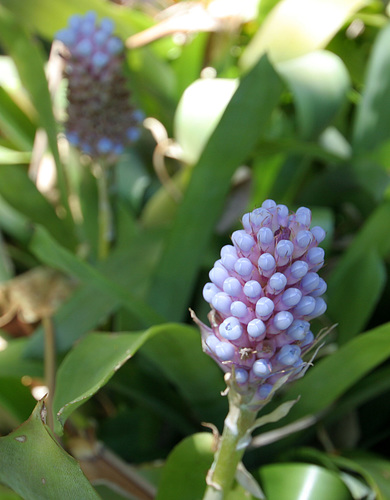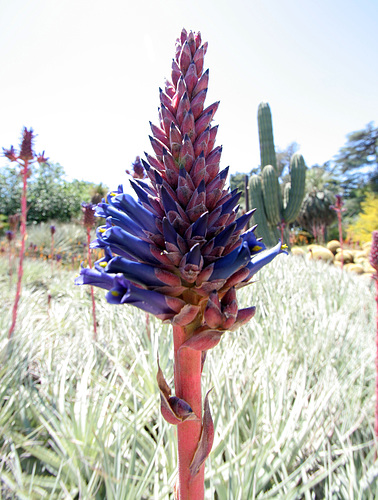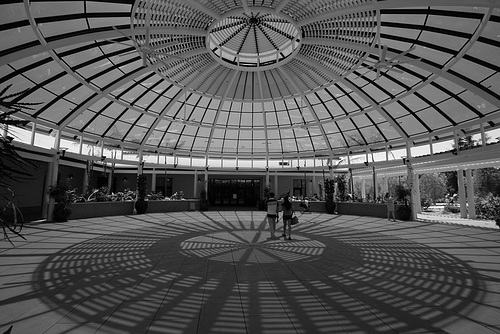 This is what my shade structure at Burning Man is going to look like this year.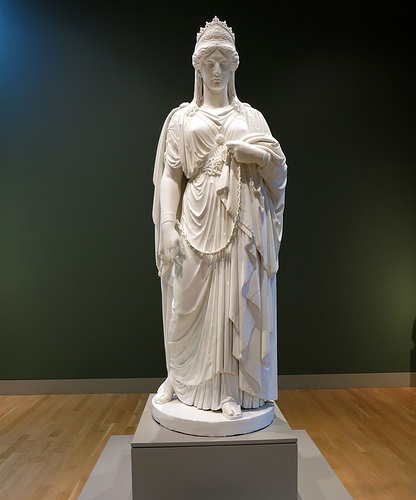 Zenobia In Chains by Harriet Hosmer.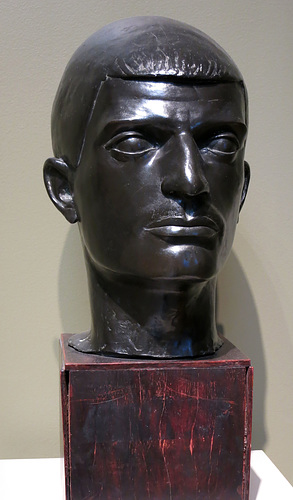 The Bomb Thrower by Maurice Sterne.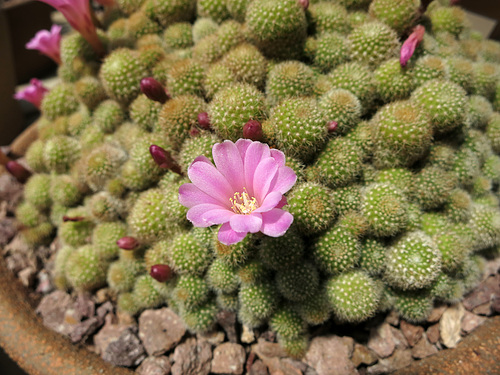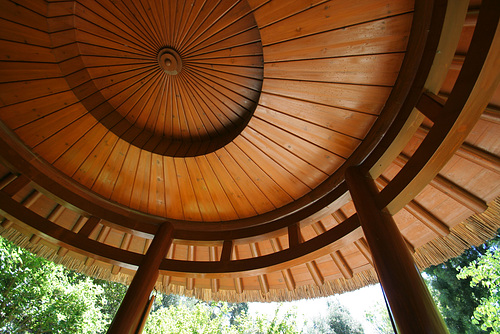 The ceiling of the "Pavilion For Washing Away Thoughts." I'm sure there must be a corresponding brainwashing pavilion somewhere else. Maybe in the North Korean gardens.
The complete set of photos is here.
Filed under Art,Photography | permalink | May 5, 2015 at 11:31 AM | Comments (2)
Aerial View Of Mission Creek Fault

Another aerial photo of Desert Hot Springs by Michael Rymer, facing southeast. The Mission Creek fault can be seen cutting across from about 10:00 to 4:00. Where it intersects the right edge of the photo, that green area is Two Bunch Palms Resort. The large, green mobile home community in the right half of the photo is Hidden Springs on Bubbling Wells Road.
The sharp-eyed observer will have already noticed that the Banning branch of the San Andreas fault is also visible in this photo, further in the background.
Filed under California,Coachella Valley,Desert Hot Springs,Photography | permalink | May 5, 2015 at 10:45 AM | Comments (0)
May 4, 2015
Watts Towers
Built over the period of 1921 to 1954 by Italian immigrant Simon Rodia. In 1959...
The Committee [for Simon Rodia's Towers in Watts] negotiated with the city to allow for an engineering test to establish the safety of the structures and avoid demolition of the structures.

The test took place on October 10, 1959. For the test, steel cable was attached to each Tower and a crane was used to exert lateral force all connected to a 'load-force' meter. The crane was unable to topple or even shift the Towers with the forces applied, and the test was concluded when the crane experienced mechanical failure. Bud Goldstone and Edward Farrell were the engineer and architect leading the team. The stress test registered 10,000 lbs. The Towers are anchored less than 2 feet (0.61 m) in the ground, and have been highlighted in Architectural textbooks, and have changed the way some structures are designed for stability and endurance.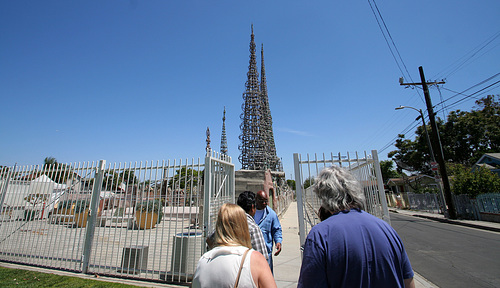 The tour commences. $7, IIRC.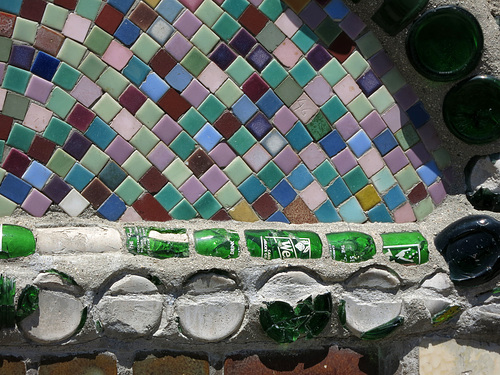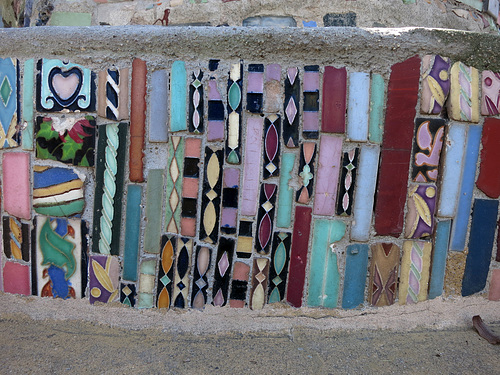 They're down a dead end residential street that has parking only on one side (despite what you may see here). You drive to the end of 107th Street, turn around, and parallel park. There is a small parking lot if you proceed north of 107th on Graham.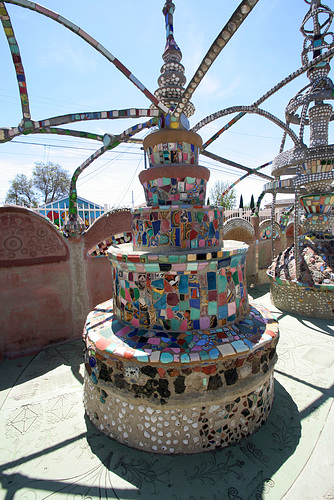 The wedding cake.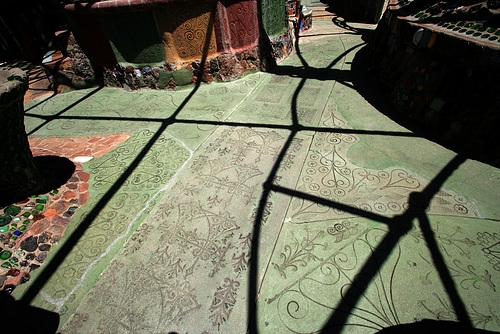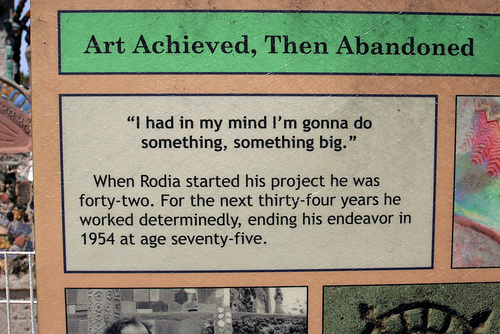 The view from the "back" side (northeasterly).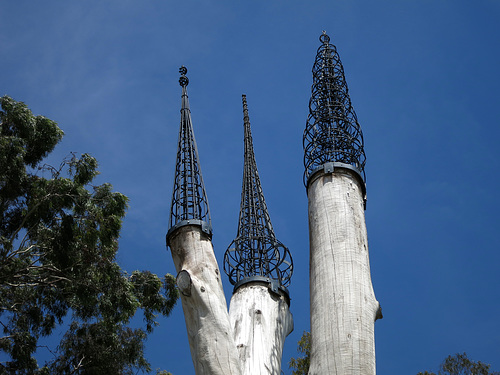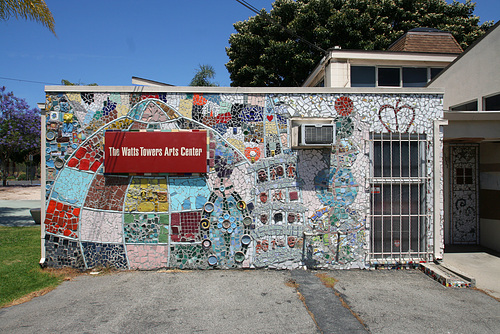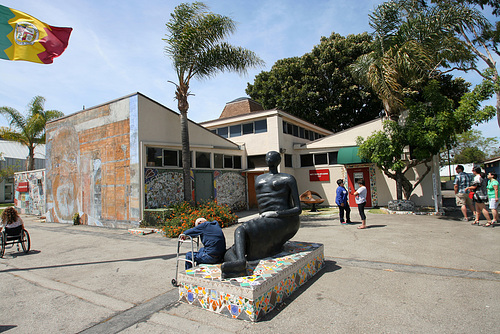 Click here for the complete set of photos.
Filed under Architecture,Art,Cities/Urbanism,History,Photography | permalink | May 4, 2015 at 11:55 AM | Comments (3)
May 3, 2015
Automobile Driving Museum
A week ago I went along with some other guys from Great Outdoors to visit the Automobile Driving Museum in El Segundo. The unique thing about this museum is that they actually take you out for a ride in three of their classic cars.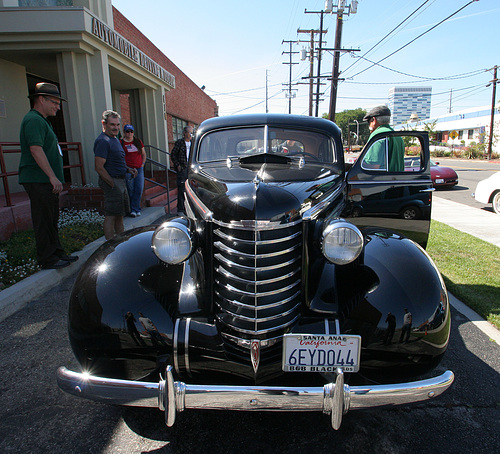 This is the 1937 Olds that I rode in.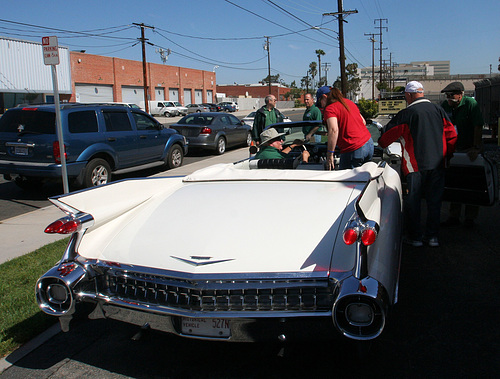 And the 1959 Cadillac.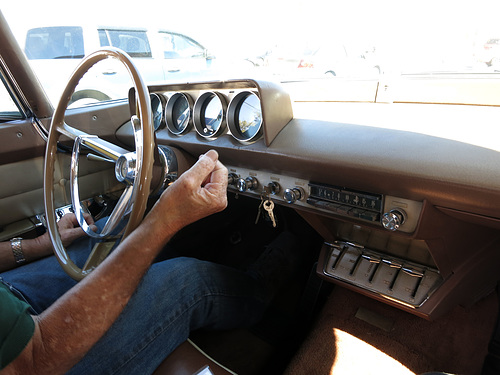 And the 1957 Lincoln Continental, which they told us is 100% original which is why the aging of the paint.
And those three cars brought about this short video:



What a boat! This is the hardtop convertible.

On this Packard the rider's delicate skin is protected from touching rude metal by extending the upholstery to the outside. And then they got air conditioning.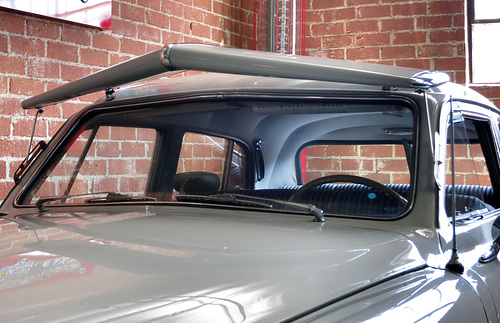 A Studebaker Land Cruiser (1950) with a complex windshield shade canopy. And then somebody thought of tinting windows.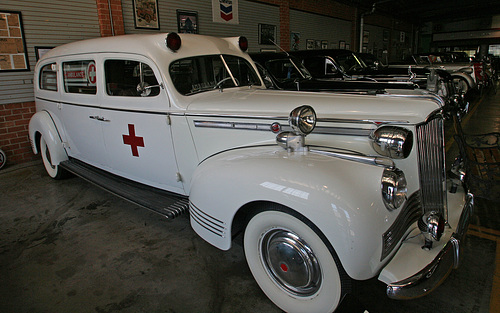 The 1942 Packard Henney ambulance.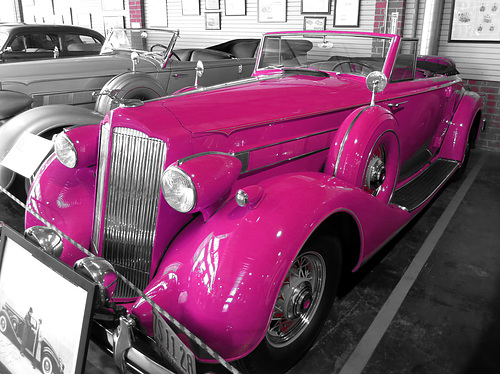 They said you could get it any color, so I did.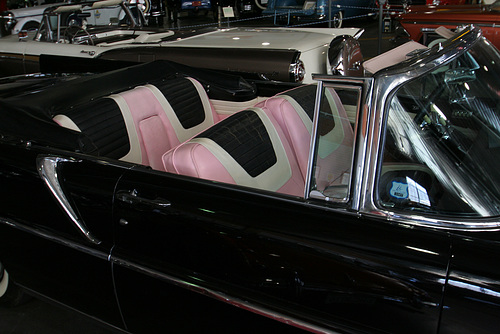 A pink interior which mystified some of the guys.
The complete set of photos is here.
Filed under Automotive,Photography | permalink | May 3, 2015 at 11:56 AM | Comments (0)
May 1, 2015
Amazon Rocket Test
Well, no, not really Amazon, but Blue Origin which is run by Jeff Bezos. Here the New Shepard is launched to a height of 307,000 feet.

Filed under Science | permalink | May 1, 2015 at 02:58 PM | Comments (0)
Probation & Parole Sweep In Desert Hot Springs
CITY OF DESERT HOT SPRINGS POLICE DEPARTMENT

INCIDENT: Parole and Probation sweep
DATE/TIME OF INCIDENT: May 1st, 2015 7:00 AM to 1:00 PM
LOCATION: City of Desert Hot Springs


NARRATIVE

On Friday May 1, 2015 between the hours of 7:00 AM and 1:00 PM, the Desert Hot Springs Police Department with the assistance of the Coachella Valley Violent Crime Gang Task Force and Parole Agents conducted a Parole and Probation sweep throughout the city of Desert Hot Springs.

During the Parole and Probation sweep, eight people were arrested, six being adults and two being juveniles. During this operation three firearms and one bullet proof vest were recovered. One of these firearms was recently reported stolen. Elvira Sanchez, Ruben Chavez, Cameron Bell, Adina Clark, Raymond Felix and Gladimiro Moreno, all adults, were arrested on parole violations, narcotic violations and/or weapon violations plus other charges. The two juveniles arrested were between the ages of 14 and 16.

No other details are being released at this time.

If anyone has information about the incident they are urged to contact the Desert Hot Springs Police Department at (760) 329-2904.
Filed under Coachella Valley,Desert Hot Springs,Public Safety | permalink | May 1, 2015 at 01:31 PM | Comments (1)