« Coming Down To April 28 | Main | No Shit, Sherlock »
April 23, 2015
City Council Meeting On April 28
The Desert Hot Springs City Council is holding a special meeting on this coming Tuesday, April 28. The only item on the agenda is to consider a resolution that will allow proposed, but not yet approved, dispensaries to change their proposed locations. The resolution, as written, would also permit those not yet approved dispensaries to request their proposals be considered by the City Manager and the Planning Commission. It's not clear to me what the Planning Commission would do. Would they actually go so far as to approve a CUP but hold it in abeyance until the City Council increases the numerical limit on dispensaries?
A very interesting part of the agenda packet is a map put together at the request of the City Council. It shows all the proposed locations for dispensaries. It also shows 1,000-foot buffer zones around schools, churches, and recreation facilities. The resolution says nothing about changing buffer zones. The only one we have now is a 600-foot buffer around schools.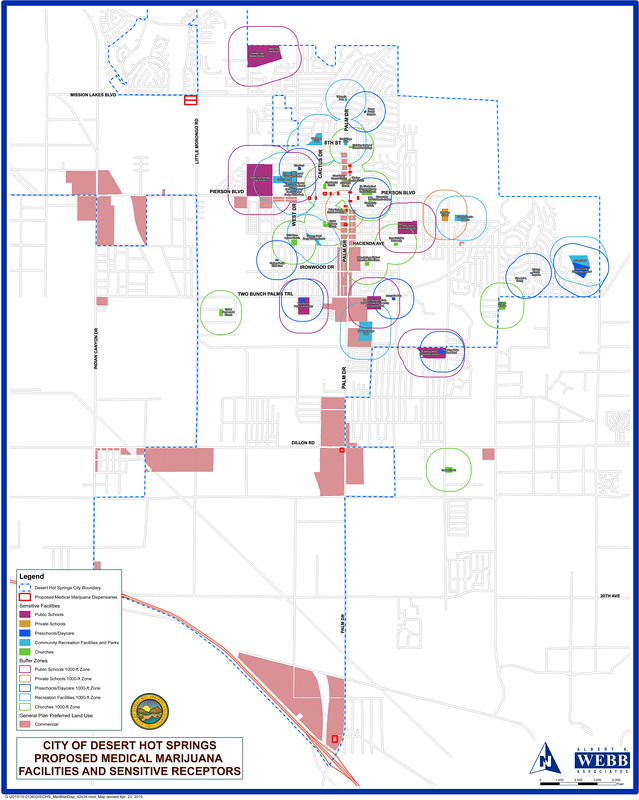 Click for a much larger version.
The dispensary locations are the annotations in red. The very large buffer zones do leave some commercially zoned areas available for dispensaries, but none around Palm & Pierson. There couldn't be any north of Estrella. It looks like the western side of Palm between Ironwood and Two Bunch Palms Trail would be open...and there is open land there. Most of the K-Mart shopping center is outside any buffer zones. Large commercial areas that are well outside any buffer zones are Indian and Pierson, Dillon and Palm and the south side of Dillon going west from Little Morongo. I think a dispensary next to the Roadhouse (or whatever its current name is) would do well. The map does not go as far west as highway 62, but the area around Pierson and 62 is also zoned commercial.
I'm curious about what appears to be a little commercial zone near Hacienda and Agua Cayendo Road. This Google map satellite view shows what certainly looks like residences filling that unusual commercial zone. Is that little bit of ink a mistake?
I also want to draw attention to Christ Lutheran Church at its old location. Are there still some church activities going on there? The new location is not shown at all. You would think the number of times Paul Miller has gotten up to talk about the new location of the church, at least one member of the city staff would pick up on it.
Filed under Desert Hot Springs,Marijuana | permalink | April 23, 2015 at 08:58 PM
Comments