« February 2015 | Main | April 2015 »
March 12, 2015
DUI Checkpoint In Desert Hot Springs, Friday, March 13
CITY OF DESERT HOT SPRINGS POLICE DEPARTMENT

DUI/Drivers License Checkpoint Planned on Friday, March 13th

Desert Hot Springs Police Department will be conducting a DUI/Drivers License Checkpoint on March 13th, 2015 at an undisclosed location within the city limits between the hours of 7:00 p.m. to 3:00 a.m.

The deterrent effect of DUI checkpoints is a proven resource in reducing the number of persons killed and injured in alcohol or drug involved crashes. Research shows that crashes involving an impaired driver can be reduced by up to 20 percent when well-publicized DUI checkpoints and proactive DUI patrols are conducted routinely. In California, this deadly crime led to 802 deaths in 2012 because someone failed to designate a sober driver. Nationally, the latest data shows nearly 10,000 were killed by an impaired driver.

Officers will be looking for signs of alcohol and/or drug impairment with officers checking drivers for proper licensing delaying motorists only momentarily. When possible, specially trained officers will be available to evaluate those suspected of drug-impaired driving. Recent statistics reveal that 30 percent of drivers in fatal crashes had one or more drugs in their systems. A study of active drivers showed more tested positive for drugs that may impair driving (14 percent) than did for alcohol (7.3 percent). Of the drugs, marijuana was most prevalent, at 7.4 percent, slightly more than alcohol. According to the National Highway Traffic Safety Administration (NHTSA), checkpoints have provided the most effective documented results of any of the DUI enforcement strategies, while also yielding considerable cost savings of $6 for every $1 spent. Nearly 90 percent of California drivers approve of DUI checkpoints.

DUI Checkpoints are placed in locations based on collision statistics and frequency of DUI arrests affording the greatest opportunity for achieving drunk and drugged driving deterrence. Locations are chosen with safety considerations for the officers and the public.

Drivers caught driving impaired can expect the impact of a DUI arrest to include jail time, fines, fees, DUI classes, other expenses that can exceed $10,000 not to mention the embarrassment when friends and family find out. Funding for this checkpoint is provided to Desert Hot Springs Police Department by a grant from the California Office of Traffic Safety, through the National Highway Traffic Safety Administration, reminding everyone to 'Report Drunk Driver – Call 9-1-1'.
Filed under Desert Hot Springs,Public Safety | permalink | March 12, 2015 at 10:32 AM | Comments (0)
March 10, 2015
Florida
Here's an article alleging that the words "climate change," "global warming," "sea level rise," or "sustainability" have been banned from official communications in the state government. I find it somewhat believable, only because it is Florida. In lieu of these terms, state employees were directed to refer to "God's fever," "God's chilblains," or if the temperatures were wildly variable, "God's change of life."
Filed under Nutjobs | permalink | March 10, 2015 at 11:46 PM | Comments (0)
L.A. Sheriff Deputies Are No Longer Empowered To Be Photo Critics
The LAPD, Long Beach police and the LA County Sheriff had adopted guidelines saying that taking photos with "no aesthetic value" was sufficient to stop a photographer for questioning. I would dearly have liked to sit in on the class where every cop in those agencies were trained to appreciate the aesthetic value of photos they couldn't even see. But now, L.A. County has come to a settlement with the ACLU in which they agree to stop doing that. The ACLU will provide training material for the Sheriff.
The training, supplied through a newsletter detailing the LASD policy and given to all new recruits and to all deputies assigned to patrol, states that members of the public "have a First Amendment right to observe, take photographs, and record video in any public place where they are lawfully present" and prohibits deputies from "interfering, threatening, intimidating, blocking or otherwise discouraging" photographers from taking photos or video unless they are violating a law.
Filed under Libertarianism,Photography | permalink | March 10, 2015 at 11:29 PM | Comments (0)
Is That A Pink Backpack I See?
Why yes, yes it is. Anndee Laskoe hikes and picnics in the Mission Creek Preserve for the benefit of the Greater Palm Springs Convention and Visitors Bureau. She forgets to mention it's just west of Desert Hot Springs, but the city is at least mentioned in the title of the video.

Filed under Coachella Valley,Desert Hot Springs,Travel | permalink | March 10, 2015 at 09:36 PM | Comments (4)
Did A Miracle Happen? No.
It's another one of those worthless lists comparing crime rates between cities using their statistics as reported to the FBI. Even though it has been shown over and over and over that this is an invalid comparison because every police department counts things a little differently, when Desert Hot Springs was in the top 3 everybody who wanted to get elected to any position in this city would run around, hands in the air, pushing the hysteria button.
So now that we're not even in the top 10, will we all have a big celebration to announce the end of crime in Desert Hot Springs? I bet not. I just hope people begin to understand that the purpose of a list like this is only to sell newspapers - figuratively.
BTW, I've been in Emeryville and I felt as safe there as in DHS - which is really, really safe.
Filed under California,Desert Hot Springs,Public Safety | permalink | March 10, 2015 at 12:32 PM | Comments (2)
March 4, 2015
Save Money On Not-A-GoPro
Amazon's deal of the day today (and that means March 4, 2015) is big discounts on SONY AS100 action cameras and accessories
. This is one of those of cameras that, when it appeared on the market, was heralded as some sort of competition for GoPro. The one thing you can say for sure about those GoPro competitors is that within twelve months they'll be unloading their product at deep discounts. And here we are!
For instance. The Sony HDRAS100V/W Video Camera is available for $150, that's half off!
They're even discounting the Sony 64GB microSDXC Class 10 UHS-1 Memory Card to only $26, which is 42% off!
I have no idea why they would cut the price on a microSD card, but there it is.
One advantage the Sony has over a GoPro is image stabilization.
Filed under GoPro,Shopping | permalink | March 4, 2015 at 07:30 AM | Comments (0)
March 3, 2015
Stay Over At Leonardo DiCaprio's Place
The Dinah Shore house (by Donald Wexler) that was purchased by Leonardo DiCaprio can be rented starting at $4,500. Here's where you can make your reservations and learn all about the house.


The Google map view.
Filed under Architecture,Coachella Valley,Film/Movies | permalink | March 3, 2015 at 10:43 AM | Comments (0)
Not Missing It
Boston Virtual Imaging sent someone out with a drone and a camera to document the snow in Boston. They made a tour of some of the major tourist highlights in central Boston:

In order of appearance:
Charlestown (Bunker Hill)
Public Garden
Boston Common/Beacon Hill
Commonwealth Avenue/Back Bay
Fenway Park
Beacon Hill or maybe Charlestown again - hard to tell when you're up that close, although the unusual house one sees on the left will identify it for someone who knows Boston better than I - but I'm betting heavily on Beacon Hill
Charles River/The Esplanade (Hatch Shell)
Waterfront/Harbor Hotel/that thing that used to be an elevated highway which is now called the "Rose Fitzgerald Kennedy Greenway"
Filed under Architecture,Cities/Urbanism,Photography | permalink | March 3, 2015 at 10:18 AM | Comments (1)
Illinois Government
Under the laws of the State of Illinois, one medical marijuana cultivation site can be permitted in "District 11" (you can see a map of those districts here) which covers 5 counties and includes East St. Louis. A business calling itself Progressive Treatment Solutions submitted an application for such a cultivation site to the Illinois Department of Agriculture. Now, the City Council of East St. Louis wants to approve the zoning for that cultivation facility without letting the public know where it will be. The linked article explains the positions and attitudes of all parties, but it doesn't actually say such an action would violate any specific law. So I thought it just might be possible that Illinois had no laws requiring open government meetings, but a tiny bit of Googling turned up the Illinois Open Meetings Act (the Illinois Attorney General explains the law here) which is not very different from California's law. It provides for open and closed meetings using guidelines similar to California. And at an open meeting, the public is entitled to have access to every bit of information that the City Council has. Same as California.
So why did it take a court order to stop the City Council from approving zoning for an unstated location? I guess the answer is just this: East St. Louis.
Filed under Marijuana | permalink | March 3, 2015 at 09:24 AM | Comments (0)
March 2, 2015
We Must Suffer For The Sake Of The Bunnies
Do you suppose the DEA is getting a bit desperate when one of its agents testifies that legal medical marijuana could suppress a rabbit's instinct to run from danger. You might think it's funny, but consider how hungry the poor coyotes will be if rabbits become extinct.
[DEA special agent Matt] Fairbanks said that at some illegal marijuana grow sites he saw "rabbits that had cultivated a taste for the marijuana. ..." He continued: "One of them refused to leave us, and we took all the marijuana around him, but his natural instincts to run were somehow gone."
I think the only wildlife that will actually be endangered are the DEA Special Agents.
Pat Robertson's warning that we have become slaves to vegetables is sort of tangentially related. Perhaps we should let the bunnies be the slaves to vegetables. After they eat the marijuana we can scoop 'em up and eat 'em as medical rabbits.
Filed under Marijuana | permalink | March 2, 2015 at 03:03 PM | Comments (1)
Aerial Photos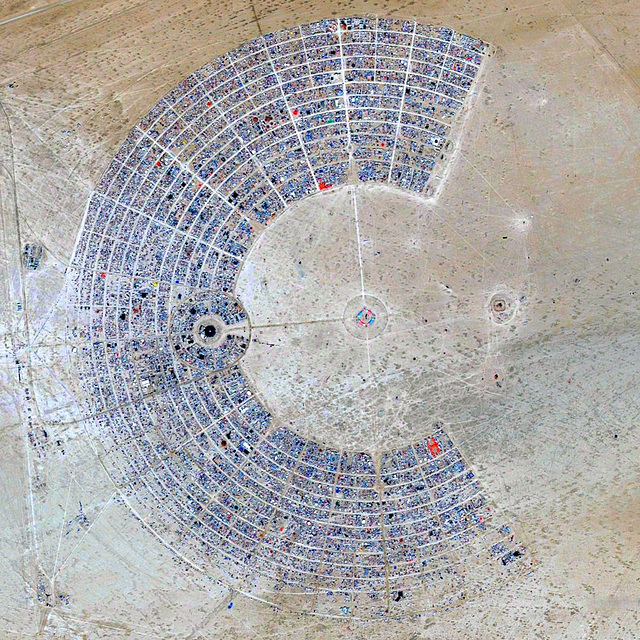 Black Rock City 2014 - I don't think I've seen it like this with such saturated color! I don't recall it all being as bright as this photo. The dust does tend to soften the colors, you know.
This photo comes from this page of 21 brightly colored straight-down aerial photos of human made structures.
Filed under Architecture,Burning Man,Photography | permalink | March 2, 2015 at 10:46 AM | Comments (1)
March 1, 2015
The Wednesday Holiday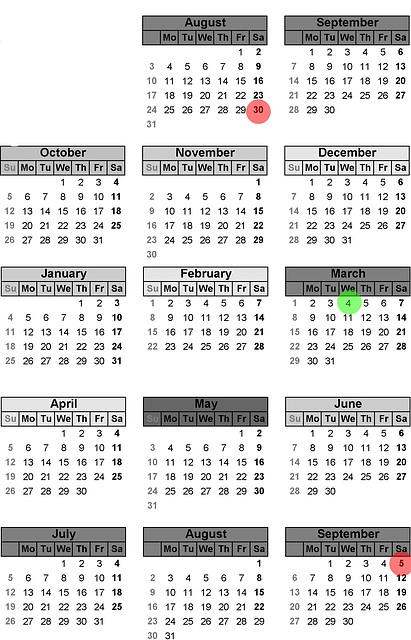 Here we have the Burning Man calendar with all of the holidays highlighted. Those are the Burning of the Man (red dates) and the Burnal Equinox (green date) which comes halfway between the red dates. IOW, this is your alert, if you haven't started preparations for your Burnal Equinox celebration, you still have a little time. Traditional celebrations usually include putting some shit together and then burning that shit up. If you add Kraft processed cheese food it's even better.
March 5 is when you can begin to panic for this year's burn.
Filed under Burning Man | permalink | March 1, 2015 at 10:51 AM | Comments (0)