« Florida Goes 3½ Hours Early | Main | "Brokeback Mountain" Shirts »
January 8, 2015
Oldest Palm Tree In L.A.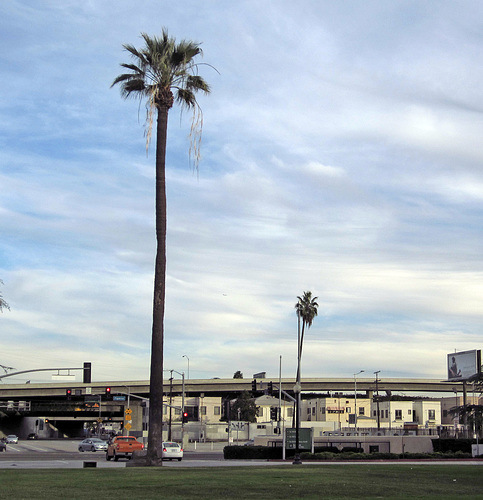 The oldest palm tree in Los Angeles is this one at the entrance to Exposition Park (the Coliseum). That's the 110 in the background. Here's what the official plaque says.
This historic palm tree stood for more than twenty-five years at the entrance of the Southern Pacific station. At this railroad portal of the city it became a familiar landmark to many thousands of Los Angeles and southern California citizens and visitors from elsewhere, and was a mute witness to the growth of Los Angeles from a community of pueblo days to a great world metropolis of today. When construction of a new Southern Pacific station necessitated removal, under the auspices of the Los Angeles Examiner it was presented to the City of Los Angeles by the Southern Pacific Company. On September 5, 1914, it was placed here, where it and its sentimental associations will be permanently preserved.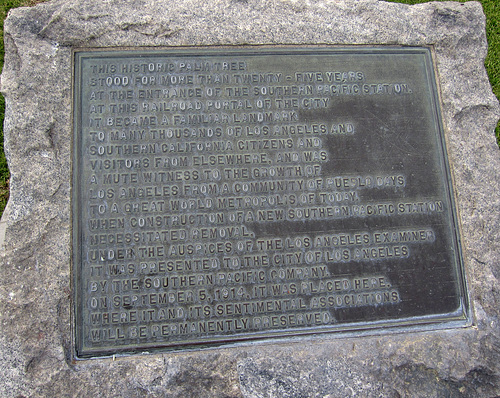 Note the unusual line lengths used in the plaque.
This story on the KCET website says the tree came from an arroyo north of now-downtown L.A. and is more like 150 years old.
Filed under California,Cities/Urbanism,History,Photography | permalink | January 8, 2015 at 11:06 AM
Comments