« September 2014 | Main | November 2014 »
October 28, 2014
High Quality Burning Man Video
Professional photographer, professional DJ, so it looks and sounds good. Maybe it's skewed a little in favor of the young and pretty, but if that offends you, just look away. Watch for the Mac Mini!

Filed under Burning Man | permalink | October 28, 2014 at 12:00 PM | Comments (0)
October 27, 2014
Bystanders Intervene To Stop Bashing
It's not often...maybe it's more accurate to say never before have we seen a good clear video of an entire gaybashing from beginning to end, but here it is. If you stay to the end of the video it morphs into something else and you get to see a prize winning beard. This is DFW:

You can see that the main reason this is all recorded was that the drunk guy telegraphed his intentions so far in advance that our videographer was able to set up a good shot. Hell, there was enough time to call Hollywood and get them to agree to a deal before he kicked that kick. So all the bystanders had time to think "Do I want to intervene, can I take this guy on?" And the tough ones sort of shuffled to the front and others sort of shuffled away. The genuine, uniformed police seem to have been nearby, but perhaps further away than any of the bystanders. (Do not confuse TSA with real police).
Here is a discussion where the participants become satisfied with the opinion that the bystander in the video who looks a lot like Paul Rudd is not, in fact, Paul Rudd.
UPDATE: The Ruddlike bystander is Ben Kravit.
Filed under Gay Issues,Public Safety | permalink | October 27, 2014 at 05:48 PM | Comments (0)
The Orca Mural Thus Far
Photos by John Coleman.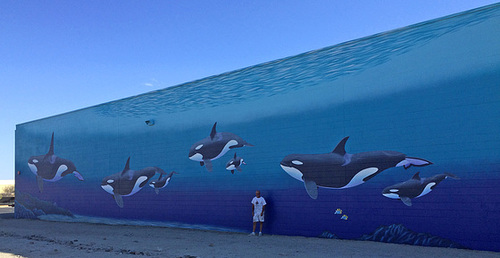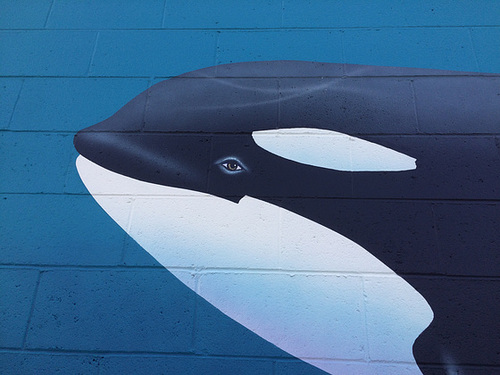 Filed under Art,Desert Hot Springs | permalink | October 27, 2014 at 03:23 PM | Comments (2)
Ted Olson Still Aiming High
Ted Olson acknowledges that the point of no return has been passed on the issue of marriage equality. He does not, however, agree with President Obama that this incremental approach is acceptable. There are still 18 states that abridge the rights of their citizens...which, I irrelevantly point out, is more states than were in the Confederacy, but this is fine with Obama.
Olson wants the damn Supremes to take one damn case and make a damn clear decision, damn it. [Note: Olson never said "damn."]
Filed under Gay Issues | permalink | October 27, 2014 at 12:54 PM | Comments (0)
Just In Time To Make Some Money
A Colorado company has announced a consumer test kit that they say can detect marijuana in food. Here's the website of Personal Analytics, the company that is selling this kit.
There is nothing in either the news article or on the company website to suggest this kit has been tested by any neutral third party. I'd like to see an opinion from a law enforcement agency after they test it.
So if you want to market an untested product like this, you publicize it just a few days before Halloween when there is no time for parents to wait for testing.
With a product like this you want the errors (and there will be errors, no matter how good it is) to tend toward false positives. IOW, a parent would rather err on the side of caution and throw away perfectly clean candy rather than get a false negative and feed some marijuana candy to their kids. The CBS reporter tested for a possible false positive and didn't get one. Who cares?
Parents, when they get to the website for Personal Analytics, will find they have a choice between two kits. One tests for THC, the other for CBD. I haven't found any information on the site to clarify the choice for parents. I can imagine scenes of a mom hovering over her computer having to shout to her kid to ask "Honey, should we be testing your candy for THC or CBD or do I have to buy both of these?" Daughter Suzie calls back from the other room where she has been playing tea party with some friends "Mom, I've told you this before, it's THC."
CBD does not get you high, but if you were a parent wouldn't you be concerned if CBD candy showed up in your kid's treat bag, even if it tested negative for THC?
An alternative to having a law enforcement agency test these kits is for some responsible marijuana ingesting adults to get these kits and test every bit of marijuana edible they come across. If they get a false negative, then the study ends and the kits get thumbs down.
Filed under Marijuana | permalink | October 27, 2014 at 10:02 AM | Comments (0)
Drawing The Lines
It's official. Westboro Baptist Church has petitioned the court to allow them to intervene as a defendant in the attempt to preserve marriage inequality in Kansas. I wonder if they would conduct their defense by holding up brightly colored signs with offensive slogans on them. Part of their position is that the Kansas Attorney General cannot use religion in a defense of the state's laws, but the Westboro Baptist Church can and intends to do so. I would certainly welcome such an entertaining effort that would make the differences between the two sides extremely clear.
Meanwhile, over in Washington, the DOJ has added six more states to the list of those where the federal government recognizes same sex marriages: Alaska, Arizona, Idaho, North Carolina, West Virginia, and Wyoming. Yeah, the DOJ runs a week to ten days behind reality, which is not bad for the federal government (outside of NASA and the DOD, where timeliness is more critical).
Filed under Gay Issues | permalink | October 27, 2014 at 09:34 AM | Comments (2)
October 26, 2014
Fireball GoPro
Filed under GoPro,Photography | permalink | October 26, 2014 at 08:47 PM | Comments (1)
October 25, 2014
Landmark Home Prices Up?
John Lautner's Silvertop in L.A. was on sale with an asking price of $7.5 million and went into escrow at $8.55 million in only 20 days. Does this mark the end of discount-pricing on landmark homes?
2138 Micheltorena St, Los Angeles, CA 90039
Filed under Architecture | permalink | October 25, 2014 at 11:04 AM | Comments (0)
European Space Agency
The publicity directors at ESA are given greater freedom to run with their imaginations than those directors at NASA (and when you see the credits at the end, you may understand why NASA is a bit more conservative - did all of those people get paid?!):


A close up of Comet 67P/Churyumov-Gerasimenko shot from a point 9.8 km from the center of the comet.
Filed under Science | permalink | October 25, 2014 at 10:31 AM | Comments (0)
October 24, 2014
DHS Public Safety Commission - 10/9/2014
Commissioner Eastman was absent from this meeting of the Public Safety Commission.
Public Comment
Michael Picardi came to the podium and Chair Bowman reminded him of the three-minute time limit. Commissioner Lavy interrupted to say that was incorrect, that at the last meeting of the Commission the attorney had advised the three-minute limit was not a restringent on the commission.
Here is 54954.3(b): "The legislative body of a local agency may adopt reasonable regulations to ensure that the intent of subdivision (a) is carried out, including, but not limited to, regulations limiting the total amount of time allocated for public testimony on particular issues and for each individual speaker."
Although the term "legislative body" is used, the Brown Act applies to all commissions as well as city councils. Section 54950: "In enacting this chapter, the Legislature finds and declares that the public commissions, boards and councils and the other public agencies in this State exist to aid in the conduct of the people's business."
Chair Bowman said the time limit was the chair's prerogative and Michael Picardi, the first public commenter at the meeting, said he wouldn't go over three minutes anyway.
Mr. Picardi said he moved here in February. He has taken it upon himself to write press releases and set up press conferences for events the city might want to put together. His only restriction is that they must be positive. He did this in Utah before he moved here.
Dave Nunn came up to say the Emergency Preparedness Committee would meet on October 29, 6:00 PM at Christ Lutheran Church [the new church] at 645654 Pierson Boulevard. The program will be expanded to include general education topics. The topic will be "Are You Prepared For A Flood?" Also, there will be a fire extinguisher training review.
Dean Gray spoke next. He cited city code 2.24.050b which says "If a member or alternate absents himself or herself without advance permission of the board or commission, or of his or her appointing authority, from three consecutive regular meetings or from 25 percent of the duly scheduled meetings of the board or commission within any fiscal year, his or her office shall thereupon become vacant and shall be filled as any other vacancy." [The code does not define "permission" nor specify how it should be obtained.]
Mr. Gray said there is no requirement to refer the matter to the City Council and that there is no need for the City Council to act. He added "Based on public feedback, all of the city Commissioners as well as the City Council have developed an unpopular reputation for wasting time and money."
He urged the Public Safety Commissioners to comply with applicable city laws, but he did not say how that compliance should be achieved.
If he thinks a Public Safety Commissioner has violated 2.24.050b, there is nothing the Public Safety Commission can do about it. Only the City Council can address the matter. Although Mr. Gray said that there is no requirement to refer the matter to the City Council, the city code does say "shall be filled as any other vacancy." The City Council appoints Commissioners, so it'd be difficult to do that without telling the City Council they need to do that.
I find Mr. Gray's statement "all of the city Commissioners as well as the City Council have developed an unpopular reputation" to be pretty sweeping. I'd like to see some documentation of the "feedback" on which he based his statement. I'm sure Mr. Gray realizes that his statement reflects on himself as well, since he is a Planning Commissioner. Surely, he will soon begin an effort to improve the public's perception that he wastes time and money. In any case, I fail to see how the absence of a single Commissioner is a waste of either time or money, unless it results in lack of a quorum. If that's his concern, he should be addressing his fellow Planning Commissioners, not the Public Safety Commission.
At the end of the meeting, Chair Bowman addressed the subject. He said he does his best to follow rules and regulations. (Chief Tomlinson said the Living Waters Spa got a "gold star" from the fire inspector.) Mr. Bowman said that four of the current City Council Members have served on the Public Safety Commission. "The protocol has always been if you're not going to be at a meeting, you let the Chair know and in my case I let the Vice Chair know." When he was appointed for this term he told his appointer [Council Member Matas] that he had two grandchildren on the way and he wouldn't miss their births. He also had commitments with the water district where he is a Director. And he had a 40th anniversary trip to Europe planned. He followed the established protocol. He said that if the City Council or this Commission wants to change that, he's fine with it because he will always follow the rules.
This is the third attempt by that gang to try to unseat Mr. Bowman. One attempt was a laughable proposal for term limits. Another proposal was not to allow Commissioners to simultaneously serve on elected boards. Those attempts failed. I have no idea why they fear Mr. Bowman so much, unless it's because honesty and decency are among his primary attributes. If those people want him out, all they have to do is convince Council Member Matas that honest and decent people should not serve on a Commission. If their reasoning is solid, they should have no problem convincing Mr. Matas.
Measure JJ
This was a presentation by City Manager Magaña about Measure JJ, which is the proposed 1% increase in the sales tax that is on the upcoming ballot. Some of the points to consider:
Over the past decade the state has taken millions of dollars from DHS (as well as other cities). The end of redevelopment took $1.5 million away. That money could have paved streets, protected Cabot's Museum from the elements, built or improved parks, or been set aside for a very necessary future fire station or other capital improvements the city needs.
The economy has gone to hell [I'm paraphrasing liberally]
The city drew down its reserves to partially cover its needs.
A fiscal emergency was declared in November 2013 and then again in this fiscal year.
The city has reduced the share it pays towards pensions; cut employee benefits and holidays; cut City Hall staff by two-thirds; cut city staff pay by 22% to 35% [actually, I think some police officers took even bigger cuts]; eliminated all travel; and eliminated non-essential spending.
Mr. Magaña said that there are now only 22 people working the trailers that are City Hall. When he came to the city 5½ years ago there 65 to 70 people working there.
The city placed Measure F on the ballot in June 2014. It would have raised about $3 million for public safety. But Measure F failed to get the required two-thirds approval.
After the failure of Measure F an additional $1.6 million was cut from the 2014/15 budget [currently it is estimated that we will come sliding into June 30, 2015, with a whopping $10,000 in the General Fund - the very minimum we should have is $1.5 million].
Measure JJ was approved in August to be placed on the November 4 ballot.
The current sales tax rate paid in Desert Hot Springs. 1% comes to the city, while the other 7% goes to the state, and the Riverside County Transportation Commission.
Measure JJ would add another 1% to the sales tax, so it should roughly double the sales tax revenue to the city. That's about $1.4 million more.
This is a general tax, so it requires a vote of 50% + 1 vote for approval. It would go into the city's General Fund. Non-public safety services have been cut most drastically in order to maintain public safety. Sales tax revenue can be used to begin to restore important services such as economic development and planning.
If Measure JJ fails, the city will cut further. Any fat was eliminated long ago. Muscle has been cut as well. The next thing to cut is bone. Maybe City Hall doesn't really need electricity, or maybe we could close the Carl May and hold city meetings in the parking lot. [My suggestions, not the City Manager's.] You can bet the parks would go brown.
We have been very fortunate not to have any major flooding during this fiscal emergency, but how long can we count on that. We have no money to pay for the repairs and street clearing that a flood would require.
When will things get so bad that our still prosperous spas and hotels begin to lose customers?
Parks, building maintenance and public safety will all suffer.
We will be going to hell and we won't even be able buy the necessary handbasket [again, my words].
We will be up the proverbial creek. Paddle?! We won't even have a canoe.
If Measure JJ is approved, you can hold the City Council accountable for the use of funds. Revenue would begin to be received in April 2015 and there is a city election in November 2015. Excellent timing.
One argument against JJ that I've heard is that shoppers will go elsewhere to spend their money. News flash: that train left the station years ago. Shoppers have been and are leaving the city to spend their money. Even though our sales tax now is one percentage point lower than the tax in Palm Springs or Cathedral City, most DHS residents still prefer to shop in those cities rather than here at home. They ain't saving a dime. On top of paying the additional 1% tax, they are burning gasoline to do it. I consider it a reasonable conclusion that the difference between 8% and 9% is unimportant to most shoppers. It's the quality of the selection, the stores and the whole experience that draws shoppers. Potholed streets, insufficient public safety services and dead grass do not attract shoppers. Yes, there are some shoppers who will travel to the Walmart on Monterey in Palm Desert knowing that the sales tax there is 8.25%. I know of two (2). I must assume they do their shopping trips on bicycles, because the price of gasoline will wipe out the small difference in tax unless they are buying a LOT of stuff at Walmart. (Hmm, another good reason to have a Walmart in DHS.)
IOW, on the one hand if JJ is approved maybe as many as a dozen shoppers (really, I'm sure it won't be more than that) will stop patronizing our supermarkets and start driving to Walmart in Palm Desert (let's hope they at least buy their gas in DHS). On other hand, if JJ fails we can probably get some volunteers to donate the materials to update our "Welcome to DHS" signs to say something like "Welcome to our dangerous slumhood; Enjoy your shopping experience."
I was on a roll there, let's get back to the Public Safety Commission.
Commissioner Lavy asked if there is a plan for what to do if JJ does not get approved. Mr. Magaña said that the City Council will face some very difficult decisions and will have to cut more services. The city now has one building inspector, one planner, one fire inspector. There are two part-time engineers. Planning, engineering and building use to have one administrative assistant each. Now they all share one administrative assistant.
Mr. Lavy asked if there were any projections of revenue from the proposed marijuana taxes (Measures HH and II). Mr. Magaña said he couldn't make a reasonable estimate. We don't yet know how many the City Council will permit, when they will open, nor how much business they will do.
Mr. Lavy then asked why the failed Measure F was not revised and resubmitted to the voters. Mr. Magaña said the Council considered that, but feared it might be defeated again.
Commissioner Stephens said she thought the sales tax was a fair tax. Historically, this city has always gone to the property owners to seek more tax revenue. She voted yes for Measure F, but with a sales tax the tourists will also pay along with residents and renters. She suggested that the City Manager should speak to the ministerial organization in addition to the various civic organizations to which he has made his presentation.
City Manager Magaña pointed out that business at our spas and hotels continues to increase and, therefore, so does the TOT revenue from them. A couple of existing spas have been rehabbed and re-opened and the beautiful brand new YK Spa should be open soon, too. In addition three or four of our top sales tax producers are gas stations - because people are burning gas to shop and work elsewhere. Mr. Magaña, not yet fortunate enough to live in our city, makes a reverse commute every morning and counts the cars leaving the city on Palm Drive as he does so. He said he never counts less than 200 cars on his drive. [I hope this does not distract him from driving safely.] Only economic development will keep those people here and give this city the money it needs to provide what the citizens need and deserve.
Ms. Stephens acknowledged that she works and shops outside the city, but what we have to buy in DHS is limited. She added that despite the lack of city staff, the city is looking pretty good. [I must agree with that - the staff that remain, including public safety staff, are giving us more than we pay for, and the only way I can explain that is that they love the city as much as we all do.]
Vice Chair Meyer said he was a little disappointed when this was first proposed. During the last City Council election it was pointed out that the residents of DHS are taxed more highly than the residents of any other city in the valley while we are the city closest to the poverty level. The sales tax will be an additional tax on the residents. He said his wife shops at the Walmart in Palm Desert because it has a lower tax rate than Palm Springs. He is concerned that this might affect our tourism industry as well.
He said we paid $1.3 million for police overtime last fiscal year. Chief Maynard said that he would present some figures that differed later in the meeting.
Mr. Meyer said the Commission has asked for a report on how much we could save by bringing dispatch back into DHS, but has not gotten that.
He also said that he would have preferred to see the parcel tax increase brought back at about half the rate previously proposed and as a general tax for another vote, since it would be taxing people who are mostly non-residents and not carrying their fair share.
Chair Bowman said that as a businessperson, if all his competition charged X while he charged less than X, and all his competition also did more business than he did, he would raise his price to X. He said that not all our citizens may be as astute as Mr. Meyer's wife and they go shopping in Palm Springs or Cathedral City. He said he also wish they had brought the parcel tax back for another vote, and maybe they can still do that in the future.
Mr. Bowman asked Mr. Magaña about Animal Control and Code Enforcement. Neither were present at this meeting. He asked where the citizens should go to talk about code enforcement and code enforcement issues. Mr. Magaña said he had moved Code Enforcement from the Police Department over to the Planning Department where they are a better fit. He recommended that they come to the Public Safety Commission quarterly. Mr. Bowman said that does not help the citizen who comes in with code issues. He suggested those citizens might be directed to City Council where they could clog the public comments with their Code Enforcement issues. Mr. Magaña said that having Code Enforcement alongside the City Planner allows them to all work together and work things out. He said that they see an increased number of residents coming into Planning to talk about Code issues, while at the Police station they may have found that wall of bulletproof glass "unwelcoming." Mr. Bowman said the city couldn't have too many cheerleaders. The Public Safety Commission has heard abut the good things Code Enforcement is doing while also holding them accountable for things that could be improved.
Chief Maynard indicated he had an answer for the Animal Control question. He made the decision that Animal Control would not be at this meeting due to the cost. Animal Control is unable to respond to all the requests for service that they are getting. Chair Bowman asked him to provide more information when the Commission got to the Police report in its agenda.
Recommend To City Council That Re-striping Palm Drive Be Made A Priority
That is, if there are any funds for any re-striping, of course. Commissioner Eastman had asked that this item be placed on the agenda. He was concerned that the striping on Palm Drive was deteriorated so badly that it could not be seen at night.
Commissioner Lavy said he agreed with Commissioner Eastman about putting this on the agenda. He also wants crosswalks to be painted. Vice Chair Meyer said that if meant to stripe additional crosswalks then it becomes a matter for the city engineer who is required to do a study and analysis of the issue. Mr. Lavy said he was aware of that, but that the City Council should take up that issue.
Commissioner Stephens agreed that traffic studies have to be done, but she agreed that could be put in the motion on this item.
Mr. Meyer made the motion to recommend to the City Council that if there is a striping project that the Palm Drive corridor be made the primary target for that, and that project should be reviewed to include additional crosswalks. Approved 4-0.
I want to add here that, as the subject of crosswalks and jaywalkers keeps coming up year after year, that at one time Chief Pat Williams had said that while there is a theoretical, legal crosswalk at every intersection, actually painting a crosswalk will encourage more people to cross at poorly lighted intersections where there is no stop sign or traffic light to potentially give them a little more protection. In either his opinion or experience, painting such crosswalks without additional lighting or traffic control would likely serve to increase the number of pedestrian/vehicle accidents.
My personal suggestion has been to find some money from outside the city and use it to give every resident of the city a cheap, lightweight white jacket with reflective trim. Bought in bulk from China you could get something like that dirt cheap - a few bucks times 27,000. Not an impossible sum at all. The challenge would be to get the correct size for everybody. Yes, that's half a joke, but haven't we all observed that the nighttime jaywalkers area always dressed in dark clothes?
A Recommendation To City Council To Avail Itself Of No Cost Options To Deal With Abandoned Structures
Commissioner Lavy saids there have been several instances of fires caused by homeless people taking up occupancy in a vacant building. There is a way for the city to initiate the receivership process on blighted properties using attorneys who will take their fee off the "back end" of the process so the city doesn't have to post upfront money. Boarding up a structure is permitted only for 120 days. After that, it's a code violation.
Commissioner Stephens asked Mr. Lavy if he had spoken to any of the attorneys that might do this. Mr. Lavy said he had not, city staff has identified a law firm that says this is the only kind of work they do.
Mr. Lavy moved to recommend to the City Council that they follow through with this. He said the process would be that when the property is successfully placed in receivership, it would then be fixed up or demolished, then the property put on the market and sold. The attorneys then take their share out of those proceeds. The city gets its expenses [I'm sure there must be some] reimbursed. If any money is left over, it goes to the owner. Ms. Stephens asked about the hypothetical case where the owner couldn't be located. Mr. Lavy said the address used is the one on the tax records, and if that's wrong, then the owner isn't getting his tax bill. [I suggest a chat with John Soulliere on this subject - the water district has found that many addresses on the property tax records are inaccurate.]
One can see that for this process to work, the law firm must first make an estimate of the expenses and what the ultimate selling price might be for the property. I imagine that if they estimate the expenses will exceed even the highest possible selling price, then they won't take it on.
Vice Chair Meyer said he would first like an attorney from the suggested law firm to come to the Commission for further discussion. He would also like input from city attorney.
Ms. Stephens said she thought that the city would be required to go out for an RFP on this matter. She thought it better for the Commission not to interview just one law firm before an RFP process that law firm would probably participate in. She suggested following the RFP process whereby the City Manager would get to ask the questions and be advised by the City Attorney. Ms. Stephens offered an alternative motion saying the Commission supports the concept but would like some research done and then the Commission would like to receive an explanation [and analysis and opinion, I imagine] from the City Attorney.
The motion that finally got a second was one from Mr. Lavy to "encourage" the City Council to look into this. Approved 4-0.
Animal Control
Chief Maynard said the original 2-year contract with County Animal Control was for $269,550 for field services and licensing programs. It estimates $50,000 in licensing revenue, which reduces the real cost to the city to $219,550. Shelter services are contracted at an additional $194,581 for 2014/15. Total cost, then, is $414,131 or $34,511/month. That covers two officers, shelter services, licensing, administrative fees, etc. Overtime costs, after hour costs and actual licensing revenue all combine to either consume or mitigate that cost. In June the City Council directed staff to negotiate with the county so that the contract reflected one officer, not two. The budgeted amount was subsequently reduced to $262,395 - a reduction of $151,736 or 37%. Due to turnover in the Police Department at that time, the actual re-negotiation was never done. The City was billed the original amount for July, August and September. [I want to point out here that this is an example of when working with a severely reduced staff actually costs the city more money.] The City Council had also stopped the door-to-door licensing program. Chief Maynard put a halt to this and reduced the contracted services as directed by the City Council in June. This leaves the city $11,822/month for Animal Control services for the remainder of this fiscal year. The Chief said County Animal Control has bent over backward to help the city on this. City staff will negotiate with Animal Control to find a way to make this work with that small amount of money. They are willing to give us some free services. This is why there was no Animal Control Officer at this meeting. The money to pay him to show up after hours would come out of that $11,822, and we have better uses for that money.
The Chief said that on September 25 two adults were arrested, three disabled children were taken by Child Protection Services, and 25 feral cats were found locked in two bathrooms at one house. It took hours for Animal Control to deal with the cats.
Fire
Chief Tomlinson said that signs indicated the fire in the commercial building at 5th and Palm was probably started by homeless people encamped in the building. Another fire at Calle Azteca and Hermosa was also probably caused by squatters.
Resources from Desert Hot Springs participated in fighting the fire that happened at Haugen-Lehman Way on I-10. They were backfilled in DHS by a crew from North Shore(!) while they were so engaged.
Calls for service continue their ceaseless upward climb. September 2014 was 10% more than September 2013; YTD is a 4.33% increase.
Chief Tomlinson said that the Fire Department has been active in trying to move the Village shopping center project forward. "Our delays have been on the owner and the project developer's...his inactivity." As soon as all the paperwork was submitted by the developer, the Fire Department turned them around in a matter of hours.
Two hotels have citations pending against them. One for $200, the other $500. These are for "failure to comply." He said that to get to this level the hotels had to "just literally ignore us." The Fire Department would prefer that money to be spent on the required repair.
Police
Nicole Vandale came to the podium to comment. She said she had heard Commander Holcomb speak on behalf of the community [on the subject of recent child kidnappings, I believe] and that as a mother of a 14-year old she wanted to express her appreciation. She suggested that the City Council encourage CVAG to do more for the homeless.
Chief Maynard said the Police have had nearly 300 5150s this year. Those are transports to Desert Regional Hospital. So Police have been in touch with Desert Healthcare District. DHS Police are the only police force in the valley that's keeping statistics to try to help with the homeless problem. The District expressed the hope that they could budget a couple of workers to come work with the DHSPD in the future.
In September there were 22 shooting incidents. Four people were actually shot. Weapons have been brandished at the skate park. The Police are now locking up the skate park at night and re-opening it each morning. The Chief said that if problems start to appear during the day the skate park will be re-locked.
The Chief has been meeting with the PSUSD in hopes of getting them to pay for a second school resource officer due to the expected influx of students at the new location for the Alternative Education Center (i.e., Wenzlaff school).
On October 12 an abduction of a 10-year old boy was reported. It resulted in a sexual assault. The case is being actively worked by DHS detectives. The suspect description does not match that of the person who kidnapped a 15-year old girl in Palm Springs.
There was a report of a man in his vehicle in the parking lot at the Boys & Girls Club who was watching children and indecently exposing himself. The DHS Police contacted him as he was trying to flee. He was arrested for lewd acts and narcotics possession. He was registered sex offender on parole.
The Police Department has been putting gang suppression teams on overtime basis due to increasing gang activity. The Police have received a $10,000 grant to help pay for some of that. The teams use marked Police vehicles. They are making felony arrests and taking handguns off the streets.
It has been very difficult to recruit new personnel due to the uncertain future of the Police Department in DHS. Chief Maynard will only hire someone who is qualified. He has disqualified nine candidates in the last two months. He has been hiring retired annuitants (the 960-hour people). They can stay long enough to see how Measure JJ comes out and to see if the City Council will make a decision one way or the other, Sheriff or PD.
Some of the communication between the Police and the community has lost and Chief Maynard is looking to get that back in place. The Open House held on the 18th was part of that effort.
This fiscal year the PD was budgeted $173,175 for overtime. That's $169,944 less than in the previous fiscal year. $84,080 (of the $173,175) comes from a 2013 JAG grant plus a grant from the Office of Traffic Safety (over $74,000 from OTS). Those funds are dedicated to specific purposes (like traffic enforcement or gang suppression), leaving the Chief with $88,695 in overtime to cover everything else. $57,960 has been used year-to-date (that is, in one quarter of the fiscal year).
The budget OT is about 7.92% of PD salaries. The industry standard is to budget 10%. In the two prior fiscal years the budgeted OT was 12.5% (13/14 - and 92% of the budget OT was used) and 12.83% (12/13). In 2012/13 salaries were $3,008,600 and OT was budgeted at $395,300. They used a little over $300,000 for OT. In 2013/14 salaries were $2.7 million; budget OT was $340,000. In this fiscal year (14/15) salaries are $2.1 million and the OT budget is $173,175. The Chief said this is the most bare-boned budget he has ever worked with.
The Chief talked about the idea of taking dispatch back from Cathedral City and building our own. He said the minimum staff would be 9 people. Barebones would be 7 people, but you have to add 1.5 people to allow for sick leave, vacation, etc. There are grants to cover some of the costs of starting up.
The PD policy manual has been updated. Personnel files that have been kept for "years and years and years" have been purged. The PD is very busy and bringing dispatch back in-house would be more work for them.
Chief Maynard said our officers are "the hardest group of people I've ever worked with." He says they are unbelievable. They do so much every day, but don't complain. Despite all the work and extra work being carried by the Police, there has not been one complaint.
Chief Maynard estimates that he will be able to remain in his position until the beginning of February.
Commissioner Comments
Vice Chair Meyer said he was disappointed with how the city handled the medical marijuana ordinances. The subject was not brought before the Public Safety Commission. The Mayor told Mr. Meyer that the Commission should just add it to its agenda, but the Commissioners have been told they can't add anything to the agenda without running it by the City Manager. Mr. Meyer would have liked to ask the City Manager about this if he had stayed to the end of this meeting. He suggested that the Commission might invite the City Manager to return to meet with them.
Chair Bowman said that when he first joined this Commission, the complaint was that no one (including the City Council) cared about the Commissions. He said the Commissions can do some of the heavy lifting for the City Council if the Council wants them to.
Commissioner Stephens suggested a workshop with the Commission, the Commission's staff liaison, one Council member and the City Manager. The goal would be to talk over the issues of what the Commission is supposed to be doing, providing advice to the City Council and the issue of direct contact between the Commissioners and staff members.
Chair Bowman asked if his fellow Commissioners wanted to sit down with the full City Council. The consensus was that they all wanted to meet with the City Council.
Filed under Desert Hot Springs,Public Safety | permalink | October 24, 2014 at 02:30 PM | Comments (19)
The Great Word vs. WordPerfect Battle Continues To Smolder
"The word processor that most of the world uses every day, Microsoft Word, is a work of genius that's almost always wrong as an instrument for writing prose. Almost-forgotten WordPerfect—once the most popular word-processing program, still used in a few law offices and government agencies, and here and there by some writers who remain loyal to it—is a mediocrity that's almost always right." It's not often that the philosophy of Plato is cited in an article about word processors. John Dewey gets rolled in there too.
Filed under Technology | permalink | October 24, 2014 at 01:11 PM | Comments (1)
Motorcyclists Using GoPros To Launch Their Legal Troubles
The video from the motorcyclist's point of view. This is on 680 in Milpitas. The light is not favorable for reading license plates, but it's my understanding that there are some people in California who know how to enhance video.

Filed under GoPro | permalink | October 24, 2014 at 09:15 AM | Comments (0)
October 23, 2014
Harry Shearer as Nixon
Harry "Excellent!" Shearer will be Richard Nixon in Nixon's The One, a six-part series that will debut on Youtube Tuesday, October 28.

Sparked by working on the Nixon series, one has to confront a fairly blunt fact: Forgetting his foreign policy, which was ludicrous, a lot of his domestic policies were mind-spinningly to the left of Obama. Under Nixon, the EPA was started, the OSHA was started, the Clean Air Act was passed, the Clean Water Act was passed. And, most startlingly of all, Nixon gave a speech late in his truncated second term calling publicly for a guaranteed annual income for all Americans. How long do you think you'd have to live to hear Obama do that?
Filed under History | permalink | October 23, 2014 at 04:49 PM | Comments (0)
October 22, 2014
It's The Great L.A. Walk, Charlie Brown!
Everything (almost) you need to know. Saturday, November 22, meet at Warner Center Park in Woodland Hills (5800 Topanga Canyon Boulevard) for the 9 AM departure. Walk at your own pace, relying on your own wits and resourcefulness to get to the Television Academy courtyard (5200 Lankershim Boulevard), a scant 17 miles away.
I hope that the Television Academy is an incredibly beautiful structure, because when the walk ended in Santa Monica (the last three years), getting a sunset view of the Pacific was some good motivation. The intersection of Magnolia and Lankershim in North Hollywood does not seem to have the same draw. But what do I know? I've never been to that intersection, which probably has vistas to rival any national park.
There is no fee to walk. This is not a charity fundraiser. You walk to enjoy walking in an ever-shifting urban environment. No waiver to sign, because who're you gonna sue?
They've got a Facebook page, of course, and a Twitter account.
Filed under Cities/Urbanism | permalink | October 22, 2014 at 02:17 PM | Comments (0)
Found One
A federal judge who thinks bans on same-sex marriage areconstitutional, that is. Judge Juan M. Pérez-Giménez has dismissed a case in which the plaintiffs sought to overturn Puerto Rico's ban on same-sex marriage. Puerto Rico is in the 1st Circuit in which all the states (Maine, Massachusetts, New Hampshire and Rhode Island) permit same-sex marriage. The reasoning he uses in his decision is so contrary to all of the appeals court decisions, I imagine he has guaranteed himself a lifetime job free of promotions.
Filed under Gay Issues | permalink | October 22, 2014 at 01:03 PM | Comments (0)
October 21, 2014
Returning To The Big Screen!
The Greatest Science Fiction Film Of All Time: 2001: A Space Odyssey has been digitally remastered and will open November 28 in the UK at a British Film Institute film festival. Go back and watch the original 1977 version (or whatever version of the original you can find) of Star Wars. If you were around in 1977, you will recall that its special effects blew us away. Now they look cheezily obvious. Then go watch 2001 which was made before most of you were born: 1969 1968! It still works. It still takes your breath away when it jumps to Jupiter space. And at the end you still don't know WTF was going on*. That's good cinema!
Appropriately enough, they've brought the trailer up to the standards of 2014:

HAL is still so sorry he couldn't open that podbay door.
*it's just a lengthy attempt to direct blame away from the opposable thumb and put it on some "space aliens."
Filed under Art,Film/Movies,History,Technology | permalink | October 21, 2014 at 03:37 PM | Comments (3)
High Desert Art Tours
Somebody was recently asking me about this and I don't remember who, so I'm just putting it here. The Highway 62 Open Studio Art Tours will take place October 25-26 (east) and November 1-2 (west).
And there's this:
Closing Party at Furstworld

Join us for the Annual Art Tours Closing Party! Held at the crazy world of Bobby Furst's Sunday Nov. 2nd; 7pm – 11pm

8528 Desert Shadows Rd., Joshua Tree (see Studio #68 on the catalog map)

$10 cover charge (Free to participating artists and accompanying guest)

Pot Luck Dinner – bring a dish to share

No Host Bar

Enjoy live music brought to you by Radio Free Joshua Tree, our local non-profit online radio station

Dance Floor – Get up and shake your booty!

Make it a Masquerade – Dress up and get crazy, funky, wild!
Filed under Art | permalink | October 21, 2014 at 03:12 PM | Comments (0)
Best Middle-Of-The-Road Video Of Burning Man 2014
It doesn't sound like the greatest compliment, but it's intended that way. The best middle-of-the-road video should certainly be clear and watchable, but not professional quality; and it ought to show the 67,500 hoi polloi Burners who are not necessarily the richest or most beautiful; and it should have music that at least doesn't repel people; and it ought to look like the real burn as Burners see and experience it. Nothing too flashy, but fun. Keep an eye out for the nice man wearing a pink teddy bear as a sort of codpiece (okay, maybe it's a sort of sporran). No, that is not me, but thanks for asking.
And here it is. Being shot entirely on GoPro is a plus, IMO.

The best bits are two: a brief shot of the guys lounging in the RV on the way in to Burning Man at the beginning, paired with a shot of the guys lounging in the RV on the way out of Burning Man at the end. Can you spot the differences that enlightenment brings?
Filed under Burning Man | permalink | October 21, 2014 at 02:03 PM | Comments (0)
Late To The Party Again
President Obama now thinks bans on same-sex marriage are unconstitutional, thereby aligning himself with roughly 60% of the American population.
Personally, my opinion as to whether I should send him a thank-you postcard is evolving. Get back to me in another four years or so.
Filed under Gay Issues,Politics | permalink | October 21, 2014 at 01:50 PM | Comments (0)
Joshua Tree National Park Fees
The National Park will hold a town hall meeting on November 6, 2014 to discuss possible fee increases in 2015. The town hall meeting will take place at Copper Mountain College, Bell Center, from 7:00 to 9:00 pm on Thursday, November 6, 2014.
The Park Service sent out this press release that overwhelmed the intellectual capacities of a couple of media. It includes an HTML table and some people in the press don't know that you can't just copy a table from your screen and have it magically work without some tinkering.
Instead of spending all morning tinkering, I will share a few highlights and let you go read the full press release.
The regular vehicle entrance fee is proposed to go from $15 to $25.
Motorcycle entrance fee is proposed to go from $5 to $20!
Camping in organized campsites is proposed to go up $5/night.
Backcountry camping is proposed to go from free to $8. It'll be interesting to hear how they plan to collect that.
Filed under California,Coachella Valley | permalink | October 21, 2014 at 10:54 AM | Comments (0)