« August 2014 | Main | October 2014 »
September 30, 2014
GoPro Comparison Table
I've tried to compare the GoPro cameras. It was a bit of a challenge because GoPro has already removed the specs for the old 3+ Black and Silver models from their website, but hasn't added the specs for the new 4 Black or Silver. Features not listed are (I think) the same in all the newer models.


3+ Black
4 Black
4 Silver
White
plain Hero
Price
$400.00
$500.00
$400.00
$200.00
$130.00
Video
4k 15fps
4k 17:9 12fps
2.7k 30fps
2.7k 17:9 24fps
-
1440p 48 30 or 24fps
1080p 60 48 30 or 24fps
1080p Superview 60 48 30 or 24fps
960p 100 60 or 48fps
720p 120 or 60fps
720p Superview 90 60 or 48fps
WVGA 240fps
4k 30 or 24fps
4k Superview 24fps
2.7k 48 30 or 24fps
2.7k Superview 30fps
2.7k 4:3 30fps
1440p 80 60 48 30 or 24fps
1080p 120 90 60 48 30 or 24fps
1080p Superview 80 60 48 30 24fps
960p 120 or 60fps
720p 120 60 or 30fps
720p Superview 120 or 60fps
WVGA 240fps
4k 15fps
-
2.7k 30 or 24fps
-
-
1440p 48 30 or 24fps
1080p 60 48 30 or 24fps
1080p Superview 60 48 30 or 24fps
960p 100 for 60fps
720p 120 60 or 30fps
720p Superview 100 or 60fps
WVGA 240fps
-
-
-
-
-
-
1080p 30fps (medium view)
-
960p 30fps (ultrawide)
720p 60 or 30fps (ultrawide)
-
WVGA 60fps (ultrawide)
-
-
-
-
-
-
1080p 30fps
-
-
720p 60fps
-
-
Touchscreen
no
no
YES
no
no
Stills
12MP
12MP
10MP
5MP
5MP
Burst
30fps
30fps
10fps
3fps
5fps
Wi-fi
YES
YES
YES
YES
no
Bluetooth
no
YES
no
no
no
Timelapse
0.5 to 60 seconds
0.5 to 60 seconds
0.5 to 60 seconds
0.5 to 60 seconds
0.5 seconds only
Weight
2.61 oz./4.8 oz. with case
3.1 oz/5.4 oz.
2.9 oz./5.2 oz.
2.61 oz./4.8 oz.
3.9 oz.*
HDMI port
YES
YES
YES
YES
no
* The plain Hero cannot be removed from its case! You can, however, switch backs which allows you to use either the enclosed or skeleton back. But this means it won't be able to use any of the BacPacs designed for the other GoPros. Except for the low res still photography, I'd be happy with the White edition.
UPDATE: - October 6, GoPro has updated the specs on the website, so I've updated this post to match. The 4 Black is half an ounce heavier than the 3+, despite being the same dimensions. But the 4 Silver is 0.2 ounces lighter than the 4 Black, despite the addition of a touch screen to the Silver. So I guess the additional processing for higher resolutions in the 4 Black actually weighs something.
Additional features on the 4 Black and 4 Silver revealed:
I know the 3+ could do photo + video, but could it do timelapse photo + video? Not sure. But the 4s [that's plural as in "fours" not "four ess"] can do it.
There's a new night timelapse mode that allows for longer times between shots. In addition to the usual 5 second to 60 second choices, it offers 2, 5, 30 and 60 minute lapse choices.
White balance can be set for 3000K, 5500K, 6500K or "Native" (industry standard). Someone somewhere sometime is going to confuse the white balance settings with 4K video resolution. "Look, Jimmy, it can shoot at 3000K!! We need a bigger TV." FYI 3000K used to be called "Tungsten," but that would not be intuitive for young photographers. 5500K is noontime sun. 6500K is white on an RGB monitor, but it's also daylight under an overcast sky.
You get a choice on "color;" either GoPro color or flat.
They say more about the ISO limit, but it's not obvious to me if it's an upper or lower limit. I suspect the answer is upper. In video it can be set for 6400, 1600 or 400. For still photos it's 800, 400, 200, or 100. The manual for the 4 Black is not any clearer as to upper vs. lower limit, but a comment under EV Comp strongly suggests it's an upper limit. "If brightness has already reached the ISO Limit in a low-light environment, increasing the Exposure Value Compensation does not have any effect."
Sharpness can be set for low, medium or high. The default setting is high.
The shutter speed (in either "Night Photo" or "Night Lapse" modes) can be fixed at 10, 15, 20 or 30 seconds. I hope we see some interesting stuff come from that.
EV values from -2 to +2.
Spot metering.
A claim of reduced distortion in ultra wide-angle mode.
Battery life in the 4 Black with video (in the most conservative situation) is estimated to be 65 minutes to 110 minutes. Turn on Wi-fi and those estimates drop by 10 minutes. Oddly, adding the second battery BacPac does not double the estimate life. With the second battery, estimates range from 120 minutes to 180 minutes. I wonder if this might be due to additional heat retention?
Battery life in the 4 Silver is estimated to range from 100 minutes to 120. The longest battery life is the 4K 15fps mode! With W-fi on in the Silver, battery life estimates drop by 20 minutes. I wonder why Wi-fi seems to consume twice as much power in the Silver as it does in the Black.
They've provided a list of recommended external microphones to go with their improved audio (range increase by 10dB)
The 4 Black manual includes this helpful chart of the menu system: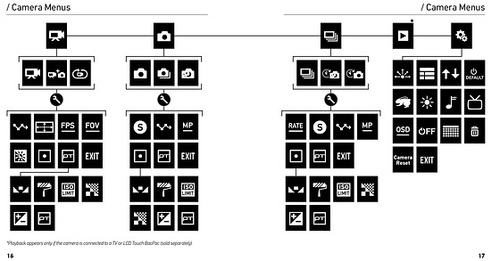 Filed under GoPro | permalink | September 30, 2014 at 01:28 PM | Comments (1)
Playa Restoration Halted By Weather
Playa restoration (de-MOOPing) after Burning Man has been prematurely halted due to the onset of winter. At least the learned opinion of those with experience on the playa is that they have to stop.

As you can see, parts will be left undone. The full size version of this map is available here, but it's a 250MB TIF file.
The source map, without the satellite imagery, can be found here and it's only a 1.7MB GIF file which is much clearer. The choice should be easy.
The Burning Blog says this:
Just as the weather report predicted, the Resto crew was blown off the playa Saturday morning by steady rains that turned the playa into impassable mud. We have done all the mooping we can do this year. Now it all comes down to tomorrow's scheduled site inspection with the Bureau of Land Management, to determine whether Burning Man can be held on the Black Rock Desert in 2015.
You may find a red splotch that appears to be in the territory of Burner Buddies. My explanation for this that either (1) somebody exiting dumped something there after I left at 5 PM on Monday, or (2) the accuracy of DPW restoration crew's placement of stuff on the map suffers from the inherent inaccuracy of GPS. IOW, move that spot 10 feet and it's somebody else's.
Some Burners are eager to point out that the left hand side of the city (9:00-ish) shows more yellow and red than the right hand side, and the super-rich people that some complain about are the people who occupied those red and yellow zones closer to the outer road over on the left. Apparently after the rich guys go home, their sherpas become rather relaxed about the cleanup. Well, every city has its slums and in Black Rock City it's the rich who live in the slums. I think Burning Man should hire Pat Williams to set up some neighborhood policing over there.
Filed under Burning Man | permalink | September 30, 2014 at 08:04 AM | Comments (0)
September 29, 2014
Recreational Marijuana Expected To Be Legal In Oregon
The proponents of a measure to legalize recreational marijuana reported spending $2.3 million while opponents did not report spending anything. If approved by the voters, the law will go into effect January 1, 2015. The legislature won't convene until February 2, so it would be reasonable to expect a bumpy ride for a bit. The measure would legalize possession of up to 8 ounces of marijuana. I believe the limit in Colorado is 1 ounce.
Filed under Marijuana | permalink | September 29, 2014 at 12:53 PM | Comments (0)
Yahoo & AOL
An investor is encouraging Yahoo to buy AOL. This, if it takes place, would be right up there with Sears buying KMart, in terms of marketing genius.
Yahoo generally buys up successful companies and then ruins their product, so it would be interesting what Yahoo would do with AOL. Could it possibly be made worse?! If it could, Yahoo would be the company to find a way to make it happen.
Filed under Web/Tech | permalink | September 29, 2014 at 12:28 PM | Comments (0)
Burning Man - It's Not Normal
Evidence of that in this video includes an interior shot of the Temple Of Grace during a dust storm, which is something I did not get to see.

Filed under Burning Man,Photography | permalink | September 29, 2014 at 12:12 PM | Comments (0)
Another Use For Drones
Filed under Photography | permalink | September 29, 2014 at 10:08 AM | Comments (3)
omigawd omigawd omigawd
It's the GoPro Hero4! Coming October 5. For the privilege of enjoying the improvements, you will pay $100 more for the Black model - $500; just as the Hero3 was $100 more than the Hero2. Silver is also $100 more: $400.
Black:
4k 30fps
2.7k 50fps
1080p 120fps
240fps is gone
12 megapixel stills, up to 30 per second
Night photo and night lapse modes
"Highlight tag" videos while shooting
Wider angle!
Auto low-light mode
One button press to turn on and begin shooting
Improved audio & compatible with more mics; double the dynamic range of the Hero3+
A button dedicated to accessing settings (or marking highlights)
Elsewhere I read about the ability to have full manual control of all settings...except focus, of course.
Silver:
Built-in touch display
1080p 60fps
720p 120fps
"Highlight tag"
Many of the other enhancements that the Black gets, but not all
They don't mention image stabilization, so probably none of that. No word on weight and dimensions, but it looks like it's pretty close to the Hero3+.
One assumes the White will continue as is.
There is a rumor of an additional model that will be cheaper than the White, but it's not mentioned on the website yet.
DPReview has posted the official press release and it confirms an additional, very cheap GoPro. Called simply the Hero, list price will be $130. 1080p 30fps and 720p at 60fps. Sounds like it might be fairly similar to my old Hero2. This should serve to undercut those copycats that try to undercut GoPro's high prices.
Hero4 Black demonstration video. Since they don't tell you anything but the frame rate, it's not easy to determine what they are demonstrating. You can watch it in 4K (if you can, that is) and I assume that 4K is at 30fps. Some of the scenes may be using the night mode.

As always, the purchase price does not include trips to exotic lands, good looking friends, orcas, or a copy of Final Cut Pro.
Here's a video that's a little more sober. Describes features. There is some manual control, but nothing like manual control on, say, a regular camera. The Hero4 Black may be aimed at Hollywood.
Here's a similar demonstration video for the Silver Hero4. It shows the touch display, which is NOT available on the Black.
GoPro fiddled with the focus when they introduced the 3+ but made no announcement about that, and some people were unhappy with that. I'm sure some users will test the 4 to find out what's been done this time.
Filed under GoPro,Photography | permalink | September 29, 2014 at 08:13 AM | Comments (0)
September 28, 2014
iPhone 6 Encryption
The new iPhone 6 will encrypt "emails, photos and contacts based on a complex mathematical algorithm that uses a code created by, and unique to, the phone's user." "Breaking the code, according to an Apple technical guide, could take 'more than 5 1/2 years to try all combinations of a six-character alphanumeric passcode with lowercase letters and numbers.'" That, of course, would be a brute force method, and I'm pretty sure the NSA and FBI have more sophisticated techniques than that.
The FBI objects to this.
At Apple and Google, company executives say the United States government brought these changes on itself. The revelations by the former N.S.A. contractor Edward J. Snowden not only killed recent efforts to expand the law, but also made nations around the world suspicious that every piece of American hardware and software — from phones to servers made by Cisco Systems — have "back doors" for American intelligence and law enforcement.
Filed under Libertarianism,Technology | permalink | September 28, 2014 at 11:57 AM | Comments (0)
Historical Society Soup Supper, October
Filed under Coachella Valley,Desert Hot Springs,History | permalink | September 28, 2014 at 09:42 AM | Comments (1)
September 26, 2014
Be Happy
Another attempt to analyze Burning Man. But this one might be on to something in its focus on gifting.
A study led by neuroscientist Robb Rutledge showed that feeling happy depends not on how well things are going in general, but instead whether things are going better than expected. In other words, pleasant surprises have a big effect on happiness – and these abound in Black Rock City. Hardly a minute goes by without some sort of weird and wonderful episode, like spotting a giant mobile octopus spouting flames from its tentacles, or encountering a man offering you a giant platter of delicious grilled steak, or stumbling into a glass dome rigged with colourful LED lights that give you the sensation of being inside a rainbow.

It's no surprise, then, that this environment puts people in a good mood, which then boosts kindness and generosity. And it turns out the causal arrows also run in the reverse direction. Work by Elizabeth Dunn, Lara Aknin and Michael Norton has shown that being kind to others promotes happiness. So happiness increases helping, and likewise helping increases happiness, creating a positive feedback loop of warm fuzzy feelings (and their associated neurochemicals) in oneself and in others. And these natural neurochemicals could well be habit forming.
Filed under Burning Man | permalink | September 26, 2014 at 09:08 PM | Comments (1)