« February 2008 | Main | April 2008 »
March 31, 2008
Super Rickroll
For April 1 YouTube is linking EVERY video to Rick Astley's Never Gonna Give You Up. Really. Just follow the link and pick any video at random! I hope he's getting residuals on this.
Apparently they've been implementing this on a country by country basis as April 1 arrived. It started in the U.S. at midnight east coast time.
Filed under Music | permalink | March 31, 2008 at 11:08 PM | Comments (3)
Dr. Bronner's

Someone has been good enough to unpeel and scan the Dr. Bronner's label for your reading pleasure. Thank goodness, because I so rarely wear my reading glasses in the tub.
| permalink | March 31, 2008 at 11:06 PM | Comments (1)
March 30, 2008
Monkey Butt?
Via Frank Martin I've come across this product called Anti Monkey Butt Powder. Turns out that motorcyclists call the butt rash you can get from sitting on your bike for too many hours "monkey butt" cause you have to walk like a monkey. They say this product will help bicyclists too, but their website gives no hint as to the contents of the product. I'm sure they don't want to give away all of their competitive advantage, but howzabout a vague idea. Talcum? Arsenic? Cornstarch? Orange blossoms? Ganges mud?
Filed under Cycling,Health | permalink | March 30, 2008 at 09:45 PM | Comments (0)
Wildflower Walk in Mission Creek Preserve
Today, Bill led a Great Outdoors wildflower walk in the Mission Creek Preserve which is just west of Desert Hot Springs. Mission Creek is one of the preserves that are owned by The Wildlands Conservancy. Go here to see the complete set of photos. It was pretty windy, so it took some patience to get clear close-ups of the flowers. Here are a few samples.


Here I sit on what has been reported to be the epicenter of the 5.6 earthquake that happened in 1986. Pat and I inspected the area hoping, as always, to find a gaping pit revealing a lake of frothing hot magma, but we were disappointed again. Here's a Google satellite image showing the location if you'd like to look for evidence of the fault.
Filed under Coachella Valley,Desert Hot Springs,Photography | permalink | March 30, 2008 at 08:45 PM | Comments (0)
March 29, 2008
Frazier's Story

The Press-Enterprise has a story on Frazier Haney, manager of the new Whitewater Preserve in Whitewater Canyon.
Haney lives in half of a cabin-like duplex. Jack Thompson, a ranger, lives in the other half. Staff Charlotte Burns and Nick Burkett reside on the grounds. Ranger Robert Culver lives in a nearby ranch house.
He enjoys living on the grounds with his fellow workers and, while it only takes about 20 minutes to drive to Banning or Palm Springs, relishes the feeling of isolation in the canyon.

He chose not to install a satellite dish for television and instead watches recorded movies. He taps into the Internet through a satellite system. He is joyful that his home in the outdoors also lacks cell-phone reception. "I hope that doesn't change," he said.
Filed under Coachella Valley | permalink | March 29, 2008 at 11:00 PM | Comments (0)
Your Guess

Photo by yusheng.
Filed under Photography | permalink | March 29, 2008 at 09:01 PM | Comments (1)
Karl Baker Heading To Sacramento
Don't worry, it's probably just for a day. He'll be heading up there to offer testimony before the Senate Committee on Local Government regarding Senator Denise Moreno Ducheny's Senate Bill 1326 which would require greater openness in accounting at vector control districts and would place restrictions on their ability to levy special benefit assessment taxes.
You can follow the status of SB 1326 here.
Filed under California | permalink | March 29, 2008 at 09:42 AM | Comments (1)
The Inexorable Advance Of Science
This YouTube video addresses the very latest discoveries in genetic research.
Filed under Gay Issues,Religion | permalink | March 29, 2008 at 09:19 AM | Comments (1)
March 28, 2008
Where Are Those Sweet People Who Love America AND Hillary Clinton
Just asking, cause they seem to be, uh, spread thinly.
What struck me as the best commentary on the Bosnia story came from a poster called GI Joe who wrote in to a news blog: "Actually Mrs. Clinton was too modest. I was there and saw it all. When Mrs. Clinton got off the plane the tarmac came under mortar and machine gun fire. I was blown off my tank and exposed to enemy fire. Mrs. Clinton without regard to her own safety dragged me to safety, jumped on the tank and opened fire, killing 50 of the enemy." Soon a suicide bomber appeared, but Mrs. Clinton stopped the guards from opening fire. "She talked to the man in his own language and got him [to] surrender. She found that he had suffered terribly as a result of policies of George Bush. She defused the bomb vest herself." Then she turned to his wounds. "She stopped my bleeding and saved my life. Chelsea donated the blood."
| permalink | March 28, 2008 at 09:52 PM | Comments (0)
Figure Out Why An Application Is Not A Mac Application
Oh, I'm sorry - it's actually entitled Figure out why an application hangs [in Windows]. I apologize for my stupidly embarrassing lack of reading skillz.
Filed under Technology | permalink | March 28, 2008 at 09:45 PM | Comments (1)
"The Island" at North Shore
In response to some of my recent photos of the Albert Frey designed marina at North Shore on the Salton Sea, one reader called the building the "Aces and Spades" and said it was used in the film The Island. So I went and got a copy of the DVD from Greencine. It's got a great look, but it's got so many plot holes in it that I had to switch my mind to "swiss cheese" mode just to get through it. I was, however, glad to see that the little fictional desert town of "Yucca" which is somewhere near the Salton Sea will, in the not too distant future, get an absolutely gorgeous train station whose cost was probably nothing compared to the expense required to build that maglev train! Steve Buscemi is great and should be in every movie that is shot near the Salton Sea. He looks so at home there.
Anyway, if you are watching the movie to catch the bits filmed at North Shore, you'll have no trouble spotting them. You are alerted by the easily recognizable landmark motel:

Moments later we see the re-costumed facade of Frey's marina:

Filed under Film/Movies | permalink | March 28, 2008 at 03:08 PM | Comments (0)
Nude Bowl
Here's an article in the OC Weekly (June 9, 2005) about pool skating (skateboarding in empty swimming pools), and specifically about the "Nude Bowl" which was in the western extremity of Desert Hot Springs until it was filled in.
"I believe I heard of it when I lived in Texas," says [Huntington Beach pro skater Dave] Reul, who moved out here after high school and first skated the Nude Bowl in 1986 as part of a skate crew featured in the BBC video Life's a Beach. "That was my first experience of it . . . it was such a good pool, it was really in good shape—really good, really wide-open, good transitions, good coping. But the best thing was the location, just because it's up on top of this hill away from everything and you have to kind of four-wheel drive to get up there, so the best thing was the location and then the freedom that goes along with being able to skate as much as you want whenever you want and just having a view of the city right below you and knowing that nobody's going to hassle you.

"It was such an adventure to get there . . . we'd all meet up at about midnight and we'd skate till morning . . . and it would get really hot at about nine o'clock in the morning, so you'd just leave then and pretty much just not sleep. It's a lot of car crashes, leaving there."
The article says the City of Desert Hot Springs had the pool filled in, but that in 2000 Reul rented a backhoe to empty it out. They replaced the pool's coping. After skating the renewed pool, the article says, "off-duty police officers came back and shot up the pool with machine guns again. Later, they were prosecuted for this and other offenses." Reliable local sources were surprised to hear this version of events. The city filled in the pool again.
The "Nude Bowl" started out as the swimming pool for a nude resort in the hills west of Desert Hot Springs. Some other people's photos: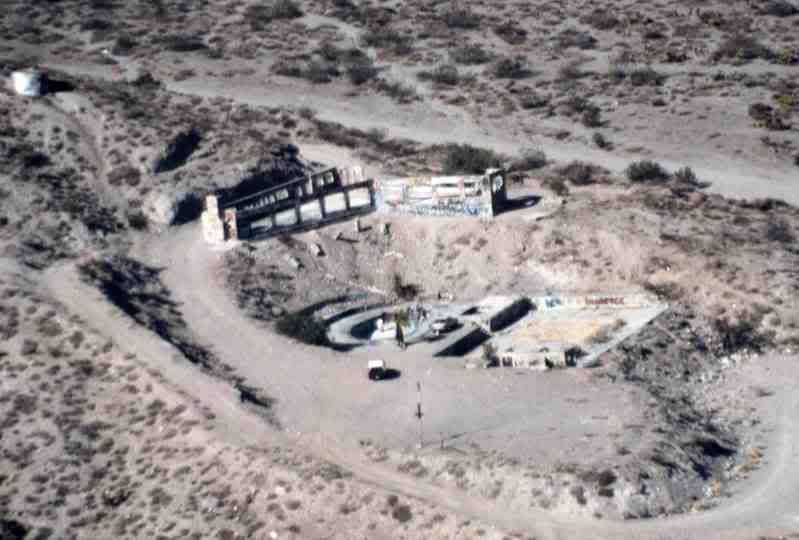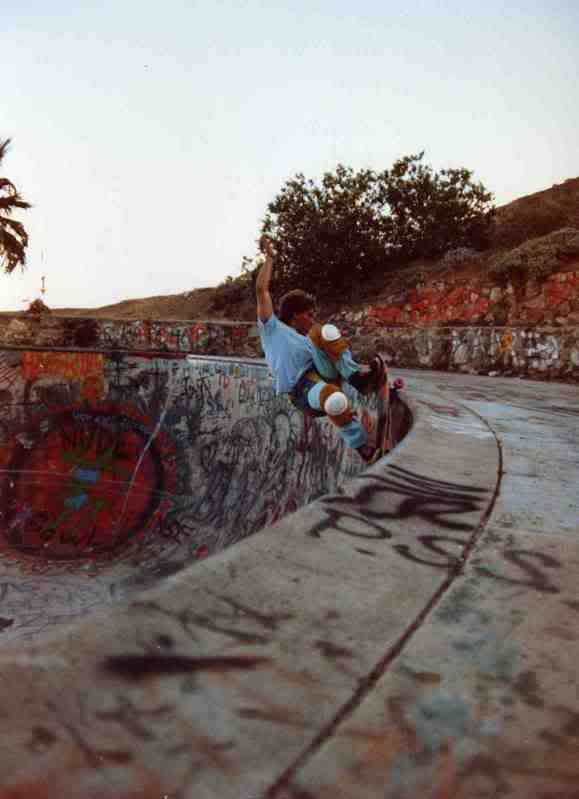 Photo by john gill.

Photo by pete_d.

Photo by Kyle Harper.

Photo by Kyle Harper.

1989 photo by spiralstares.

1988 photo by Luis Liz and Paloma.

1998 photo by hutchphoto.

1998 photo by hutchphoto.
I first heard about this spot as the "nudist colony" a few years ago when Karl Baker was on the committee identifying trails and trailheads around Desert Hot Springs in order to begin to protect access to them. New housing developments were threatening access to several of them. The gigantic Highland Falls development with two 18-hole golf courses began to be built directly across the road that had been used for access to the nudist colony and Nude Bowl. Work on that development has been suspended, but the site is not abandoned. Water trucks and a backhoe for dust control are still there.
Some photos of the Nude Bowl included enough background scenery to help me guess its approximate location. Jeff Bowman of the Desert Hot Springs Historical Society gave me a few hints on how to get to it. So yesterday I set forth. I stayed outside the walls of Highland Falls to avoid trespassing. There is no trail and the vegetation is thick - for the desert, that is. Here's the area we're talking about:

The route I followed: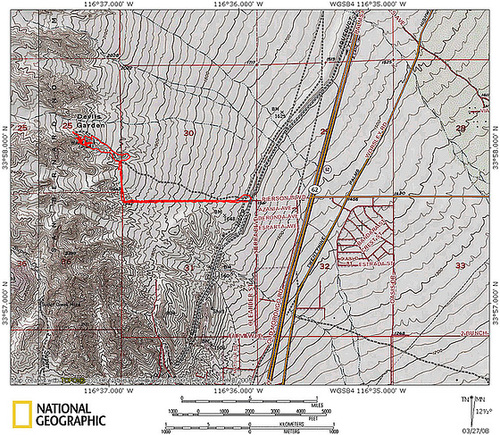 And what I found there:



Panoramic view of Desert Hot Springs and Coachella Valley from above the Nude Bowl.

Old building foundation.


The beginnings of a new building foundation.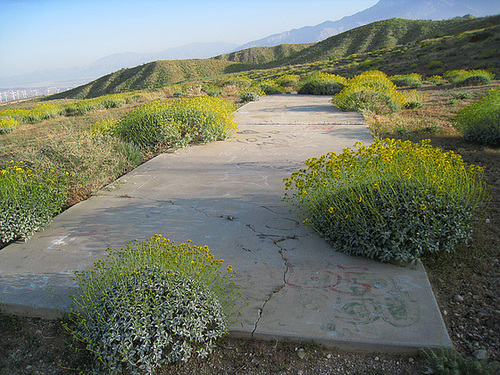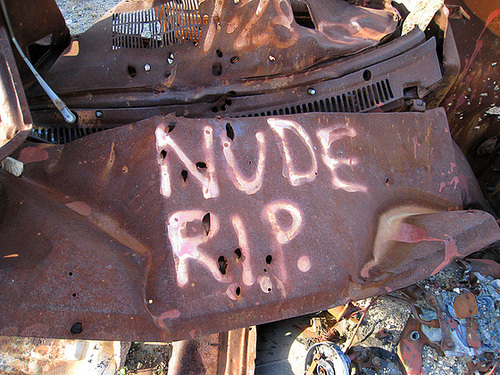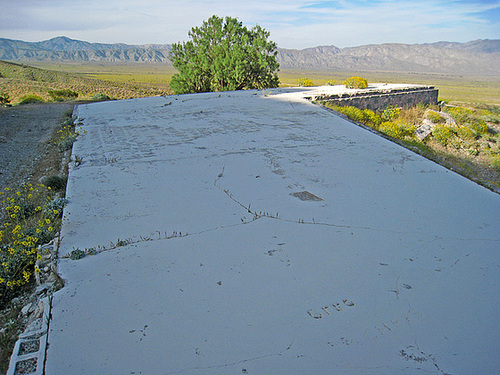 Old building slab.

Collapsed chimney.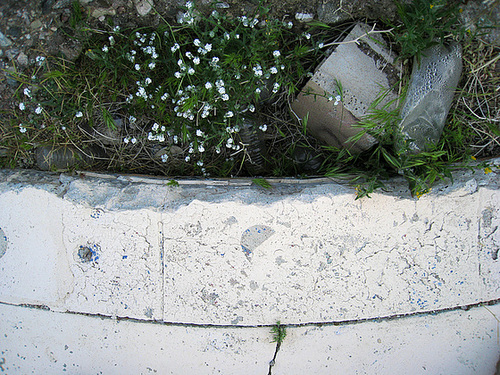 The lip of the old swimming pool.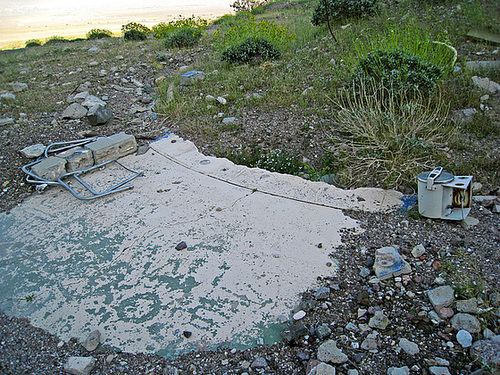 Some of the deck of the old pool.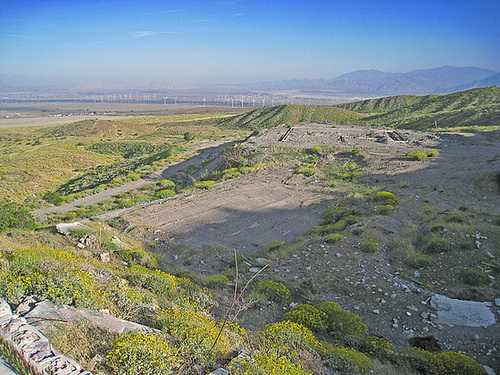 The pool is in the lower right of this photo.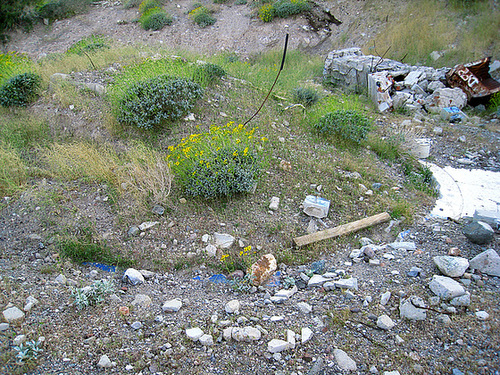 That's the pool now, just a pile of dirt.
I have many more photos here taken during the hike, including flowering cactus, yucca and joshua tree, along with some views of Highland Falls.
Jeff Bowman of the Desert Hot Springs Historical Society is looking for more info on this place.
Back in the 1960s to mid 1970s Desert Gardens Ranch (aka Desert Garden Nudist Resort, Nudist Colony or Nude Bowl) was in operation. It was located at the very west end of Pierson Blvd. across Highway 62 in the foothills. At some time the resort closed its doors and in the late 1970's and from the 1980s and into the 1990's skateboarders frequented the closed / abandoned facilities. They dug out the old pool (several times!) and proceeded to ride their skateboards in the pool in what they called the "nude bowl." Currently the Palm Springs skateboard park has a replica of this famous nude bowl. Like the other research projects, we'd like to have any stories, pictures, articles, etc. of this location.
If you have information to share contact Jeff Bowman at info@dhshistoricalsociety.com.
Filed under Coachella Valley,Desert Hot Springs,Photography | permalink | March 28, 2008 at 12:17 PM | Comments (18)
"Pork Arista & Desert Hot Springs"
Evanne Schmarder has an on-line show about cooking and traveling by RV. Here in Pork Arista & Desert Hot Springs she gives us her recipe for (guess what!) pork arista and talks about visiting (where else!) Desert Hot Springs. She likes the hot mineral water, she names some of the great nearby attractions, but she recommends Palm Desert for shopping and dining. I'll let Councilmember Russell Betts take that issue up with her.
Filed under Coachella Valley,Desert Hot Springs,Food and Drink | permalink | March 28, 2008 at 10:00 AM | Comments (0)
March 27, 2008
Yet More Patton History
It's an article about the increasing success and planned expansion of Shields Dates in Indio, but it mentions that a storage area that will be used to expand the retail facility has historical value:
Wounded soldiers once occupied its rooms when it was part of a temporary military hospital in the Los Angeles area during World War II, [General Manager Mark] Goulet said. The recovering soldiers were visited by Gen. George S. Patton.

"He used to walk through and see his soldiers in that same building," Goulet said. "They brought it from L.A. on stilts."
I'm trying to visualize transporting a building on stilts. The army did some amazing things back then.
Anyway, Shields will be adding landscaping, water features, a place to sit outside under the date palms, and a bakery-deli operation. They will also hook up to City of Indio water for the first time.
Filed under Coachella Valley,History | permalink | March 27, 2008 at 12:52 PM | Comments (0)
More Log Cabin BS
Governor Schwarzenegger's gay pride letter for this year is out, so to speak, and the brouhaha begins.
In it, Schwarzenegger again states that the Pride events are "a fantastic reminder that California continues to work hard to be a place where every individual and every family can feel at home." He goes on to write that he is "proud to join you in creating a brighter future for all of our state's residents."
Log Cabin California Director James Vaughn takes some credit for helping to secure the letter from the governor. Consistent with Log Cabin's self-hating ways, Vaughn blames the gay organizations for objecting to the governor's false words. He also points out that the governor has obstructed equal rights no worse than Senators Boxer and Feinstein. This is the same sort of logic we read about last week. The governor is supposed to be less anti-gay than anti-democratic (lower case "d").
The trouble with Vaughn's comparison between Schwarzenegger and Boxer and Feinstein is that he's a governor and they're senators. In a legislative body you're going to vote on a ton of stuff and amendments to that stuff. Anybody with a little effort can find a handful of votes to make any legislator look like a monster. It takes a lot of work to rate a legislator based on all her work. It's easier to stick it to a governor. One nice neat bill comes before him. All nuance is in the past. His decision at that point is a simple up or down. Schwarzenegger made his choice. He could have recalled the Republican Party that gave us the 14th amendment and signed the marriage bill. Or he could have gone the way of the modern Republican Party with its bigots, philanderers, crooks and warmongers.
Vaughn says it's hypocritical for pride organizations to object to the governor's letter while publishing letters from the senators without criticism. But according to the Bay Area News article, pride organizations in San Francisco and Los Angeles do not recall receiving pride letters from either senator prior to this year. San Francisco's pride organization did receive a letter this year from Boxer. They won't print it due to space limitations, but will publish it on their website.
Filed under California,Gay Issues | permalink | March 27, 2008 at 12:19 PM | Comments (0)
Surprising Photo
Someone calling himself Bisnack on Flickr has posted a few images from the naked photo shoot I went on last month. Here's one. As I understood the release forms I signed, we weren't allowed to re-distribute the photos. I don't know if Bisnack was one of the participants, or got these photos some other way.
Filed under Coachella Valley,Naturism-Nudism,Photography | permalink | March 27, 2008 at 10:44 AM | Comments (0)
March 26, 2008
Richard Widmark, 1914-2008
Mr. Widmark told The Guardian in 1995 that he had not become a producer to make money but to have greater artistic control. "I could choose the director and my fellow actors," he said. "I could carry out projects which I liked but the studios didn't want."

He added: "The businessmen who run Hollywood today have no self-respect. What interests them is not movies but the bottom line. Look at 'Dumb and Dumber,' which turns idiocy into something positive, or 'Forrest Gump,' a hymn to stupidity. 'Intellectual' has become a dirty word."
Filed under Film/Movies | permalink | March 26, 2008 at 11:18 PM | Comments (0)
Finding Ron's Log
Occasionally a miserable, broken soul comes to me saying that he tried to Google the way, the truth, and the light of Ron's Log but instead he found a Chinese nerd with guns [not that there's anything wrong with that], or a Christian with ads for moneychangers in his temple, or even a philosopher who writes a pretty good schtick, but doesn't take his pants off.
I explain to those poor people that they have made the common, lazy-minded mistake of searching for "Ron's Blog." My faithful and caffeinated readers are very aware there is no B in Ron's Log. And I know you won't confuse me with Captain Ron who has had boats called "The Missy" and "The Lady Jane."
Filed under Weblogs | permalink | March 26, 2008 at 10:26 PM | Comments (0)
You're Never Too Old To Learn
Mike Gravel has left the Democratic Party and will seek the nomination of the Libertarian Party.
"I'm joining the Libertarian Party because it is a party that combines a commitment to freedom and peace that can't be found in the two major parties that control the government and politics of America," Gravel said in a statement. "My libertarian views, as well as my strong stance against war, the military industrial complex and American imperialism, seem not to be tolerated by Democratic Party elites who are out of touch with the average American."
He's got his inconsistencies though. He favors universal health care and more government spending on education, both of which are opposed by the Libertarian Party.
UPDATE: Here's the official welcome from the Libertarian Party:
"We're honored to have a former member of the United States Senate join our ranks," says Libertarian Party Executive Director Shane Cory. "Senator Gravel has a sincere dedication to empowering the American people and eliminating the corrupting influence of the two major parties. His switch from the Democratic Party, as well as former Congressman Barr's abandonment of the GOP, shows that the Libertarian Party is truly a big tent organization moving firmly in the direction of Liberty."
Yup, like a good church, we take in nasty sinners from both sides.
Filed under Libertarianism | permalink | March 26, 2008 at 08:30 PM | Comments (1)
Finally, A Catholic Apparition I Can See

It's the "Two O'Clock Titty" on St. Mary's Cathedral in San Francisco. Photo by artolog.
Filed under Photography,Religion | permalink | March 26, 2008 at 08:17 PM | Comments (0)