« February 2008 | Main | April 2008 »
March 30, 2008
Wildflower Walk in Mission Creek Preserve
Today, Bill led a Great Outdoors wildflower walk in the Mission Creek Preserve which is just west of Desert Hot Springs. Mission Creek is one of the preserves that are owned by The Wildlands Conservancy. Go here to see the complete set of photos. It was pretty windy, so it took some patience to get clear close-ups of the flowers. Here are a few samples.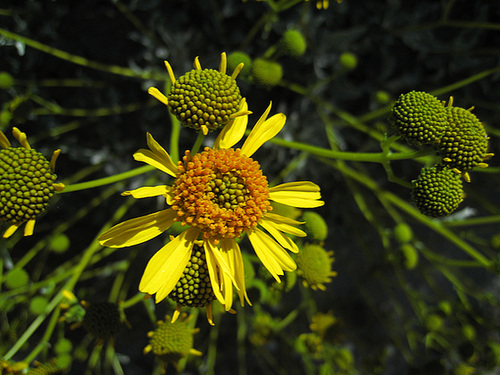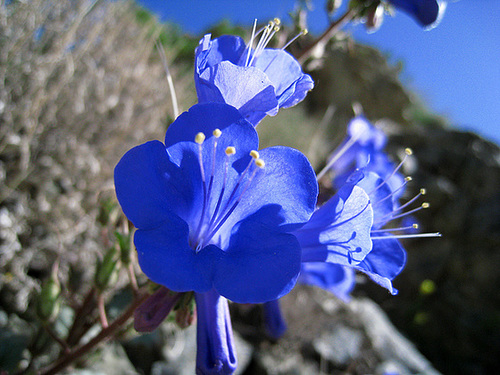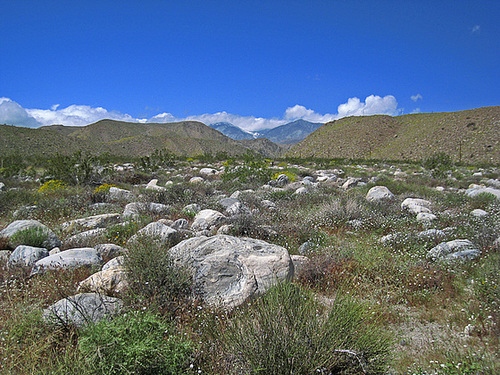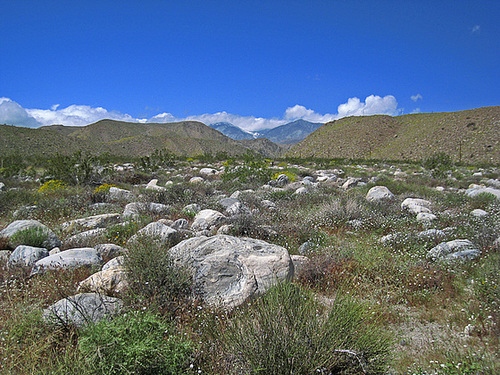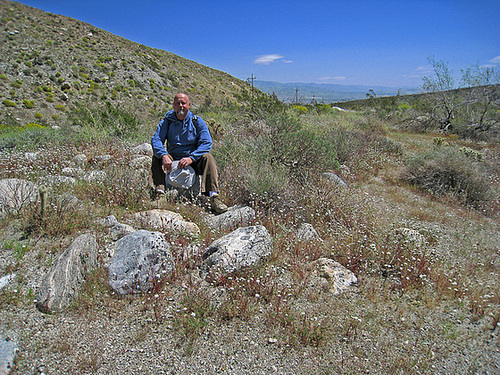 Here I sit on what has been reported to be the epicenter of the 5.6 earthquake that happened in 1986. Pat and I inspected the area hoping, as always, to find a gaping pit revealing a lake of frothing hot magma, but we were disappointed again. Here's a Google satellite image showing the location if you'd like to look for evidence of the fault.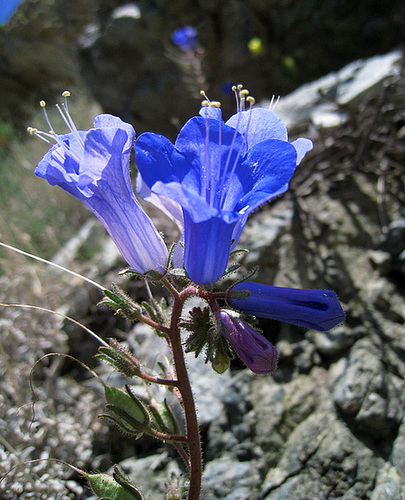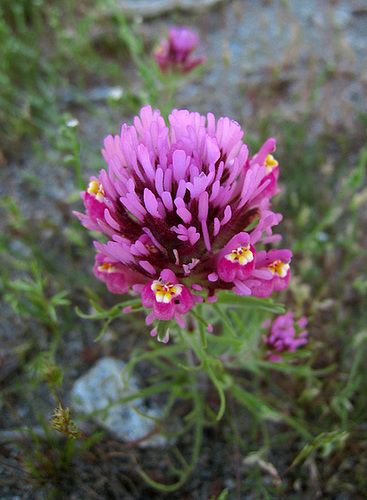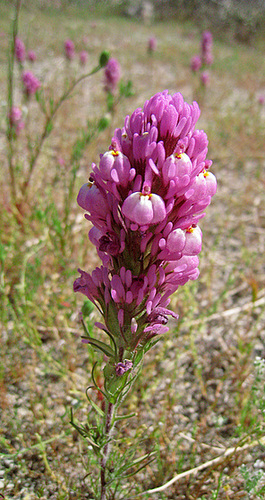 Filed under Coachella Valley,Desert Hot Springs,Photography | permalink | March 30, 2008 at 08:45 PM | Comments (0)
March 29, 2008
Your Guess

Photo by yusheng.
Filed under Photography | permalink | March 29, 2008 at 09:01 PM | Comments (1)
The Inexorable Advance Of Science
This YouTube video addresses the very latest discoveries in genetic research.
Filed under Gay Issues,Religion | permalink | March 29, 2008 at 09:19 AM | Comments (1)
March 28, 2008
Where Are Those Sweet People Who Love America AND Hillary Clinton
Just asking, cause they seem to be, uh, spread thinly.
What struck me as the best commentary on the Bosnia story came from a poster called GI Joe who wrote in to a news blog: "Actually Mrs. Clinton was too modest. I was there and saw it all. When Mrs. Clinton got off the plane the tarmac came under mortar and machine gun fire. I was blown off my tank and exposed to enemy fire. Mrs. Clinton without regard to her own safety dragged me to safety, jumped on the tank and opened fire, killing 50 of the enemy." Soon a suicide bomber appeared, but Mrs. Clinton stopped the guards from opening fire. "She talked to the man in his own language and got him [to] surrender. She found that he had suffered terribly as a result of policies of George Bush. She defused the bomb vest herself." Then she turned to his wounds. "She stopped my bleeding and saved my life. Chelsea donated the blood."
| permalink | March 28, 2008 at 09:52 PM | Comments (0)
Figure Out Why An Application Is Not A Mac Application
Oh, I'm sorry - it's actually entitled Figure out why an application hangs [in Windows]. I apologize for my stupidly embarrassing lack of reading skillz.
Filed under Technology | permalink | March 28, 2008 at 09:45 PM | Comments (1)
"The Island" at North Shore
In response to some of my recent photos of the Albert Frey designed marina at North Shore on the Salton Sea, one reader called the building the "Aces and Spades" and said it was used in the film The Island. So I went and got a copy of the DVD from Greencine. It's got a great look, but it's got so many plot holes in it that I had to switch my mind to "swiss cheese" mode just to get through it. I was, however, glad to see that the little fictional desert town of "Yucca" which is somewhere near the Salton Sea will, in the not too distant future, get an absolutely gorgeous train station whose cost was probably nothing compared to the expense required to build that maglev train! Steve Buscemi is great and should be in every movie that is shot near the Salton Sea. He looks so at home there.
Anyway, if you are watching the movie to catch the bits filmed at North Shore, you'll have no trouble spotting them. You are alerted by the easily recognizable landmark motel: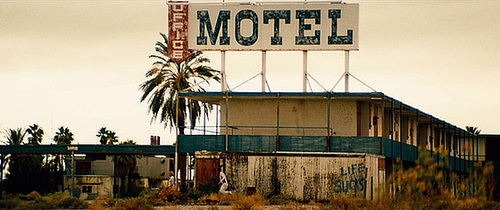 Moments later we see the re-costumed facade of Frey's marina: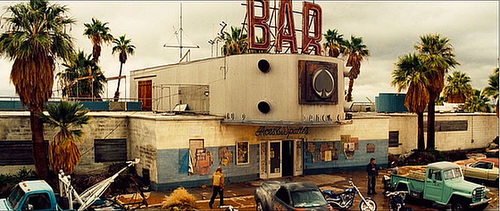 Filed under Film/Movies | permalink | March 28, 2008 at 03:08 PM | Comments (0)
Nude Bowl
Here's an article in the OC Weekly (June 9, 2005) about pool skating (skateboarding in empty swimming pools), and specifically about the "Nude Bowl" which was in the western extremity of Desert Hot Springs until it was filled in.
"I believe I heard of it when I lived in Texas," says [Huntington Beach pro skater Dave] Reul, who moved out here after high school and first skated the Nude Bowl in 1986 as part of a skate crew featured in the BBC video Life's a Beach. "That was my first experience of it . . . it was such a good pool, it was really in good shape—really good, really wide-open, good transitions, good coping. But the best thing was the location, just because it's up on top of this hill away from everything and you have to kind of four-wheel drive to get up there, so the best thing was the location and then the freedom that goes along with being able to skate as much as you want whenever you want and just having a view of the city right below you and knowing that nobody's going to hassle you.

"It was such an adventure to get there . . . we'd all meet up at about midnight and we'd skate till morning . . . and it would get really hot at about nine o'clock in the morning, so you'd just leave then and pretty much just not sleep. It's a lot of car crashes, leaving there."
The article says the City of Desert Hot Springs had the pool filled in, but that in 2000 Reul rented a backhoe to empty it out. They replaced the pool's coping. After skating the renewed pool, the article says, "off-duty police officers came back and shot up the pool with machine guns again. Later, they were prosecuted for this and other offenses." Reliable local sources were surprised to hear this version of events. The city filled in the pool again.
The "Nude Bowl" started out as the swimming pool for a nude resort in the hills west of Desert Hot Springs. Some other people's photos: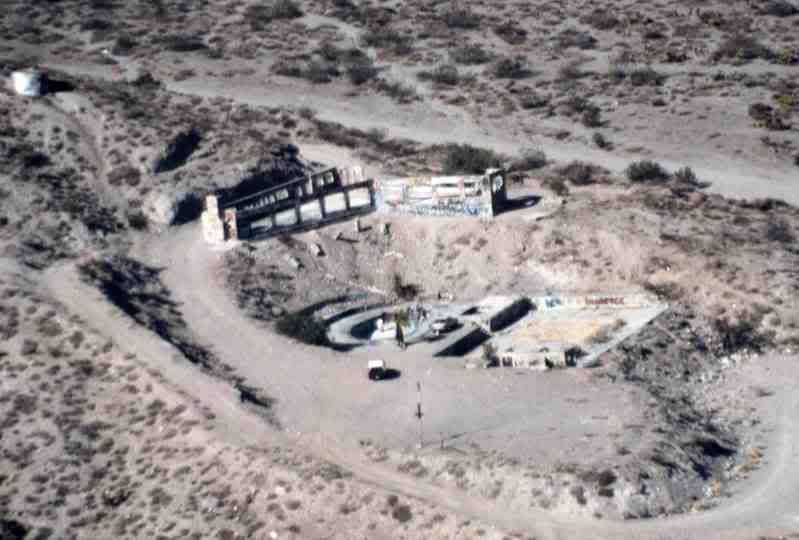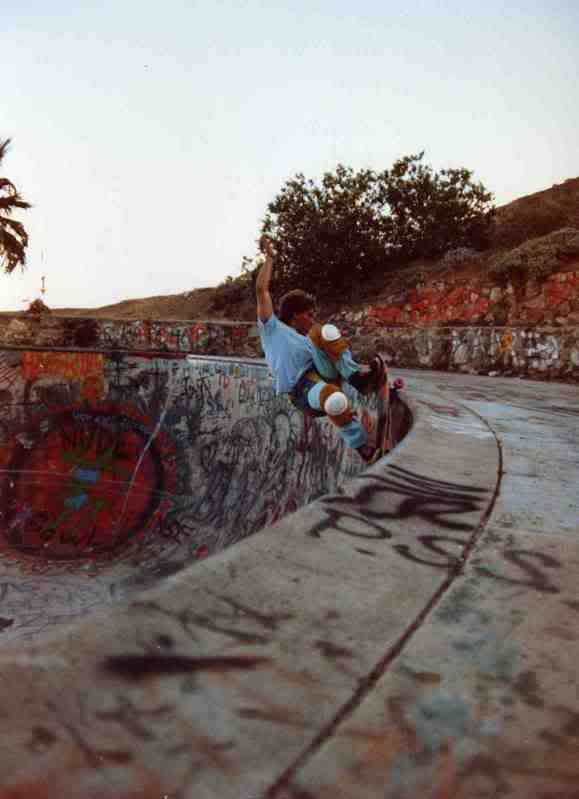 Photo by john gill.

Photo by pete_d.

Photo by Kyle Harper.

Photo by Kyle Harper.

1989 photo by spiralstares.

1988 photo by Luis Liz and Paloma.

1998 photo by hutchphoto.

1998 photo by hutchphoto.
I first heard about this spot as the "nudist colony" a few years ago when Karl Baker was on the committee identifying trails and trailheads around Desert Hot Springs in order to begin to protect access to them. New housing developments were threatening access to several of them. The gigantic Highland Falls development with two 18-hole golf courses began to be built directly across the road that had been used for access to the nudist colony and Nude Bowl. Work on that development has been suspended, but the site is not abandoned. Water trucks and a backhoe for dust control are still there.
Some photos of the Nude Bowl included enough background scenery to help me guess its approximate location. Jeff Bowman of the Desert Hot Springs Historical Society gave me a few hints on how to get to it. So yesterday I set forth. I stayed outside the walls of Highland Falls to avoid trespassing. There is no trail and the vegetation is thick - for the desert, that is. Here's the area we're talking about:

The route I followed: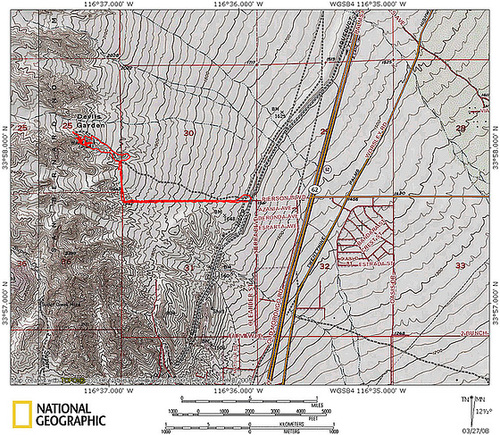 And what I found there:



Panoramic view of Desert Hot Springs and Coachella Valley from above the Nude Bowl.

Old building foundation.


The beginnings of a new building foundation.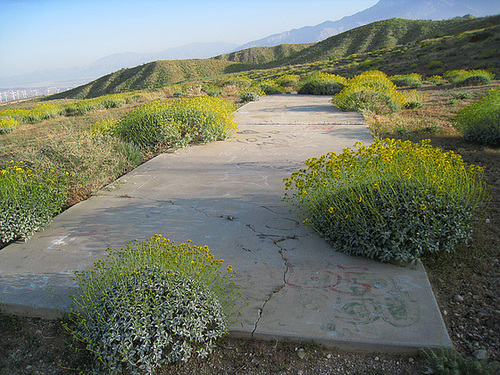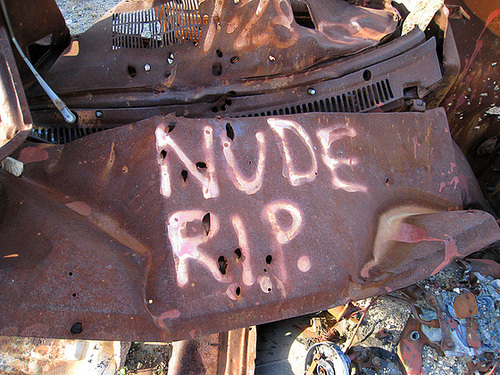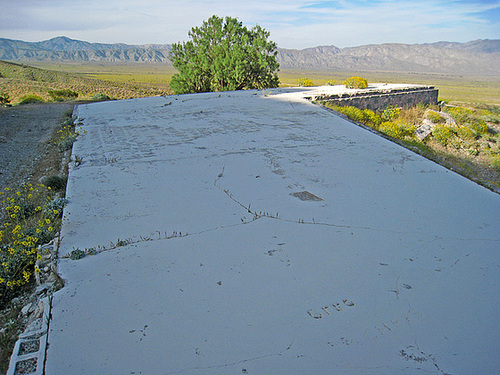 Old building slab.

Collapsed chimney.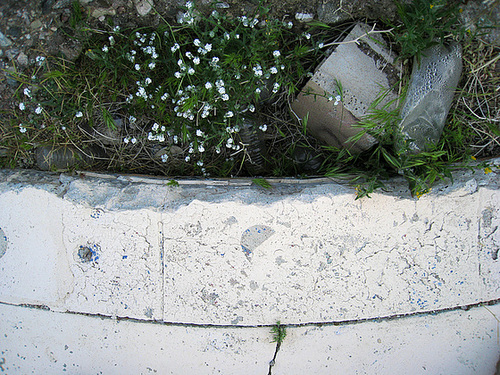 The lip of the old swimming pool.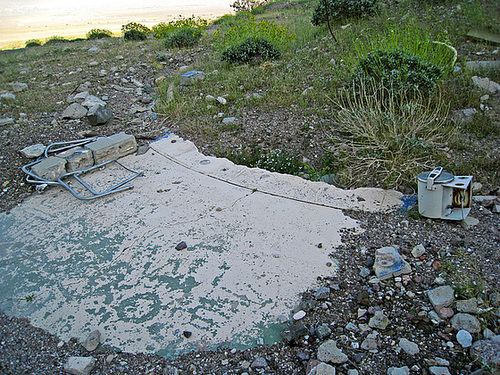 Some of the deck of the old pool.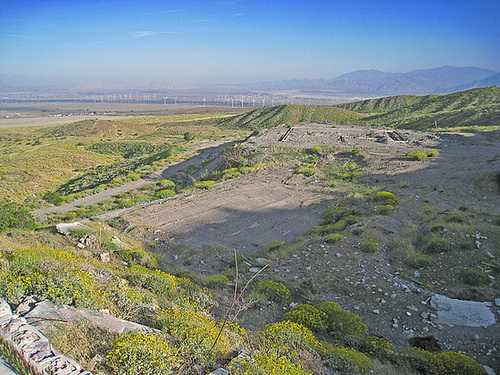 The pool is in the lower right of this photo.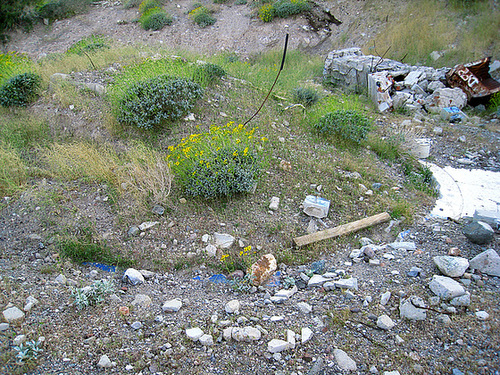 That's the pool now, just a pile of dirt.
I have many more photos here taken during the hike, including flowering cactus, yucca and joshua tree, along with some views of Highland Falls.
Jeff Bowman of the Desert Hot Springs Historical Society is looking for more info on this place.
Back in the 1960s to mid 1970s Desert Gardens Ranch (aka Desert Garden Nudist Resort, Nudist Colony or Nude Bowl) was in operation. It was located at the very west end of Pierson Blvd. across Highway 62 in the foothills. At some time the resort closed its doors and in the late 1970's and from the 1980s and into the 1990's skateboarders frequented the closed / abandoned facilities. They dug out the old pool (several times!) and proceeded to ride their skateboards in the pool in what they called the "nude bowl." Currently the Palm Springs skateboard park has a replica of this famous nude bowl. Like the other research projects, we'd like to have any stories, pictures, articles, etc. of this location.
If you have information to share contact Jeff Bowman at info@dhshistoricalsociety.com.
Filed under Coachella Valley,Desert Hot Springs,Photography | permalink | March 28, 2008 at 12:17 PM | Comments (18)
March 27, 2008
More Log Cabin BS
Governor Schwarzenegger's gay pride letter for this year is out, so to speak, and the brouhaha begins.
In it, Schwarzenegger again states that the Pride events are "a fantastic reminder that California continues to work hard to be a place where every individual and every family can feel at home." He goes on to write that he is "proud to join you in creating a brighter future for all of our state's residents."
Log Cabin California Director James Vaughn takes some credit for helping to secure the letter from the governor. Consistent with Log Cabin's self-hating ways, Vaughn blames the gay organizations for objecting to the governor's false words. He also points out that the governor has obstructed equal rights no worse than Senators Boxer and Feinstein. This is the same sort of logic we read about last week. The governor is supposed to be less anti-gay than anti-democratic (lower case "d").
The trouble with Vaughn's comparison between Schwarzenegger and Boxer and Feinstein is that he's a governor and they're senators. In a legislative body you're going to vote on a ton of stuff and amendments to that stuff. Anybody with a little effort can find a handful of votes to make any legislator look like a monster. It takes a lot of work to rate a legislator based on all her work. It's easier to stick it to a governor. One nice neat bill comes before him. All nuance is in the past. His decision at that point is a simple up or down. Schwarzenegger made his choice. He could have recalled the Republican Party that gave us the 14th amendment and signed the marriage bill. Or he could have gone the way of the modern Republican Party with its bigots, philanderers, crooks and warmongers.
Vaughn says it's hypocritical for pride organizations to object to the governor's letter while publishing letters from the senators without criticism. But according to the Bay Area News article, pride organizations in San Francisco and Los Angeles do not recall receiving pride letters from either senator prior to this year. San Francisco's pride organization did receive a letter this year from Boxer. They won't print it due to space limitations, but will publish it on their website.
Filed under California,Gay Issues | permalink | March 27, 2008 at 12:19 PM | Comments (0)
March 26, 2008
Richard Widmark, 1914-2008
Mr. Widmark told The Guardian in 1995 that he had not become a producer to make money but to have greater artistic control. "I could choose the director and my fellow actors," he said. "I could carry out projects which I liked but the studios didn't want."

He added: "The businessmen who run Hollywood today have no self-respect. What interests them is not movies but the bottom line. Look at 'Dumb and Dumber,' which turns idiocy into something positive, or 'Forrest Gump,' a hymn to stupidity. 'Intellectual' has become a dirty word."
Filed under Film/Movies | permalink | March 26, 2008 at 11:18 PM | Comments (0)
Finally, A Catholic Apparition I Can See

It's the "Two O'Clock Titty" on St. Mary's Cathedral in San Francisco. Photo by artolog.
Filed under Photography,Religion | permalink | March 26, 2008 at 08:17 PM | Comments (0)
Palen Pass
Yesterday, I rode along with Ed, Gardner, Scott and Pat on a Jeep exploration of Palen Pass. My complete set of photos can be seen here. We started at Camp Coxcomb which was one of Patton's camps in the Desert Training Center in World War II. It isn't as well preserved as Camp Iron Mountain, but there are rock-lined roads and walkways and the remains of another relief map.
As part of their training some soldiers would defend Palen Pass from an attack launched from Camp Coxcomb. Many tank tracks are visible on both sides of Palen Pass Road and guidebooks warn of the possibility of unexploded ordnance still lying in the desert. Scott didn't let me go exploring. When we got into the pass itself we found remains of some stone structures built by the soldiers. We also saw old tracks going up hillsides that I think are tank tracks.
We took our lunch break at Arlington and Black Jack mines. We don't know what they mined there, but here's what we observed: with only one exception all the mines in the area were short, shallow and mostly open-topped. Googling around I can't find any info on what was mined there, but I did discover that "black jack" can refer to sphalerite, a sulfide of zinc. However, checking out photos of minerals, the rocks we saw in the mine looked much more like pitchblende than sphalerite. Pitchblende is where you find uranium, of course, which is much more exciting than zinc. Unfortunately, nothing I can find via Google suggests there's ever been a going uranium mine in Riverside County. I would so like to be able to say I ate lunch sitting in a uranium mine. It was about 10 degrees cooler than outside.
Some of the photos:



Standing along Palen Pass Road looking west toward Camp Coxcomb.


Panoramic view from Black Jack mine.

<
Our route, sort of.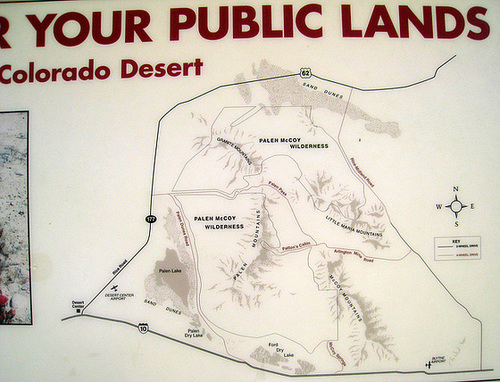 A map of the area on a BLM information kiosk.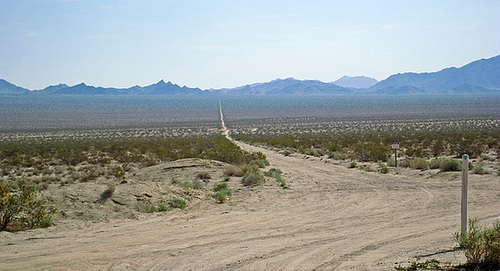 Looking east from Camp Coxcomb at Palen Pass Road. The road dips slightly as it crosses "Palen Lake," an area with a lot of tank tracks. We were warned of unexploded ordnance in the area.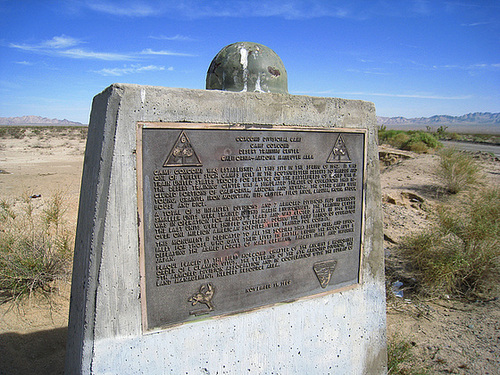 Historical marker for Camp Coxcomb.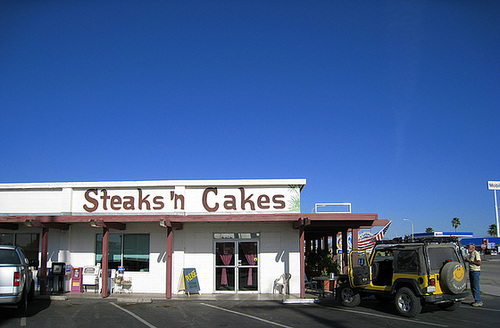 We finished the day with cobbler and iced tea at this restaurant in Blythe.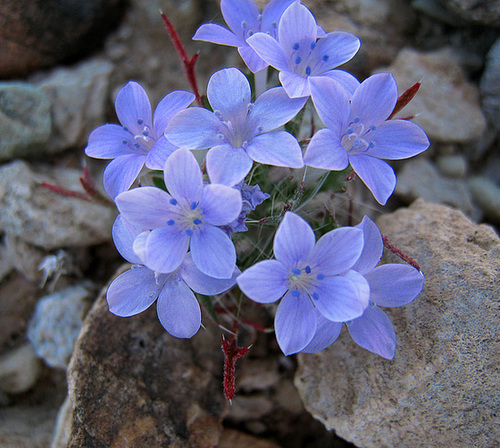 A decaying railroad facility called "Inca."

Tracks on hillsides. At first I thought these were tank tracks. They're old and the desert has healed them a little bit. But we also saw several close to the Black Jack mine, so maybe it's a way of prospecting that I haven't seen before. Scrape off the top layer and examine the results - maybe with a geiger counter?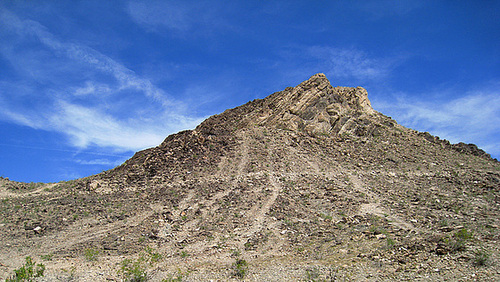 More tracks, very very close to where Patton's tanks maneuvered.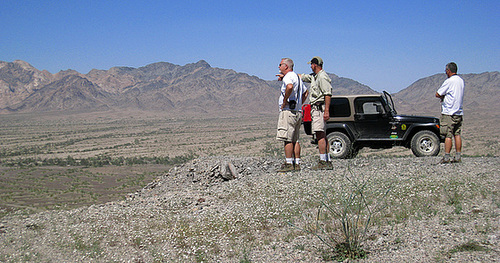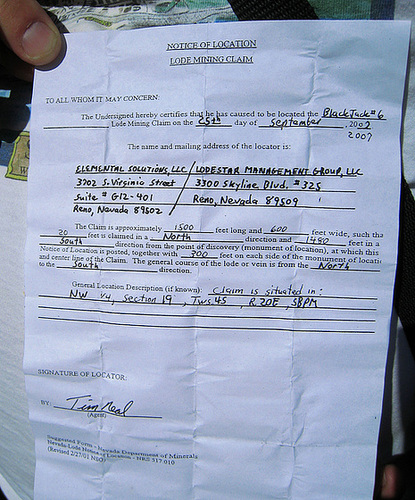 Claim papers for Black Jack mine.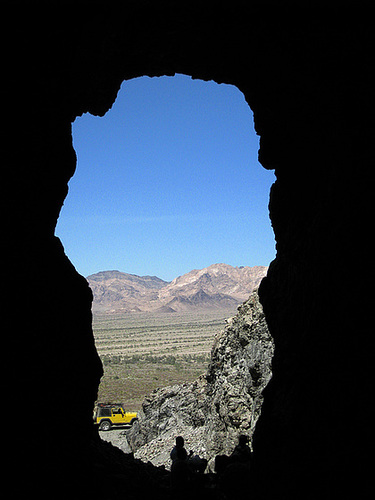 The view from inside Black Jack mine. The mine had a huge entrance (20 or 30 feet high) but penetrated the hillside only 100 to 150 feet.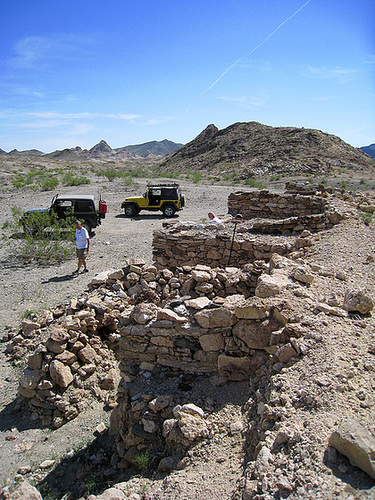 Stone structures that were defended in war games.
My complete set of photos is here.
Filed under History,Photography | permalink | March 26, 2008 at 07:07 PM | Comments (7)
Amtrak to Coachella
Amtrak has worked out a creative deal with Coachella Valley Music & Arts Festival that will allow campers to ride a train from Los Angeles to Indio (and back) for FREE! Amtrak sees it as a way to promote travel by train to younger people. They are limiting it to the first 500 people registering - you DO have to have a concert ticket and camping reservations. Here's the official page for the Coachella Express. They are estimating a 3-hour travel time from Union Station to Indio.
Suggestion to Amtrak: please make a greater than usual effort to keep the train on schedule or you'll do more harm than good.
Filed under Coachella Valley,Music,Travel | permalink | March 26, 2008 at 10:47 AM | Comments (0)
March 24, 2008
Owens Lake Reflecting Sierra

Photo by Echo_29. For a much broader perspective, go see this panorama.
Filed under California,Photography | permalink | March 24, 2008 at 05:45 PM | Comments (0)
UCLA Undie Run Reveals One-Third Of Students Don't Know Underwear
Photos from this past weekend's Undie Run can be found here.
Filed under Naturism-Nudism,Photography | permalink | March 24, 2008 at 01:43 PM | Comments (0)
March 23, 2008
South Fork Of The San Jacinto River
The California Desert and Mountain Wilderness Campaign is an organization working to designate several areas as federal wilderness, thus protecting them from most forces of humanity. One of those areas is the South Fork of the San Jacinto River. Here's a map the organization provides that nicely summarizes land designations (national park, wilderness, military, etc.) in the eastern three-quarters of Riverside County. I slapped on that arrow to make it easier for you to find the proposed wilderness area that we visited. To see a bigger version of this map, click here.

If you'd like to see the map unsullied by my red arrow, just click here.
Google map pointing to the trailhead for our hike.
Here's more info about the South Fork of the San Jacinto.
Photos from the trip:


We came across a hillside of blooming poppies.
The complete set of photos can be seen here.
As I was browsing through the website of the California Desert and Mountain Wilderness Campaign I noticed on this page about Tahquitz Peak that one of its native residents is the southern rubber boa which sounds like something you might wear to a really good party in New Orleans. But no! It's a snake!


(Not my photo).
More photos of southern rubber boas and a map showing their very limited range can be seen here. And, in this page about rubber boas we learn this interesting info:
Rubber boas are incredibly docile snakes and are ideal for handling by children and those trying to overcome a fear of snakes. Unlike many other snakes, they never use striking as a defense mechanism, although if handled too roughly, they will musk the holder (excrete very smelly substance from their vent), but absolutely will not strike in defense. Upon being picked up, a Rubber boa will gently wrap around the holder's wrist for upwards of an hour or more before seeking to crawl around. Even when warm and active, Rubber Boas rarely move swiftly.
Filed under Photography | permalink | March 23, 2008 at 10:23 AM | Comments (0)
March 22, 2008
Update on the CVMVCD Story
Indio police have officially recharacterized their "inquiry" as a "criminal investigation." Indio police were at CVMVCD headquarters on Thursday, and I saw at least three plain clothes officers at the board meeting that night.
Meanwhile, Attorney Melanie Poturica says she will retain forensic computer experts to examine the district's servers and Don Gomsi's computer, if it is ever found.
"I went down with the IT tech, the computer guys, and I picked up Don's computer," [Trustee Without A City Mike] Duran said March 14.

"We have that locked up. Information has been saved. That's in anticipation of an internal investigation."
Filed under Coachella Valley | permalink | March 22, 2008 at 07:08 AM | Comments (0)
March 21, 2008
Palm Gettin' Sexy
Filed under Coachella Valley,Photography | permalink | March 21, 2008 at 05:42 PM | Comments (0)
Schwarzenegger In Ruthless Drive To Build Toll Road In San Onofre State Beach
Governor Schwarzenegger is so bent on paving over parts of San Onofre State Beach that he has dumped his own brother-in-law Bobby Shriver (nephew of JFK) and Clint Eastwood himself from the State Park and Recreation Commission because they opposed the toll road plan.
My photos of the area to be affected can be seen here.
Update: Clint Eastwood's reaction to his firing.
Filed under California | permalink | March 21, 2008 at 09:11 AM | Comments (0)
Anyone You Know?

Here is a photo of the "suspect" (we have to call him a suspect, even though he did walk out the door with $700 of somebody else's money) in yesterday's robbery at Guaranty Bank in Desert Hot Springs. You can see why many banks require patrons to remove hats and sunglasses when you enter their building. If you've got information that will help the police to nail this sucker, give 'em a call at (760) 329-2904.
Filed under Coachella Valley,Desert Hot Springs | permalink | March 21, 2008 at 08:09 AM | Comments (0)
March 20, 2008
If It's Thursday This Must Be The CVMVCD
It's the first balmy spring evening of the year and I'm spending it on the Ben Laflin bench outside the Ben Laflin Administrative Center enjoying the sound of the bubbling fountain in the mosquito fish pool. IOW, it's another meeting of the Coachella Valley Mosquito and Vector Control Board. And there are no cookies, no milk.
There are moments when I've felt all levity should be put aside as people's livelihoods are increasingly on the line. Tonight the union distributed (and the union rep read during public comments) a statement from the employees of the district. Here are a couple of paragraphs:
We, the undersigned employees of the Coachella Valley Mosquito and Vector Control District, have been physically threatened, verbally abused and humiliated by Don Gomsi over a nearly decade long period. We have worked under a constant threat of losing our jobs, and we have watched others, no longer working for the District, unjustly lose their jobs through termination or forced resignation. Many employees have simply quit because they could no longer continue to fight in the face of a General Manager, an Attorney, and a Board, aligned against them, deaf and blind to the concerns of the workers responsible for the health and safety of this community.

We, the undersigned employees of CVMVCD, have watched a half-dozen young, attractive, female employees go through a predictable cycle of being hired, being sexually harrassed by Mr. Gomsi, and then being either fired or forced to resign when they were no longer of use to the General Manager.
The long statement ends with a call for the Riverside County Grand Jury to investigate the state of things at the CVMVCD. On the reverse of the statement (no I won't scan that for you) are actual signatures of actual employees. We can only hope that those people have money saved in the bank or can rely on family and friends for support.

Here's a scan of the union's statement. Click it to get access to larger sizes. Or easier, just click here.
But if you want levity set aside you can read the Desert Sun.
A citizen of common sense might have been confused as the board meeting commenced. The agenda said that President Duran (recently removed by the City of Indio) would be presiding! And indeed,there he was, taking his usual seat. Gene Gilbert (recently appointed by the City of Indio) took a seat next to me. These were prime seats as next to him was Catherine Byrne, an attorney for the City of Indio and next to her was Mayor Watson of the City of Indio. BTW, Mr. Gilbert and Ms. Watson wore matching yellow City of Indio polo shirts and I am wondering when the City of Desert Hot Springs will be able to get anything so nice.
Diane Glanz had taken up the seat formerly occupied by Don Gomsi, and one reason for the closed session tonight would be to consider affirming her as Interim General Manager.
But most noticeable was the empty seat where normally sits the grimacing Attorney Lisa Copeland. No statement was made about this. No explanation was given. No one choked out an emotional plea for sympathy because all of these public comments had forced her to seek hospitalization as had Don Gomsi before her. Much to my disappointment no one came forward with a story of alien abduction.
I have two theories as to the absence of Ms. Copeland:
Theory 1: we have experienced The Rapture and to the disappointment of God and Jesus, the only true believer on Earth was Lisa Copeland and now she stands in the close company of her Lord. All you people who thought you were Christians would have mixed feelings about that.
Theory 2: this past Monday night when the board convened for a special session Ms. Copeland was the attorney for the district, as always. Nothing was reported out of that closed session. Tonight the only difference we can see is that Ms. Copeland is absent. One could conclude that her status with the CVMVCD had changed. But later discussion shows that she has neither resigned nor been fired.
On the way into the meeting we had found, in addition to the expected agenda, a copy of a memo to Diane Glanz from a Kathy Jenson. Who Kathy Jenson was, we did not know. The memo is an answer to a question. The question: "Can the City Council of Indio, through action not based upon the factors outlined in Government Code § 1770, remove its appointee to the Coachella Valley Mosquito & Vector Control District Board of Trustees?"
"Short Answer: No."
As for the long answer, well it turns out that Kathy Jenson is an attorney, so the long answer is as long as you are willing to pay for. In this case she went on for a few pages. Basically, it's saying that an appointment to a Vector Control District is somewhat similar to an appointment to a judgeship. You can only be removed for certain, clearly defined reasons such as resignation, death, moving out of state, dipsomania, conviction of a felony, forming an alliance with France, and so on and so forth. So, she says, Indio cannot recall Mike Duran from the CVMVCD Board.
This is an amazing 180° turnaround from their position on Trustee Baker. The CVMVCD has been suing the City of Desert Hot Springs, saying that ONLY the City of DHS can remove Mr. Baker from the board and the CVMVCD is going to keep suing until Mr. Baker is gone or hell freezes over. (The courts, BTW, have consistently ruled in favor of the City of DHS in that case). The Desert Sun points out that as recently as December, Mr. Duran said this: "If they're not happy with my performance, or the performance of any of the other trustees, then the city should remove us and put on a trustee they would be happy with."
What an amazingly flexible thing the law can be.
Fortunately (to a degree) Indio's attorney Catherine Byrne was able to give us an opinion 180° from that of Attorney Jenson. Ms. Byrne said that § 1770 applies only to elected, not appointed, officials. Someone on the board recognized a third attorney further back in the room and asked those in attendance if we'd like to find out if there might be yet a third opinion. One of those moments of levity in the midst of twisted tragedy.
If anyone had thought to bring their banjo we could have played a scene from "Dueling Lawyers."
Trustee Walker talked about his visit to the Indio City Council meeting last night. Apparently he was misled by that tricky website and didn't bother to print out an agenda, so he arrived late after most of the discussion of the removal of Mr. Duran had already taken place. He repeated for us at the CVMVCD board meeting much of his public comments from last night.
After that, Mr. Duran told us that he was not resigning, but that he would remove himself from this one meeting. One trustee, and I don't recall if it was Trustee Lock or Trustee Henderson said he "couldn't" do that. Well, obviously that was wrong. He could just say he was sick and head home. Attorney Jenson told Mr. Duran that nothing in the law required him to absent himself. Whereupon Attorney Byrne got up to say that nothing in the law prevented him from absenting himself. The third attorney remained silent.
Mr. Duran then told us he would NOT absent himself from the meeting.
Then we got to public comments!
Laura Passaro spoke, explaining that the problems at the CVMVCD were deeper and broader than just Don Gomsi. She said the district could save thousands of dollars in their pending investigation if they would just talk to the employees. She also asked if there were an attorney shortage so that the district was forced to talk only to attorneys who had a connection with Lisa Copeland.
Her husband, Brian Passaro, got up to explain that he had never intended for this whole brouhaha to come about, but that he had tried to work through channels, talking to the attorney and talking to board members. This was in pointed contrast to comments from Trustee Walker who had said earlier that employees and the public should simply come talk to the board, implying that if they had, none of this would have happened.
Mr. Passaro went on to describe what has seemed to me to be the greatest problem, or maybe just a mystery, i.e., WHY the majority of the board seems to have so much invested in pretending there is no problem, that they just need to bottle things up again and get Don Gomsi back in his General Manager chair.
Gene Gilbert, city councilmember from Indio who we saw chosen as Indio's representative on this board, came to the lectern to make a public comment in which he observed that the abuse at the district was "unbelievable, self serving and wrong."
Attorney Byrne arose to ask Mr. Duran to step down from the dais. Well, ya gotta keep trying.
Then Trustee Baker walked over to the lectern to make a public comment saying that this past Monday night's special meeting was replete with Brown Act violations. He insisted that Monday night's meeting be reconvened and/or re-agendaed (not sure if, or in which order, sometimes the room begins to spin, you know), otherwise he would be forced to request the District Attorney to investigate the Brown Act violations. The board did not act on his demands, and he says he does intend to notify the District Attorney.
Finally moving on to item 3A in the agenda, the approval of a contract with Rutan & Tucker for "supplemental" general counsel services, Attorney Jenson came to the lectern. This was our first indication that Attorney Lisa Copeland needed supplementing. This was one of several moments during the meeting when Mr. Duran seemed a little out of focus. He just sat, saying nothing. Trustee Henderson filled the gap announcing that as there seemed to be an attorney at the lectern perhaps the board would like to ask her questions and have a discussion on the agenda item. Things seemed to flow back towards normal until Attorney Jenson began to relate to us just how she had become acquainted with Attorney Copeland. I think she was trying to impress us that the two had nothing but a professional relationship, but it turned into a rambling, long, girl's story about how they first met in Sacramento when were both working on cases before the Supreme Court. The board very politely pretended to care. I think one of the district employees behind me finally told the attorney her three minutes were up.
The facts are this: she is already the city attorney for La Quinta and she costs $300 an hour - for legal services - paralegal services are $125 an hour extra. She would handle only issues for the board, not personnel issues. The item was approved with all voting in favor except for Trustee Baker who thought $300 was a bit much. Trustee Lock had said that maybe you get what you pay for, and maybe it's time the district bought some decent legal advice. I've got to say that one thing the district does not need to worry about is saving money, so who cares if she comes at $300 or $225 or $500 an hour. The district is swimming in cash.
Then we moved on to item 3B which was to contract with that third attorney in the back of the room, Melanie Poturica (who says it's okay to call her "Melanie"). She would oversee whoever eventually conducts the required investigations that are coming. If I heard a dollar rate I neglected to note it down, but she don't come free, that's for sure. I wonder if we have to pay the attorneys to come and stand around at the board meetings to tell us how much they're going to cost. Probably so.
Then we moved on to the closed session which was to consider choosing an Interim General Manager. That's when I got to go sit by the mosquito fish pond. Fortunately, the closed session was not terribly, terribly long. When we went back in we were told that by unanimous vote the board had decided to allow Diane Glanz to act as Interim General Manager while the district got in touch with the California League of Cities Range Rider Program. Yes, indeed, here in California our cities support a Range Rider Program which is a team of rugged individuals who get up in the morning, gulp down a breakfast of whiskey and steak, strap on a pair of six-shooters and, astride their steed, sally forth to cities, towns and vector control districts that have fallen into the hands of desperadoes, whereupon they become the interim desperado until the old desperado is given his due process and run out of town on a rail.
So really, Ms. Glanz will be Interim General Manager until the district gets an Interim General Manager from the Range Rider Program. He or she will manage the district until the Don Gomsi situation is settled one way or the other (and he's run out of town on a rail).
In trustee comments Trustee Nigosian praised everybody, in a general sort of way. Praised the employees, the board, the public. He did not, however, praise attorneys generally.
Trustee Walker seconded Trustee Nigosian's comments and thanked the public for attending. But he didn't produce any milk and cookies, either, so how much does he really care?
The public (in the person of Ron, in this case) is very happy to learn that no further special meetings of the district board have been scheduled! The next meeting will the regularly scheduled one in April which is way, way next month.
Filed under Coachella Valley | permalink | March 20, 2008 at 11:28 PM | Comments (0)