May 5, 2015
Huntington Gardens
This past weekend I paid my first visit to "The Huntington Library, Art Collections, and Botanical Gardens", AKA Huntington Gardens in San Marino.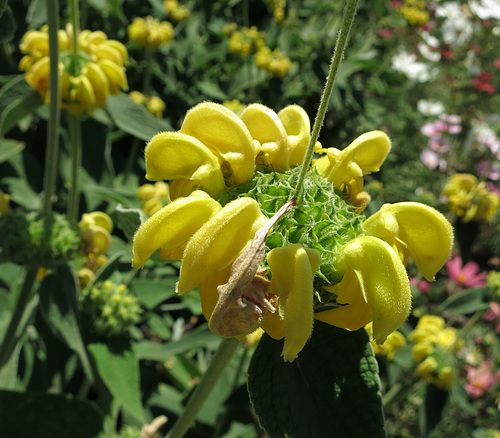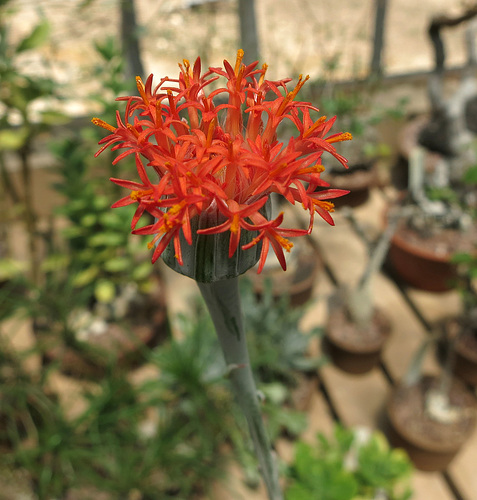 A strangely leafless bougainvillea.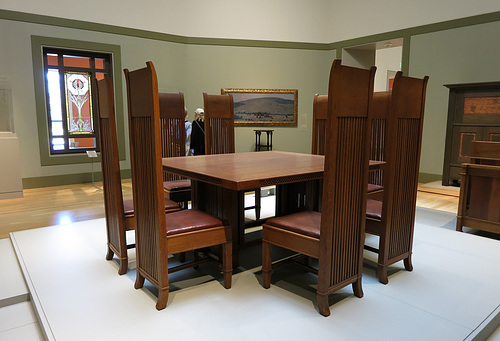 Their one bit of Frank Lloyd Wright.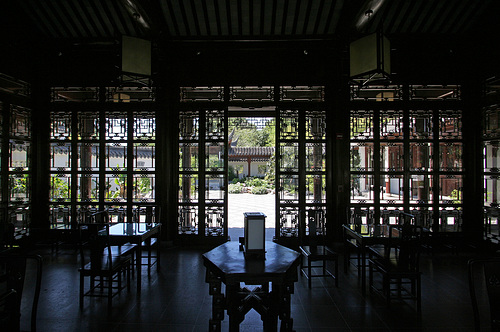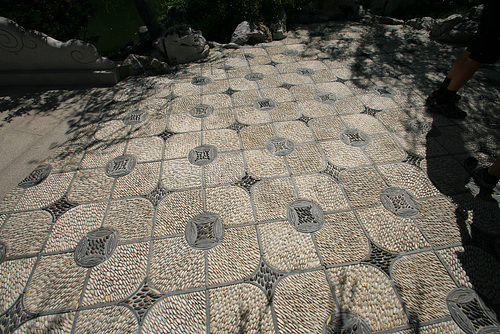 Even the walkways are impressive!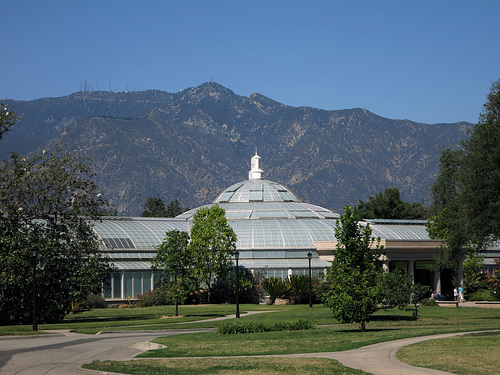 Mt. Wilson in the background.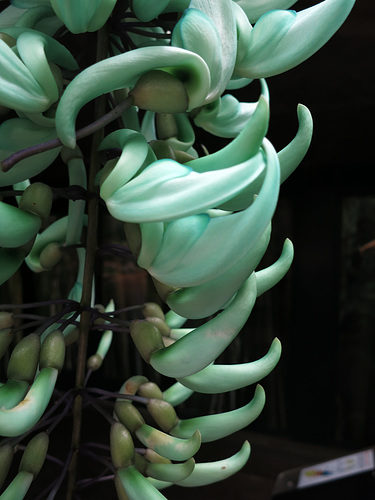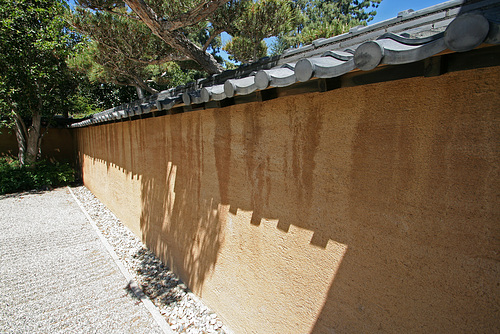 A wall in the Zen garden.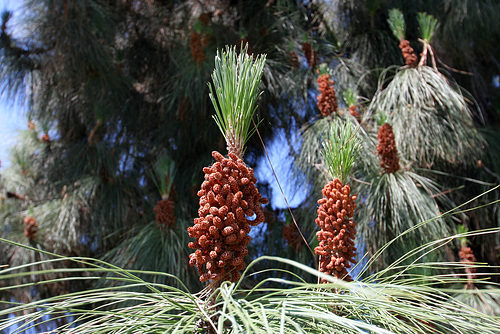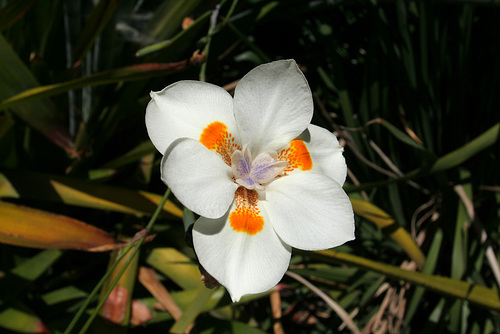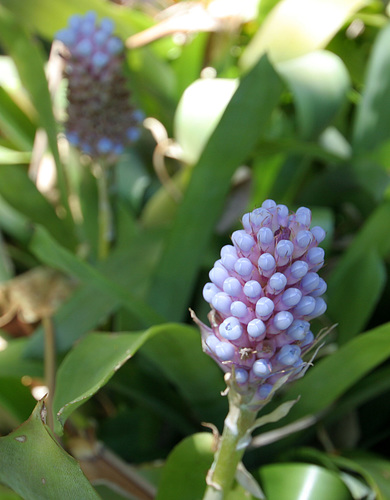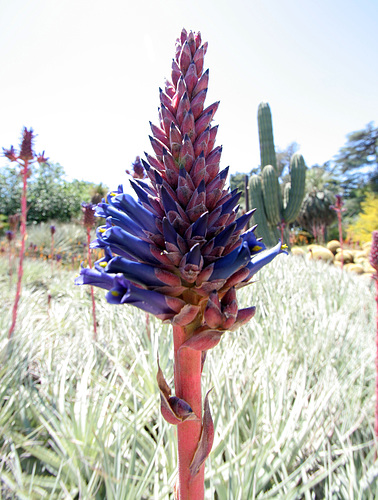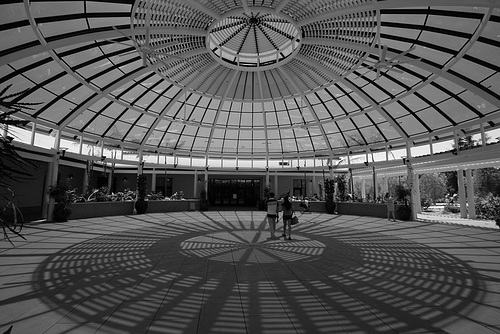 This is what my shade structure at Burning Man is going to look like this year.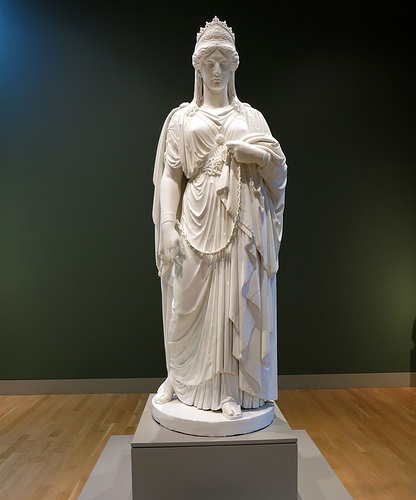 Zenobia In Chains by Harriet Hosmer.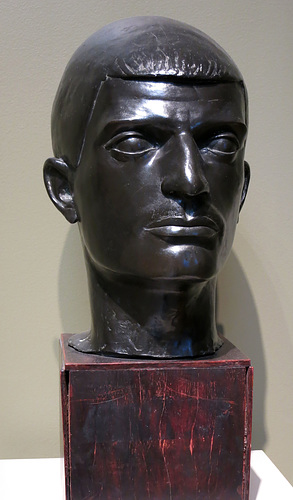 The Bomb Thrower by Maurice Sterne.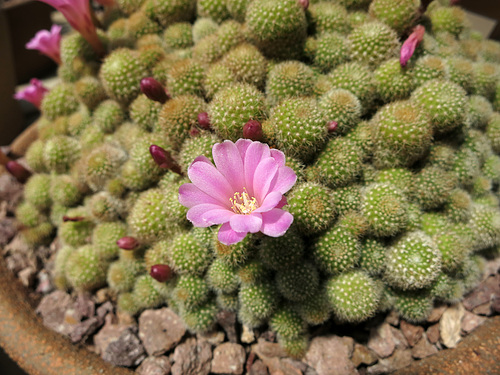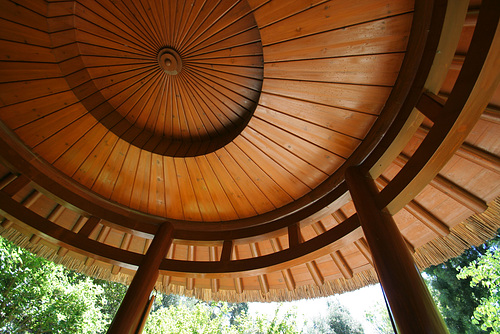 The ceiling of the "Pavilion For Washing Away Thoughts." I'm sure there must be a corresponding brainwashing pavilion somewhere else. Maybe in the North Korean gardens.
The complete set of photos is here.
Filed under Art,Photography | May 5, 2015 at 11:31 AM | Comments (2)
Aerial View Of Mission Creek Fault

Another aerial photo of Desert Hot Springs by Michael Rymer, facing southeast. The Mission Creek fault can be seen cutting across from about 10:00 to 4:00. Where it intersects the right edge of the photo, that green area is Two Bunch Palms Resort. The large, green mobile home community in the right half of the photo is Hidden Springs on Bubbling Wells Road.
The sharp-eyed observer will have already noticed that the Banning branch of the San Andreas fault is also visible in this photo, further in the background.
Filed under California,Coachella Valley,Desert Hot Springs,Photography | May 5, 2015 at 10:45 AM | Comments (0)
May 4, 2015
Watts Towers
Built over the period of 1921 to 1954 by Italian immigrant Simon Rodia. In 1959...
The Committee [ for Simon Rodia's Towers in Watts] negotiated with the city to allow for an engineering test to establish the safety of the structures and avoid demolition of the structures.

The test took place on October 10, 1959. For the test, steel cable was attached to each Tower and a crane was used to exert lateral force all connected to a 'load-force' meter. The crane was unable to topple or even shift the Towers with the forces applied, and the test was concluded when the crane experienced mechanical failure. Bud Goldstone and Edward Farrell were the engineer and architect leading the team. The stress test registered 10,000 lbs. The Towers are anchored less than 2 feet (0.61 m) in the ground, and have been highlighted in Architectural textbooks, and have changed the way some structures are designed for stability and endurance.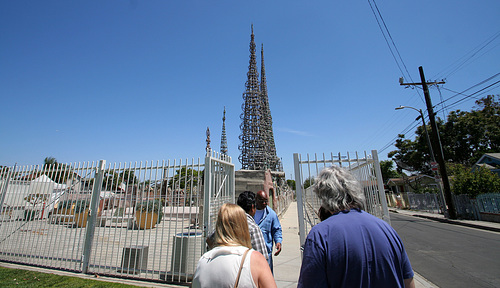 The tour commences. $7, IIRC.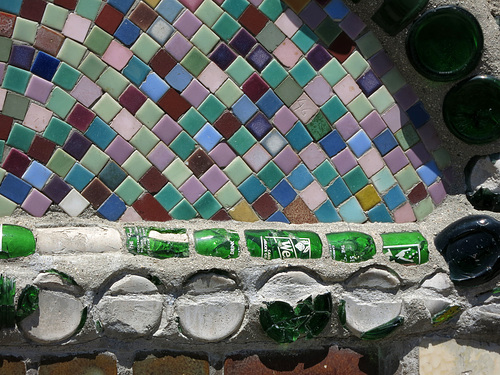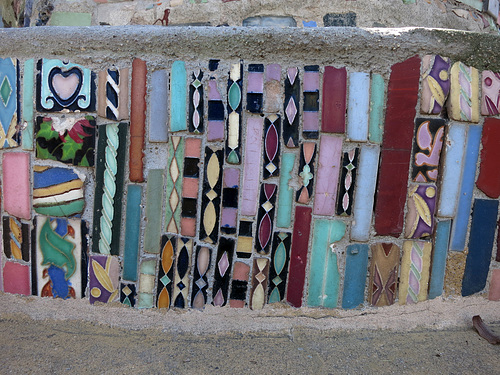 They're down a dead end residential street that has parking only on one side (despite what you may see here). You drive to the end of 107th Street, turn around, and parallel park. There is a small parking lot if you proceed north of 107th on Graham.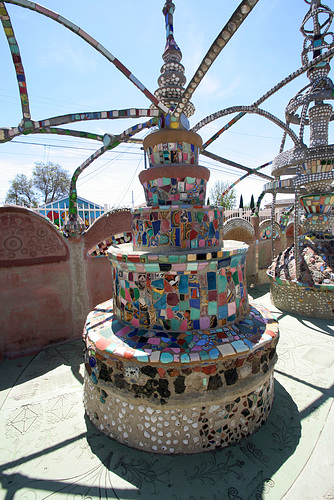 The wedding cake.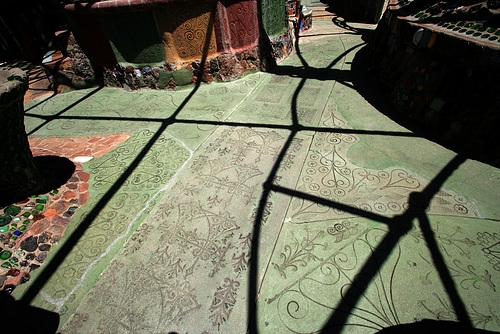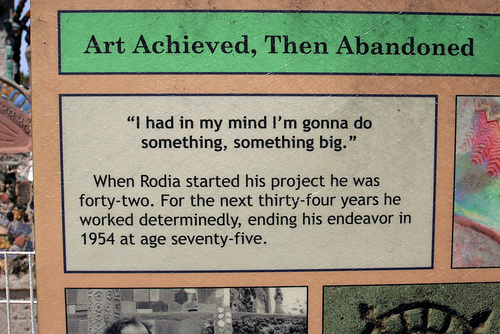 The view from the "back" side (northeasterly).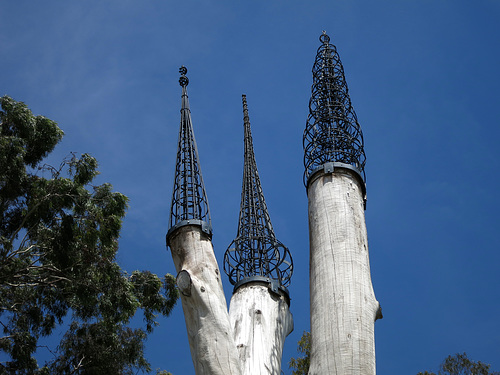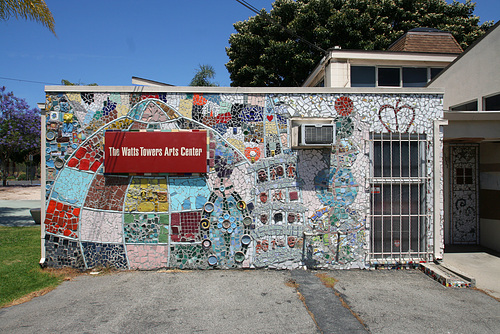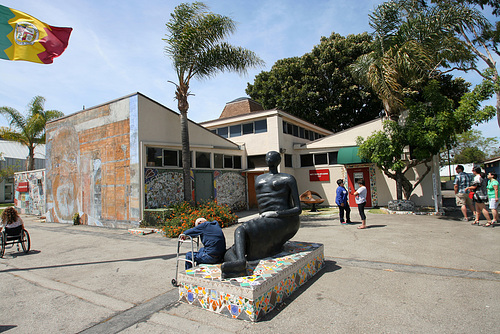 Click here for the complete set of photos.
Filed under Architecture,Art,Cities/Urbanism,History,Photography | May 4, 2015 at 11:55 AM | Comments (3)
May 3, 2015
Automobile Driving Museum
A week ago I went along with some other guys from Great Outdoors to visit the Automobile Driving Museum in El Segundo. The unique thing about this museum is that they actually take you out for a ride in three of their classic cars.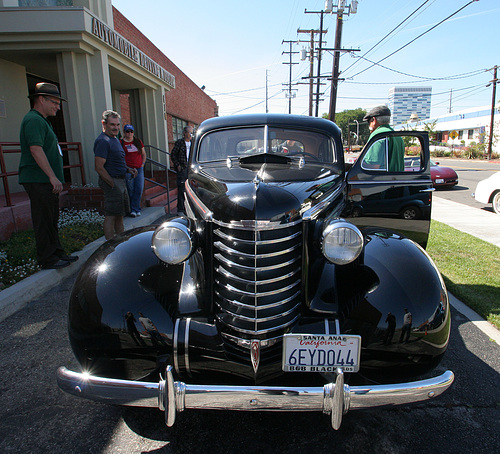 This is the 1937 Olds that I rode in.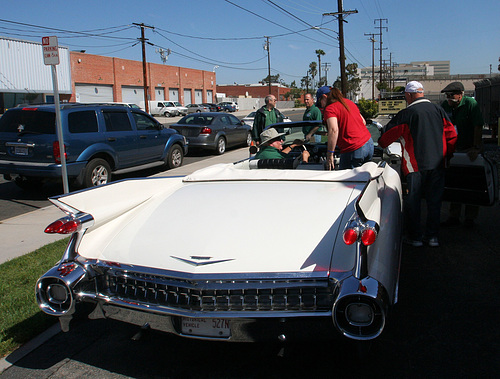 And the 1959 Cadillac.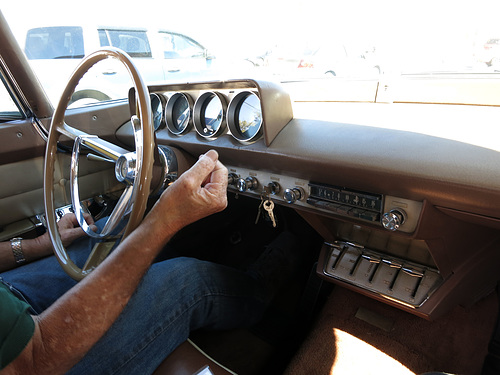 And the 1957 Lincoln Continental, which they told us is 100% original which is why the aging of the paint.
And those three cars brought about this short video:



What a boat! This is the hardtop convertible.

On this Packard the rider's delicate skin is protected from touching rude metal by extending the upholstery to the outside. And then they got air conditioning.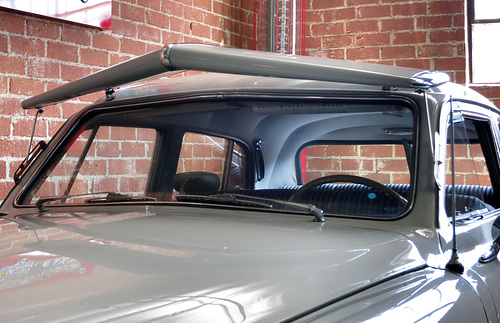 A Studebaker Land Cruiser (1950) with a complex windshield shade canopy. And then somebody thought of tinting windows.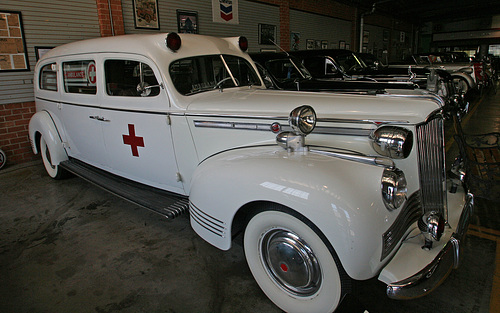 The 1942 Packard Henney ambulance.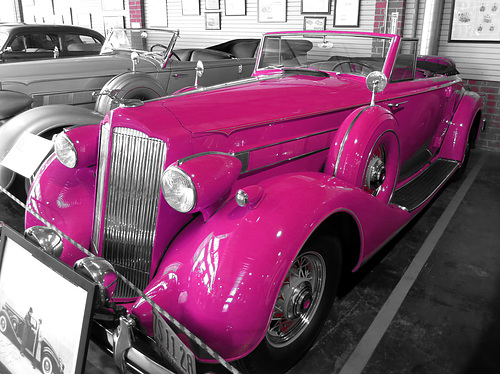 They said you could get it any color, so I did.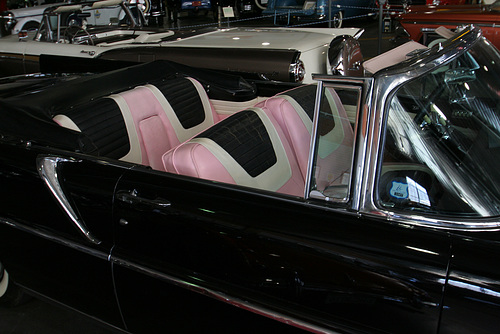 A pink interior which mystified some of the guys.
The complete set of photos is here.
Filed under Automotive,Photography | May 3, 2015 at 11:56 AM | Comments (0)
May 1, 2015
Amazon Rocket Test
Well, no, not really Amazon, but Blue Origin which is run by Jeff Bezos. Here the New Shepard is launched to a height of 307,000 feet.

Filed under Science | May 1, 2015 at 02:58 PM | Comments (0)
Probation & Parole Sweep In Desert Hot Springs
CITY OF DESERT HOT SPRINGS POLICE DEPARTMENT

INCIDENT: Parole and Probation sweep
DATE/TIME OF INCIDENT: May 1st, 2015 7:00 AM to 1:00 PM
LOCATION: City of Desert Hot Springs


NARRATIVE

On Friday May 1, 2015 between the hours of 7:00 AM and 1:00 PM, the Desert Hot Springs Police Department with the assistance of the Coachella Valley Violent Crime Gang Task Force and Parole Agents conducted a Parole and Probation sweep throughout the city of Desert Hot Springs.

During the Parole and Probation sweep, eight people were arrested, six being adults and two being juveniles. During this operation three firearms and one bullet proof vest were recovered. One of these firearms was recently reported stolen. Elvira Sanchez, Ruben Chavez, Cameron Bell, Adina Clark, Raymond Felix and Gladimiro Moreno, all adults, were arrested on parole violations, narcotic violations and/or weapon violations plus other charges. The two juveniles arrested were between the ages of 14 and 16.

No other details are being released at this time.

If anyone has information about the incident they are urged to contact the Desert Hot Springs Police Department at (760) 329-2904.
Filed under Coachella Valley,Desert Hot Springs,Public Safety | May 1, 2015 at 01:31 PM | Comments (1)
April 30, 2015
ACLU California Video App
The California ACLU is making available an app that allows one to upload a video of a police encounter directly to the ACLU. You can also configure it to lock your phone as soon as the video is complete, which will prevent browsing by the police, but won't stop the old fashioned smash-the-phone-on-the-pavement technique.
The app is called "Mobile Justice - California" and is available for iOS and Android.
Filed under Libertarianism,Photography,Public Safety,Web/Tech | April 30, 2015 at 04:40 PM | Comments (0)
April 28, 2015
This Morning's Chat In Washington
"'If Sue loves Joe and Tom loves Joe, Sue can marry him and Tom can't,' [Chief Justice] Roberts said. 'Why isn't that a straightforward question of sexual discrimination?'"
Yeah, why not, exactly?
Transcript of the proceedings on the question of whether they 14th amendment really applies to ALL states, because surely now, they couldn't possibly have intended that amendment to apply to southern states or especially to those states that didn't want to extend equal rights to everyone. The court probably stated that more succinctly, something like must every state permit same-sex marriages.
Transcript of the proceedings on the question of whether all 50 states are really states in the United States subject to the Constitution or are we still under the Articles Of Confederation? They say they are deciding whether every state has to recognize all marriages performed in other states (as they have done since the beginning). There is a suggestion even Justice Scalia might go with this one.
Filed under Gay Issues | April 28, 2015 at 11:43 AM | Comments (0)