May 20, 2015
CCAC Advances DHS Welcome Sign
>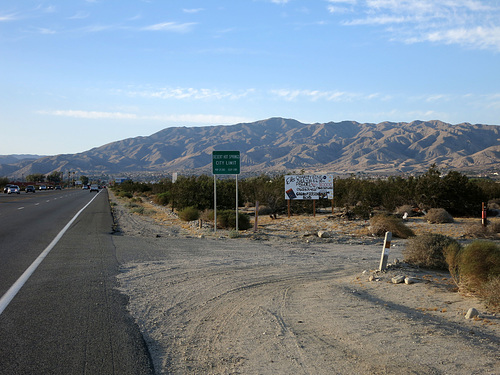 In today's meeting, the Community and Cultural Affairs Commission voted to place the first new entry sign at 18th and Palm, shown above. There is no electricity at that spot, as far as I can determine, but the CCAC will be looking into solar power for the lighting. The new sign will be a rock with engraved lettering, not another one of those little green signs.
The CCAC has a special meeting scheduled for Thursday, May 28, 8:30 AM at Low Desert Rock Supply, 65005 Dillon Rd, Desert Hot Springs where entry signs will again be the agenda item.
Filed under Desert Hot Springs | May 20, 2015 at 07:24 PM | Comments (1)
May 17, 2015
More Nude Bowl
Filed under Coachella Valley,Desert Hot Springs | May 17, 2015 at 12:25 PM | Comments (0)
Drought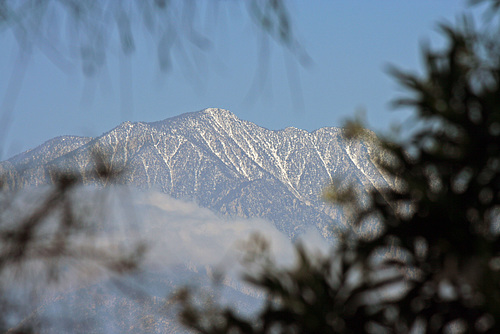 Usually at this time of year the snow has dwindled to a few patches on the north side of Mt. San Jacinto, but this week's weather brought January back to the valley.
Filed under Coachella Valley,Photography | May 17, 2015 at 11:10 AM | Comments (0)
May 16, 2015
On The Edge Of Desert Hot Springs
An ad shot at the Hotel Lautner on the edge of Desert Hot Springs.

Filed under Architecture,Desert Hot Springs,Photography | May 16, 2015 at 10:56 AM | Comments (0)
May 15, 2015
NYC Music Map
TouchTunes released data from their e-jukeboxes in New York City and the Wall Street Journal mapped it by zip code. Zoom out on that map to see the entire city. The Rolling Stones, Romeo Santos, and Vicente Fernandez are the big ones. Take a look at Staten Island. It's got the only zip codes that prefer Billy Joel, Led Zeppelin, Eminem and the Zac Brown Band. Two zip codes on the north shore of Queens are the only two for Metallica. There's one Beatles zip code along the East River in Queens. One for Marvin Gaye in Harlem. And one for Johnny Cash at the northern extreme of The Bronx.
Filed under Music | May 15, 2015 at 06:57 PM | Comments (1)
Consent Made Very Clear
| May 15, 2015 at 05:21 PM | Comments (0)
Fundraiser For The Temple Of Promise
Filed under Burning Man,Religion | May 15, 2015 at 05:16 PM | Comments (0)