October 6, 2015
All of my Burning Man photos
I believe I have all of my still photos from Burning Man uploaded now.

My shade structure and truck on Labor Day, my last day in Black Rock City.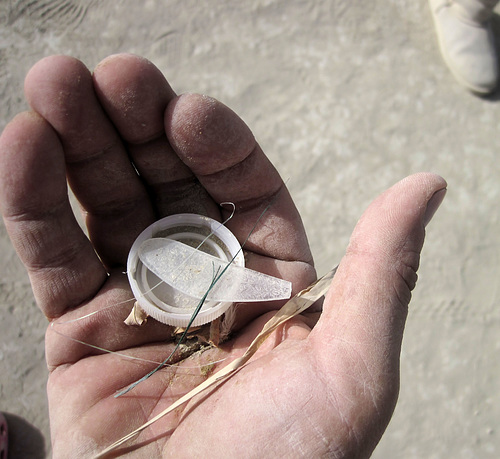 Some of the MOOP found in our camp on my last day.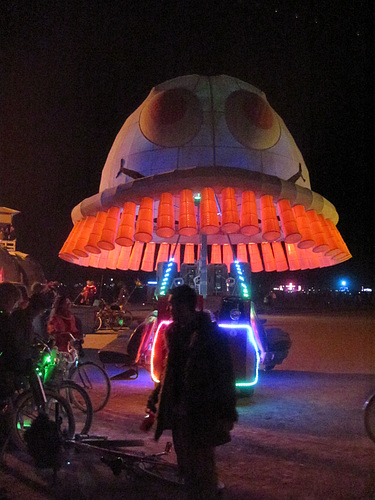 An art car.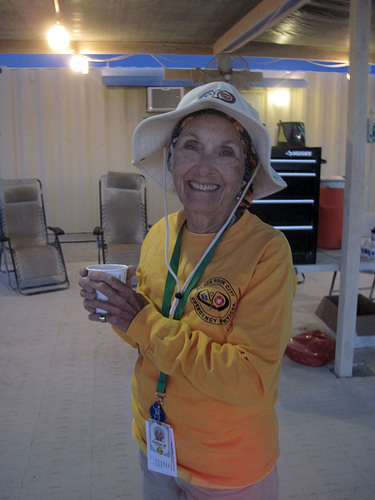 One of the staff at the medical center close to our camp on the night of the burn.
The complete set of photos (minus the Naked Pub Crawl) can be seen here.
Filed under Burning Man,Photography | October 6, 2015 at 10:24 PM | Comments (0)
Project Apollo Archive
NASA has posted all of the photos (12,426 of 'em) from the Apollo project on Flickr.
Filed under Photography,Science | October 6, 2015 at 09:53 PM | Comments (0)
What It's Really Like At A Burning Man Party
You've never seen this kind of partying before!

Filed under Burning Man | October 6, 2015 at 03:58 PM | Comments (0)
Possibly Visible Rocket Launch Thursday (Oct. 8) Morning
This comes from Launch Alert:

The launch time for Thursday morning's Atlas V launch from Vandenberg AFB is 05:49 PDT. Following liftoff, the Atlas will rise vertically for several seconds and then probably begin a gradual turn towards the south.

The announced launch time is several minutes before the start of morning twilight at Vandenberg. If the rocket makes a gradual climb into orbit, the powered phase of the launch will probably end before the Atlas climbs into sunlight. In this case, the Atlas will resemble a moving orange or white light.

However, if the rocket makes a steep climb into orbit, the Atlas initially will resemble a moving orange or white light. The rocket may then climb high enough during the powered phase of the launch for the exhaust plume to catch the Sun's rays, creating a weak Twilight Effect.

Regardless of the angle of the rocket's climb, the event could be visible to the naked eye for a few hundred miles.

The probability of acceptable weather at launch time is 70%.

Webcasts of the launch should be available from the following web sites:

https://www.nasa.gov/multimedia/nasatv/

For information about viewing Vandenberg AFB launches, go to:

http://www.spacearchive.info/vafbview.htm

For information about photographing Vandenberg launches, go to:
Filed under Science | October 6, 2015 at 01:43 PM | Comments (0)
Naked Pub Crawl
All my photos from the Naked Pub Crawl at Burning Man are posted here on Flickr. These go well beyond simple nudity, so consider whether you want to see that before clicking.
Filed under Burning Man,Naturism-Nudism,Photography | October 6, 2015 at 09:41 AM | Comments (2)
Not Arrested For Marijuana

This colorful stash of marijuana in dispensary bottles displayed openly inside an occupied automobile resulted in no marijuana arrests in Simi Valley. The man with the medical marijuana letter was sitting in the driver's seat, but the Simi Valley police officer "could not legally prove the element of driving in this case," so I guess that meant there was no potential for a DUI charge.
The "driver" was cited for contributing to the delinquency of a minor, but the article doesn't say if it was the mere presence of a "youthful passenger" in the car with all that MJ that justified the charge, or if the youthful passenger was also consuming some of the cannabis.
Filed under California,Marijuana,Public Safety | October 6, 2015 at 07:33 AM | Comments (0)
October 3, 2015
That Walmart Mailer
I assume every registered voter in Desert Hot Springs got the same mailer from Walmart that I got. In my short twelve years in California, this is a new thing for me — a developer building a political campaign before releasing the Environmental Impact Report. But I have to acknowledge that Walmart is probably the expert at stuff like this. It was not long ago I found out that in California a developer can resort to the initiative process in order to bypass the Planning Commission and City Council and seek approval directly from the voters. I would think this could explain some of the more horrible development projects I've seen around the state, but I know that there are enough incompetent Planning Commissions and City Councils in the state that we don't need any additional means to explain bad projects.
But to return to the Walmart mailer. This is the first direct interaction Walmart has had with the public here since they had a couple of preliminary EIR discussion meetings which took place some years ago. I favor eventual approval of a Walmart here (going through the usual Planning Commission process), even though I think Walmart is a sad and sorry place to shop. Clearly there are millions of shoppers out there who think differently than I. We know that LOTS of Desert Hot Springs residents already shop at Walmart. A good survey might even show that the majority of grocery shopping by DHS residents takes place at Walmarts in other cities. That's just a guess, but if you're already working in another city (and most are) and you're trying to extend your budget, it would be hard to skip past Walmart and go spend more for less at Vons.
Besides the shopping, we know that DHS is the big labor supplier to the valley. How many of our residents already work at Walmart? My spidey-sense tells me the answer is A Lot. The better ones will be able to transfer to a DHS Walmart, making everyone happier.
Some time ago, when people thought Walmart was coming faster than it was, some out-of-towners remarked during public comments at city council meetings that Walmart would destroy our downtown businesses - a standard criticism of Walmarts. I wanted to ask those out-of-towners to name one downtown business in Desert Hot Springs. A new visitor to our city seeing the empty storefronts in our downtown might reasonably assume there was already a Walmart in DHS. The optometrist at Pierson and Palm will experience some tough competition, as will the two auto supply stores. The supermarkets will be hard hit, but as Jan Pye observed once (I paraphrase), if Stater Bros. is an example of the best we can get from a supermarket chain with union labor, then we'd be better off with a Walmart. All of those business can compete by providing better service and better products, two areas of weakness at Walmart. But they need to start their improved competitive services now, as KMart has done, and not wait until the day the Chamber organizes the ribbon cutting at Walmart (and we know it will be the Chamber doing the ribbon cutting, because there's no way Sanchez will still be mayor then). Stater Bros. and the optometrist are the deer in the headlights, IMO.
I guess it's not popular or effective to point out that Walmart is a private corporation that owns the land where it wants to locate and that one does have the constitutional right to develop ones property, so long as it is in conformance with the law. The fact that one does not like the legal business practices of any particular corporation is not any justification to keep them out of the city. I'm sure some people object to marijuana dispensaries, but there they are. Some people find Dollar General offensive, but we've got one. Liquor retailers? How many have we got, despite the problems they generate? I have found the customer service at Rite-Aid stores to be consistently abominable, but you don't see me circulating a petition to drive them out. If free people want to spend their money at objectionable businesses, then we should probably let them, like pretending this is still a free America, you know.
But aside from all of that, here's what I found so objectionable in the Walmart mailer (yes, back to that). If you want to tear off the postcard that is attached to the mailer in order to get on the Walmart informational mailing list, you will also be endorsing the statement "I support Walmart and the jobs and benefits it brings to local communities." A pretty sweeping statement. I would be willing to say I support a DHS Walmart because I think they have a legal right to build and operate their store, but they don't give me that option. You can also check the box indicating you want to join the euphemistically entitled "Desert Hots [sic] Springs Citizens for Jobs and Economic Growth." If I found out that several of our local citizens had organized that group and then had a vigorous discussion about whether we would get more jobs and economic growth with or without a Walmart, then it might be a worthy organization to join. But we know it's nothing like that. It's a bunch of corporate lawyers and other paid shills for Walmart who want nothing more than to create a long list of names of unsophisticated, poorly informed DHS citizens. So I will not be putting myself on Walmart's mailing list.
I wonder if Walmart has considered making substantial contributions to all of our local organizations for youth, seniors, the poor (nearly all of us), literacy, animal care, and more? Would they volunteer to pick up half the cost of construction and operation of a new fire station somewhere in the Palm and Dillon vicinity? Wouldn't it be nice if Walmart would subsidize a food truck to show up every time the pick-up crew is at work? Or how about dropping a few million into the city's sidewalk fund? I would love to be bribed like that.
I think we would all be better off concentrating on what sorts of concessions we can extract from the fabulously wealthy Walmart corporation in their process of seeking approval for their store. I certainly wouldn't want to see the Walmart decision put to a vote. The Planning Commission (which is not the City Council, I take pains to point out) and the staff that supports them are far more knowledgable about what can and should be done in the approval process than all of our voting residents combined.
Filed under Desert Hot Springs,Shopping | October 3, 2015 at 08:51 AM | Comments (2)
October 2, 2015
Comedians Discuss Burning Man
Some first time Burners and some long-time Burners talk. It's very funny...to me.

Burning Man! What is it? Why does it exist? Does it even matter? Why do people love it and hate it so much? We discuss its history and its mystery. With Brian Doherty, author of This Is Burning Man. And comedians Natasha Leggero, Brent Weinbach, and Matt Kirshen. It's a great episode. Also we find out how Moshe invented electronic dance music.
Filed under Burning Man | October 2, 2015 at 07:19 PM | Comments (0)
A Priest Visits Burning Man
An Episcopal priest reports to his congregation after his first Burn.

Filed under Burning Man | October 2, 2015 at 07:08 PM | Comments (0)
Remember That Sentinel Money?
We (meaning DHS) are finally really getting something from it:
RIBBON CUTTING

COMPRESSED NATURAL GAS VEHICLES (CNG) FROM SOUTH COAST AIR QUALITY MANAGEMENT DISTRICT GRANT

Please join us as we accept the 9 compressed natural gas (CNG) vehicles from South Coast Air Quality Management District (SCAQMD). This was done through a $1+ million grant from Sentinel Mitigation Fund, administered by the SCAQMD.

The Sentinel Mitigation Fund was created under California Assembly Bill 1318 to offset emissions or the natural gas-fired Sentinel Peaker Plant. Emissions reductions are particularly important in the valley, an area known for mobile source emissions and non-compliance with PM 10. Natural gas vehicles and infrastructure offer many benefits.

The ribbon cutting will take place on Wednesday, October 7, 2015 at 1:30 p.m. at the City's Corporate Yard, located at the northeast corner of Hacienda Avenue and Cholla Drive in Desert Hot Springs. Light refreshments will be served.
It'll be worth it to come and see if Mayor Sanchez takes credit for this too.
Filed under Desert Hot Springs | October 2, 2015 at 09:18 AM | Comments (2)