April 22, 2017
Action Figure Family Fundraising Party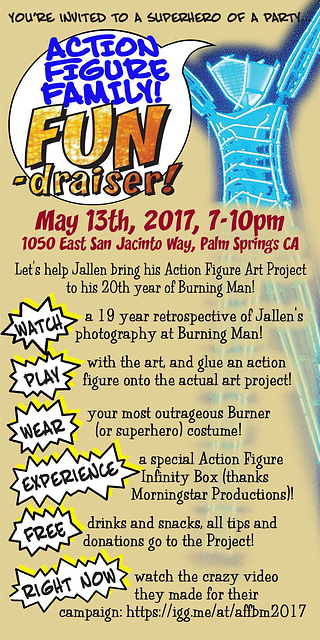 This is a fundraiser for the first art project that I've ever worked on for Burning Man.
Here's the Indiegogo page for donations.
Filed under Art,Burning Man,Coachella Valley | April 22, 2017 at 11:21 PM | Comments (0)
April 15, 2017
MedMen Cultivation Facility
This coming Tuesday, the marijuana cultivation facility proposed by MedMen will come before the Desert Hot Springs City Council. I wanted to share a few images from their proposal to build at Hacienda and Little Morongo. There's no paved Hacienda on the east side of Little Morongo, but on the west (county) side it's paved and called 13th Avenue.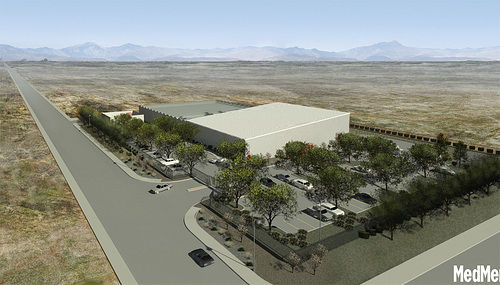 The little red figure on the right of the driveway is the public art contribution.

Here's a closer view. They almost look like penguins, don't they? The artist will be Gerardo Hacer.
The piece will consist of two red metal penguins in origami form. MedMen's COO and cofounder [Andrew Modlin] envisioned a piece that drew upon his own affinity for penguins, which frequent his own original paintings. and functioned as a juxtaposition between penguins' natural habitat and Desert Hot Springs' climate. Furthermore, the penguins' lifelong companionship and partnership is emblematic of our hope to build a lasting relationship with the City of Desert Hot Springs. The installation is red as that is MedMen's signature color.
MedMen broke ground on a cultivation facility in Reno last year.

Filed under Art,Coachella Valley,Desert Hot Springs,Marijuana | April 15, 2017 at 03:55 PM | Comments (0)
April 14, 2017
"BLK NUDIST SEEKS COLLEGE AGE BLK NUDIST"

The headline says "spring break." The body of the ad says it will be for the summer. But the real question is why a house sitter needs to have a "great body" and why do they have to be college age? Something's a bit fishy, even though they require their house sitter to be honest.
Filed under Naturism-Nudism | April 14, 2017 at 07:56 PM | Comments (0)
April 11, 2017
The 14th Factory
Not long ago I paid a visit to 14th Factory in Los Angeles. I already posted the video. Now here are the still photos.

People waiting to get into the replica "2001" room.

This is their trademark (I guess) which I read as "nine gamma," but that makes no sense, not even in context, so I don't know its significance.

One of the pieces of art was this park.

Pitchforks!

The item on the left resembles a plow.
The complete set of photos is here.
Filed under Art,Film/Movies,Photography | April 11, 2017 at 08:00 PM | Comments (0)
To Report Graffiti In Joshua Tree National Park: jotr_graffiti@nps.gov
Joshua Tree National Park as well as many other parks across the country, has experienced a notable increase in visitation in recent years. With that increase also means an increase of graffiti and acts of intentional vandalism within the park. Superintendent David Smith says, "99% of visitors are respectful and truly appreciate the pristine scenery the park has to offer. Unfortunately there are visitors who feel it necessary to damage what Mother Nature has produced."

The park, in its efforts to more closely monitor and mitigate graffiti, is asking for the public's help and providing some easy ways for visitors to aid in the process. Park officials ask visitors to report incidents of graffiti that they encounter to a new email address, jotr_graffiti@nps.gov. In addition, new graffiti reporting forms will be available at park visitor centers and entrance stations. Keep in mind, when reporting graffiti; to provide a good, detailed description of the location. Photos and GPS coordinates are also very helpful in order to insure a quick response.

Joshua Tree National Park is a magical and unique landscape. Your vigilance and taking a few moments to report graffiti that you happen upon will insure that the park stays that way.

Filed under California | April 11, 2017 at 06:56 PM | Comments (0)