March 26, 2015
Palm Springs Air Museum
Filed under Coachella Valley,Photography | March 26, 2015 at 10:33 PM | Comments (0)
North Shore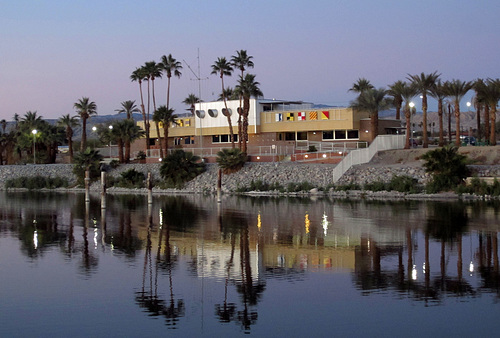 The Marina.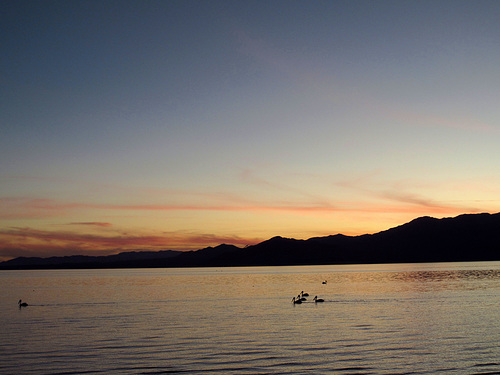 The Salton Sea.
Filed under Architecture,California,Coachella Valley,Photography | March 26, 2015 at 10:29 PM | Comments (0)
BEquinox
Burners organize regional burns in addition to the big mama on the Black Rock Desert. Last weekend the Los Angeles regional burners organized BEquinox at the Joshua Tree Lake Campground which is 4 or 5 miles north of highway 62, a bit east of the town of Joshua Tree. It had all the essentials of Burning Man except for the size. The population was capped at 999, because in San Bernardino County when you go over 999 you have to get a lot of permits. A lot of my fellow burners from Burner Buddies were there. Tickets were only $100. It's a great introduction to the spirit of Burning Man for those who have yet to attend the original.
But no matter how good a regional burn is, there is nothing anywhere that comes close to your first vision of the inner playa at Burning Man at night when your brain tries to deny what your eyes see. But art, gifting and fire - BEquinox has that in abundance.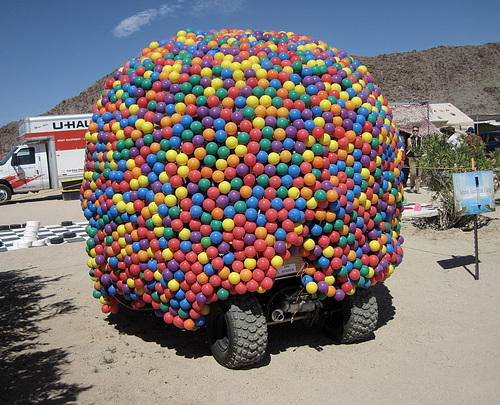 There were art cars, but none as big as the biggest at Burning Man.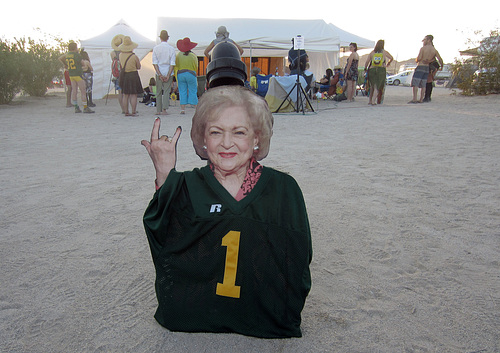 There were celebrities sorta.

Creative costumes.

Some things at BEquinox were better than anything seen at Burning Man, such as this "Hellfire Yoga" which was also called "Satanist Yoga" or "Heavy Metal Yoga." It was hilarious, especially when the leader ordered everyone to join him in the mantra "Die, hippie, die." Fun for the whole family.


It's not entirely flat, so not everything is visible in this photo, but it pretty much encompasses the whole place.

The upgraded water fountain robot. A big hit on the Black Rock Desert a few years ago.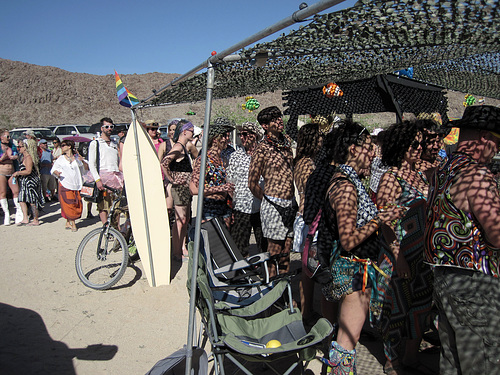 Nacho Daddies (by Steve and Wes) and Gay Cards (by Ed and Pete) were here, generated big crowds, and encouraged people to drop by at all hours to find out when they would be open again.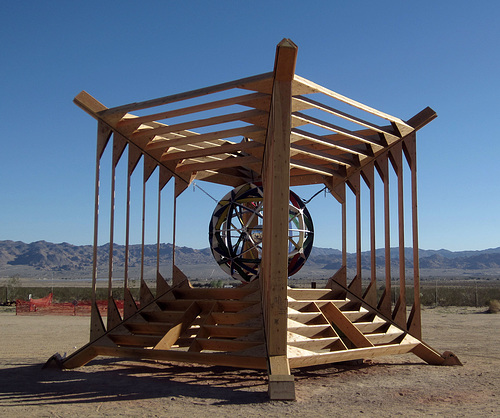 Earthstar, destined to burn on Saturday night.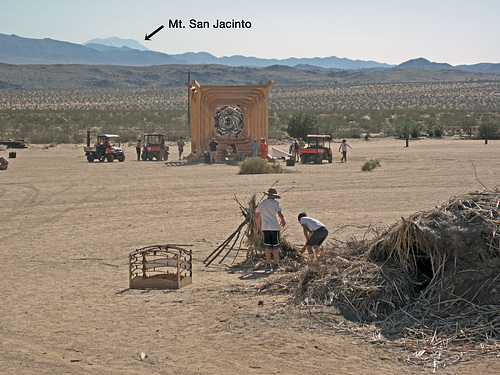 We were only 40 minutes away from Desert Hot Springs and you could see the tops of both Mt. San Jacinto and Mt. San Gorgonio from BEquinox.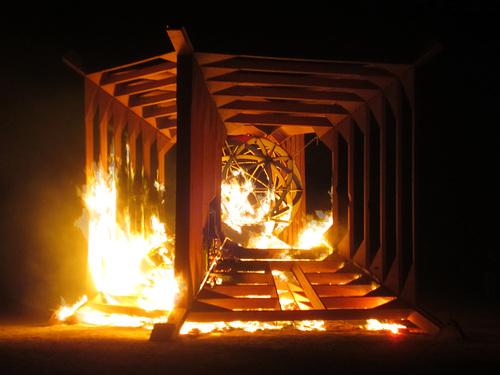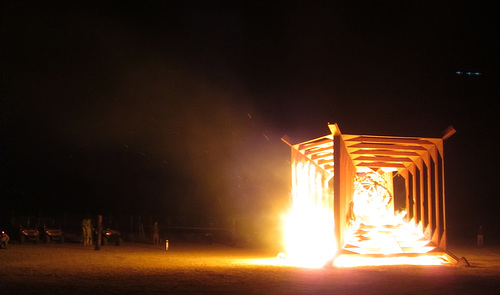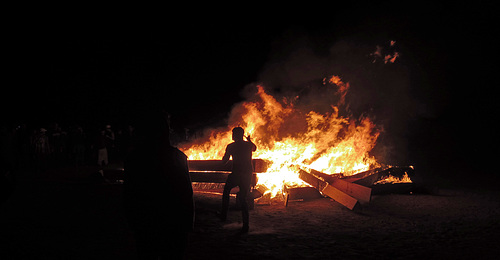 The whole set of photos is available here.
Filed under Burning Man,Photography | March 26, 2015 at 10:14 PM | Comments (0)
"Probable Cause"
The Fair Political Practices Commission made a couple of findings of probable cause in the matter of Russell Betts. I've heard these findings misinterpreted by more than one person.
You can read the PDF report here.
First, they explain "probable cause."
Please note, a finding of probable cause does not constitute a finding that a violation has actually occurred. The respondents are presumed to be innocent of any violation of the Political Reform Act unless a violation is proved in a subsequent proceeding.
And then it goes on with two findings of probable cause:
In the Matter of Russell Betts, 12/289: After a hearing on January 13, 2015, probable cause was found to believe Respondent committed the following violations of the Act:

Respondent Russell Betts, in or about March 2011, as a member of the City of Desert Hot Springs City Council, used or attempted to use his official position to influence governmental decisions regarding the installation of a barricade, in which he had a financial interest because he owned real property within 500 feet of the property which was the subject of the governmental decision, in violation of Government Code Section 87100.
Respondent Russell Betts, on or about September 18, 2011, as a member of the City of Desert Hot Springs City Council, used or attempted to use his official position to influence a governmental decision regarding a development agreement to develop an upscale restaurant in city owned property in downtown Desert Hot Springs, in which he had a financial interest because he held a leasehold interest in real property within 500 feet of the property which was the subject of the governmental decision, in violation of Government Code Section 87100.
Most readers will recognize that latter item was part of Jason Simpson's harassment complaint against Betts and Rick Daniels' letter of complaint.
Filed under Desert Hot Springs,Politics | March 26, 2015 at 08:32 PM | Comments (1)
Music For My Gang Posse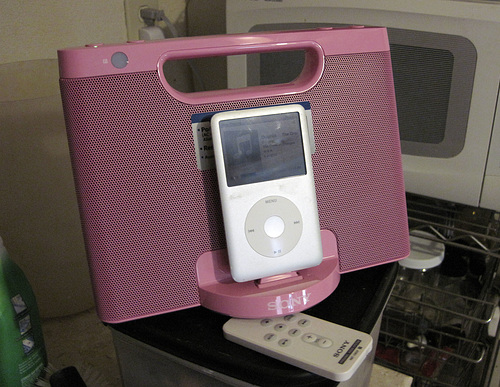 Check it out; this is going to be my new sound system for my bike at Burning Man. Picture me and my posse roaming the playa while this thing booms out the soundtrack to "The Sound Of Music" and other appropriate gang posse tunes. Yes, we will have to avoid big sound camps and stick pretty close together so we can all hear it - but that's just how we roll.
I'm looking for some nursery rhymes set to upbeat music for this. All music suggestions are welcome...but some may be scoffed at.
Before anybody points it out, I will have to gaffer tape the iPod to the Sony dock to make sure it doesn't pop off and become a victim of playa bike traffic.
Filed under Burning Man,Music | March 26, 2015 at 01:18 PM | Comments (2)
Solar Eclipse Two Ways
If you want to see the recording of the professional live-streaming of the recent solar eclipse, click here and then advance to about 1:44:00.
BUT, if you want to see and hear how ordinary, non-TV professionals respond to the solar eclipse, you'll want to watch this video shot by Frank Jernigan in Norway. A GoPro would be about the least appropriate camera for a solar eclipse, IMO, but when he pans around to show you the crowd out there on the ice, don't they look just like penguins wearing puffy coats and toting cameras?! Very fun video despite or because of the technical issues. Don't tell me you wouldn't say stupid things, too, if you were watching totality from Norway.

Filed under GoPro,Photography,Science | March 26, 2015 at 08:21 AM | Comments (1)
March 23, 2015
Gotta Draw The Line
Sure, you can have all the guns and marijuana you want and you can use your computer like an 8-lane highway for porn, but our gummint still wants to protect you from your TV. As I interpret this news report, WDBJ in Virginia pointed a camera for three seconds at the website of a woman who was volunteering for the rescue squad. The station's staff failed to note a little video ad for porn videos somewhere on the edge of the screen.
The FCC has proposed a fine of $325,000.
For the sake of clarity the FCC report includes this helpful description: "the Station broadcast an image of sexual activity involving the graphic display of an erect penis being stroked during a news report about a former adult film star who had joined a local volunteer rescue squad."
But that's not entirely all. The FCC has described some other things that could be seen in that news report, including "other images of the woman who is the subject of the story displayed at various times during the report, including one in which she appears to be sitting on a bed, wearing a bra." Oh no! Where is Chicken Little to spread the word!

Filed under Libertarianism,Naturism-Nudism | March 23, 2015 at 09:42 PM | Comments (3)
March 22, 2015
Hang Gliding Into Burning Man
I had no idea you could cover this sort of distance while hang gliding. This is a 100-mile drive via highways.

Filed under Burning Man,GoPro | March 22, 2015 at 08:44 PM | Comments (0)