April 25, 2015
What IS Burning Man
Oh, we keep asking that and giving and getting the non-answer, like "It is like trying to describe the experience of listening to music, while watching an experimental film that is about making a film about making a film about making art, while getting your painfully sunburned back rubbed with coconut oil." And all that has to be explained to someone who is blind and deaf.
Devon takes his turn at the answer.

Experiencing a city built on creativity, built on self-expression, built on participation, does something to the participator. It allows a freedom not often nurtured elsewhere in the world. It says yes to how you choose to express, which can create something special within you. When you are not afraid of being judged, when you are not afraid of being seen, when you are not afraid to be who you are, you might discover just that, who you are.
Even if the structure itself was the most beautiful place you've ever seen, or you had one of the most beautiful experiences of your life within it, you won't be able to hold onto the place where it happened, it will be burned. So you will have to look inside yourself for the experience. Not outside.
Filed under Burning Man | April 25, 2015 at 05:09 PM | Comments (0)
Those Swedish Cops
The ones who subdued the violent man on the NYC subway a couple days ago, those Swedish cops. If you have watched more than one or two videos of cops taking down an offender, then it may strike you that one thing these Swedes don't say in this video is "Stop resisting." This, even when the restrained man tried that old "I can't breathe" line. You're not supposed to be able to scream that line. You've got to work in one or two gasps for air and let your voice dwindle away at the end.

Filed under Public Safety | April 25, 2015 at 09:55 AM | Comments (0)
April 24, 2015
No Shit, Sherlock
The Oklahoma Geological Survey, a government agency, has announced that it "considers it very likely that the majority of recent earthquakes, particularly those in central and north-central Oklahoma, are triggered by the injection of produced water in disposal wells." IOW, fracking. But it's not fracking alone that does it, or North Dakota would be experiencing the same huge leap in earthquake activity.
"These earthquakes swarms are occurring over a large area, about 15% of the area of Oklahoma, that has experienced significant increase in wastewater disposal volumes over the last several years."
"Most of the earthquakes in Oklahoma are occurring within crystalline basement, deeper than most oil and gas operations. However, reactivation of deeper basement faults from water injection/disposal at shallower depths is often observed in cases of triggered seismicity."
"The majority of wastewater disposal is targeted for injection in the Arbuckle formations, which closely overlie the crystalline basement."
Compare this map of earthquakes greater than 2.5 over the last 30 days in Oklahoma with this map of known faults in Oklahoma. It looks to my layman's eyes that the quakes are occurring in an area well away from the major faulted areas.
Filed under Science | April 24, 2015 at 10:21 AM | Comments (0)
April 23, 2015
City Council Meeting On April 28
The Desert Hot Springs City Council is holding a special meeting on this coming Tuesday, April 28. The only item on the agenda is to consider a resolution that will allow proposed, but not yet approved, dispensaries to change their proposed locations. The resolution, as written, would also permit those not yet approved dispensaries to request their proposals be considered by the City Manager and the Planning Commission. It's not clear to me what the Planning Commission would do. Would they actually go so far as to approve a CUP but hold it in abeyance until the City Council increases the numerical limit on dispensaries?
A very interesting part of the agenda packet is a map put together at the request of the City Council. It shows all the proposed locations for dispensaries. It also shows 1,000-foot buffer zones around schools, churches, and recreation facilities. The resolution says nothing about changing buffer zones. The only one we have now is a 600-foot buffer around schools.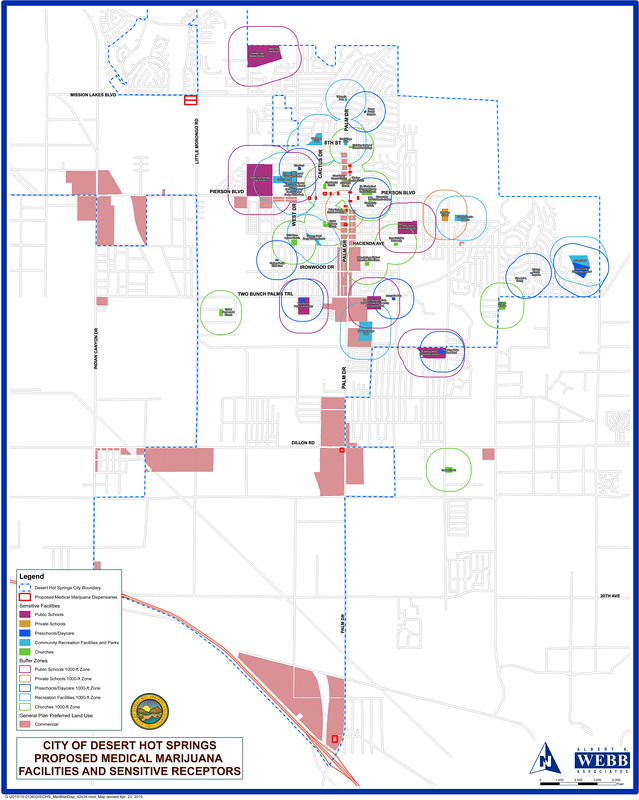 Click for a much larger version.
The dispensary locations are the annotations in red. The very large buffer zones do leave some commercially zoned areas available for dispensaries, but none around Palm & Pierson. There couldn't be any north of Estrella. It looks like the western side of Palm between Ironwood and Two Bunch Palms Trail would be open...and there is open land there. Most of the K-Mart shopping center is outside any buffer zones. Large commercial areas that are well outside any buffer zones are Indian and Pierson, Dillon and Palm and the south side of Dillon going west from Little Morongo. I think a dispensary next to the Roadhouse (or whatever its current name is) would do well. The map does not go as far west as highway 62, but the area around Pierson and 62 is also zoned commercial.
I'm curious about what appears to be a little commercial zone near Hacienda and Agua Cayendo Road. This Google map satellite view shows what certainly looks like residences filling that unusual commercial zone. Is that little bit of ink a mistake?
I also want to draw attention to Christ Lutheran Church at its old location. Are there still some church activities going on there? The new location is not shown at all. You would think the number of times Paul Miller has gotten up to talk about the new location of the church, at least one member of the city staff would pick up on it.
Filed under Desert Hot Springs,Marijuana | April 23, 2015 at 08:58 PM | Comments (0)
April 22, 2015
Coming Down To April 28
April 28 being, of course, the date the U.S. Supreme Court will finally hear oral arguments on same-sex marriage issues. But you knew that, didn't you. So the poor Supremes have been inundated with amicus briefs that I'm sure have kept the court clerks ROTFL. Some of the knowledge that has been shared by Republican leaders and other troglodytes:

Filed under Gay Issues | April 22, 2015 at 09:48 AM | Comments (0)
At The World Trade Center
515 years compressed into 52 seconds on the elevator to the top of 1 World Trade Center revealing an architectural history of American urban development:

Filed under Architecture,History | April 22, 2015 at 08:00 AM | Comments (0)
April 21, 2015
Office Life
Filed under GoPro,Photography | April 21, 2015 at 10:19 AM | Comments (1)
Two Interesting Things In This Story
This story: man invites salesman into apartment; man gets naked without so much as a "by your leave;" offended salesman departs. But those aren't the interesting parts.
Interesting parts:
The undressed man, Colin Maher, "said his religion requires him to be naked." Unfortunately for Mr. Maher, this story took place in Oklahoma where the state is not as enlightened as Indiana where this sort of statement would, assuredly, cause the police to immediately back off and release the perp who expressed his sincere belief that his rights were being substantially burdened. I think that would cover the window he kicked out of police car, too, if he can work it into his religion fast enough.


But the real eye-grabber in the story is that the salesman was a door-to-door magazine salesman! Yes! Those are from back when we used to get eggs and bread delivered to our front door twice a week. Unless "magazine salesman" is a new euphemism for something like "marijuana dispensary operator," then this unnamed salesman actually walks from residence to residence to sell, face to face, subscriptions to stacks of paper that would be brought to the subscriber's home on a regular basis by the postal service. The subscriber would entertain himself for a time by perusing the magazine, even though it contained no audio or video files, just text and still photos. Once the subscriber finished perusing the magazine he just set it aside and either kept it or threw it into the regular household trash as there are almost never any environmental hazards in a magazine. So, rather than being able to return the used magazine to get a discount on the upgrade price of next month's magazine, you just get a whole 'nother magazine delivered and the process repeats. The cycle continues without end until either the landfill or the subscriber's home is completely filled. If it's the subscriber's home, then some distant relatives will come along and commit the subscriber to a facility where no magazines are delivered, thus bringing about healing or death, whichever comes first.
Filed under Libertarianism,Naturism-Nudism,Public Safety,Religion | April 21, 2015 at 09:24 AM | Comments (2)
April 20, 2015
Apple Energy
A video in which Apple claims, among other things, that its data centers are 100% powered with clean energy. I assume that in reality this translates into: Apple owns clean power generating facilities that produce as much electricity as its data centers consume. IOW, your nearest Apple data center might be powered by some nasty ass coal-powered generator, but their solar field half way around the world should make up for that.

| April 20, 2015 at 02:11 PM | Comments (0)
Next Door To Indiana
Is Ohio. And in Owensville, Ohio, is Clermont Northeastern Middle School and in that school is Sophie Thomas, 8th grader. On school photo day she wore a black t-shirt with nothing more on it than the word "Feminist" in white letters. Not "Feminist" with a gun or knife or sword. Not "Feminist" with a picture of a vagina or big breasts. Nope. Just that word. That word that became non-controversial decades ago, except among the troglodytes I guess.
The school principal ordered the word to be blacked out from the class photo. The principal, who is identified, as "Mrs. Young" said she did it "because some people might find it offensive." Forgetting, as they* always do, that far more people will be offended by her censorship of that which is clearly not offensive. Mrs. Young drew what she thought was a parallel between gang signs and the word "Feminist," which tells you a lot about how Mrs. Young thinks (or doesn't).
Take a look at this section of the image showing Sophie Thomas in her photoshopped shirt. Note the girl on her left with a t-shirt that says "Pierce The Veil," a musical group made up of young men. Here's one of their videos. Hardly the worst thing you've ever seen, but I thought I caught at least one "bitch" in there. Nevertheless, my point being that Principal Young prefers her students to be identified with "Pierce The Veil" than with that potentially offensive feminism.

* they: the troglodytes
Filed under Gay Issues | April 20, 2015 at 01:44 PM | Comments (0)
Old Video From The Nude Bowl
I'm pointing out this video shot at the Nude Bowl mostly for the quality of the videography. This was shot before the pool was filled in (which was before I moved here in 2003) and, judging from the video quality, it had to be shot with a professional quality videotape camera. If there was digital video of this quality way back then, it would have been cutting edge expensive stuff that you probably wouldn't haul out to the desert. But I could be wrong about some part of that.
Anyway, good quality video:

Filed under Coachella Valley,Desert Hot Springs,Photography,Sports | April 20, 2015 at 01:06 PM | Comments (0)
April 18, 2015
3.2 Shake
I was sitting outside in the usual quiet night of Desert Hot Springs when a ripple went under me. 3.2, 9 Km northeast of Desert Hot Springs - just a tad to the right of Long Canyon:

Filed under Coachella Valley,Desert Hot Springs | April 18, 2015 at 09:47 PM | Comments (0)